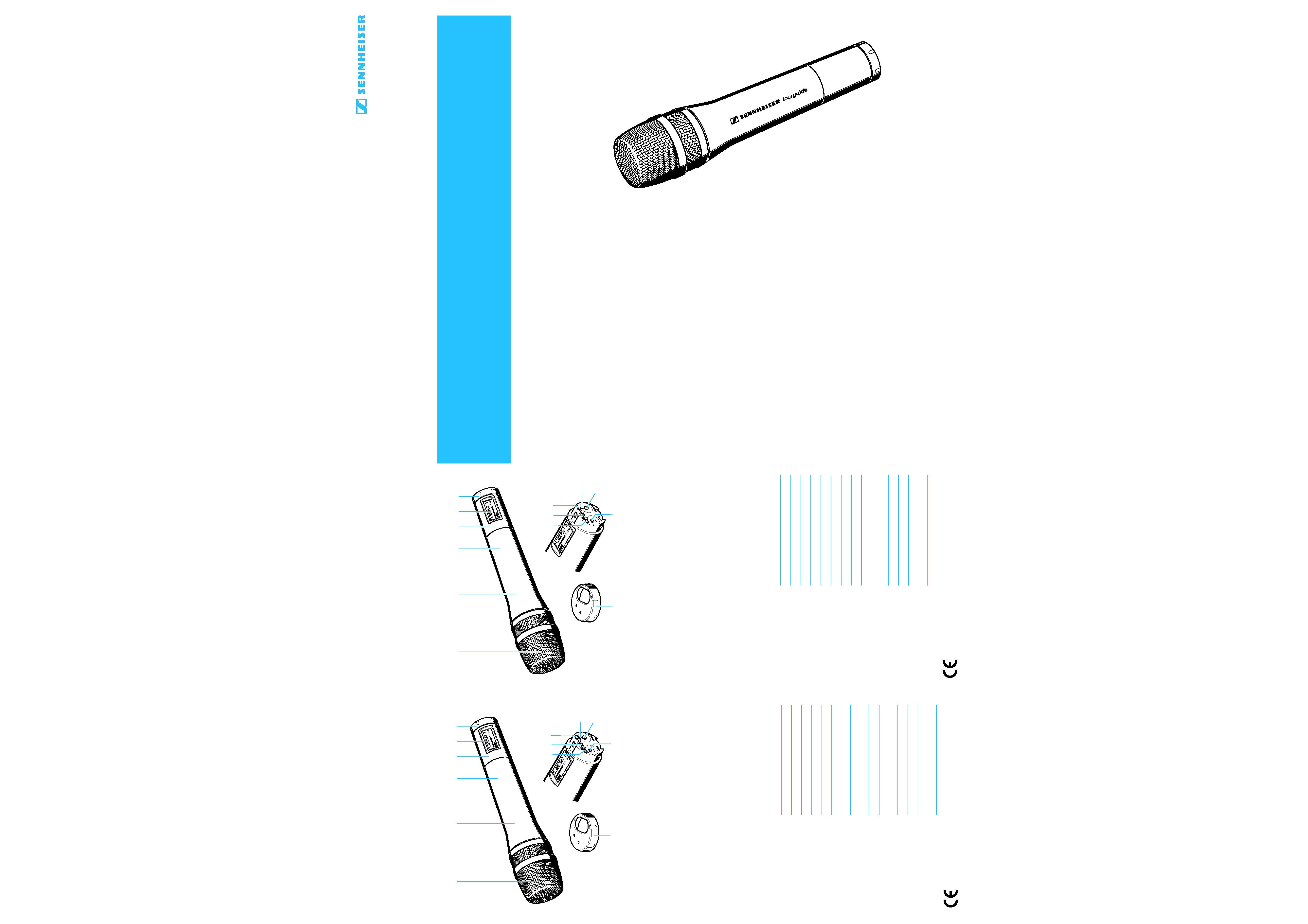 El micrófono inalámbrico SKM 2020 D forma parte del sistema
Tourguide 2020. Observe las indicaciones de advertencia y sobre
funcionamiento inalámbrico contenidas en el manual de instrucciones
del sistema que acompaña al maletín de carga EZL 2020-20 L. Este
manual de instrucciones lo podrá conseguir asimismo de forma
separada a través de su distribuidor Sennheiser (N° de ID. 516509) o
en Internet en la dirección www.sennheiser.com.
·
Mango del micrófono inalámbrico
»
Compartimiento de la pila (inapreciable desde fuera)
²
Caperuza giratoria para proteger los elementos de servicio; teclas,
conmutadores e indicadores accesibles al girar la caperuza:
µ
Indicador de servicio y del estado de la pila, LED rojo (ON/LOW
¸
Tecla
ON
/
OFF
con función ESC (cancelar) en el menú de
¹
Conmutador de supresión del volumen
MUTE
Especificaciones técnicas
De draadloze microfoon SKM 2020 D is onderdeel van Tourguide
Systems 2020. Neem a.u.b. de waarschuwingen en aanwijzingen
voor radiografische signalen uit de bedieningshandleiding voor het
gehele systeem, die met de oplaadkoffer EZL 2020-20 L wordt
meegeleverd, in acht. Deze bedieningshandleiding is ook los
verkrijgbaar bij uw Sennheiser-leverancier (bestelnummer 516509)
of via internet onder www.sennheiser.com.
·
Handgreep van de radiografische microfoon
»
Batterijvak (niet van buitenaf zichtbaar)
²
Draaibare kap ter bescherming van de bedieningselementen;
door het verdraaien van de kap worden de toetsen bereikbaar.
Schakelaars en aanduidingen:
µ
Bedrijfs- en batterijaanduiding, rode LED (ON/LOW BATT)
¸
Toets
ON
/
OFF
met ESC-functie (annuleren) in het
Gama de frecuencias AF (US)
Potencia de salida de AF (US) 50 mV/m como máximo (distancia:
Gama de transmisión de baja
Batería BA 2015, 2,4 V o 2 pilas tipo
Encontrará más información en
Internet: www.sennheiser.com
max. 50 mV/m (afstand: 3 m)
Accupack BA 2015, 2,4 V of
2 batterijen van het type penlite AA,
Aanvullende informatie vindt u op
Sennheiser electronic GmbH & Co. KG
---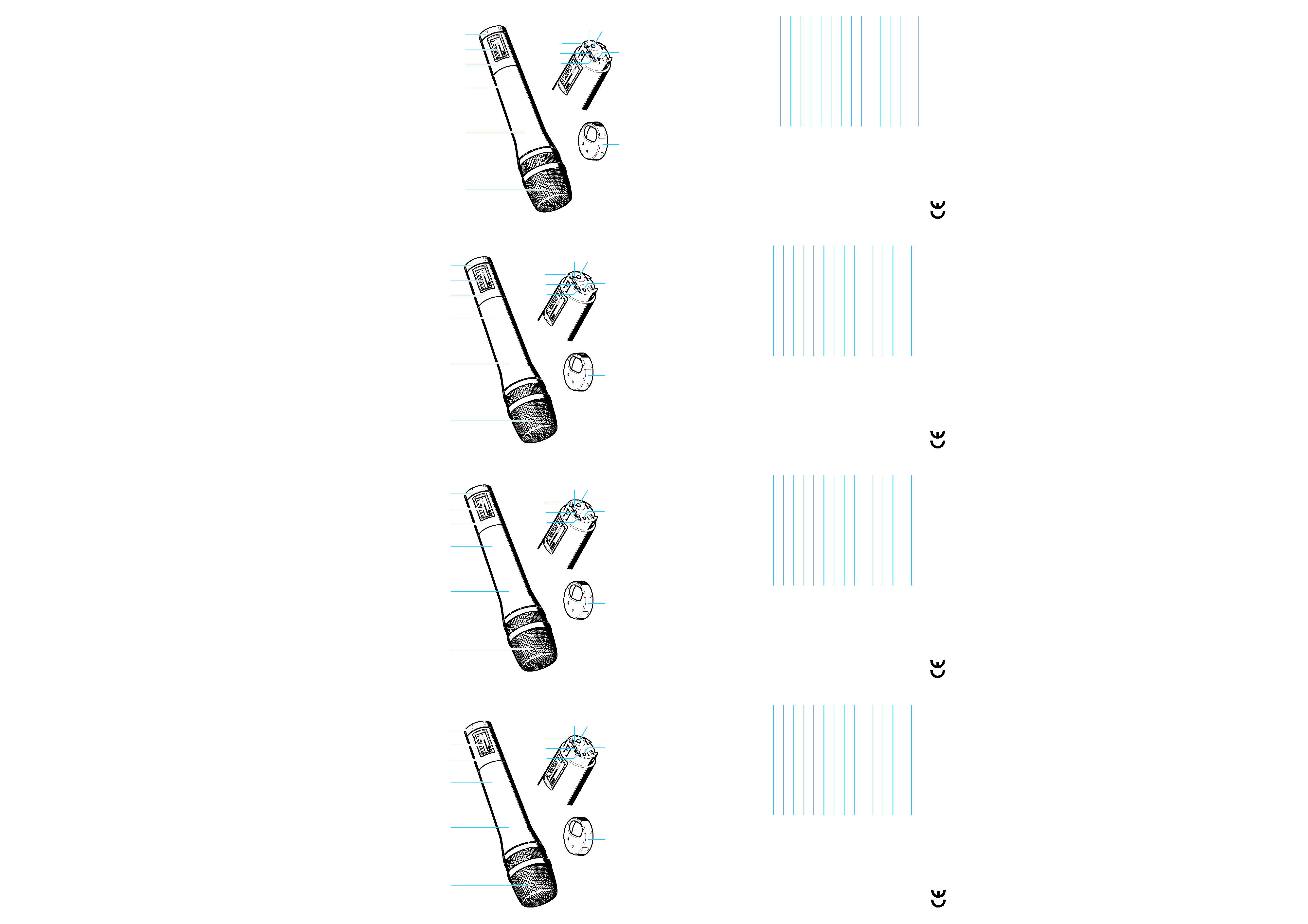 Das Funkmikrofon SKM 2020D ist Bestandteil des Tourguide
Systems 2020. Bitte beachten Sie die Warn- und Funknutzhinweise
der Bedienungsanleitung für das Gesamtsystem, die dem Ladekoffer
EZL 2020-20 L beiliegt. Diese Bedienungsanleitung erhalten sie auch
separat über Ihren Sennheiser Fachhändler (ID-Nr. 516509) oder im
Internet unter www.sennheiser.com.
·
Griff des Funkmikrofons
»
Batteriefach (von außen nicht sichtbar)
²
Drehbare Kappe zum Schutz der Bedienelemente;
durch Drehen der Kappe erreichbare Tasten,
µ
Betriebs- und Batterieanzeige, rote LED (ON/LOW BATT)
¸
Taste
ON
/
OFF
mit ESC-Funktion (Abbrechen) im Bedienmenü
The SKM 2020 D is a component of the Tourguide System 2020.
Please observe the safety information and frequency usage
information contained in the overall system manual which is
enclosed with the EZL 2020-20 L charging case. You can obtain this
instruction manual (ID No. 516509) separately from your Sennheiser
dealer or download it from our website at www.sennheiser.com.
·
Body of radiomicrophone
»
Battery compartment (not visible from outside)
²
Turnable protective cap for operating controls (shown removed);
the following operating controls become accessible in turn by
turning the protective cap:
µ
Operation / battery status indicator, red LED (ON/LOW BATT)
¸ ON
/
OFF
button (= ESC (cancel) key in the operating menu)
Le micro émetteur SKM 2020 D est un élément du système
Tourguide 2020. Pour les consignes de sécurité et l'usage des
fréquences, consultez la notice livrée avec la mallette de recharge
EZL 2020-20 L. Cette notice (N° ID. 516509) est également
disponible chez votre revendeur Sennheiser ou peut être téléchargée
·
Corps du micro émetteur
»
Compartiment à piles (invisible de l'extérieur)
´
Afficheur à cristaux liquides
²
Capouchon rotatif pour la protection des commandes ;
commandes accessibles après la rotation du capouchon :
µ
Indicateur de fonctionnement et d'état de pile, LED rouge
¸
Touche
ON
/
OFF
avec fonction ESC (abondon) dans le menu
¹
Commutateur de mise en sourdine
MUTE
Caractéristiques techniques
Il radiomicrofono SKM 2020 D è un componente del sistema
Tourguide 2020. È importante osservare le indicazioni relative a
sicurezza e utilizzo della radiotrasmissione contenute nelle
istruzioni per l'uso dell'intero sistema, che comprende anche la
valigetta di carica ELZ 2020-10 L. Tali istruzioni sono reperibili anche
separatamente presso il rivenditore Sennheiser specializzato di
competenza (Codice ID 516509) o in Internet all'indirizzo
·
Impugnatura del radiomicrofono
»
Vano batterie (non visibile dall'esterno)
²
Protezione girevole degli elementi di comando; tasti, interruttori
e indicatori accessibili mediante rotazione del coperchio:
µ
Indicazione del funzionamento e dello stato delle batterie,
¸
Tasto
ON
/
OFF
con funzione ESC (interruzione) nel menu d'uso
¹
Interruttore di muto
MUTE
max. 50 mV/m (Abstand: 3m)
Akkupack BA 2015, 2,4 V oder
2 Batterien Typ Mignon AA, 1,5 V
Weitere Informationen finden Sie
max. 50 mV/m (distance: 3 m)
BA 2015 accupack, 2.4 V or
2 AA size batteries, 1.5 V
You will find further information at
our website www.sennheiser.com
Puissance de sortie HF (USA)
max. 50 mV/m (distance : 3 m)
pack accu BA 2015, 2,4 V ou
Vous trouverez plus d'informations
à l'adresse www.sennheiser.com
Gamma di frequenza HF (US)
Potenza di uscita AF (US)
max. 50 mV/m (distanza: 3m)
Accumulatore BA 2015, 2,4 V oppure
2 batterie tipo Mignon AA, 1,5 V
(incl. accumulatore BA 2015) 422 g
Per ulteriori informazioni, visitare il
sito Internet www.sennheiser.com
---