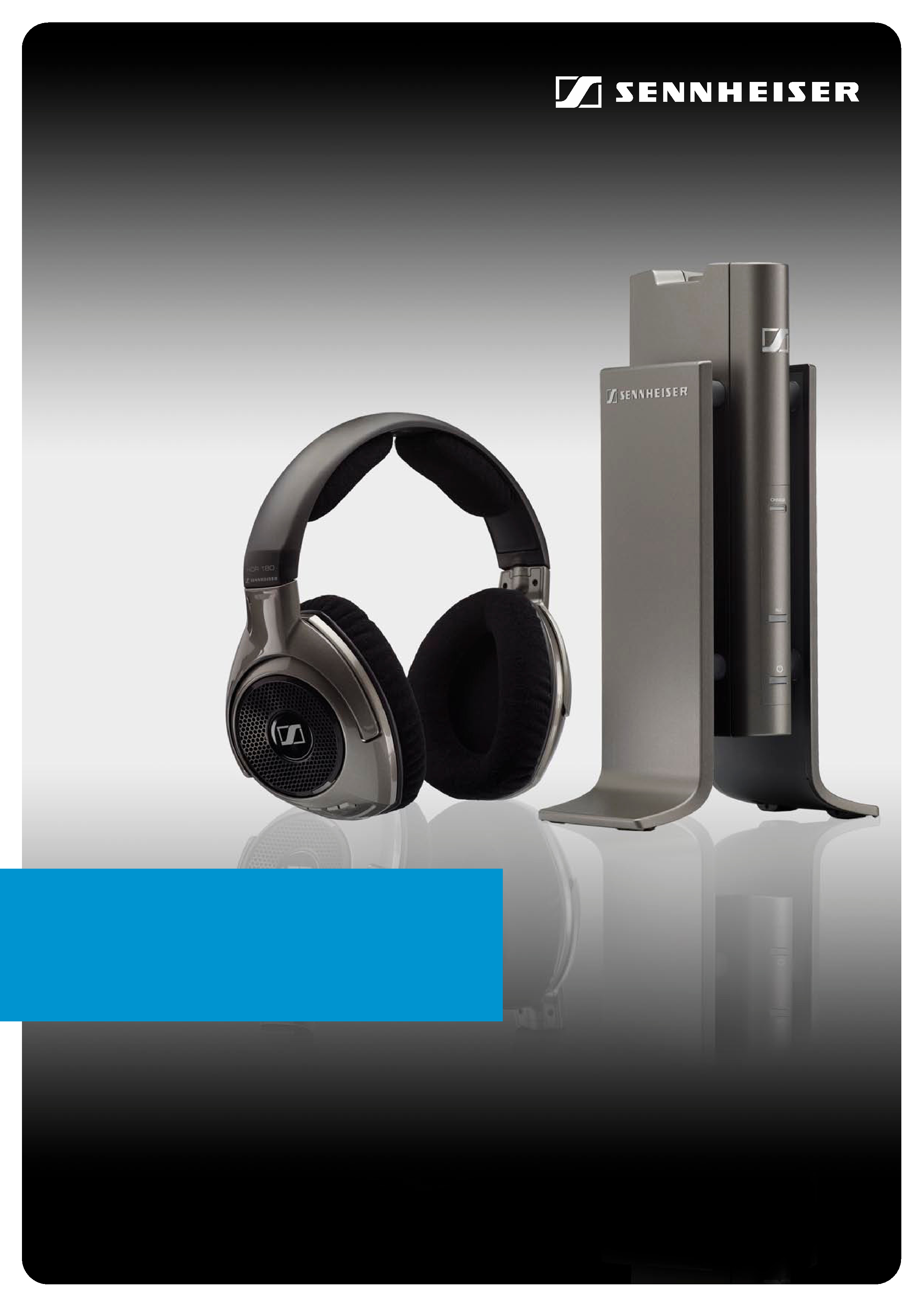 ---

Important safety information ........................................................................... 2
The RS 180 digital RF headphone system ...................................................... 4
Delivery includes .................................................................................................. 5
Product overview ................................................................................................. 6
Overview of the HDR 180 headphones ..................................................... 6
Overview of the TR 180 transmitter .......................................................... 7
Overview of the indicators and acoustic signals ..................................... 8
Overview of the connection stages .......................................................... 10
Putting the RS 180 into operation ................................................................. 11
Setting up the transmitter ......................................................................... 11
Connecting the transmitter to a sound source ...................................... 12
Connecting the transmitter to the mains ............................................... 16
Inserting and changing the rechargeable batteries ............................. 17
Charging the headphones' rechargeable batteries ............................... 18
Adjusting the headband of the headphones ......................................... 18
Using the RS 180 ............................................................................................... 19
Switching the transmitter on and off ...................................................... 19
Switching the headphones on and off .................................................... 21
Adjusting the volume on the headphones ............................................. 22
Muting the headphones ............................................................................. 22
Adjusting the sound of the RS 180 to your needs ................................ 23
Associating the headphones to the transmitter ................................... 25
Listening with several headphones simultaneously ............................ 28
Cleaning the RS 180 .......................................................................................... 29
If a problem occurs ... ........................................................................................ 30
Accessories and spare parts ............................................................................ 32
Specifications ...................................................................................................... 33
Manufacturer declarations ............................................................................... 34
---

Important safety information
Important safety information
Please read this instruction manual carefully and completely before
Make this instruction manual easily accessible to all users at all times.
Always include this instruction manual when passing the product on to
Do not use the product in situations which require special attention
(e.g. in traffic or when performing skilled jobs).
Always keep the product dry and do not expose it to extreme
temperatures (normal operating temperatures: 0 °C/32 °F to 40 °C/
Use the product with care and store it in a clean, dust-free
Switch the headphones off after use to conserve battery power.
Remove the batteries if the product will not be used for extended
The headphones contain magnets that generate a magnetic field which
could cause interference with cardiac pacemakers and implanted
defibrillators. Keep the headphones at least 1.2" (3 cm) from cardiac
pacemakers or implanted defibrillators.
Please protect your hearing from high volume levels. Sennheiser
headphones also sound exceptionally good at low volumes.
Only use the Sennheiser supplied power supply units.
To reduce the risk of fire or electric shock, do not use the product near
water and do not expose it to rain or moisture.
Unplug the power supply unit from the wall socket
­ to completely disconnect the product from the mains
­ during lightning storms or
­ when unused for long periods of time.
Only operate the power supply unit from the type of power source
specified in the chapter "Specifications" (see page 33).
Ensure that the power supply unit is
­ in a safe operating condition and easily accessible,
­ properly plugged into the wall socket,
­ only operated within the permissible temperature range,
­ not covered or exposed to direct sunlight for longer periods of time
in order to prevent heat accumulation (see "Specifications" on
Do not operate the product near any heat sources.
Only use attachments/accessories specified by Sennheiser (see
"Accessories and spare parts" on page 32).
---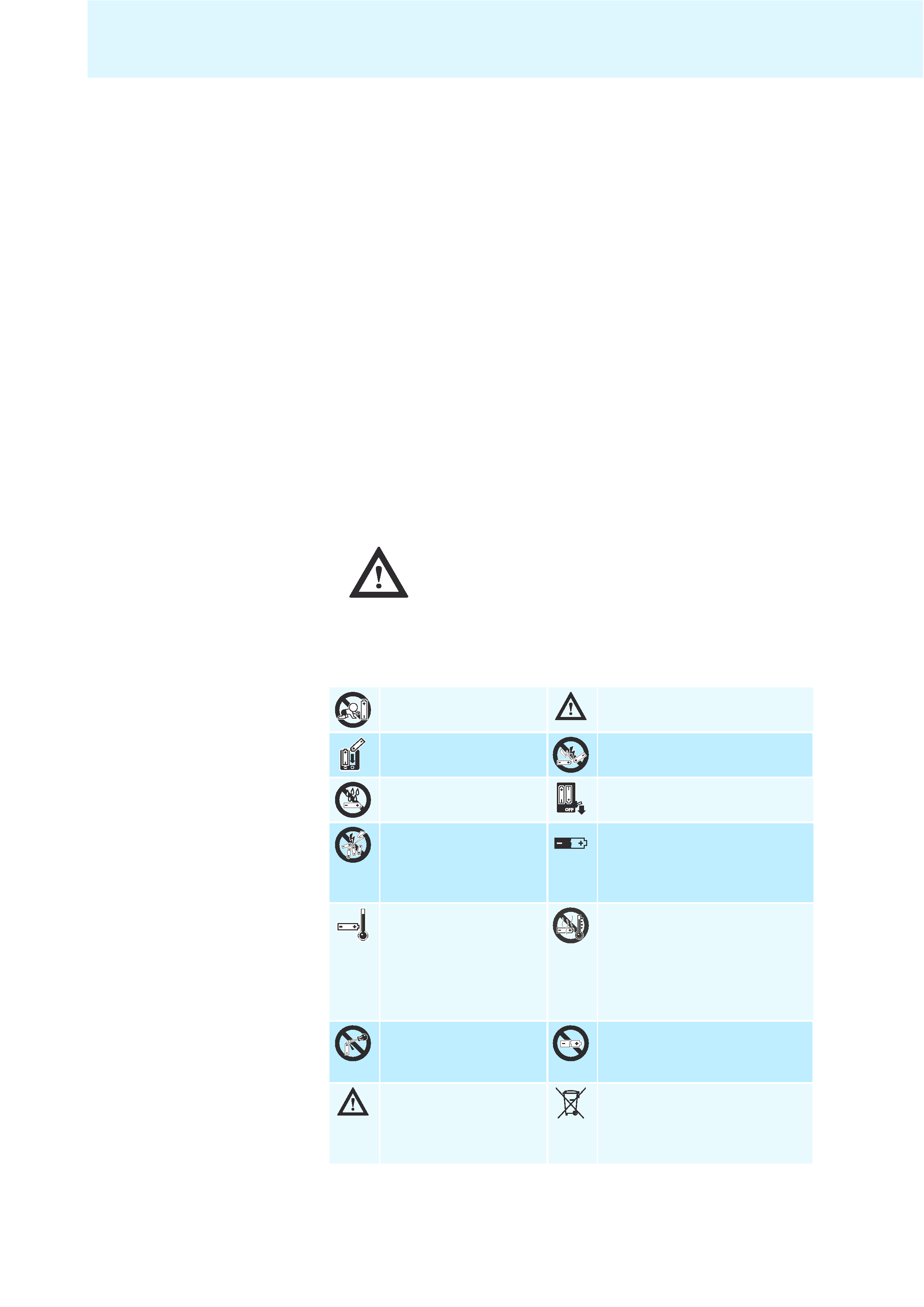 Important safety information
When replacement parts are required, be sure the service technician uses
replacement parts specified by Sennheiser or those having the same
characteristics as the original part. Unauthorized substitutions may result
in fire, electric shock, or other hazards.
Intended use of the product includes
having read this instruction manual, especially the chapter "Important
safety instructions" on page 2,
using the product within the operating conditions and limitations
described in this instruction manual.
"Improper use" means using the product other than as described in this
instruction manual, or under operating conditions which differ from those
Safety instructions for the NiMH rechargeable batteries
If abused or misused, the rechargeable batteries may leak. In extreme
cases, they may even present
Please understand that Sennheiser does not accept liability for damage
arising from abuse or misuse.
Only use rechargeable batteries
recommended by Sennheiser.
Observe correct polarity.
Switch rechargeable battery-
powered products off after use.
When not using rechargeable
batteries for extended periods
of time, charge them regularly
158 °F, e.g. do not expose to
sunlight or throw into a fire.
batteries at special collection
points or return it to your
--- The RS 180 digital RF headphone system
The RS 180 digital RF headphone system
The RS 180 is an RF stereo hi-fi headphone system with comprehensive
technical features. Its transparent and balanced sound image with
excellent bass response makes this system an ideal choice for hi-fi, home
The rechargeable batteries can conveniently be recharged while in the
headphones. Enjoy total freedom of sound, stylish design and maximum
Additional features of the RS 180 headphone system
Transmits uncompressed audio over a robust 2.4 GHz digital link,
enabling you to enjoy your music without the hassles of cables.
Dynamic transducer systems with powerful neodymium magnets
deliver clear and detailed audio reproduction.
Kleer's uncompressed digital wireless transmission delivers CD-quality
No set-up required ­ just plug and play. Simply connect the transmitter
to your personal audio/video player, put on the headphones and turn
TR 180 transmitter with multi-receiver capability, enabling up to
4 people to listen to the same sound source.
Kleer
TM
wireless transmission technology
The RS 180 headphone system features the digital wireless audio
transmission technology from Kleer. The Kleer company has developed an
RF-based wireless transmission standard (of the same name) that offers
lossless audio transmission in CD-quality while consuming minimal power.
---