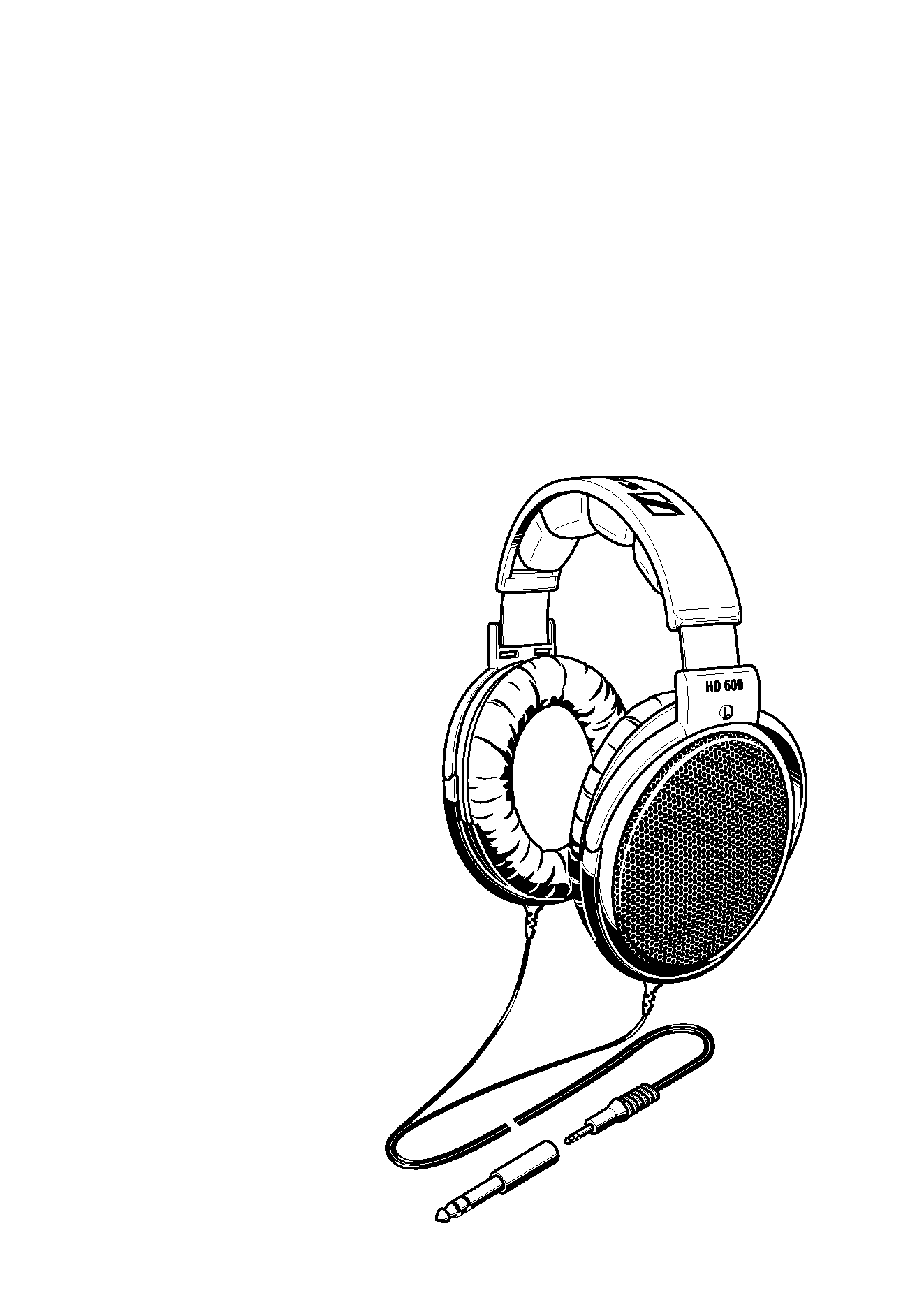 INSTRUCCIONES PARA EL USO
---

Offener, dynamischer HiFi-Stereo-Kopfhörer der Spitzenklasse
neuartige Membrantechnologie für nahezu partialschwingungsfreie
computeroptimierte Magnetsystemgeometrie zur Minimierung der
Klirr- und Intermodulationsverzerrungen
extrem leichte Aluminium-Antriebsspulen für höchste Impulstreue
Neodym-Eisenmagnete für größtmöglichen Wirkungsgrad
höchster Tragekomfort durch elliptische, der Anatomie des Ohres
Anschlußkabel aus hochleitfähigem Kupfer (OFC), steckbar, hohe
Reißfestigkeit durch Kevlarfaserverstärkung, niedrige
Körperschallunempfindlichkeit des verwendeten Kabelmaterials.
äußerst natürliches, räumliches Klangbild mit hoher Klangfarbentreue
direkt anschließbar an hochwertige HiFi-Komponenten,
inbesondere DAT, DCC und CD-Player.
lautheitsdiffusfeldentzerrt
Kennschalldruckpegel bei 1 kHz
Klirrfaktor nach DIN 45500
Art der Ankopplung an das Ohr
ohrumschließend (circumaural)
3,5 / 6,3 mm ø Stereoklinke
Aus hygienischen Gründen sollten Sie die Hörerpolster von Zeit zu Zeit
austauschen. Ohrpolster (1 Paar), Bestell-Nummer 50635.
---

diffuse-field loudness equalization
Power handling capability
Sound coupling to the ear
Headphone caliper pressure
3.5 / 6.3 mm ø stereo jack
The earpads have to be replaced from time to time for hygienic reasons.
Earpads (1 pair), Order No. 50635.
Audiophile ,,open-aire", dynamic stereo headphone
Diaphragm optimized using laser interferometry, no standing
waves undesirable diaphragm distortions are virtually non-existant
Computer-optimized magnet system to minimize transducer
distortion and intermodulation
Lightweight aluminum voice coil for clear, transparent sound
Powerful neodymium-ferrous rare earth elernent magnet system
for improved audio perfomance
Excellent wearing comfort due to the elliptical shape of the earpads
Oxygen-Free Copper signal cable reinfoced with kevlar fibers for
strength and contact noise elimination
Balaced, full frequency reproduction offers fatigue-free musical
Connects directly to quality hi-fi components, especially compact
disc and digital tape machines
---

CARACTÉRISTIQUES TECHNIQUES
égalisation déterminée par le
volume dans le champs diffus
Pression acoustiquecaractéristique
Force d´appui sur l´oreille
Poids (sans câble de raccordement)
Les coussinets d´oreille doivent être remplacés de temps en temps pour des
raisons hygiéniques. Coussinets (1 paire), N
Sous réserve de modification.
Casque hi-fi stéréo dynamique, ouvert, très haut de gamme
Membrane optimisée par interférométrie à laser, les résonances
parasites et partielles sont pratiquement exclues
Système magnétique optimisé par ordinateur, restitution du son
Bobine en aluminium ultra-légère, sonorité claire et transparente
Système magnétique néodyme-fer permettant un rendement
Port très confortable grâce à la forme elliptique des coussinets d'oreille
Câble de raccordement enfichable en fil de cuivre OFC haute
conductibilité, isolant renforcé par des fibres Kevlar, bruit de
Conçu pour les lecteurs CD, DAT et chaînes hi-fi
---

Principio del trasduttore
Risposta caratteristiva frequenza
equalizzazione campo diffuso
Livello di pressione acustica
0,2 W (secondo DIN 45580)
Coefficiente di distorsione
0,1 % (secondo DIN 45500)
Pressione esercitata dall`archetto
intorno all'orecchio (circumaurale)
3,5 / 6,3 mm ø jack stereo
Per motivi igienici è consigliabile sostiturie i cuscinetti di volta in volta.
Cuscinetti (1paio), Code.n. 50635.
Con riserva di modifiche tecniche.
Cuffia stereofonica Hi-Fi dinamica aperta di alta qualità
Tecnologia a membrana di nuovo tipo per una riproduzione della
musica praticamente esente dall'osallazione parziale
Geometria del sistema magnetico ottimizzato mediante computer
per ridurre al minimo le distorsioni del coefficiente di distorsione e
Bobine di comando in alluminio estremamente leggere per
un'elevata fedeltà degli impulsi
Magneti per ferro-neodimio per ottenere la massima efficienzapossibile
Massimo confort die transporte grazie alla forrna costruttiva
ellittica, adattata all'anatomia dell'orecchio
Cavo di collegamento in rame di elevata conduttività (OFC), innestabile,
elevata resistenza allo strappo grazie al rinfono in fìbre di Kelvar, bassa
sensibilità alla vibrazione meccanica del materiale utilizzato per i cavi
Impressione sonora estremamente naturale e di ambienza con
un'elevata fedeltà della tonalità
Collegabile direttamenta a componenti Hi-Fi di elevata qualità, in
particolare DAT, DCC e riproduttori CD
---