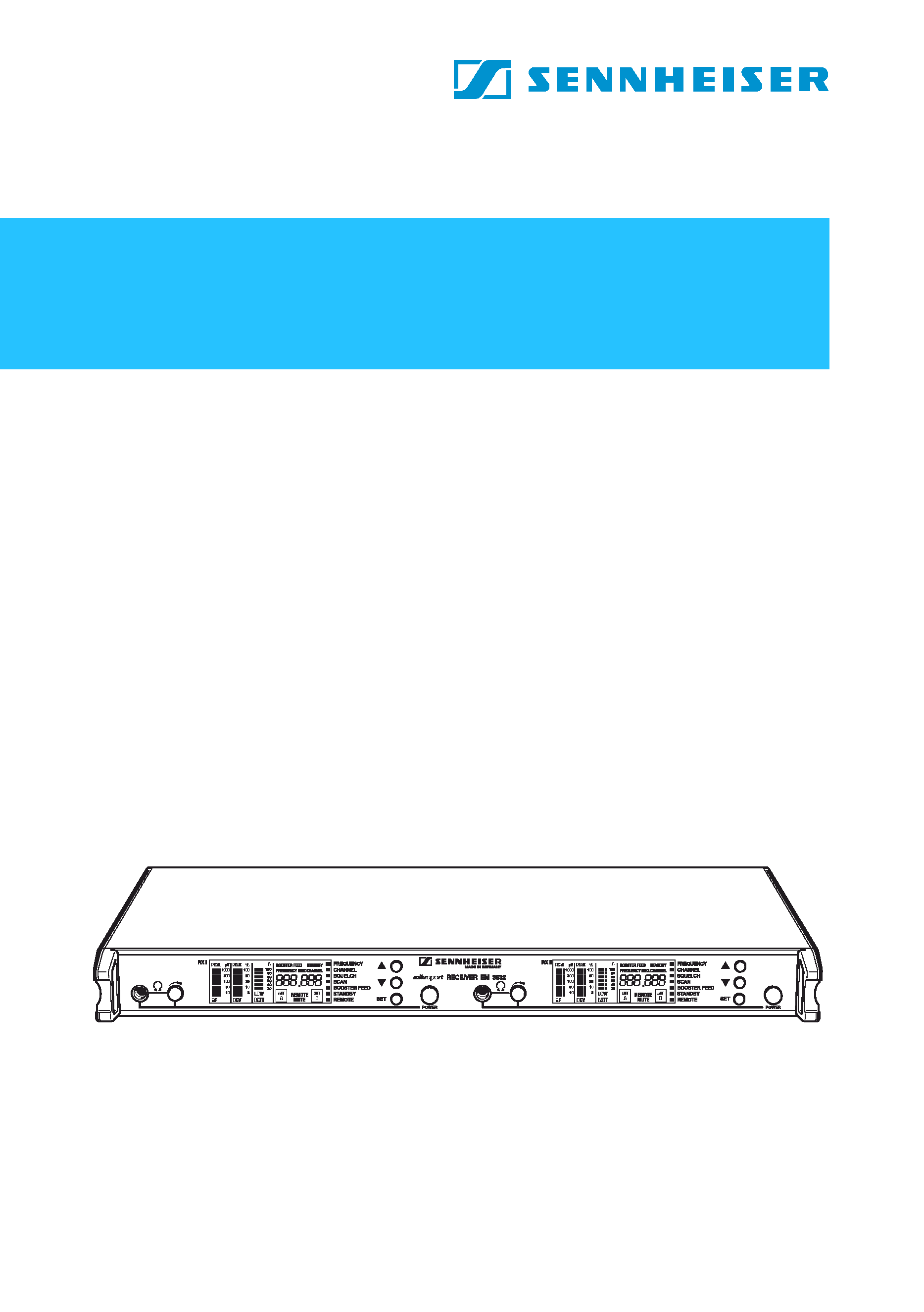 Instructions for use
EM 3532-U
---

---

Contents ............................................................................................................................. Page
Brief description, special features ........................................................................... 40
Connections and operating elements ..................................................................... 41
Noise reduction with
HiDyn plus
TM
.......................................................................... 42
Diversity reception .................................................................................................. 43
Assembly and mounting, assembly instructions ................................................... 44
Connection and mounting of remote antennæ ...................................................... 46
Selecting the mains voltage / Mains connection .................................................... 47
Putting the EM 3532 into operation ...................................................................... 48
Basic functions of the Sennheiser operating menu ............................................... 49
Menus / Overview ................................................................................................... 50
LC display panel ..................................................................................................... 51
Setting a receiving frequency, allocating a frequency memory and
assigning a channel number ................................................................................... 52
Deleting a receiving frequency, emptying a frequency memory .......................... 54
Setting the receiving frequency via the channel number ...................................... 55
Squelch (Muting) ..................................................................................................... 56
Advanced muting function ..................................................................................... 57
Automatic transmitter search tuning ­ Scan function .......................................... 58
Adding a supply voltage for antenna boosters ...................................................... 60
Stand-by operation .................................................................................................. 61
Remote control ........................................................................................................ 62
Power of the received RF signal ............................................................................. 63
Monitoring the sound signal, headphone connection .......................................... 64
Replacing a fuse ....................................................................................................... 65
Sennheiser transmitters report their battery status ............................................... 66
Suitable Sennheiser transmitters ............................................................................ 67
Error checklist ......................................................................................................... 68
Safety instructions ................................................................................................... 68
Recommended accessories ...................................................................................... 69
Technical Data ......................................................................................................... 70
---

Thank you for choosing Sennheiser!
We have designed this product to give you reliable operation over many years.
Please take a few moments to read these instructions carefully, as we want you to enjoy your new
Sennheiser product quickly and to the full.
With the EM 3532-U twin receiver, Sennheiser offers the professional user a high-quality state-of-
the-art RF receiver with a high level of operational reliability and ease of use. The EM 3532-U
receiver together with the suitable hand-held and pocket transmitters permits wireless transmission
with studio-quality sound. Due to further optimised PLL and microprocessor technology and the
Sennheiser patented
HiDyn plus
TM
noise reduction system, these transmission systems surpass the
signal-to-noise ratio and dynamic range of modern CD productions. The true diversity technology
of the EM 3532-U receiver ensures interference-free transmission and minimises dropouts in the
Especially for small television studios and theatres, the simultaneous use of several Sennheiser
3000 series receivers ­ such as the EM 3532-U ­ is an economical alternative to technically more
sophisticated and therefore more expensive multi-channel systems of the 5000 series.
PLL microprocessor control, programmable
Sennheiser
HiDyn plus
TM
noise reduction system
High transmission reliability due to true diversity reception
Ease of use due to menu-assisted operation
Indication of transmitter battery status and "
LOW BATT
" warning
(only with Sennheiser transmitters transmitting battery status information)
Rugged 19" 1 U metal housing
Disconnectable supply voltage for external antenna boosters
Remote-controllable via PC with S-MCD software
External DC supply 11­18 Volt
Advanced scan function / transmitter search tuning
---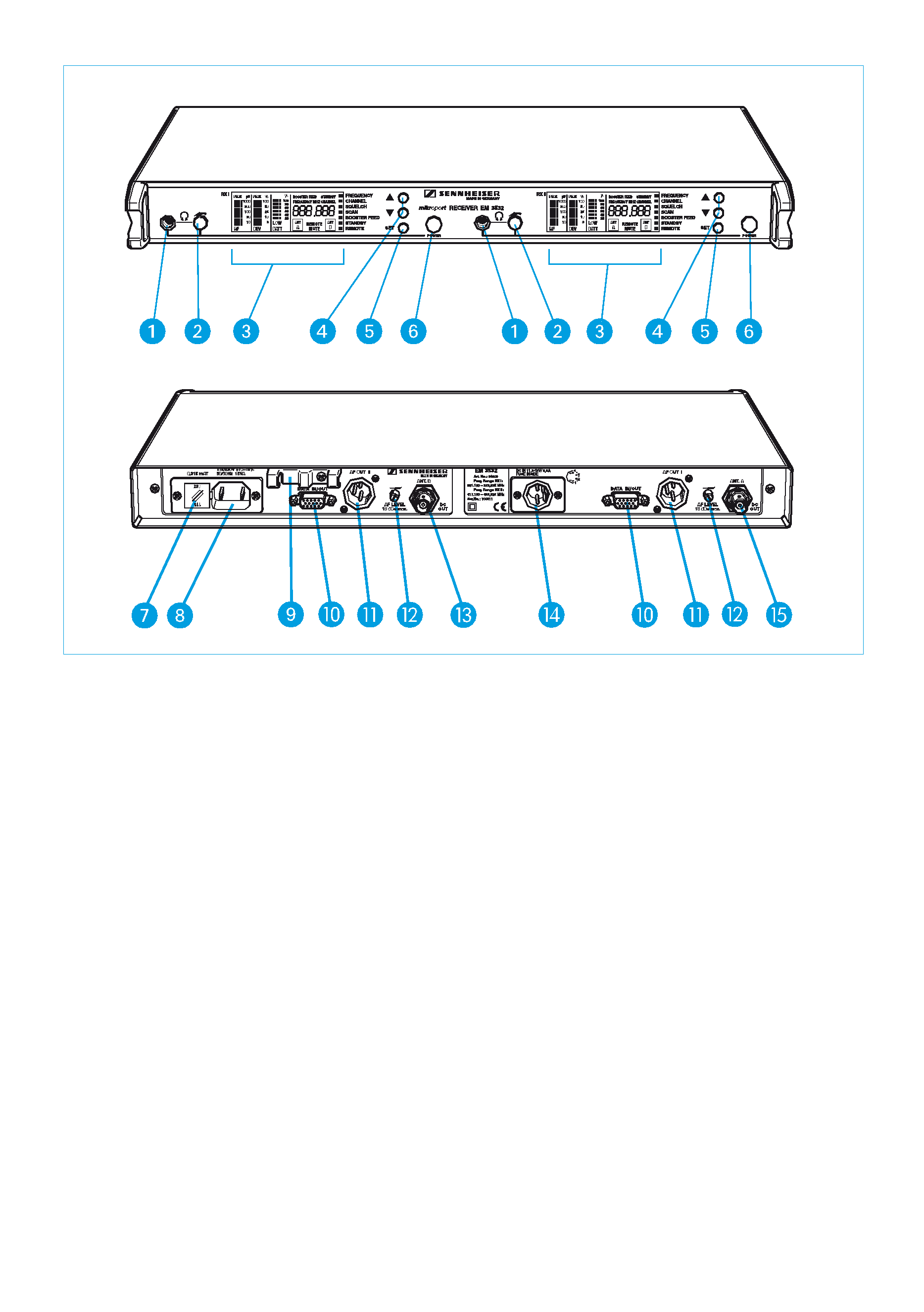 Connections and operating elements
Multi-function LC display panel
Buttons for selecting and programming the menus
Fuse holder and mains voltage selection
2-pin IEC mains connector
Cable grip for mains cable
Data interface for connecting a remote computer
AF output XLR-3M, balanced
Control for the AF output level at the XLR socket
DC socket (e.g. for use in an OB van)
---