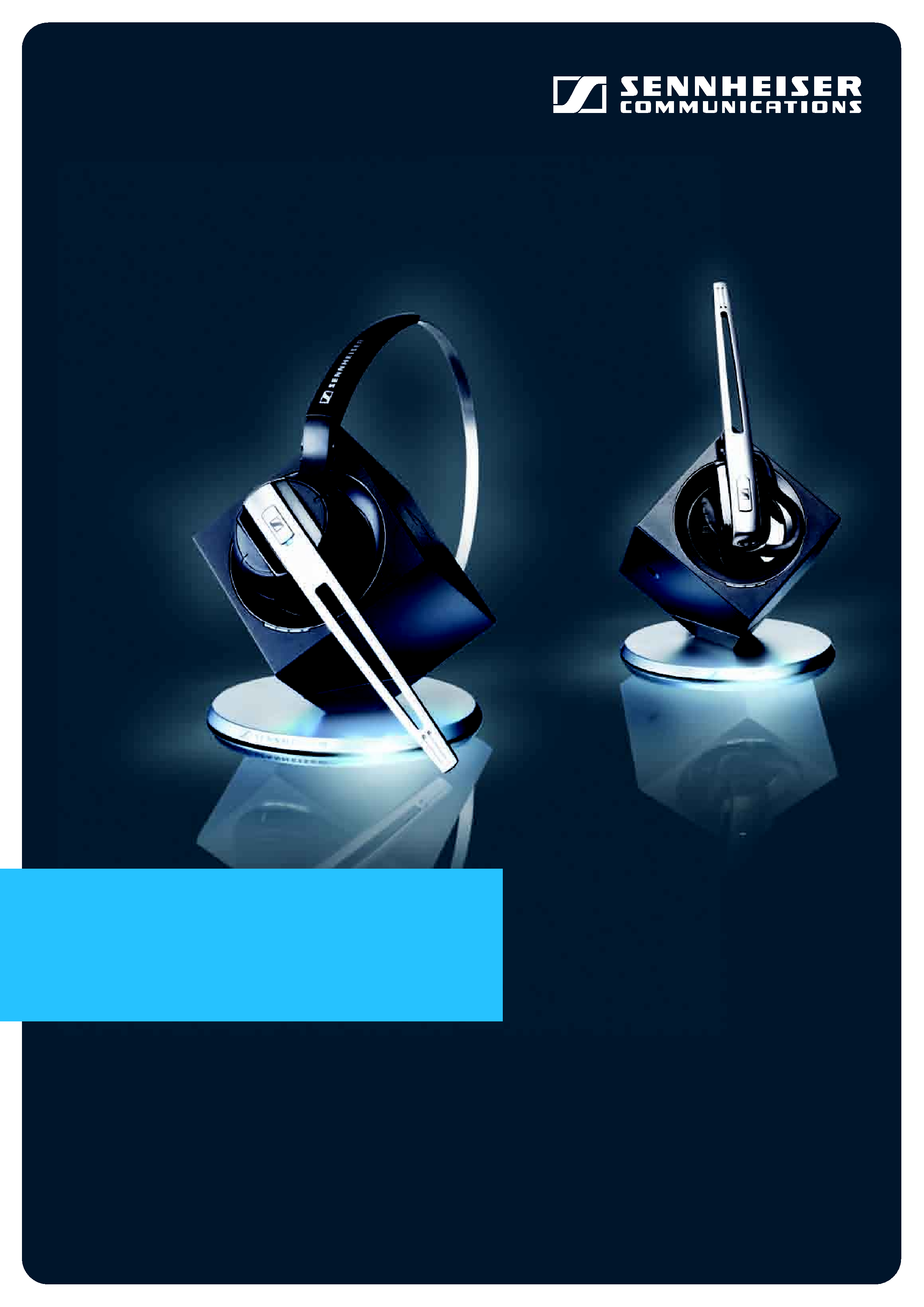 ---

Important safety information ................................................................................... 2
The DW Office wireless headset system ............................................................... 4
Delivery includes ............................................................................................................. 5
Product overview ............................................................................................................ 6
Base station ................................................................................................................. 6
Headset ......................................................................................................................... 7
Overview of the buttons .............................................................................................. 8
Overview of the LEDs ..................................................................................................... 9
Putting the headset system into operation ..................................................... 10
Putting the base station into operation ....................................................... 10
Putting the headset into operation ................................................................ 16
Testing the headset system in Phone
mode and adjusting it
.............. 17
Testing the headset system in PC
mode and adjusting it
...................... 19
Adjusting advanced settings ............................................................................. 20
Using the headset system ........................................................................................ 22
Charging the headset rechargeable battery ............................................... 22
Switching the headset on/off ........................................................................... 23
Establishing a wireless link between headset and base station ......... 23
Putting the headset on and adjusting it ....................................................... 24
Calling via the fixed line phone using the headset ................................... 24
Calling via the PC using the headset ............................................................... 26
Switching between Phone
and
PC
mode
....................................................... 28
Adjusting the volume ........................................................................................... 28
Muting the headset's microphone .................................................................. 29
Using the advanced functions .......................................................................... 29
If you leave the DECT range ............................................................................... 31
Cleaning and maintaining the headset system .............................................. 32
Replacing the ear pad of the headband ........................................................ 33
Replacing the headset's rechargeable battery ........................................... 34
If a problem occurs ..................................................................................................... 35
Accessories and spare parts .................................................................................... 36
Specifications ................................................................................................................. 37
Manufacturer Declarations ...................................................................................... 39
Index .................................................................................................................................. 41
---

Important safety information
Important safety information
Please read these instructions carefully and completely before using
Make these instructions easily accessible to all users at all times.
Always include these instructions when passing the product on to third
Do not use the product in situations which require special attention
(e.g. when performing skilled jobs).
Always keep the product dry and do not expose it to extreme tempera-
tures (normal operating temperatures: +5°C/+41°F to +45°C/+113°F).
Use the product with care and store it in a clean, dust-free environ-
Switch off the headset after use to conserve battery power.
Only use the DW Office base station for charging DW Office headsets
fitted with the DW Office rechargeable battery. Never try to charge
other rechargeable batteries or non-rechargeable batteries in the
Do not short-circuit the contacts of the product. Make sure that no
metal objects (e.g. paper clips, hair pins, earrings) come into contact
with the interfaces and contacts.
Sennheiser Communications is not liable for damages resulting from
the loss of connection due to a run flat battery, an old battery or
exceeding the DECT transmission range.
This equipment generates, uses and can radiate radio frequency energy
and, if not used in accordance with the instructions, may cause harmful
interference to radio communications. However, there is no guarantee
that interference will not occur in a particular installation.
The DW Office headset contains magnets that generate a magnetic
field which could cause interference with cardiac pacemakers and
implanted defibrillators. Keep the DW Office headset at least 1.2"
(3 cm) from cardiac pacemakers or implanted defibrillators!
Protect your hearing from high volume levels.
Only use the mains units supplied by Sennheiser Communications.
To reduce the risk of fire or electric shock, do not use the product near
water and do not expose it to rain or moisture.
Unplug the mains unit from the wall socket
­ to completely disconnect the product from the mains
­ during lightning storms or
­ when unused for long periods of time.
Only operate the mains unit from the type of power source specified in
the chapter "Specifications" (see page 37).
Ensure that the mains unit is
­ in a safe operating condition and easily accessible,
­ properly plugged into the wall socket,
­ only operated within the permissible temperature range,
­ not covered or exposed to direct sunlight for longer periods of time
in order to prevent heat accumulation (see "Specifications" on
---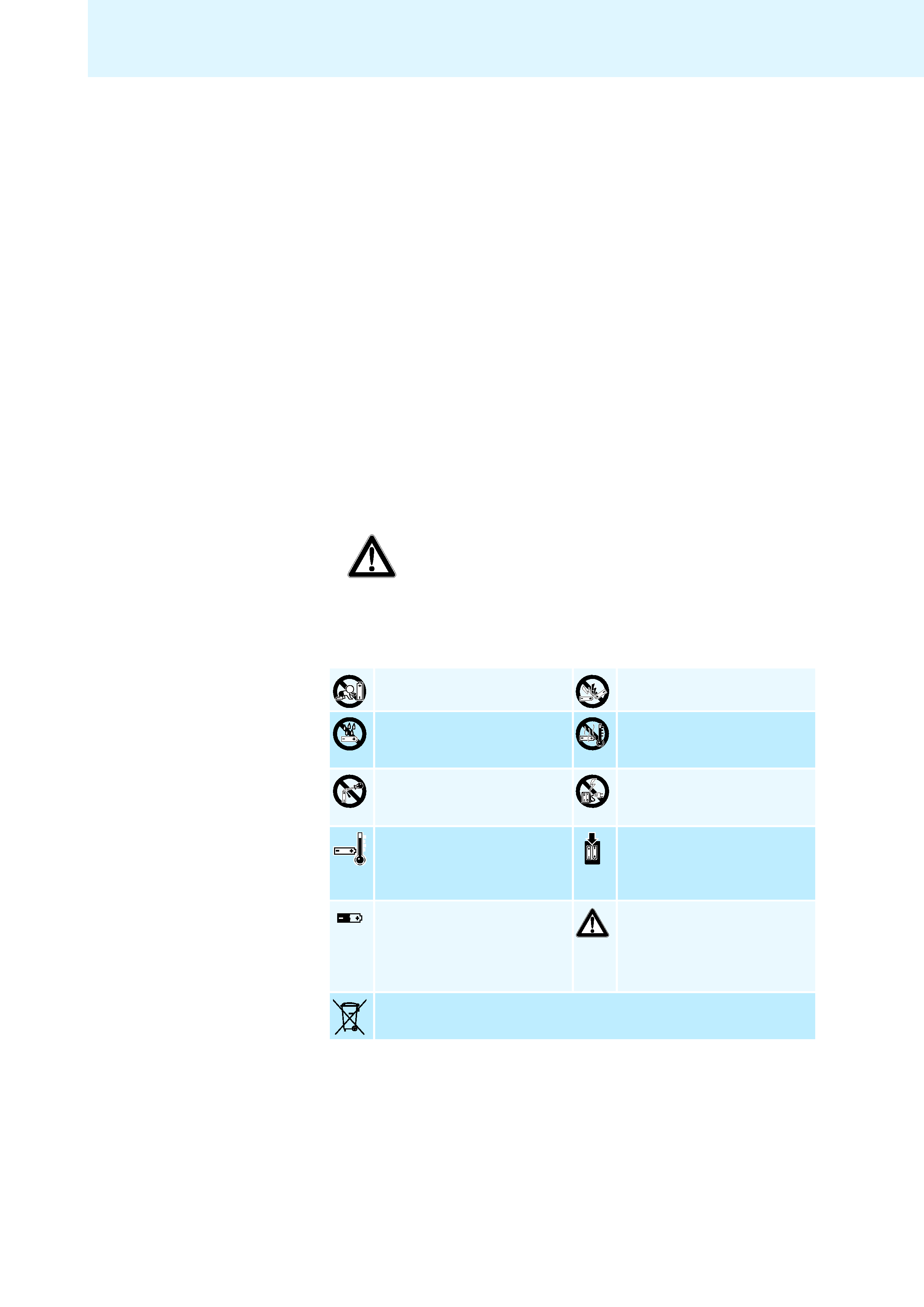 Important safety information
Do not operate the product near any heat sources.
Only use attachments/accessories specified by Sennheiser Communi-
cations (see "Accessories" on page 36).
Keep plastic wrap and plastic bags of the packaging out of reach of
children ­ danger of suffocation!
Intended use of the product includes
having read this instruction manual, especially the chapter "Important
safety instructions" on page 2,
using the product within the operating conditions and limitations
described in this instruction manual.
"Improper use" means using the product other than as described in this
instruction manual, or under operating conditions which differ from those
Safety instructions for the Lithium-Polymer rechargeable batteries
If abused or misused, rechargeable batteries may leak. In extreme cases,
rechargeable batteries may even present
Please understand that Sennheiser Communications does not accept
liability for damage arising from abuse or misuse.
Do not expose to moisture.
+113°F, e.g. do not expose to
sunlight or throw into a fire.
Do not mutilate or dismantle.
Do not charge the rechargeable
battery if the device is obviously
batteries at ambient tempera-
tures between +5°C/+41°F to
batteries with an appropriate
Sennheiser Communications
When not using rechargeable
batteries for extended periods
of time, charge them regularly
(every six months for about one
Store in a cool and dry place
at room temperature (approx.
Return defective devices or devices with defective rechargeable batteries
to your specialist dealer.
---

The DW Office wireless headset system
The DW Office wireless headset system
The Sennheiser Communications DW Office is a wireless DECT headset
system which is intended for professional office use.
Can be used with a fixed line phone or PC (VoIP)
Quick link establishment between headset and base station
Excellent sound quality in narrowband and wideband mode ensures
optimum speech intelligibility
·Range of up to 180 m outdoors and up to 55 m indoors
Monaural headset with 2 wearing styles:
Noise cancelling microphone for optimum speech intelligibility without
annoying background noise
Permits conference calls with up to 4 headsets
Quick and easy pairing of a new headset
Long battery operating time:
­ up to 12 hours of talk time in narrowband mode
­ up to 8 hours of talk time in wideband mode
­ up to 4 days of standby time
Quick and convenient charging of the headset (1 hour)
HeadSetup
software for convenient call control and headset manage-
Headset can be integrated into existing DECT GAP systems
The Sennheiser Communications DW Office wireless headset system uses
DECT radio technology. Due to a dynamic adjustment of the transmission
power, the DECT technology offers an increased transmission range,
minimized radiation exposure and has a good energy efficiency.
Encrypted radio transmission provides maximum security for wireless
---