REMOTE CONTROLLER RB-DA280
---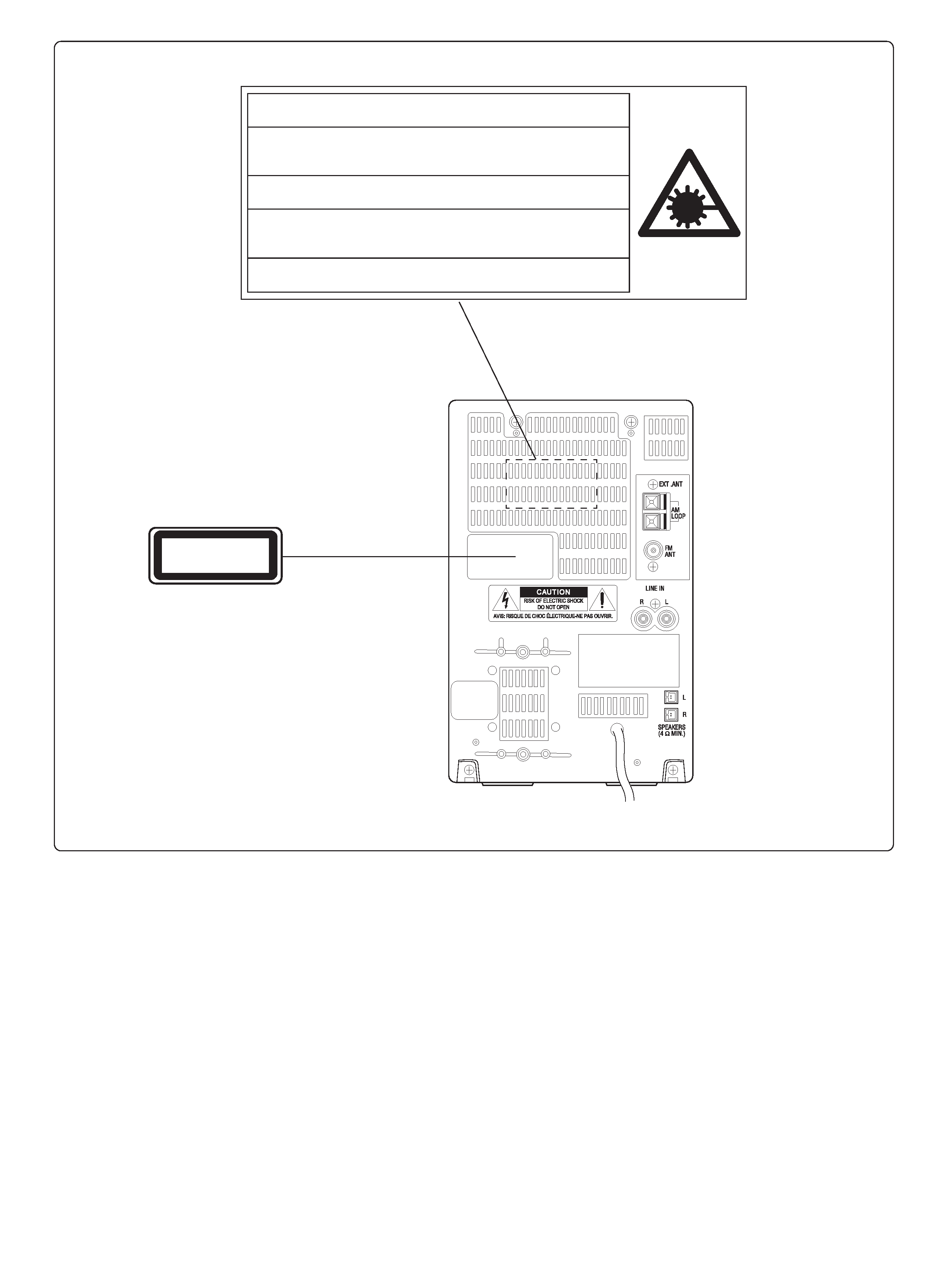 ­ USE OF CONTROLS OR ADJUSTMENTS OR PERFORMANCE OF PROCEDURES OTHER THAN THOSE
SPECIFIED IN THE OPERATING INSTRUCTIONS MAY RESULT IN HAZARDOUS RADIATION EXPOSURE.
THIS PRODUCT SHOULD NOT BE ADJUSTED OR REPAIRED BY ANYONE EXCEPT PROPERLY QUALIFIED
­ EL USO DE LOS CONTROLES O AJUSTES, O EL RENDIMIENTO DE PROCEDIMIENTOS NO
ESPECIFICADOS EN LAS INSTRUCCIONES DE OPERACION PUEDEN RESULTAR EN EXPOSICION A RADIACION
ESTE PRODUCTO SOLO DEBE SER REPARADO O AJUSTADO POR PERSONAL DEBIDAMENTE CALIFICADO.
CAUTION ­ INVISIBLE LASER RADIATION WHEN OPEN AND
INTERLOCKS DEFEATED. AVOID EXPOSURE TO BEAM.
ADVARSEL ­ USYNLIG LASER STRÅLING VED ÅBNING, NÅR
SIKKERHEDSAFBRYDERE ER UDE AF FUNKTION, UNDGÅ UDS ÆTTELSE
VARNING ­ OSYNLIG LASER STRÅLNING NÄR DENNA DEL ÄR ÖPPNAD
OCH SPÄRR ÄR URKOPPLAD. STRÅLEN ÄR FARLIG.
VORSICHT ­ UNSICHTBARE LASERSTRAHLUNG TRITT AUS, WENN
DECKEL GEÖFFNET UND WENN SICHERHEITSVERRIEGELUNG
ÜBERBRÜCKT IST. NICHT, DEM STRAHL AUSSETZEN.
VARO ­ AVATTAESSA JA SUOJALUKITUS OHITETTAESSA OLET ALTTIINA
NÄKYMÄTTÖMÄLLE LASERSÄTEILYLLE. ÄLÄ KATSO SÄTEESEEN.
---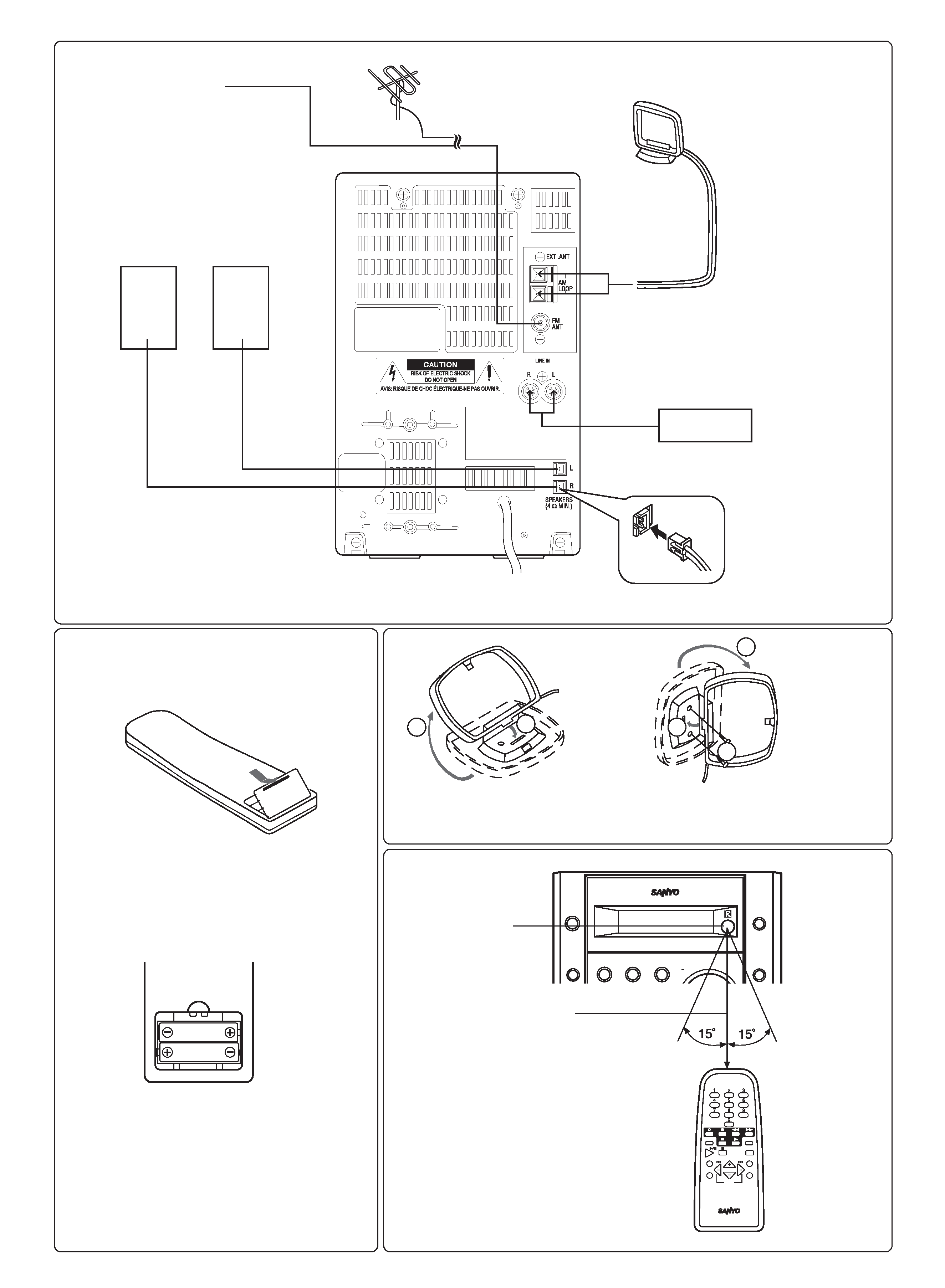 Video/ Auxiliary equipment
REMOTE CONTROLLER RB-DA280
---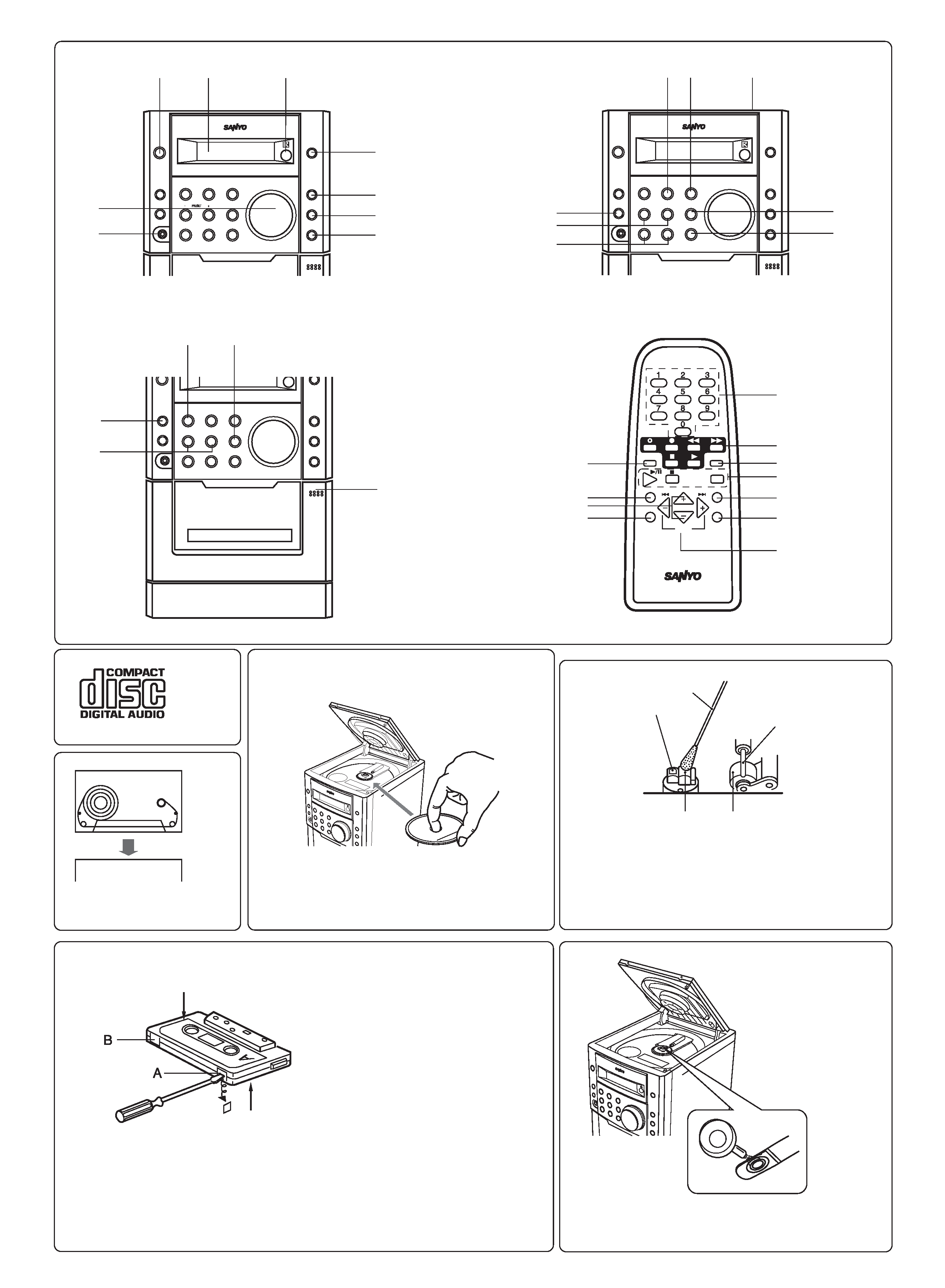 Break out tab A for side A.
Break out tab B for side B.
REMOTE CONTROLLER RB-DA280
---

These buttons are used to select the track numbers on a disc or preset
If the function is "CD", the buttons select the track numbers on a disc.
If the function is "TUNER", the buttons select preset radio stations.
With any other function, the buttons will not function.
Two buttons must always be pressed.
To select No. 3, press 0, then 3.
To select No. 10, press 1, then 0.
To select No. 25, press 2, then 5.
1. Number buttons (1-9, 0)
2. Cassette deck controls
m: Record/Record pause button
d, c: Fast forward/Rewind buttons
3. FM mode button (FM MODE)
5. Memory button (MEMORY)
6. Sound preset button (SOUND PRESET)
7. Tuning buttons (TUNING +, -, f, e)
(These buttons can also be used as CD playing tracks skip and
8. Tuner function/Band select button (TUNER/BAND)
9. Volume buttons (VOLUME +, -)
10. Preset tuning button (PRESET)
11. Line function button (LINE)
Do not connect the mains lead to an AC outlet until all connections
The system is not completely disconnected from the mains when the
power button is set to the Y OFF position.
Connect the connector of the left speaker lead to the "L" SPEAKERS
socket and the connector of the right speaker lead to the "R" socket.
If you have difficulty inserting the speaker lead connector, turn it over and
Extend the aerial wire as straight as possible and, while listening to the
sound from the system, secure it in a position which yields minimal
To minimize noise, the speaker, mains and any other leads should not
come close to the indoor or external aerial lead and AM loop aerial. Do
not place the aerial leads close to the system.
Video/Auxiliary equipment
Connect audio leads (not supplied) from the audio output sockets of a
video/auxiliary equipment to the LINE IN sockets.
Connect stereo headphones (not supplied) to the PHONES socket for
monitoring or for private listening. The speakers are automatically
disconnected when headphones are connected.
Assemble the loop aerial as shown in Fig. 3a. Unwind the aerial wires,
then connect them to the AM LOOP terminals. Place the loop aerial in a
position which yields the best AM reception, or attach it to a wall or other
surface as shown in Fig. 3b.
1. Power button (Y OFF, Z ON)
4. Function button (FUNCTION)
5. Bass expander button (BASS)
6. Sound preset button (SOUND PRESET)
7. Surround button (SURROUND)
8. Headphones socket (PHONES)
9. Volume control (VOLUME)
CD player/ Tuner (Fig. 5b)
1. Repeat play button (REPEAT)
2. Play/Pause button (CD)
5. Tuner function/Band select button (TUNER/BAND)
6. Tuning buttons (TUNING -, +)
7. Skip/Search/Preset tuning buttons
8. FM mode button (FM MODE)
4. Fast forward/ Rewind buttons
5. Record/ Record pause button (j)
The apparatus shall not be exposed to dripping or splashing.
Do not use where there are extremes of temperature (below 5
°C) or where direct sunlight may strike it.
Because of the CD player's extremely low noise and wide dynamic
range, there might be a tendency to set the volume on the amplifier
unnecessarily high. Doing so may produce an excessively large
output from the amplifier which could damage your speakers.
Sudden changes in the ambient temperature may cause condensa-
tion to form on the optical lens inside the unit. If this happens, take
out the disc, leave the unit for about 1 hour, and then proceed to
The system's speakers use powerful magnets. Do not place
timepieces, credit cards, cassette tapes or video tapes, etc. near the
Do not install this equipment in a confined space, such as a book
case or built in cabinet.
---