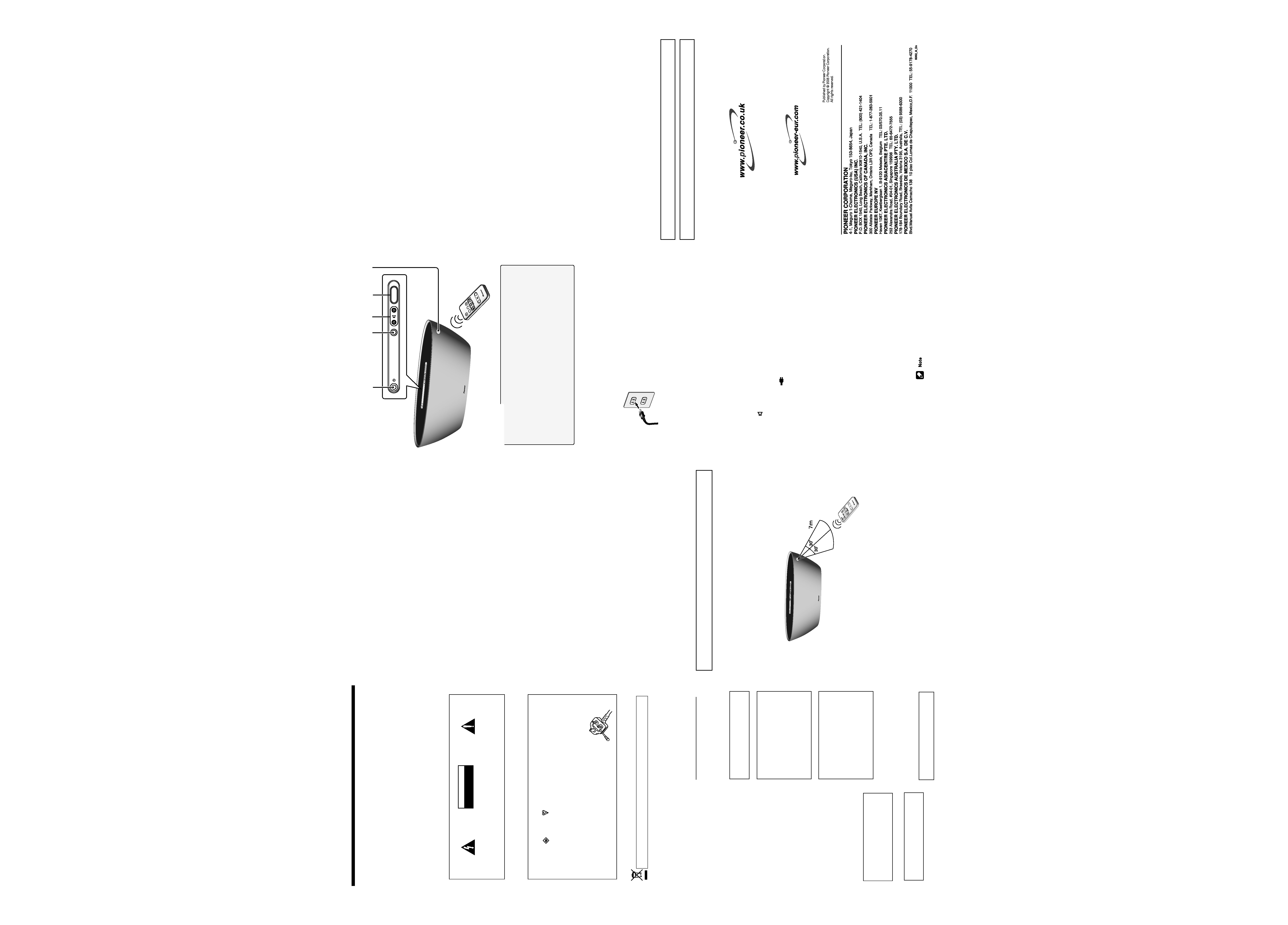 Power Line Network Speaker
Danger of explosion if battery is incorrectly replaced.
Replace only with the same or equivalent type
recommended by the manufacturer.
The exclamation point within an equilateral
triangle is intended to alert the user to the
presence of important operating and
maintenance (servicing) instructions in the
literature accompanying the appliance.
The lightning flash with arrowhead symbol,
within an equilateral triangle, is intended to
alert the user to the presence of uninsulated
"dangerous voltage" within the product's
enclosure that may be of sufficient
magnitude to constitute a risk of electric
TO PREVENT THE RISK OF ELECTRIC
SHOCK, DO NOT REMOVE COVER (OR
BACK). NO USER-SERVICEABLE PARTS
INSIDE. REFER SERVICING TO QUALIFIED
Replacement and mounting of an AC plug on the power supply cord of this unit should be performed only by qualified
IMPORTANT: THE MOULDED PLUG
This appliance is supplied with a moulded three pin mains plug for your safety and convenience. A 5 amp fuse is fitted in this plug. Should the
fuse need to be replaced, please ensure that the replacement fuse has a rating of 5 amps and that it is approved by ASTA or BSI to BS1362.
If the plug contains a removable fuse cover, you must ensure that it is refitted when the fuse is replaced. If you lose the fuse cover the plug
must not be used until a replacement cover is obtained. A replacement fuse cover can be obtained from your local dealer.
If the fitted moulded plug is unsuitable for your socket outlet, then the fuse shall be removed and the plug cut off and disposed of
safely. There is a danger of severe electrical shock if the cut off plug is inserted into any 13 amp socket.
If a new plug is to be fitted, please observe the wiring code as shown below. If in any doubt, please consult a qualified electrician.
IMPORTANT: The wires in this mains lead are coloured in accordance with the following code:
As the colours of the wires in the mains lead of this appliance may not correspond with the coloured markings identifying the terminals in
your plug, proceed as follows ;
The wire which is coloured BLUE must be connected to the terminal which is marked with the
The wire which is coloured BROWN must be connected to the terminal which is marked with the
How to replace the fuse: Open the fuse compartment with a screwdriver and replace the fuse.
This equipment is not waterproof. To prevent a fire
or shock hazard, do not place any container filed
with liquid near this equipment (such as a vase or
flower pot) or expose it to dripping, splashing, rain
The voltage of the available power supply differs
according to country or region. Be sure that the
power supply voltage of the area where this unit
will be used meets the required voltage (e.g., 230V
or 120V) written on the rear panel.
Before plugging in for the first time, read the following
To prevent a fire hazard, do not place any naked
flame sources (such as a lighted candle) on the
When installing this unit, make sure to leave space
around the unit for ventilation to improve heat
radiation (at least 60 cm at top, 10 cm at rear, and
Slots and openings in the cabinet are provided for
ventilation to ensure reliable operation of the
product, and to protect it from overheating. To
prevent fire hazard, the openings should never be
blocked or covered with items (such as newspapers,
table-cloths, curtains) or by operating the
equipment on thick carpet or a bed.
Operating environment temperature and humidity:
+5 ºC ­ +35 ºC (+41 ºF ­ +95 ºF); less than 85 %RH
(cooling vents not blocked)
Do not install this unit in a poorly ventilated area, or in
locations exposed to high humidity or direct sunlight (or
This product complies with the Low Voltage Directive
(73/23/EEC, amended by 93/68/EEC), EMC Directives
(89/336/EEC, amended by 92/31/EEC and
If the AC plug of this unit does not match the AC
outlet you want to use, the plug must be removed
and appropriate one fitted. Replacement and
mounting of an AC plug on the power supply cord of
this unit should be performed only by qualified
service personnel. If connected to an AC outlet, the
cut-off plug can cause severe electrical shock. Make
sure it is properly disposed of after removal.
The equipment should be disconnected by removing
the mains plug from the wall socket when left
unused for a long period of time (for example, when
The Standby/On switch on this unit will not
completely shut off all power from the AC outlet.
Since the power cord serves as the main disconnect
device for the unit, you will need to unplug it from
the AC outlet to shut down all power. Therefore,
make sure the unit has been installed so that the
power cord can be easily unplugged from the AC
outlet in case of an accident. To avoid fire hazard,
the power cord should also be unplugged from the
AC outlet when left unused for a long period of time
(for example, when on vacation).
Do not use or store batteries in direct sunlight or
other excessively hot place, such as inside a car or
near a heater. This can cause batteries to leak,
overheat, explode or catch fire. It can also reduce the
life or performance of batteries.
This product is for general household purposes. Any
failure due to use for other than household purposes
(such as long-term use for business purposes in a
restaurant or use in a car or ship) and which
requires repair will be charged for even during the
If you want to dispose this product, do not mix it with general household waste. There is a separate collection system for used
electronic products in accordance with legislation that requires proper treatment, recovery and recycling.
Private households in the 25 member states of the EU, in Switzerland and Norway may return their used electronic products free of charge to
designated collection facilities or to a retailer (if you purchase a similar new one).
For countries not mentioned above, please contact your local authorities for the correct method of disposal.
By doing so you will ensure that your disposed product undergoes the necessary treatment, recovery and recycling and thus prevent potential
negative effects on the environment and human health.
Discover the benefits of registering your product online at
· Do not place the speaker on an unstable surface. It could present a hazard if it falls, as well as
· Do not put a TV or other AV equipment on top of this speaker. It could present a hazard if it falls,
as well as damaging the equipment.
· Do not use the speaker to output distorted sound for long periods of times. This can result in a
· Do not sit or stand on the speaker, or let children play on the speaker.
· Do not put large or heavy objects on top of the speaker.
· Do not install your speakers overhead on the ceiling or wall.
· Do not attach these speakers to the wall or ceiling. They may fall off and cause injury.
· Keep the speaker away from water and moisture. Do not place the speaker in the bathroom or
other places where it will be exposed to extreme moisture.
· Conditions considered unpleasant by humans are detrimental to speakers as well. Providing a
comfortable environment for the speakers will assist them in demonstrating their best
performance. Please maintain the usage environment as follows:
Temperature: 15 °C to 25 °C
Relative Humidity: 35 % to 65 % (winter)
· In areas of high humidity, use a dehumidifier, and in areas of excessive dryness, use a humidifier
to adjust the room's humidity level.
· Avoid exposure to direct sunlight, and do not install in areas nearby heating appliances.
· When using room air-conditioners or stoves to rapidly cool or heat room spaces, take precautions
to avoid excessive dehumidification.
· Avoid locations near windows or in other locations where speakers may be exposed to the
influence of outdoor air, since condensation may result.
Cleaning the speaker cabinet
With normal use, wiping with a dry cloth should be sufficient to keep the cabinet clean. If necessary,
clean with a cloth dipped in a neutral cleanser diluted five or six times with water, and wrung out well.
Do not use furniture wax or cleansers.
Never use thinners, benzine, insecticide sprays or other chemicals on or near this unit since these will
This speaker system is magnetically shielded. However, depending on the installation location, color
distortion may occur if the speaker system is installed extremely close to the screen of a television set.
If this happens, turn off the television, then turn it on again after 15 min to 30 min. If the problem
persists, place the speaker system away from the television set.
· Using this system, you can listen to sound sources from the Power Line Sound Station simply by
plugging the power cord into an AC outlet in your home. For example, you could place the Power
Line Sound Station in the living room of your house, then set up separate speakers in your
kitchen, hallway and bedroom to listen to music wherever you want in your home.
· Thanks to the remote sensor on the optional XW-PSS01-L speaker supplied with this system, you
can control the Power Line Sound Station, even while listening to music in another room.
Speaker systems are delicately influenced by the conditions of the listening room where they are used.
As a result, you should take care to provide optimum conditions for your listening environment.
Note: Pioneer refuses any responsibility for damage or accidents resulting from improper
· Each speaker weighs 2.8 kg. Select a stable surface for installation.
Operating range of remote control unit
The Power Line Sound Station can be controlled by the remote via the speaker's remote sensor. The
operating range of the remote is shown below.
The remote control may not work properly if:
· There are obstacles between the remote control and the speaker's remote sensor.
· Direct sunlight or fluorescent light is shining onto the remote sensor.
· The speaker is located near a device that is emitting infrared rays.
· The speaker is operated simultaneously with another infrared remote control unit.
Power consumption .................................................................................................................................. 24 W
Power output ................................................................................................................. 25 W/ch (1 kHz, 10 %)
European/UK models ................................................................................ AC 230 V to 240 V, 50 Hz/60 Hz
Australia/New Zealand models ............................................................................... AC 240 V, 50 Hz/60 Hz
Taiwan model ....................................................................................................................... AC 110 V, 60 Hz
All other models ......................................................................................... AC 110 V to 240 V, 50 Hz/60 Hz
Enclosure ....................................................................... Closed-box bookshelf type (magnetically shielded)
Full-range ...................................................................................................................... 7.7 cm cone type x 2
Nominal impedance .................................................................................................................................... 6
Exterior dimensions ...................................................................... 452 (W) mm x 162 (H) mm x 112 (D) mm
Weight ....................................................................................................................................................... 2.8 kg
Lithium battery (CR2025) x 1
Power plug adaptor (multi-voltage model only) x 1
Plug the AC power cord into a convenient AC power outlet.
Power Line Sound System connections in the XW-PSS01 operating instructions for
When the speaker is used as an optional speaker with the Power Line Sound Station, it is necessary to
assign it an ID in order for the system to work properly. Plug the Power Line Sound Station and the
Speaker into two AC power sockets. The power sockets should be as close as possible to one another,
ideally on the same outlet.
Switch on the Power Line Sound Station.
then press DUAL on the Power Line Sound Station.
then press CH Select on this speaker.
The speaker ID setting is confirmed when
Id has finished flashing.
then press DUAL on the Power Line Sound Station.
The ID setting is complete after
finishes flashing (about ten seconds).
Handle the power cord by the plug. Do not pull out the
plug by tugging the cord and never touch the power
cord when your hands are wet as this could cause a
short circuit or electric shock. Do not place the unit, a
piece of furniture, etc., on the power cord, or pinch the
cord. Never make a knot in the cord or tie it with other
cords. The power cords should be routed such that they
are not likely to be stepped on. A damaged power cord
can cause a fire or give you an electrical shock. Check
the power cord once in a while. When you find it
damaged, ask your nearest PIONEER authorized
service center or your dealer for a replacement.
Switches on or into standby (the standby
indicators on the speaker light red when
· Both the speaker and Power Line Sound
Station switch on/into standby.
Select channel A or B on the Power Line
Sound Station for playback.
Adjusts the volume on the speaker.
Displays the input source in an
abbreviated form and volume.
To control the system, point the
remote at this speaker (not at the
· Specifications and design subject to possible modification without
notice, due to improvements.
For repair, it is necessary to bring the main system (Power Line Sound System), as well as this
speaker (XW-PSS01-L) to your authorized Pioneer Service Center.
Thank you for buying this Pioneer product. Please read through these operating instructions so you
will know how to operate your model properly. After you have finished reading the instructions, put
them away in a safe place for future reference.
Please note that this speaker is a component of complete speaker system (including the XW-PSS01
Power Line Sound Station), and will not function as a stand-alone component.
The above AC plug/outlet is for illustration purposes
only. The power connections depend on region.
Please refer to the troubleshooting guide in the XW-PSS01 operating instructions if you experience
problems with the operation of this unit.
When using this product follow the instructions
written on the underside of the unit, which
concern rated voltage, etc.
Incorrect use of batteries may result in such hazards as leakage and bursting. Observe the following
· Never use new and old batteries together.
· Insert the plus and minus sides of the batteries properly according to the marks in the battery
· Batteries with the same shape may have different voltages. Do not use different batteries
· When disposing of used batteries, please comply with governmental regulations or environmental
public instruction's rules that apply in your country or area.
---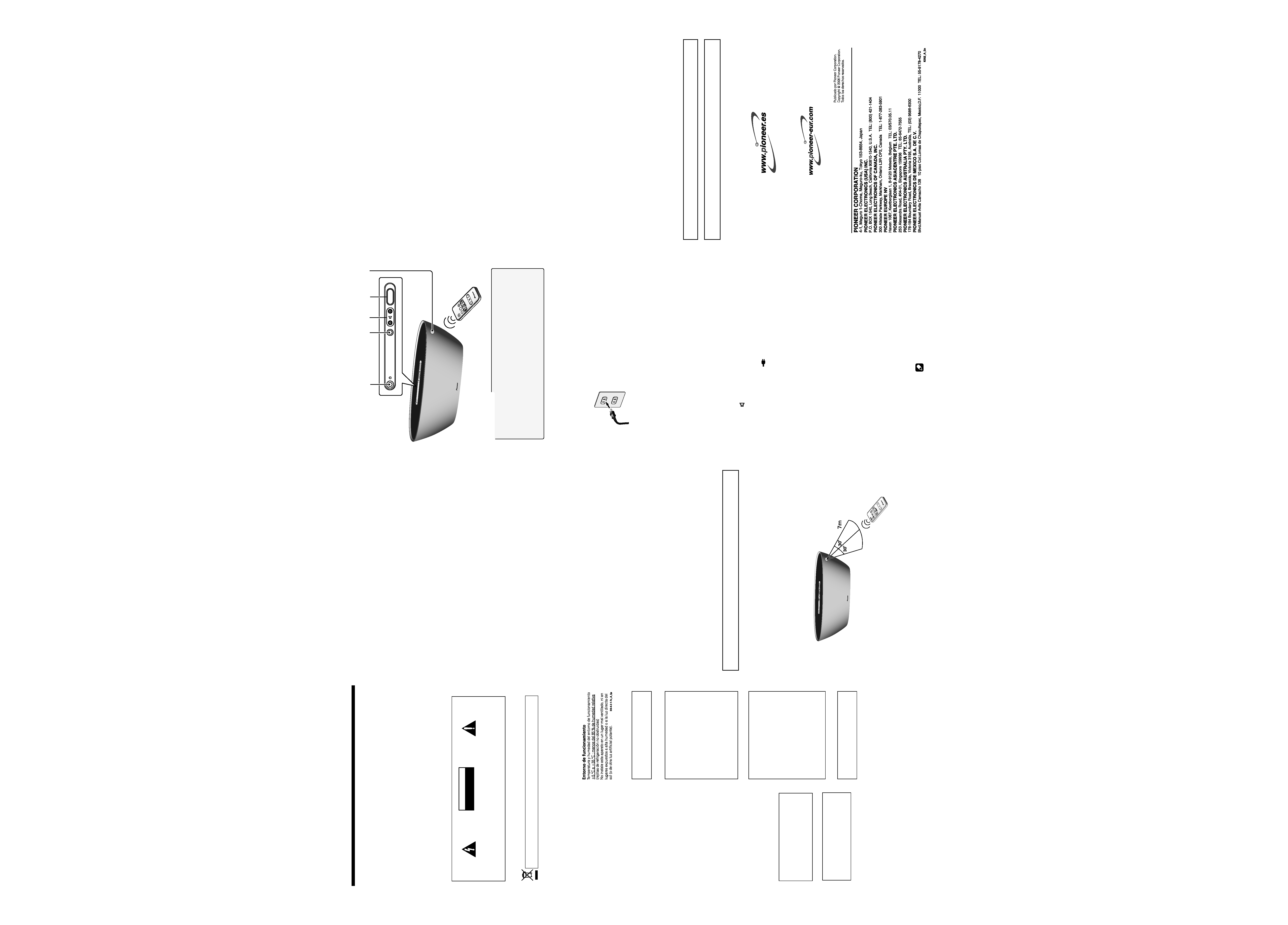 Altavoz para Power Line Network
Muchas gracias por la adquisición de este producto Pioneer. Lea todo este manual de instrucciones
para aprender a operar correctamente su modelo. Después de haber leído las instrucciones, guarde el
manual en un lugar seguro para poderlo consultar en el futuro.
Tenga en cuenta que este altavoz es un componente de un sistema de altavoces completo (que
incluye la Power Line Sound Station XW-PSS01) y que, por tanto, no funcionará como unidad
Si las pilas se colocan incorrectamente, se correrá el
Reemplácelas sólo por otras del mismo tipo u otro
equivalente recomendado por el fabricante.
Este aparato no es impermeable. Para evitar el
riesgo de incendio y de descargas eléctricas, no
ponga ningún recipiente lleno de líquido (como
pueda ser un vaso o un florero) cerca del aparato ni
lo exponga a goteo, salpicaduras, lluvia o
La tensión de la red eléctrica es distinta según el
país o región. Asegúrese de que la tensión de la
alimentación de la localidad donde se proponga
utilizar este aparato corresponda a la tensión
necesaria (es decir, 230 V ó 120 V) indicada en el
Antes de enchufar el aparato a la corriente, lea la
sección siguiente con mucha atención.
Para evitar el peligro de incendio, no ponga nada
con fuego encendido (como pueda ser una vela)
PRECAUCIÓN PARA LA VENTILACIÓN
Cuando instale este aparato, asegúrese de dejar
espacio en torno al mismo para la ventilación con el
fin de mejorar la disipación de calor (por lo menos
60 cm encima, 10 cm detrás, y 30 cm en cada lado).
Las ranuras y aberturas de la caja del aparato sirven
para su ventilación para poder asegurar un
funcionamiento fiable del aparato y para protegerlo
contra sobrecalentamiento. Para evitar el peligro de
incendio, las aberturas nunca deberán taparse ni
cubrirse con nada (como por ejemplo, periódicos,
manteles, cortinas) ni ponerse en funcionamiento el
aparato sobre una alfombra gruesas o una cama.
Este producto cumple con la Directiva de Bajo
Voltaje (73/23/ CE, correcto por la 93/68/CE),
Directivas EMC (89/336/CE, correcto por la 92/31/CE
[Sólo para el modelo europeo]
Si la clavija del cable de alimentación de CA de este
aparato no se adapta a la toma de corriente de CA
que usted desea utilizar, deberá cambiar la clavija
por otra que se adapte apropiadamente. El
reemplazo y montaje de una clavija del cable de
alimentación de CA sólo deberá realizarlos personal
de servicio técnico cualificado. Si se enchufa la
clavija cortada a una toma de corriente de CA,
puede causar fuertes descargas eléctricas.
Asegúrese de que se tira de la forma apropiada
después de haberla extraído.
El aparato deberá desconectarse desenchufando la
clavija de la alimentación de la toma de corriente
cuando no se proponga utilizarlo durante mucho
tiempo (por ejemplo, antes de irse de vacaciones).
El interruptor de la alimentación Standby/On de este
aparato no corta por completo toda la alimentación
de la toma de corriente de CA. Puesto que el cable
de alimentación hace las funciones de dispositivo de
desconexión de la corriente para el aparato, para
desconectar toda la alimentación del aparato deberá
desenchufar el cable de la toma de corriente de CA.
Por lo tanto, asegúrese de instalar el aparato de
modo que el cable de alimentación pueda
desenchufarse con facilidad de la toma de corriente
de CA en caso de un accidente. Para evitar correr el
peligro de incendio, el cable de alimentación
también deberá desenchufarse de la toma de
corriente de CA cuando no se tenga la intención de
utilizarlo durante mucho tiempo seguido (por
ejemplo, antes de irse de vacaciones).
Este producto es para tareas domésticas generales.
Cualquiera avería debida a otra utilización que
tareas domésticas (tales como el uso a largo plazo
para motivos de negocios en un restaurante o el uso
en un coche o un barco) y que necesita una
reparación hará que cobrarla incluso durante el
Si desea deshacerse de este producto, no lo mezcle con los residuos generales de su hogar. De conformidad con la legislación
vigente, existe un sistema de recogida distinto para los productos electrónicos que requieren un procedimiento adecuado de
tratamiento, recuperación y reciclado.
Las viviendas privadas en los 25 estados miembros de la UE, en Suiza y Noruega pueden devolver gratuitamente sus productos electrónicos
usados en las instalaciones de recolección previstas o bien en las instalaciones de minoristas (si adquieren un producto similar nuevo).
En el caso de los países que no se han mencionado en el párrafo anterior, póngase en contacto con sus autoridades locales a fin de conocer el
método de eliminación correcto.
Al actuar siguiendo estas instrucciones, se asegurará de que el producto de desecho se somete a los procesos de tratamiento, recuperación y
reciclaje necesarios, con lo que se previenen los efectos negativos potenciales para el entorno y la salud humana.
[Sólo para el modelo europeo]
www.pioneer.es
(o en www.pioneer-eur.com)
Descubra los beneficios de registrarse on-line:
[Sólo para el modelo europeo]
El punto exclamativo dentro un triángulo
equilátero convenido para avisar el usuário
de la presencia de importantes
instrucciones sobre el funcionamiento y la
manutención en la libreta que acompaña el
La luz intermitente con el símbolo de punta
de flecha dentro un triángulo equilátero.
Está convenido para avisar el usuario de la
presencia de "voltaje peligrosa" no aislada
dentro el producto que podría constituir un
peligro de choque eléctrico para las
PARA PREVENIR EL PELIGRO DE CHOQUE
ELÉCTRICO NO REMOVER LA TAPA NI LAS
PARTES DENTRO NO UTILIZADAS,
LLAMAR UNA PERSONA CUALIFICADA
· No ponga el altavoz sobre una superficie inestable. Correría el peligro de caídas, pudiendo
ocasionar heridas y daños en el equipo.
· No ponga ningún televisor ni otros equipos audiovisuales sobre este altavoz. Correría el peligro
de caídas, pudiendo ocasionar heridas y daños en el equipo.
Precaución: durante la utilización
· No emplee el altavoz para emitir sonido distorsionado durante largos períodos de tiempo.
Correría el peligro de incendios.
· No se suba ni se siente encima del altavoz, y no permita que los niños jueguen sobre el altavoz.
· No ponga objetos grandes ni pesados sobre el altavoz.
· No instale los altavoces en una posición elevada ni en la pared.
· No monte los altavoces en la pared ni en el techo. Podrían caerse y ocasionar heridas.
· Proteja el altavoz del agua y la humedad. No sitúe el altavoz en el baño o en lugares en los que
quede expuesto a una alta concentración de humedad.
Precauciones para la utilización
· Las condiciones que los seres humanos consideran desagradables son también perjudiciales
para los altavoces. Proporcionándoles un entorno confortable se ayudará a que los altavoces
puedan mostrar su óptimo rendimiento. Conserve un entorno de utilización como se indica a
Temperatura: 15 °C a 25 °C
Humedad relativa: 35 % a 65 % (en invierno)
· En zonas con alta humedad, emplee un deshumidificador, y en zonas muy secas, emplee un
humidificador para ajustar el nivel de humedad de la habitación.
· Evite la exposición a la luz directa del sol, y no los instale cerca de aparatos de calefacción.
· Cuando emplee acondicionadores de aire o estufas en la habitación para refrigeración o
calefacción, tome precauciones para evitar la deshumidificación excesiva.
· Evite los lugares cercanos a las ventanas u otros lugares en los que los altavoces puedan quedar
expuestos a la influencia del aire exterior, porque puede producirse condensación de humedad.
Limpieza de la caja acústica del altavoz
En condiciones normales de utilización, emplee un paño seco para frotar la superficie y mantener
limpias las cajas acústicas. Si es necesario, límpielas con un paño humedecido en limpiador poco
concentrado diluido en cinco o seis partes de agua, y elimine bien el limpiador. No emplee cera para
muebles ni otros productos de limpieza.
No utilice nunca, ni en la unidad como cerca de ella, disolventes, bencina, pulverizadores de
insecticida u otros productos químicos, ya que estos productos podrían corroer la superficie.
El sistema del altavoz tiene protección magnética. Sin embargo, dependiendo del lugar de instalación,
puede producirse distorsión del color si se instala el sistema de altavoz muy cerca de la pantalla de un
Si así sucede, apague el televisor, y vuélvalo a encender después de 15 minutos a 30 minutos. Si el
problema persiste, aparte del televisor el sistema del altavoz.
· Este sistema permite escuchar fuentes de sonido de la Power Line Sound Station con sólo
enchufar el cable de alimentación a cualquier toma de corriente del hogar. Por ejemplo, se puede
instalar la Power Line Sound Station en la sala de casa, y distribuir los altavoces en la cocina, el
pasillo y el dormitorio para escuchar música cuando y donde se desee en el hogar.
· Gracias al sensor del mando a distancia del altavoz opcional XW-PSS01-L suministrado con este
sistema, se puede controlar la Power Line Sound Station, incluso mientras de escucha música
Los altavoces se ven delicadamente afectados por las condiciones de la sala de audición en la que se
utilizan. Por tal razón, deberá tener cuidado y proporcionar las óptimas condiciones para su entorno
Nota: Pioneer no se hace en ningún caso responsable por los daños o accidentes que
puedan deberse a una instalación inadecuada.
· Cada altavoz pesa 2,8 kg. Seleccione una superficie estable para su instalación.
Radio de acción del mando a distancia
La Power Line Sound Station puede ser controlada por el mando a distancia a través del sensor del
mando a distancia del altavoz. Abajo se muestra el radio de acción del mando a distancia.
Es posible que el mando a distancia no funcione correctamente si:
· Hay obstáculos entre el mando a distancia y el sensor del mando a distancia del altavoz.
· El sensor del mando a distancia está expuesto a la luz directa del sol o a luces fluorescentes.
· El altavoz está situado cerca de un dispositivo que emite rayos infrarrojos.
· Se utiliza el altavoz al mismo tiempo que otro mando a distancia de rayos infrarrojos.
Consumo eléctrico .................................................................................................................................... 24 W
Potencia de salida ....................................................................................................25 W/canal (1 kHz, 10 %)
Modelos europeos/R.U. ......................................................................... CA de 230 V a 240 V, 50 Hz/60 Hz
Modelos de Australia/Nueva Zelanda ................................................................ CA de 240 V, 50 Hz/60 Hz
Modelo taiwanés ............................................................................................................. CA de 110 V, 60 Hz
Todos los demás modelos ...................................................................... CA de 110 V a 240 V, 50 Hz/60 Hz
Caja ..................................................................... Caja cerrada tipo estantería (con protección magnética)
Gama completa ............................................................................................................Cónico de 7,7 cm x 2
Impedancia nominal .................................................................................................................................... 6
Medidas exteriores ......................................................................452 (An) mm x 162 (Al) mm x 112 (Pr) mm
Peso ........................................................................................................................................................... 2,8 kg
Pila de litio (CR2025) x 1
Adaptador de enchufe (sólo para el modelo de tensiones múltiples) x 1
Enchufe el cable de alimentación a una toma de corriente de CA adecuada.
Para saber cuáles son las conexiones recomendadas, consulte el manual de instrucciones del
Conexiones de la Power Line Sound System.
Asignación del ID del altavoz
Cuando el altavoz se usa como unidad opcional de la Power Line Sound Station, es necesario
asignarle un ID a fin de que el sistema funcione adecuadamente. Conecte la Power Line Sound
Station y el altavoz a las tomas de corriente CA. Las tomas de corriente deben estar lo más cerca
posible una de otra, idealmente en la misma toma.
Encienda la Power Line Sound Station.
y pulse DUAL en la Power Line Sound Station.
y pulse CH Select en este altavoz.
El ajuste de ID del altavoz queda confirmado cuando
y pulse DUAL en la Power Line Sound Station.
El ajuste de ID queda completado cuando
deja de parpadear (después de unos diez segundos).
PRECAUCIONES CONCERNIENTES A LA
MANIPULACIÓN DEL CABLE DE
Tome el cable de alimentación por la clavija. No
extraiga la clavija tirando del cable. Nunca toque el
cable de alimentación cuando sus manos estén
mojadas, ya que esto podría causar cortocircuitos o
descargas eléctricas. No coloque la unidad, algún
mueble, etc., sobre el cable de alimentación. Asegúrese
de no hacer nudos en el cable ni de unirlo a otros
cables. Los cables de alimentación deberán ser
dispuestos de tal forma que la probabilidad de que
sean pisados sea mínima. Una cable de alimentación
dañado podrá causar incendios o descargas eléctricas.
Revise el cable de alimentación está dañado, solicite el
reemplazo del mismo al centro de servicio autorizado
PIONEER más cercano, o a su distribuidor.
En caso de reparación, es necesario llevar el sistema principal (Power Line Sound System), así como
este altavoz (XW-PSS01-L), a un centro de servicio técnico autorizado por Pioneer.
· Especificaciones y diseño sujetos a posibles cambios sin
previo aviso debido a mejoras del producto.
[Sólo para el modelo europeo]
Seleccione el canal A o B en la
Power Line Sound Station para su
Ajustan el volumen del altavoz.
Muestra la fuente de entrada en forma
5 Sensor del mando a distancia
Para controlar el sistema, dirija el
mando hacia este altavoz (no a la
La toma de corriente CA de arriba sólo tiene
valor ilustrativo. La conexión a la red depende
Si la unidad no funciona correctamente, consulte la guía de resolución de problemas del manual de
Cuando emplee este producto, siga las
instrucciones escritas en la parte inferior de la
unidad, relacionadas con la tensión nominal, etc.
El uso incorrecto de las pilas puede provocar situaciones peligrosas tales como fugas y explosión.
Tenga en cuenta las siguientes precauciones:
· Nunca utilice pilas nuevas y usadas al mismo tiempo.
· Instale las pilas correctamente, haciendo coincidir los polos positivo y negativo de las mismas
con las marcas de polaridad impresas en el compartimiento de las pilas.
· Aunque distintas pilas tengan la misma forma, pueden tener tensiones diferentes. No mezcle
· Cuando deseche las pilas usadas, asegúrese de respetar las disposiciones gubernamentales o
las normas de las instituciones medioambientales públicas aplicables en su país o región.
---