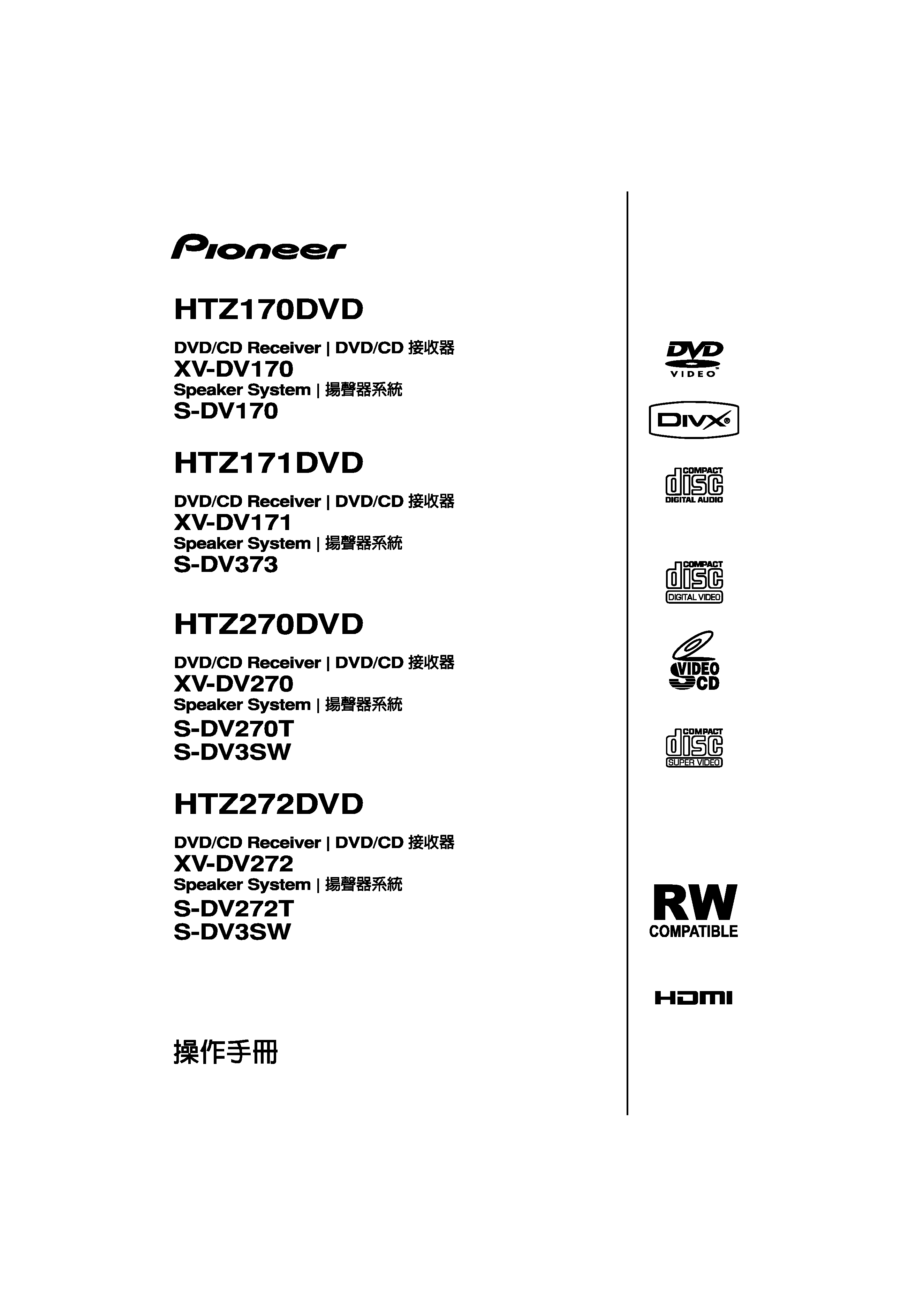 ---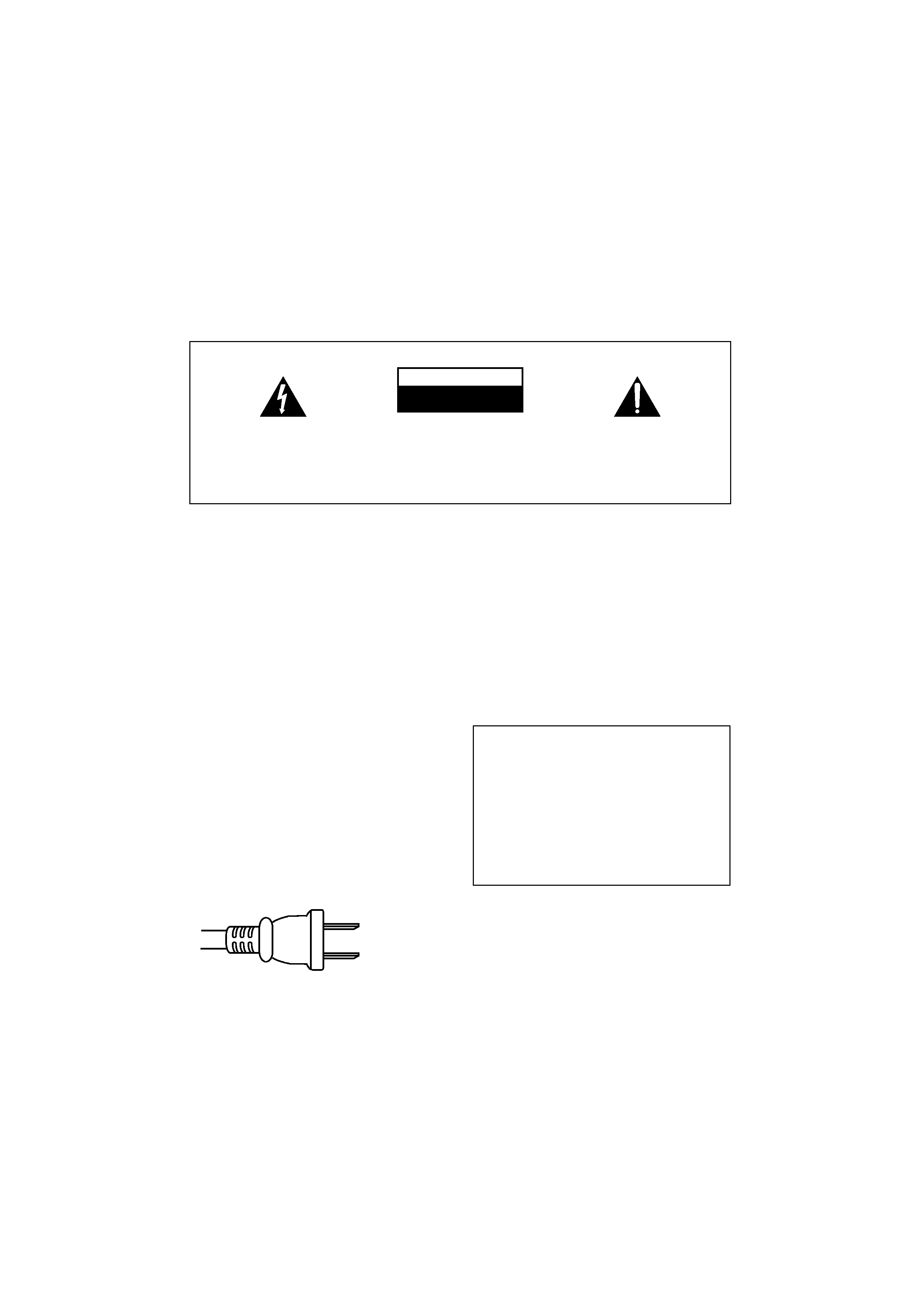 The exclamation point within an equilateral
triangle is intended to alert the user to the
presence of important operating and
maintenance (servicing) instructions in the
literature accompanying the appliance.
The lightning flash with arrowhead symbol,
within an equilateral triangle, is intended to
alert the user to the presence of uninsulated
"dangerous voltage" within the product's
enclosure that may be of sufficient
magnitude to constitute a risk of electric
TO PREVENT THE RISK OF ELECTRIC
SHOCK, DO NOT REMOVE COVER (OR
BACK). NO USER-SERVICEABLE PARTS
INSIDE. REFER SERVICING TO QUALIFIED
This equipment is not waterproof. To prevent a fire
or shock hazard, do not place any container filled
with liquid near this equipment (such as a vase or
flower pot) or expose it to dripping, splashing, rain
The voltage of the available power supply differs
according to country or region. Be sure that the
power supply voltage of the area where this unit
will be used meets the required voltage (e.g., 230 V
or 120 V) written on the rear panel.
Before plugging in for the first time, read the following
To prevent a fire hazard, do not place any naked
flame sources (such as a lighted candle) on the
When installing this unit, make sure to leave space
around the unit for ventilation to improve heat
radiation (at least 10 cm at top, 10 cm at rear, and
Slots and openings in the cabinet are provided for
ventilation to ensure reliable operation of the
product, and to protect it from overheating. To
prevent fire hazard, the openings should never be
blocked or covered with items (such as newspapers,
table-cloths, curtains) or by operating the
equipment on thick carpet or a bed.
The STANDBY/ON switch on this unit will not
completely shut off all power from the AC outlet.
Since the power cord serves as the main disconnect
device for the unit, you will need to unplug it from
the AC outlet to shut down all power. Therefore,
make sure the unit has been installed so that the
power cord can be easily unplugged from the AC
outlet in case of an accident. To avoid fire hazard,
the power cord should also be unplugged from the
AC outlet when left unused for a long period of time
(for example, when on vacation).
Taiwanese two pin flat-bladed plug
HTZ170_171_270_272_En.book
---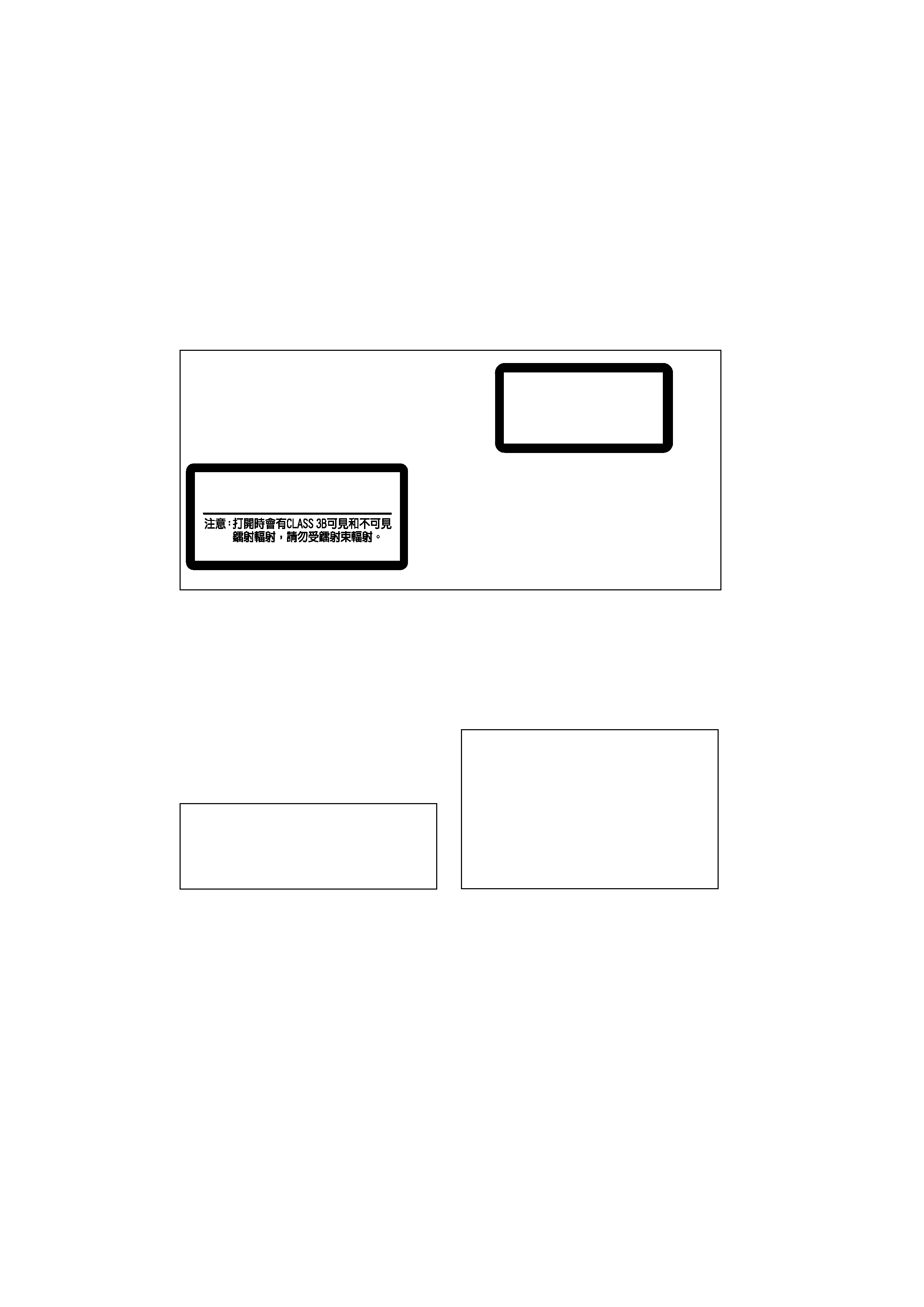 Operating environment temperature and humidity:
+5 ºC to +35 ºC (+41 ºF to +95 ºF); less than 85 %RH
(cooling vents not blocked)
Do not install this unit in a poorly ventilated area, or in
locations exposed to high humidity or direct sunlight (or
This product is a class 1 laser product, but this product
contains a laser diode higher than Class 1.
To ensure continued safety, do not remove any covers or
attempt to gain access to the inside of the product.
Refer all servicing to qualified personnel.
The following caution label appears on your unit.
Location: top of the unit
CAUTION : CLASS 3B VISIBLE AND INVISIBLE LASER
RADIATION WHEN OPEN, AVOID
If the AC plug of this unit does not match the AC
outlet you want to use, the plug must be removed
and appropriate one fitted. Replacement and
mounting of an AC plug on the power supply cord of
this unit should be performed only by qualified
service personnel. If connected to an AC outlet, the
cut-off plug can cause severe electrical shock. Make
sure it is properly disposed of after removal.
The equipment should be disconnected by removing
the mains plug from the wall socket when left
unused for a long period of time (for example, when
Handle the power cord by the plug. Do not pull out the
plug by tugging the cord and never touch the power
cord when your hands are wet as this could cause a
short circuit or electric shock. Do not place the unit, a
piece of furniture, etc., on the power cord, or pinch the
cord. Never make a knot in the cord or tie it with other
cords. The power cords should be routed such that they
are not likely to be stepped on. A damaged power cord
can cause a fire or give you an electrical shock. Check
the power cord once in a while. When you find it
damaged, ask your nearest PIONEER authorized
service center or your dealer for a replacement.
This product is for general household purposes. Any
failure due to use for other than household purposes
(such as long-term use for business purposes in a
restaurant or use in a car or ship) and which
requires repair will be charged for even during the
HTZ170_171_270_272_En.book
---

Thank you for buying this Pioneer product.
Please read through these operating instructions so that you will know how to operate your model
properly. After you have finished reading the instructions, put them in a safe place for future reference.
. . . . . . . . . . . . . . . . . . . . . . . . . . . 6
. . . . . . . . . . . . . . . . . . . . . . . . 7
. . . . . . . . . . . . . . . . . . . . . . . . . . . . . . 9
. . . . . . . . . . . . . . 10
Setting the channel levels
. . . . . . . . . . . . . 11
Using the on-screen displays
. . . . . . . . . . . . 11
. . . . . . . . . . . . . . . . . . . . . . . . 11
. . . . . . . . . . . . . . . 12
. . . . . . . . . . . . . 12
. . . . . . . . . . . . . . . . 13
Video CD/Super VCD PBC menus
. . . . . . . . . . . . . . . . . . 13
Improving poor FM reception
. . . . . . . . . . . . . . . . . . 14
Listening to station presets
. . . . . . . . . . . . 14
Listening to other sources
. . . . . . . . . . . . . . 14
. . . . . . . . . . . . . . . . . 14
03 Listening to your system
. . . . . . . . . . . . . . . . . . . 15
Listening in surround sound
. . . . . . . . . . . . . 15
. . . . . . . . . . . . . . . . . . 15
Using the Front Surround mode
Using the Extra Power mode
. . . . . . . . . . . . . . . . . . . . 16
Listening with headphones
. . . . . . . . . . . . 16
Adjusting the bass and treble
. . . . . . . . . . . . 16
. . . . . . . . . . . . . . . . . . 16
. . . . . . . . . . . . . . . . . 16
. . . . . . . . . . . . . . . 17
Using the Voice Enhancer mode
04 Disc playback features
. . . . . . . . . . . . . . . . . . . . . . . 18
. . . . . . . . . . . . . . . . . 18
Frame advance/frame reverse
. . . . . . . . . . . . 18
. . . . . . . . . . . . . . . 18
Browsing DVD or Video CD/Super VCD
discs with the Disc Navigator
. . . . . . . . . . . . 19
Browsing Windows MediaTM Audio (WMA),
MP3, MPEG-4 AAC, DivX video/WMV and
JPEG files with the Disc Navigator
. . . . . . . . . . . . . . . . . . . . . . . . 20
. . . . . . . . . . . . . . . . 20
. . . . . . . . . . . . . . . . . . 21
Clearing files from a playlist
. . . . . . . . . . . . 21
Looping a section of a disc
. . . . . . . . . . . . . . 21
. . . . . . . . . . . . . . . . . . . . . 21
. . . . . . . . . . . . . . . . . . . . 21
. . . . . . . . . . . . . . . . . 22
Other functions available from the
. . . . . . . . . . . . . . . . . . . . . . 22
. . . . . . . . . . . . . . . . . . . . . . 23
. . . . . . . . . . . . . . . . . . . . 23
Switching language/audio channels
. . . . . . . . . . . . . . . . . . . 24
. . . . . . . . . . . . . . . 24
Displaying disc information
. . . . . . . . . . . . . . 24
. . . . . . . . . . . . . . . . 25
. . . . . . . . . . . . . . . . 25
. . . . . . . . . . . . . . . . . . . . . . . . 26
. . . . . . . . . . . . . . . 26
Browsing files with the Navigator
HTZ170_171_270_272_En.book
---

. . . . . . . . . . . . . . . . . . . . . . 27
. . . . . . . . . . . . . . . 27
Changing the backing track
. . . . . . . . . . . . 27
07 Audio Settings and Video Adjust
. . . . . . . . . . . . . . . . . . . 28
. . . . . . . . . . . . . . . . . . . . . . . . . 28
. . . . . . . . . . . . . . . . . . . . 28
Using the Initial Settings menu
. . . . . . . . . . . . . . . . . . 29
. . . . . . . . . . . . . . . . . . . . . 30
. . . . . . . . . . . . . . . . . . . . . . . 31
. . . . . . . . . . . . . . . . . . . . . . 31
. . . . . . . . . . . . . . . . . . . . . 31
. . . . . . . . . . . . . . . . . . . . . . . 31
. . . . . . . . . . . . . 32
. . . . . . . . . . . . . . . . . . . . 33
Connecting external antennas
. . . . . . . . . . . . 34
Connecting auxiliary audio components
Connecting using the component
. . . . . . . . . . . . . . . . . . . . . . . . . 35
About progressive scan video
. . . . . . . . . . . . . . . . 35
Switching the HDMI audio setting
Resetting the HDMI connection
. . . . . . . . . . . . . . . . . . . . . . . . . 36
10 Additional information
Disc/content format playback
. . . . . . . . . . . . . . . . . . . . . . . . . 37
. . . . . . . . . . . . . . . . 37
About DVD+R/DVD+RW compatibility
. . . . . . . . . . . . . . . . . . . . . . . . . 38
. . . . . . . . . . . . . . . . . . . . . . . . . 39
. . . . . . . . . . . . . . . . . . . 39
. . . . . . . . . . . . . . . . . . . . . . . . 39
Using and taking care of discs
. . . . . . . . . . . . 39
. . . . . . . . . . . . . . . . . . . 40
Installation and maintenance
. . . . . . . . . . . . 40
. . . . . . . . . . . . . . . . . . 40
. . . . . . . . . . . . . . . 40
Problems with condensation
. . . . . . . . . . . . 40
. . . . . . . . . . . . . . . . 41
Screen sizes and disc formats
. . . . . . . . . . . . 41
. . . . . . . . . . . . . . . . . . 41
. . . . . . . . . . . . . . . . . . . . 41
. . . . . . . . . . . . . . . . . . . . . . 42
. . . . . . . . . . . . . . . . . . 42
. . . . . . . . . . . . . . . . . 42
. . . . . . . . . . . . . . . . . . . 42
. . . . . . . . . . . . . . . . . . . . . . . 43
. . . . . . . . . . . . . . . . . . . . . . . . . . . . 43
. . . . . . . . . . . . . . . 44
. . . . . . . . . . . . . . . . . . . . . . . . . . . . . . 45
. . . . . . . . . . . . . . . . . . . . . 45
. . . . . . . . . . . . . . . . . . . . 45
. . . . . . . . . . . . . . . . . . . . . . 46
. . . . . . . . . . . . . . . . . . . 47
. . . . . . . . . . . . . . . . . . . 47
Using the language code list
. . . . . . . . . . . . . 47
. . . . . . . . . . . . . . . . . . . . . 48
. . . . . . . . . . . . . . . . . . 48
. . . . . . . . . . . . . . . . . . . . . . . . 49
HTZ170_171_270_272_En.book
---