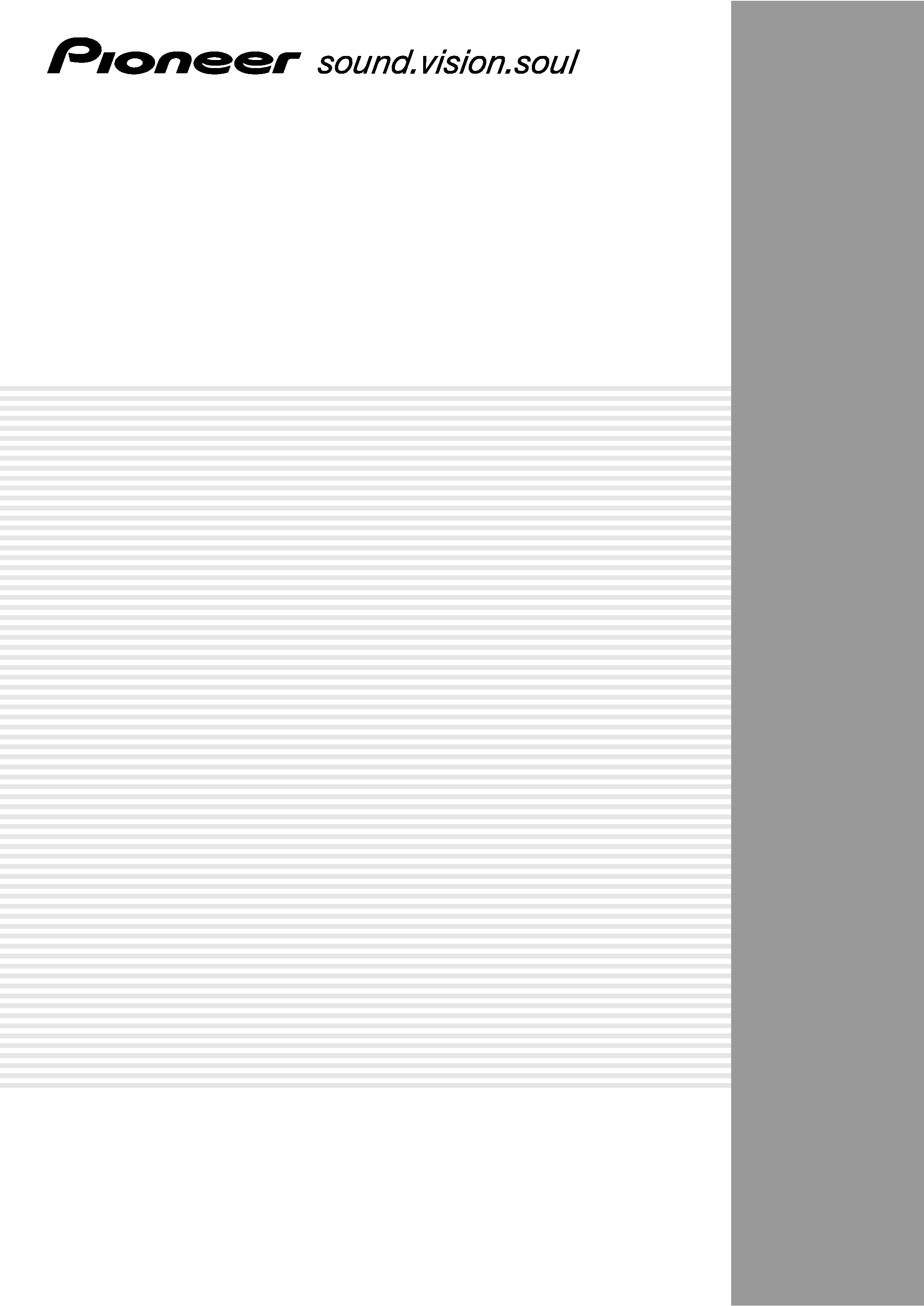 AUDIO/VIDEO MULTI-CHANNEL
---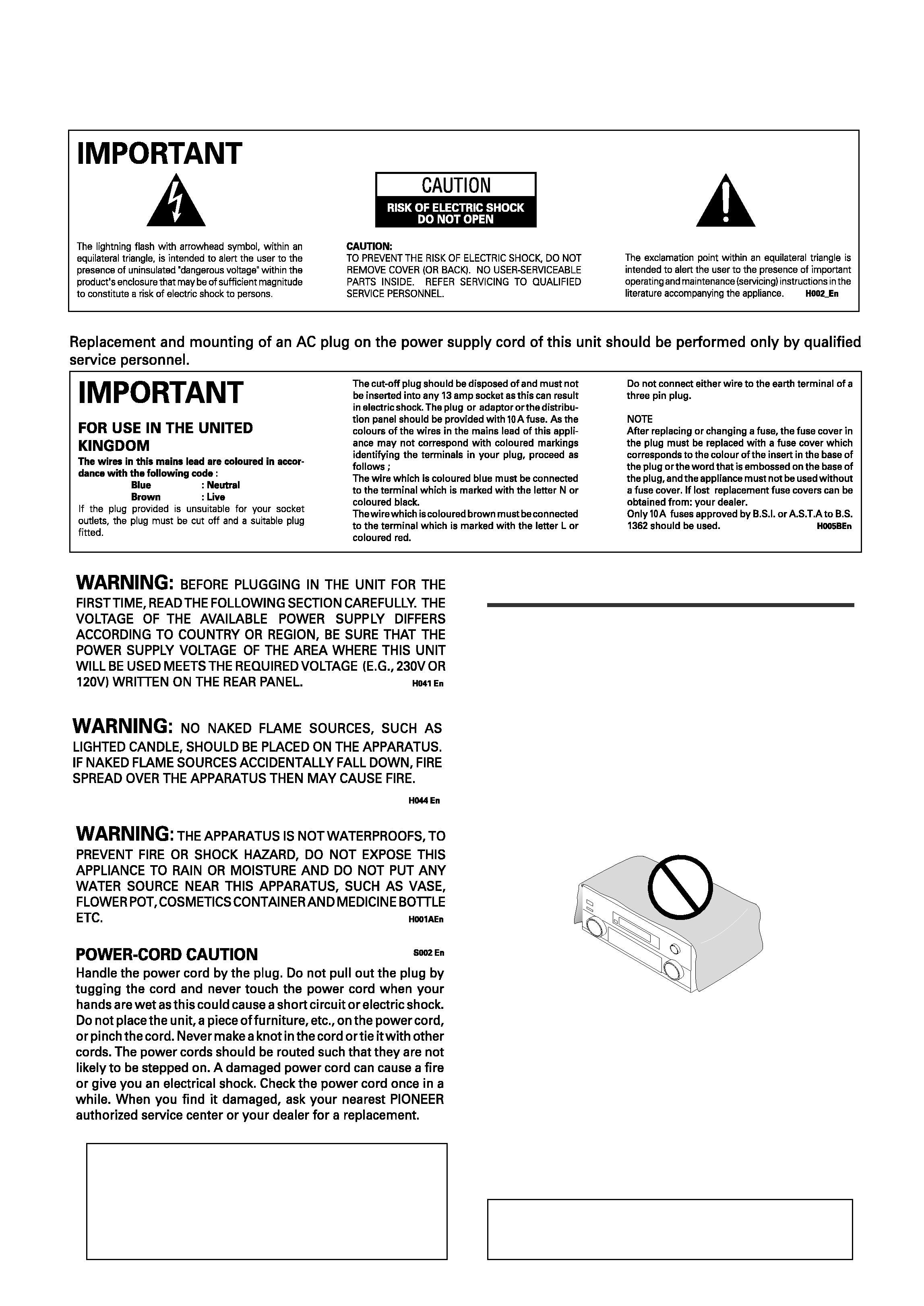 This product is for general household purposes. Any
failure due to use for other than household purposes
(such as long-term use for business purposes in a
restaurant or use in a car or ship) and which requires
repair will be charged for even during the warranty
VENTILATION:
When installing this unit, make
sure to leave space around the unit for ventilation to
improve heat radiation (at least 60 cm at top, 10 cm at
rear, and 30 cm at each side).
WARNING:
Slot and openings in the cabinet are
provided for ventilation and to ensure reliable operation
of the product and to protect it from overheating, to
prevent fire hazard, the openings should never be
blocked and covered with items, such as newspapers,
tablecloths, curtains, etc. Also do not put the apparatus
on the thick carpet, bed, sofa, or fabric having a thick
Operating Environment
H045 En
Operating environment temperature and humidity:
°
C ­ +35
°
C (+41
°
F ­ +95
°
F); less than 85%RH
(cooling vents not blocked)
Do not install in the following locations
Location exposed to direct sunlight or strong artificial
Location exposed to high humidity, or poorly
This product complies with the Low Voltage Directive (73/23/
EEC, amended by 93/68/EEC), EMC Directives (89/336/EEC,
amended by 92/31/EEC and 93/68/EEC).
Thank you for buying this Pioneer product.
Please read through these operating instructions so you will know how to operate your model properly.
After you have finished reading the instructions, put them away in a safe place for future reference.
---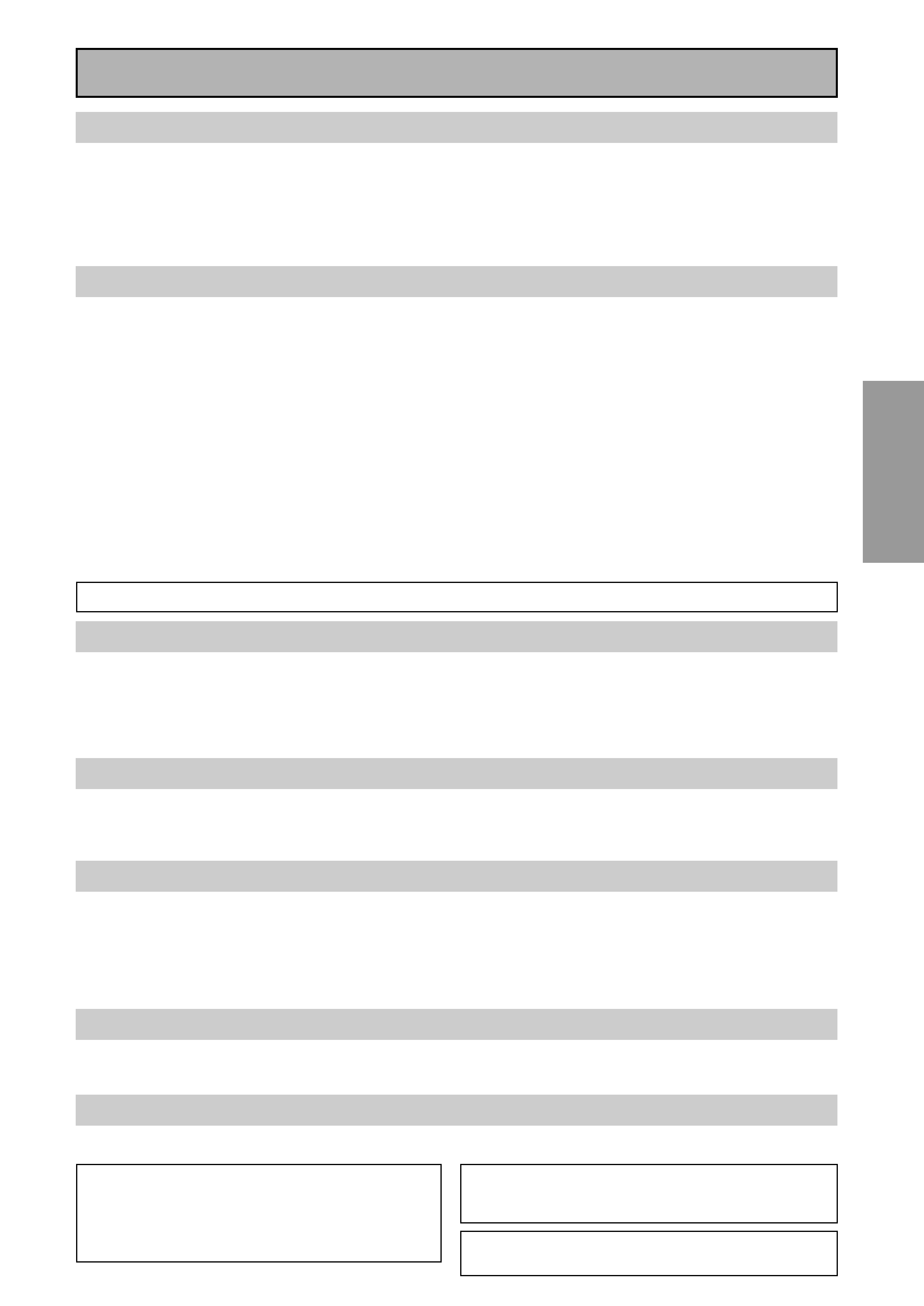 Advanced Multichannel Stereophonic Concept
The VSA-AX10i-S amplifier is constructed with Pioneer's industry-leading advanced multichannel stereophonic
concept. This means it is designed to reproduce music and movie soundtracks as close as possible to the
intentions of the producer during mastering. The amplifier uses a revolutionary 3-D Frame Construction
technique and a Symmetrical Power Train Design, with high-performance Advanced Direct Energy MOS-FET
output devices, generating 170 watts (DIN 6
) of power for 7 independent channels. True 32-bit Tri Digital Signal
Processing is used for ultra realistic sound.
The i.LINK interface makes it possible to connect the amplifier to i.LINK-equipped components such as a DVD
player with a single cable and enjoy multichannel digital audio from SACD and DVD-A discs (if the player is
compatible with these outputs), as well as digital audio from DVD-Video, CD and Video CD discs.
In addition to simplified connection, jitterless audio is possible with Pioneer's PQLS* technology when playing
DVD-As, audio CDs and SACDs. By supressing jitter, deterioration of audio quality is minimized and digital audio
of the highest quality is realized.
*PQLS (Precision Quartz Lock System) [rate control]
Technology for high-precision transmission of digital audio over the i.LINK interface enabling jitterless
digital-to-analog conversion using a precision quartz in this amplifier.
To make this feature work, it is only necessary that this amplifier and one rate-control-compatible player are
alive on the i.LINK network.
Other advantages of using i.LINK include `smart' features such as automatic configuration and automatic
function selection--start playback on a i.LINK-equipped component and the amplifier automatically selects the
"i.LINK" and the i.LINK logo are trademarks of the Sony Corporation.
Multi-Channel Acoustic Calibration System (MCACC)
In order to make setting up as easy as possible for users we have created the MCACC system. This unique and
convenient way of getting good surround sound from the amplifier makes trouble-free setup a snap. With the
included microphone plugged into the front panel the MCACC system creates a monitoring environment to establish
the parameters of the sound for the specific room you are using. The MCACC system adjusts the parameters to
establish excellent surround sound effects and offers you studio quality home theater sound with minimum effort.
Universal Player Compatibility (DVD Audio)
This amplifier features eight discrete channels of analog inputs, each with 96kHz/24bit A/D converters. This
makes it ideal for use with all audio formats, including DVD-A, and allows very high quality digital processing.
Furthermore, using the MCACC system you can setup this amplifier for optimal DVD-A playback.
Next Generation THX Standards and New Digital Formats
The VSA-AX10i-S is THX Ultra2 certified. Among the new THX technologies is ASA (Advanced Speaker Array),
which can process any 5.1 channel source for 7.1 channel playback (THX Ultra2 Cinema and THX MusicMode), or
6.1 channel playback (THX Surround EX). THX technologies are also available when listening through an i.LINK
interface. Naturally, you can also play all existing audio formats, including the recently developed Dolby Digital
Surround EX, Dolby Pro Logic II, DTS 96/24 soundtracks and DTS-ES Extended Surround formats. On the video
side, the component video output is fully compatible with high definition, progressive-scan digital video (720p).
Manufactured under license from Dolby Laboratories.
"Dolby", "Pro Logic", "Surround EX" and double-D
symbol are trademarks of Dolby Laboratories.
"DTS", "DTS-ES Extended Surround" and "Neo:6" are
trademarks of Digital Theater Systems, Inc.
Lucasfilm and THX are trademarks or registered
trademarkes of Lucasfilm Ltd. & TM. Surround EX is a
jointly developed technology of THX and Dolby
Laboratories and is a trademark of Dolby Laboratories.
All rights reserved. Used under authorization.
The Pioneer Video Converter allows more flexibility in hooking up video components as you can use a wide
range of cords interchangeably.
This amplifier is designed to use 0.65 W of energy when in standby mode.
---

Features ................................................. 3
Before You Start .................................... 6
Checking the Supplied Accessories ........................... 6
Preparing the Remote Control .................................... 6
Loading the batteries ............................................. 6
Remote Control Battery Alarm .............................. 6
The Touch Pen & Lock ............................................ 7
Remote Control Cushions ...................................... 7
Operating range of remote control unit ............... 7
Opening the Front Panel ............................................. 7
Setting Up the Remote Control .................................. 8
Remote Control Backlight ........................................... 9
Quick Start Guide Part 1 ..................... 10
Home Theater: The Basics ........................................ 10
1) Your Home System .......................................... 10
2) The Source Material ......................................... 10
3) The Listening Modes ........................................ 10
Conclusion ............................................................ 10
1 Hooking Up Your DVD Player & TV ..................... 11
2 Speaker Connections ........................................... 12
3 Setting up the Main Unit ...................................... 13
4 Assigning the Digital Inputs ................................ 13
Quick Start Guide Part 2 ..................... 14
1 Auto Surround Sound Setup ............................... 14
2 Playing a DVD with Surround Sound ................. 17
3 Personalizing Your Sound .................................... 17
Connecting Your Equipment .............. 18
Connecting your TV ................................................... 18
Video Converter .................................................... 18
Connecting Video Components ................................ 19
Connecting a DVD, DVD/LD or LD player ........... 19
Connecting VCRs or DVRs ................................... 20
Connecting a Video Component
to the Front Panel ................................................. 20
Connecting Satellite TV (SAT) Components ...... 21
Connecting Analog Audio Components .................. 22
Cassette deck placement ..................................... 23
Connecting to the Multi Channel Analog Inputs
(DVD-A or SACD compatible player) .................... 23
Connecting Digital Audio Components ................... 24
Digital Input Default Settings .............................. 25
Connecting Speakers ................................................. 26
Placing Your Speakers ............................................... 27
Speaker placement ............................................... 27
AC Power Cord ........................................................... 28
AC Outlet [switched 100 W max] .............................. 28
Using i.LINK Interface ......................... 29
What is i.LINK? ........................................................... 29
Connecting i.LINK-equipped Components .............. 29
Creating an i.LINK Network ...................................... 31
Displays & Controls ............................ 32
Front Panel ................................................................. 32
Back Panel .................................................................. 34
Remote Control .......................................................... 36
Basic Amplifier LCD Screens .................................... 37
Amplifier MAIN Screen ........................................ 37
Amplifier SUB Screen .......................................... 38
Display ........................................................................ 39
Setting Up for Surround Sound ........ 40
SPEAKER SYSTEMS .................................................. 41
CHANNEL LEVEL (channel balance) ........................ 43
SPEAKER DISTANCE ................................................. 45
Acoustic Calibration EQ ............................................ 46
Data Copy of Acoustic Calibration EQ ..................... 48
Check the Auto Settings ............................................ 49
Basic Operation ................................... 50
Stereo and Multichannel Playback ........................... 50
Switching the channels used for playback
(LISTENING CH SELECT) ..................................... 51
Switching i.LINK/ANALOG/DIGITAL
Signal Input ........................................................... 52
Playback of up to 192kHz, 24-bit sound
formats .................................................................. 53
Listening Modes ........................................................ 53
STEREO modes ..................................................... 53
STANDARD modes ............................................... 54
HOME THX modes ............................................... 55
ADVANCED CINEMA modes ................................ 56
ADVANCED CONCERT modes ............................. 57
Adjusting the Effect of Advanced Listening Modes ... 57
Listening with Acoustic Calibration EQ ................... 58
Reducing Noise During Playback
(DIGITAL NR Function) .............................................. 58
Listening in MIDNIGHT Mode ................................... 59
Listening in LOUDNESS Mode ................................. 59
Adjusting Bass and Treble (TONE CONTROL) ........ 60
Listening with SOUND DELAY .................................. 60
DVD Audio/MULTI CHANNEL IN Playback .............. 61
DUAL MONO Setting and Playback ......................... 62
Input Attenuator ......................................................... 62
Tape 2 Monitor ........................................................... 62
Using the Headphones .............................................. 63
Video Select ............................................................... 63
---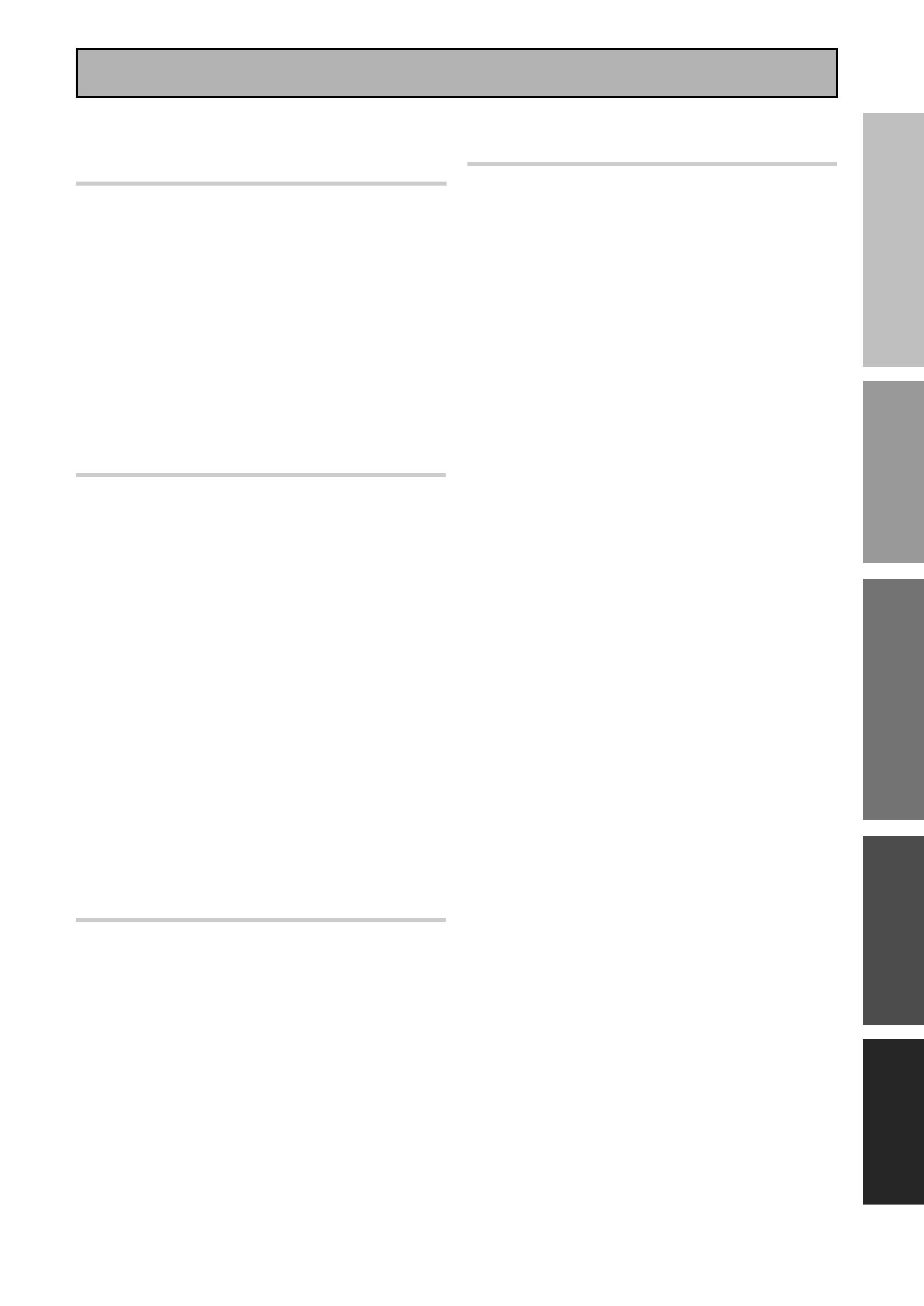 Adjusting the Brightness of the Display
(DISPLAY DIMMER) ................................................... 64
Status Display ............................................................ 65
Components ........................................ 66
Setting Up the Remote Control to Control Other
Components ............................................................... 66
Recalling Settings Stored in the
Remote Control ..................................................... 66
Programming Signals from Other Remote
Controls (LEARNING Mode) ................................ 68
Locking the Settings .................................................. 69
Using the Remote Control with
Other Components .................................................... 70
DVD and TV operations ........................................ 70
Setting up the DIRECT FUNCTION ........................... 71
Using Other Functions ........................ 72
Recording from Audio/Video Components ............. 72
Record monitor (TAPE 2 MONITOR) ................... 72
Speaker System B Setup ........................................... 73
Stereo playback in another room ........................ 73
Bi-amping the front speakers .............................. 73
Bi-wiring your speakers ....................................... 73
Switching A/B Speaker System ........................... 74
Connecting Additional Amplifiers ............................ 75
Pre Out Power Setup ................................................. 76
The PIONEER SR System: Operating other
PIONEER components ............................................... 76
Multi Operations ........................................................ 77
Performing multi operations ............................... 78
System off .................................................................. 79
Using System off .................................................. 80
Editing Remote Control Screen Names
(ITEM MEMO) ............................................................. 81
Editing Buttons Names (KEY LABEL) ....................... 82
Resetting the Main Unit ............................................ 84
Resetting the Remote Control .................................. 84
Advanced Setup .................................. 85
Assigning the Digital Inputs ...................................... 85
Assigning the Component Video Inputs .................. 86
Assigning i.LINK Inputs ............................................. 87
Expert Setup ............................................................... 89
OSD (On-screen Display) ADJUSTMENT ........... 90
BASS PEAK LEVEL ............................................... 91
DYNAMIC RANGE CONTROL .............................. 92
MULTI CH IN SELECT ........................................... 93
FUNCTION RENAME ............................................ 94
HI-BIT/HI-SAMPLING ............................................ 95
THX Audio Setup ....................................................... 96
THX Ultra2 Subwoofer Setup .............................. 96
Surround Back Speaker Position ......................... 97
Techno Tidbits & Problem-solving ..... 98
Dolby ........................................................................... 98
Dolby Digital ......................................................... 98
Dolby Pro Logic II ................................................. 99
Dolby Digital Surround EX .................................. 99
MPEG Audio ............................................................... 99
DTS ........................................................................... 100
DTS ...................................................................... 100
DTS-ES ................................................................ 100
DTS Neo:6 ........................................................... 100
DTS 96/24 ............................................................ 100
THX ........................................................................... 100
Speaker Placement Information ............................. 102
i.LINK Related Messages ......................................... 104
Troubleshooting ....................................................... 105
Specifications ........................................................... 112
---