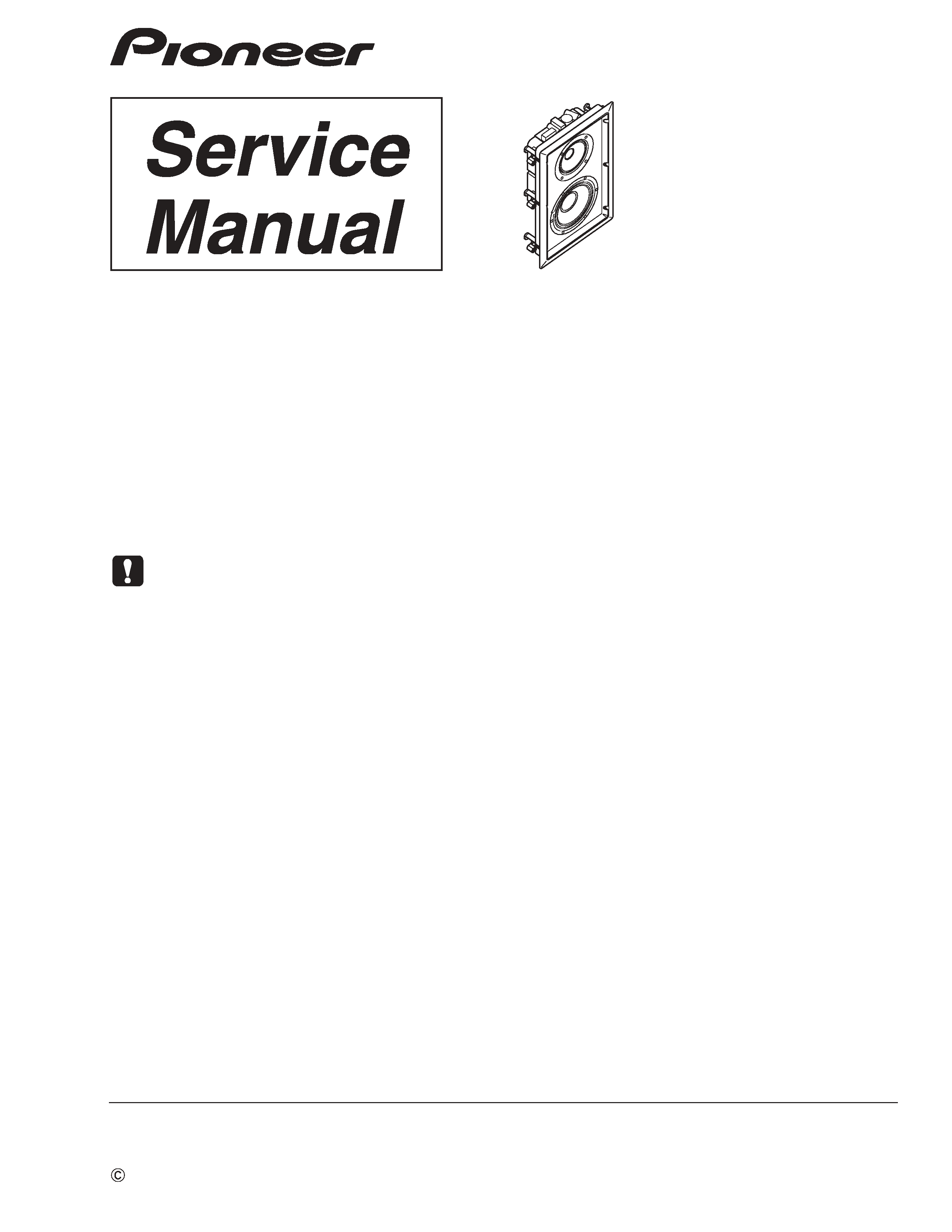 PIONEER CORPORATION
4-1, Meguro 1-chome, Meguro-ku, Tokyo 153-8654, Japan
PIONEER ELECTRONICS (USA) INC. P.O. Box 1760, Long Beach, CA 90801-1760, U.S.A.
PIONEER EUROPE NV Haven 1087, Keetberglaan 1, 9120 Melsele, Belgium
PIONEER ELECTRONICS ASIACENTRE PTE. LTD. 253 Alexandra Road, #04-01, Singapore 159936
T-ZZR SEP. 2008 Printerd in Japan
This service manual is intended for qualified service technicians; it is not meant for the casual
do-it-yourselfer. Qualified technicians have the necessary test equipment and tools, and have been
trained to properly and safely repair complex products such as those covered by this manual.
Improperly performed repairs can adversely affect the safety and reliability of the product and may
void the warranty. If you are not qualified to perform the repair of this product properly and safely,
you should not risk trying to do so and refer the repair to a qualified service technician.
This product contains certain electrical parts contain chemicals which are known to the State of California to cause cancer,
birth defects or other reproductive harm.
Health & Safety Code Section 25249.6 - Proposition 65
---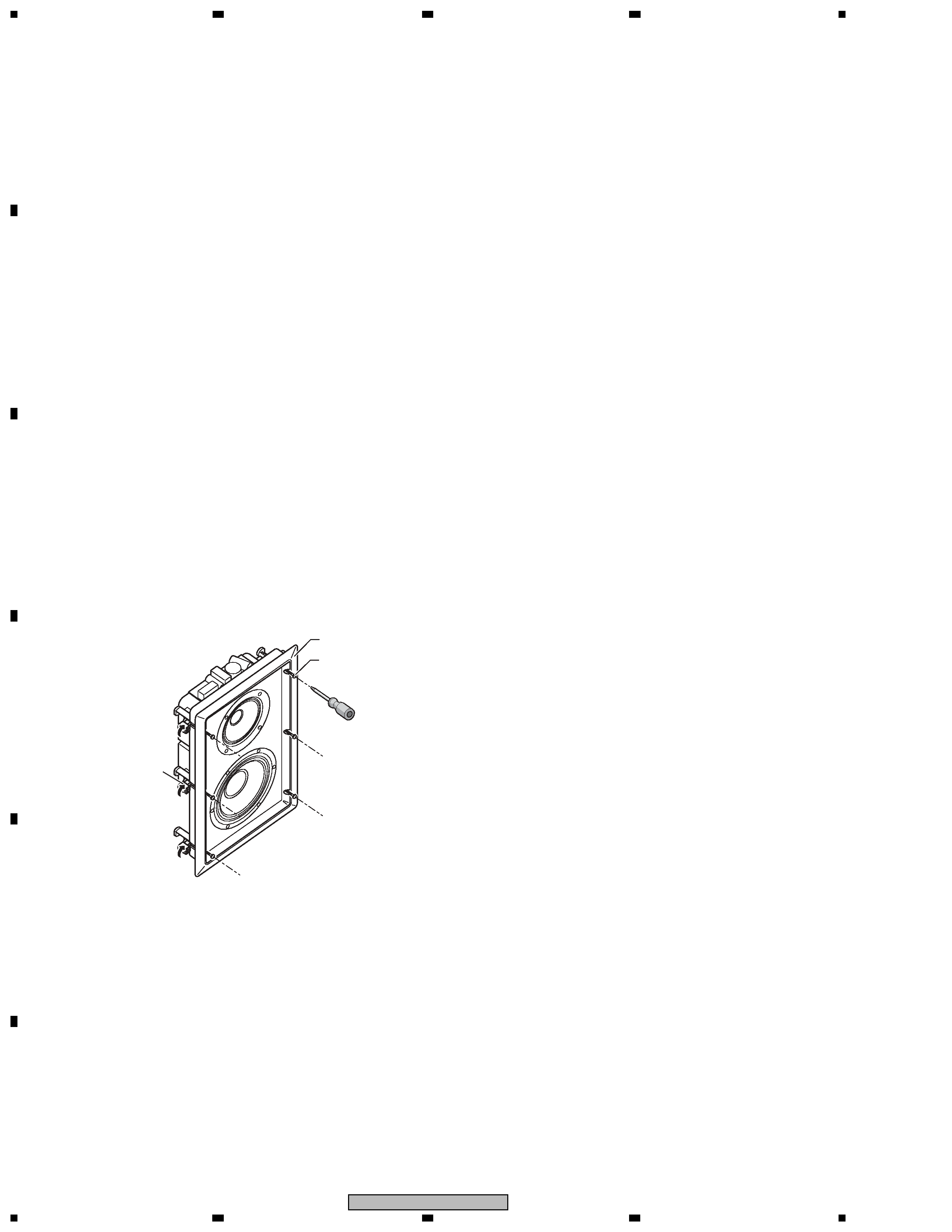 1. REASSEMBLY AND DISASSEMBLY PRECAUTIONS
· The grille is inserted into the baffle. To detach it, insert a grille
removal tool into each of the 4 corner holes of the grille net and
· The Speaker frame is attached to the wall by 6 external screws.
To detach it, unfasten those screws.
· The LPF network is attached to the speaker frame by 2 external
screws. To detach it, first disconnect the cord to speaker.
Next remove the baffle. Then unfasten those screws.
· The HPF network is attached to the CST chamber inside of
speaker frame by 3 screws.
To detach it, first detach CST and disconnect the cord to speaker
· The CST speaker is attached to the baffle by 4 external screws.
To detach it, unfasten those screws. When reattaching it, face
Mid terminal (bigger) rightward.
· The woofers are attached to the baffle by 6 external screws.
To detach them, unfasten those screws. When re-attaching them,
face its terminal lower right.
· Attach the speaker frame to the wall /ceiling, and
tighten the screws lightly (temporary attachment).
At this point the rotating clamp will rotate so that the rotating
clamp and frame are clamped on to the wall/ceiling.
Gently try pulling the speaker forward and check that all of the
rotating clamps have rotated outwards and are lightly clamping
· Tighten the screws firmly using no more than the
maximum torque specified.
Allowable maximum torque: 1.0 N.m
---

2. EXPLODED VIEWS AND PARTS LIST
Parts marked by "NSP" are generally unavailable because they are not in our Master Spare Parts List.
mark found on some component parts indicates the importance of the safety factor of the part.
Therefore, when replacing, be sure to use parts of identical designation.
1..Accessories Set (for Manual)
Polyethylene Bag S7 (for Grille)
---

Fastener (LPF NW) (for LPF)
Adhesive Tape (for MDF Bar)
Screw (for Fastener-Chamber)
---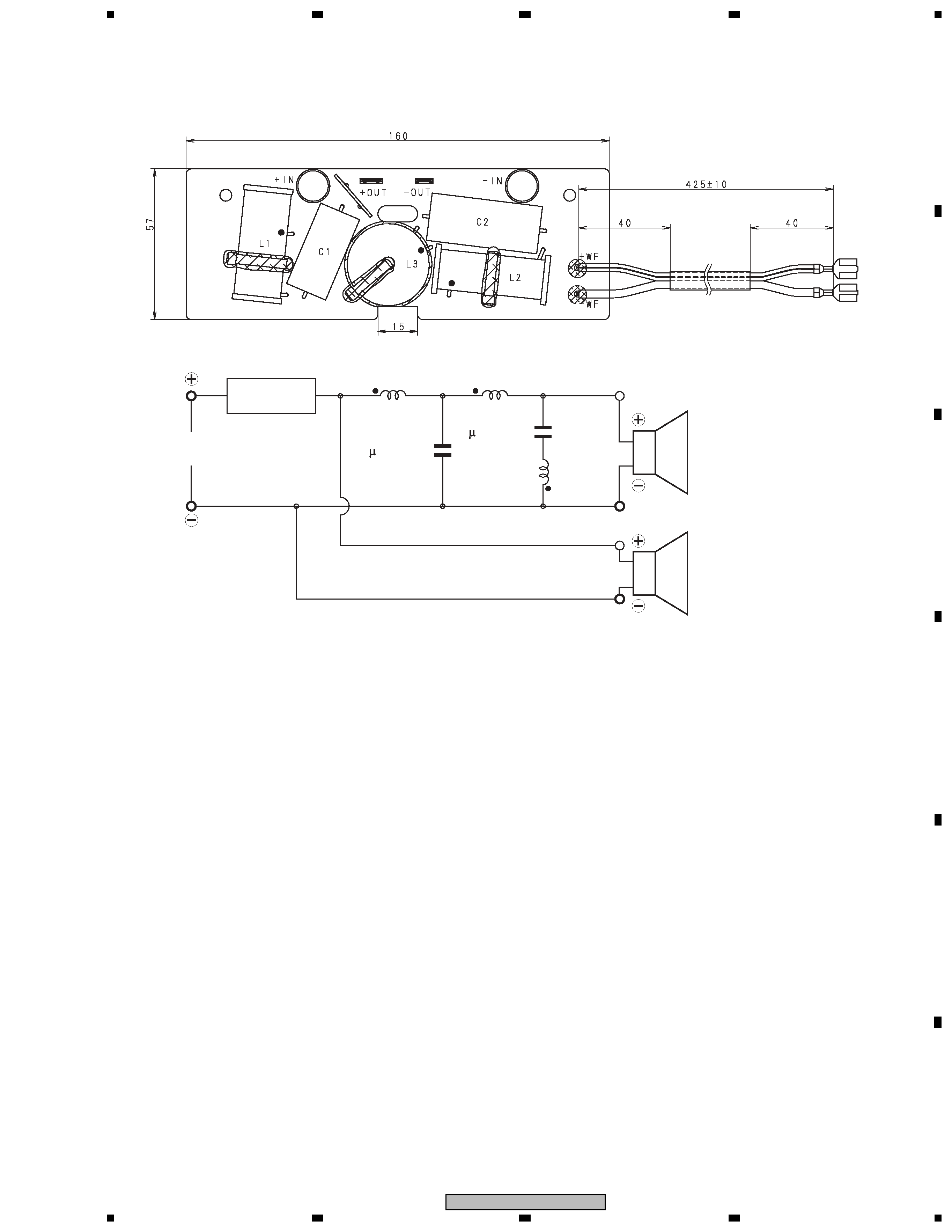 P.SW has extreme positive resistance-temperature characteristics.
If an abnormal current flows to P.SW due to an excessive input or
unusual signal, P.SW heats up and the resistance rapidly increases.
With this function, the speakers are protected from excessive input
or unusual signal. The resistance value increases even when using
a soldering iron for repairing, so allow it to cool before using.
---