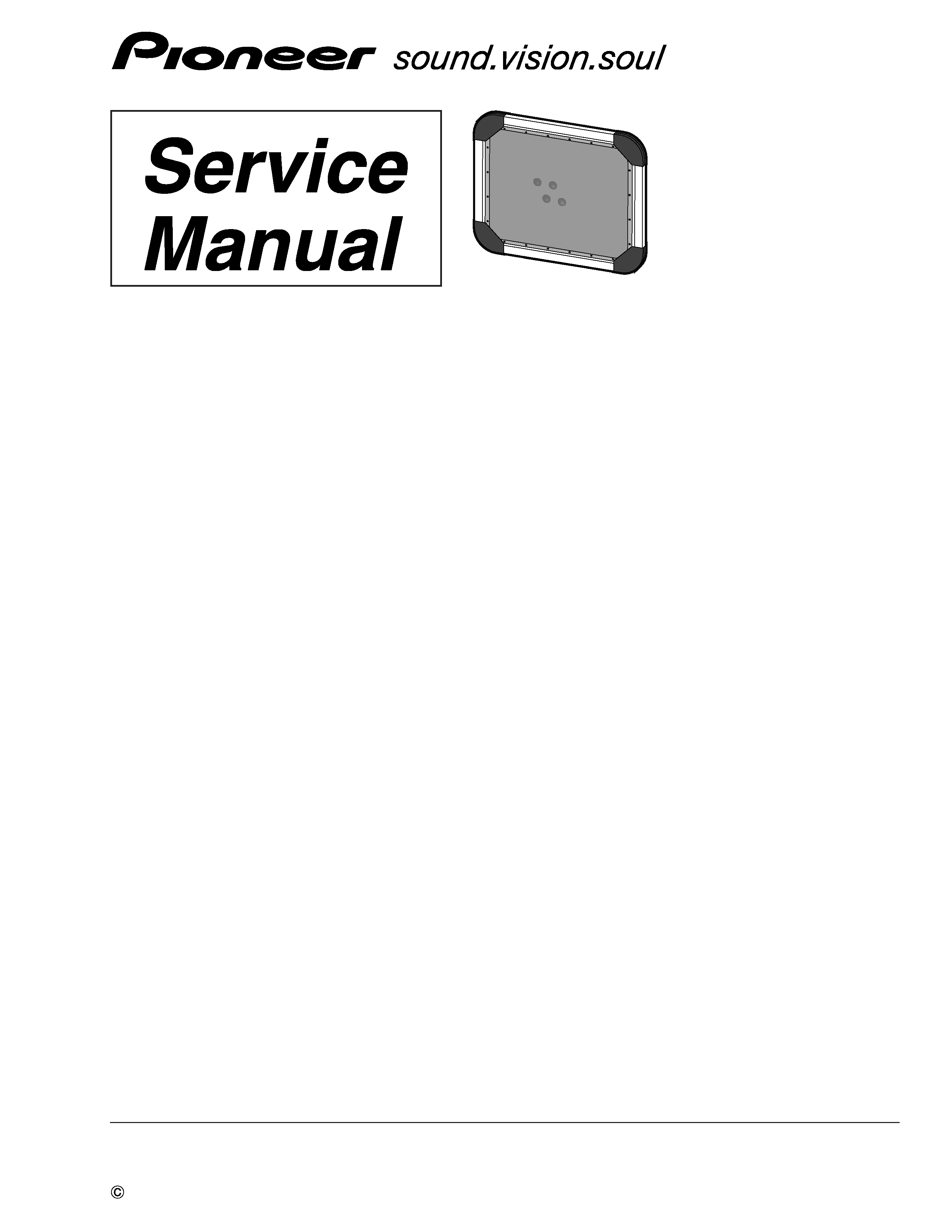 PIONEER CORPORATION
4-1, Meguro 1-chome, Meguro-ku, Tokyo 153-8654, Japan
PIONEER ELECTRONICS (USA) INC. P.O. Box 1760, Long Beach, CA 90801-1760, U.S.A.
PIONEER EUROPE NV Haven 1087, Keetberglaan 1, 9120 Melsele, Belgium
PIONEER ELECTRONICS ASIACENTRE PTE. LTD. 253 Alexandra Road, #04-01, Singapore 159936
T-ZZS NOV. 2005 Printed in Japan
---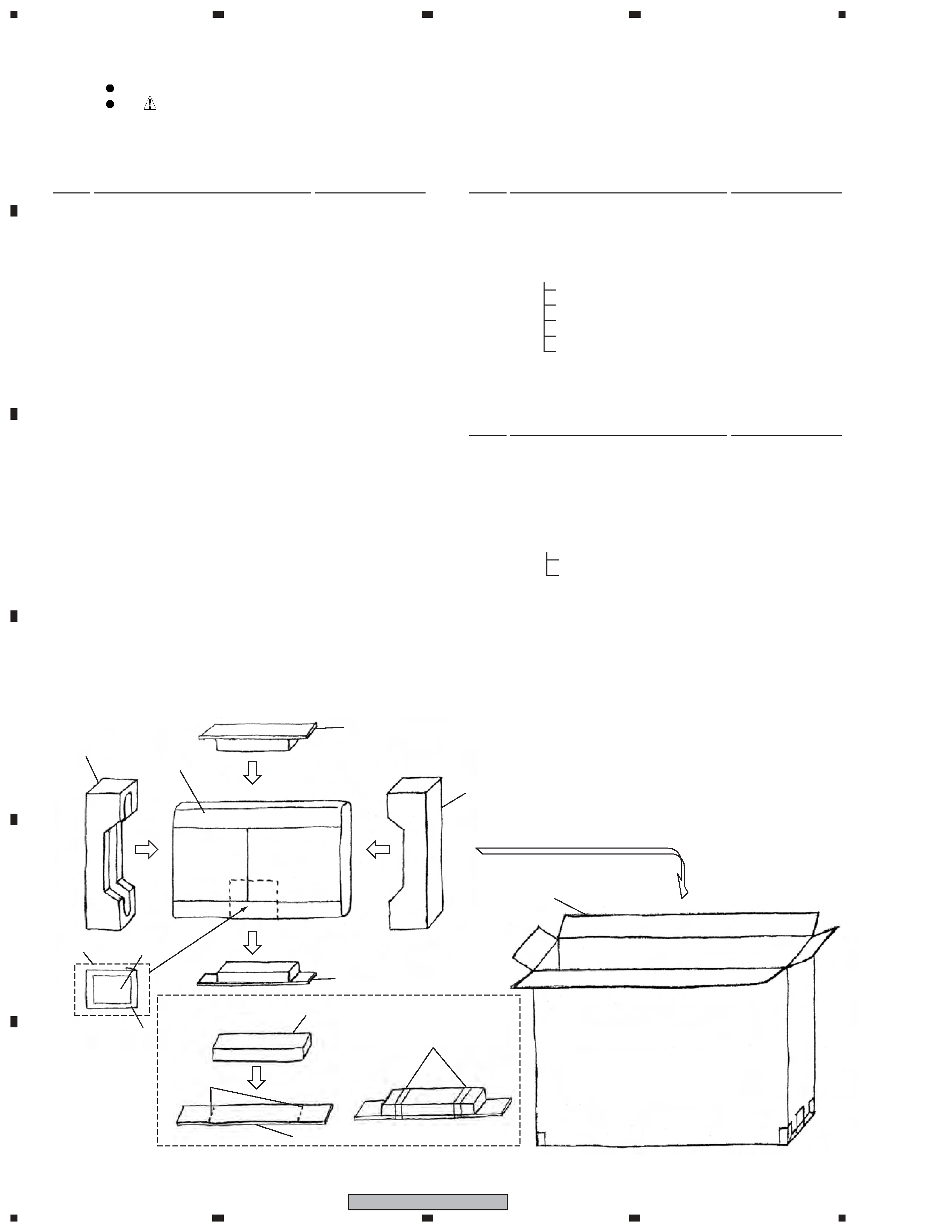 Screw (for Input Terninal)
Screw (for Input Terminal Base)
Screw (for External Frame)
Screw (for Coner Protector)
(English, French, German,
Italian, Spanish, Dutch, Chinese)
Parts marked by "NSP" are generally unavailable because they are not in our Master Spare Parts List.
mark found on some component parts indicates the importance of the safety factor of the part.
Therefore, when replacing, be sure to use parts of identical designation.
---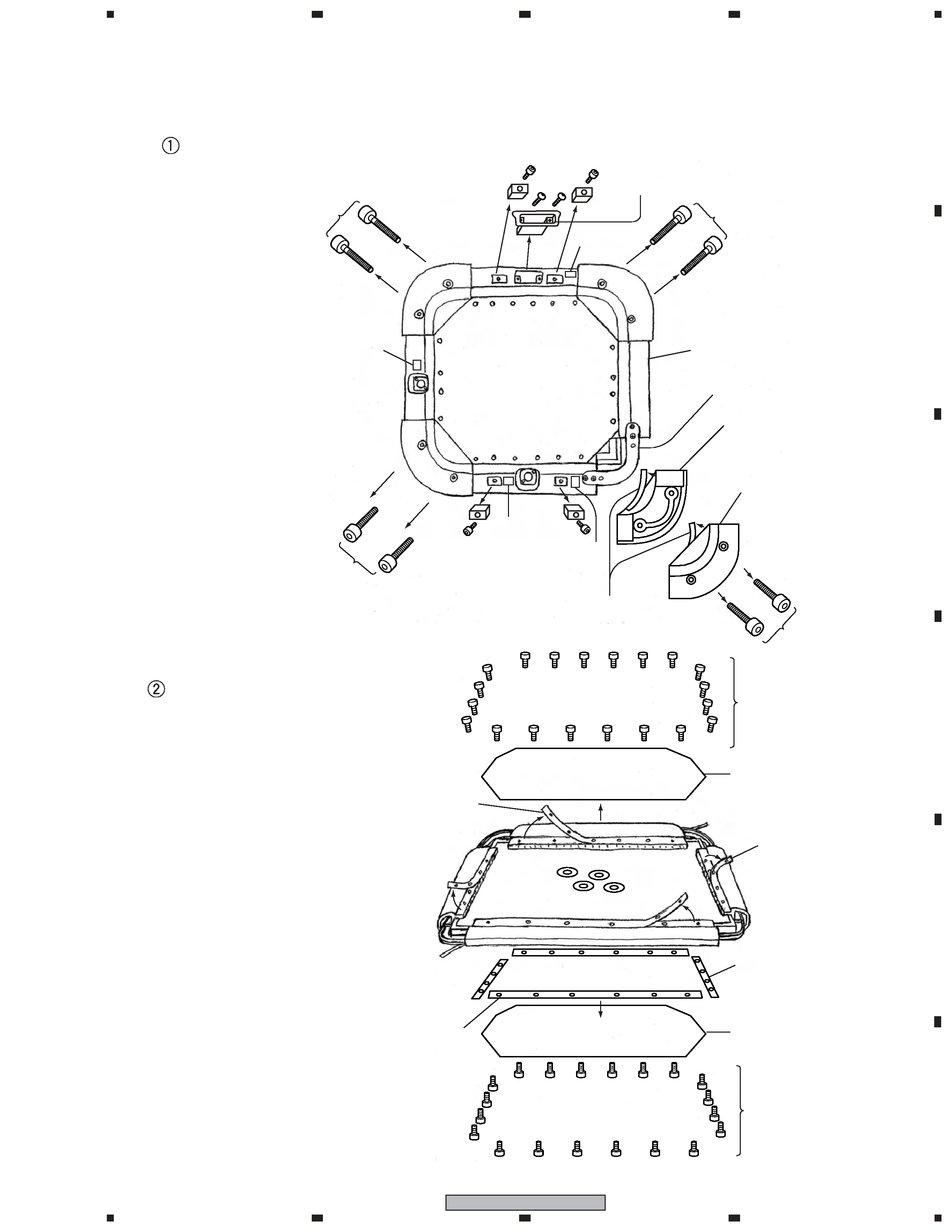 Detach the Coner Protector A,B
Coner Protector A : 4pcs.
Coner Protector B : 4pcs.
Screw(SMZ60H200FTB) x 4pcs.
Screw(PMZ40P100FTB) x 2pcs.
2. FOR PRECAUTION OF DISASSEMBLY AND REASSEMBLY
---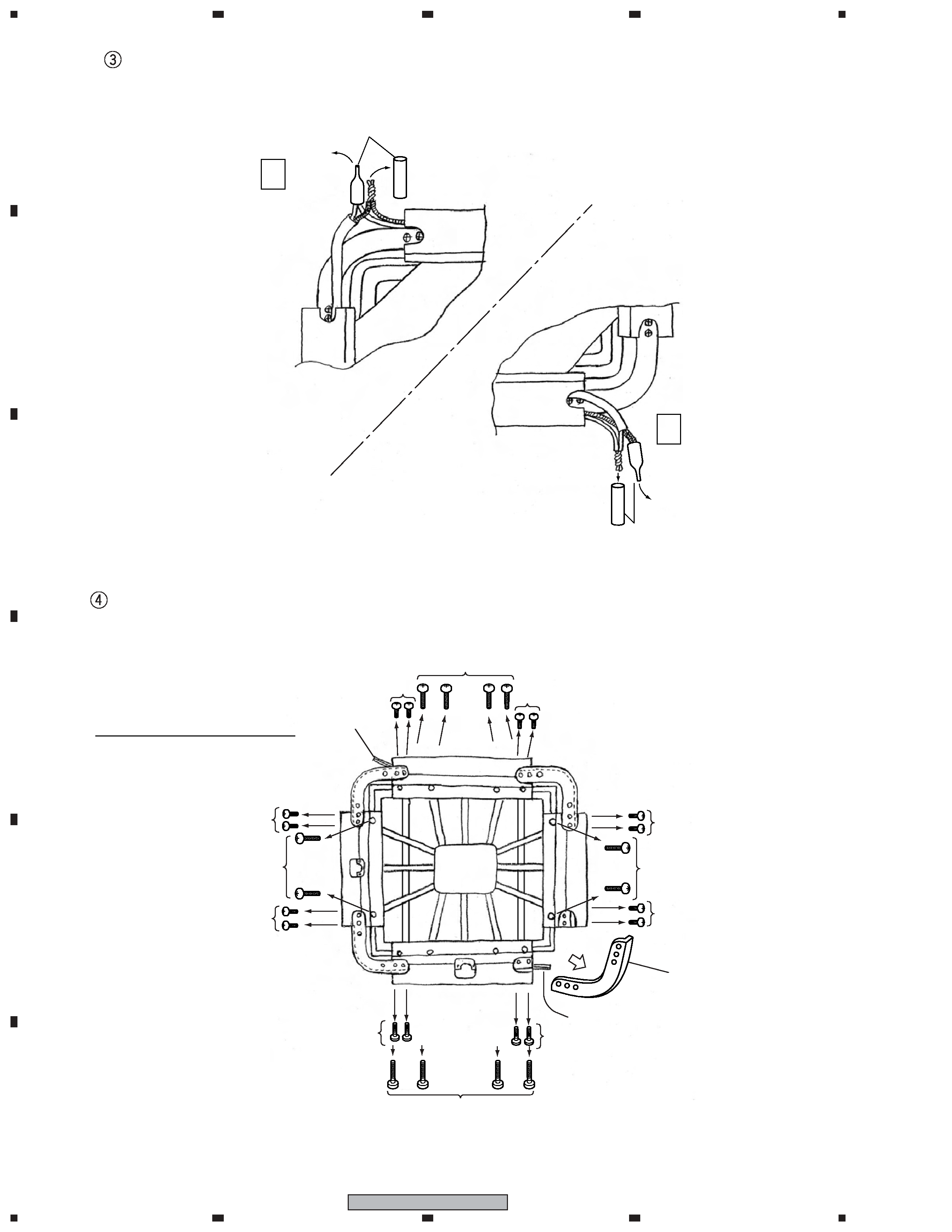 Screw for Frame Brace (BMZ40P080FTC) x 16pcs.
Screw for Frame Brace (BMZ40P080FTC)
Unfasten the Screw for the External Frame and Detach the Frame Brace
Disconnect the Input Terminal Assy Cords and Speaker Assy Cords
Insulating Tube (SDM1007)
---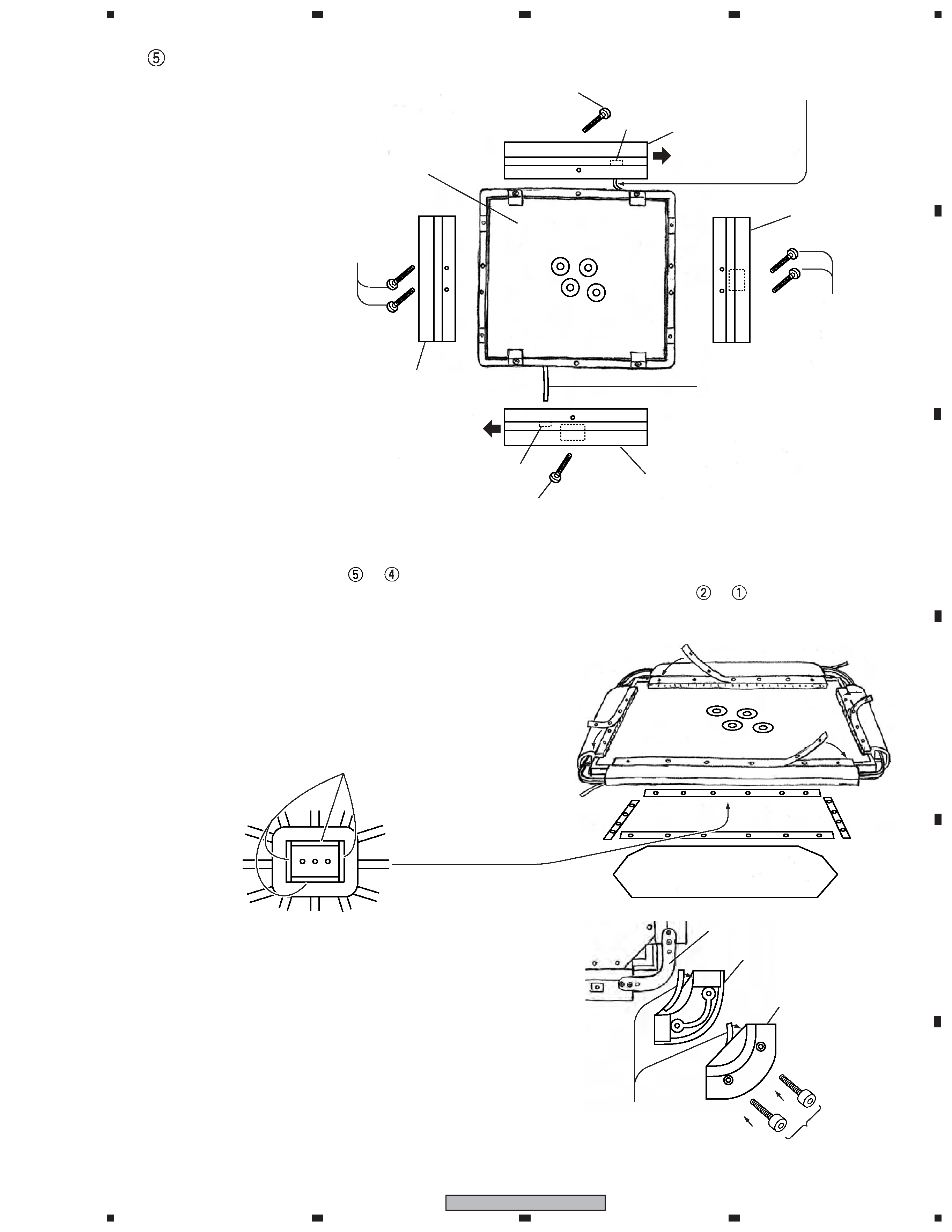 Reassembles by the order of
-> Connecting the Input Terminal Assy cord and
the Speaker Assy cord, Puts the Insulation Tube, Styling the connection cord ->
When you attach the Extenal Frame A, B, C, D to the speaker at first,
don't tighten the screw strongly.
But when you attach the Frame brace, fasten the screws strongly.
Stucks the suspension C on the center of the
frame back side, as shown in a figure.
Attach the Corner Protector
Sticks the Packing to the Corner Protector.
Covers the Frame Brace by the corner protector
Note 4) Attach the Punching Net
The Punching Net have distinction of the front and
the back side. The side which has burr arround the
hole is the back side. Be sure to attach it to inside.
Corner Protector A x4pcs.
Corner Protector B x4pcs.
(Sticks on the illustration part
of the corner protector inner side.)
Detach the External Frame
the hole of External Frame B.
the hole of External Frame D.
---