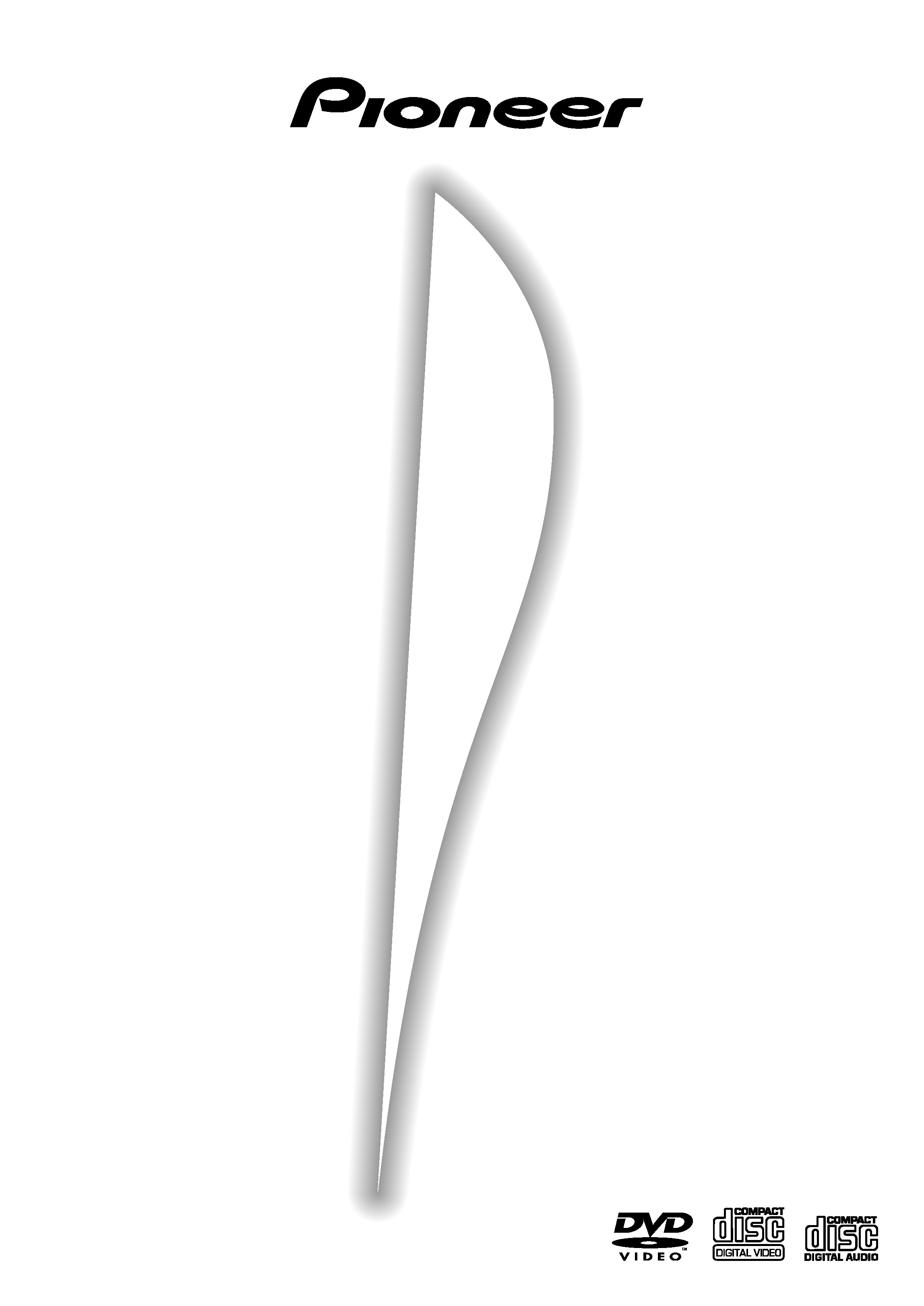 LECTEUR DVD/CD AVEC TUNER
---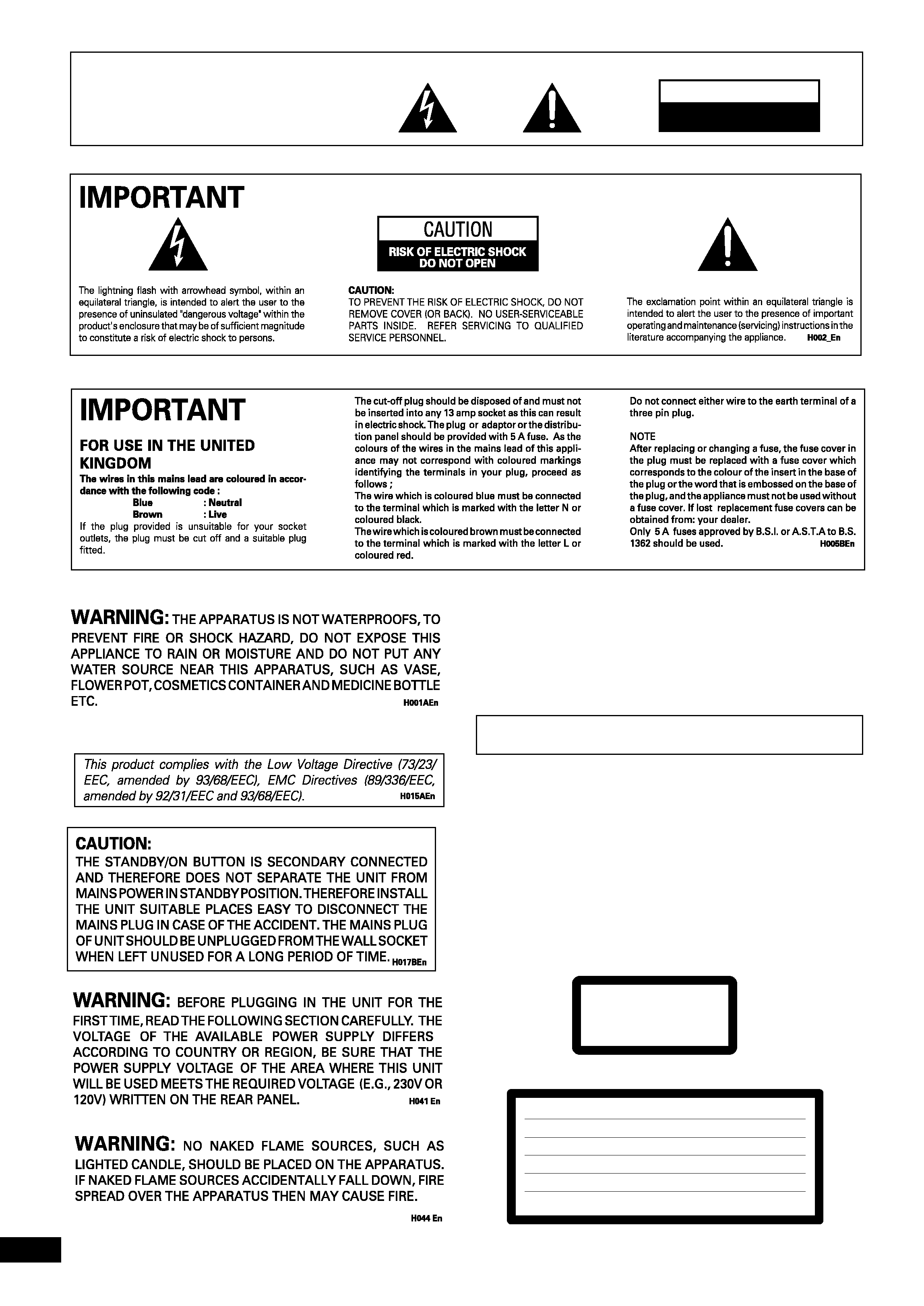 These labels can be found on the DVD/CD tuner rear panel
(US model)/bottom panel (European model), and on the
powered subwoofer rear panel.
When using this product, follow the instructions written on the
underside of the unit, which concern the XV-DV77/XV-DV88.
Thank you for buying this PIONEER product.
Please read through these operating instructions so you will know
how to operate your model properly. After you have finished reading
the instructions, put them away in a safe place for future reference.
This product contains a laser diode of higher class than 1.
To ensure continued safety, do not remove any covers or
attempt to gain access to the inside of the product.
Refer all servicing to qualified personnel.
The following caution label appear on your player.
Location: On the bottom panel of XV-DV77/DV88
Inside the bonnet of XV-DV77/DV88
VISIBLE AND INVISIBLE LASER RADIATION WHEN OPEN. AVOID EXPOSURE TO BEAM.
SICHTBARE UND UNSICHTBARE LASERSTRAHLUNG, WENNABDECKUNG GEÖFFNET
NICHT DEM STRAHL AUSSETZEN!
SYNLIG OG USYNLIG LASERSTRÅLING VED ÅBNING UNDGÅ UDSÆTTELSE FOR
SYNLIG OCH OSYNLIG LASERSTRÅLNING NÄR DENNA DEL ÄR ÖPPNAD BETRAKTA
AVATTAESSA ALTISTUT NÄKYVÄ JA NÄKYMÄTTÖMÄLLE LASERSATEIL YLLE. ÄLÄ
CUIDADO :
RADIACIÓN LÁSER VISIBLE E INVISIBLE AL ESTAR ABIERTO. EVITAR EXPOSICIÓN AL
---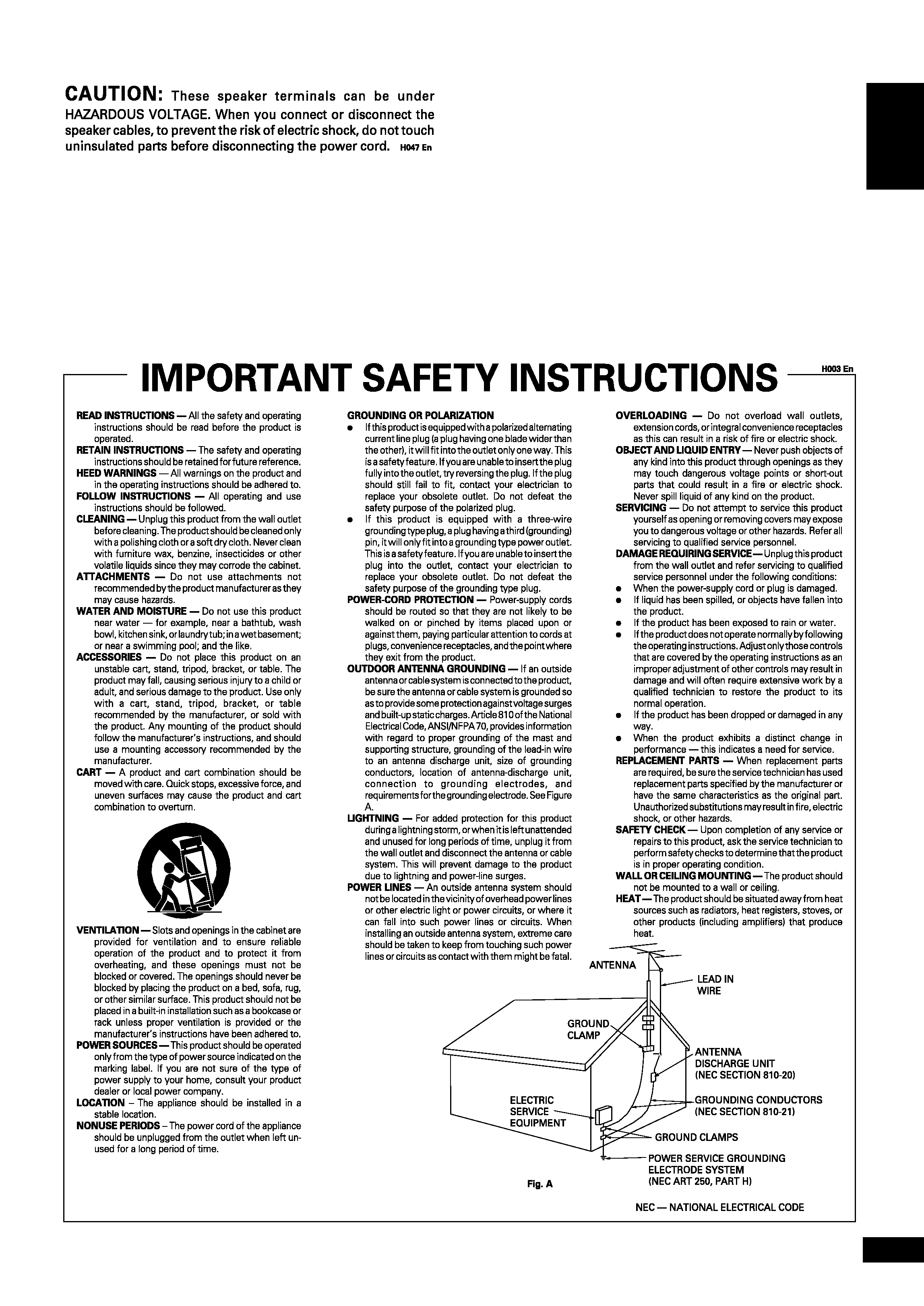 Operating Environment
H045 En
Operating environment temperature and humidity:
°
C ­ +35
°
C (+41
°
F ­ +95
°
F); less than 85%RH (cooling
Do not install in the following locations
· Location exposed to direct sunlight or strong artificial
· Location exposed to high humidity, or poorly ventilated
---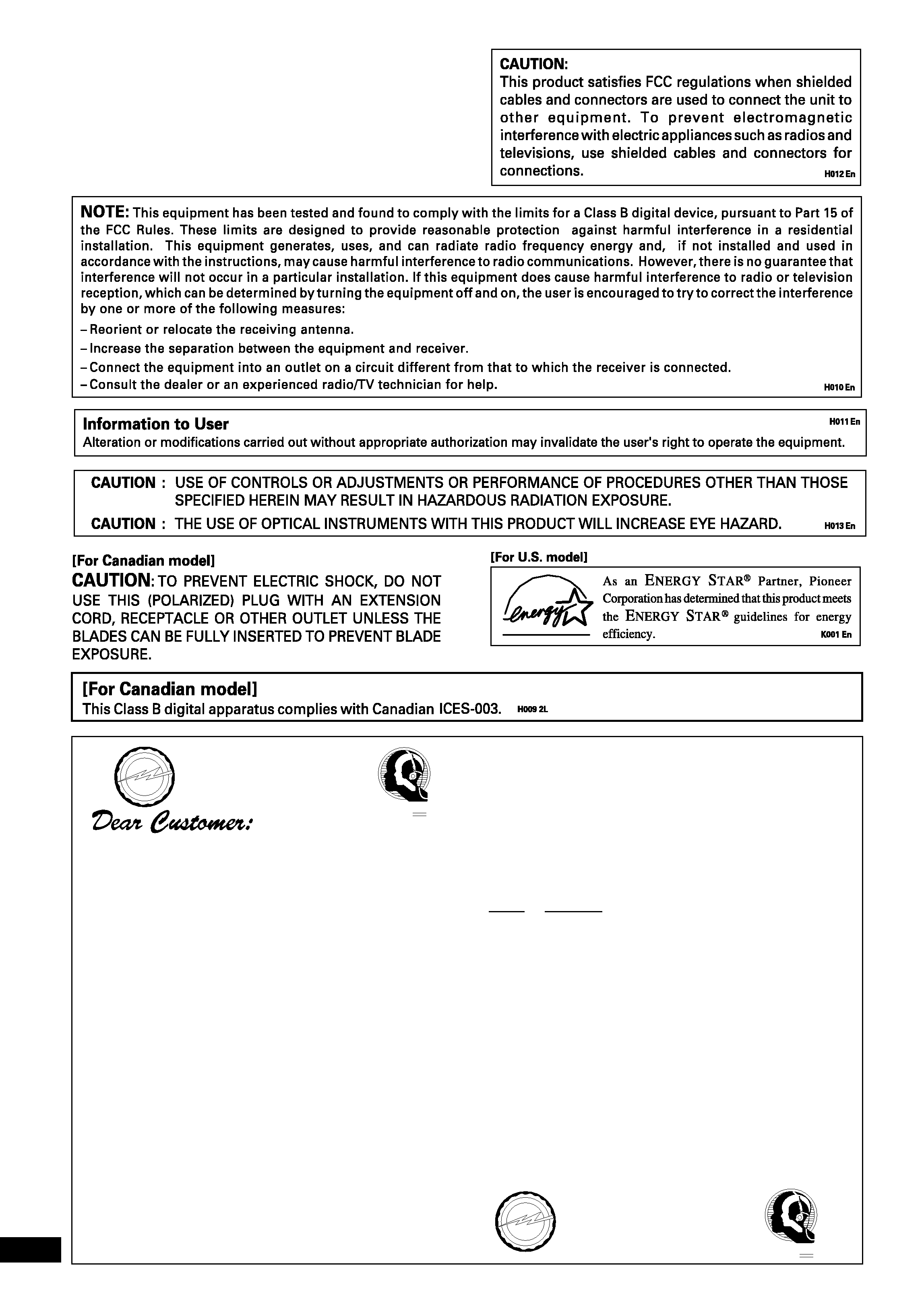 The serial number for this equipment is located in the
bottom plate. Please write this serial number on your
enclosed warranty card and keep it in a secure area.
This is for your security.
Selecting fine audio equipment such as the unit you've just
purchased is only the start of your musical enjoyment. Now it's
time to consider how you can maximize the fun and excitement
your equipment offers. This manufacturer and the Electronic
Industries Association's Consumer Electronics Group want you
to get the most out of your equipment by playing it at a safe level.
One that lets the sound come through loud and clear without
annoying blaring or distortion-and, most importantly, without
affecting your sensitive hearing.
Sound can be deceiving. Over time your hearing "comfort
level" adapts to higher volumes of sound. So what sounds
"normal" can actually be loud and harmful to your hearing.
Guard against this by setting your equipment at a safe level
BEFORE your hearing adapts.
To establish a safe level:
· Start your volume control at a low setting.
· Slowly increase the sound until you can hear it comfortably
and clearly, and without distortion.
Once you have established a comfortable sound level:
· Set the dial and leave it there.
Taking a minute to do this now will help to prevent hearing
damage or loss in the future. After all, we want you listening for
We Want You Listening For A Lifetime
Used wisely, your new sound equipment will provide a
fun and enjoyment. Since hearing damage from
loud noise is often undetectable until it is too late, this
manufacturer and the Electronic Industries Association's
Consumer Electronics Group recommend you avoid prolonged
exposure to excessive noise. This list of sound levels is included
Quiet library, soft whispers
Living room, refrigerator, bedroom away from traffic
Light traffic, normal conversation, quiet office
Air conditioner at 20 feet, sewing machine
Vacuum cleaner, hair dryer, noisy restaurant
Average city traffic, garbage disposals, alarm clock
THE FOLLOWING NOISES CAN BE DANGEROUS
Subway, motorcycle, truck traffic, lawn mower
Garbage truck, chain saw, pneumatic drill
Rock band concert in front of speakers, thunderclap
Information courtesy of the Deafness Research Foundation.
---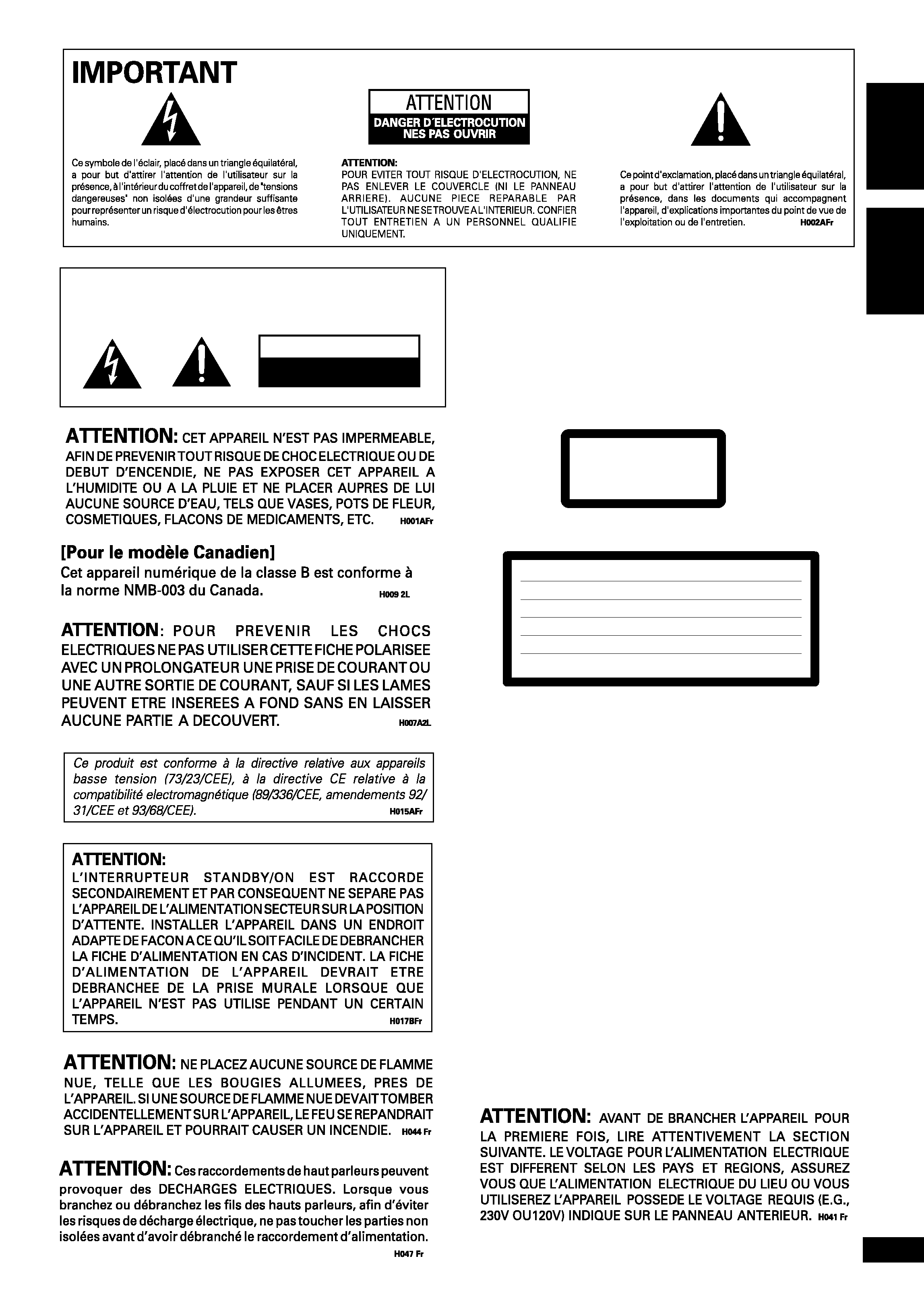 Conditions de Fonctionnement
H045 Fr
Tempéraure et humidité ambiante lors du fonctionnement:
°
C ­ +35
°
C (+41
°
F ­ +95
°
F); inférieur à 85%RH (events
Ne pas installer dans les lieux suivants
· Lieux exposés à la lumière direct du soleil ou lumière
· Lieux exposés à une forte humidité ou lieux peu ventilés
Ce produit renferme une diode à laser d'une catégorie
supérieure à 1. Pour garantir une sécurité constante, ne pas
retirer les couvercles ni essayer d'accéder à l'intérieur de
Pour toute réparation, s'adresser à un personnel qualifié.
La note suivante se trouve sur votre lecteur.
Localisation : Sur le panneau inférieur du XV-DV77/DV88
Sous le couvercle du XV-DV77/DV88
Nous vous remercions pour cet achat d'un produit Pioneer.
Nous vous demandons de lire soigneusement ce mode d'emploi;
vous serez ainsi à même de faire fonctionner l'appareil
correctement. Après avoir bien lu le mode d'emploi, le ranger
dans un endroit sûr pour pouvoir s'y référer ultérieurement.
Vous pouvez trouver ces étiquettes sur le panneau arrière du lecteur DVD/CD
avec tuner (modèle nord-américain)/panneau inférieur (modèle européen),
et sur le panneau arrière du subwoofer alimenté.
VISIBLE AND INVISIBLE LASER RADIATION WHEN OPEN. AVOID EXPOSURE TO BEAM.
SICHTBARE UND UNSICHTBARE LASERSTRAHLUNG, WENNABDECKUNG GEÖFFNET
NICHT DEM STRAHL AUSSETZEN!
SYNLIG OG USYNLIG LASERSTRÅLING VED ÅBNING UNDGÅ UDSÆTTELSE FOR
SYNLIG OCH OSYNLIG LASERSTRÅLNING NÄR DENNA DEL ÄR ÖPPNAD BETRAKTA
AVATTAESSA ALTISTUT NÄKYVÄ JA NÄKYMÄTTÖMÄLLE LASERSATEIL YLLE. ÄLÄ
CUIDADO :
RADIACIÓN LÁSER VISIBLE E INVISIBLE AL ESTAR ABIERTO. EVITAR EXPOSICIÓN AL
---