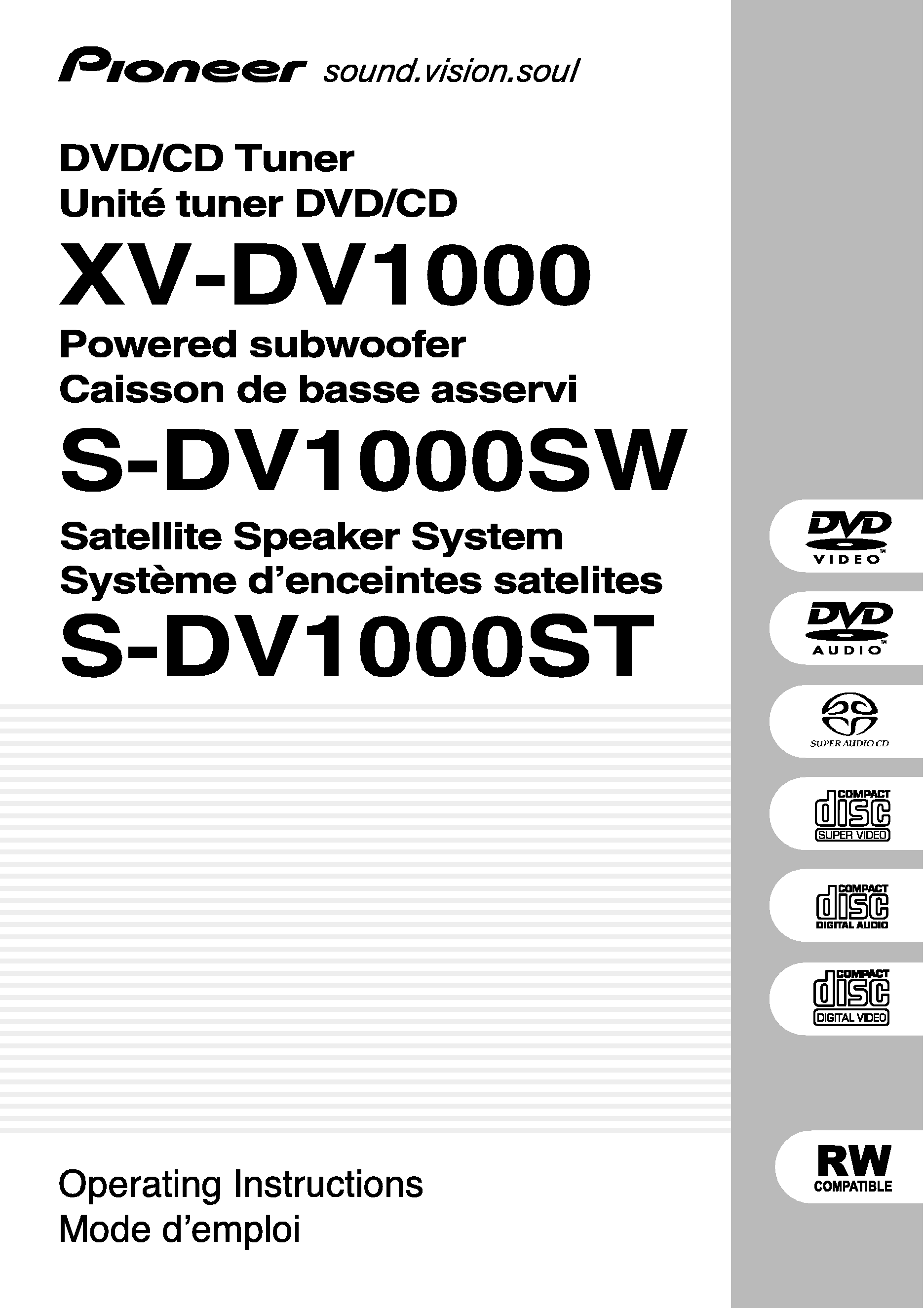 ---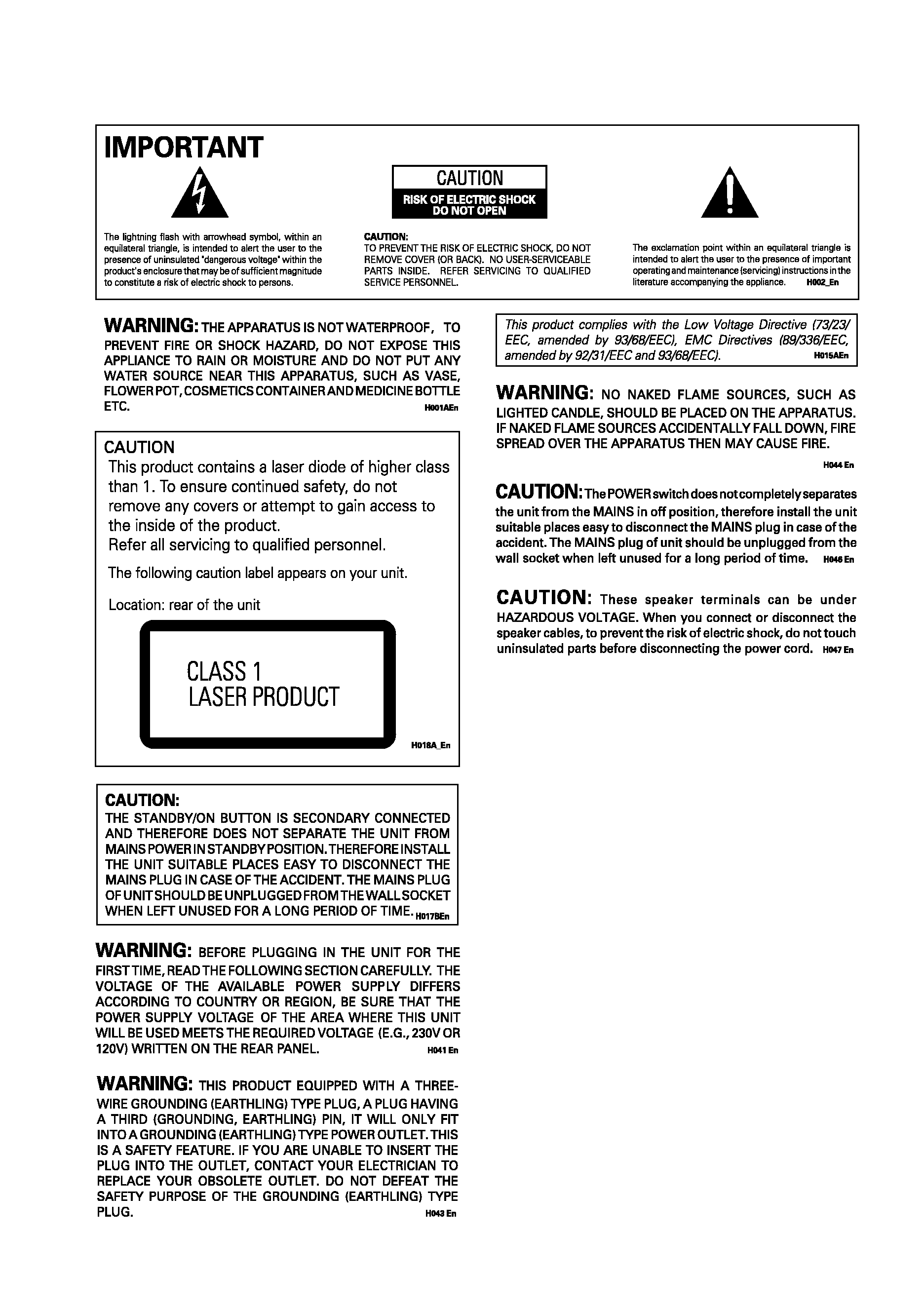 VENTILATION:
When installing this
unit, make sure to leave space around the
unit for ventilation to improve heat
radiation (at least 15 cm at top, 15 cm at
rear, and 15 cm at each side).
WARNING:
Slot and openings in the
cabinet are provided for ventilation and to
ensure reliable operation of the product
and to protect it from overheating, to
prevent fire hazard, the openings should
never be blocked and covered with items,
such as newspapers, table-cloths, curtains,
etc. Also do not put the apparatus on the
thick carpet, bed, sofa, or fabric having a
Operating Environment
H045 En
Operating environment temperature and
°
C ­ +35
°
C (+41
°
F ­ +95
°
F); less than
85%RH (cooling vents not blocked)
Do not install in the following locations
Location exposed to direct sunlight or
Location exposed to high humidity, or
poorly ventilated location
---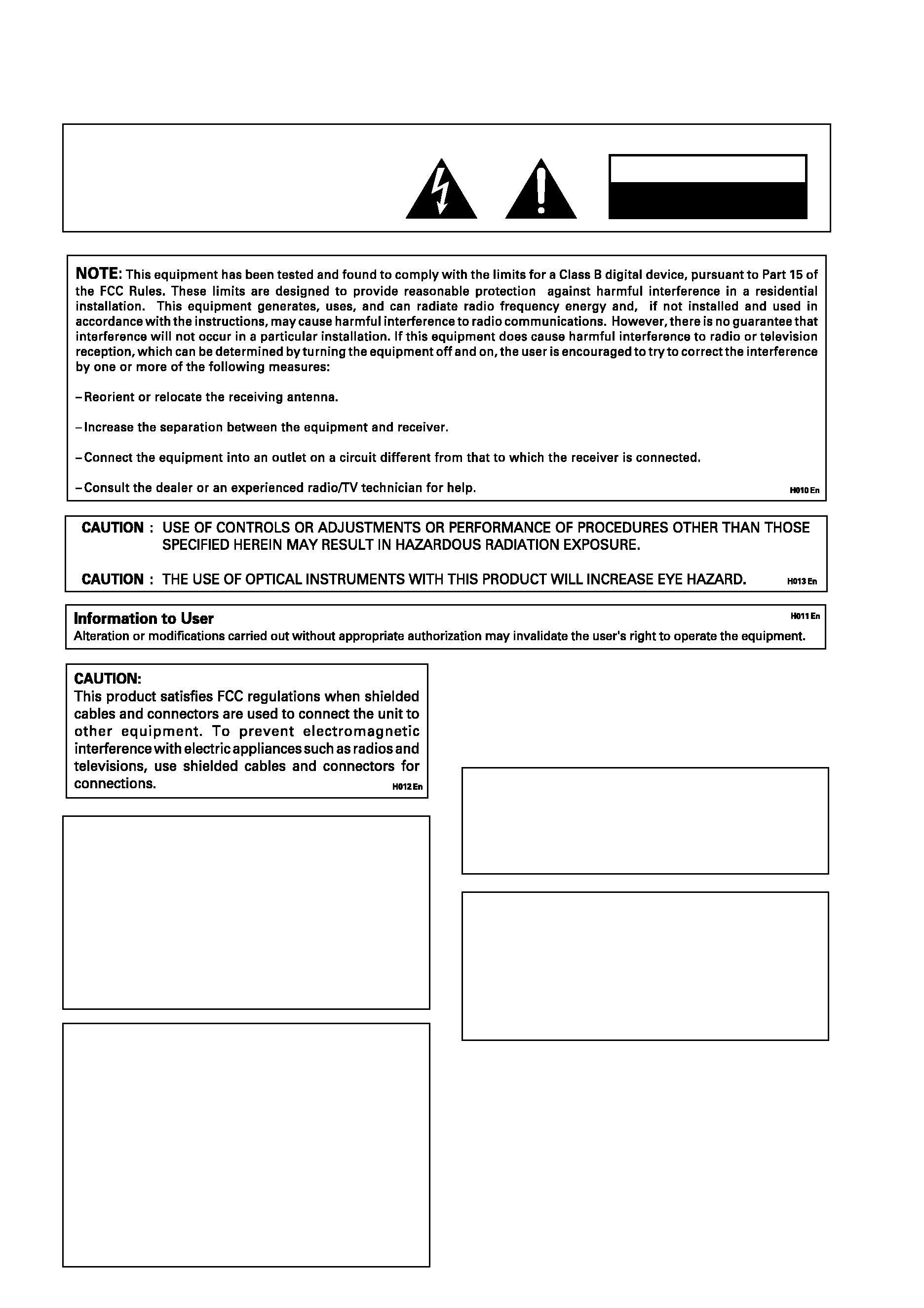 This system is designed to use 0.5W of
electricity when power is switched to
CONGRATULATIONS ON YOUR PURCHASE
OF THIS FINE PIONEER PRODUCT.
Pioneer is on the leading edge of DVD
research for consumer products and this unit
incorporates the latest technological
We are sure you will be fully satisfied with this
Thank you for your support.
Please read through these operating
instructions so you will know how to
operate your model properly. After you
have finished reading the instructions, put
them away in a safe place for future
· This player is not suitable for commercial
This product incorporates copyright
protection technology that is protected by
method claims of certain U.S. patents and
other intellectual property rights owned by
Macrovision Corporation and other rights
owners. Use of this copyright protection
technology must be authorized by
Macrovision Corporation, and is intended
for home and other limited viewing uses
only unless otherwise authorized by
Macrovision Corporation. Reverse
engineering or disassembly is prohibited.
This product is for general household
purposes. Any failure due to use for other
than household purposes (such as long-
term use for business purposes in a
restaurant or use in a car or ship) and which
requires repair will be charged for even
during the warranty period.
These labels can be found on the
DVD/CD tuner rear panel and bottom
panel and on the powered subwoofer
WARNING: This product contains
checmicals, including lead, known to the
State of California to cause cancer, and birth
defects or other reproductive harm. Wash
---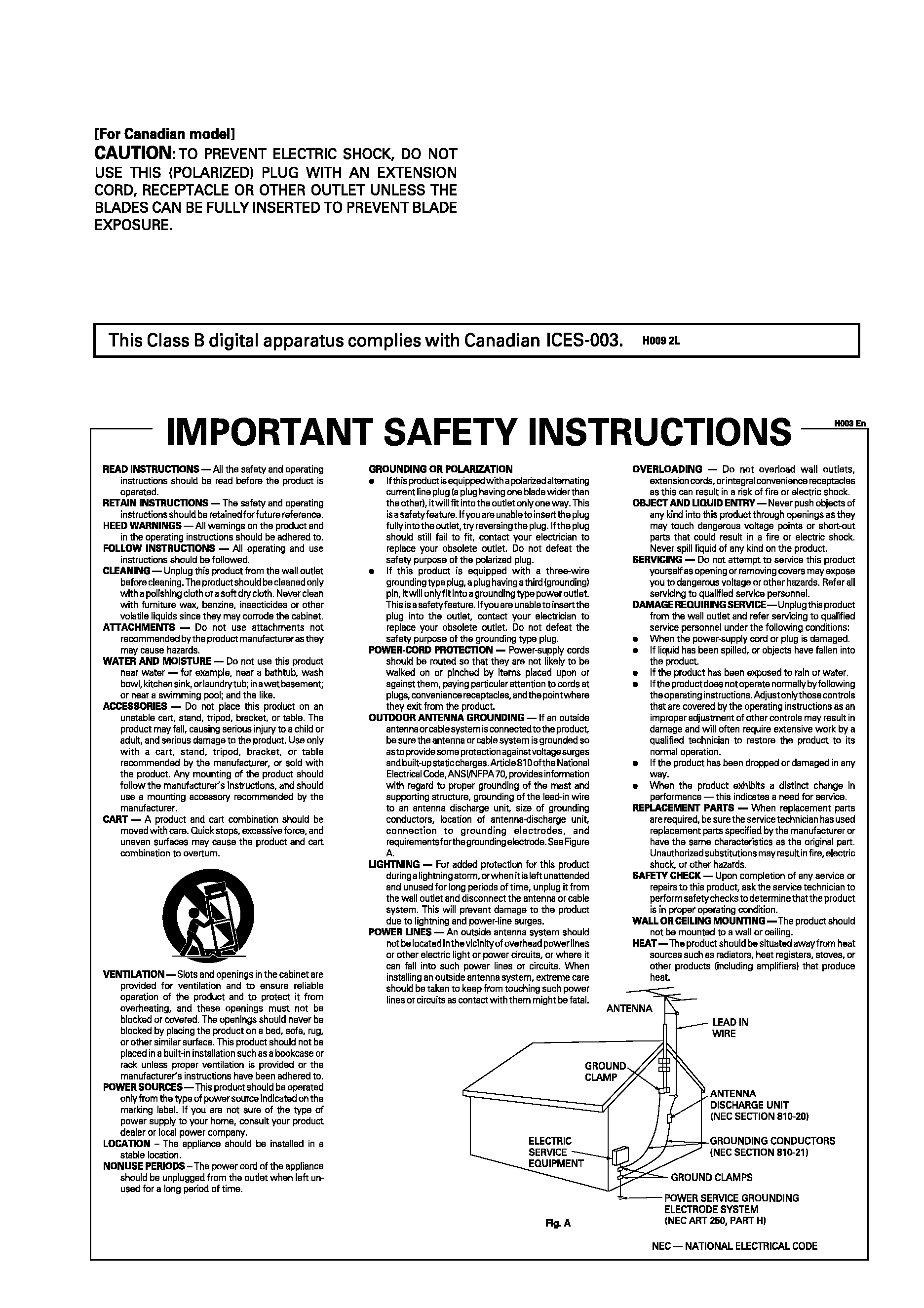 The serial number for this equipment is
located in the bottom plate. Please write
this serial number on your enclosed
warranty card and keep it in a secure area.
This is for your security.
---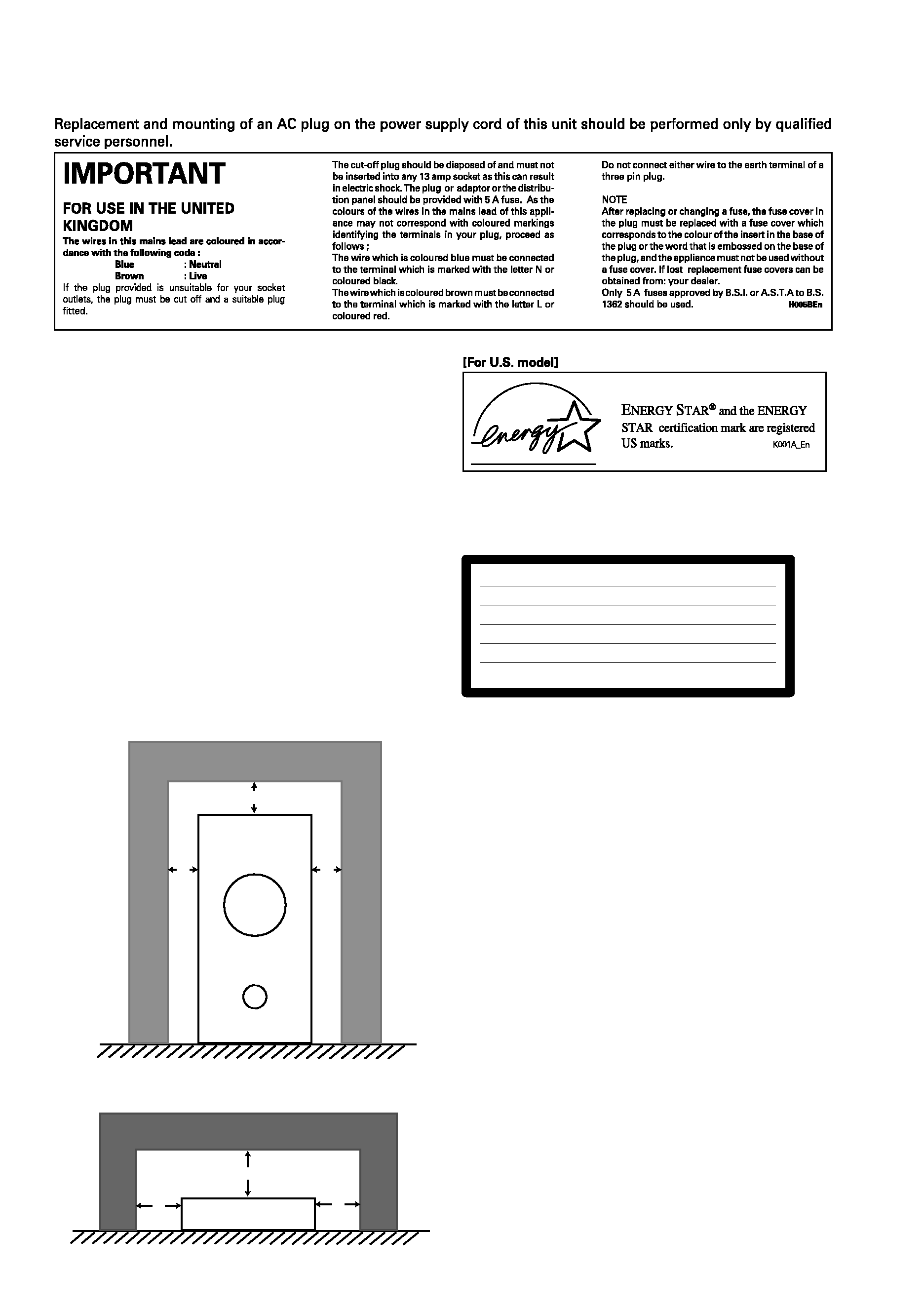 On the bottom base of the unit
VISIBLE AND INVISIBLE LASER RADIATION WHEN OPEN. AVOID EXPOSURE TO BEAM.
SICHTBARE UND UNSICHTBARE LASERSTRAHLUNG, WENNABDECKUNG GEÖFFNET
NICHT DEM STRAHL AUSSETZEN!
SYNLIG OG USYNLIG LASERSTRÅLING VED ÅBNING UNDGÅ UDSÆTTELSE FOR
SYNLIG OCH OSYNLIG LASERSTRÅLNING NÄR DENNA DEL ÄR ÖPPNAD BETRAKTA
AVATTAESSA ALTISTUT NÄKYVÄ JA NÄKYMÄTTÖMÄLLE LASERSATEIL YLLE. ÄLÄ
CUIDADO :
RADIACIÓN LÁSER VISIBLE E INVISIBLE AL ESTAR ABIERTO. EVITAR EXPOSICIÓN AL
· Install components so that there are no
obstructions above or either side, and
nothing blocking ventilation holes.
· Leave at least 2 in. / 5 cm of free space
around the subwoofer and at least 6 in. /
15 cm around the DVD/CD Tuner, as
shown below. Remember to also leave
this amount of space at the rear.
· Components have ventilation holes on
the bottom so do not install on thick pile
carpets or other surfaces that may block
· Use a vacuum cleaner periodically to
clean the port of the subwoofer to keep
Powered subwoofer unit (S-DV1000SW)
DVD/CD Tuner unit (XV-DV1000)
---