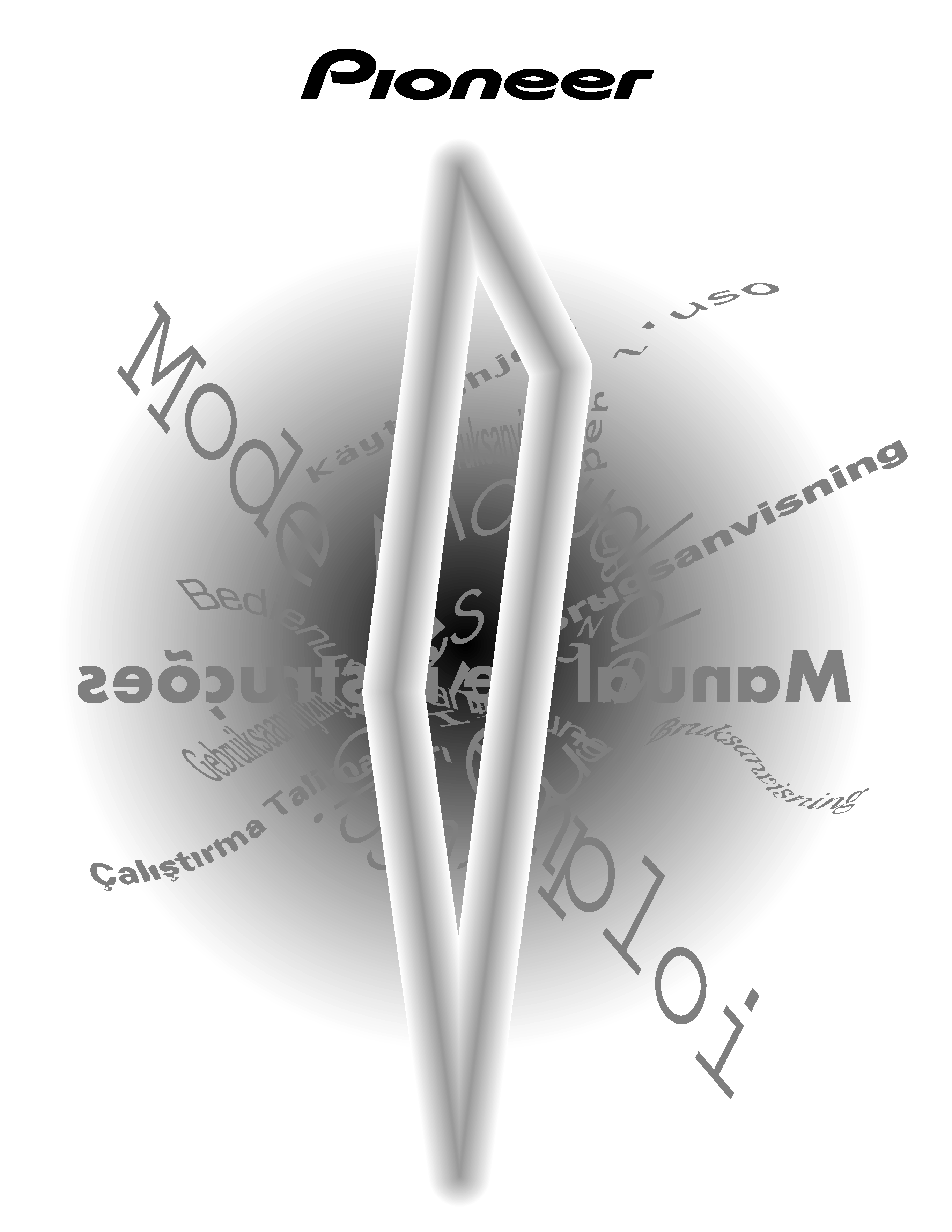 ---

Dual System Component Input for NTSC/
Connection to a DVD player with a component output terminal
makes possible high picture-quality display, superior to that
of S-VIDEO terminal connection. Also handles high resolution
component input (1080i, 480p), which will function as an
interface for high-quality images in future.
DUAL TUNER (SPLIT screen and SEARCH
Two TV tuners are provided, making it possible to split the
screen vertically in two and display moving images
simultaneously on them. In addition, the channel search
function makes it possible to check, etc., on the program in the
back. This adds remarkable convenience when you are
concerned with two programs.
GLOW-IN-THE-DARK remote control
Makes it easier to operate the TV and other components in
Adoption of a lens system for high-resolution HDTV that
faithfully reproduces HDTV 1080i signals allows highly color-
saturated images to be displayed at high resolution.
The remote control sensor is installed behind the screen,
allowing you to operate this monitor with the remote control
unit in those installations where only the screen is revealed.
3D Y/C Separation Circuit
This three-dimensional Y/C separation circuit reproduces
Multi-Point Convergence System
Thanks to new convergence system digital technology, not
only can the center of the screen be adjusted, so can an amazing
72 other points (full mode) across the viewing area. This makes
it possible to display clear images with no color distortion
around the entire screen.
The adjustment is easily done using the remote control.
PIONEER'S PureCinema Format Converter
An advanced and exclusive I/P (Interlace/Progressive) format
converter developed by Pioneer, called "PureCinema", delivers
a high-resolution progressive picture. It reproduces film
material in a very smooth and film-like image. This is perfect
technology for movie lovers.
This mode reproduces film material just like a real film image.
By cutting video enhancement circuits, the picture becomes
more natural and looks filmlike.
When you select RLS on (LEVEL 1, LEVEL 2), in accordance
with the ambient light of your room, TV automatically adjusts
the picture brightness to reduce eye strain.
You can block selected programs based on the established
rating system for television and movies.
The TV Parental Guidelines are used to rate television
programming: <TV-Y>, <TV-Y7>, <TV-G>, <TV-PG>, <TV-14>
The Motion Picture Association of America (MPAA) guidelines
are used to rate movies: <G>, <PG>, <PG-13>, <R>, <NC-17>,
The Canadian English Language Rating system is used to rote
television programming: <C>, <C8+>, <G>, <PG>, <14+> and
The Canadian French Language Rating system is used to rate
television programming: <G>, <8+>, <13+>, <16+> and <18+>.
In order to block programming you feel is inappropriate, rating
limits can be set on both systems using the remote control
Read and understand these 'Operating
Instructions' before operating your Monitor.
INSTRUCTIONS AND WARNINGS' section and
all the warnings on the product.
---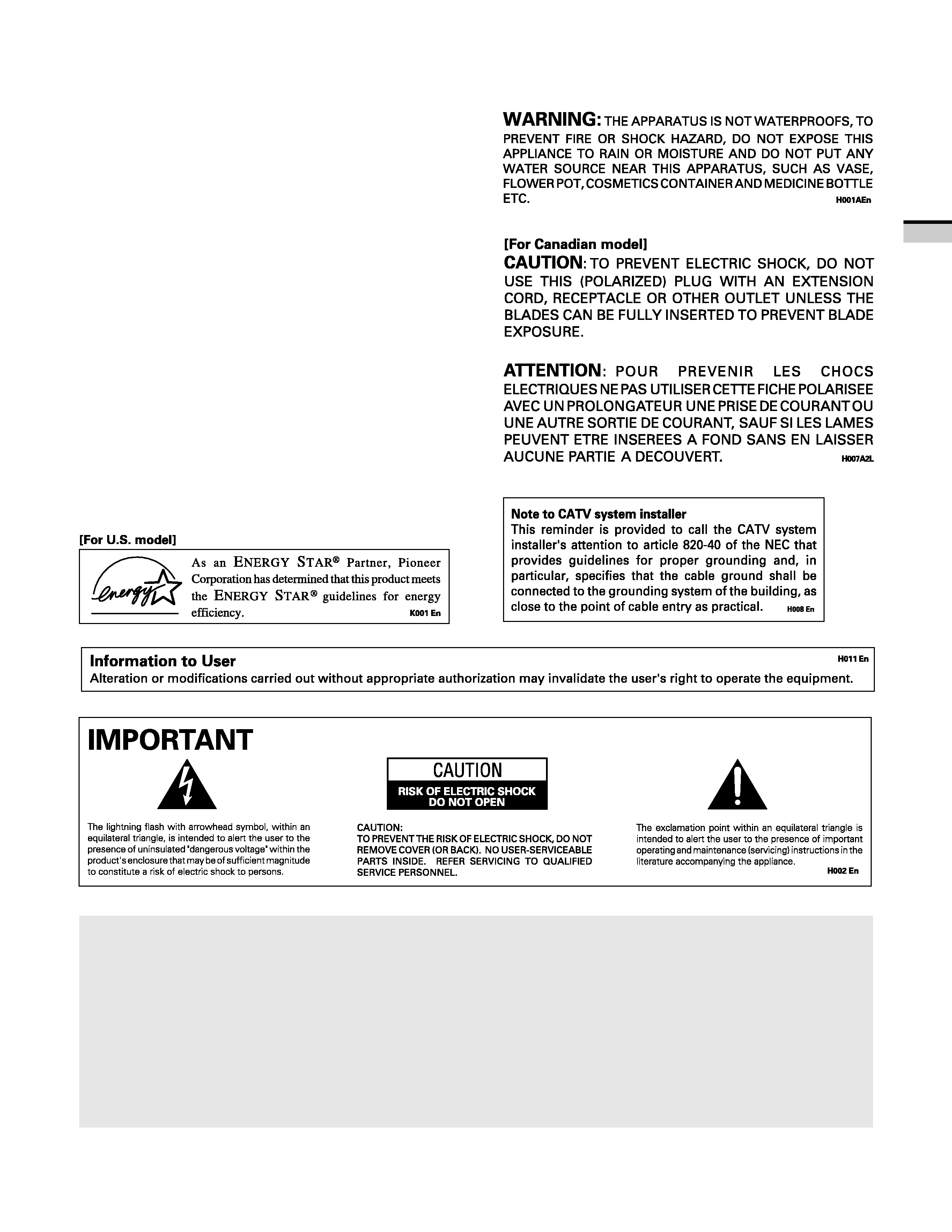 Thank you for purchasing this PIONEER HDTV Projection
Please read the precautionary instructions enclosed with these
operating instructions please do so before proceeding.
After learning how to operate the Projection Monitor, be sure
to keep this manual handy for future reference.
The serial number for this equipment is located in the Rear
panel. Please write this serial number on your enclosed
warranty card and keep it in a secure area. This is for your
In this manual, we refer to the 'HDTV PROJECTION MONITOR',
as the 'Projection Monitor' or the 'Monitor'.
Note on the SPLIT screen and SEARCH screen functions
The SPLIT screen and SEARCH screen functions provided in
this monitor are intended for private viewing only.
Use of the above video processing functions for profitmaking
purpose or for public viewing (clubs, hotels, etc.) without prior
authorization from the transmitter and/or owner of the video
program (s) may be an infringement of existing copyright laws.
NOTICE ON ADVERSE EFFECTS ON THE TV TUBE
When playing TV games, operating computers or displaying still pictures with your Monitor, be
sure to keep in mind the following points;
1. Select the 'GAME' mode. (Refer to page 49 of the Operating Instructions)
2. Do not use your Monitor for more than two hours.
3. Watch normal TV broadcast's for three times longer than the time of playing TV games, operating
computers or displaying still pictures.
Still patterns can scar the Monitor causing performance damage to the CRT.
---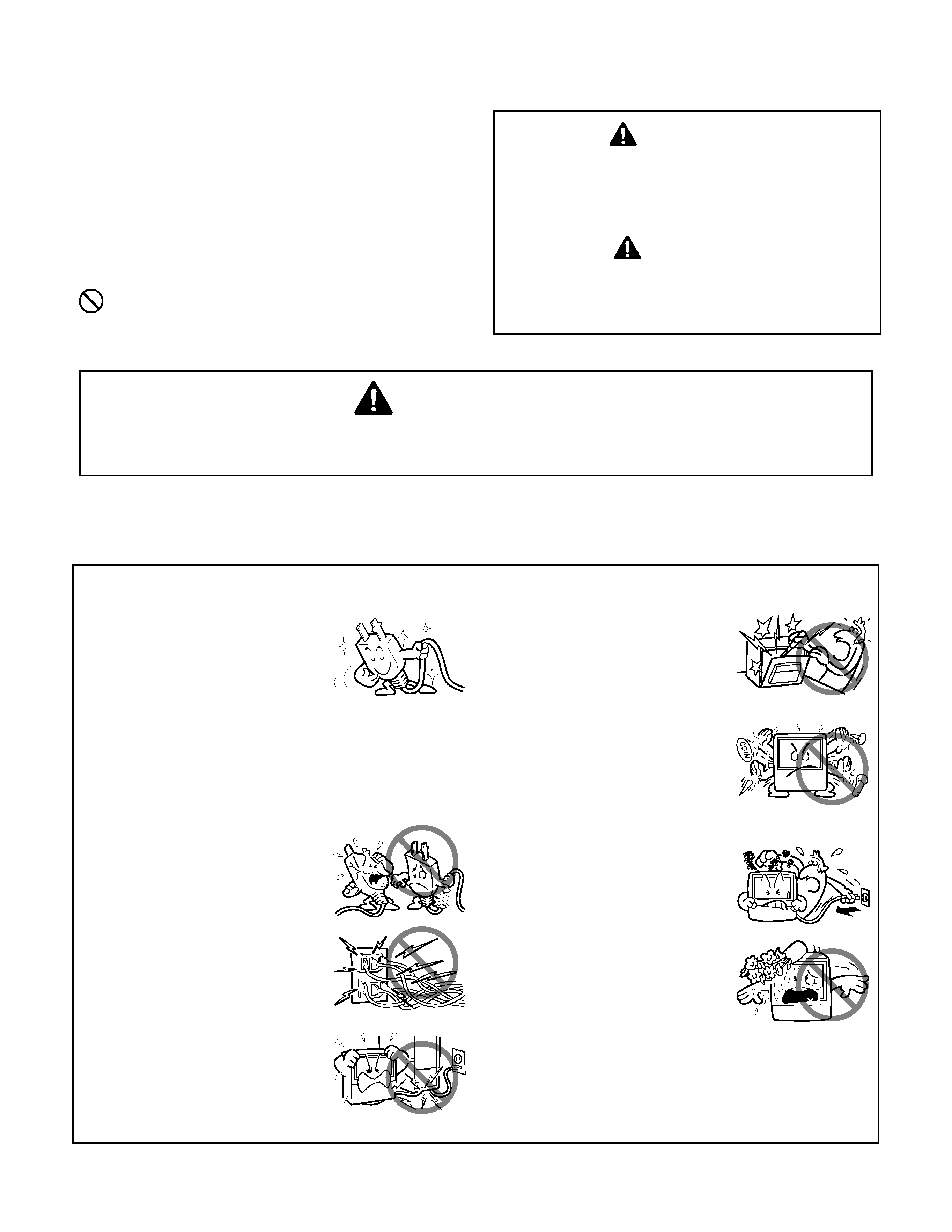 IMPORTANT SAFETY INSTRUCTIONS AND WARNINGS
· Read all of these instructions.
· Keep these instructions for later use.
· Follow all warnings and instructions marked on the Monitor.
This Monitor is equipped with a
polarized alternating current line
plug (a plug having one blade
This plug will fit into the power
outlet only one way. This is a
If you are unable to insert the plug
fully into the outlet, try reversing
the plug. If the plug should still fail
to fit, contact your electrician to
replace your obsolete outlet. Do
not defeat the safety purpose of
If the power cord or plug becomes
damaged or frayed, unplug this
Monitor from the wall outlet and
Do not overload wall outlets and
extension cords as this can result
in fire or electrical shock.
Do not allow anything to rest on
or roll over the power cord, and
do not place the Monitor where
the power cord maybe subject to
traffic or abuse. This may result
in electrical or fire hazard.
Do not attempt to service this
Monitor yourself as opening or
removing covers may expose you
to dangerous voltage or other
hazards. Refer all servicing to
Never push the objects of any kind
into this Monitor through cabinet
dangerous voltage points or short
out parts that could result in a fire
or electric shock. Never spill liquid
of any kind on the Monitor.
If the Monitor has been dropped
or the cabinet has been damaged,
unplug this Monitor from the wall
outlet and refer to qualified service
If liquid has been spilled into the
Monitor, unplug the Monitor from
the wall outlet and refer servicing
to qualified service personnel.
The following symbols are found in this
manual and on the labels on the product.
They alert the operators and service
personnel of this equipment to potentially
This symbol refers to a hazard or unsafe
practice which can result in severe personal
This symbol refers to a hazard or unsafe
practice which can result in personal injury
This symbol indicates an action that is
---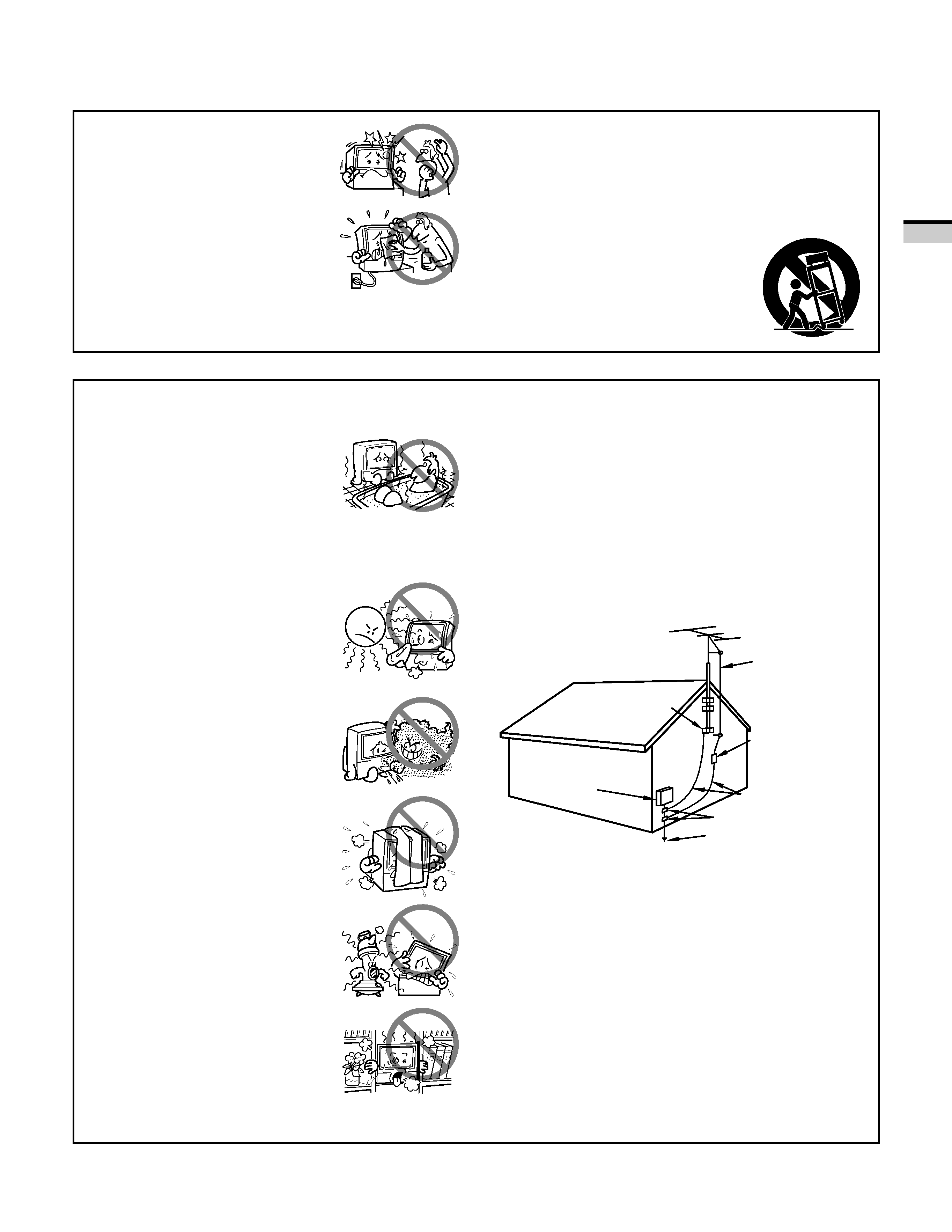 Do not subject your Monitor to
impact of any kind. Be particularly
careful not to damage the screen
Unplug the Monitor from the wall
outlet before cleaning. Do not use
liquid cleaners or spray-type
cleaners. Use a damp cloth for
11-1. Do not place this Monitor on an
unstable, uneven or an inclined
location. The Monitor may
overturn, causing serious injury
(to a person), and serious damage
11-2. Be careful when placing the
Monitor on a cart to move it.
Quick stops, excessive force, and
uneven surfaces may cause the
Monitor and cart to overturn.
· Do not use the Monitor near
water, for example, near a
bathtub, wash basin, kitchen sink,
or laundry tub, in a wet basement,
or near a swimming pool, etc.
· Never expose the Monitor to rain
If the Monitor system has been
exposed to rain or water, unplug
the Monitor from the wall outlet
and refer servicing to qualified
Choose a place where light (artificial
or sunlight) does not shine directly
Avoid dusty places since the
buildup of dust inside the Monitor's
· The Monitor has slots, or
openings in the cabinet for
ventilation purposes to ensure the
reliable operation of the Monitor,
and to protect it from overheating.
These openings must not be
· Nevercovertheslotsoropenings
with cloth or other material.
ventilation slots of the Monitor by
placing it on a bed, sofa, rug, etc.
· Never place the Monitor near or
over a radiator or heat register.
· NeverplacetheMonitorinabuilt-
in enclosure such as a bookcase,
unless proper ventilation is
PROTECTION AND LOCATION OF YOUR HDTV PROJECTION MONITOR
If an outside antenna is connected through other
equipment, be sure the antenna system is grounded so
as to provide protection against voltage surges and built-
up static charges. In the U. S. A., section 810 of the
National Electrical Code, ANSI/NFPA 70, provides
information on proper grounding of the mast and
supporting structure, grounding of the lead-in wire to
an antenna-discharge unit, size of grounding
conductors, location of antenna-discharge unit,
connection to grounding electrode, and requirements
for the grounding electrode.
EXAMPLE OF ANTENNA GROUNDING IN
NATIONAL ELECTRICAL CODE INSTRUCTIONS
---