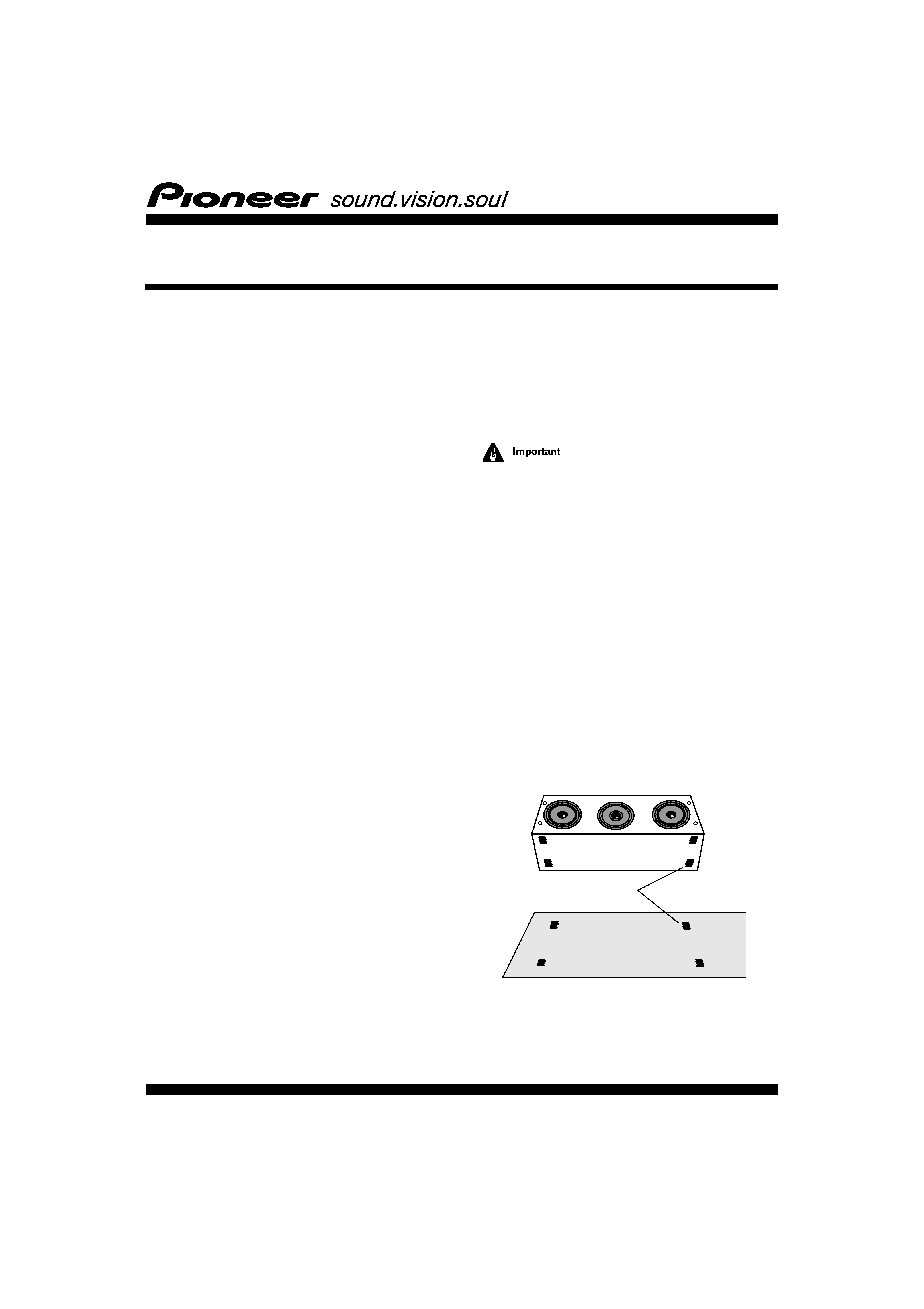 Thank you for buying this Pioneer product. Please read through
these operating instructions so you will know how to operate your
model properly. After you have finished reading the instructions,
put them away in a safe place for future reference.
· The nominal impedance of this speaker system is 6 ohms.
Connect the speaker system to an amplifier with a load
impedance ranging from 4 to 16 ohms (a model with
" displayed on the speaker output terminals).
· Do not touch the speaker cones as they are easily damaged.
In order to prevent damage to the speaker system resulting
from input overload, please observe the following precautions:
· Do not supply power to the speaker system in excess of the
maximum permissible input.
· When connecting or disconnecting anything in your AV
system, make sure the amplifier is switched off.
· When using a graphic equalizer to emphasize loud sounds
in the high-frequency range, do not use excessive amplifier
· Do not try to force a low-powered amplifier to produce loud
volumes of sound (the amplifier's harmonic distortion will be
increased, and you may damage the tweeter).
· Do not place the speaker on an unstable surface. It could
present a hazard if it falls, as well as damaging the equip-
· Switch off and unplug your AV equipment and consult the
instructions when connecting up components. Make sure
you use the correct connecting cables.
· Do not put a TV or other AV equipment on top of this
speaker. It could present a hazard if it falls, as well as
· Don't use the speaker to output distorted sound for long
periods of times. This can result in a fire hazard.
· Do not sit or stand on the speaker or let children play on the
· Do not put large or heavy objects on top of the speaker.
Sounds played through speaker systems are easily affected in
subtle ways by the conditions in the listening space.
· Do not place the speaker where it will be in direct sunlight,
and avoid positioning it near heaters and air conditioners.
This may cause warping and discoloration of the speaker
cabinet and damage the speakers.
· The speaker is heavy. Placing it on an unstable surface is
dangerous, and should be avoided.
Pioneer assumes no liability whatsoever for damages resulting
from assembly, improper mounting, insufficient reinforce-
ment, misuse of the product, acts of nature, etc.
Attaching the non-slip pads
A set of four self-adhesive non-slip pads, as well as a set of self-
adhesive velcro squares, are supplied that you can use to provide
some isloation and also prevent the speaker moving. Normally,
the non-slip pads should be sufficient. However, if you are
worried about the speaker falling, use the velcro.
Remove the backing tape of the non-slip pads and stick
one in each corner on the base of the speaker.
Remove the backing tape of the velcro squares and stick
one in each corner on the base of the speaker.
Remove the backing tape of the other side of each
square and install the speaker.
---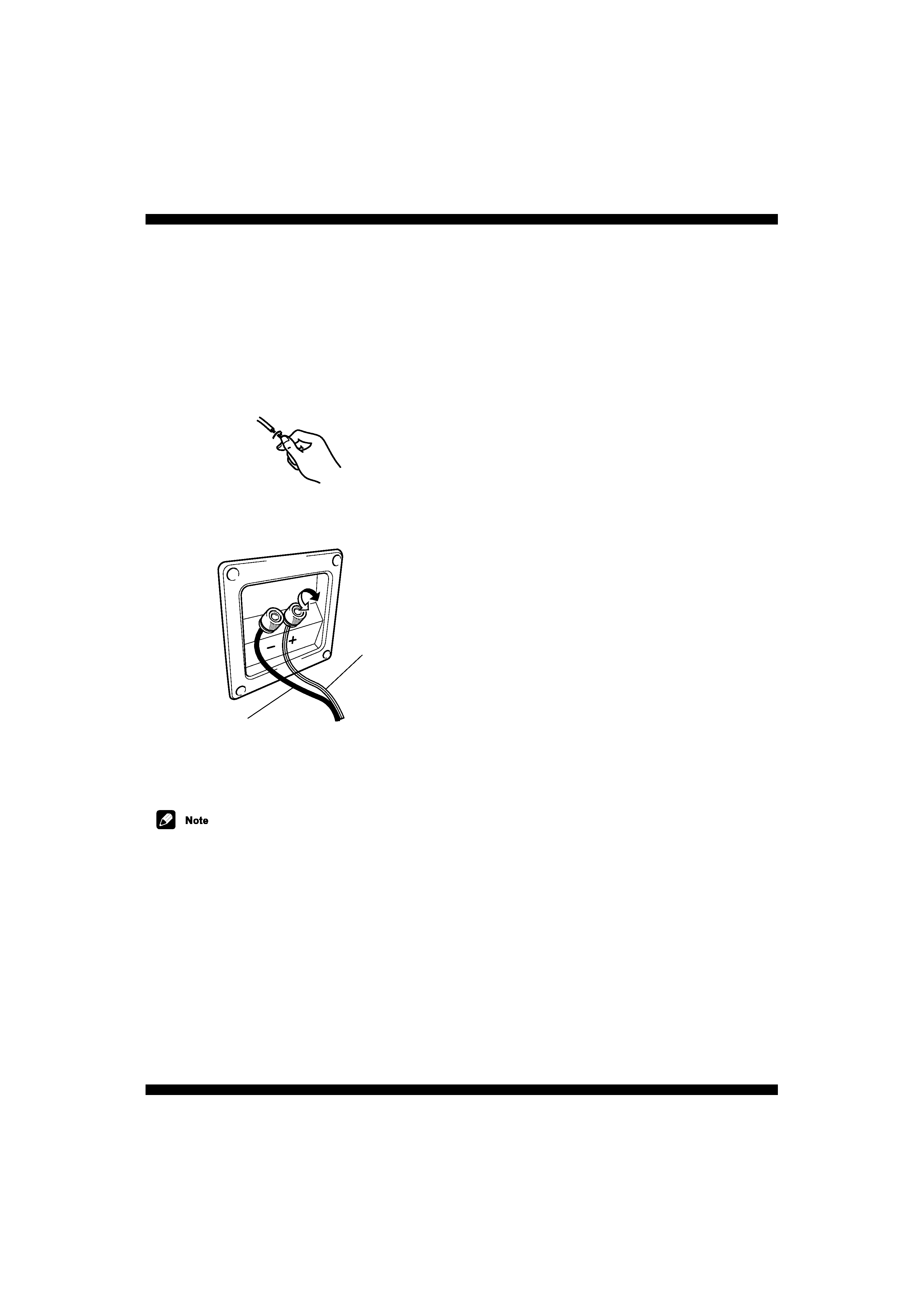 Connecting to an amplifier
Before connecting to your amplifier, make sure that the amp is
Use the supplied speaker cable to connect up the speaker. Make
sure that you match up the speaker terminals on the speaker
with those on your amplifier so that the positive (+) terminals
and negative (­) terminals are paired.
Twist off the protective shielding on the ends of the
speaker cable. Twist together any stray strands of speaker
Unscrew the terminals on the speaker and insert the
Connect the other end of the speaker cable to the
speaker terminals on your amplifier.
You can also use banana plugs to connect up the speaker.
· After connecting the plugs, pull lightly on the cables to make
sure that the ends of the cables are securely connected to
the terminals. Poor connections can create noise and
interruptions in the sound.
· If the cables' wires happen to be pushed out of the terminals,
allowing the wires to come into contact with each other, it
places an excessive additional load on the amp. This may
cause the amp to stop functioning, and may even damage
Detatching and replacing the front grille
The front grille of this speaker system is removable. Proceed as
Use both hands to hold the bottom part of the grille,
and pull it gently towards you. You will then be able to free
the bottom part of grille.
Similarly, take hold of the top part of the grille, and pull
it towards you; the whole grille will then be detached from
To replace the grille, align the holes in the grille's corners
with the projections on the front of the speaker, and push
each of the corners into place.
This speaker system is magnetically shielded. However, depend-
ing on the installation location, color distortion may occur if the
speaker system is installed extremely close to the screen off a
If this happens, turn off the television, then turn it on again after
15 to 30 minutes. If the problem persists, place the speaker
system away from the television set.
Cleaning the speaker cabinet
With normal use, wiping with a dry cloth should be sufficient to
keep the cabinet clean. If necessary, clean with a cloth dipped in
a neutral cleanser diluted five or six times with water, and wrung
out well. Do not use furniture wax or cleansers.
Never use thinners, benzine, insecticide sprays or other chemi-
cals on or near this unit since these will corrode the surfaces.
---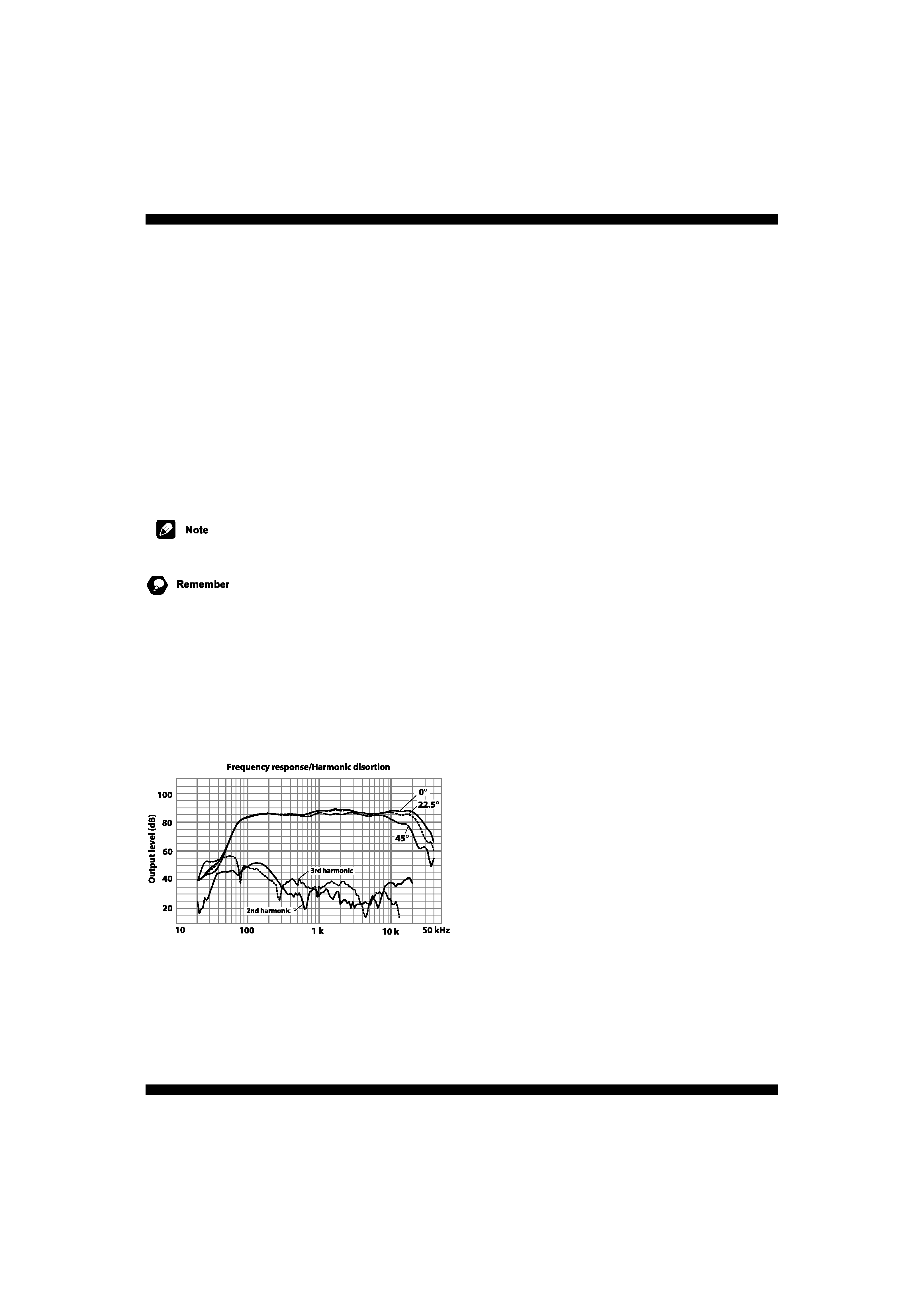 Enclosure ........................... Bass-reflex type magnetically shielded
Configuration ............................................................................. 2-way
Woofers ............................................................... 10 cm cone x 2
Tweeter .................................................................... 2.5 cm dome
Nominal impedance .................................................................... 6
Frequency response .................................................... 57~42,000 Hz
Sensitivity ................................................................ 87 dB/W (at 1 m)
Maximum input (EIAJ) ...................................................... 100 W
Crossover frequency .............................................................. 3.5 kHz
Exterior dimensions (mm) ............. 420 (W) x 150 (H) x 234 (D) mm
Weight ....................................................................................... 6.6 kg
Speaker cable (2.5 m) .............................................................. x1
Non-slip pads ...................................................................... x1 set
Velcro pads (top/bottom) ......................................................... x4
Operating instructions ............................................................. x1
Specifications and design subject to possible modification
without notice, due to improvements.
Real, natural wood is used in the construction of the speaker
system cabinets. They feature a wonderful color and depth that is
much more attractive than plastic veneers and similar materials.
No two pieces of natural wood are exactly alike. Keep this point in
mind as you enjoy these speakers.
Frequency response and harmonic
Published by Pioneer Corporation.
Copyright © 2002 Pioneer Corporation.
---

---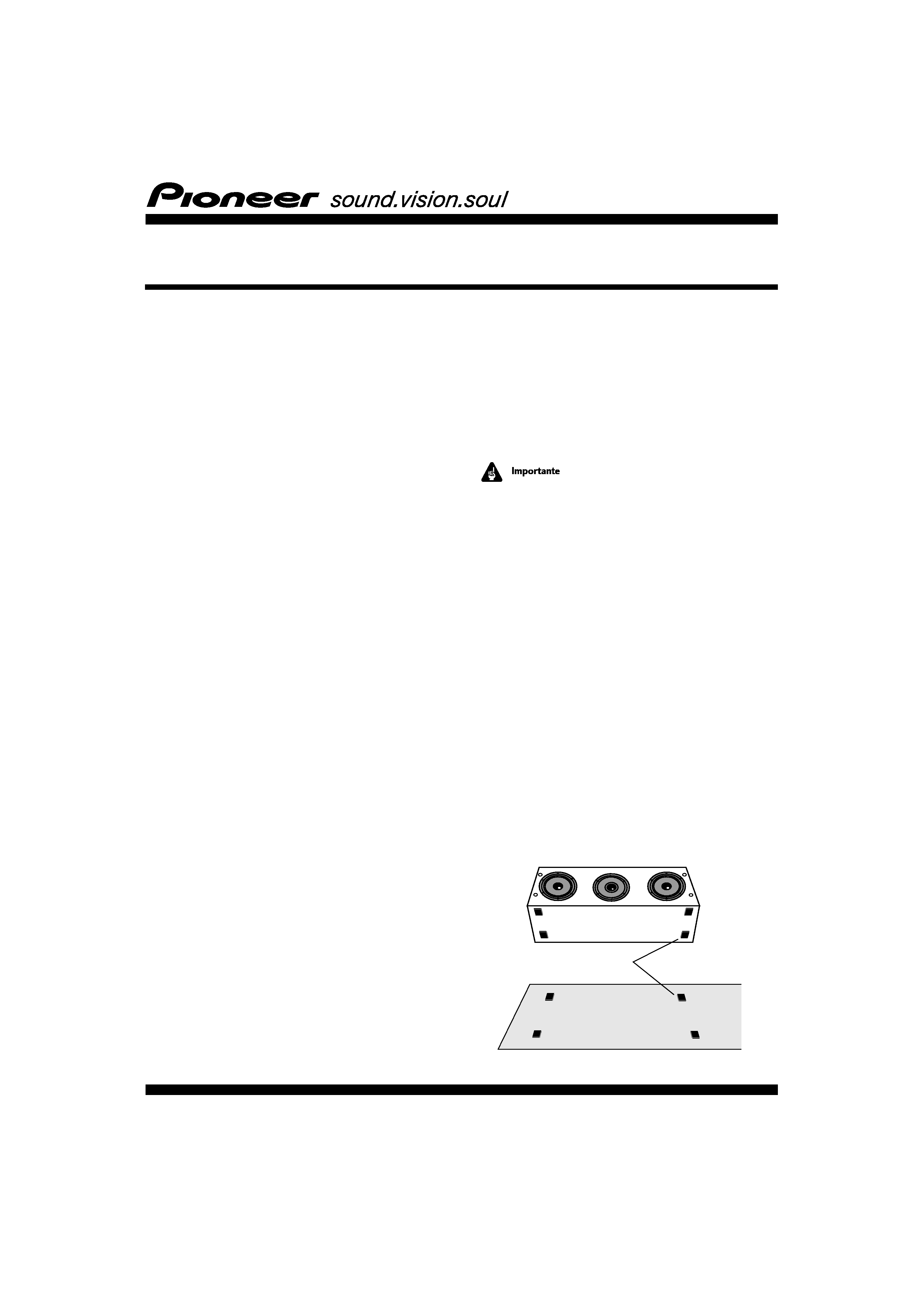 Instalación de los altavoces
Los sonidos que se reproduzcan a través de estos sistemas de
altavoces se verán fácilmente afectados sutilmente por las
condiciones del espacio de audición.
· No sitúe un altavoz donde pueda entrar en contacto con luz
solar directa y evite colocarlo cerca de calefactores y
aparatos de aire acondicionado. Esto puede provocar
sonidos alabeados y decoloración del armario del altavoz y
· Estos altavoces son pesados. Colocarlos sobre una
plataforma no adecuada es peligroso y siempre debería
Pioneer no asume ninguna responsabilidad por los daños que
puedan ocasionarse al ensamblar o montar indebidamente,
reforzar insuficientemente, usar inadecuadamente el
producto, actos de la naturaleza, etc.
Acoplamiento de las almohadillas
Se suministra un juego de cuatro almohadillas autoadhesivas
antideslizantes, además de un juego de cuadrados
autoadhesivos de velcro que puede utilizar para aislar y evitar
también que se muevan los altavoces. Las almohadillas
antideslizantes deberían ser suficientes, por regla general. No
obstante, si le preocupa que el altavoz pueda caerse, use las de
Uso de las almohadillas antideslizantes
Quite la cinta de apoyo de las almohadillas
antideslizantes y péguelas a cada una de las esquinas de la
Uso de los cuadrados de velcro
Quite la cinta de apoyo de los cuadros de velcro y
péguela a cada esquina de la base del altavoz.
Quite la cinta de apoyo de cada lado de cada cuadrado y
Sistema de altavoces S-A5C
Le agradecemos la compra de este producto Pioneer. Lea con
atención este manual de instrucciones para aprender cómo
utilizar adecuadamente este modelo. una vez que haya leído las
instrucciones, guárdelas en un lugar seguro para poderlas
· La impedancia nominal de este sistema de altavoces es de 6
ohmios. Conecte el sistema de altavoces a un amplificador
que tenga una carga de impedancia de 4 a 16 ohmios (es
decir, un modelo en el que observe "4 -16
nales de salida del altavoz).
· No toque los conos de los altavoces porque podrían dañarse
Para evitar daños al sistema de altavoces que podrían resultar
de una sobrecarga en la entrada, le rogamos que siga estas
· No sobrealimente el sistema de altavoces más allá de la
capacidad máxima permisible.
· Al conectar o desconectar cualquier dispositivo de su AV,
asegúrese de que el amplificador está apagado.
· Al usar un ecualizador gráfico para enfatizar los sonidos
altos en la gama de frecuencias alta, no use un volumen
excesivo en el amplificador.
· No intente forzar un amplificador de baja potencia para que
produzca volúmenes altos de sonido (la distorsión armónica
del amplificador se incrementará y puede dañar el altavoz de
· No coloque el altavoz sobre una superficie inestable. Podría
ser peligroso en caso de que cayera y podría dañarse el
· Apague y desconecte su equipo AV y consulte las
instrucciones cuando conecte los componentes. Asegúrese
de que está utilizando los cables de conexión correctos.
· No coloque un televisor ni ningún otro equipo AV encima del
altavoz. Podría ser peligroso en caso de que cayera y podría
· No use el altavoz para reproducir sonidos distorsionados
durante largos períodos de tiempo.Esto podría representar
· No se siente ni se ponga de pie, ni permita que los niños
· No coloque objetos grandes ni pesados encima del altavoz.
---