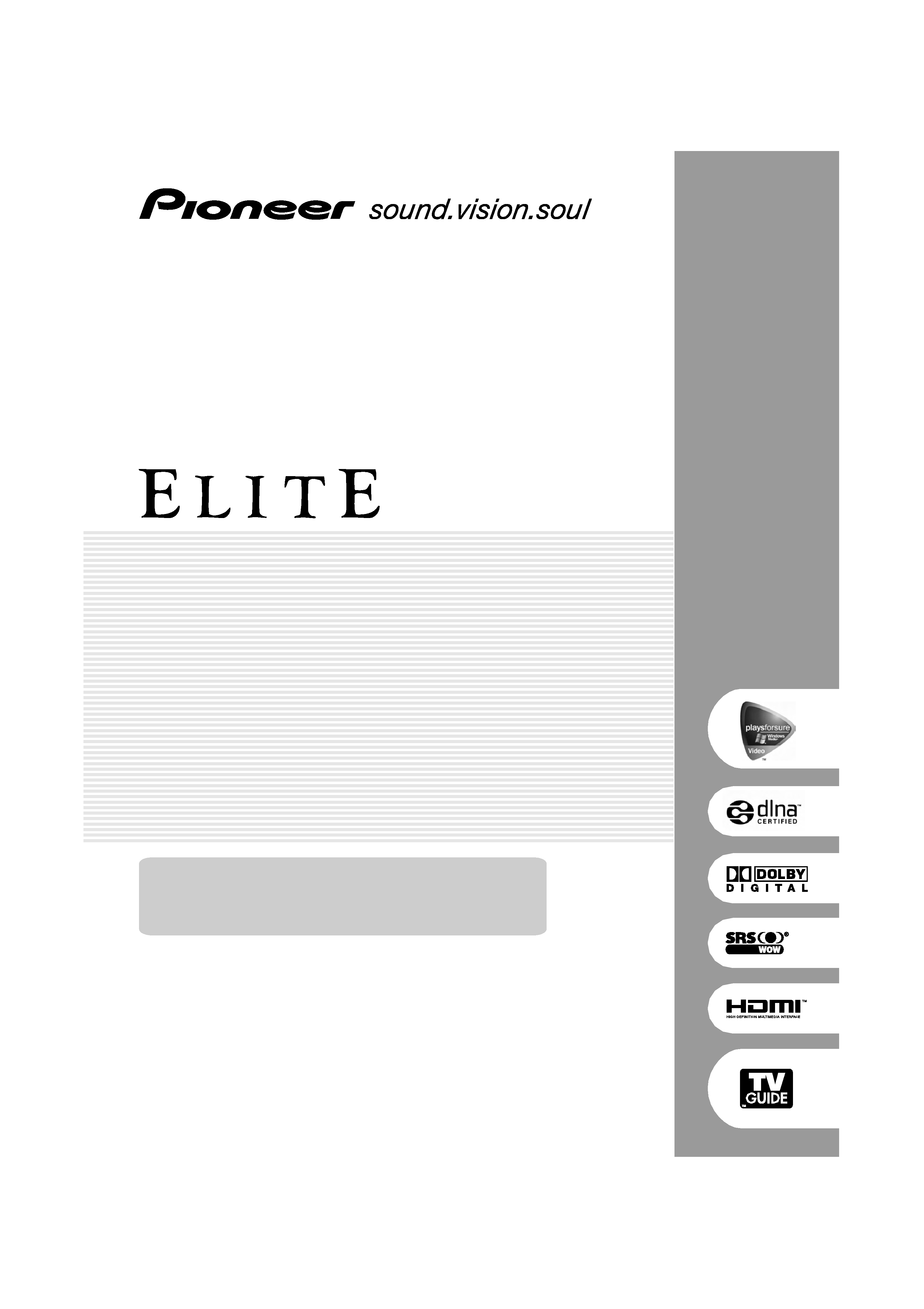 www.pioneerelectronics.com (US)
www.pioneerelectronics.ca (Canada)
PDP_PRO1540HD.book Page 1 Wednesday, June 28, 2006 2:29 PM
---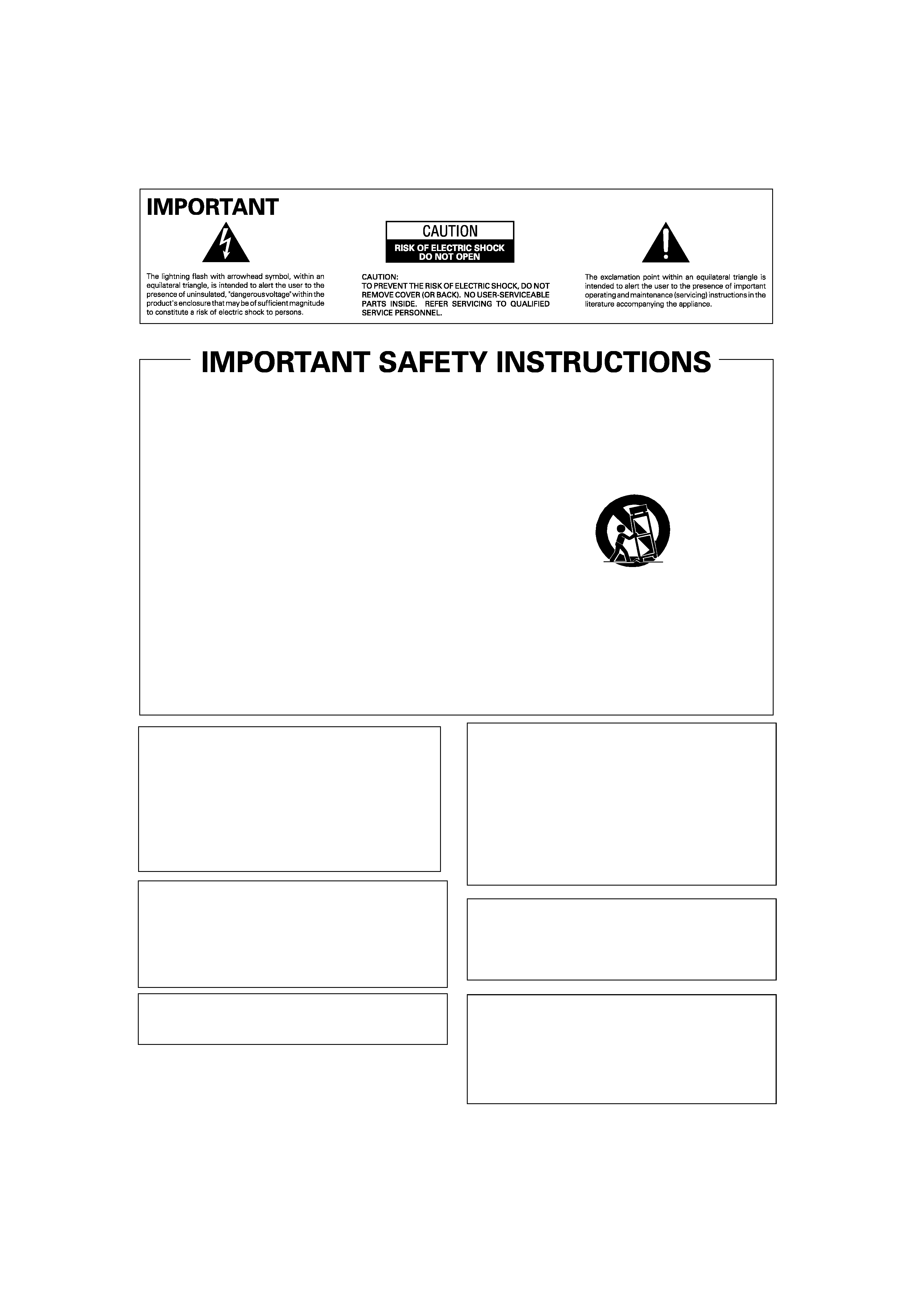 Do not use this apparatus near water.
Clean only with dry cloth.
Do not block any ventilation openings. Install in
accordance with the manufacturer's instructions.
Do not install near any heat sources such as
radiators, heat registers, stoves, or other apparatus
(including amplifiers) that produce heat.
Do not defeat the safety purpose of the polarized or
grounding-type plug. A polarized plug has two
blades with one wider than the other. A grounding
type plug has two blades and a third grounding
prong. The wide blade or the third prong are
provided for your safety. If the provided plug does
not fit into your outlet, consult an electrician for
replacement of the obsolete outlet.
Protect the power cord from being walked on or
receptacles, and the point where they exit from the
Only use attachments/accessories specified by the
Use only with the cart, stand, tripod, bracket, or
table specified by the manufacturer, or sold with the
apparatus. When a cart is used, use caution when
moving the cart/apparatus combination to avoid
Unplug this apparatus during lightning storms or
when unused for long periods of time.
Refer all servicing to qualified service personnel.
Servicing is required when the apparatus has been
damaged in any way, such as power-supply cord or
plug is damaged, liquid has been spilled or objects
have fallen into the apparatus, the apparatus has
been exposed to rain or moisture, does not operate
normally, or has been dropped.
WARNING:
This product equipped with a three-
wire grounding (earthed) plug - a plug that has a third
(grounding) pin. This plug only fits a grounding-type
power outlet. If you are unable to insert the plug into an
outlet, contact a licensed electrician to replace the
outlet with a properly grounded one. Do not defeat the
safety purpose of the grounding plug
WARNING:
To prevent a fire hazard, do not place
any naked flame sources (such as a lighted candle) on
NOTE TO CATV SYSTEM INSTALLER
THIS REMINDER IS PROVIDED TO CALL THE CATV
SYSTEM INSTALLER'S ATTENTION TO ARTICLE
820-40 OF THE NEC THAT PROVIDES GUIDELINES
FOR PROPER GROUNDING AND, IN PARTICULAR,
SPECIFIES THAT THE CABLE GROUND SHALL BE
CONNECTED TO THE GROUNDING SYSTEM OF
THE BUILDING, AS CLOSE TO THE POINT OF
CABLE ENTRY AS PRACTICAL.
This digital television is capable of receiving analog
basic, digital basic and digital premium cable
television programming by direct connection to a cable
system providing such programming. A security card
provided by your cable operator is required to view
encrypted digital programming. Certain advanced and
interactive digital cable services such as video-on-
demand, a cable operator's enhanced program guide
and data-enhanced television services may require the
use of a set-top box. For more information call your
When installing this unit, make sure to leave space
around the unit for ventilation to improve heat
radiation. For the minimum space required, see page
WARNING:
Slots and openings in the cabinet are
provided for ventilation to ensure reliable operation of
the product, and to protect it from overheating. To
prevent fire hazard, the openings should never be
blocked or covered with items (such as newspapers,
table-cloths, curtains) or by operating the equipment
on thick carpet or a bed.
PDP_PRO1540HD.book Page 2 Wednesday, June 28, 2006 2:29 PM
---

WATERPROOFS, TO PREVENT FIRE OR SHOCK
HAZARD, DO NOT EXPOSE THIS APPLIANCE TO RAIN
OR MOISTURE AND DO NOT PUT ANY WATER
SOURCE NEAR THIS APPARATUS, SUCH AS VASE,
WARNING:
Handling the cord on this product or
cords associated with accessories sold with the
product will expose you to lead, a chemical known to
the State of California and other governmental entities
to cause cancer and birth defects or other reproductive
Wash hands after handling.
appropriate authorization may invalidate the user's
right to operate the equipment.
This Class B digital apparatus complies with Canadian
COMMISSION DECLARATION OF
This device complies with part 15 of the FCC Rules.
Operation is subject to the following two conditions: (1)
This device may not cause harmful interference, and
(2) this device must accept any interference received,
including interference that may cause undesired
Product Name: Plasma Display System
Model Number: PRO-1540HD/PRO-1140HD/PRO-940HD
Product Category: Class B Personal Computers &
Responsible Party Name: PIONEER ELECTRONICS
Address: 1925 E. DOMINGUEZ ST. LONG BEACH, CA
For Business Customer URL
http://www.PioneerUSA.com
When placed into the standby mode, the main power flow is cut and the unit is no longer
STANDBY/ON Indicator: The indicator is lit red when the unit is in the standby mode and lit blue when it is in the
power-on mode. No operation can be performed when the indicator is off. However, the
Plasma Display System will still consume some power as long as the power cord is
inserted into the power outlet.
NOTE: This equipment has been tested and found to comply with the limits for a Class B digital device, pursuant
to Part 15 of the FCC Rules. These limits are designed to provide reasonable protection against harmful
interference in a residential installation.
This equipment generates, uses, and can radiate radio frequency energy and, if not installed and used in
accordance with the instructions, may cause harmful interference to radio communications. However, there is
no guarantee that interference will not occur in a particular installation. If this equipment does cause harmful
interference to radio or television reception, which can be determined by turning the equipment off and on, the
user is encouraged to try to correct the interference by one or more of the following measures:
­ Reorient or relocate the receiving antenna.
­ Increase the separation between the equipment and receiver.
­ Connect the equipment into an outlet on a circuit different from that to which the receiver is connected.
­ Consult the dealer or an experienced radio/TV technician for help.
CAUTION: This product satisfies FCC regulations when shielded cables and connectors are used to connect the
unit to other equipment. To prevent electromagnetic interference with electric appliances such as radios and
televisions, use shielded cables and connectors for connections.
IMPORTANT NOTICE ­ THE SERIAL NUMBER FOR THIS EQUIPMENT IS LOCATED IN THE REAR.
PLEASE WRITE THIS SERIAL NUMBER ON YOUR ENCLOSED WARRANTY CARD AND
KEEP IN A SECURE AREA. THIS IS FOR YOUR SECURITY.
CAUTION: The power switch does not completely separate the unit from the mains in off position. Therefore
install the unit suitable places easy to disconnect the mains plug in case of the accident. The mains plug of unit
should be unplugged from the wall socket when left unused for a long period of time.
Operating environment temperature and humidity:
+0 °C to +40 °C (+32 °F to +104 °F), less than 85 %RH (cooling vents not blocked) Do not install this unit in a
poorly ventilated area, or in locations exposed to high humidity or direct sunlight (or strong artificial light)
PDP_PRO1540HD.book Page 3 Wednesday, June 28, 2006 2:29 PM
---

Thank you for buying this Pioneer product.
Please read through these operating instructions so you will know how to operate your model properly. After you have finished
reading the instructions, put them away in a safe place for future reference.
In some countries or regions, the shape of the power plug and power outlet may sometimes differ from that shown in the
explanatory drawings. However the method of connecting and operating the unit is the same.
Illustrations shown in this manual are for the PRO-1140HD unless otherwise specified.
01 Important User Guidance Information
Plasma Display ...........................................13
Remote control unit ...................................19
Installing the Plasma Display ...................20
Moving the Plasma Display .......................20
Preventing the Plasma Display from
Falling Over .................................................21
Attaching/detaching the PIONEER stand
(for PRO-940HD only) ................................22
Cable connections for watching digital
and/or conventional TV channels .............23
Connecting VHF/UHF antennas and a
Cable .......................................................23
Inserting the CableCARDTM .......................23
Switching between antenna A and B .......23
Preparing the remote control unit ............24
Inserting batteries .................................24
Cautions regarding batteries ................24
Allowed operation range of the remote
control unit .............................................24
Cautions regarding the remote control
unit ..........................................................24
Connecting the power cord .......................25
Routing cables ...........................................25
Turning on the power .................................26
Turning off the power .................................26
Watching TV channels ...............................27
Selecting the antenna ...........................27
Changing channels ...............................27
Changing the volume and sound .........28
Changing the language ........................28
Setting MTS/SAP mode ........................29
Viewing a channel banner ....................30
Using the POD service ......................... 30
Using the multiscreen functions ............. 30
Splitting the screen .............................. 30
Freezing images .................................... 31
07 TV Guide On ScreenTM System Setup
About the TV Guide On ScreenTM
system ........................................................ 32
Setting up the TV Guide On ScreenTM
system ........................................................ 32
Menu Configuration .................................. 36
AV mode menus ................................... 36
PC mode menus ................................... 36
Menu operations ................................... 36
Setting up TV channels ............................. 37
Using Auto Channel Preset ................. 37
Setting for skipping unwanted
channels ................................................ 37
Setting up TV channels manually ....... 37
Checking signal strength ..................... 37
Checking the CableCARD ID ............... 38
Parental Control ........................................ 38
Changing the password ....................... 38
Clearing the password ......................... 39
Activating the Parental Control ........... 39
Setting the voluntary movie rating
system (MPAA) ..................................... 39
Setting the TV ratings ........................... 39
Setting the TV Parental Guidelines
(TV Guidelines) ...................................... 40
Blocking Not Rated TV programs ........ 40
Canadian rating systems ..................... 40
Setting Canadian English ratings ....... 41
Setting Canadian French ratings ........ 41
Setting new ratings .............................. 41
Deleting new ratings ............................ 42
Temporarily deactivating the Parental
Control ................................................... 42
Setting your favorite channels ................. 43
PDP_PRO1540HD.book Page 4 Wednesday, June 28, 2006 2:29 PM
---

Setting up closed captions ....................... 43
Activating the closed caption .............. 43
Selecting the type of conventional
closed captions ..................................... 43
Selecting digital closed captions ........ 44
Selecting digital closed caption
parameters ............................................ 44
Clock Setting ............................................. 44
10 TV Guide On ScreenTM System Operation
Using the TV Guide On ScreenTM
system ........................................................ 46
Screen components .................................. 46
TV Guide On ScreenTM icons ................ 46
TV Guide On ScreenTM navigation ....... 47
The Listings screen ................................... 47
Recording programs ................................. 48
Setting program reminders ...................... 49
Searching for programs ........................... 51
Searching by category .......................... 51
Searching by keyword .......................... 52
Alphabetical search ............................. 53
The search Episode Options menu ..... 53
Scheduling recordings and reminders ... 54
The Schedule Options menu ............... 54
Changing setup options ........................... 55
Changing the System Settings ............ 55
Changing the Channel Display
settings .................................................. 55
Changing the Default Options ............. 56
11 Adjustments and Settings
Sleep Timer ................................................ 57
AV Selection .............................................. 57
Basic picture adjustments ....................... 58
Advanced picture adjustments ................ 59
Using PureCinema ............................... 59
Using Color Temp ................................. 59
Using CTI ............................................... 60
Using Color Management .................... 60
Using Color Space ................................ 60
Using Intelligent Color ......................... 60
Eliminating noise from images ........... 61
Using the Dynamic Range Expander
(DRE) functions .................................... 61
Using the 3DYC and I-P Mode ............. 62
Sound adjustments ................................... 62
FOCUS ................................................... 63
Front Surround ..................................... 63
Power Control ............................................ 63
Energy Save ........................................... 63
No Signal off (AV mode only) ............... 63
No Operation off (AV mode only) ......... 64
(PC mode only) ...................................... 64
Image position adjustment
(AV mode only) .......................................... 64
Automatic image position and clock
(Hertz) adjustments (PC mode only) ....... 64
Manual image position and clock
adjustments (PC mode only) .................... 65
Selecting a screen size manually ............. 65
Selecting a screen size automatically ..... 66
Selecting a screen size for 4:3 aspect
ratio signals ........................................... 66
Changing the brightness on both sides of
the screen (Side Mask) ............................. 67
Language setting ....................................... 67
12 Using External Equipment
About External Equipment ....................... 68
Watching a DVD image ............................ 68
Connecting a DVD player ..................... 68
Displaying a DVD image ...................... 68
Watching a VCR image ............................. 68
Connecting a VCR ................................. 68
Displaying a VCR image ....................... 68
Using HDMI Input ..................................... 69
Connecting HDMI equipment ............. 69
Using a game console or watching
camcorder images .................................... 70
Connecting a game console or
camcorder ............................................. 70
Displaying an image of the game
console or camcorder .......................... 70
Recording digital TV programs using
a VCR .......................................................... 70
Avoiding unwanted feedback .............. 70
Connecting a recorder ......................... 71
Connecting other audio equipment ......... 71
Connecting an AV receiver .................. 71
Watching an image from a computer ..... 72
Connecting a personal computer ........ 72
Displaying an image from a PC ........... 72
Computer compatibility chart .................. 73
G-LINKTM connection ................................. 73
Connecting control cables ....................... 74
About SR+ ............................................ 74
PDP_PRO1540HD.book Page 5 Wednesday, June 28, 2006 2:29 PM
---