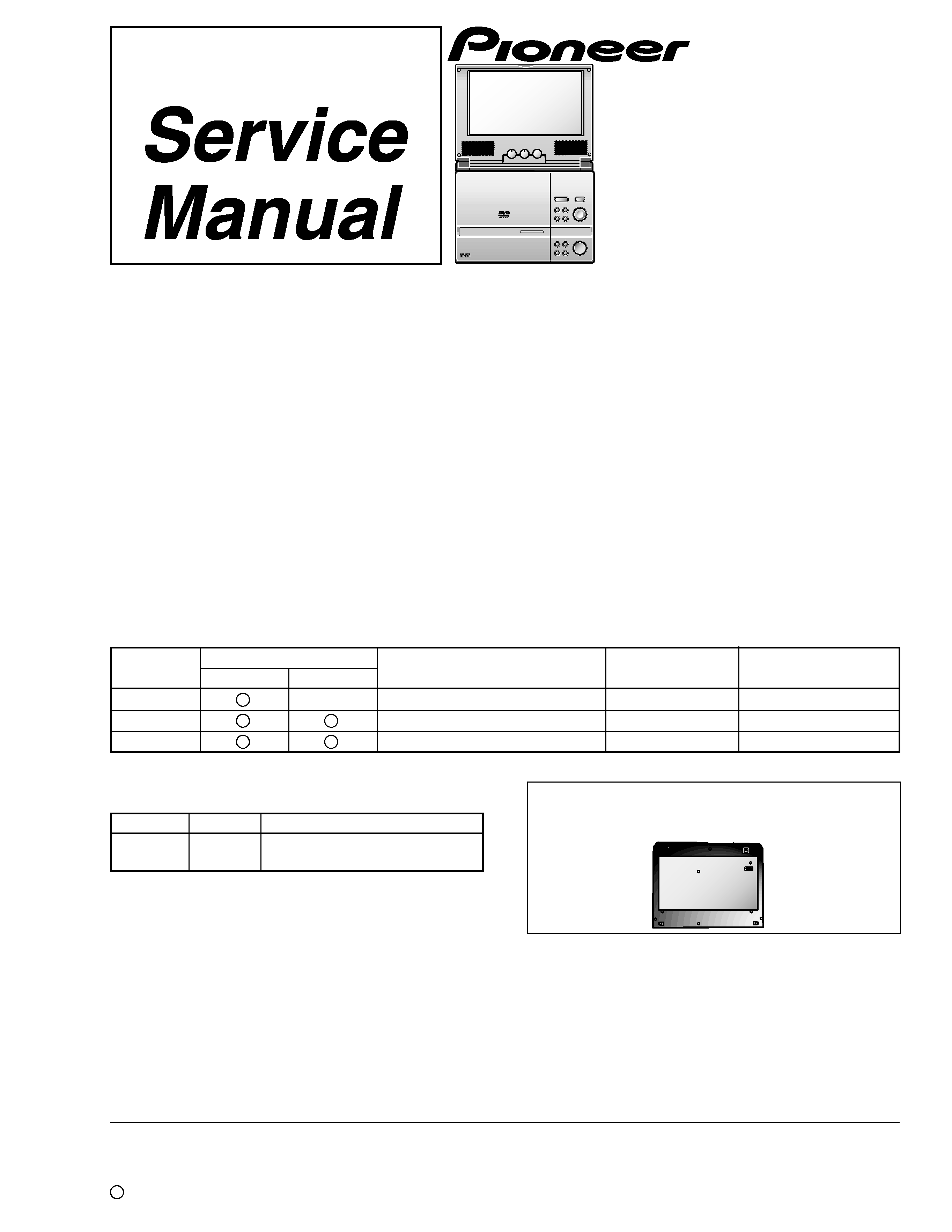 PIONEER CORPORATION
4-1, Meguro 1-chome, Meguro-ku, Tokyo 153-8654, Japan
PIONEER ELECTRONICS SERVICE, INC. P.O. Box 1760, Long Beach, CA 90801-1760, U.S.A.
PIONEER EUROPE NV Haven 1087, Keetberglaan 1, 9120 Melsele, Belgium
PIONEER ELECTRONICS ASIACENTRE PTE. LTD. 253 Alexandra Road, #04-01, Singapore 159936
Confirmation / adjustment of a LCD
AC120V Adapter or Battery pack
AC100V-240V Adapter or Battery pack
AC100V-240V Adapter or Battery pack
T ­ IZE SEPT. 2000 Printed in Japan
THIS MANUAL IS APPLICABLE TO THE FOLLOWING MODEL(S) AND TYPE(S).
1. SAFETY INFORMATION ....................................... 2
2. EXPLODED VIEWS AND PARTS LIST ................. 4
3. BLOCK DIAGRAM AND SCHEMATIC DIAGRAM ... 10
4. PCB CONNECTION DIAGRAM ........................... 30
5. PCB PARTS LIST ................................................ 35
6. ADJUSTMENT ..................................................... 39
7. GENERAL INFORMATION ................................ 40
7.1 DIAGNOSIS .................................................. 40
7.1.1 DISASSEMBLY .................................... 40
7.1.2 TROUBLE SHOOTING ........................ 43
7.2 IC .................................................................. 44
8. PANEL FACILITIES AND SPECIFICATIONS .... 55
(PDV-BT20 is supplied with PDV-LC20)
* These exchange a product in service.
· This service manual should be used
together with the following manual (s) :
---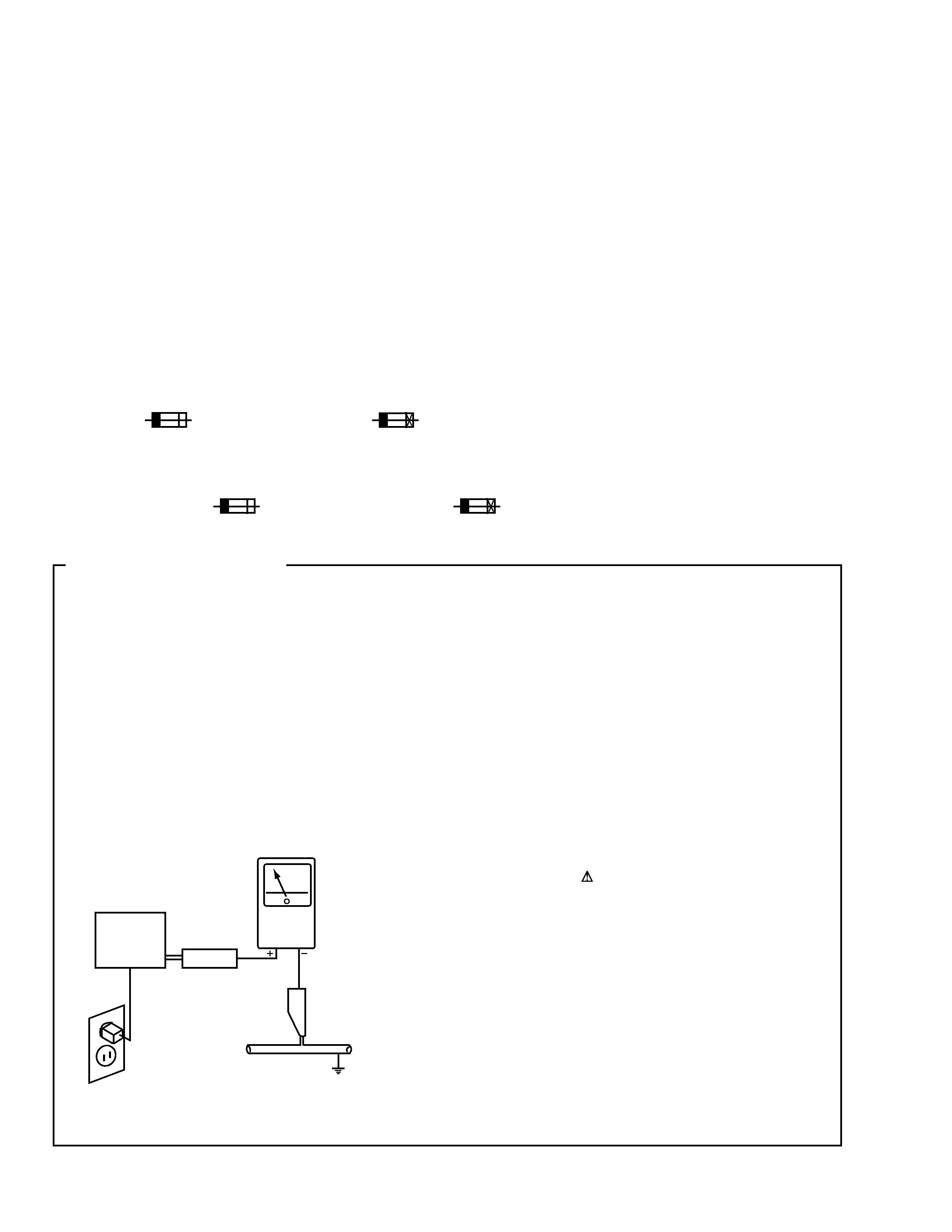 This service manual is intended for qualified service technicians ; it is not meant for the casual do-it-
yourselfer. Qualified technicians have the necessary test equipment and tools, and have been trained
to properly and safely repair complex products such as those covered by this manual.
Improperly performed repairs can adversely affect the safety and reliability of the product and may
void the warranty. If you are not qualified to perform the repair of this product properly and safely, you
should not risk trying to do so and refer the repair to a qualified service technician.
This product contains lead in solder and certain electrical parts contain chemicals which are known to the state of California to cause
cancer, birth defects or other reproductive harm.
Health & Safety Code Section 25249.6 ­ Proposition 65
(FOR CANADIAN MODEL ONLY)
(fast operating fuse) and/or
(slow operating fuse) on PCB indicate that replacement parts must
be of identical designation.
(POUR MODÈLE CANADIEN SEULEMENT)
(fusible de type rapide) et/ou
(fusible de type lent) sur CCI indiquent que les pièces
de remplacement doivent avoir la même désignation.
ANY MEASUREMENTS NOT WITHIN THE LIMITS
OUTLINED ABOVE ARE INDICATIVE OF A POTENTIAL
SHOCK HAZARD AND MUST BE CORRECTED BEFORE
RETURNING THE APPLIANCE TO THE CUSTOMER.
Many electrical and mechanical parts in the appliance
have special safety related characteristics. These are
often not evident from visual inspection nor the protection
afforded by them necessarily can be obtained by using
replacement components rated for voltage, wattage, etc.
Replacement parts which have these special safety
characteristics are identified in this Service Manual.
Electrical components having such features are identified
on the schematics and on the parts list
The use of a substitute replacement component which does
not have the same safety characteristics as the PIONEER
recommended replacement one, shown in the parts list in
this Service Manual, may create shock, fire, or other hazards.
Product Safety is continuously under review and new
instructions are issued from time to time. For the latest
information, always consult the current PIONEER Service
Manual. A subscription to, or additional copies of, PIONEER
Service Manual may be obtained at a nominal charge from
The following check should be performed for the
continued protection of the customer and service
Measure leakage current to a known earth ground (water
pipe, conduit, etc.) by connecting a leakage current tester
such as Simpson Model 229-2 or equivalent between the
earth ground and all exposed metal parts of the appliance
(input/output terminals, screwheads, metal overlays, control
shaft, etc.). Plug the AC line cord of the appliance directly
into a 120V AC 60Hz outlet and turn the AC power switch
on. Any current measured must not exceed 0.5mA.
---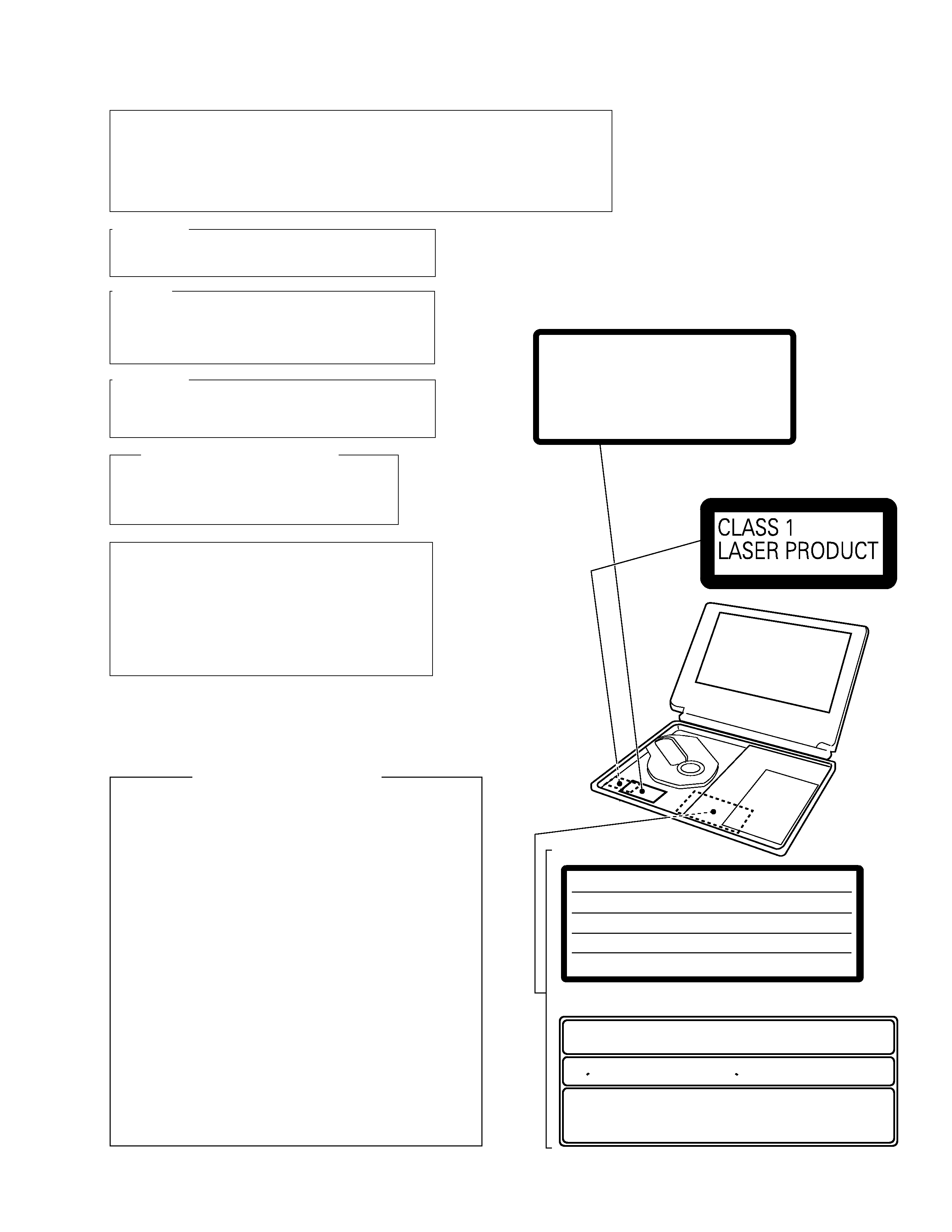 The AEL(accessible emission level) of the laser power output is less than CLASS 1
but the lasear component is capable of emitting radiation exceeding the limit for
A specially instructed person should do servicing operation of the apparatus.
Danger of explosion if battery is incorrectly replaced.
Replaced only with the same or equivalent type
recommended by the manufacture.
Discord used batteries according to the manufacture's
THIS PRODUCT COMPLIES WITH DHHS RULES 21CFR, SUBCHAPTER J,
PART 1040 AT DATE OF MANUFACTURE.
This Class B digital apparatus complies with Canadian ICES-003. Cet appareil
numerique de la classe B est comforme a la norme NMB-003 du Canada.
THIS DEVICE COMPLIES WITH PART 15 OF THE FCC RULES.
OPERATION IS SUBJECT TO THE FOLLOWING TWO CONDITIONS :
(1)THIS DEVICE MAY NOT CAUSE HARMFUL INTERFERENCE, AND
(2)THIS DEVICE MUST ACCEPT ANY INTERFERENCE RECEIVED, INCLUDING
INTERFERENCE THAT MAY CAUSE UNDESIRED OPERATION.
LASER RADIATION WHEN OPEN,
AVOID LONG-TERM VIEWING OF
VISIBLE AND INVISIBLE LASER RADIATION WHEN OPEN.
SICHTBARE UND UNSICHTBARE LASERSTRAHLUNG, WENN
ABDECKUNG GEÖFFNET NICHT DEM STRAHL AUSSETZEN!
SYNLIG OG USYNLIG LASERSTRÅLING VED ÅBNING UNDGÅ
SYNLIG OCH OSYNLIG LASERSTRÅLNING NÄR DENNA DEL ÄR
ÖPPNAD BETRAKTA EJ STRÅLEN.
AVATTAESSA ALTISTUT NÄKYVÄ JA NÄKYMÄTTÖMÄLLE
LASERSATEIL YLLE. ÄLÄ KATSO SÄTEESEN.
LASER DIODE CHARACTERISTICS
FOR DVD : MAXIMUM OUTPUT POWER : 3.2 mW
MAXIMUM OUTPUT POWER : 3.3 mW
LASER RADIATION WHEN OPEN, AVOID LONG-TERM
VIEWING OF DIRECT LASER RADIATION.
USE OF CONTROLS OR ADJUSTMENTS OR PER-
FORMANCE OF PROCEDURES OTHER THAN THOSE
SPECIFIED HEREIN MAY RESULT IN HAZARDOUS
TO PREVENT RISK OF ELECTRIC SHOCK AND LASER
EXPOSURE, DISCONNECT THE AC ADAPTER OR THE
BATTERY BEFORE REMOVE SCREWS.
1. Laser Interlock Mechanism
If the switches to detect door-open state (S603, S605: DISC
OPEN DET) are open, the laser interlock mechanism operates
and shuts down the power source (Q100) to the laser diode drive
circuit. The system microcomputer detects this condition and
does not issue the Laser On command.
If Q100 is defective, accompanying a short-circuit between the
emitter and the collector, the system microcomputer judges this
status as the door-open state, and it does not issue the Laser
On command as long as Q611 is not defective, even if S603 and
Therefore, the laser does not light unless S603 and S605 are
intentionally short-circuited in door-open state.
To light the laser in Test mode, short-circuit S603 and S605.
Hold S603 and S605 in the depressed position from the top, as
2. NEVER directly look at the objective lens from a short distance
when lighting the laser by short-circuiting S603 and S605 in door-
---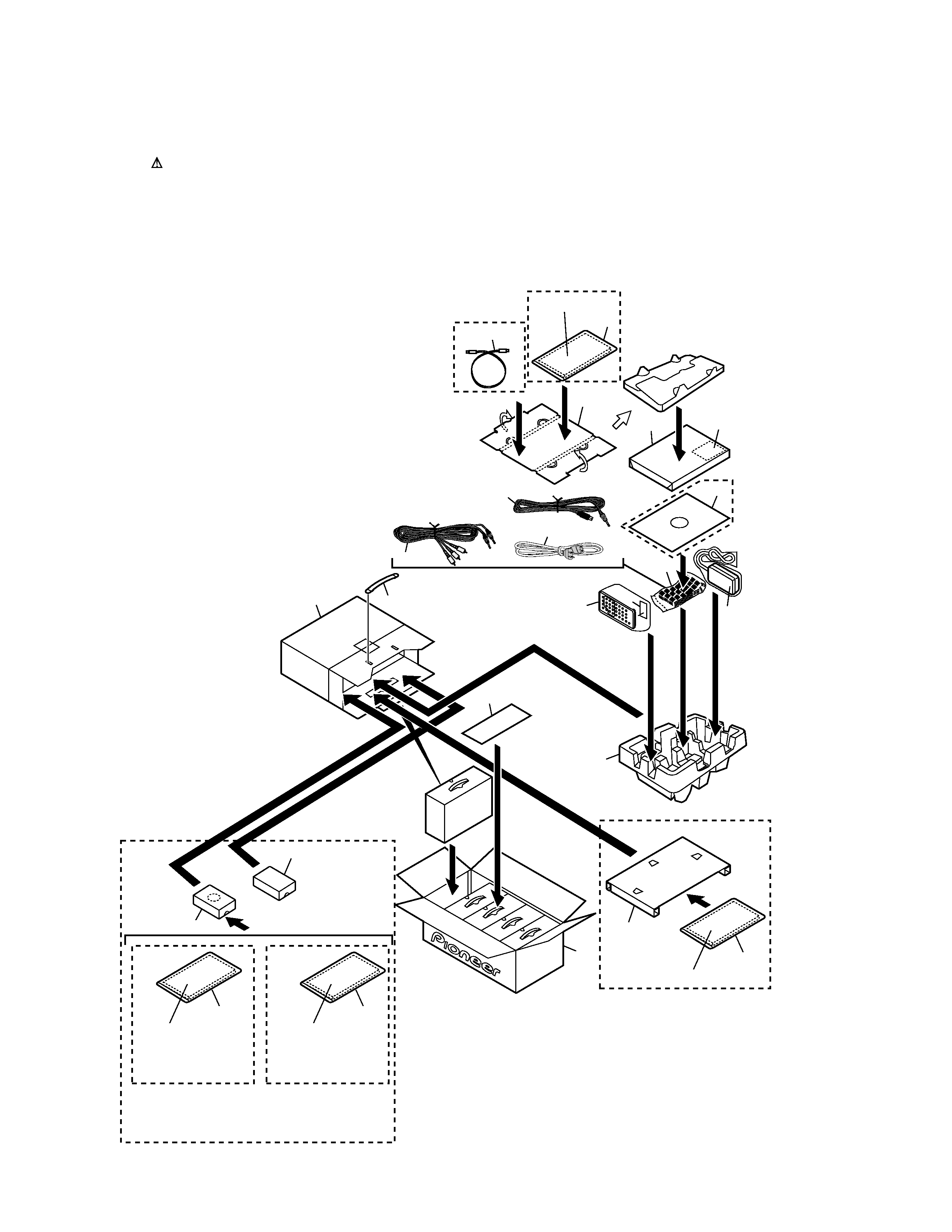 2. EXPLODED VIEWS AND PARTS LIST
·
Parts marked by "NSP" are generally unavailable because they are not in our Master Spare Parts List.
·
The mark found on some component parts indicates the importance of the safety factor of the part.
Therefore, when replacing, be sure to use parts of identical designation.
---

Operating Instructions (French) See Contrust table (2)
Operating Instructions (Italy)
Operating Instructions (German) See Contrust table (2)
Operating Instructions (Dutch)
Operating Instructions (Spanish) See Contrust table (2)
Operating Instructions (Chinese)See Contrust table (2)
PDV-LC20/ZU/CA, ZY, ZL, PDV-20/ZY and ZL are constructed the same except for the following :
Operating Instructions (French)
Operating Instructions (Italy)
Operating Instructions (German)
Operating Instructions (Datch)
Operating Instructions (Swedish)
Operating Instructions (Spanish)
Operating Instructions (Chinese)
---