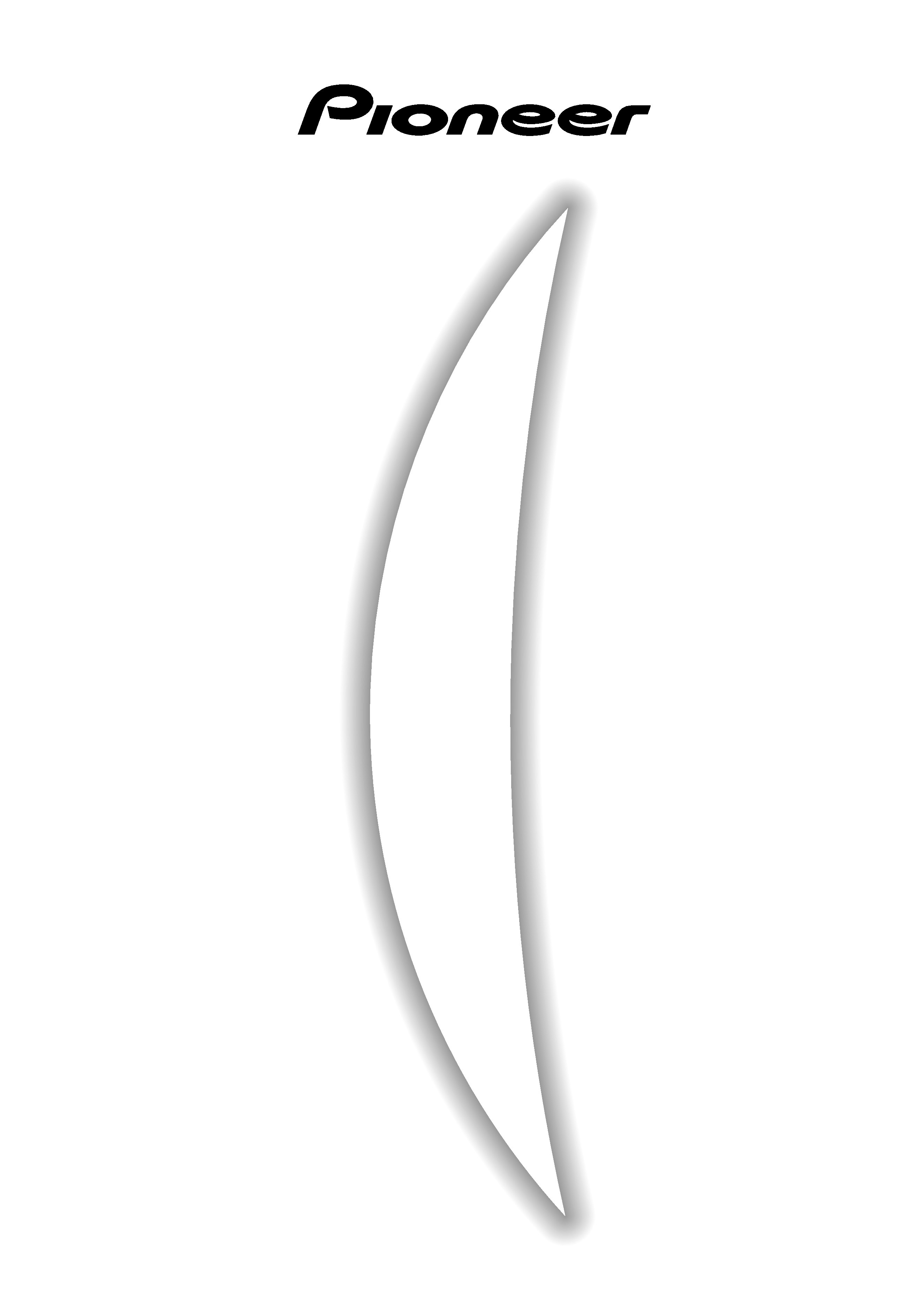 ---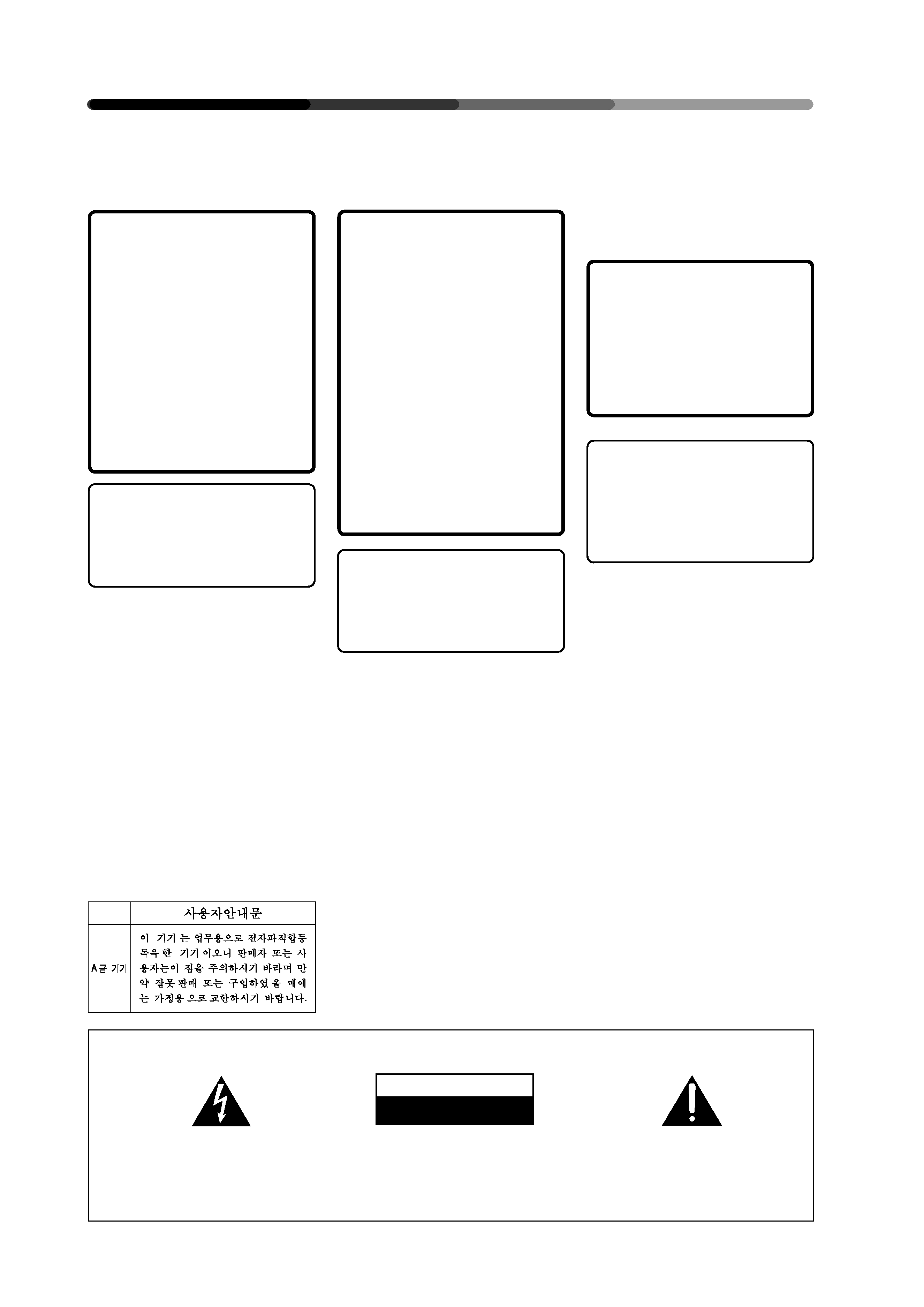 Herzlichen Dank, daß Sie sich für den
Kauf dieses PIONEER Produktes
benutzen, lesen Sie bitte sorgfältig die
Sicherheitsmaßnahmen und diese
Bedienungsanleitung, um sich über
den ordnungsgemäßen Umgang mit
Ihrem Plasma-Display zu informieren.
Bewahren Sie diese Anleitung an
einem sicheren Ort auf. Sie wird Ihnen
in Zukunft nützliche Dienste leisten.
Nous vous remercions vivement
d'avoir fait l'acquisition de ce produit
Avant d'utiliser votre écran à plasma,
veuillez lire attentivement les
"Précautions de Sécurité" ainsi que la
présente "Mode d'emploi" de manière
Conservez ce manuel dans un endroit
sûr. Il vous sera sûrement utile dans
les mois ou les années qui suivent.
Thank you very much for purchas-
ing this PIONEER product.
Before using your Plasma Display,
please carefully read the "Safety Pre-
cautions" and these "Operating In-
structions" so you will know how to
operate the Plasma Display properly.
Keep this manual in a safe place. You
will find it useful in the future.
About the installation of this
The Plasma Display is to be in-
stalled by a professional with suf-
ficient technical skill. Please have
a company specializing in equip-
ment installation or the dealer
where you bought your Plasma
Our company is not responsible
for any damage that may occur
as a result of defective installa-
tion, wrong use or remodeling of
your Plasma Display. This in-
cludes damage caused by natu-
ral disasters or the like.
After completing the installation
of the Plasma Display, hand
these "OPERATING INSTRUC-
TIONS" to your customer and
explain how to use the unit.
Installation de ce produit:
L'écran à plasma doit être installé par
un professionnel possédant les com-
pétences techniques suffisantes.
Il est vivement recommandé de faire
installer l'écran à plasma par une so-
ciété spécialisée dans l'installation
d'équipements de ce type ou par le
revendeur auprès duquel vous avez
Notre société ne peut être tenue re-
sponsable pour tous les dommages
éventuels qui pourraient se produire
à la suite d'une installation défectu-
euse, d'une utilisation inappropriée
ou d'une rénovation de l'écran à plas-
ma que vous avez acquis. Ceci inclut
les dommages entraînés par des
désastres naturels ou autres événe-
Après avoir terminé l'installation de
l'écran à plasma, vous êtes priés
de remettre cette "Mode d'emploi"
à votre client et de l'informer sur
l'utilisation du matériel.
Zur Installation dieses Gerätes:
Lassen Sie dieses Gerät nur von
einem Fachmann installieren. PIO-
NEER haftet nicht für Schäden, die
durch mangelhafte Installation, un-
sachgemäßen Gebrauch oder durch
Eingriff oder Umbau Ihres Displays
entstehen. Dies beinhaltet auch
Schäden durch Naturkatastrophen.
Händigen Sie diese Bedienung-
sanleitung bitte Ihrem Kunden aus
und erklären Sie ihm den Umgang
mit dem Plasma-Display, nach-
dem Sie das Gerät installiert ha-
If you would like to view a video
signal with this unit, please make
the necessary connections to the
optional video card, PDA-4004.
SI vous souhaitez voir un signal
vidéo avec cet appareil, veuillez
réaliser les connexions nécessaires
à la carte vidéo optionnele PDA-4004.
Wenn Sie mit diesem Gerät ein
Videosignal empfangen möchten,
müssen vorher die erforderlichen
Sonderausstattung erhältlichen
The lightning flash with arrowhead symbol, within
an equilateral triangle, is intended to alert the user
to the presence of uninsulated "dangerous voltage"
within the product's enclosure that may be of
sufficient magnitude to constitute a risk of electric
The exclamation point within an equilateral triangle
is intended to alert the user to the presence of
important operating and maintenance (servicing)
instructions in the literature accompanying the
TO PREVENT THE RISK OF ELECTRIC SHOCK, DO
NOT REMOVE COVER (OR BACK).
SERVICEABLE PARTS INSIDE. REFER SERVICING TO
QUALIFIED SERVICE PERSONNEL.
WARNING
:
THE APPARATUS IS
NOT WATERPROOFS, TO PREVENT FIRE
OR SHOCK HAZARD, DO NOT EXPOSE
THIS APPLIANCE TO RAIN OR MOISTURE
AND DO NOT PUT ANY WATER SOURCE
NEAR THIS APPARATUS, SUCH AS VASE,
FLOWER POT, COSMETICS CONTAINER
N'EST PAS IMPERMEABLE, AFIN DE
PREVENIR TOUT RISQUE DE CHOC
D'ENCENDIE, NE PAS EXPOSER CET
APPAREIL A L'HUMIDITE OU A LA PLUIE
ET NE PLACER AUPRES DE LUI AUCUNE
SOURCE D'EAU, TELS QUE VASES,
POTS DE FLEUR, COSMETIQUES, FLA-
CONS DE MEDICAMENTS, ETC.
WARNUNG
:
DIESES GERÄT IST
NICHT WASSERUNDURCHLÄSSIG. UM
EINEN BRAND ODER STROMSCHLAG
ZUVERMEIDEN, DIESES GERÄT NICHT
AUSSETZEN UND KEINEN BEHÄLTER
BLUMENTÖPFE, KOSMETIKBEHÄLTER
UND MEDIZINFLASCHEN, IN DER NÄHE
---

befinden sich auf an dem Gerät
angebrachten Aufklebern. Sie
machen den Benutzer und das
Wartungspersonal auf mögliche
Dieses Symbol weist auf eine
gefährliche oder unsichere
Handlung hin, die zu schweren
Dieses Symbol weist auf eine
gefährliche oder unsichere
Handlung hin, die zu Personen-
oder Sachschäden führen kann.
Les symboles qui suivent se
apposées sur le produit. Ils alertent
les utilisateurs de ce matériel ainsi
que le personnel du service après-
vente sur toutes les situations qui
présentent un danger potentiel.
Ce symbole concerne un risque ou
une pratique dangereuse qui peut
entraîner des blessures graves ou
Ce symbole concerne un risque ou
une pratique dangereuse qui peut
entraîner des blessures ou des
The following symbols are found
on labels attached to the product.
They alert the operators and ser-
vice personnel of this equipment to
any potentially dangerous condi-
This symbol refers to a hazard or
unsafe practice which can result
in severe personal injury or death.
This symbol refers to a hazard or
unsafe practice which can result
in personal injury or property
THIS APPARATUS MUST BE EARTHED.
WHEN POSITIONING THIS EQUIP-
MENT ENSURE THAT THE MAINS
PLUG AND SOCKET IS EASILY AC-
This is a Class A product. In a do-
mestic environment this product
may cause radio interference in
which cause the user may be re-
quired to take adequate measures.
Bei der Aufstellung dieses Geräts
Netzsteckdose und Netzstecker
To ensure proper heat radiation,
distance the unit slightly from other
equipment, walls, etc. (normally
more than 10 cm). Avoid the follow-
ing installations which will block
vents and cause heat to build up
inside, resulting in fire hazards.
· Do not attempt to fit the unit in-
side narrow spaces where venti-
· Do not cover with cloth, etc.
· Do not place on its side
· Do not place it upside down
· If planning special installation
such as fitting close to the wall,
placing it horizontally, etc., be
sure to consult your Pioneer
thermique adéquat, placer l'unité à une
équipements, murs, etc. (normalement
à une distance supérieure à 10 cm).
Eviter les modes d'installation décrits ci-
après qui entraînent l'obstruction des
orifices et provoquent une accumulation
de chaleur interne, d'où un risque
· Ne pas essayer de placer l'unité dans
des espaces réduits et mal ventilés
· Ne pas la placer sur un tapis
· Ne pas la recouvrir d'un tissu etc.
· Ne pas la placer sur le côté
· Si une installation spéciale est
envisagée, comme un montage à
proximité immédiate du mur, un
placement horizontal, consulter
d'abord le revendeur Pioneer de votre
Um eine ausreichende Lüftung zu
gewährleisten, sollte das Gerät im
Mindestabstand von etwas mehr als
10 cm von anderen Geräten, Wänden
usw. aufgestellt werden. Vermeiden
Installationsarten, die die Ventilations-
schlitze blockieren könnten. Dadurch
könnte im Inneren des Gerätes ein
Wärmestau entstehen, der wiederum
· Stellen Sie das Gerät nicht in engen
· Stellen Sie das Gerät nicht auf
Teppich bzw. Teppichboden auf.
· Decken Sie das Gerät nicht mit
· Legen Sie das Gerät nicht auf die
· Stellen Sie das Gerät nicht auf den
Kopf. Wenn Sie eine spezielle Instal-
unmittelbar an einer Wand, in
horizontaler Position usw., lassen
Sie sich vorher von Ihrem Pioneer-
entspricht dem EMV-Standard der
Klasse A. Produkte dieser Klasse
sind nur für den industriellen
Einsatz geeignet und dürfen in
This product complies with the Low
amended by 93/68/EEC), EMC Direc-
tives (89/336/EEC, amended by 92/31/
Ce produit est conforme à la directive
relative aux appareils basse tension
(73/23/CEE), à la directive CE relative
à la compatibilité electromagnétique
(89/336/CEE, amendements 92/31/CEE
Niederspannungsrichtlinien (73/23/EEC,
geändert durch 93/68/EEC), den EMV-
Richtlinien (89/336/EEC, geändert durch
92/31/EEC und 93/68/EEC).
Il s'agit d'un produit de classe A.
domestique, ce produit risque de
provoquer des interférences ra-
dio; dans ce cas, l'utilisateur est
prié d'engager des mesures
Cet appareil doit être mis à la terre.
EN POSITIONNANT L'EQUIPEMENT,
S'ASSURER QUE LA FICHE ET LA
L'ALIMENTATION SONT FACILE-
Dieses Gerät muß geerdet werden.
---

SAFETY PRECAUTIONS................................. 2
BEFORE USING YOUR PLASMA DISPLAY
SUPPLIED ACCESSORIES ............................. 6
PANEL FEATURES AND FUNCTIONS ........... 7
Remote Control Unit .................................... 7
Control and Rear Panels .............................. 8
Putting Batteries in the Remote
Control Unit ................................................ 10
Remote Control Operation Range ............ 11
PLASMA DISPLAY ........................................ 12
HOW TO ADJUST PICTURE QUALITY ........ 14
RGB-1 (BNC) or RGB-2 (MINI D-SUB) Input .. 14
INSTALLATION AND CONNECTIONS
INSTALLATION ............................................. 18
Using the Display with Stands .................. 18
Installing the Display on a Wall or
Other Flat Surfaces .................................... 19
CONNECTIONS ............................................. 20
Diagram of Equipment connected ............ 20
Connecting a Personal Computer
to the Display ............................................. 21
Connecting the Power Cord ...................... 27
OTHERS ......................................................... 28
Maintenance ............................................... 28
Troubleshooting ......................................... 30
Specifications ............................................. 37
---

PRECAUTIONS DE SECURITE ....................... 2
AVANT D'UTILISER VOTRE ECRAN A PLASMA
ACCESSOIRES FOURNIS ............................... 6
CARACTERISTIQUES ET FONCTIONS
DES PANNEAUX............................................. 7
Commande à distance ................................. 7
Panneau de commande et panneau arrière .... 8
Installation des piles dans la
commande à distance ................................ 10
Portée de la commande à distance .......... 11
SUR L'ECRAN A PLASMA ............................ 12
COMMENT REGLER LA QUALITE
DE L'IMAGE ................................................... 14
RGB-2 (MINI D-SUB) ................................... 15
INSTALLATION ET RACCORDEMENTS
INSTALLATION ............................................. 18
Utilisation de l'écran avec supports ......... 18
Installation de l'écran sur un mur ou
d'autres surfaces plates ............................. 19
CONNEXIONS ............................................... 20
Schéma de l'équipement connecté .......... 20
Connexion d'un ordinateur personnel
à l'écran ....................................................... 21
Connexion du cordon d'alimentation ....... 27
AUTRES ......................................................... 28
Maintenance ............................................... 28
Dépannage .................................................. 32
Spécifications ............................................. 38
SICHERHEITSMASSNAHMEN ....................... 2
VOR DER INBETRIEBNAHME IHRES PLASMA-
MITGELIEFERTES ZUBEHÖR ....................... 6
UND FUNKTIONEN ....................................... 7
Fernbedienung ........................................... 7
Anschlüsse und Bedienungstasten .......... 8
Batterien in die Fernbedienung einlegen .... 10
Empfangsbereich der Fernbedienung .... 11
PLASMA-DISPLAY ...................................... 12
EINSTELLEN DER BILDQUALITÄT ............ 14
RGB-2 (MINI D-SUB) Eingang ................. 15
MONTAGE................................................... 18
Benutzung des Displays auf Sockeln ...... 18
Montage des Displays an einer
Wand oder an anderen Flächen .............. 19
ANSCHLÜSSE ............................................ 20
Übersicht der Anschlußmöglichkeiten ... 20
Anschluß eines Personal Computers
an das Display .......................................... 21
Anschluß des Netzkabels ........................ 27
VERSCHIEDENES ....................................... 28
Wartung .................................................... 28
Fehlerbeseitigung .................................... 34
Spezifikationen ......................................... 39
---