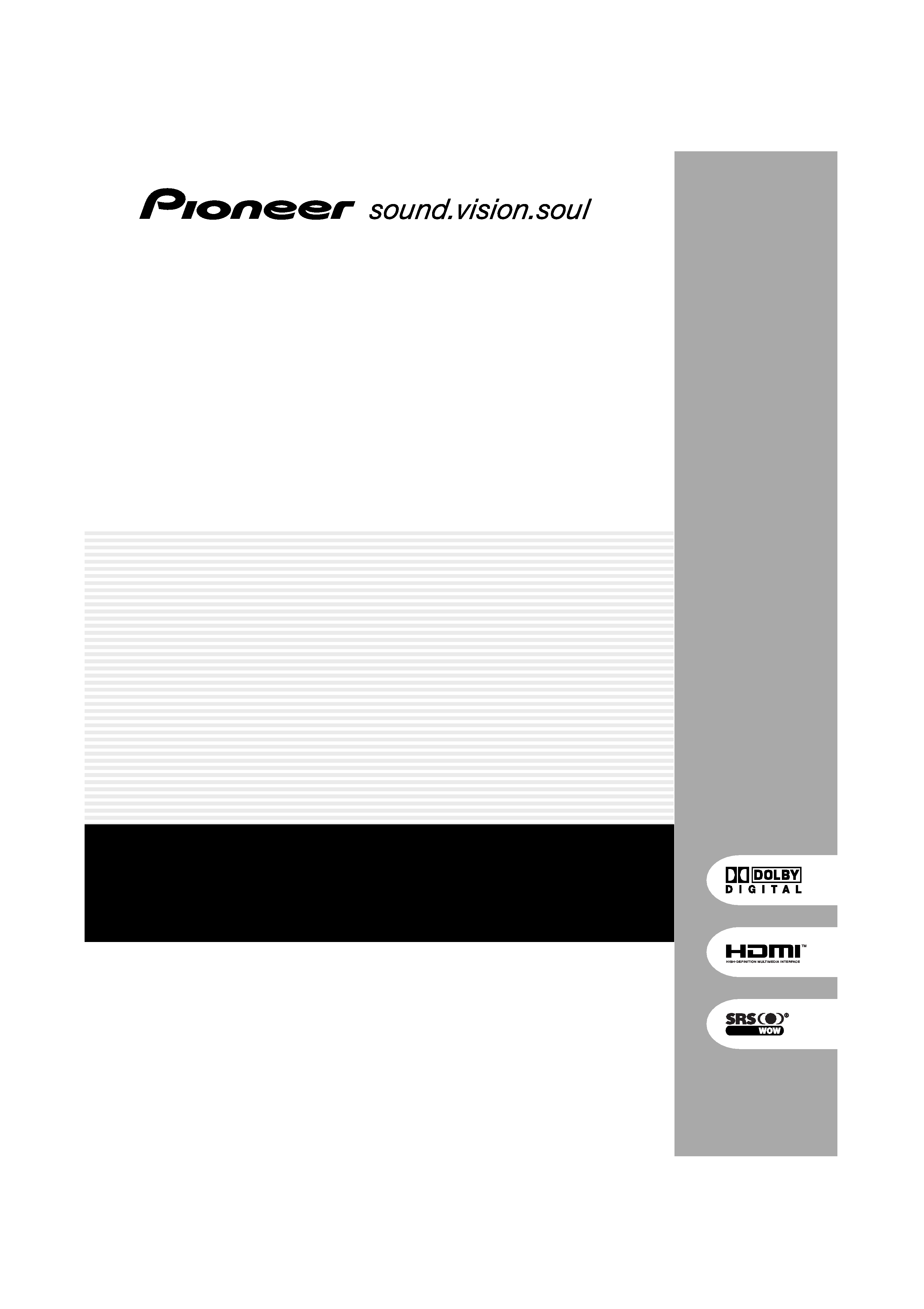 Discover the benefits of registering your product online at
www.pioneer.co.uk (or www.pioneer-eur.com).
Découvrez les nombreux avantages offerts en enregistrant votre produit
en ligne maintenant sur www.pioneer.fr (ou www.pioneer-eur.com).
Bitte nutzen Sie die Möglichkeit zur Registrierung Ihres Produktes unter
www.pioneer.de (oder www.pioneer-eur.com)
PDP506XDE.book Page 1 Friday, June 17, 2005 3:08 PM
---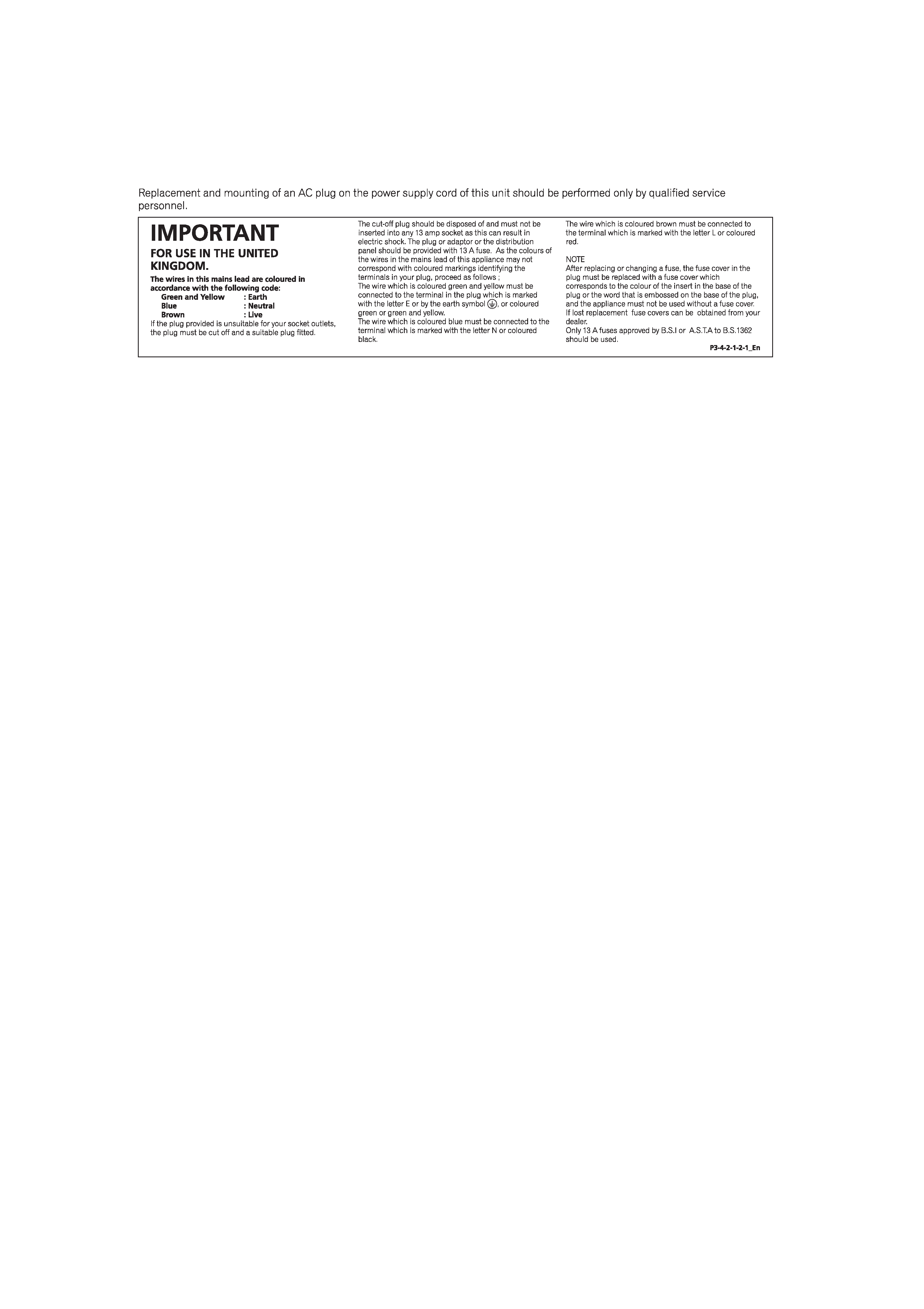 PDP506XDE.book Page 2 Friday, June 17, 2005 3:08 PM
---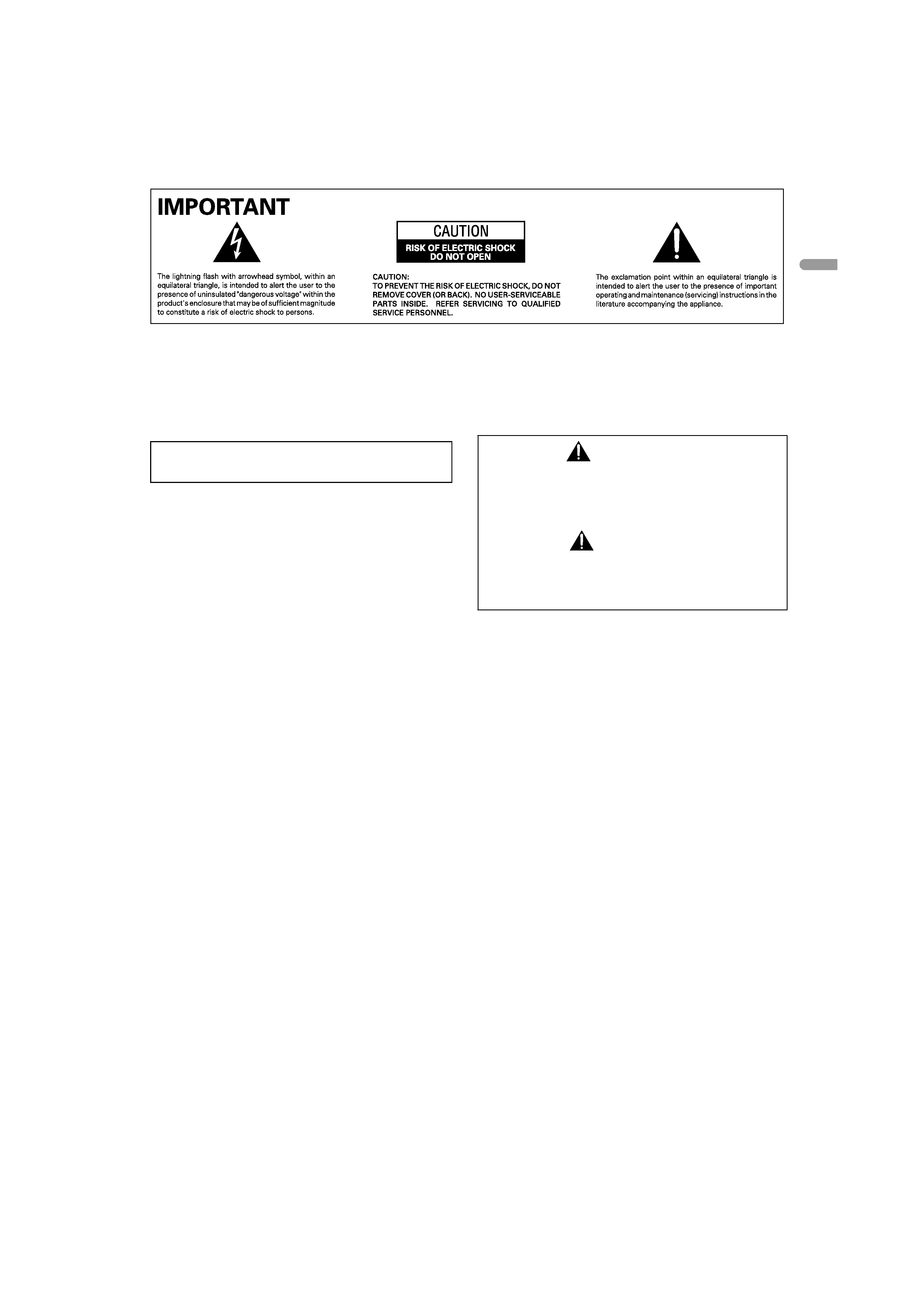 This apparatus must be earthed.
labels attached to the product. They alert
the operators and service personnel of
STANDBY:
When placed into the standby mode, the main
power flow is cut and the unit is no longer fully
The indicator is lit red when the unit is in the standby mode
and is lit blue when it is in the power-on mode.
This equipment is not waterproof. To prevent a fire or shock
hazard, do not place any container filed with liquid near
this equipment (such as a vase or flower pot) or expose it to
dripping, splashing, rain or moisture.
This product complies with the Low Voltage Directive (73/23/EEC,
amended by 93/68/EEC), EMC Directives (89/336/EEC, amended by
92/31/EEC and 93/68/EEC).
The voltage of the available power supply differs according
to country or region. Be sure that the power supply voltage
of the area where this unit will be used meets the required
voltage (e.g., 230V or 120V) written on the rear panel.
Before plugging in for the first time, read the following
This product equipped with a three-wire grounding
(earthed) plug - a plug that has a third (grounding) pin. This
plug only fits a grounding-type power outlet. If you are
unable to insert the plug into an outlet, contact a licensed
electrician to replace the outlet with a properly grounded
one. Do not defeat the safety purpose of the grounding
This symbol refers to a hazard or unsafe
practice which can result in personal
injury or property damage.
This symbol refers to a hazard or unsafe
practice which can result in severe
personal injury or death.
To prevent a fire hazard, do not place any naked flame
sources (such as a lighted candle) on the equipment.
When installing this unit, make sure to leave space around
the unit for ventilation to improve heat radiation. For the
minimum space required, see page 16.
Slots and openings in the cabinet are provided for
ventilation to ensure reliable operation of the product, and
to protect it from overheating. To prevent fire hazard, the
openings should never be blocked or covered with items
(such as newspapers, table-cloths, curtains) or by operating
the equipment on thick carpet or a bed.
The power switch does not completely separate the unit
from the mains in off position. Therefore install the unit
suitable places easy to disconnect the mains plug in case of
the accident. The mains plug of unit should be unplugged
from the wall socket when left unused for a long period of
PDP506XDE.book Page 3 Friday, June 17, 2005 3:08 PM
---

Thank you for buying this Pioneer product.
Please read through these operating instructions so you will know how to operate your model properly. After you have finished
reading the instructions, put them away in a safe place for future reference.
In some countries or regions, the shape of the power plug and power outlet may sometimes differ from that shown in the
explanatory drawings. However the method of connecting and operating the unit is the same.
01 Important User Guidance Information
Identifying the main units ........................12
Plasma Display ..........................................12
Media Receiver ..........................................12
Plasma Display ..........................................13
Media Receiver ..........................................14
Remote control unit ..................................15
Installing the Plasma Display ..................16
Installing the Media Receiver ..................16
Preventing the Plasma Display from
Falling Over ................................................17
Connecting the system cable ..................18
Connecting the power cord ......................19
Routing cables ..........................................20
Connecting to an antenna ........................21
Preparing the remote control unit ...........22
Inserting batteries ................................22
Cautions regarding batteries ...............22
Allowed operation range of the
remote control unit ...............................22
Cautions regarding the remote
control unit ............................................22
Turning on/off the power ..........................23
Changing channels ...................................24
Tuning to your favourite (analogue)
channels ....................................................25
Changing the volume and sound ............25
Use the multiscreen functions ................27
Splitting the screen ..............................27
Freezing images ...................................28
Using the menu .........................................29
AV mode menus ...................................29
PC mode menus ...................................29
Menu operations .................................. 29
08 Basic Adjustment Settings
Setting up TV channels automatically .... 30
Using Auto Installation ....................... 30
Setting up analogue TV channels
manually ................................................... 30
Using Manual Adjust .......................... 30
Reducing video noise .......................... 31
Setting Child Lock ............................... 31
Selecting a decoder input terminal ... 31
Labelling TV channels ......................... 32
Sorting preset TV channels ................. 32
Clock setting ........................................ 32
Language setting ...................................... 32
AV Selection ............................................. 33
Basic picture adjustments ...................... 33
Advanced picture adjustments ............... 34
Using PureCinema .............................. 34
Using Colour Temp .............................. 34
Using CTI .............................................. 34
Using Colour Management ................ 35
Eliminating noise from images .......... 35
Using the Dynamic Range Expander
(DRE) functions ................................... 35
Using the 3DYC and I-P Mode ............ 36
Sound adjustments .................................. 36
FOCUS .................................................. 36
Front Surround .................................... 37
Listening to audio from the sub
screen using headphones ....................... 37
Power Control ........................................... 38
09 Enjoying DTV broadcasts
Watching DTV programmes .................... 39
Changing channels ............................. 39
Viewing a channel banner .................. 39
Viewing subtitles .................................. 39
Reconfiguring the DTV channel
settings ...................................................... 40
Reselecting a country ......................... 40
Replacing the existing channels ........ 40
Adding new channels ......................... 40
Checking signal strength .................... 41
PDP506XDE.book Page 4 Friday, June 17, 2005 3:08 PM
---

Switching on/off the power to the
antenna ................................................ 41
Restoring the system defaults ............ 41
Customizing channel related settings .... 42
Setting Channel Options ..................... 42
Activating the Favourites function ..... 42
Activating the Auto Skip ..................... 42
Setting the Child Lock ......................... 43
Sorting preset DTV channels .............. 43
Selecting a digital audio format .............. 43
Selecting languages for audio, subtitles,
and teletext ............................................... 44
Using Software Update ............................ 44
Using Auto Update .............................. 44
Setting Update Time ............................ 44
Starting Manual Update ...................... 44
Displaying technical information ....... 45
Using MHEG application (UK only) .... 45
Screen Saver ............................................. 45
Common Interface ................................... 45
Inserting a CA Card ............................. 45
10 Using the Electronic Programme Guide
(EPG)(for Analogue TV only)
Setting up for using the EPG ................... 46
automatically ........................................ 46
Specifying an EPG information
provider ................................................. 46
Restricting the display of EPG
information ........................................... 46
Searching programmes ........................... 46
Viewing programme information ............ 47
Recording a programme using a
recording equipment ............................... 47
Selecting a programme for immediate
watching ................................................... 47
11 Using the Electronic Programme Guide
EPG display format ................................... 48
Using the EPG .......................................... 49
Presetting TV programmes using the
EPG ............................................................ 50
Using auto channel select and standby
recording .............................................. 50
Setting the timer manually ................. 51
Priority rules for overlapped
presettings ........................................... 51
Changing/cancelling TV programme
presettings ............................................ 52
Changing priorities for overlapped
presettings ............................................ 52
Using other useful EPG functions .......... 53
EPG Jump ............................................. 53
EPG Search .......................................... 53
12 Useful Adjustment Settings
Switching the vertical drive frequency
(AV mode only) ......................................... 54
Adjusting image positions
(AV mode only) ......................................... 54
Adjusting image positions and clock
automatically (PC mode only) ................. 54
Adjusting image positions and clock
manually (PC mode only) ......................... 54
Selecting an input signal type ................. 55
Colour system setting (AV mode only) ... 55
Selecting a screen size manually ............ 56
Selecting a screen size automatically .... 57
Selecting a screen size for received
4:3 aspect ratio signals ....................... 57
Changing the brightness at both sides
of the screen (Side Mask) ........................ 57
Sleep Timer ............................................... 58
Using a password (AV mode only) .......... 58
Entering a password ............................ 58
Changing the password ...................... 58
Resetting the password function ....... 59
Disabling the password function ....... 59
13 Enjoying through External Equipment
Watching a decoder image ..................... 60
Connecting a decoder ......................... 60
Displaying a decoder image ............... 60
Watching a VCR image ............................ 60
Connecting a VCR ................................ 60
Displaying a VCR image ...................... 60
Using HDMI Input .................................... 61
Connecting HDMI equipment ............ 61
Using i/o Link.A ........................................ 62
Watching a DVD image ........................... 63
Connecting a DVD player .................... 63
Displaying a DVD image ..................... 63
Using the SCART output function ........... 63
Switching the SCART output .............. 64
Enjoying a game console or watching
camcorder images ................................... 64
PDP506XDE.book Page 5 Friday, June 17, 2005 3:08 PM
---