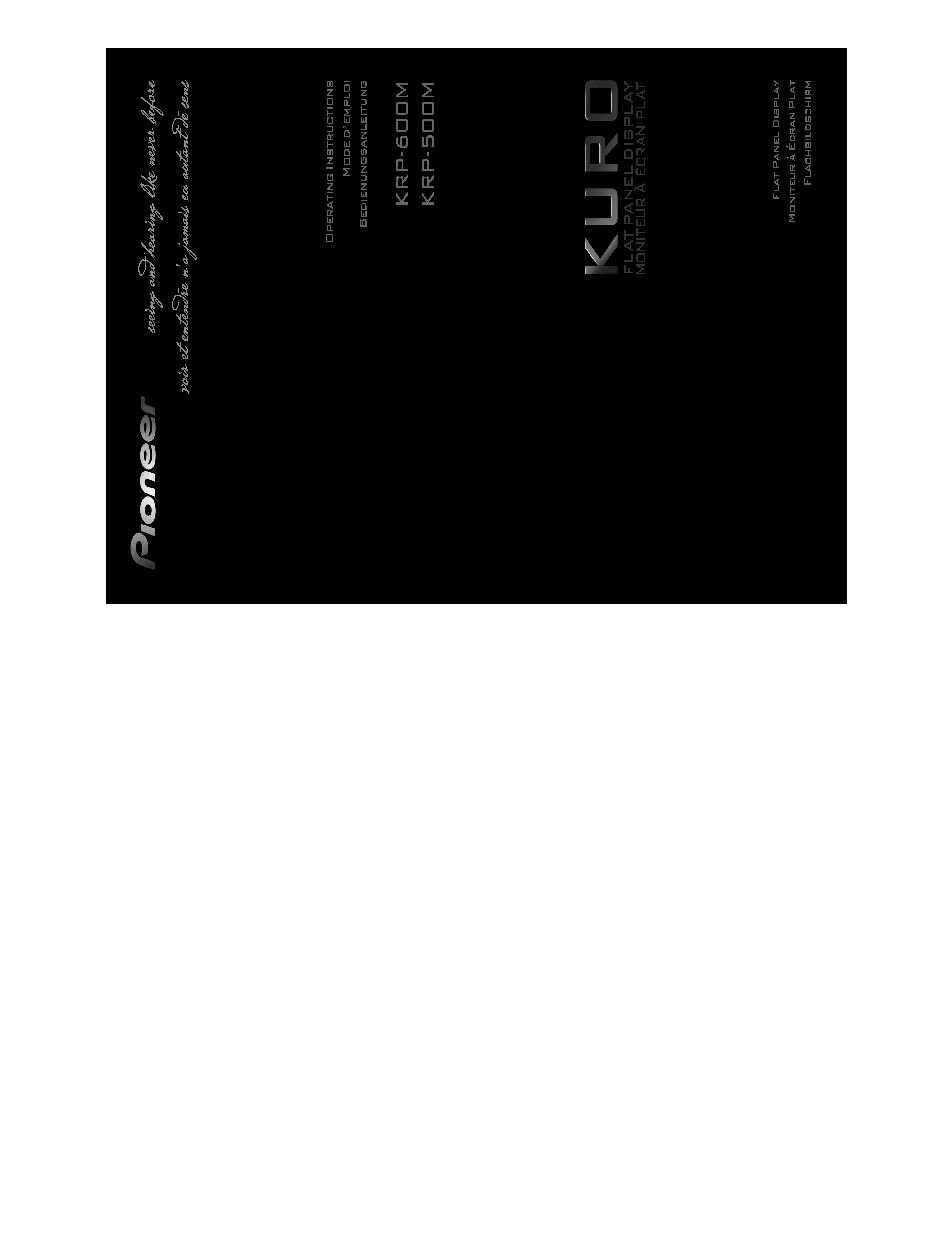 Published by Pioneer Corporation.
Copyright © 2008 Pioneer Corporation.
Publication de Pioneer Corporation.
© 2008 Pioneer Corporation.
Tous droits de reproduction et de traduction réservés.
4-1, Meguro 1-Chome, Meguro-ku, Tokyo 153-8654, Japan
PIONEER ELECTRONICS (USA) INC.
P.O. BOX 1540, Long Beach, California 90801-1540, U.S.A. TEL: (800) 421-1404
PIONEER ELECTRONICS OF CANADA, INC.
300 Allstate Parkway, Markham, Ontario L3R 0P2, Canada TEL: 1-877-283-5901, 905-479-4411
Haven 1087, Keetberglaan 1, B-9120 Melsele, Belgium TEL: 03/570.05.11
PIONEER ELECTRONICS ASIACENTRE PTE. LTD.
253 Alexandra Road, #04-01, Singapore 159936 TEL: 65-6472-7555
PIONEER ELECTRONICS AUSTRALIA PTY. LTD.
178-184 Boundary Road, Braeside, Victoria 3195, Australia, TEL: (03) 9586-6300
PIONEER ELECTRONICS DE MEXICO S.A. DE C.V.
Blvd.Manuel Avila Camacho 138 10 piso Col.Lomas de Chapultepec, Mexico, D.F. 11000 TEL: 55-9178-4270
Discover the benefits of registering your product online at
http://www.pioneer.co.uk
(or http://www.pioneer.eu).
Découvrez les nombreux avantages offerts en enregistrant votre produit en ligne
http://www.pioneer.fr
(ou http://www.pioneer.eu).
Bitte nutzen Sie die Möglichkeit zur Registrierung Ihres Produktes unter
http://www.pioneer.de
(oder http://www.pioneer.eu)
http://www.pioneer.com.sg
(PIONEER ELECTRONICS ASIACENTRE PTE. LTD.)
http://www.pioneerhongkong.com.hk
(PIONEER (HK) LIMITED.)
http://www.pioneer-twn.com.tw
(PIONEER HIGH FIDELITY TAIWAN CO., LTD.)
http://www.pioneer-latin.com
(PIONEER INTERNATIONAL LATIN AMERICA S.A.)
http://www.pioneer-uae.com
(PIONEER GULF FZE.)
http://www.pioneernz.co.nz
(Pioneer is distributed in NZ by MONACO CORPORATION LTD.)
http://www.pioneermalaysia.com.my
(PIONEER TECHNOLOGY (MALAYSIA) SDN.BHD.)
http://www.pioneer-thailand.co.th
(PIONEER ELECTRONICS (THAILAND) CO., LTD.)
ARE1498C_KRP600M_C1C4_JPN_EnFrGePage 1
---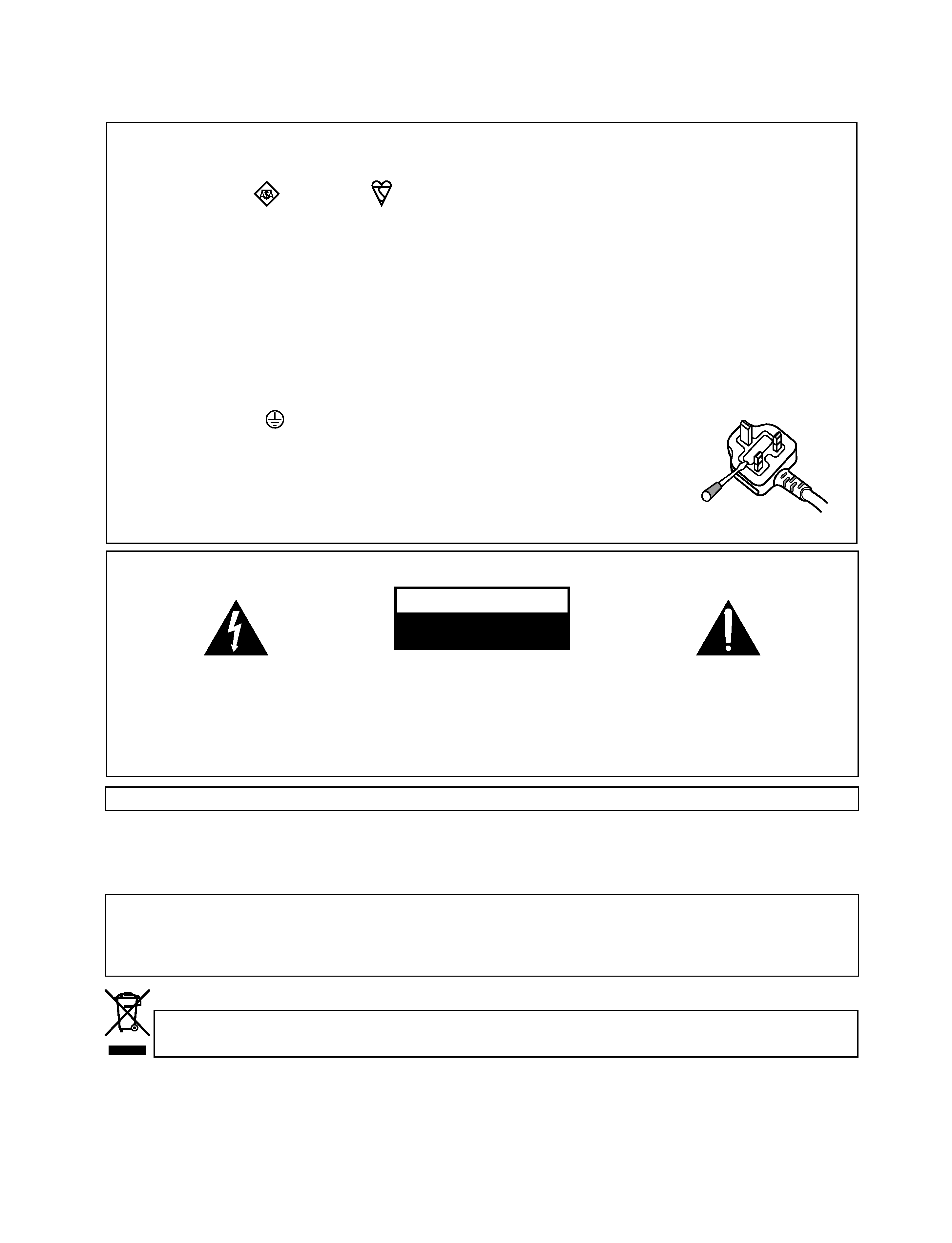 This product complies with the Low Voltage Directive 2006/95/EC and EMC Directive 2004/108/EC.
This equipment is not waterproof. To prevent a fire or shock hazard, do not place any container filled with
liquid near this equipment (such as a vase or flower pot) or expose it to dripping, splashing, rain or moisture.
CAUTION: The power switch
on this unit will not completely shut off all power from the AC outlet. Since the power
cord serves as the main disconnect device for the unit, you will need to unplug it from the AC outlet to shut down all
power. Therefore, make sure the unit has been installed so that the power cord can be easily unplugged from the AC
outlet in case of an accident. To avoid fire hazard, the power cord should also be unplugged from the AC outlet when
left unused for a long period of time (for example, when on vacation).
The exclamation point within an equilateral
triangle is intended to alert the user to the
presence of important operating and
maintenance (servicing) instructions in the
literature accompanying the appliance.
The lightning flash with arrowhead symbol,
within an equilateral triangle, is intended to
alert the user to the presence of uninsulated
"dangerous voltage" within the product's
enclosure that may be of sufficient
magnitude to constitute a risk of electric
TO PREVENT THE RISK OF ELECTRIC
SHOCK, DO NOT REMOVE COVER (OR
BACK). NO USER-SERVICEABLE PARTS
INSIDE. REFER SERVICING TO QUALIFIED
Replacement and mounting of an AC plug on the power supply cord of this unit should be performed only by qualified
IMPORTANT: THE MOULDED PLUG
This appliance is supplied with a moulded three pin mains plug for your safety and convenience. A 13 amp fuse is fitted in this plug. Should the
fuse need to be replaced, please ensure that the replacement fuse has a rating of 13 amps and that it is approved by ASTA or BSI to BS1362.
If the plug contains a removable fuse cover, you must ensure that it is refitted when the fuse is replaced. If you lose the fuse cover the plug
must not be used until a replacement cover is obtained. A replacement fuse cover can be obtained from your local dealer.
If the fitted moulded plug is unsuitable for your socket outlet, then the fuse shall be removed and the plug cut off and disposed of
safely. There is a danger of severe electrical shock if the cut off plug is inserted into any 13 amp socket.
If a new plug is to be fitted, please observe the wiring code as shown below. If in any doubt, please consult a qualified electrician.
WARNING : THIS APPARATUS MUST BE EARTHED.
IMPORTANT: The wires in this mains lead are coloured in accordance with the following code:
As the colours of the wires in the mains lead of this appliance may not correspond with the coloured markings identifying the terminals in
your plug, proceed as follows ;
The wire which is coloured GREEN-AND-YELLOW must be connected to the terminal in the plug which is marked with the letter
or coloured GREEN or GREEN-AND-YELLOW.
The wire which is coloured BLUE must be connected to the terminal which is marked with the
The wire which is coloured BROWN must be connected to the terminal which is marked with the
How to replace the fuse: Open the fuse compartment with a screwdriver and replace the fuse.
If you want to dispose this product, do not mix it with general household waste. There is a separate collection system for used
electronic products in accordance with legislation that requires proper treatment, recovery and recycling.
Private households in the member states of the EU, in Switzerland and Norway may return their used electronic products free of charge to
designated collection facilities or to a retailer (if you purchase a similar new one).
For countries not mentioned above, please contact your local authorities for the correct method of disposal.
By doing so you will ensure that your disposed product undergoes the necessary treatment, recovery and recycling and thus prevent potential
negative effects on the environment and human health.
---

Congratulations on your purchase of a Pioneer KURO monitor.
KURO is the future of Pioneer flat panel displays. It's a world without boundaries. A place where the senses evolve, colors
are felt and sounds can be tasted. An experience that changes not only the way you view entertainment, but the way you
We are proud to incorporate this philosophy of exceptional quality, state-of-the-art design and meticulous engineering to
make the KURO undeniably unique and bring you one of the best entertainment experiences possible.
Please take some time to read through this owner's guide and manual to learn about the many features and benefits that
set the KURO apart. We hope you enjoy the experience of owning the KURO and invite you to enter a new world of seeing
and hearing like never before.
1 Introduction to the Flat Panel Displays ................................................................................................. 6
1.1 Flat Panel Display Shipment Checklist........................................................................................................................... 6
1.2 Control Options: Get to Know Your Flat Panel Display.................................................................................................. 7
1.2.1 Control Buttons and More on the Flat Panel Display ........................................................................................... 7
1.2.2 Operating the Remote Control............................................................................................................................... 9
1.2.3 Buttons on the Remote Control............................................................................................................................ 11
2 Install Your Flat Panel Display.............................................................................................................. 13
2.1 Use the Optional Table Top Stand (Stand) or Equivalent Items ................................................................................. 13
2.2 Use the Optional Brackets or Equivalent Items ........................................................................................................... 14
2.3 Check the Location for Suitability ................................................................................................................................. 15
2.4 Lift and/or Move Your Panel (the How To's) ................................................................................................................. 16
2.5 Mount the Flat Panel Display ........................................................................................................................................ 17
2.6 Connect to Other Devices (DVR, Receiver, BDR, etc.) ................................................................................................ 20
2.7 Connect the Power Cord to the Panel .......................................................................................................................... 22
2.8 Route then Bundle the Power Cord and Cables .......................................................................................................... 22
3 Basic Operations .................................................................................................................................... 24
3.1 Turn the Flat Panel Display ON / OFF ........................................................................................................................... 24
3.2 Program Your Flat Panel Display .................................................................................................................................. 25
3.2.1 Choose an Input Source........................................................................................................................................ 25
3.2.2 Explore the Home Menu........................................................................................................................................ 25
3.2.3 Use the Simplified User Menu.............................................................................................................................. 26
3.2.4 Assign a Language ................................................................................................................................................ 27
4 Basic Picture and Sound Adjustment ................................................................................................... 28
4.1 Adjust the Picture Quality.............................................................................................................................................. 28
4.1.1 Adjust the Picture for Your Room Lighting.......................................................................................................... 28
4.1.2 General Picture (Video) Adjustment..................................................................................................................... 28
4.1.3 Compare Images When Adjusting the Picture ................................................................................................... 30
4.1.4 General Sound (Audio) Adjustment ..................................................................................................................... 31
4.2 Smart Starts for New Owners........................................................................................................................................ 32
4.2.1 Extend Your Panel Life ........................................................................................................................................... 32
4.2.2 Adjust the Power Indicator Brightness................................................................................................................ 32
4.2.3 Set Input Priority .................................................................................................................................................... 32
4.2.4 Turn On the Image Orbiter .................................................................................................................................... 33
4.2.5 Trigger the Screen-Saving Video Pattern Periodically ........................................................................................ 33
4.2.6 Activate Energy Save to Reduce Power Usage ................................................................................................... 33
4.2.7 Turn On the Sleep Timer........................................................................................................................................ 34
5 Additional Picture Adjustment Options .............................................................................................. 35
5.1 Choose an AV Option (Video, Game, etc.) .................................................................................................................... 35
5.1.1 AV Source through the Remote Control .............................................................................................................. 35
5.1.2 Choose an AV Source through the Home Menu................................................................................................. 36
---

5.1.3 Choose a PC Source...............................................................................................................................................36
5.1.4 Set the Panel to Recognize a Game Console .......................................................................................................36
5.2 Adjust Specific Picture Elements ..................................................................................................................................37
5.2.1 Choose a Screen Size (Automatically or Manually).............................................................................................37
5.2.2 Correct the Picture for an AV or PC Source .........................................................................................................39
5.3 Assign Advanced Picture Functions .............................................................................................................................40
5.3.1 Adjust for Screen Masking (black bars on sides) ................................................................................................40
5.3.2 Select a Color Temperature Level..........................................................................................................................41
5.3.3 Adjust the Image Gradation Characteristics (Gamma).......................................................................................42
5.3.4 Select a PureCinema Level for High Quality Image.............................................................................................42
5.3.5 Select an Intelligent Mode Option.........................................................................................................................43
5.3.6 Select the Picture Detail Options ..........................................................................................................................44
5.3.7 Use CTI and Color Space .......................................................................................................................................44
5.3.8 Use the Color Management...................................................................................................................................45
5.3.9 Reduce Noise from the Image...............................................................................................................................45
5.3.10 Adjust Color Signals.............................................................................................................................................46
5.4 View in Multi-Screen .......................................................................................................................................................47
5.4.1 Split / Swap / Shift the Screen...............................................................................................................................47
5.4.2 Turn the Small Screen On/Off ...............................................................................................................................48
5.5 Freeze the Picture ...........................................................................................................................................................48
5.6 Manage the Power ..........................................................................................................................................................49
6 Use Other Equipment With Your Flat Panel Display ........................................................................... 50
6.1 Program the Remote Control to Operate Other Equipment........................................................................................50
6.1.1 Use the Learning Function ....................................................................................................................................50
6.1.2 Assign a Manufacturing Code to the Remote Control ........................................................................................51
6.1.3 Issue a Library Search for a Manufacturer Code .................................................................................................51
6.1.4 Clear Added Manufacturer Codes from the Remote Control .............................................................................52
6.1.5 Control a Pioneer Receiver ....................................................................................................................................52
6.1.6 Control a Cable (CBL) or Satellite (SAT) System..................................................................................................53
6.1.7 Control a Video Cassette Recorder (VCR) ............................................................................................................54
6.1.8 Control a DVD Player/DVR Recorder/BD Player ..................................................................................................55
6.2 Apply Settings for Other Equipment..............................................................................................................................56
6.2.1 Apply Settings for an AV System...........................................................................................................................56
6.2.2 Apply Settings for a PC ..........................................................................................................................................57
6.3 Use HDMI Inputs.............................................................................................................................................................58
6.3.1 Enter an HDMI Input Name ...................................................................................................................................58
6.3.2 Specify the HDMI Input Type .................................................................................................................................59
6.3.3 Specify a Digital HDMI Signal Type ......................................................................................................................59
6.4 Control Equipment with the Panel's Remote Through HDMI .....................................................................................60
6.4.1 Control an AV System.............................................................................................................................................62
6.4.2 Control a Recorder .................................................................................................................................................63
6.4.3 Control a Player.......................................................................................................................................................63
6.4.4 Add an AV Amp or a BD Player .............................................................................................................................64
6.5 Specific KURO LINK Commands ..................................................................................................................................65
6.5.1 Play Source Sound Using an HDMI Command...................................................................................................65
6.5.2 Turn OFF the Power With an HDMI Command ...................................................................................................65
6.5.3 Turn ON the Power With an HDMI Command.....................................................................................................65
6.5.4 Test the Power Control (On/Off) ............................................................................................................................66
6.6 Connect a Game Console or Camcorder ......................................................................................................................66
6.7 Use the IR REPEATER OUT ............................................................................................................................................66
6.8 Connect to a Network .....................................................................................................................................................67
6.8.1 IP Control Setting ...................................................................................................................................................68
6.8.2 Use the Web Control System.................................................................................................................................69
6.9 Assign a Serial Number..................................................................................................................................................73
6.9.1 Assign an ID Number.............................................................................................................................................73
6.9.2 Assign a Baud Rate ................................................................................................................................................74
6.10 Select the Integrator Mode...........................................................................................................................................74
---