Multi-CD control High power cassette player
---

Installation ............................................ 3
Installation with the rubber bush ........................ 3
Removing the Unit .............................................. 3
Connection Diagram ............................ 4
Connecting the Units ........................... 6
Key Finder ............................................ 7
Before Using This Product .................. 8
About This Product ............................................. 8
About This Manual ............................................. 8
Precaution ........................................................... 8
In Case of Trouble .............................................. 8
Detaching and Replacing the
Front Panel ........................................... 9
Theft Protection .................................................. 9
Initial Setting Menu ............................ 10
Entering the Initial Setting Menu ..................... 10
Changing the FM Tuning Step ......................... 10
Switching the Auto PI Seek .............................. 11
Basic Operation ................................. 12
Switching Power On ......................................... 12
Switching Power Off ........................................ 12
Tuner Operation ................................. 13
Basic Operation of Tuner ................................. 13
AF Function Switching ..................................... 14
Entering the Function Menu ............................. 15
Local Seek Tuning ............................................ 16
Preset Tuning .................................................... 16
BSM (Best Stations Memory) .......................... 17
Preset Memory .................................................. 17
Recalling Preset Stations .................................. 18
Using the Programmable Button ...................... 18
Using RDS Functions ........................ 20
What is RDS? ................................................... 20
Program Service Name Display ....................... 20
AF Function ..................................................... 21
PI Seek Function .............................................. 22
REG Function ................................................... 22
TA Function ..................................................... 23
PTY Function ................................................... 25
Using the Cassette Player ................. 28
Basic Operation of Cassette Player .................. 28
Fast Forward/Rewind ....................................... 29
Entering the Function Menu ............................. 29
Radio Intercept ................................................. 30
Cassette Player and Care .................. 31
Precaution ......................................................... 31
Cleaning the Head ........................................... 31
Audio Adjustment .............................. 32
Selecting the Mode ........................................... 32
Balance Adjustment ......................................... 32
Bass/Treble Adjustment ................................... 33
Loudness Adjustment ....................................... 33
Other Functions ................................. 34
Time Display/Setting ....................................... 34
Specifications .................................... 35
---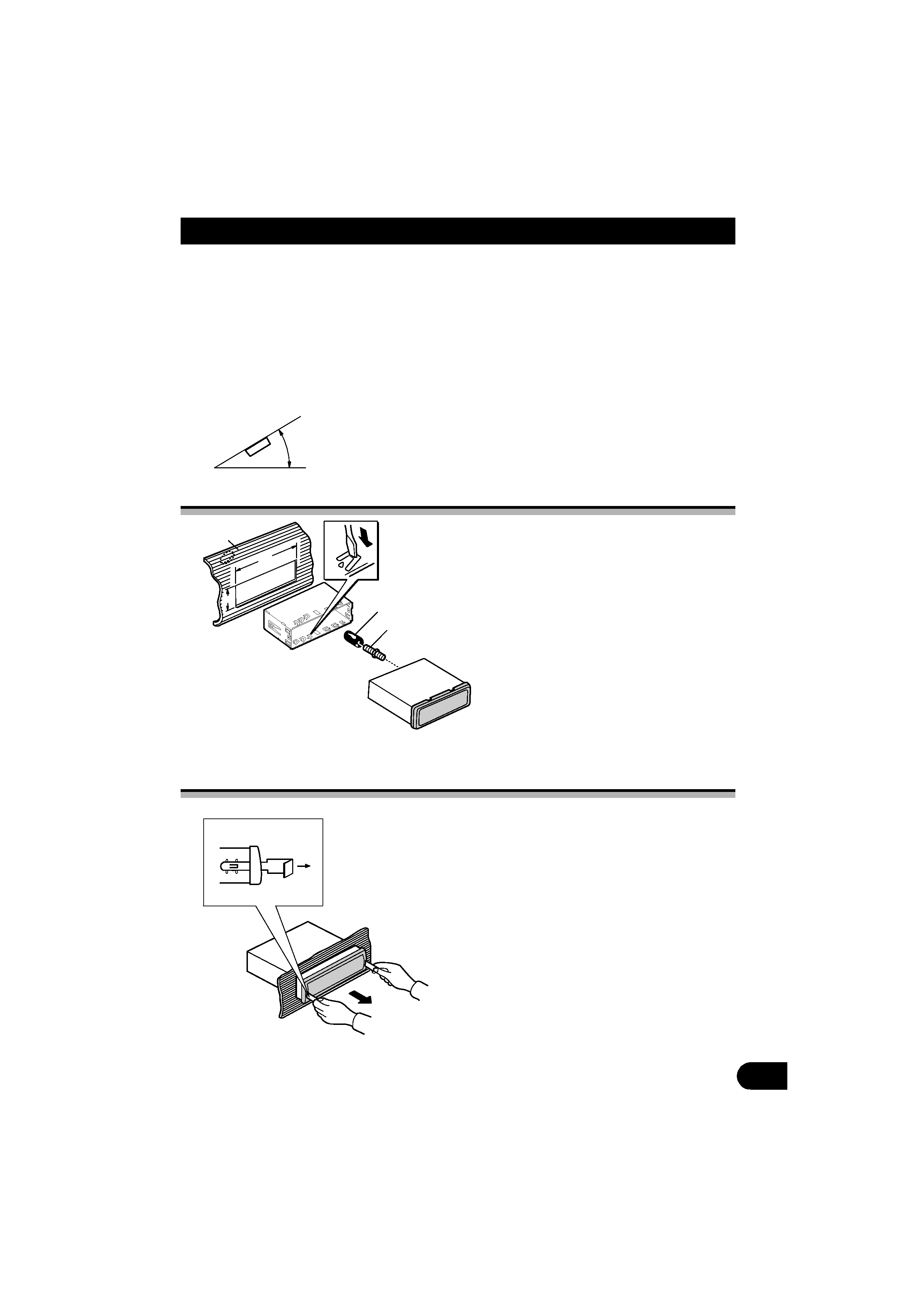 · Before finally installing the unit, connect the wiring temporarily, making sure it is all connected up
properly, and the unit and the system work properly.
· Use only the parts included with the unit to ensure proper installation. The use of unauthorized parts
· Consult with your nearest dealer if installation requires the drilling of holes or other modifications of
· Install the unit where it does not get in the driver's way and cannot injure the passenger if there is a
sudden stop, like an emergency stop.
· If installation angle exceeds 30° from horizontal, the unit might not give its optimum performance.
Installation with the rubber bush
After inserting the holder into the dashboard,
then select the appropriate tabs according to
the thickness of the dashboard material and
(Install as firmly as possible using the top
and the bottom tabs. To secure, bend the tabs
5. Insert the supplied extraction keys into the
unit, as shown in the figure, until they click
into place. Keeping the keys pressed against
the sides of the unit, pull the unit out.
---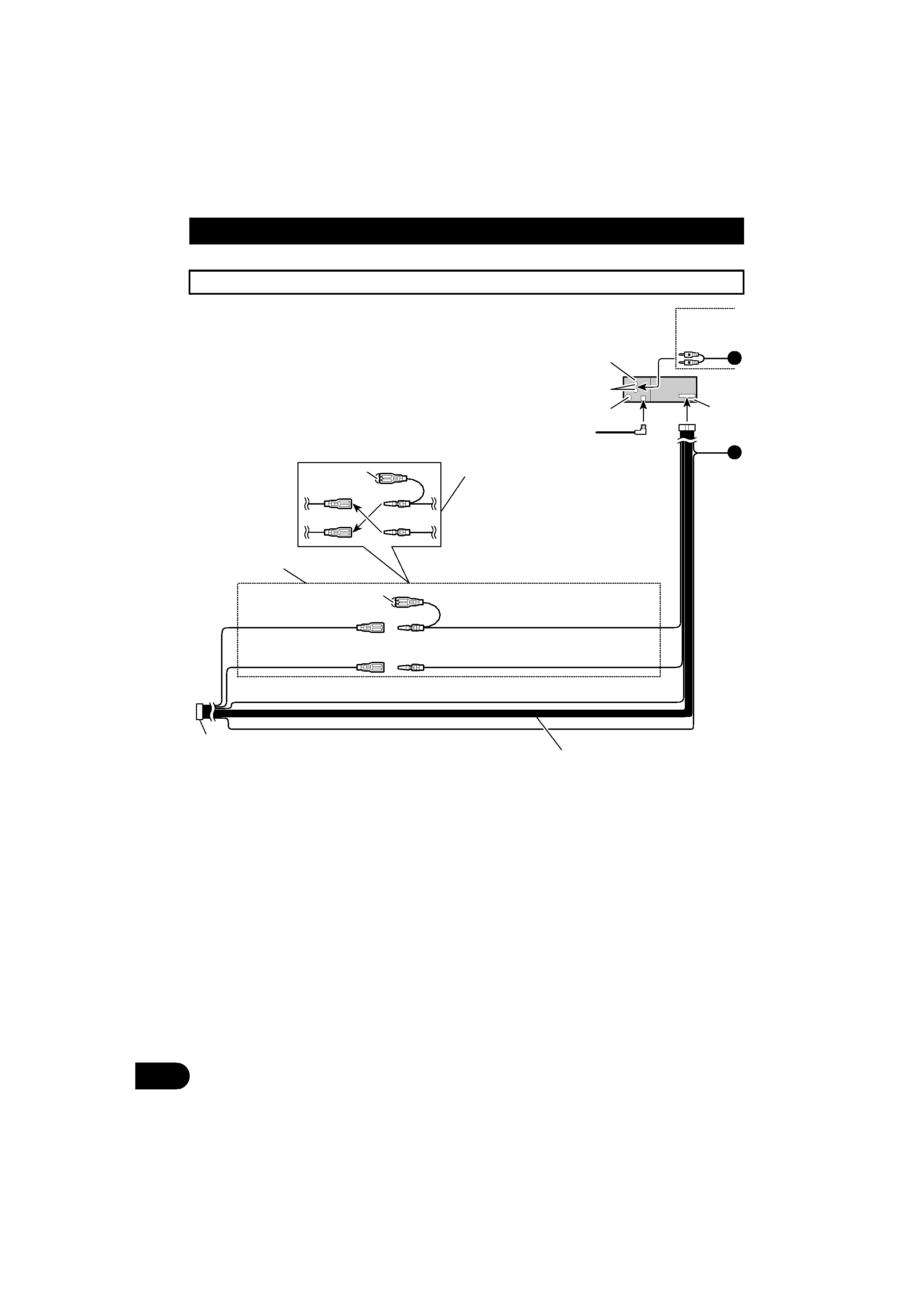 This product conforms to new cord colors.
4. Multi-CD player (sold separately)
5. Connect leads of the same color to each other.
· Depending on the kind of vehicle, the function
of 9 and 11 may be different. If this is the case,
be sure to connect 8 to 11 and 9 to 10.
· When the power cord of a component such as
a Multi-CD Player is connected to this unit's
power cord, check that 9 and 11 (Back-up or
Accessory) are operating correctly, and that
To terminal always supplied with power
regardless of ignition switch position.
To electric terminal controlled by ignition switch
· In some vehicles, the ISO connector may be
divided into two. If this is the case, be sure to
connect to both connectors.
---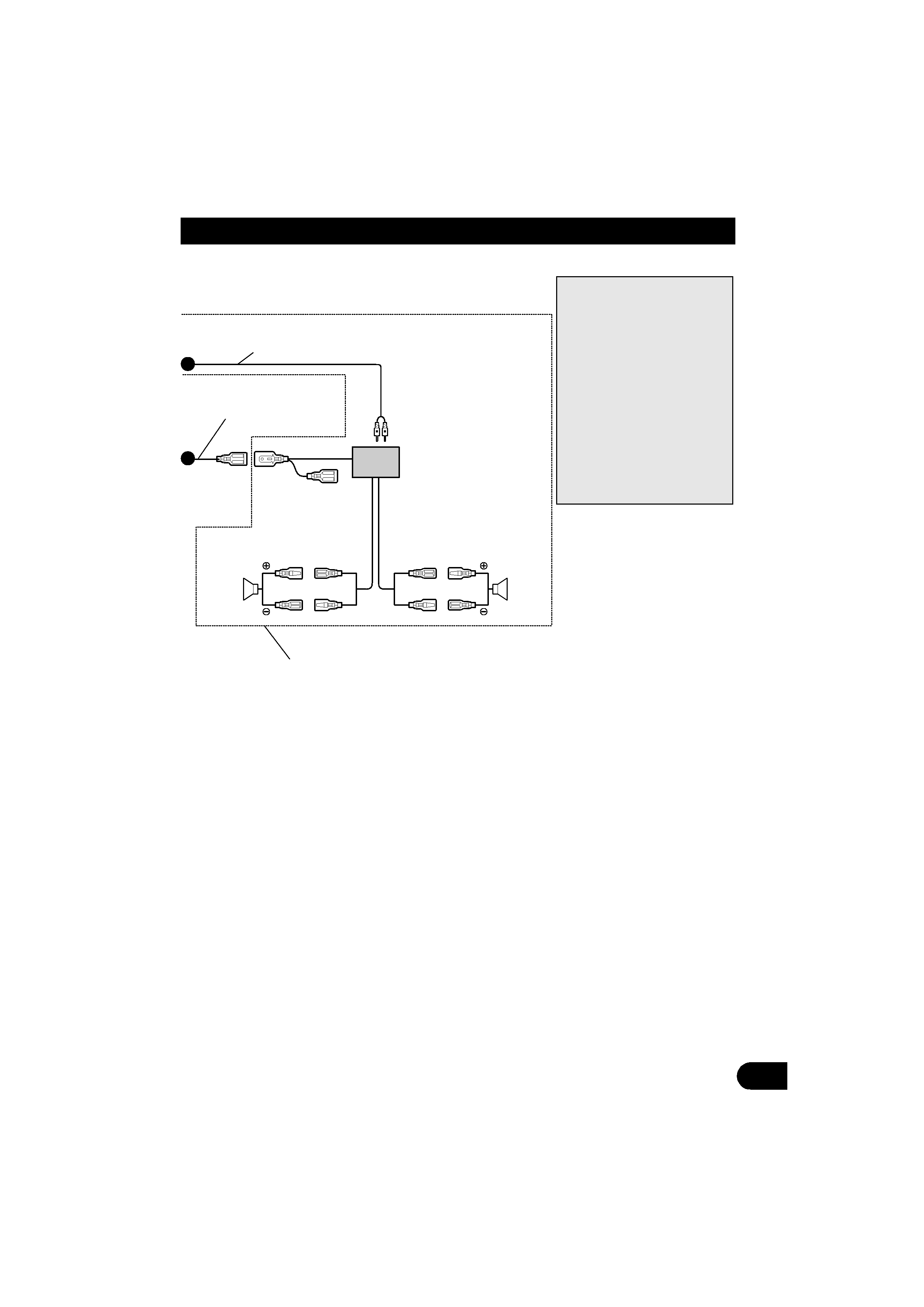 to another product, refer
16. Connecting cords with RCA pin plugs (sold
18. System remote control
19. To system control terminal of the power amp or
Auto-antenna relay control terminal.
20. Power amp (sold separately)
24. Use this for connections when you have the
separately available amplifier.
---