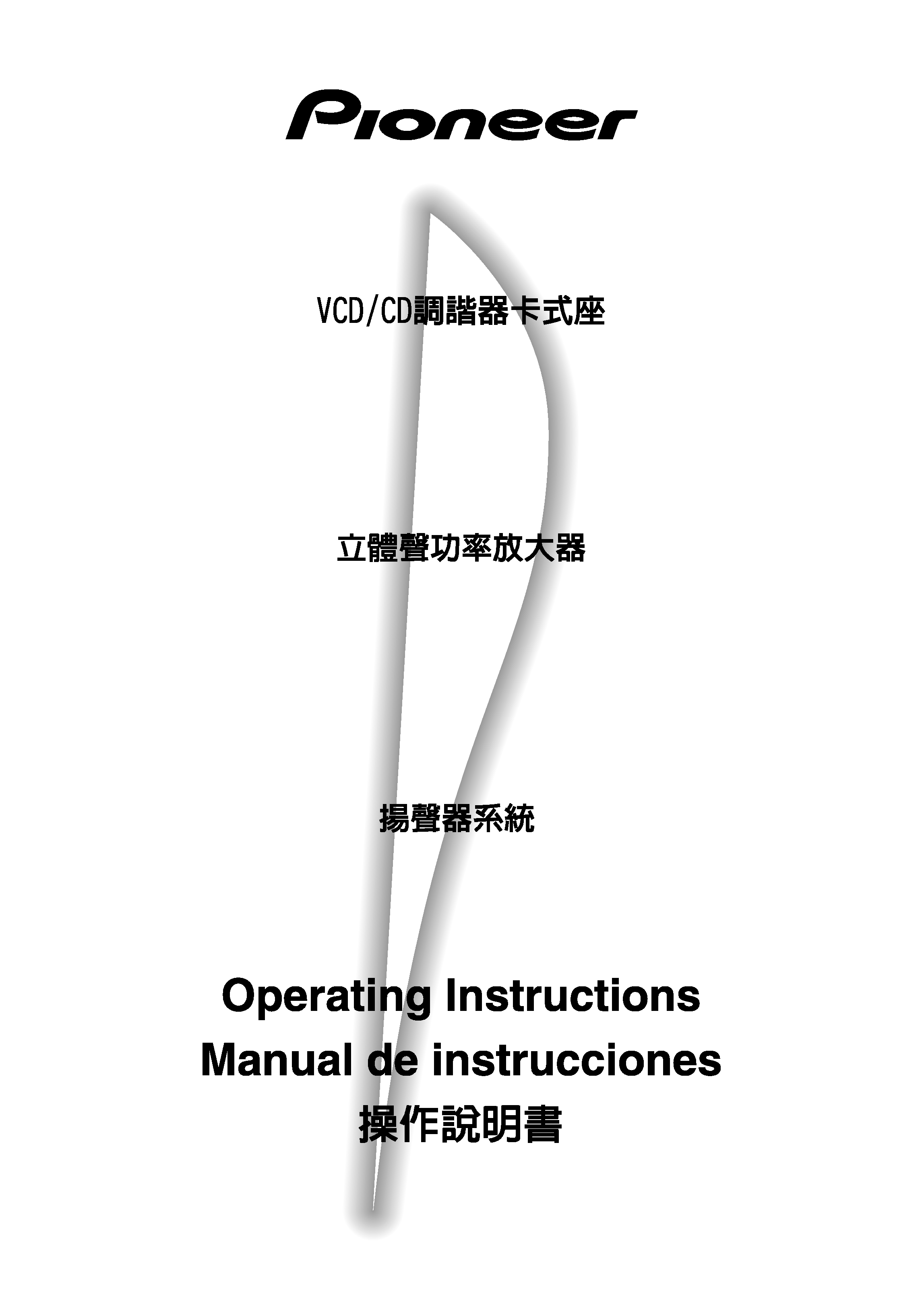 GRABADORA CON SINTONIZADOR Y
REPRODUCTOR DE DISCOS VCD/CD
AMPLIFICADOR DE POTENCIA ESTÉREO
---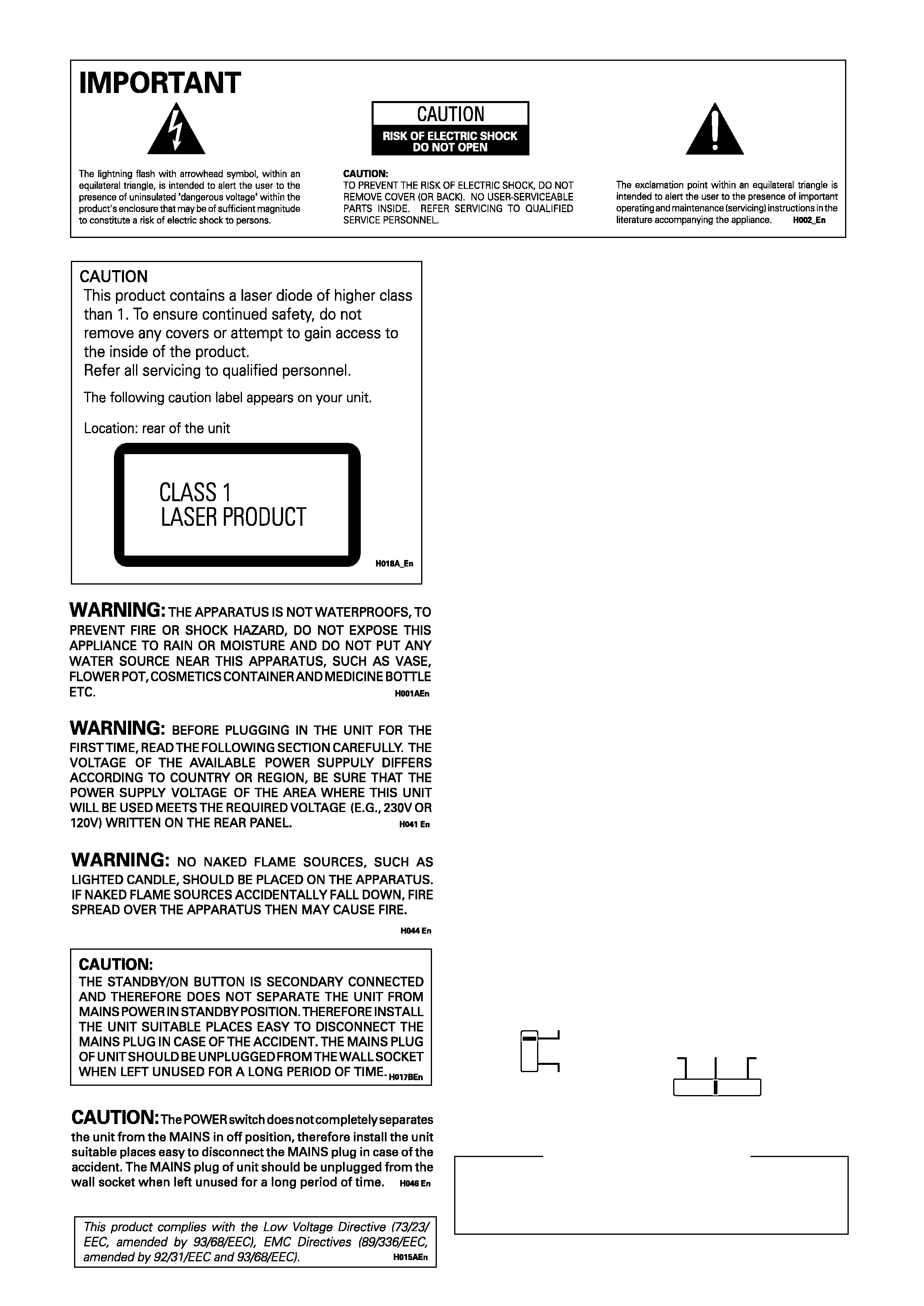 Operating Environment
H045 En
Operating environment temperature and humidity:
°
C ­ +35
°
C (+41
°
F ­ +95
°
F); less than 85%RH (cooling
Do not install in the following locations:
· Location exposed to direct sunlight or strong artificial
· Location exposed to high humidity, or poorly ventilated
VENTILATION:
When installing this unit, make sure to
leave space around the unit for ventilation to improve heat
radiation (at least 30 cm at top, 15 cm at rear, and 15 cm at
WARNING:
Slot and openings in the cabinet are provided
for ventilation and to ensure reliable operation of the prod-
uct and to protect it from overheating, to prevent fire haz-
ard, the openings should never be blocked and covered with
items, such as newspapers, table-cloths, curtains, etc. Also
do not put the apparatus on the thick carpet, bed, sofa, or
fabric having a thick pile.
TWO VOLTAGE SELECTOR SWITCHES
Mains voltages in Saudi Arabia are 127 V and
220 V only. Never use this model with the 110 V
setting in Saudi Arabia.
H019 En
There are two VOLTAGE SELECTORS. Be sure
both of these are set correctly.
Always check that these selectors are set properly before plug-
ging the power cord into the wall outlet.
1. Disconnect the power cord.
2. Use a small-sized screwdriver.
3. Insert the screwdriver into the groove on the voltage se-
lector, and adjust the VOLTAGE SELECTOR.
CAUTION 240 V, 220 ­ 240 V
Power source voltage is factory adjusted 240 volts and
220 - 240 volts. If your area is different, change voltage
---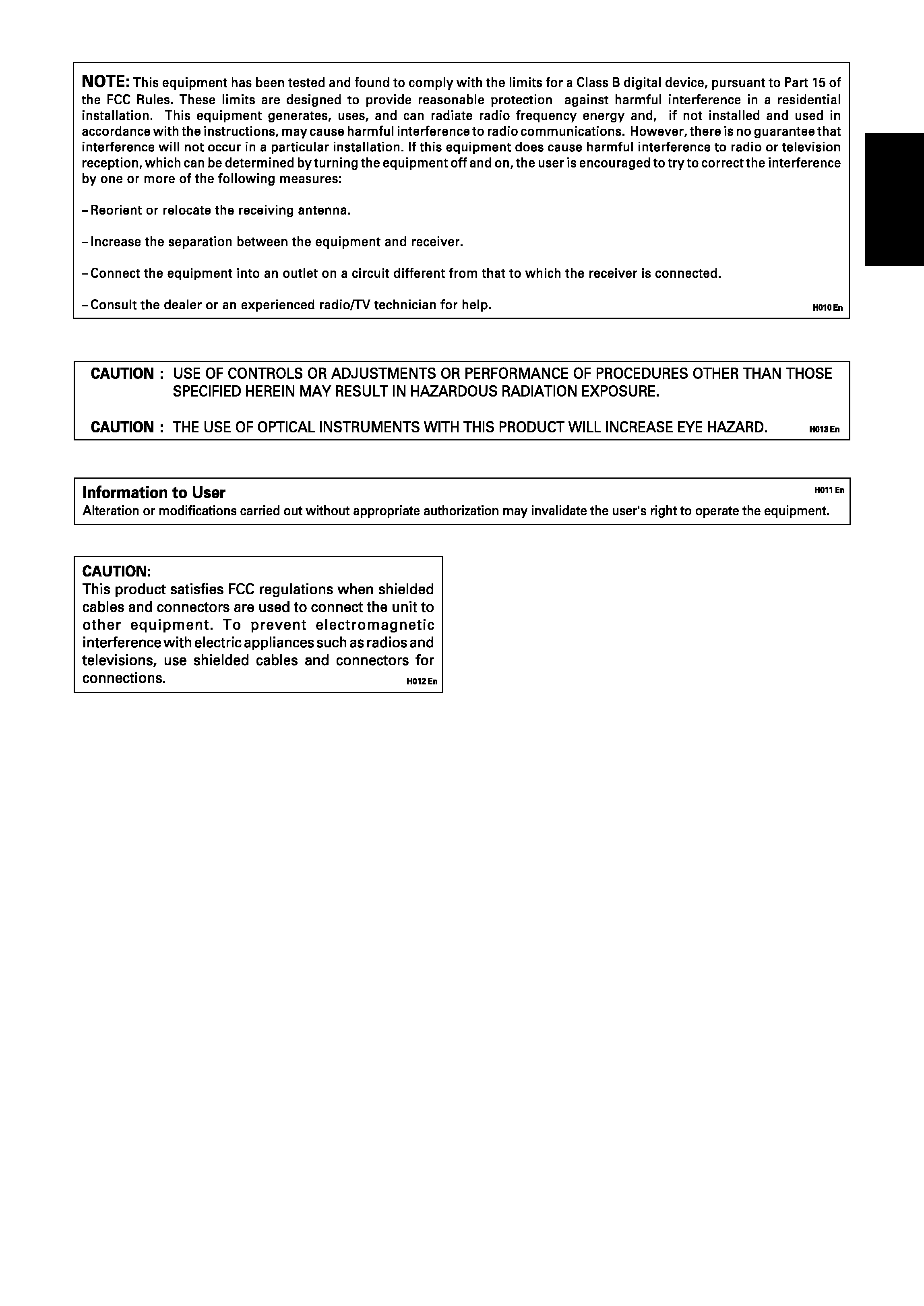 ---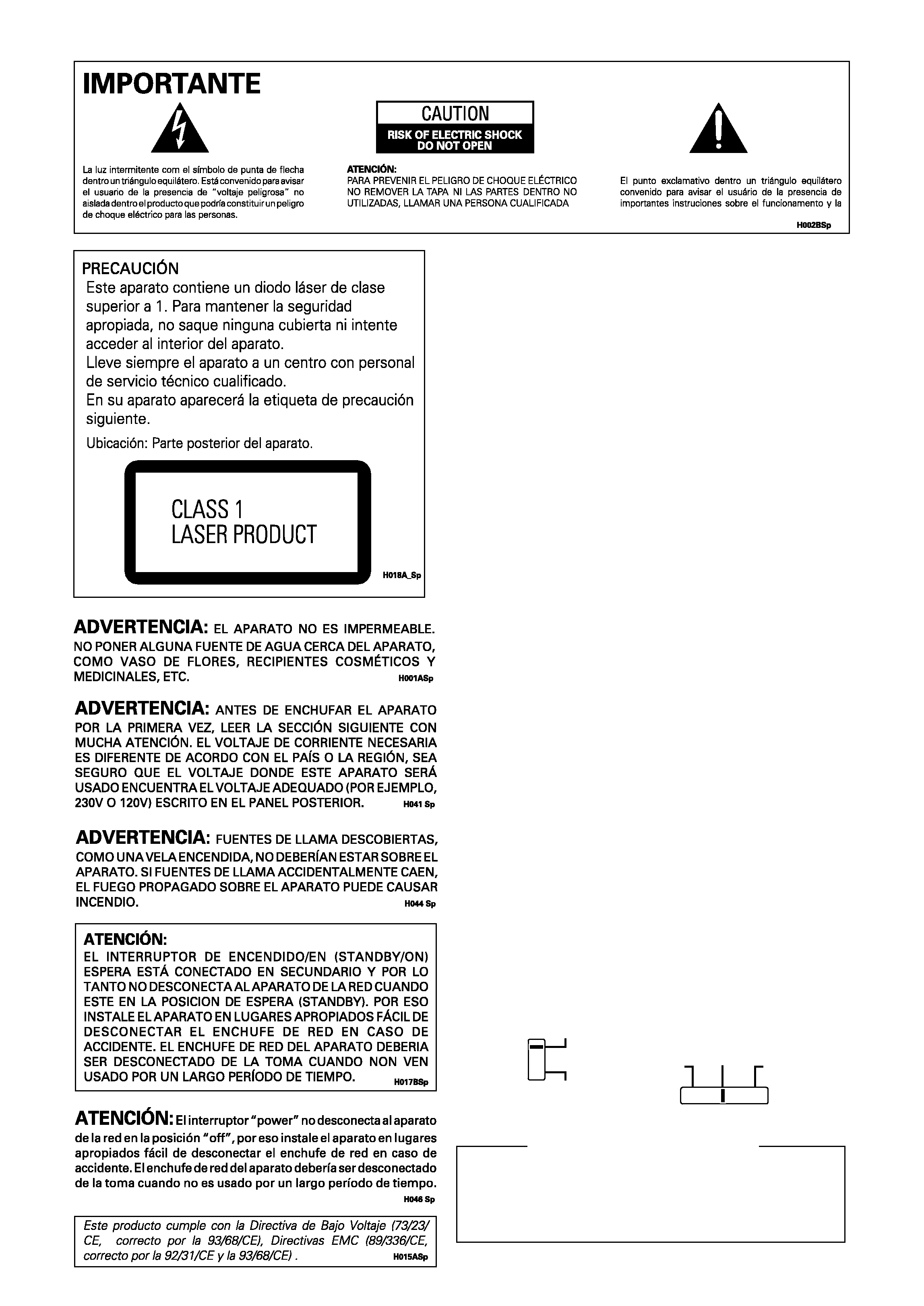 Condiciones de Funcionamiento
H045 Sp
Temperatura y humedad ambiental durante el
+5°C ­ +35°C (+41°F ­ +95°F); menos de 85%RH (aperturas
de aireación no obstruidas)
No instalar en los siguientes lugares:
÷ lugar expuesto a la luz directa del sol o a fuerte luz
÷ lugar expuesto a alta humedad, o lugar poco aireado.
VENTILACION:
Cuando se instala esta unidad, asegúrese
de dejar espacio alrededor de la unidad para proporcionar
ventilación y mejorar así la radiación del calor (por lo menos
30 cm en la parte superior, 15 cm en la parte trasera y 15 cm
ADVERTENCIA:
Las rendijas en el aparato es necesario
para la ventilacíon para permitir el funcionamento del
producto y para proteger este de sobrecalentamiento, para
evitar incendio. Las rendijas no deberían ser nunca cubiertas
con objectos, como periódicos, manteles, tiendas, etc.
Tambiém no poner el aparato sobre alfombra espesa, cama,
sofá o construción de pila espesa.
Los voltajes de red de Arabia Saudita son sólo
de 127 V y 220 V. No utilice nunca este modelo
con el ajuste de 110V en Arabia Saudita.
Cerciórese de que ambos se encuentran
Verifique que se encuentra ajustado adecuadamente antes
de enchufar el cable de alimentación al tomacorriente.
1. Desconecte el cable de alimentación.
2. Utilice un destornillador pequeño.
3. Inserte el destornillador en la ranura del selector de voltaje,
y ajuste el selector de voltaje (VOLTAGE SELECTOR).
PRECAUCIÓN 240 V, 220 ­ 240 V
La tensión de alimentación se ha ajustado en fábrica a
240 voltios y a 220 - 240 voltios. Si la tensión de su
localidad es distinta, cambie los ajustes de los
---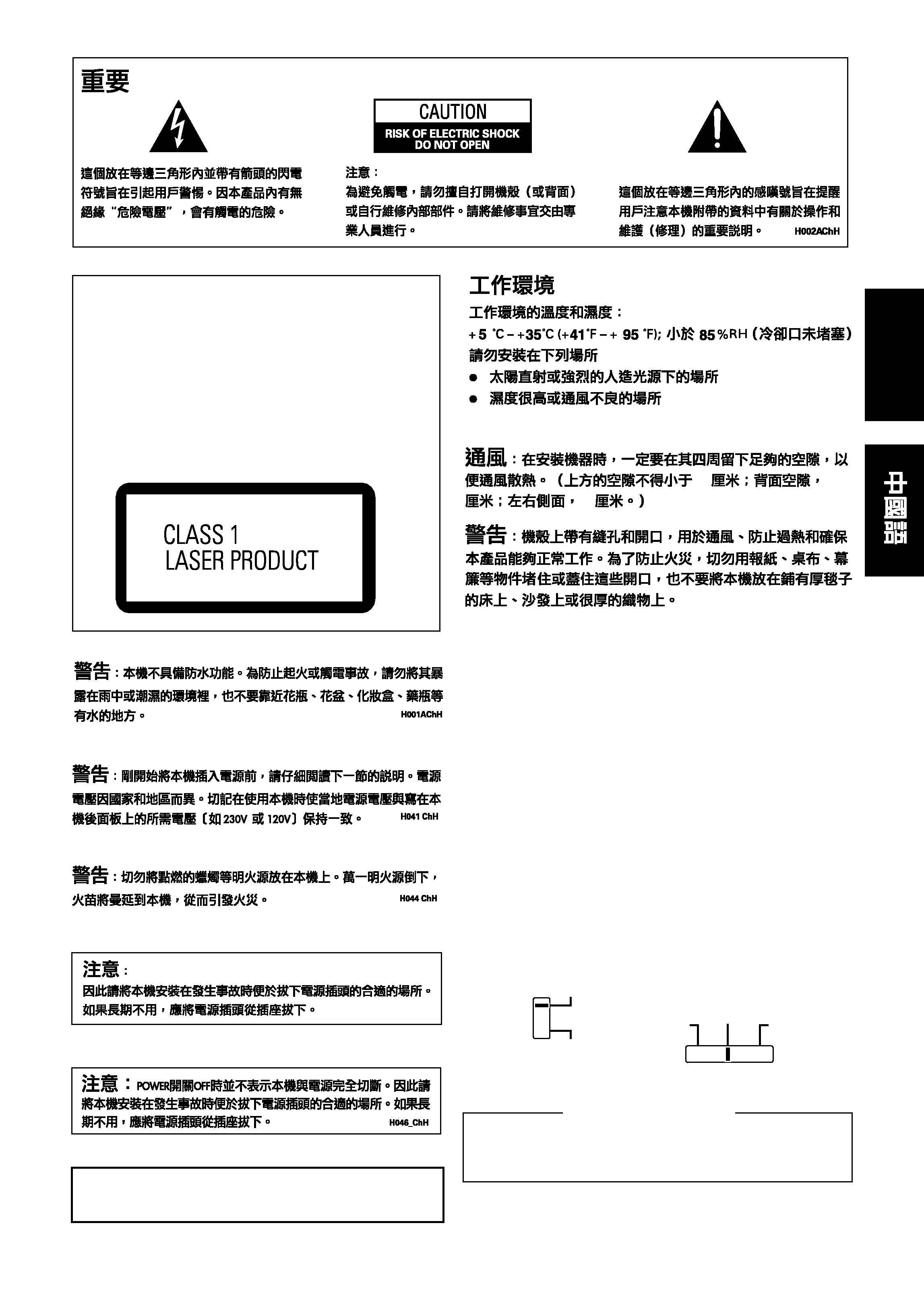 ---