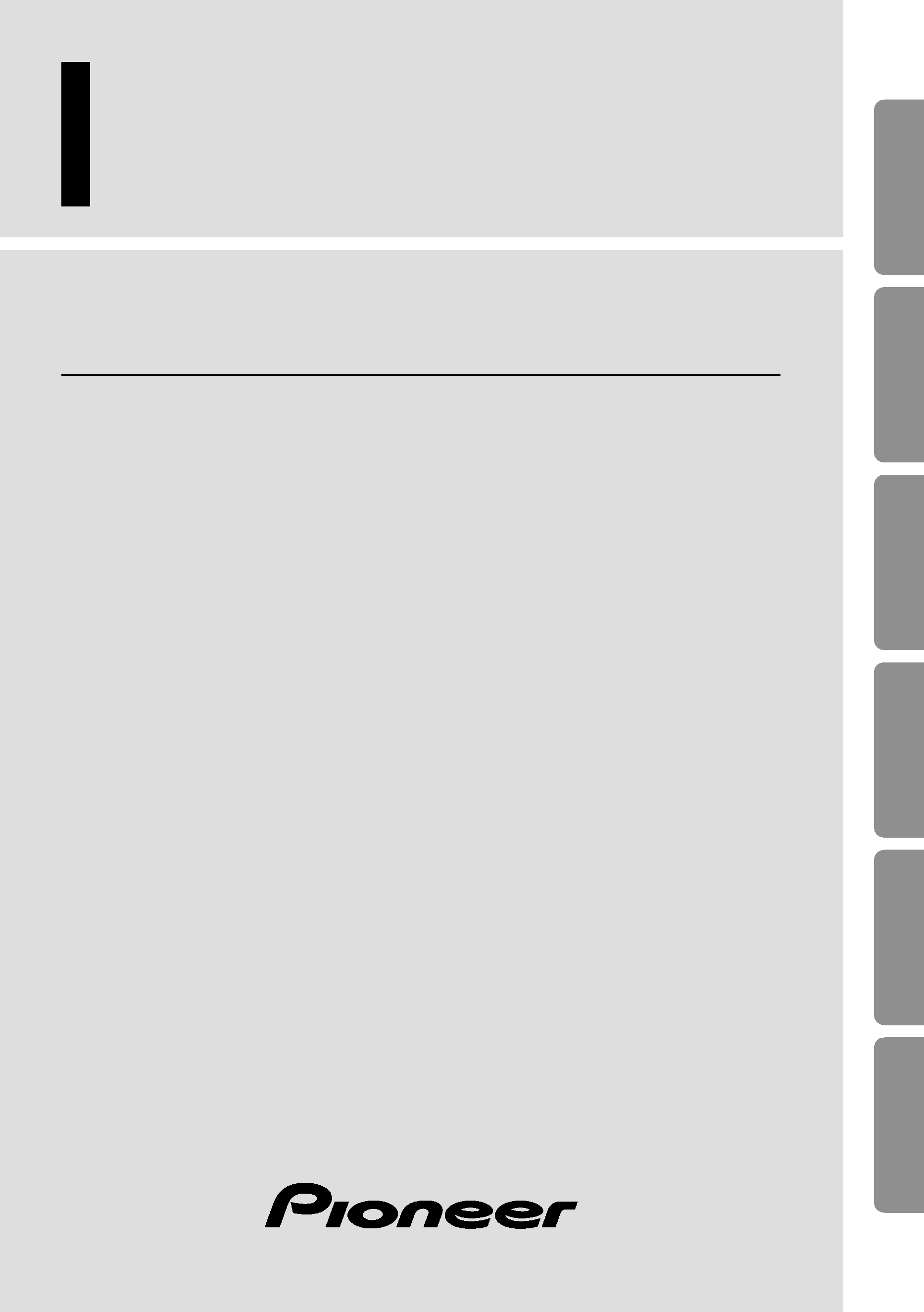 BRIDGEABLE POWER AMPLIFIER
AMPLIFICATEUR DE PUISSANCE PONTABLE
---

Before Using This Product ...................... 2
Composition of Manual .................................... 2
In case of trouble .............................................. 2
WARNING ........................................................ 2
Setting the Unit .......................................... 3
Gain Control ...................................................... 3
Power Indicator ................................................ 4
BFC (Beat Frequency Control) Switch ............ 4
LPF (Low-Pass Filter) Select Switch ................ 4
Connecting the Unit .................................. 5
Connection Diagram ........................................ 6
Connecting the Power Terminal ........................ 7
Connecting the Speaker Output Terminals ...... 7
Using the Speaker Input .................................... 8
Connecting the Speaker wires .......................... 9
Installation ................................................ 10
Example of installation on the floor mat
or on the chassis ...................................... 10
Specifications .......................................... 11
---

Before Using This Product
Thank you for purchasing this PIONEER
product. Before attempting operation, be
sure to read this manual.
This manual applies to the GM-X552 and
GM-X352. However, the illustrations
When the unit does not operate properly,
contact your dealer or the nearest autho-
rized PIONEER Service Station.
· Always use the special red battery and ground
wire [RD-223], which is sold separately. Connect
the battery wire directly to the car battery positive
terminal (+) and the ground wire to the car body.
· Do not touch the amplifier with wet hands.
Otherwise you may get an electric shock. Also,
do not touch the amplifier when it is wet.
· For traffic safety and to maintain safe driving
conditions, keep the volume low enough so that
you can still hear normal traffic sound.
· Check the connections of the power supply and
speakers if the fuse of the separately sold battery
wire or the amplifier fuse blows. Detect the cause
and solve the problem, then replace the fuse with
another one of the same size and rating.
· To prevent malfunction of the amplifier and
speakers, the protective circuit will cut the power
supply to the amplifier (sound will stop) when an
abnormal condition occurs. In such a case, switch
the power to the system OFF and check the
connection of the power supply and speakers.
Detect the cause and solve the problem.
· Contact the dealer if you cannot detect the cause.
· To prevent an electric shock or short-circuit
during connection and installation, be sure to
disconnect the negative (­) terminal of the battery
· Confirm that no parts are behind the panel when
drilling a hole for installation of the amplifier. Be
sure to protect all cables and important equipment
such as fuel lines, brake lines and the electrical
This product complies with the EMC
Directives (89/336/EEC, 92/31/EEC)
and CE Marking Directive (93/68/EEC).
---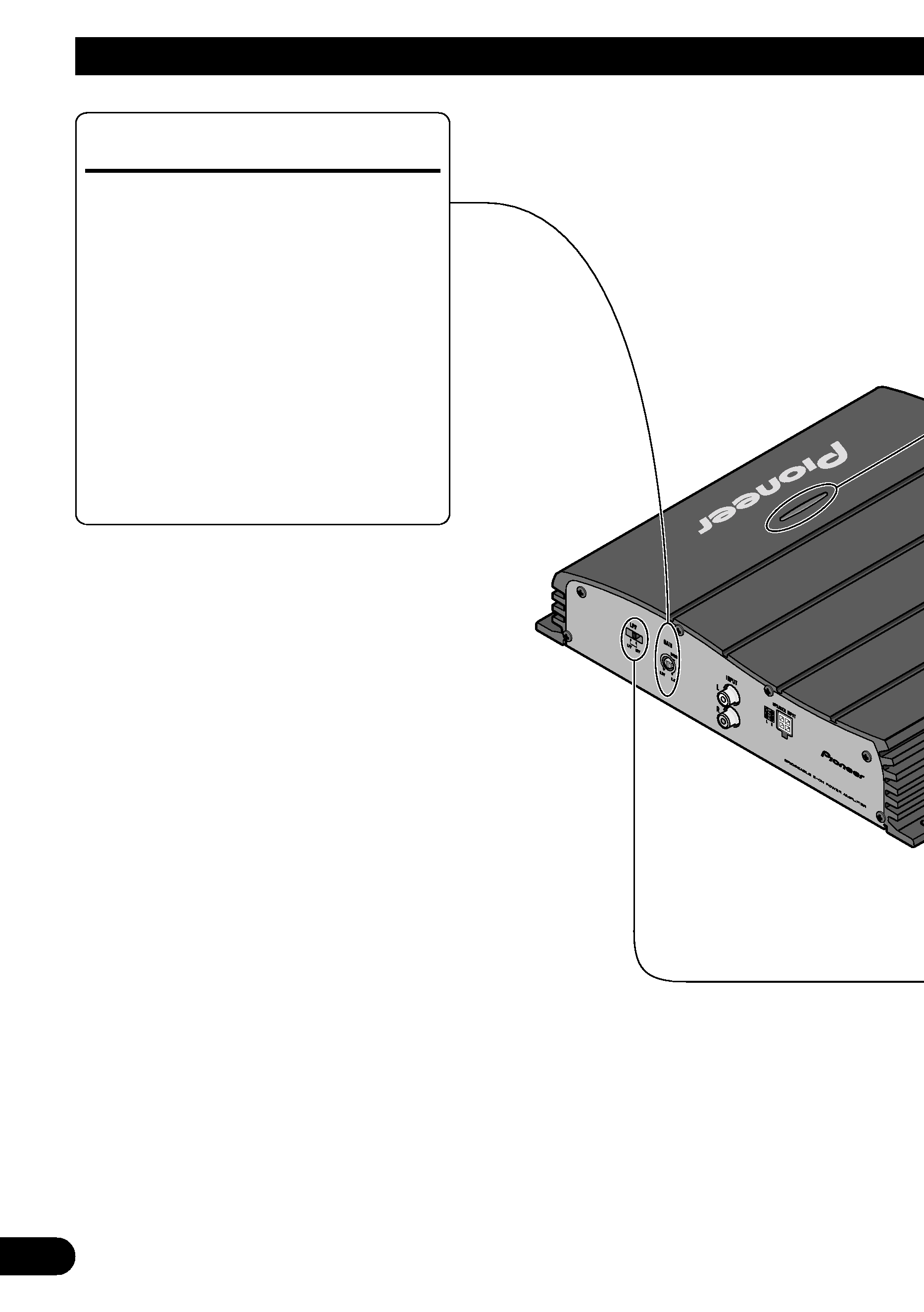 If the sound level is too low, even when
the volume of the car stereo used along
with this power amplifier is turned up,
turn gain control on the front of the
power amplifier clockwise. If the sound
distorts when the volume is turned up,
turn the gain control counter-clockwise.
· When using with an RCA equipped car
stereo (standard output of 500 mV), set to
the NORMAL position. When using with
an RCA equipped Pioneer car stereo with
max. output of 4 V or more, adjust level to
match the car stereo output level.
· If you hear too much noise when using the
speaker input terminals, turn the gain
control counter-clockwise.
---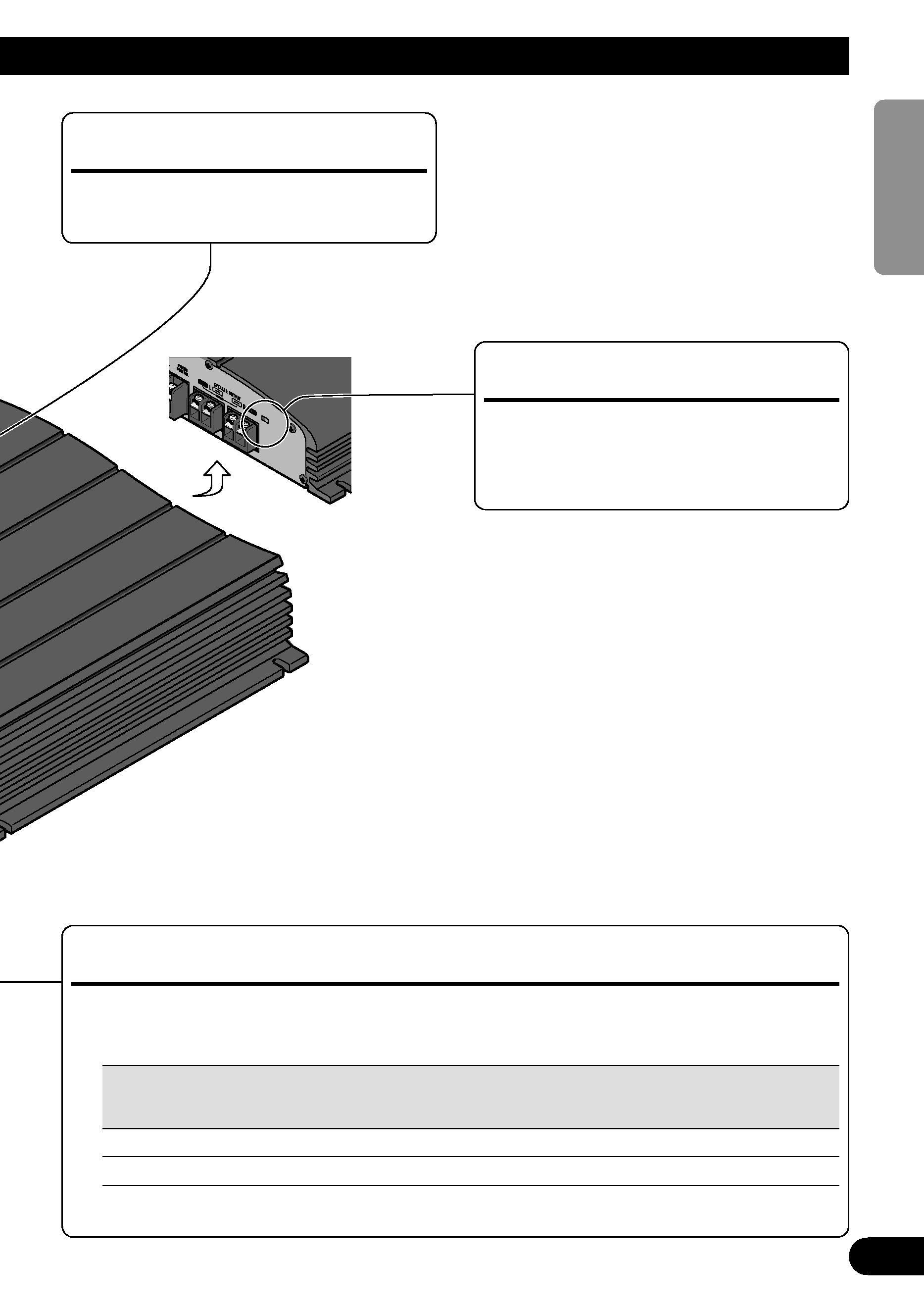 LPF (Low-Pass Filter) Select Switch
Set the LPF select switch as follows according to the type of speaker that is connected to the
speaker output connector and the car stereo system:
The power indicator lights when the
BFC (Beat Frequency Control) Switch
If you hear a beat while listening to an
MW/LW broadcast with your car stereo,
change the BFC switch using a small
standard tip screwdriver.
---