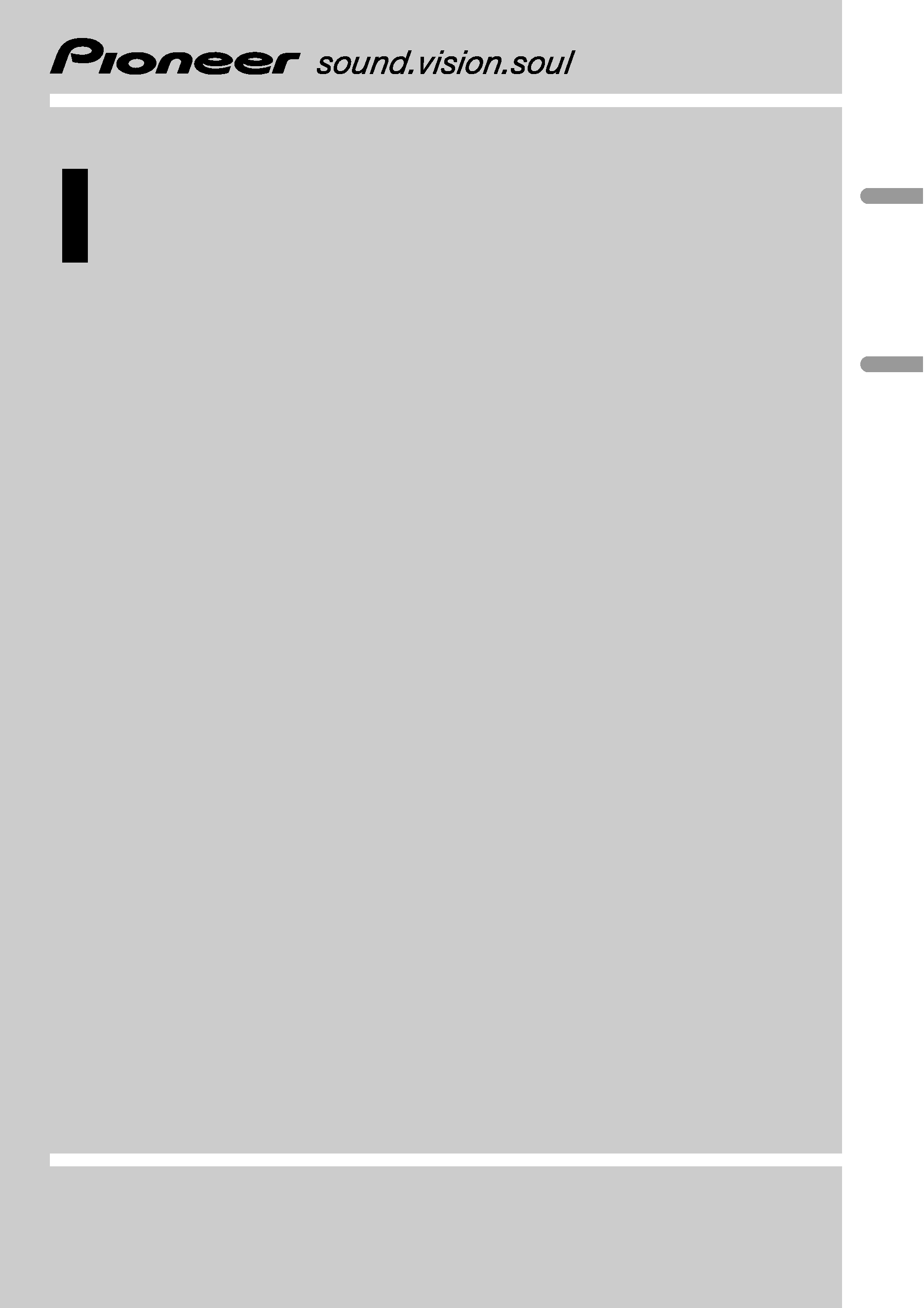 Syntoniseur TV escamotable
---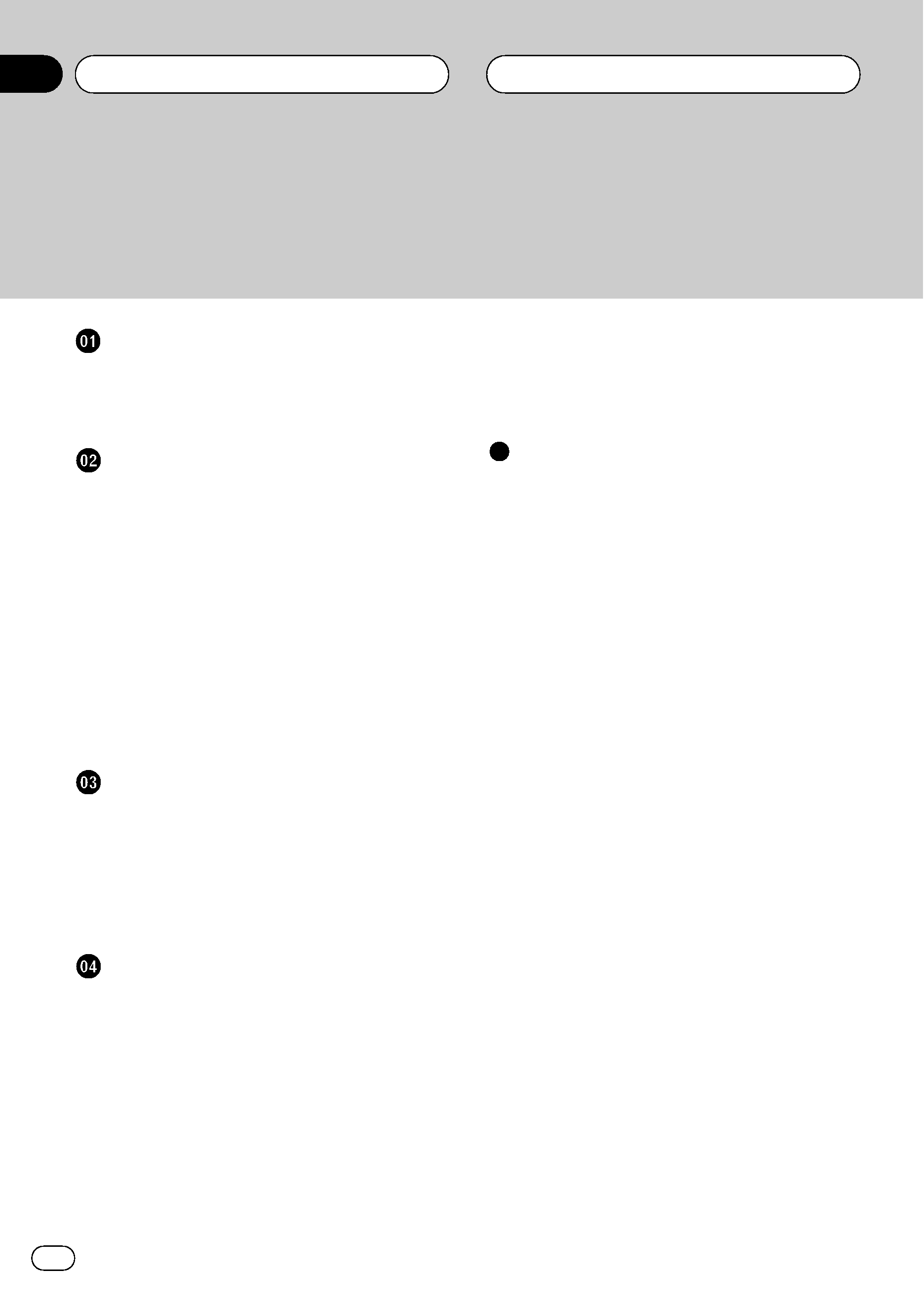 Thank you for buying this Pioneer product.
Please read through these operating instructions so you will know how to operate
your model properly. After you have finished reading the instructions, keep this man-
ual in a safe place for future reference.
To avoid battery exhaustion 4
Video system of a connected component 5
After-sales service for Pioneer products 6
Resetting the microprocessor 6
Switching the operation mode 7
Use and care of the remote control 7
Using the remote control 8
When using a Pioneer car DVD
When using a Pioneer car DVD
Head unit (e.g., AVH-P5700DVD) 10
Operating with different head units 10
Function compatibility charts 11
Watching the television 12
Storing and recalling broadcast stations 13
Introduction of advanced TV tuner
Storing the strongest broadcast stations
--- Please read all of these instructions regarding
your display and retain them for future refer-
1 Read this manual fully and carefully be-
fore operating your display.
2 Keep this manual handy as a reference for
operating procedures and safety informa-
3 Pay close attention to all warnings in this
manual and follow the instructions care-
4 Do not allow other persons to use this sys-
tem until they have read and understood
the operating instructions.
5 Do not install the display where it may (i)
obstruct the drivers vision, (ii)impair the
performance of any of the vehicles oper-
ating systems or safety features, includ-
ing air bags, hazard lamp buttons or (iii)
impair the drivers ability to safely oper-
6 As with any accessory in your vehicles in-
terior, the display should not divert your
attention from the safe operation of your
vehicle. If you experience difficulty in op-
erating the system or reading the display,
please park safely before making adjust-
7 Please remember to wear your seat belt at
all times while operating your vehicle. If
you are ever in an accident, your injuries
can be considerably more severe if your
seat belt is not properly buckled.
8 Never use headphones while driving.
9 To promote safety, certain functions are
disabled unless the parking brake is on,
and the vehicle is not in motion.
10 Never set the volume of your display so
high that you cannot hear outside traffic
! Do not attempt to install or service your
display by yourself. Installation or servi-
cing of the display by persons without
training and experience in electronic
equipment and automotive accessories
may be dangerous and could expose you
to the risk of electric shock or other
! LIGHT GREEN LEAD AT POWER CON-
NECTOR IS DESIGNED TO DETECT
PARKED STATUS AND MUST BE CON-
NECTED TO THE POWER SUPPLY SIDE
OF THE PARKING BRAKE SWITCH. IM-
PROPER CONNECTION OR USE OF
THIS LEAD MAY VIOLATE APPLICABLE
LAW AND MAY RESULT IN SERIOUS IN-
! To avoid the risk of accident and the potential
violation of applicable laws, the front TV fea-
ture should never be used while the vehicle is
being driven. Also, rear displays should not be
in a location where it is a visible distraction to
! In some countries or states the viewing of
images on a display inside a vehicle even by
persons other than the driver may be illegal.
Where such regulations apply, they must be
obeyed and this units TV features should not
This unit detects whether your vehicles park-
ing brake is engaged or not, and prevents you
from watching TV on the front display while
driving. When you attempt to watch a TV, the
screen turns to black and nothing is dis-
---

To watch TV on the front display, park your ve-
hicle in a safe place and apply the parking
To avoid battery exhaustion
Be sure to run the vehicle engine while using
this unit. Using this unit without running the
engine can result in battery drainage.
Do not use with vehicles that do not feature an
---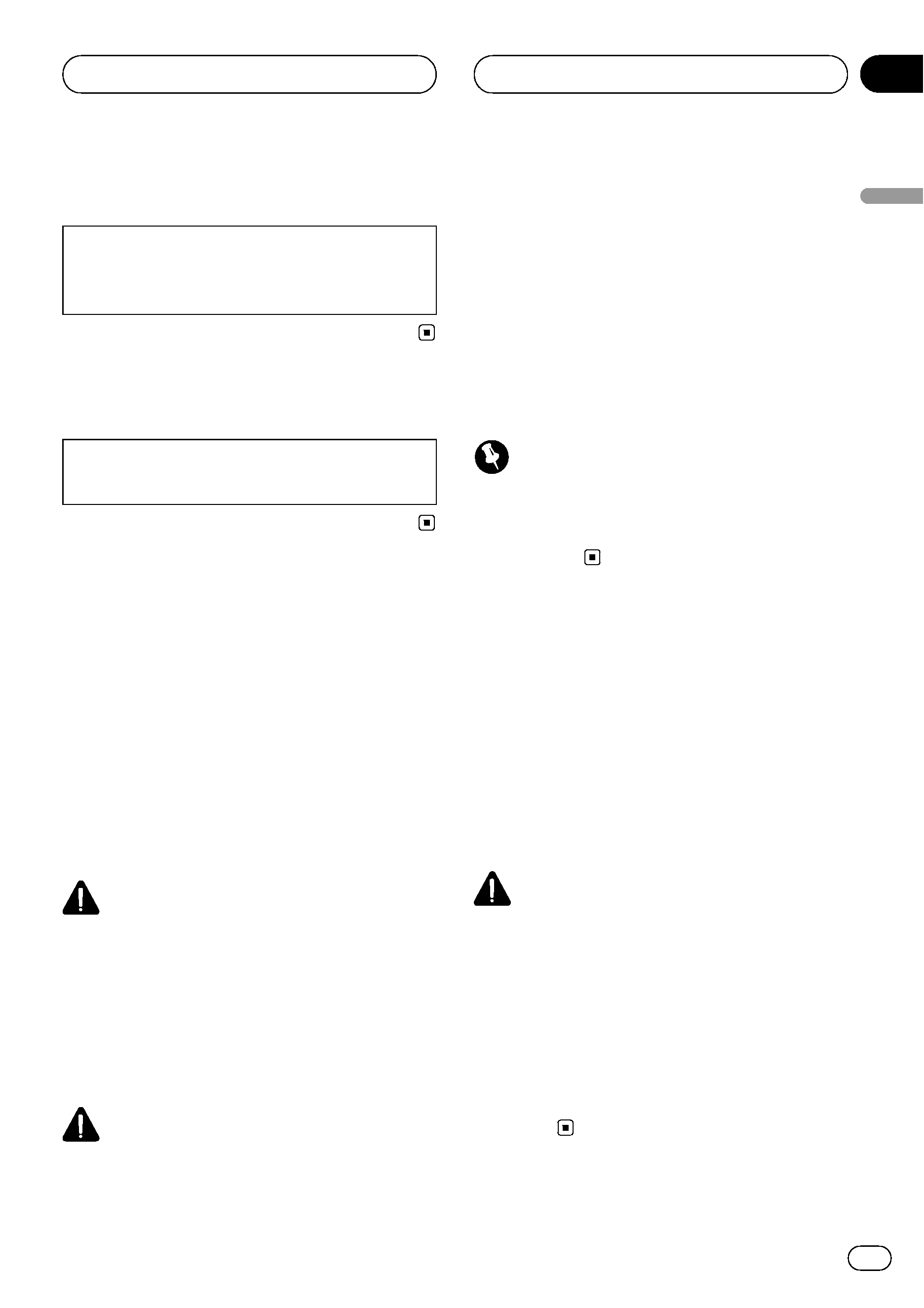 Alteration or modifications carried out without
appropriate authorization may invalidate the
users right to operate the equipment.
This Class B digital apparatus complies with
This unit is a TV tuner for reception of TV
broadcasts. Combining it with a separately
sold display with AV-BUS lets you enjoy TV en-
tertainment (refer to this units installation
manual for details concerning the AV-BUS).
The tuner frequencies on this unit are allo-
cated for use in North America. Use in other
areas may result in poor reception.
This unit features a REAR OUT, letting you
watch TV on a rear display (sold separately).
Handling the cord on this product or cords asso-
ciated with accessories sold with the product
may expose you to chemicals listed on proposi-
tion 65 known to the State of California and other
governmental entities to cause cancer and birth
defects or other reproductive harm. Wash hands
! Do not allow this unit to come into contact
with liquids. Electrical shock could result.
Also, this unit damage, smoke, and overheat
could result from contact with liquids.
! Keep this manual handy as a reference for op-
erating procedures and precautions.
! Always keep the volume low enough so that
you can hear sounds from outside the vehicle.
! Protect this unit from moisture.
! If the battery is disconnected or discharged,
the preset memory will be erased and must be
Important (Serial number)
The serial number is located on the bottom of
this unit. For your own security and convenience,
be sure to record this number on the enclosed
This unit is NTSC system compatible. When
connecting an external component to this
units REAR OUT, be sure the component is
compatible with the same video systems. If it
is not, images will not be correctly repro-
! Be sure to stop driving and park your vehicle
in a safe place before watching the TV.
! Watching the TV while driving is dangerous
and could result in an accident.
! This units REAR OUT is for connection of a
display to enable passengers in the rear seats
NEVER install the rear display in a location
that enables the driver to watch the TV while
---