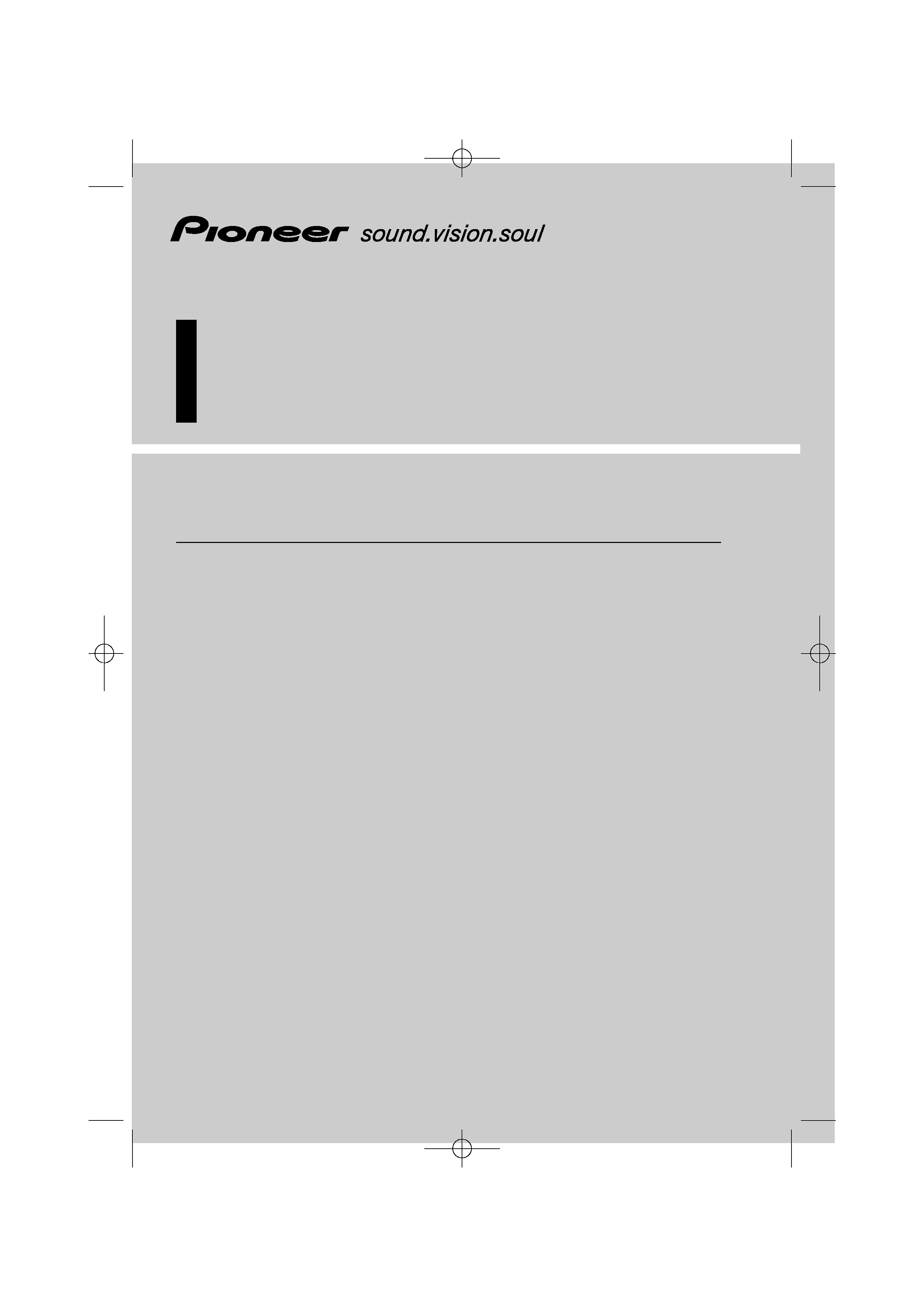 DVB-T DIVERSITY MOBILE RECEIVER
---

ABOOUT YOUR NEW DIGITAL TV SYSTEM AND THIS MANUAL
INSTRUCTION REGADING YOUR DIGITAL TV SYSTEM AND
RETAIN THEM FOR FUTURE REFERENCE
After Installing the System
Operation of the remote control
End of first time installation
Service list update pop out
Skip/Add all program screen
Saving confirmation popup
Delete comfirmation popup
Deletion comfirmation message
Full reinstallation program screen
Channel installation success
Channel installation failed
---

ABOUT YOUR NEW DIGITAL TV SYSTEM AND THIS MANUAL
Congratulations on your purchase of Pioneer DVB-T (Digital Video Broadcasting) equipment. Pioneer makes every
effort to meet our customer's needs and requirements for user-friendly products. Our vision is to provide you with
high quality products you can trust and use anywhere at any time. Our focus is on satisfying our customer
requirements and our effort to meet high degree of service you should expect after purchasing a Pioneer Product.
This manual explains how to install and operate this Digital TV System in your vehicle.
Do not install the display unit or hide-away unit where it may (1) obstruct the driver's vision, (2) impair
the performance of any of the vehicle's operating systems of safety features, including airbags, hazard
lamp buttons or (3) impair the driver's ability to safely operate the vehicle. In some cases, it may not be
possible to install this unit because of the vehicle type or the shape of the vehicle interior.
PLEASE READ ALL OF THESE INSTRUCTIONS REGARDING YOUR RECEIVER AND RETURN THEM
1. Read this manual fully and carefully before attempting to install your receiver.
2. Keep this manual handy for future reference.
3. Pay close attention to all warning in this manual and follow the instructions carefully.
4. As with any accessory in your vehicle's interior, the Digital TV System should not divert your attention from the
safe operation of your vehicle. If you experience difficulty in operating the system, please make adjustments
5. Please remember to wear your belt at all times while operating your vehicle. If you are ever in an accident, your
injuries can be considerably more severe if your seat belt is not properly fastened.
6. Certain countries laws may restrict the placement and use of Digital TV Systems in your vehicle. Please comply
all applicable law and regulations in the installation and operation of your Digital TV System.
---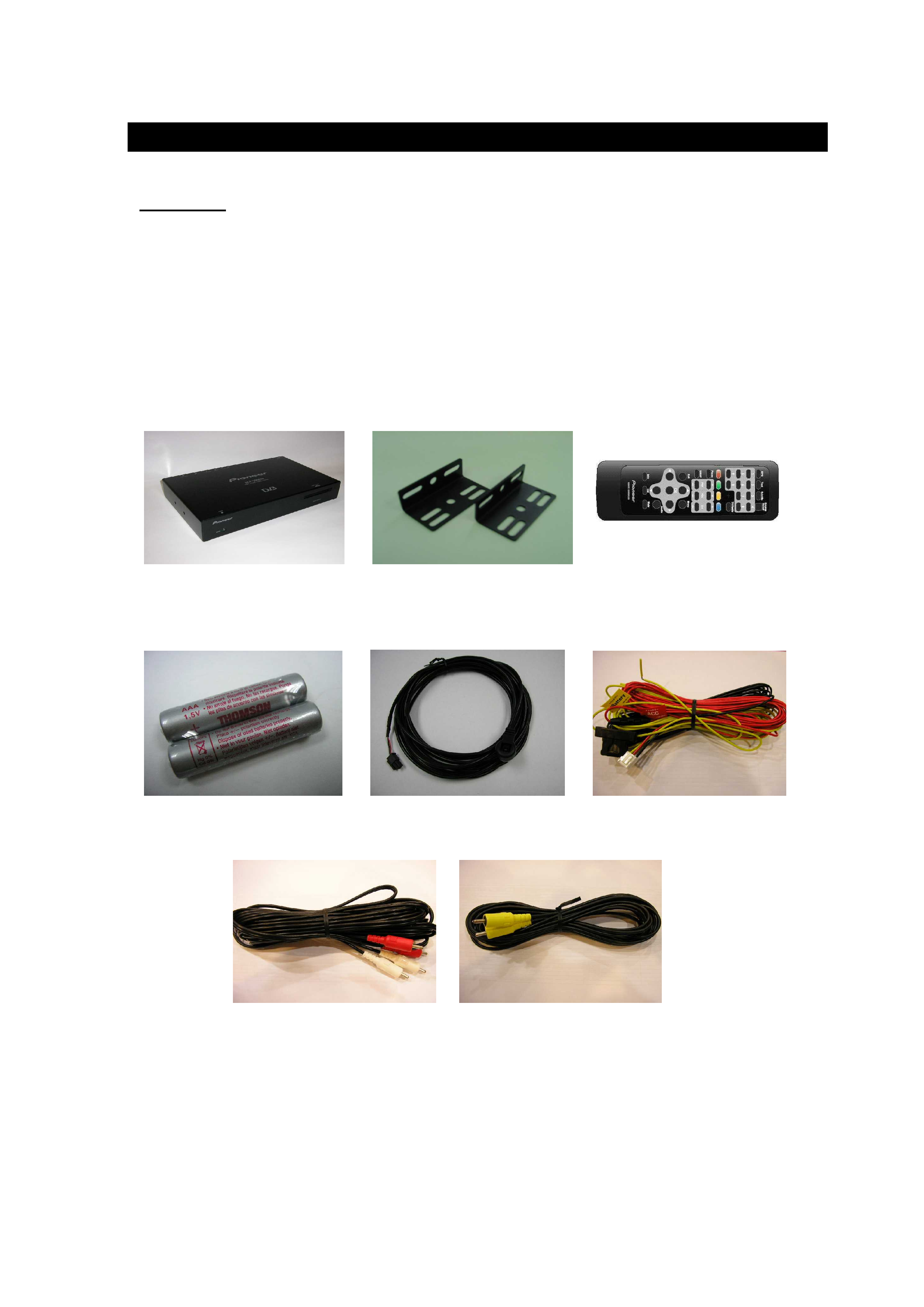 IR (infrared) Remote Sensor unit
DC wire harness with 2A fuse
RCA cable (Video-6 meter)
---

Electr omagnetic Interference
In order to prevent interference, set the following items as far as possible from the display unit and hide-away unit
of this Digital TV System, other cables or leads:
-TV aerial and aerial lead
-FM, MW/LW aerial and its lead
In addition you should lay or route each aerial leads as far as possible from other aerial leads.
Do not bind them together, lay or route them together, or cross them.
Pioneer does not recommend that you install or ser vice your Digital TV System your self. Installing or
ser vicing the pr oduct may expose you to risk of electric shock or other hazar ds. Refer all installation and
ser vicing of your Digital TV System unit to authorized Pioneer ser vice personnel.
DO NOT DISASSEMBLE OR MODIFY.
Doing so may result in an accident, fire or electric shock.
STOP IMMEDIATELY IF A PROBLEM APPEARS.
Failure to do so may cause personal injury or damage to the product. Return it to your authorized Pioneer
Service center for repairing.
KEEP SMALL OBJ ECTS SUCH AS BATTERY AWAY FROM CHILDREN.
Swallowing them may result in serious injury. If swallowed, consult a physician immediately.
USE THE CORRECT AMPERE RATING WHEN REPLACING FUSES.
Failure to do so may result in fire or electric shock.
THIS PRODUCT CAN CONNECT TO ONLY THE 12V BATTERY CAR.
Use for other than its designed application may result in fire, electric shock or other injury.
DO NOT MIX NEW BATTERIES WITH OLD BATTERIES, INSERT WITH CORRECT BATTERY
When inserting the batteries, be sure to observe proper polarity (+ and -) as instructed. Ruptured or chemical
leakage from the battery may cause fire or personal injury.
---