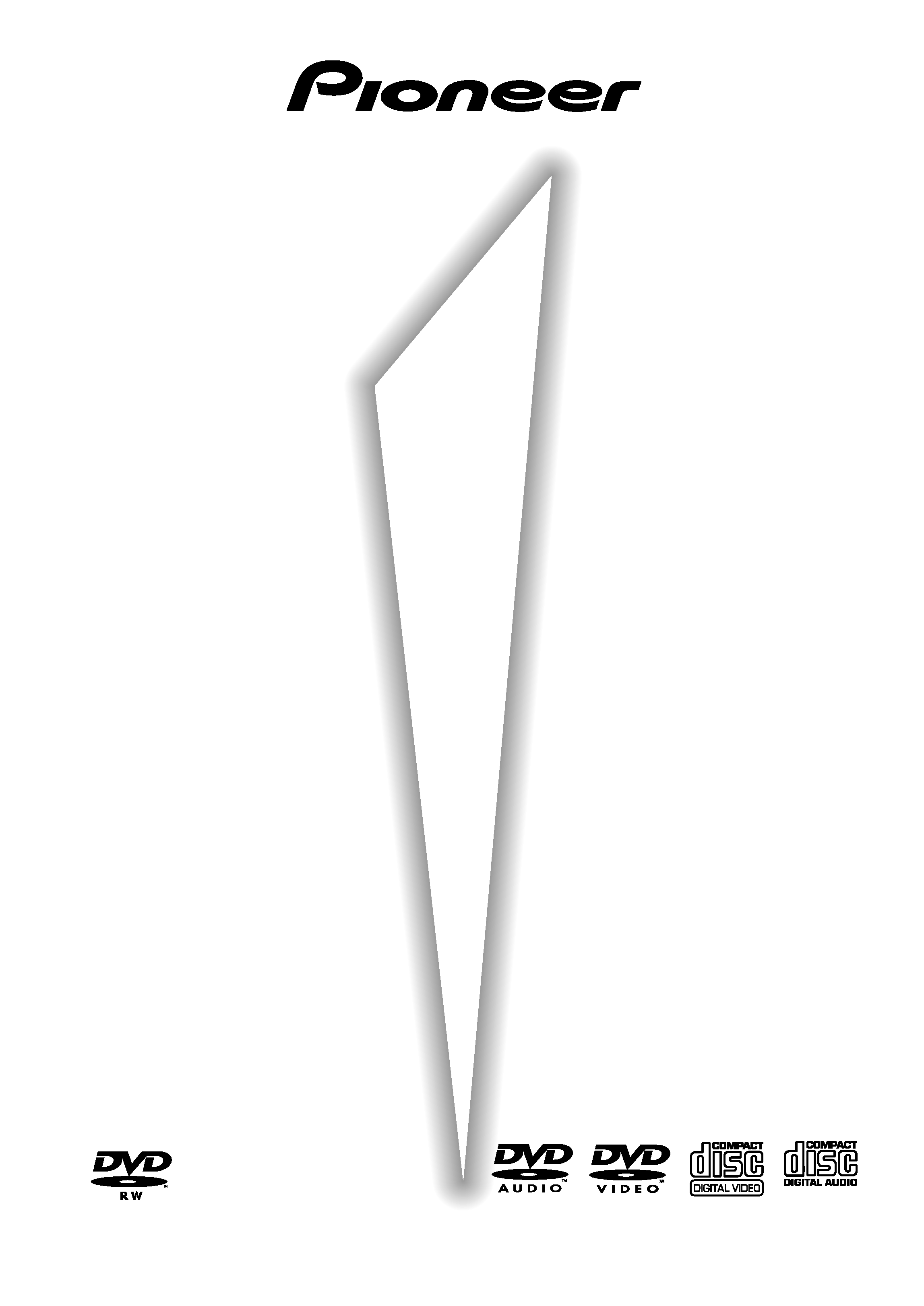 ---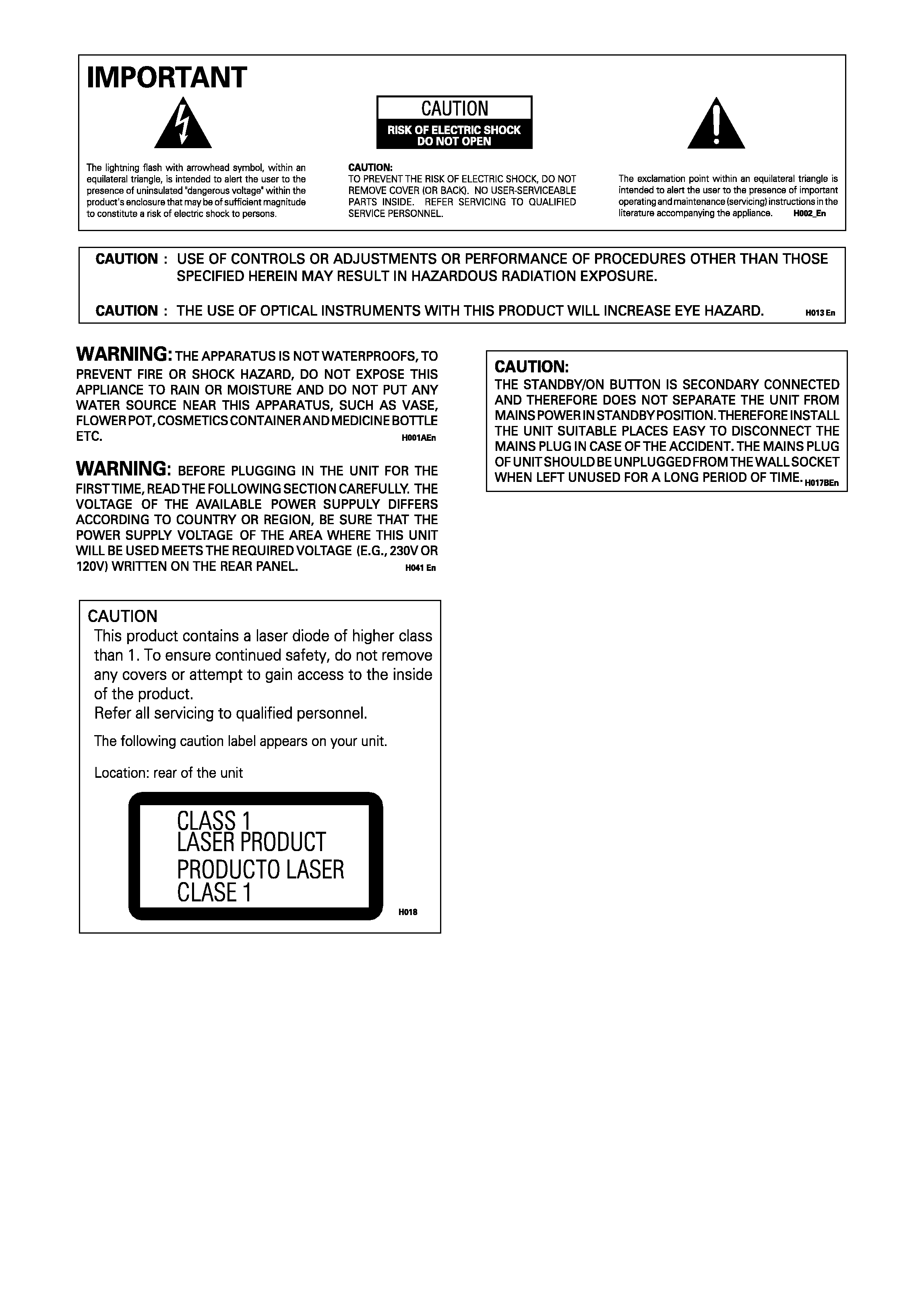 ---

CONGRATULATIONS
ON YOUR PURCHASE OF
THIS FINE PIONEER PRODUCT.
Pioneer is on the leading edge of DVD research for
consumer products and this unit incorporates the latest
technological developments.
We are sure you will be fully satisfied with the DVD
Thank you for your support.
Please read through these operating instructions so
you will know how to operate your model properly.
After you have finished reading the instructions, put
them away in a safe place for future reference.
· This player is not suitable for commercial use.
This product incorporates copyright protection
technology that is protected by method claims of
certain U. S. patents and other intellectual property
rights owned by Macrovision Corporation and other
rights owners. Use of this copyright protection
technology must be Authorized by Macrovision
Corporation, and is intended for home and other
limited viewing uses only unless otherwise
authorized by Macrovision Corporation. Reverse
engineering or disassembly is prohibited.
---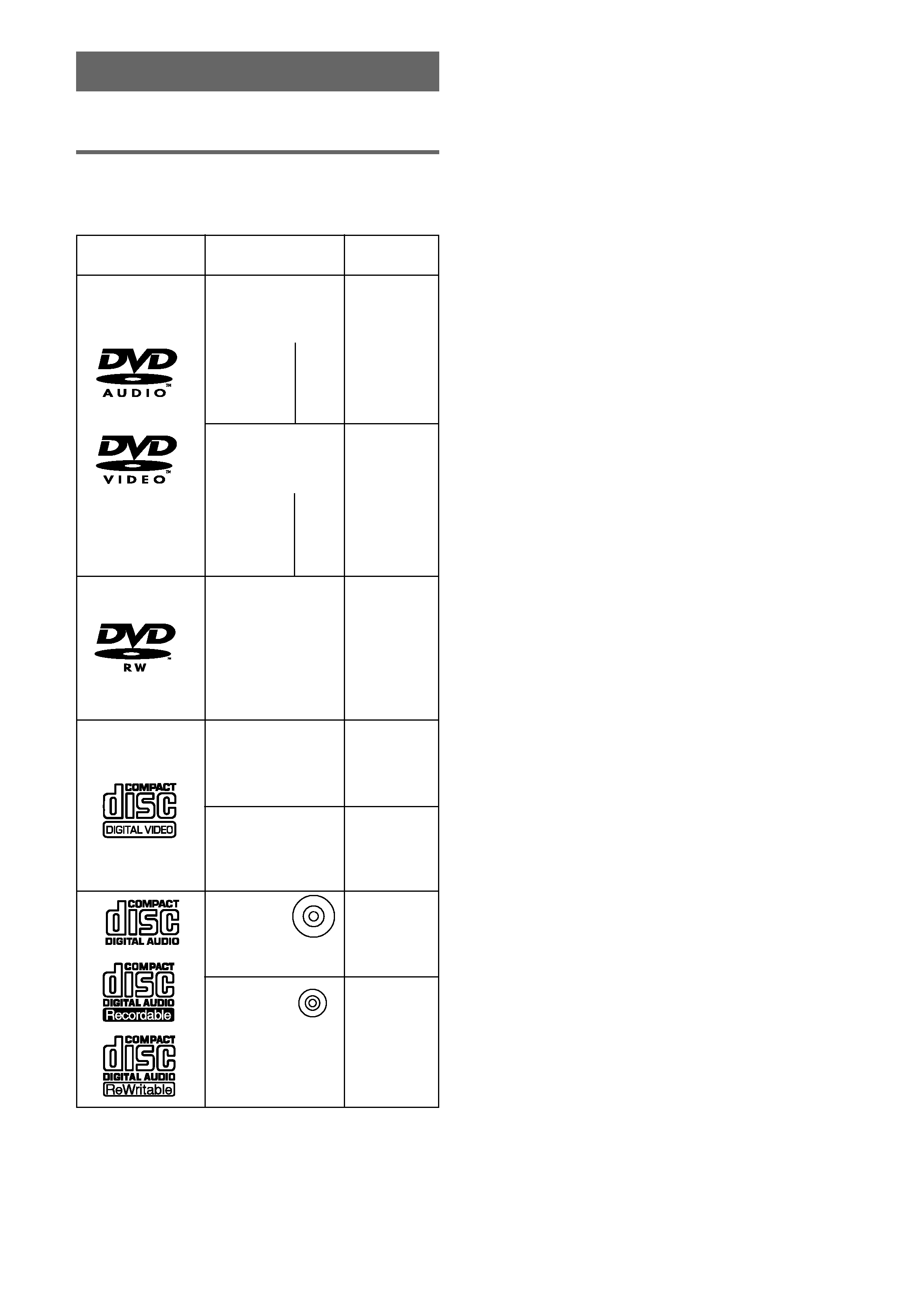 Compatible with DVD, Video CD
DVD, Video CD and CD discs that display the logos
shown below can be played back on PIONEER DVD
players. For more information on discs compatible with
this player, refer to the table below.
The disc format logos shown above are found on disc
labels or on disc jackets.
· To prevent malfunction, do not use an 8 cm (3 in.)
· Discs other than the ones indicated above cannot be
· DVDs that have incompatible region numbers, DVD-
ROM,DVD-RAM, and CD-ROM cannot be played on
this unit. The region number of the player can be
* Playing DVD-RW discs (DV-S88A only)
· You may not be able to play non-finalized DVD-RW discs.
· Copyrighted content originally provided with the permission
of one generation and recorded on DVD discs cannot be
· When playing a DVD-RW disc that was edited on a DVD
recorder, you may see scenes from just before the edited
point. This is not a malfunction.
· Up to 20 characters of a title name can be displayed.
**
Playing recordable CDs
· Note that this unit cannot record onto recordable discs.
· This unit can play music-use CD-R and CD-RW discs.
However, depending on the condition of the CD-Recorder
and the disc, you may find that not all discs will play
successfully. (For example, if the disc is scratched or
dirty, or if the player's pickup lens is dirty.)
---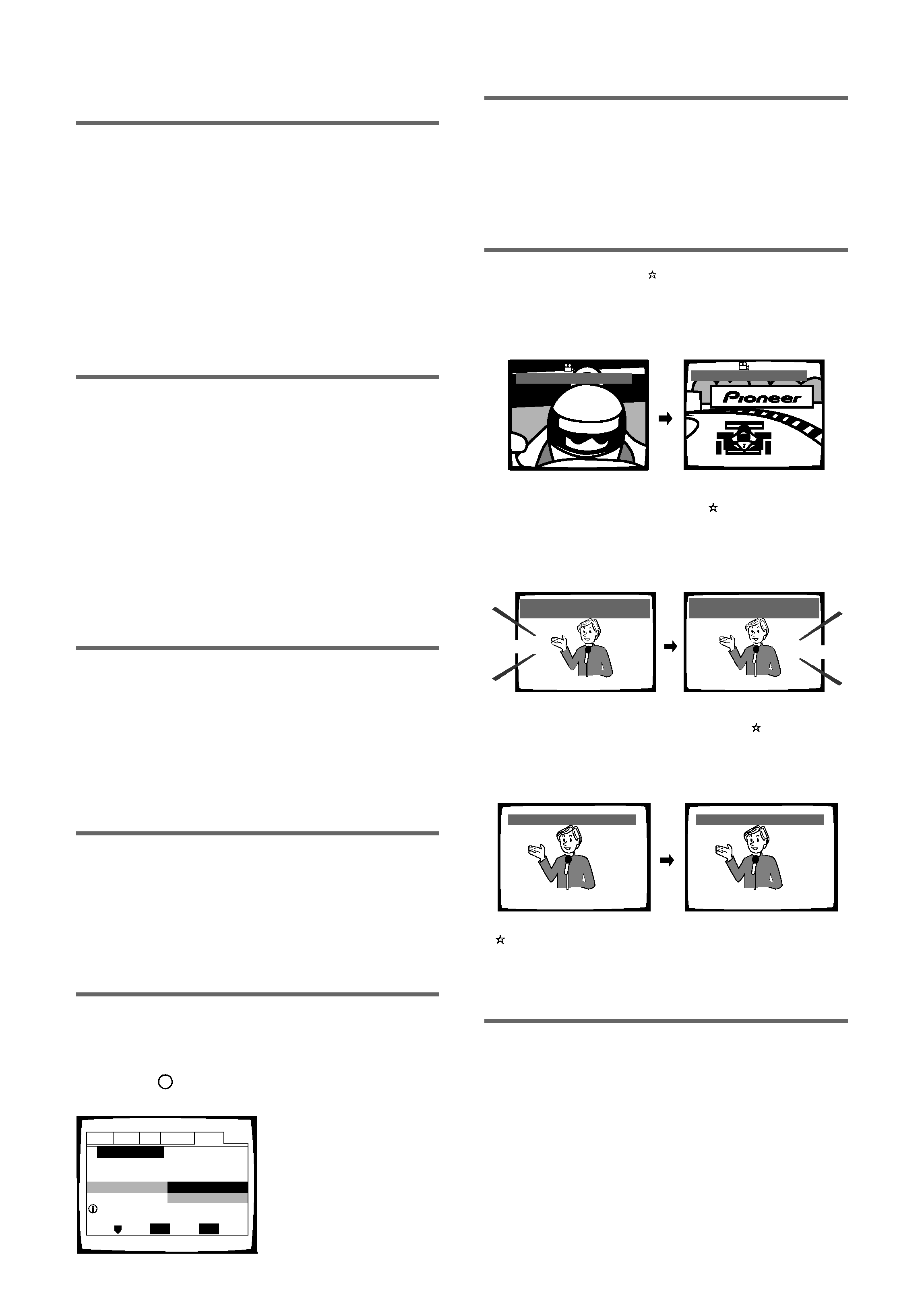 Smooth variable speed scanning in
forward and reverse directions
This player incorporates technology that enables smooth
playback of DVDs and Video CDs not only at different
speeds but also in both forward and reverse directions.
Control the direction and scanning speeds from 1/16
normal play speed to extremely quick scanning using the
MULTI DIAL on the remote control (page 52).
Wide range of DVD viewing options
You can view scenes from different camera angles when
watching movies or other media with multiple angle
Multiple Languages (page 41)
You can select the language on when watching movies
or other media that have multiple language and/or audio
soundtracks recorded on them.
Multi-Language Subtitles (page 42)
You can select a subtitle language or turn subtitles off
when watching movies or other media with subtitles
This mark indicates this may not be possible with certain
This unit is designed to use less than 1 W of energy
when this player is in standby mode.
and have all the necessary
automatically by the player
using the Setup Navigator
Setup using the Setup Navigator
Superlative audio performance
from built in DVD-Audio, Dolby
Digital*, DTS** and MPEG decoders
The 192kHz/24bit-compatible DAC inside the DV-S88A/
DV-S838A delivers breath-taking sound quality with DVD-
Audio, Dolby Digital and DTS discs.
The DV-S88A/DV-S838A is compatible with both 2-
channel (192kHz/24bit) and multi-channel (96kHz/24bit)
DVD-Audio discs thanks to its 5.1-channel audio outputs.
In addition, Dolby Digital, DTS and MPEG decoders are
built-in so you can connect the DV-S88A/DV-S838A
directly to an AV amplifier with 5.1 channel inputs to
enjoy cinema-like surround sound.
525 line digital progressive-scan
component video output (NTSC)
Compared to standard interlaced video, progressive scan
effectively doubles the amount of video information fed
to your TV or monitor. The result is a stable, flicker-free
image. (Check your TV/monitor for compatibility with this
For the very highest picture quality, try watching a movie
on DVD-Video on a progressive-scan compatible TV.
The DV-S88A/DV-S838A offers complete flexibility and
compatibility with all types of AV equipment with
composite video and S-Video outputs, as well as
Digital Noise Reduction PRO
This new type of DNR (Digital Noise Reduction) for
encoding video (called VQE or Video Quality Enhancer)
enables you to adjust the video settings on a more
detailed and exact level. There are three possible
settings to choose from. These include: TV (CRT),
Projector, and Professional. This technology can
remember which setting you've chosen and employ it at
The NTSC system displays pictures at 30 frames/
second; PAL* at 25 frames/second. With this DVD player
you can locate and display a specific frame from
* Playback of PAL discs is not possible on the DV-S88A.
Easy setup and adjustment using
Press SETUP on the remote control to open the Setup
screen and you'll find setting up and adjusting the
system easy to do with on-screen menus conveniently
organized and arranged. Additionally, on-screen
information ( i ) appears to clarify the functions and
explain the options available.
Manufactured under license from Dolby Laboratories.
"Dolby" and the double-D symbol are trademarks of Dolby
Laboratories. Confidential unpublished works.
© 1992-1997 Dolby Laboratories. All rights reserved.
** "DTS" and "DTS Digital Surround" are trademarks of
Digital Theater Systems, Inc. Manufactured under license
from Digital Theater Systems, Inc.
---