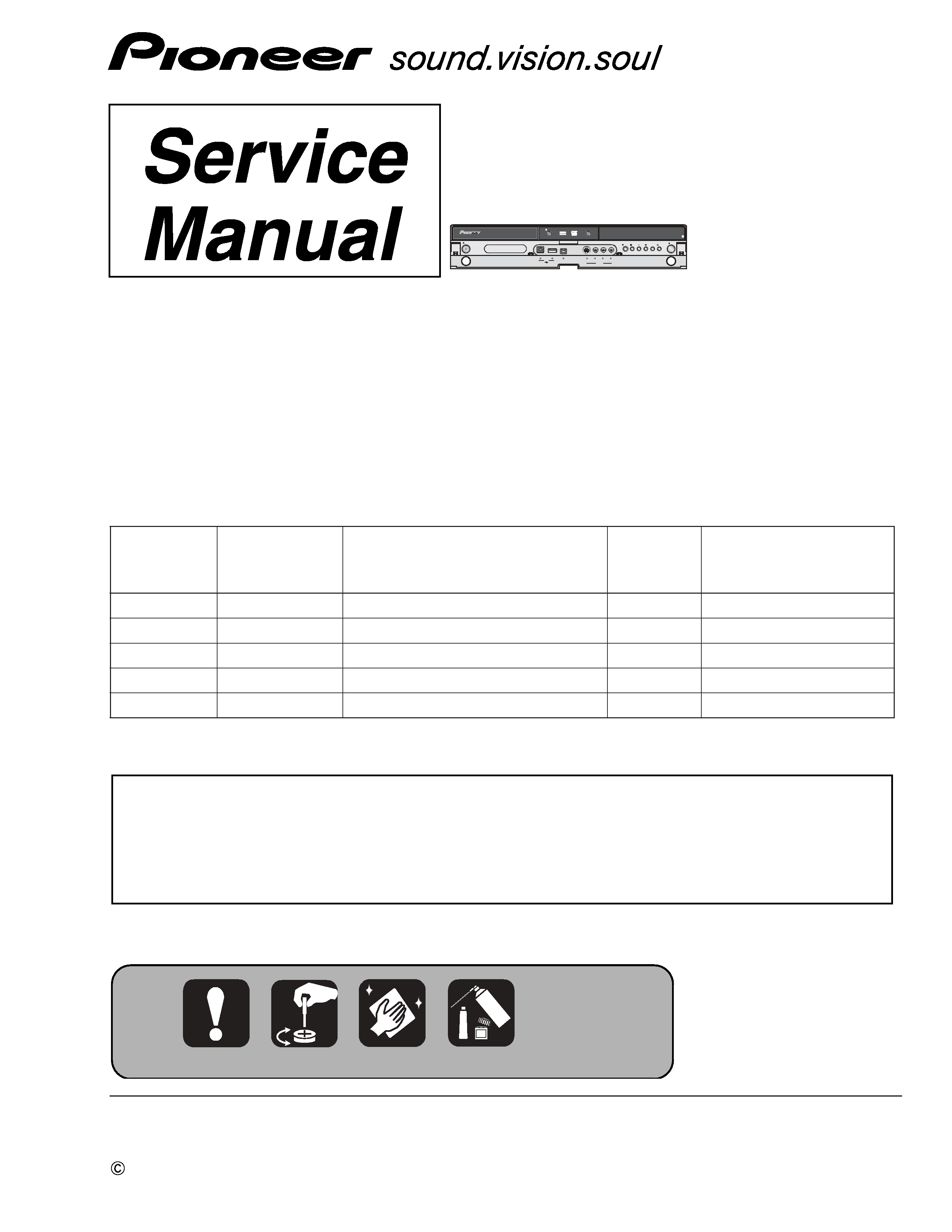 PIONEER CORPORATION 4-1, Meguro 1-chome, Meguro-ku, Tokyo 153-8654, Japan
PIONEER ELECTRONICS (USA) INC. P.O. Box 1760, Long Beach, CA 90801-1760, U.S.A.
PIONEER EUROPE NV Haven 1087, Keetberglaan 1, 9120 Melsele, Belgium
PIONEER ELECTRONICS ASIACENTRE PTE. LTD. 253 Alexandra Road, #04-01, Singapore 159936
THIS MANUAL IS APPLICABLE TO THE FOLLOWING MODEL(S) AND TYPE(S).
÷ When servicing this model, some service procedures may reset the customer settings
to the factory default settings. Make sure to explain this to the customer.
An HDD (Hard Disc Drive) is mounted in this product.
The HDD is a precision instrument very vulnerable to shock and electrostatic charges. Please read
"7.3 Cautions on Handling the HDD" in this manual and exercise sufficient caution when handling the
HDD itself, as well as the product with the HDD built in.
When an HDD becomes defective and inoperable, restoration of the user's data recorded on the HDD,
or copying of the user's recorded data to other media (such as a new HDD) is totally impossible.
Before servicing, OBTAIN THE USER'S PRIOR CONSENT to that effect.
The user must be made aware that all recorded data are deleted if the HDD is intialized.
For details, refer to "Important Check Points for Good Servicing" .
T-ZZV APR. 2006 printed in Japan
---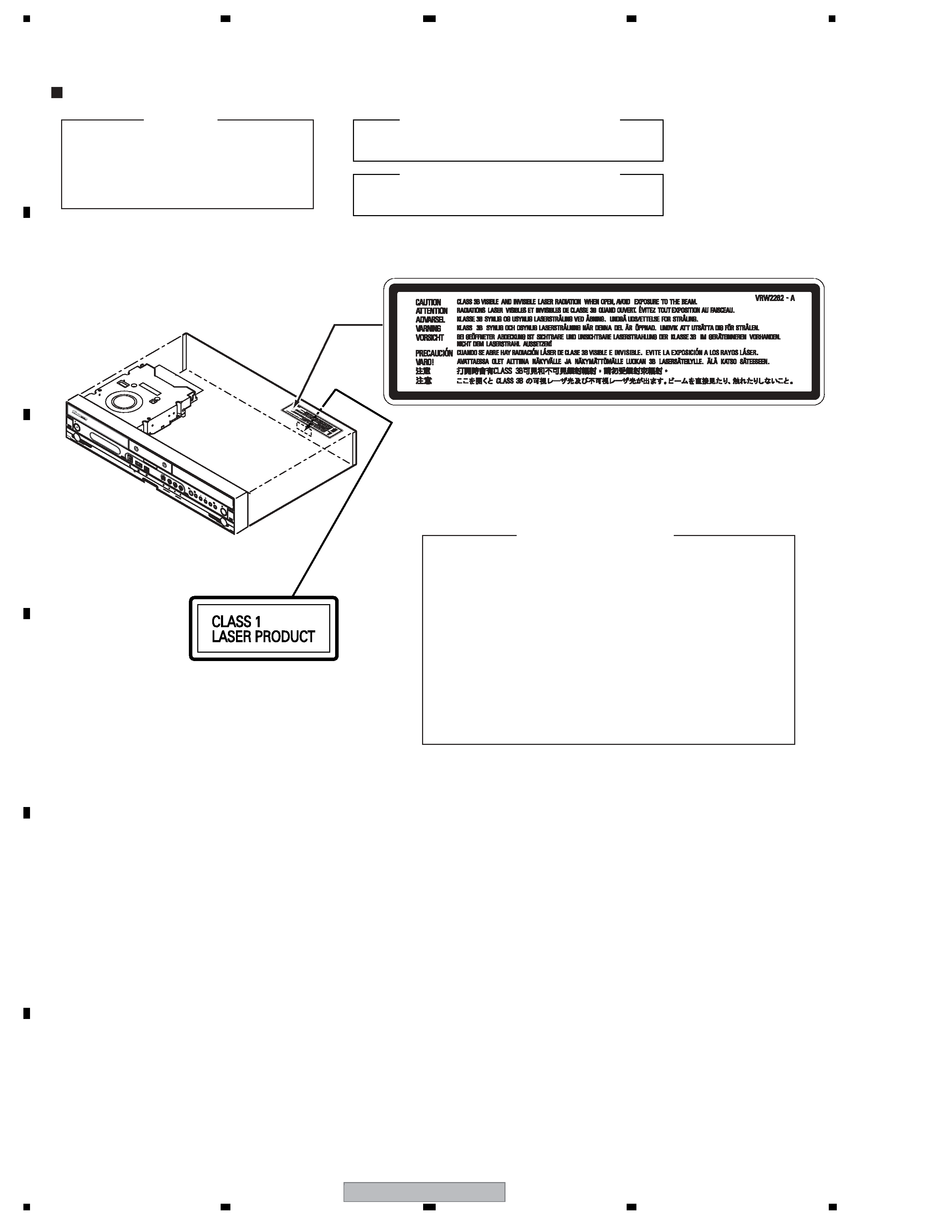 THIS PIONEER APPARATUS CONTAINS
SERVICING OPERATION OF THE APPARATUS
SHOULD BE DONE BY A SPECIALLY
CLAMP signals for detecting the loading state are detected
by the drive CPUs, and the design prevents laser diode
oscillation when the CLAMP signal turns OFF.
In normal operation, if no disc is clamped, the laser diode
However, the interlock does not always operate in the test
2. When the cover is opened, close viewing of the objective
lens with the naked eye will cause exposure to a Class 3A
1. The ON/OFF(ON:low level,OFF:high level) status of the
LASER DIODE CHARACTERISTICS
MAXIMUM OUTPUT POWER: 100 mW
LASER DIODE CHARACTERISTICS
MAXIMUM OUTPUT POWER: 5 mW
---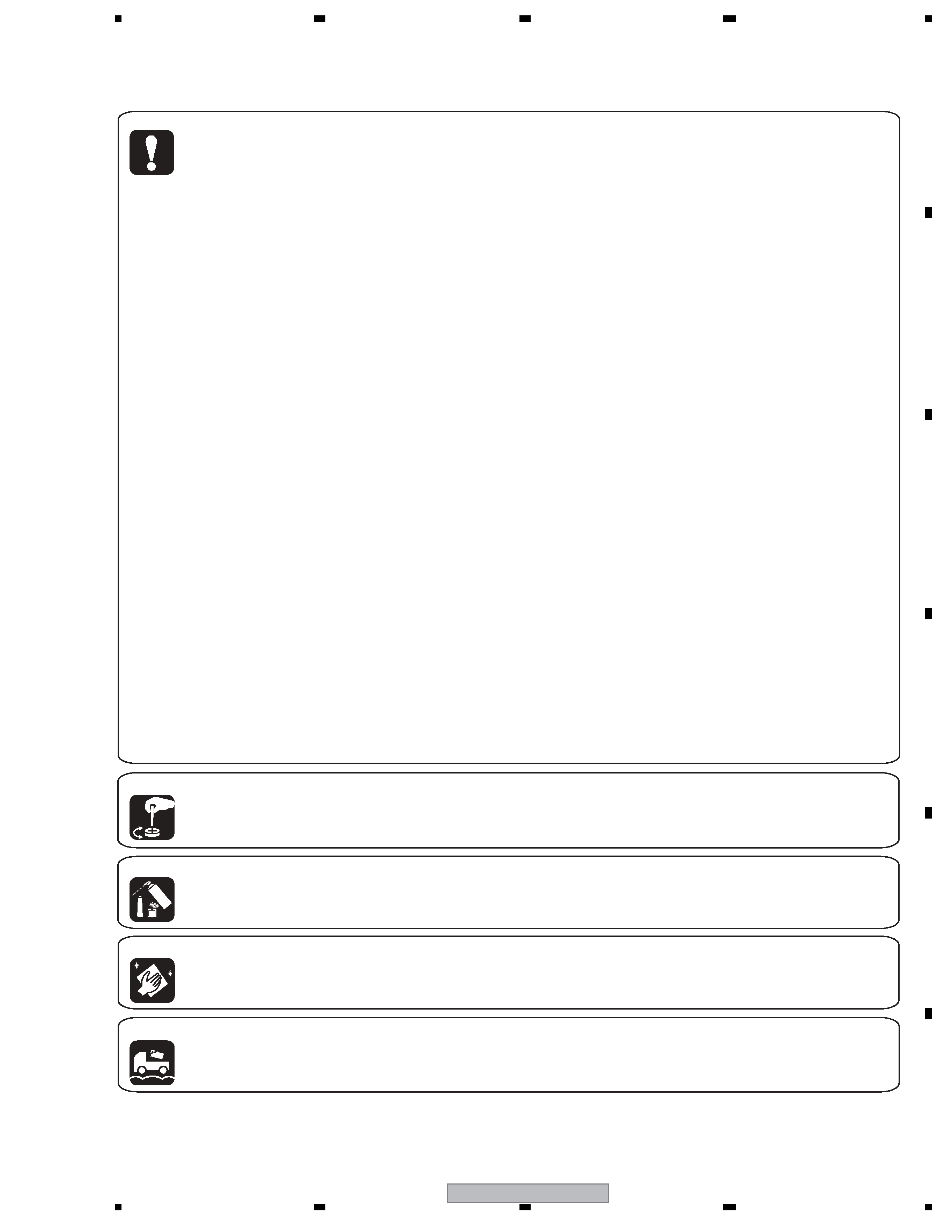 [Important Check Points for Good Servicing]
In this manual, procedures that must be performed during repairs are marked with the below symbol.
Please be sure to confirm and follow these procedures.
Please conform to product regulations (such as safety and radiation regulations), and maintain a safe servicing environment by
following the safety instructions described in this manual.
1 Use specified parts for repair.
Use genuine parts. Be sure to use important parts for safety.
2 Do not perform modifications without proper instructions.
Please follow the specified safety methods when modification(addition/change of parts) is required due to interferences such as
radio/TV interference and foreign noise.
3 Make sure the soldering of repaired locations is properly performed.
When you solder while repairing, please be sure that there are no cold solder and other debris.
Soldering should be finished with the proper quantity. (Refer to the example)
4 Make sure the screws are tightly fastened.
Please be sure that all screws are fastened, and that there are no loose screws.
5 Make sure each connectors are correctly inserted.
Please be sure that all connectors are inserted, and that there are no imperfect insertion.
6 Make sure the wiring cables are set to their original state.
Please replace the wiring and cables to the original state after repairs.
In addition, be sure that there are no pinched wires, etc.
7 Make sure screws and soldering scraps do not remain inside the product.
Please check that neither solder debris nor screws remain inside the product.
8 There should be no semi-broken wires, scratches, melting, etc. on the coating of the power cord.
Damaged power cords may lead to fire accidents, so please be sure that there are no damages.
If you find a damaged power cord, please exchange it with a suitable one.
9 There should be no spark traces or similar marks on the power plug.
When spark traces or similar marks are found on the power supply plug, please check the connection and advise on secure
connections and suitable usage. Please exchange the power cord if necessary.
0 Safe environment should be secured during servicing.
When you perform repairs, please pay attention to static electricity, furniture, household articles, etc. in order to prevent injuries.
Please pay attention to your surroundings and repair safely.
To keep the original performance of the products, optimum adjustments and confirmation of characteristics within specification.
Adjustments should be performed in accordance with the procedures/instructions described in this manual.
For parts that require cleaning, such as optical pickups, tape deck heads, lenses and mirrors used in projection monitors, proper
cleaning should be performed to restore their performances.
3. Lubricants, Glues, and Replacement parts
Use grease and adhesives that are equal to the specified substance.
Make sure the proper amount is applied.
5. Shipping mode and Shipping screws
To protect products from damages or failures during transit, the shipping mode should be set or the shipping screws should be
installed before shipment. Please be sure to follow this method especially if it is specified in this manual.
---

SAFETY INFORMATION ..................................................................................................................................... 2
1. SPECIFICATIONS ............................................................................................................................................ 5
2. EXPLODED VIEWS AND PARTS LIST ............................................................................................................ 8
2.1 PACKING ................................................................................................................................................... 8
2.2 EXTERIOR SECTION.............................................................................................................................. 10
2.3 FRONT PANEL SECTION ....................................................................................................................... 12
3. BLOCK DIAGRAM AND SCHEMATIC DIAGRAM ..........................................................................................14
3.1 BLOCK DIAGRAM ................................................................................................................................... 14
3.1.1 OVERALL BLOCK DIAGRAM............................................................................................................ 14
3.1.2 DETECTION AND ENCODE SYSTEM BLOCK DIAGRAM............................................................... 16
3.1.3 POWER BLOCK ................................................................................................................................ 17
3.2 OVERALL WIRING DIAGRAM................................................................................................................. 18
3.3 TUJB ASSY (1/4) ..................................................................................................................................... 20
3.4 TUJB ASSY (2/4) ..................................................................................................................................... 22
3.5 TUJB ASSY(3/4) ...................................................................................................................................... 24
3.6 TUJB ASSY(4/4) ...................................................................................................................................... 26
3.7 SCRB ASSY ............................................................................................................................................ 28
3.8 FJKB, FLKY and KEYB ASSYS............................................................................................................... 30
3.9 MAIN ASSY(1/4) ...................................................................................................................................... 32
3.10 MAIN ASSY(2/4) .................................................................................................................................... 34
3.11 MAIN ASSY(3/4) .................................................................................................................................... 36
3.12 MAIN ASSY(4/4) .................................................................................................................................... 38
3.13 DVJB ASSY (DVR-640H-AV Only) ......................................................................................................... 40
3.14 USBB ASSY (DVR-640H-AV Only) ........................................................................................................ 42
3.15 ATAB ASSY ............................................................................................................................................ 43
3.16 POWER SUPPLY UNIT.......................................................................................................................... 44
3.17 WAVE FORMS ....................................................................................................................................... 48
4. PCB CONNECTION DIAGRAM ..................................................................................................................... 53
4.1 TUJB ASSY.............................................................................................................................................. 54
4.2 SCRB ASSY ............................................................................................................................................ 58
4.3 FJKB, FLKY and KEYB ASSYS............................................................................................................... 60
4.4 MAIN ASSY ............................................................................................................................................. 62
4.5 DVJB ASSY (DVR-640H-AV Only) ........................................................................................................... 66
4.6 USBB ASSY (DVR-640H-AV Only) .......................................................................................................... 68
4.7 ATAB ASSY .............................................................................................................................................. 70
4.8 POWER SUPPLY UNIT............................................................................................................................ 72
5. PCB PARTS LIST ........................................................................................................................................... 76
6. ADJUSTMENT ............................................................................................................................................... 83
7. GENERAL INFORMATION ............................................................................................................................. 85
7.1 DIAGNOSIS ............................................................................................................................................. 85
7.1.1 MODEL SETTING.............................................................................................................................. 87
7.1.2 CPRM ID NUMBER AND DATA SETTING......................................................................................... 88
7.1.3 FIRMWARE DOWNLOADING METHOD........................................................................................... 92
7.1.4 VIDEO ADJUSTMENT FOR SPECIFIC AREA .................................................................................. 95
7.1.5 SERVICE MODE................................................................................................................................ 99
7.1.6 DV SERVICE MODE ........................................................................................................................ 111
7.1.7 EPG SERVICE MODE ..................................................................................................................... 114
7.1.8 AGING MODE.................................................................................................................................. 116
7.1.9 HDD CHECK MODE ........................................................................................................................ 118
7.1.10 DIAGNOSIS OF THE MAIN ASSY................................................................................................. 124
7.1.11 NOTE ON REPLACEMENT OF THE SDRAM ............................................................................... 125
7.1.12 SETUP SEQUENCE ...................................................................................................................... 126
7.1.13 DISASSEMBLY .............................................................................................................................. 127
7.2 IC ........................................................................................................................................................... 132
7.3 CAUTIONS ON HANDLING THE HDD .................................................................................................. 144
7.4 DISC/CONTENT FORMAT .................................................................................................................... 146
8. PANEL FACILITIES ...................................................................................................................................... 149
---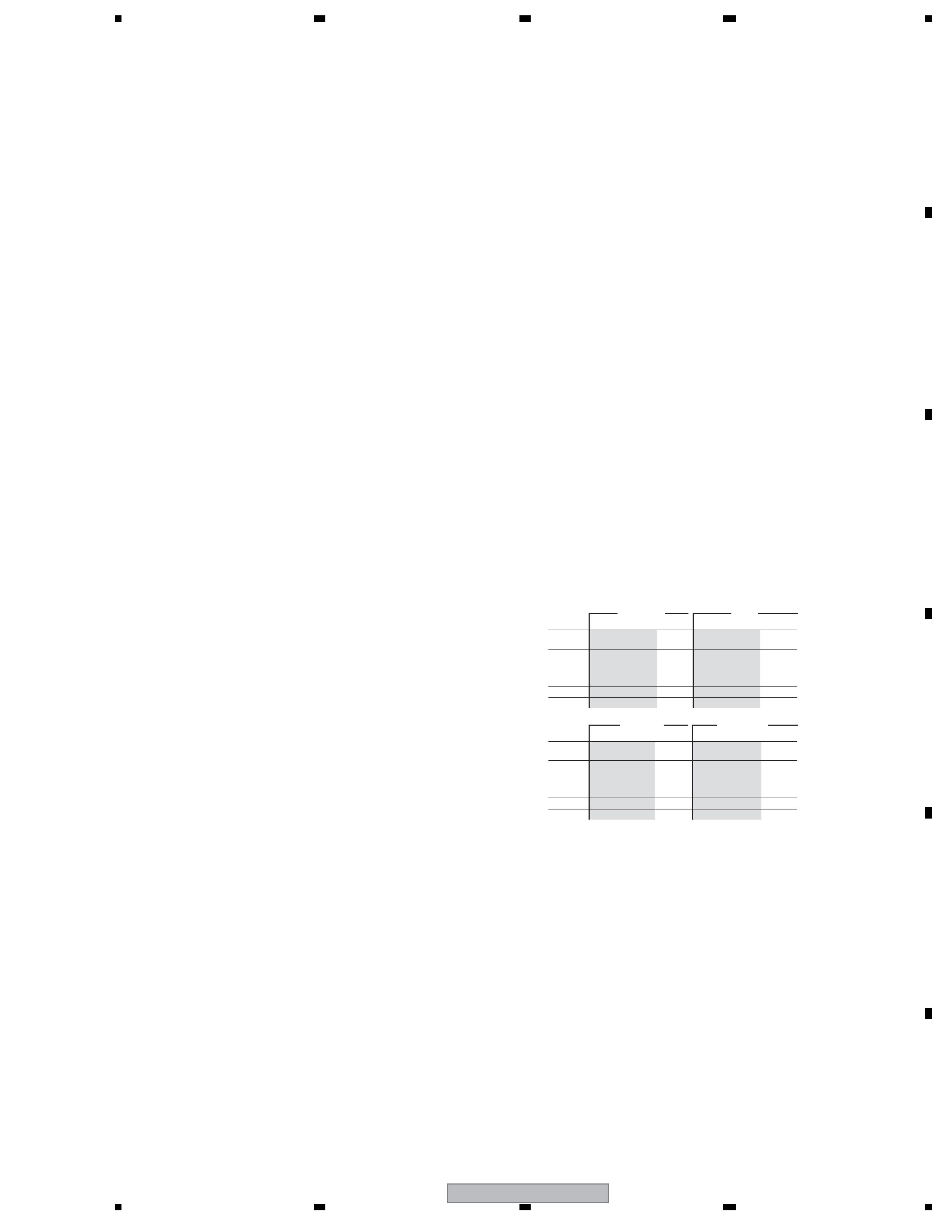 Power requirements . . . . . 220 V to 240 V, 50 Hz / 60 Hz
DVR-540H-S . . . . . . . . . . . . . . . . . . . . . . . . . . . . . 40 W
DVR-640H-AV . . . . . . . . . . . . . . . . . . . . . . . . . . . . 43 W
(DVR-440H-S/DVR-440H-K . . . . . . . . . . . . . . . . . . 39 W)
Power consumption in standby mode . . . . . . . . . . 0.61 W
(Front panel display: off)
DVR-640H-AV. . . . . . . . . . . . . . . . . . . . . . . . . . . . . 4.4 kg
DVR-540H-S . . . . . . . . . . . . . . . . . . . . . . . . . . . . . .4.3 kg
(DVR-440H-S/DVR-440H-K . . . . . . . . . . . . . . . . . . 4.3 kg)
Dimensions . . . . 420 mm (W) x 69 mm (H) x 318 mm (D)
Operating temperature . . . . . . . . . . . . . . .+5
Operating humidity . . . . . . . . . . . . . . . . . . . . .5 % to 85 %
TV system . . . . . . . . . . . . . . . . . . . . . . . . . . PAL/SECAM/
NTSC (external input only)
DVD-Video, DVD-RW, DVD-R, DVD+R, DVD+RW,
DVD-RAM, Video CD, Super VCD, CD, CD-R/-RW
Recording discs and formats
DVD-R/RW: VR mode and Video mode
DVD-R DL: VR mode and Video mode
Sampling frequency . . . . . . . . . . . . . . . . . . . . . 13.5 MHz
Compression format. . . . . . . . . . . . . . . . . . . . . . . . MPEG
Sampling frequency . . . . . . . . . . . . . . . . . . . . . . . .48 kHz
Compression format . . . . . . . Dolby Digital or Linear PCM
DVR-640H-AV/DVR-540H-S (160 GB)
Fine (XP) . . . . . . . . . . . . . . . . . . . . . . . . . . . Approx. 34 h
Standard Play (SP) . . . . . . . . . . . . . . . . . . . .Approx. 68 h
Long Play (LP) . . . . . . . . . . . . . . . . . . . . . . Approx. 136 h
Extended Play (EP) . . . . . . . . . . . . . . . . . . Approx. 204 h
Super Long Play (SLP) . . . . . . . . . . . . . . . Approx. 272 h
Super Extended Play (SEP) . . . . . . . . . . . . Approx. 340 h
Manual Mode (MN). . . . . . . . . . . . . Approx. 34 h to 455 h
DVR-440H-S/K (80 GB) (Reference)
Fine (XP). . . . . . . . . . . . . . . . . . . . . . . . . . . . Approx. 17 h
Standard Play (SP) . . . . . . . . . . . . . . . . . . . .Approx. 34 h
Long Play (LP) . . . . . . . . . . . . . . . . . . . . . . . Approx. 68 h
Extended Play (EP) . . . . . . . . . . . . . . . . . . Approx. 102 h
Super Long Play (SLP) . . . . . . . . . . . . . . . .Approx. 136 h
Super Extended Play (SEP) . . . . . . . . . . . . Approx. 170 h
Manual Mode (MN). . . . . . . . . . . . . Approx. 17 h to 227 h
DVD-R/-RW, DVD+R/+RW, DVD-RAM
Fine (XP) . . . . . . . . . . . . . . . . . . . . . . . . . . . . . Approx. 1 h
Standard Play (SP) . . . . . . . . . . . . . . . . . . . . . Approx. 2 h
Long Play (LP) . . . . . . . . . . . . . . . . . . . . . . . . . Approx. 4 h
Extended Play (EP) . . . . . . . . . . . . . . . . . . . . . Approx. 6 h
Super Long Play (SLP) . . . . . . . . . . . . . . . . . . Approx. 8 h
Super Extended Play (SEP) . . . . . . . . . . . . . .Approx. 10 h
(DVD-R/-RW, DVD-RAM only)
DVD-R/-RW/-RAM . . . . . . . . . . . . . . Approx. 1 h to 13 h
DVD+R/+RW . . . . . . . . . . . . . . . . . . . Approx. 1 h to 8 h
Fine (XP) . . . . . . . . . . . . . . . . . . . . . . . . .Approx. 1 h 51 m
Standard Play (SP) . . . . . . . . . . . . . . . . . Approx. 3 h 35 m
Long Play (LP) . . . . . . . . . . . . . . . . . . . . Approx. 7 h 11 m
Extended Play (EP) . . . . . . . . . . . . . . . Approx. 10 h 46 m
Super Long Play (SLP) . . . . . . . . . . . . . Approx. 14 h 21 m
Super Extended Play (SEP) . . . . . . . . . Approx. 17 h 57 m
DVD-R DL . . . . . . . . . . . . . . . . Approx. 1 h 51 m to 24 h
DVD+R DL . . . . . . . . . . . Approx. 1 h 51 m to 14 h 21 m
Programs . . . . . . . . . . . . . . . . . . . . . 1 month/32 programs
Clock . . . . . . . . . . . . . Quartz lock (24-hour digital display)
---