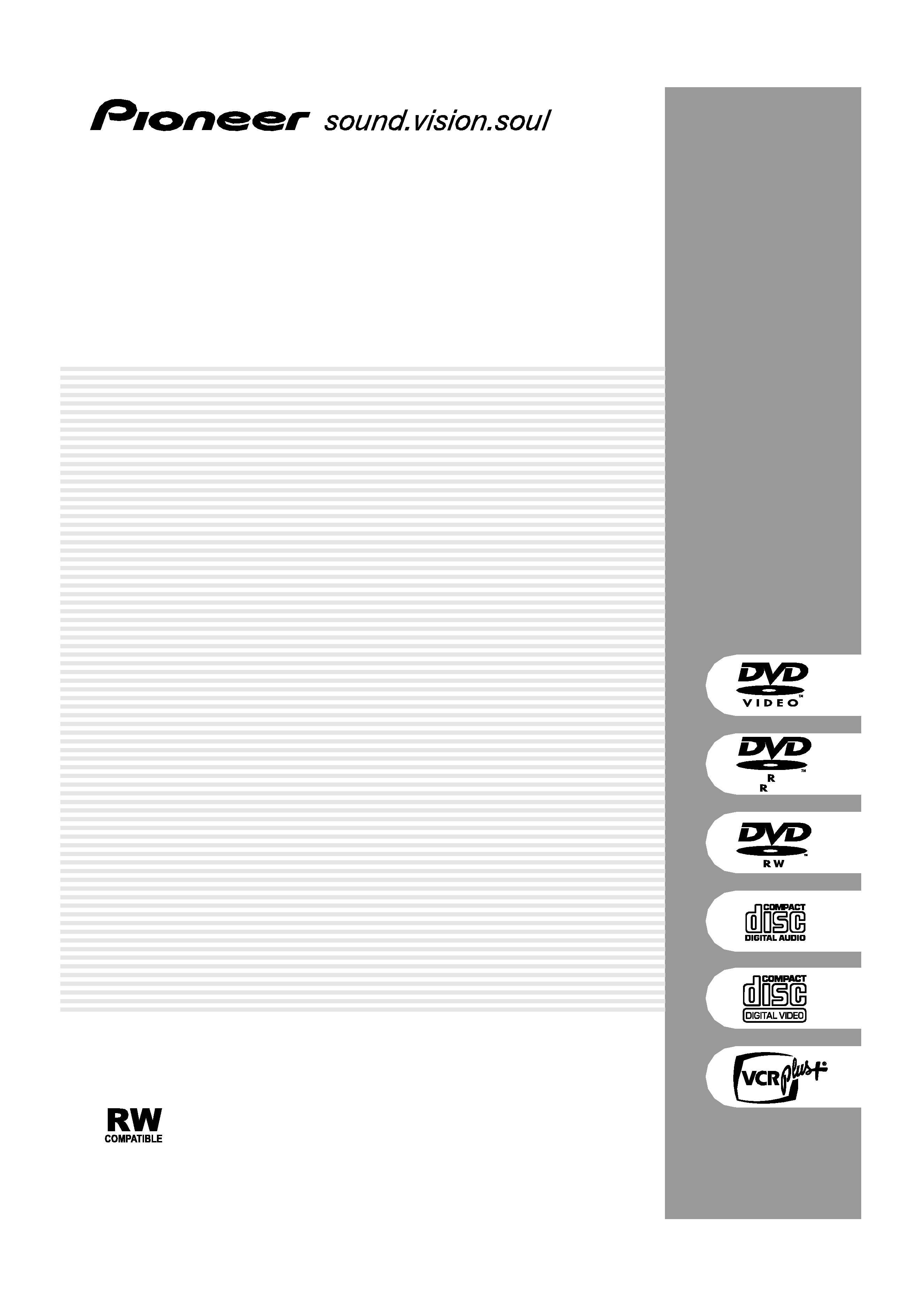 ---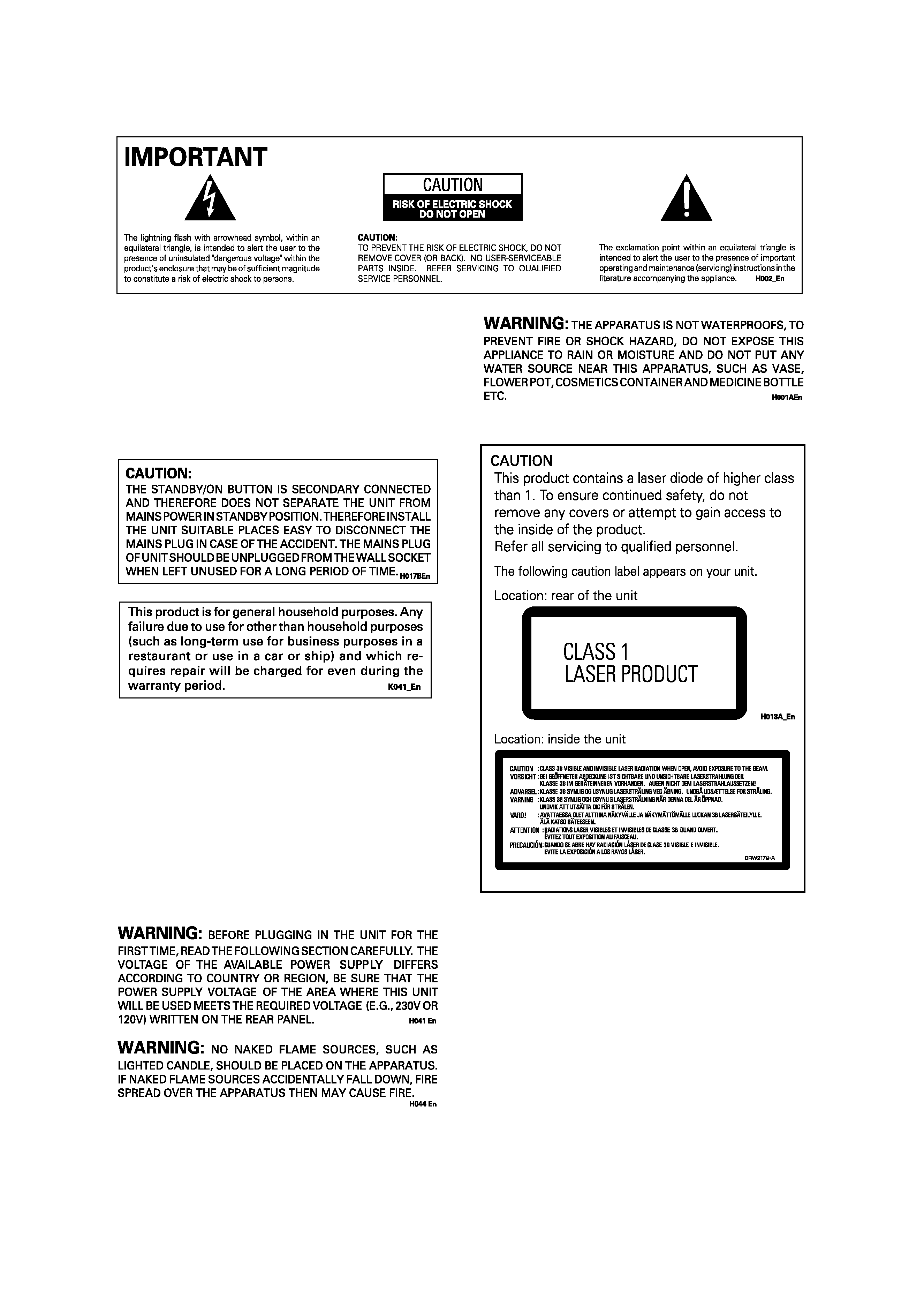 Thank you for buying this Pioneer product. Please read
through these operating instructions so you will know
how to operate your model properly. After you have
finished reading the instructions, put them away in a
safe place for future reference.
In some countries or regions, the shape of the power
plug and power outlet may differ from that shown in
the explanatory drawings. However, the method of
connecting and operating is the same.
VENTILATION:
When installing this unit, make
sure to leav e sp ace aro und the unit fo r v entilation to
impro v e heat radiatio n (at least 10cm at to p, 10cm at
rear, and 10cm at each side).
WARN ING:
Slot and openings in the cabinet are
pro v ided fo r v entilation and to ensure reliable o pera-
tio n of the product and to protect it from ov erheating, to
prev ent fire hazard, the o p enings sho uld nev er be
blocked and cov ered w ith items, such as new sp apers,
table-cloths, curtains, etc. Also do not put the apparatus
on the thick carpet, bed, sofa, o r fabric hav ing a thick
Operating Environment
H045 En
Operating environment temperature and humidity:
°
C ­ +35
°
C (+41
°
F ­ +95
°
F); less than 85% RH (cooli
Do not install in the follow ing locations
·Location exposed to direct sunlight or strong artificial
·Location exposed to high humidity, or poorly
---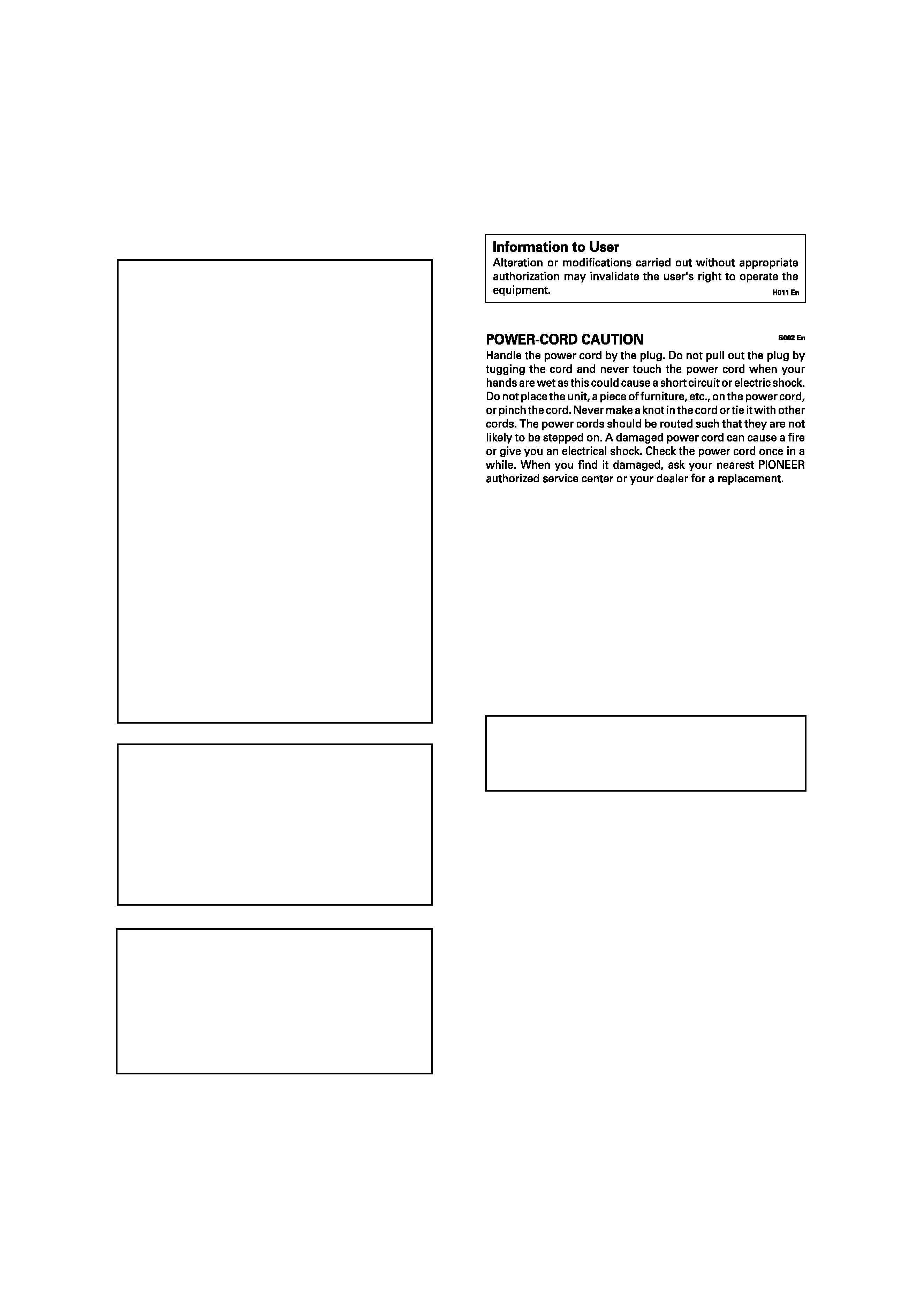 This product includes FontAvenue (R) fonts licenced by NEC
Corporation. FontAvenue is a registered trademark of NEC
NOTE:
This equipment has been tested and
found to comply with the limits for a Class B
digital device, pursuant to Part 15 of the FCC
Rules. These limits are designed to provide
reasonable protection against harmful
interference in a residential installation. This
equipment generates, uses, and can radiate
radio frequency energy and, if not installed and
used in accordance with the instructions, may
cause harmful interference to radio
communications. However, there is no
guarantee that interference will not occur in a
particular installation. If this equipment does
cause harmful interference to radio or television
reception, which can be determined by turning
the equipment off and on, the user is
encouraged to try to correct the interference by
one or more of the following measures:
­ Reorient or relocate the receiving antenna.
­ Increase the separation between the
­ Connect the equipment into an outlet on a
circuit different from that to which the receiver
­ Consult the dealer or an experienced
radio/TV technician for help.
This product satisfies FCC regulations when
shielded cables and connectors are used to
connect the unit to other equipment. To prevent
electromagnetic interference with electric
appliances such as radios and televisions, use
shielded cables and connectors for
Use of controls or adjustments or
performance of procedures other than
those specified herein may result in
hazardous radiation exposure.
The use of optical instruments with this
product will increase eye hazard.
This product incorporates copyright protection
technology that is protected by method claims of
certain U.S. patents and other intellectual property
rights owned by Macrovision Corporation and other
rights owners. Use of this copyright protection
technology must be authorized by Macrovision
Corporation, and is intended for home and other
limited viewing uses only unless otherwise
authorized by Macrovision Corporation. Reverse
engineering or disassembly is prohibited.
---

. . . . . . . . . . . . . . . . . . . . . . . . . . . . . . . . . . . 6
. . . . . . . . . . . . . . . . . . . . . . . . . . . . 8
Putting the batteries in the remote control
. . . . . . . . . . . . . . . . . . . . . . 8
Disc / content format playback compatibility
. . . . . . . . . . . . . . . . . . . . . . 12
. . . . . . . . . . . . . . . . . . . . . . 12
. . . . . . . . . . . . . . . . . . . . . . . . . . . 13
Using other types of video output
. . . . . . . . . . . . . . . 14
Connecting to a cable box or satellite receiver (1)
Connecting to a cable box or satellite receiver (2)
Connecting to an AV amplifier
. . . . . . . . . . . . . . . . . 17
Connecting other AV sources
. . . . . . . . . . . . . . . . . . 18
. . . . . . . . . . . . . . . . . . . . . . . . . . . . . . . . 18
. . . . . . . . . . . . . . . . . . . . . . . . . . . . . . . . 19
. . . . . . . . . . . . . . . . . . . . . . . . . . . . . . . . . . . 20
. . . . . . . . . . . . . . . . . . . . . . . . . . . . . 21
Switching on and setting up
. . . . . . . . . . . . . . . . . . . 23
Making your first recording
. . . . . . . . . . . . . . . . . . . . 26
Using the built-in TV tuner
. . . . . . . . . . . . . . . . . . . . 26
. . . . . . . . . . . . . . . . . . . . . . . . . . . . . 27
. . . . . . . . . . . . . . . . . . . . . . . 30
Displaying disc information on-screen
. . . . . . . . . . . . . . . . . . . . . . . . . . . . . . . 33
Using the Disc Navigator to browse the contents
. . . . . . . . . . . . . . . . . . . . . . . . . . . . . . . . . . 33
. . . . . . . . . . . . . . . . . . . . . . . . . . . . 35
. . . . . . . . . . . . . . . . . . . . . . . . . . . . . 35
. . . . . . . . . . . . . . . . . . . . . . . 36
Frame advance/frame reverse
. . . . . . . . . . . . . . . . . 37
. . . . . . . . . . . . . . . . . . . . . . . . 38
Displaying and switching subtitles
. . . . . . . . . . . . . . 41
Switching DVD soundtracks
. . . . . . . . . . . . . . . . . . . 41
Switching the audio channel
. . . . . . . . . . . . . . . . . . 42
. . . . . . . . . . . . . . . . . . . . . 42
. . . . . . . . . . . . . . . . . . . . . . . . 43
Recording time and picture quality
. . . . . . . . . . . . . . 43
Restrictions on video recording
. . . . . . . . . . . . . . . . 44
Setting the picture quality/recording time
Basic recording from the TV
. . . . . . . . . . . . . . . . . . . 45
Setting a timer recording
. . . . . . . . . . . . . . . . . . . . . 46
. . . . . . . . . . . . . . . . . . . . . . . . 50
Simultaneous recording and playback
Recording from an external component
Automatic recording from a satellite tuner
Recording from a DV camcorder
. . . . . . . . . . . . . . . 52
Recording from the DV output
. . . . . . . . . . . . . . . . . 53
Playing your recordings on other DVD players
Initializing a DVD-RW disc
. . . . . . . . . . . . . . . . . . . . 55
The Disc Navigator screen
. . . . . . . . . . . . . . . . . . . . 56
Disc Navigator menu options
. . . . . . . . . . . . . . . . . . 57
Editing VR mode Original and Video mode
. . . . . . . . . . . . . . . . . . . . . . . . . . . . . . . . . . . 58
Creating and editing a VR mode Play List
. . . . . . . . . . . . . . . . . . . . . . . 65
. . . . . . . . . . . . . . . . . . . . . . . . . 66
. . . . . . . . . . . . . . . . . . . . . . . . . . . . . . 68
. . . . . . . . . . . . . . . . . . . . . . . . . . . . 69
. . . . . . . . . . . . . . . . . . . . . . . . . . . . 69
11 The Video/Audio Adjust menu
Setting the picture quality for TV and external
. . . . . . . . . . . . . . . . . . . . . . . . . . . . . . . . . . . . 70
Setting the picture quality for disc playback
. . . . . . . . . . . . . . . . . . . . . . . . . . . . . . . . 72
. . . . . . . . . . . . . . . . . . . . . . . . . . . . 72
---

12 The Initial Setup menu
Using the Initial Setup menu
. . . . . . . . . . . . . . . . . . 73
. . . . . . . . . . . . . . . . . . . . . . . . . . . . . 73
. . . . . . . . . . . . . . . . . . . . . . . . . . . . . 75
. . . . . . . . . . . . . . . . . . . . . . . 77
. . . . . . . . . . . . . . . . . . . . . . . . . . . 79
. . . . . . . . . . . . . . . . . . . . . . . . . . 80
. . . . . . . . . . . . . . . . . . . . . . . . . . 81
. . . . . . . . . . . . . . . . . . . . . . . . . . 83
. . . . . . . . . . . . . . . . . . . . . . . . . . . 84
13 Additional information
. . . . . . . . . . . . . . . . . . . . . . . 88
Setting up the remote to control your TV
Screen sizes and disc formats
. . . . . . . . . . . . . . . . . 89
. . . . . . . . . . . . . . . . . . . . . . . . . . . . 90
Frequently asked questions
. . . . . . . . . . . . . . . . . . . 92
. . . . . . . . . . . . . . . . . . . . . . . . . . . . . . . . . 93
. . . . . . . . . . . . . . . . . . . . . 94
. . . . . . . . . . . . . . . . . . . . . . . . . . 95
. . . . . . . . . . . . . . . . . . . . . . . . . . . 95
On-screen displays and recorder displays
. . . . . . . . . . . . . . . . . . . . . . . . . . . . . 97
. . . . . . . . . . . . . . . . . . . . . . . . . . . . . . 97
. . . . . . . . . . . . . . . . . . . . . . . . . . . . 97
. . . . . . . . . . . . . . . . . . . . . 97
. . . . . . . . . . . . . . . . . . . . . . . . . . . . . 97
. . . . . . . . . . . . . . . . . . . . . . . . . 97
. . . . . . . . . . . . . . . . . . . . . . . . . 98
. . . . . . . . . . . . . . . . . . . . . . . . . . . . . . . . . . 98
. . . . . . . . . . . . . . . . . . . . . . . . . . . . 100
14 Index . . . . . . . . . . . . . . . . . . . . . . . . . . . . . . . . . .102
---