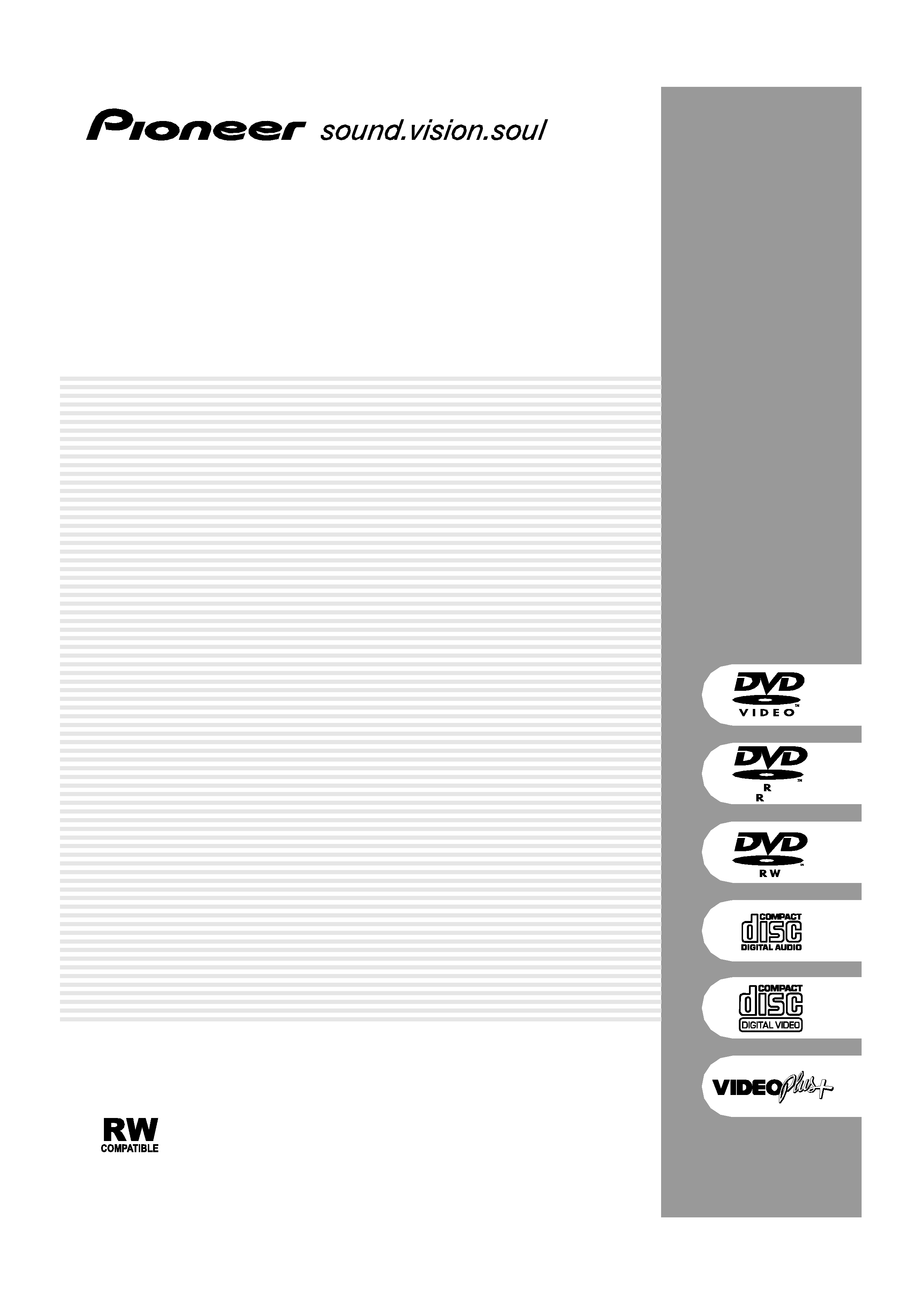 ---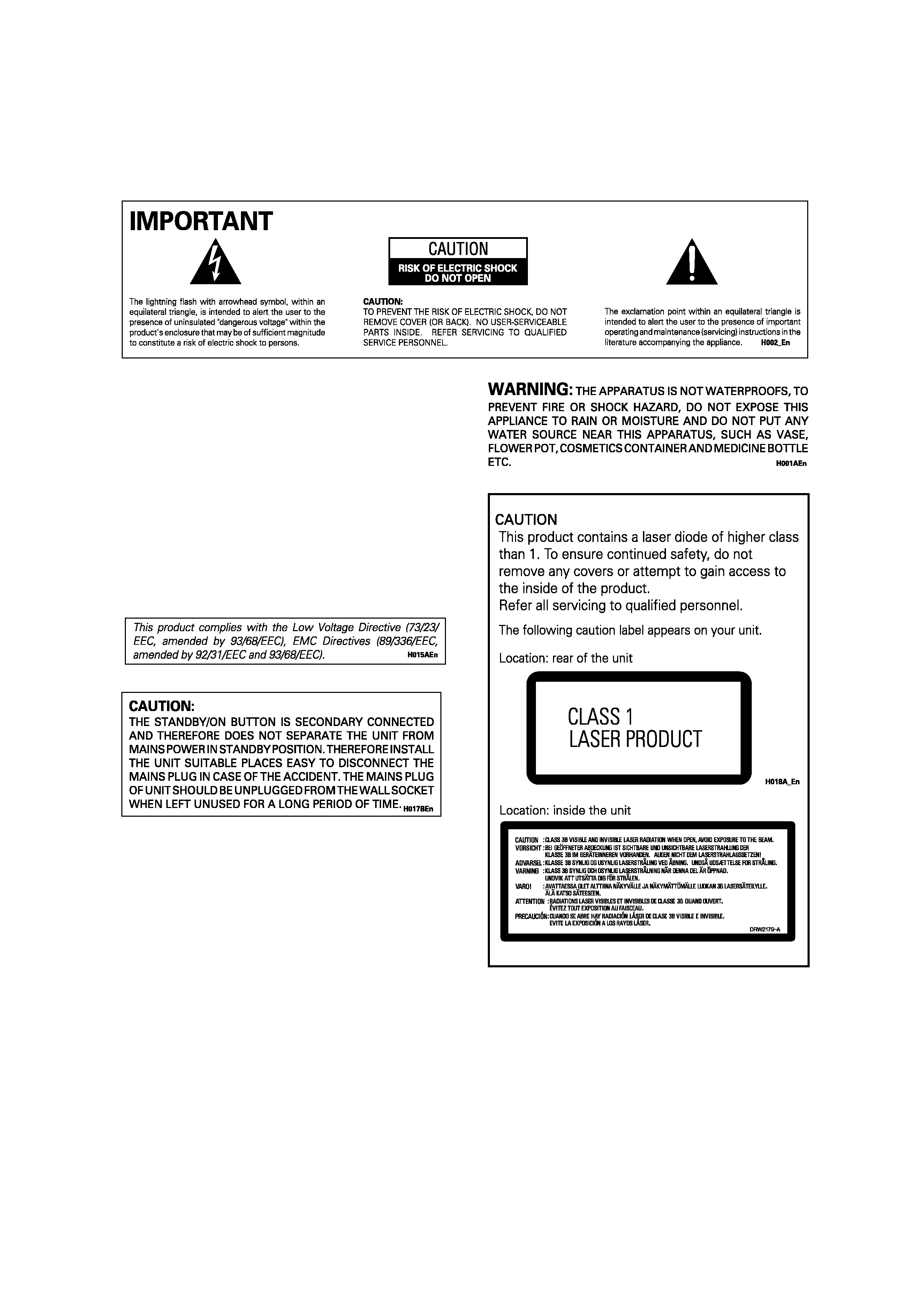 VE N T ILAT ION :
When installing this unit, make
sure to leave s pace around the unit for ventilation to
im prove heat radiation (at least 10cm at top, 10cm at
rear, and 10cm at each s ide).
WAR N IN G :
Slot and openings in the cabinet are
provided for ventilation and to ens ure reliable opera-
tion of the product and to protect it from overheating, to
pr ev ent fir e ha za r d, the o penings s ho uld nev er be
blocked and covered w ith item s , s uch as new s papers ,
table-cloths , curtains , etc. A ls o do not put the apparatus
on the thick carpet, bed, s ofa, or fabric having a thick
Thank y ou for buy ing this Pioneer product.
Pleas e read through thes e operating ins truc-
tions s o y ou w ill know how to operate y our
model properly . A fter y ou have finis hed
reading the ins tructions , put them aw ay in a
safe place for future reference.
In s om e countries or regions , the s hape of the
pow er plug and pow er outlet m ay s om etim es
differ from that show n inthe ex planatory
draw ings . How ever, the m ethod of connecting
and operating the unit is the s am e.
---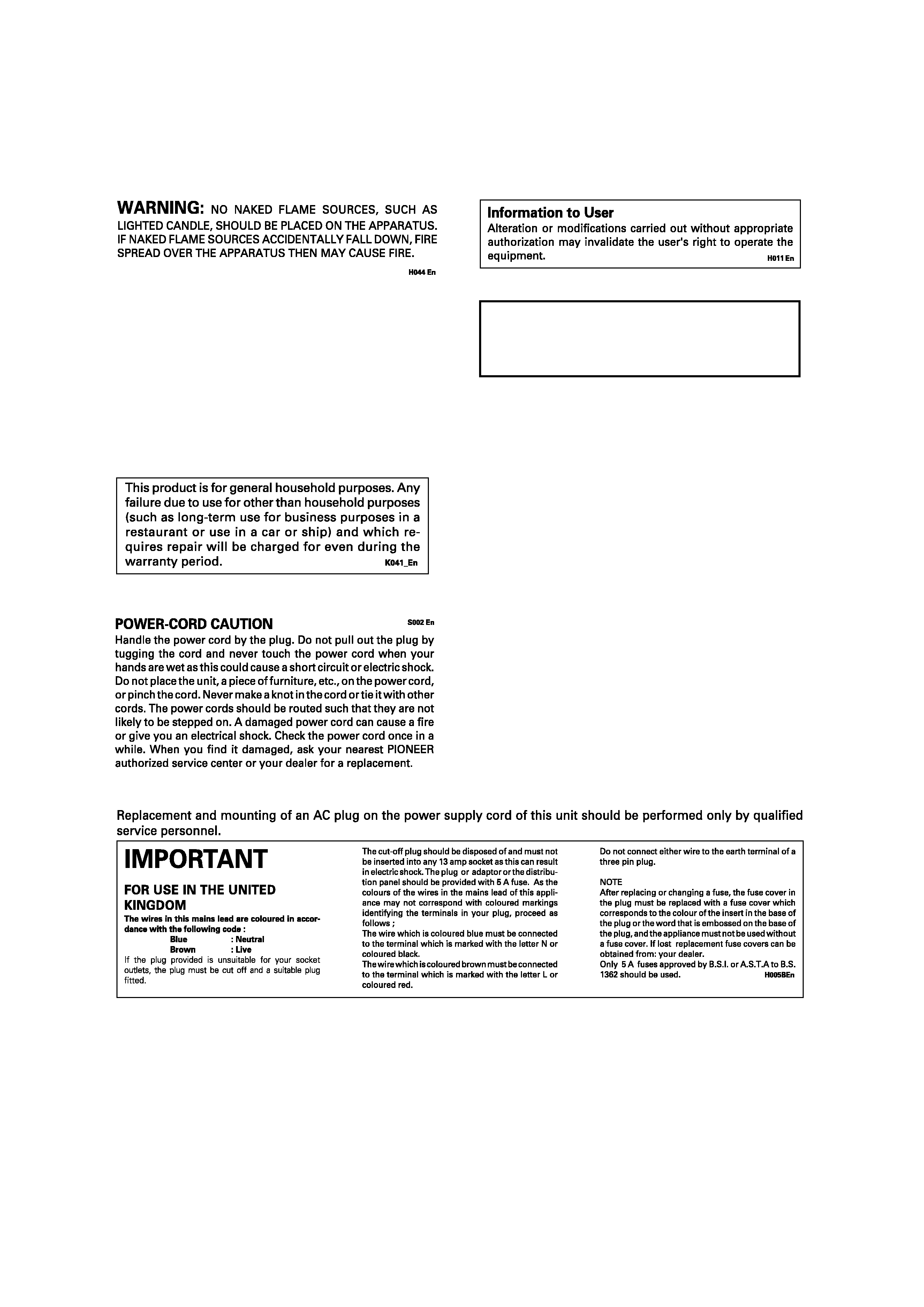 This product includes FontAvenue (R) fonts licenced by NEC
Corporation. FontAvenue is a registered trademark of NEC
Operating Environment
H045 En
Operating environment temperature and humidity:
°
C ­ +35
°
C (+41
°
F ­ +95
°
F); less than 85%RH (cooling
Do not install in the following locations
Location exposed to direct sunlight or strong artificial
Location exposed to high humidity, or poorly
---

. . . . . . . . . . . . . . . . . . . . . . . . . . . . . . . . . . . 6
. . . . . . . . . . . . . . . . . . . . . . . . . . . . 8
Putting the batteries in the remote control
. . . . . . . . . . . . . . . . . . . . . . 8
Disc / content format playback compatibility
. . . . . . . . . . . . . . . . . . . . . . 12
. . . . . . . . . . . . . . . . . . . . . . 12
Extra features for use with compatible TVs
. . . . . . . . . . . . . . . . . . . . . . . . . . . 14
Using other types of audio/video output
Connecting to a cable box or satellite receiver
Connecting an external decoder box (1)
Connecting an external decoder box (2)
Connecting to an AV amplifier
. . . . . . . . . . . . . . . . . 19
Connecting other AV sources
. . . . . . . . . . . . . . . . . . 20
. . . . . . . . . . . . . . . . . . . . . . . . . . . . . . . . 20
. . . . . . . . . . . . . . . . . . . . . . . . . . . . . . . . 21
. . . . . . . . . . . . . . . . . . . . . . . . . . . . . . . . . . . 22
. . . . . . . . . . . . . . . . . . . . . . . . . . . . . 23
Switching on and setting up
. . . . . . . . . . . . . . . . . . . 25
Making your first recording
. . . . . . . . . . . . . . . . . . . . 28
Using the built-in TV tuner
. . . . . . . . . . . . . . . . . . . . 28
. . . . . . . . . . . . . . . . . . . . . . . . . . . . . 29
. . . . . . . . . . . . . . . . . . . . . . . 32
Displaying disc information on-screen
. . . . . . . . . . . . . . . . . . . . . . . . . . . . . . . 35
Using the Disc Navigator to browse the contents of a
. . . . . . . . . . . . . . . . . . . . . . . . . . . . . . . . . . . . . 35
. . . . . . . . . . . . . . . . . . . . . . . . . . . . 36
. . . . . . . . . . . . . . . . . . . . . . . . . . . . . 37
. . . . . . . . . . . . . . . . . . . . . . . 38
Frame advance/frame reverse
. . . . . . . . . . . . . . . . . 39
. . . . . . . . . . . . . . . . . . . . . . . . 39
Displaying and switching subtitles
. . . . . . . . . . . . . . 42
Switching DVD soundtracks
. . . . . . . . . . . . . . . . . . . 43
Switching the audio channel
. . . . . . . . . . . . . . . . . . 43
. . . . . . . . . . . . . . . . . . . . . 44
. . . . . . . . . . . . . . . . . . . . . . . . 45
Recording time and picture quality
. . . . . . . . . . . . . . 45
Restrictions on video recording
. . . . . . . . . . . . . . . . 46
Setting the picture quality/recording time
Basic recording from the TV
. . . . . . . . . . . . . . . . . . . 47
Setting a timer recording
. . . . . . . . . . . . . . . . . . . . . 48
. . . . . . . . . . . . . . . . . . . . . . . . 52
Simultaneous recording and playback
Recording from an external component
Automatic recording from a satellite tuner
Recording from a DV camcorder
. . . . . . . . . . . . . . . 54
Recording from the DV output
. . . . . . . . . . . . . . . . . 56
Playing your recordings on other DVD players
Initializing a DVD-RW disc
. . . . . . . . . . . . . . . . . . . . 57
The Disc Navigator screen
. . . . . . . . . . . . . . . . . . . . 58
Disc Navigator menu options
. . . . . . . . . . . . . . . . . . 59
Editing VR mode Original and Video mode
. . . . . . . . . . . . . . . . . . . . . . . . . . . . . . . . . . . 60
Creating and editing a VR mode Play List
. . . . . . . . . . . . . . . . . . . . . . . 67
. . . . . . . . . . . . . . . . . . . . . . . . . 68
. . . . . . . . . . . . . . . . . . . . . . . . . . . . . . 70
. . . . . . . . . . . . . . . . . . . . . . . . . . . . 71
. . . . . . . . . . . . . . . . . . . . . . . . . . . . 71
11 The Video/Audio Adjust menu
Setting the picture quality for TV and external
. . . . . . . . . . . . . . . . . . . . . . . . . . . . . . . . . . . . 72
Setting the picture quality for disc playback
. . . . . . . . . . . . . . . . . . . . . . . . . . . . . . . . 74
. . . . . . . . . . . . . . . . . . . . . . . . . . . . 74
---

12 The Initial Setup menu
Using the Initial Setup menu
. . . . . . . . . . . . . . . . . . 75
. . . . . . . . . . . . . . . . . . . . . . . . . . . . . 75
. . . . . . . . . . . . . . . . . . . . . . . . . . . . . 77
. . . . . . . . . . . . . . . . . . . . . . . 80
. . . . . . . . . . . . . . . . . . . . . . . . . . . 81
. . . . . . . . . . . . . . . . . . . . . . . . . . 82
. . . . . . . . . . . . . . . . . . . . . . . . . . 83
. . . . . . . . . . . . . . . . . . . . . . . . . . 85
. . . . . . . . . . . . . . . . . . . . . . . . . . . 86
13 Additional information
. . . . . . . . . . . . . . . . . . . . . . . 90
Setting up the remote to control your TV
Screen sizes and disc formats
. . . . . . . . . . . . . . . . . 91
. . . . . . . . . . . . . . . . . . . . . . . . . . . . 92
Frequently asked questions
. . . . . . . . . . . . . . . . . . . 94
. . . . . . . . . . . . . . . . . . . . . . . . . . . . . . . . . 95
. . . . . . . . . . . . . . . . . . . . . 96
. . . . . . . . . . . . . . . . . . . . . . . . . . 97
. . . . . . . . . . . . . . . . . . . . . . . . . . . 97
On-screen displays and recorder displays
. . . . . . . . . . . . . . . . . . . . . . . . . . . . . 99
. . . . . . . . . . . . . . . . . . . . . . . . . . . . . . 99
. . . . . . . . . . . . . . . . . . . . . . . . . . . . 99
. . . . . . . . . . . . . . . . . . . . . 99
. . . . . . . . . . . . . . . . . . . . . . . . . . . . . 99
. . . . . . . . . . . . . . . . . . . . . . . . . 99
. . . . . . . . . . . . . . . . . . . . . . . . 100
. . . . . . . . . . . . . . . . . . . . . . . . . . . . . . . . . 100
. . . . . . . . . . . . . . . . . . . . . . . . . . . . 102
Index. . . . . . . . . . . . . . . . . . . . . . . . . . . . . .106
---