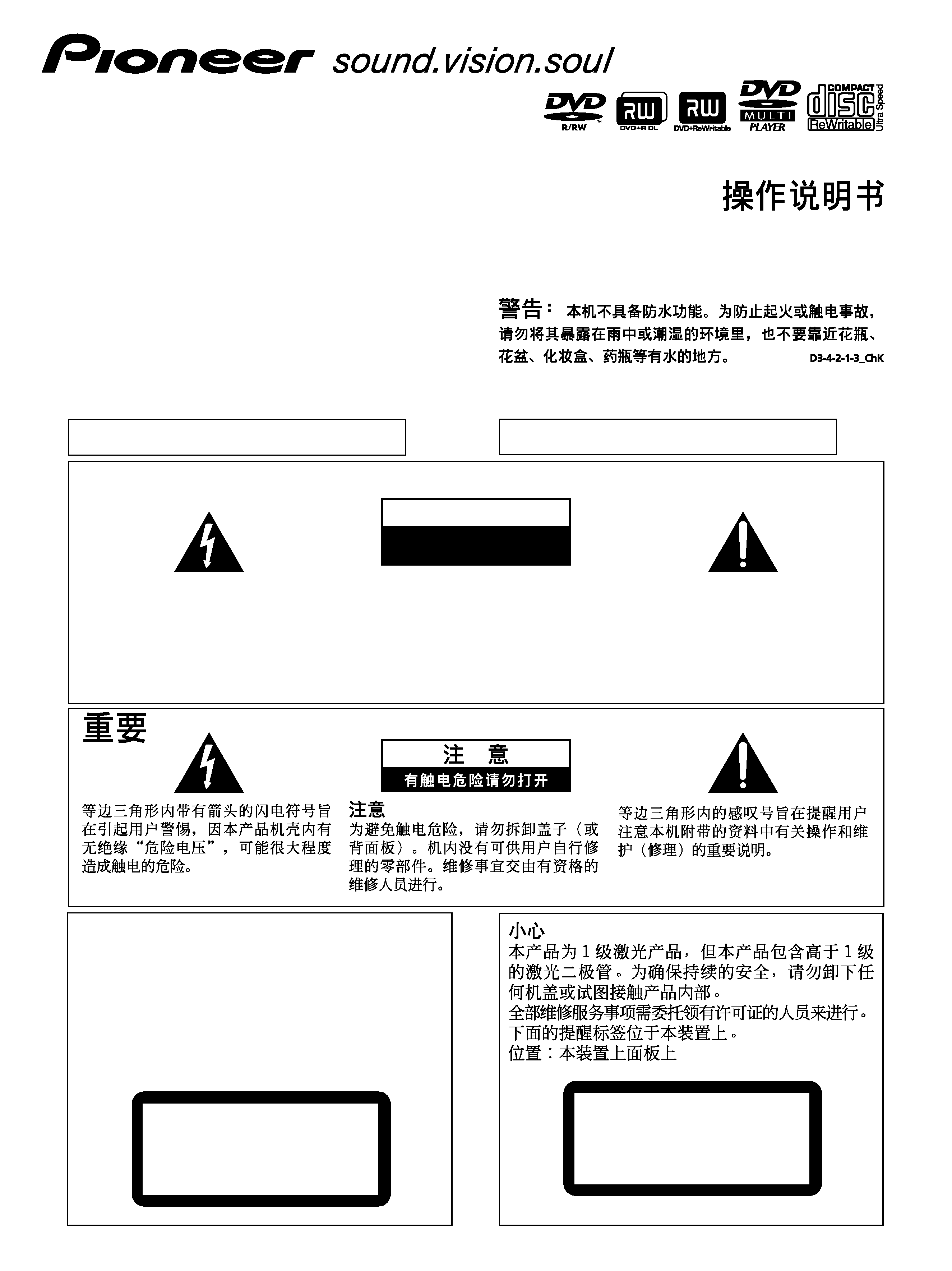 Thank you for buying this PIONEER product. Please read through
these operating instructions so you will know how to operate
your unit properly. After you have finished reading the
instructions, put them away in a safe place for future reference.
The Generation of Acoustical Noise Is Less Than 70dB.
WARNING:
The apparatus is not waterproofs, to
prevent fire or shocks hazard, do not expose this
apparatus to rain or moisture and do not put any
water source near this apparatus, such as vase,
flower pot, cosmetics container and medicine
The exclamation point within an equilateral
triangle is intended to alert the user to the
presence of important operating and
maintenance (servicing) instructions in the
literature accompanying the appliance.
The lightning flash with arrowhead, within
an equilateral triangle, is intended to alert
the user to the presence of uninsulated
"dangerous voltage" within the product's
enclosure that may be of sufficient
magnitude to constitute a risk of electric
TO PREVENT THE RISK OF ELECTRIC
SHOCK, DO NOT REMOVE COVER (OR
BACK). NO USER-SERVICEABLE PARTS
INSIDE. REFER SERVICING TO QUALIFIED
This product contains a laser diode of higher
class than 1. To ensure continued safety, do not
remove any covers or attempt to gain access to
the inside of the product.
Refer all servicing to qualified personnel.
The following caution label appears on your unit.
Location: on top of the cover
---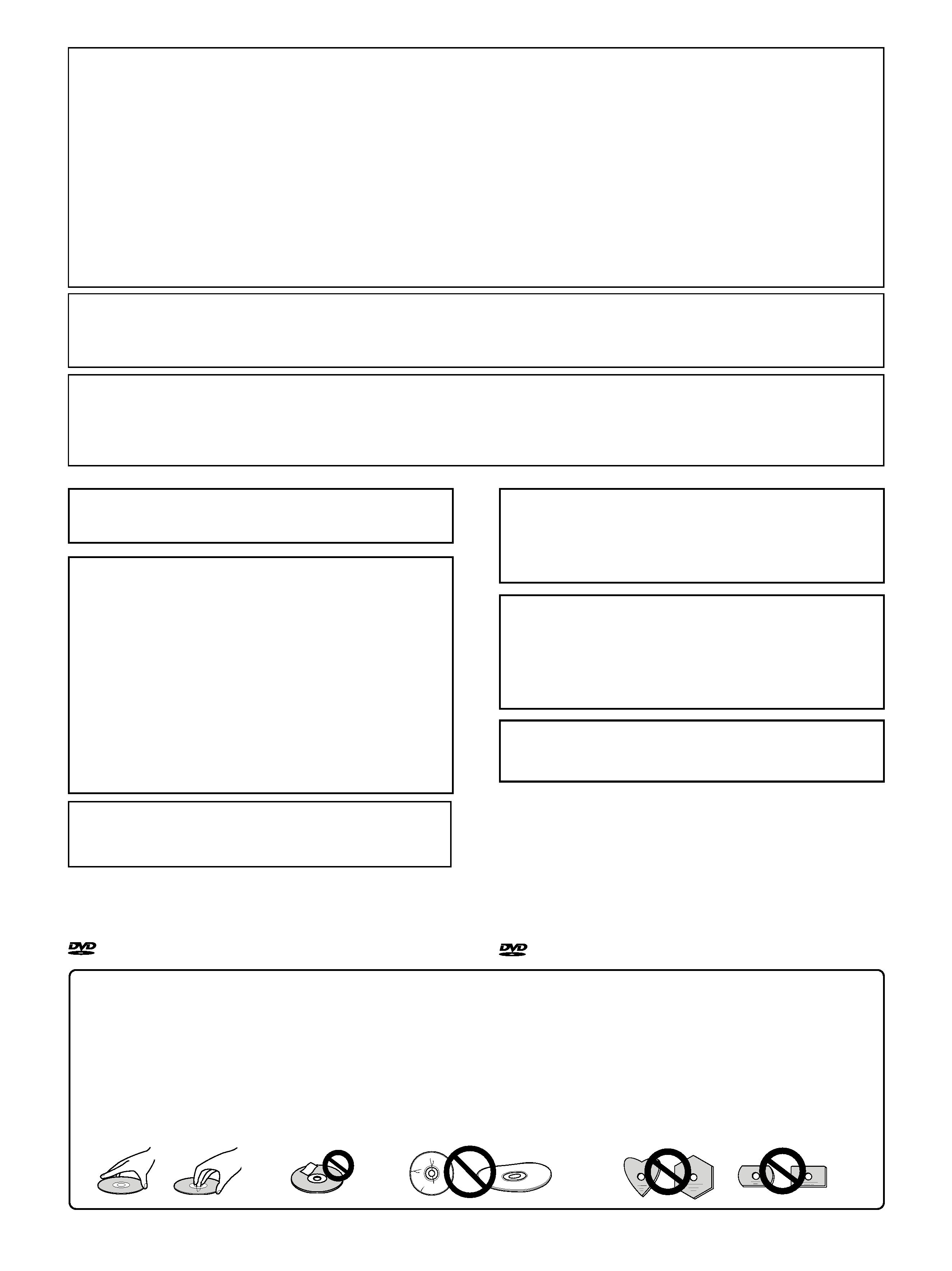 DANGER
­ VISIBLE AND INVISIBLE LASER RADIATION
WHEN OPEN. AVOID DIRECT EXPOSURE TO BEAM.
÷ Avoid touching or scratching the signal surface (shiny
÷ Hold the disc by the edges or by the center hold and
÷ Do not affix paper or labels to the disc.
÷ Discard warped or cracked discs as they may cause
÷ Avoid specially shaped discs such as hearts or
FEDERAL COMMUNICATIONS COMMISSION
DECLARATION OF CONFORMITY
This device complies with part 15 of the FCC Rules. Operation
is subject to the following two conditions: (1) This device may
not cause harmful interference, and (2) this device must accept
any interference received, including interference that may cause
Product Name: DVD/CD WRITER
Model Numbers: DVR-108AXL, DVR-108BXL, DVR-108EXL
Responsible Party Name: PIONEER ELECTRONICS (USA )INC.
Customer Support Division
Address: 1925 E. DOMINGUEZ ST. LONG BEACH, CA 90810
U.S.A. Phone: 800-872-4159
NOTE: This equipment has been tested and found to comply with the limits for a Class B digital device, pursuant to
Part 15 of the FCC Rules. These limits are designed to provide reasonable protection against harmful interference in
a residential installation. This equipment generates, uses, and can radiate radio frequency energy and, if not
installed and used in accordance with the instructions, may cause harmful interference to radio communications.
However, there is no guarantee that interference will not occur in a particular installation. If this equipment does
cause harmful interference to radio or television reception, which can be determined by turning the equipment off
and on, the user is encouraged to try to correct the interference by one or more of the following measures:
­ Reorient or relocate the receiving antenna.
­ Increase the separation between the equipment and receiver.
­ Connect the equipment into an outlet on a circuit different from that to which the receiver is connected.
­ Consult the dealer or an experienced radio/TV technician for help.
Alteration or modifications carried out without appropriate authorization may invalidate the user's right to operate
CAUTION : USE OF CONTROLS OR ADJUSTMENTS OR PERFORMANCE OF PROCEDURES OTHER THAN THOSE
SPECIFIED HEREIN MAY RESULT IN HAZARDOUS RADIATION EXPOSURE.
CAUTION : THE USE OF OPTICAL INSTRUMENTS WITH THIS PRODUCT WILL INCREASE EYE HAZARD.
D6-8-2-1_En
This product complies with the EMC Directives
(89/336/EEC, amended by 92/31/EEC and
is a trademark of DVD Format/Logo Licensing Corporation.
---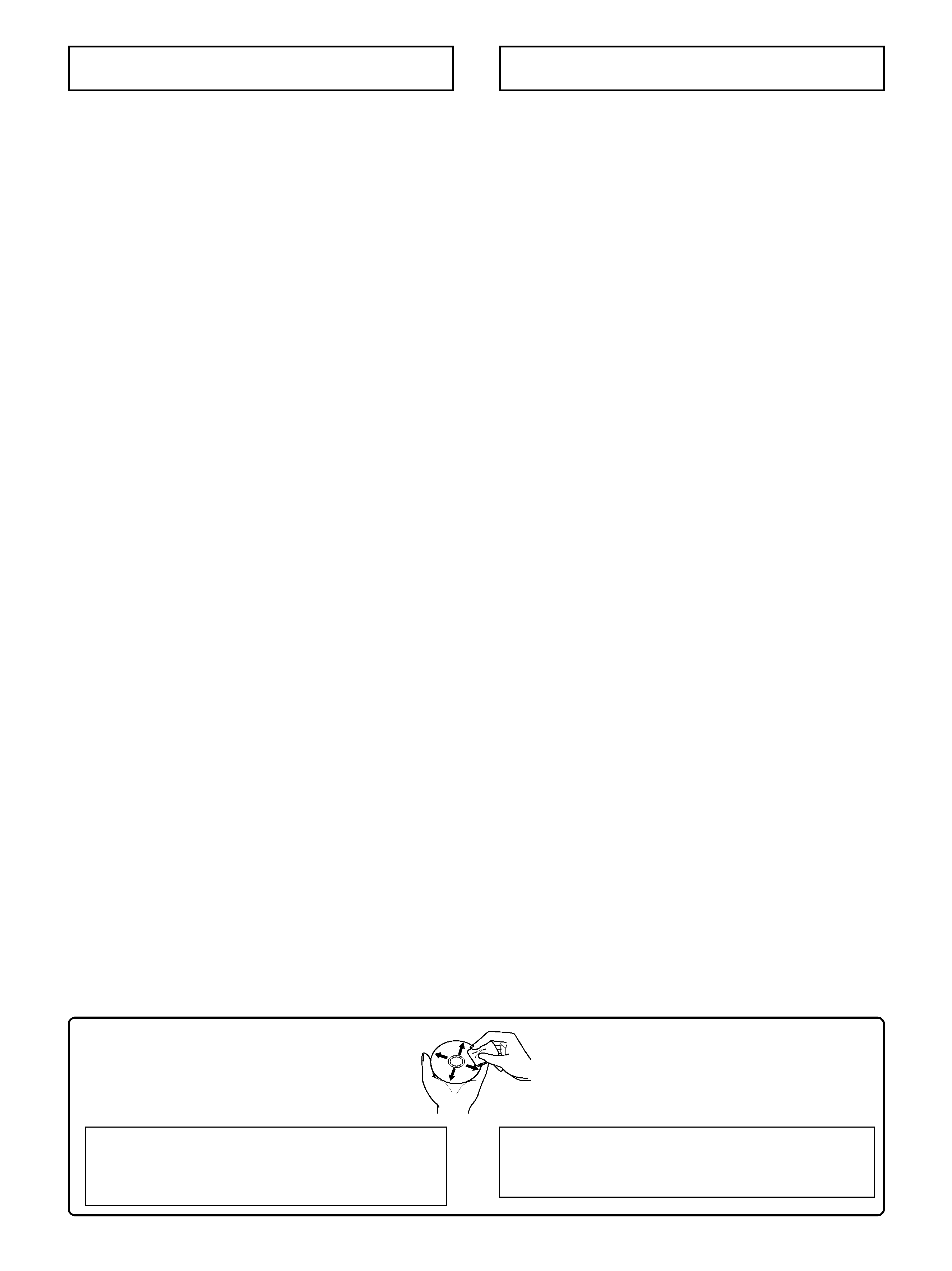 ÷ Remove dust or lint from the disc with a soft cloth
by wiping from the inside to the outside edge
rather than in a circular motion.
÷ Do not use record-cleaning or anti-static agents
as the solutions may cause damage to a disc.
Always be sure to store your discs in proper DVD-R
storage cases when not in use, and always be sure to
check for dirt or dust on discs (especially on the
recording side) before use.
To ensure your personal safety and to maximize the full
operating potential of your Drive, read and follow these safety
ENVIRONMENT - Please do not use the unit at places with
much dust, high temperature, or high humidity. Please use
the unit at a place where it is not subjected to vibrations or
POWER - Before installing the unit on the system, be sure to
turn off power on the system and remove the power cord
READ INSTRUCTIONS - Read all safety and operating
instructions before the Drive is operated.
RETAIN INSTRUCTIONS - Retain the safety and operating
instructions for future reference.
FOLLOW INSTRUCTIONS - Follow all operating and use
HEED WARNINGS - All warnings must be adhered to.
CLEANING - DO NOT use liquid, aerosol cleaners, or alcohol.
Use only a damp cloth to clean the exterior housing.
WATER AND MOISTURE - DO NOT use this product near
POWER SOURCES - Operate this product from the type of
power source indicated on the marking label. If you are not
sure of the type of power available, consult Authorized
OVERLOADING - DO NOT overload wall outlets and
extension cords. Doing so can result in fire or electric shock.
OBJECT AND LIQUID ENTRY - Never push objects of any
kind into this product. Touching dangerous voltage points may
cause a short resulting in fire or electric shock. Do not spill
liquid of any kind on this product.
CONDENSATION - Moisture will form in the operating
section of the product causing performance to be impaired if
it is brought from cool surroundings into a warmer
environment. If you are moving the unit to a location with a
warmer temperature, let the product stand for 1-2 hours in
the new location before turning it back on.
SERVICING - Do not attempt to repair this product yourself.
Opening or removing covers may expose you to dangerous
voltage or other hazards. Refer all servicing to qualified service
personnel. (Refer to the enclosed Service and Support Card.)
---

1X, 2X, 4X, 6X, 8X
, 12X
, 16X
2.4X, 4X, 6X, 8X
, 12X
, 16X
PIO Mode 4 / Multi Word DMA Mode 2 / Ultra DMA Mode4
÷ 5.25-inch Half-Height built in type
÷ LCD Tilt Servo Mechanism
÷ Horizontal/Vertical orientation available
÷ Low vibration Mechanism by DRA system
÷ DVD single layer/dual layer /120 mm disc /80 mm disc
÷ DVD-R (In case of write, 650nm disc for General only.)
÷ DVD-RAM(Version 2.0,Version 2.1)(Read only)
÷ CD-ROM XA Mode2 (form 1, form2)
÷ Photo CD (single and multiple session)
÷ CD-RW ,High-Speed CD-RW,Ultra-Speed CD-RW
÷ Specific application program that support above format is
÷ Supported media required for specific DVD & CD writing
÷ When performing DVD writing at 12x or 16x speeds, use
Pioneer-designate disc media. For details, consult
information available on Pioneer's website.
Precautions on playing 8 cm (3.15") Discs
An 8 cm (3.15") disc cannot be played even an adapter is
attached to the disc when the drive is upright condition.
---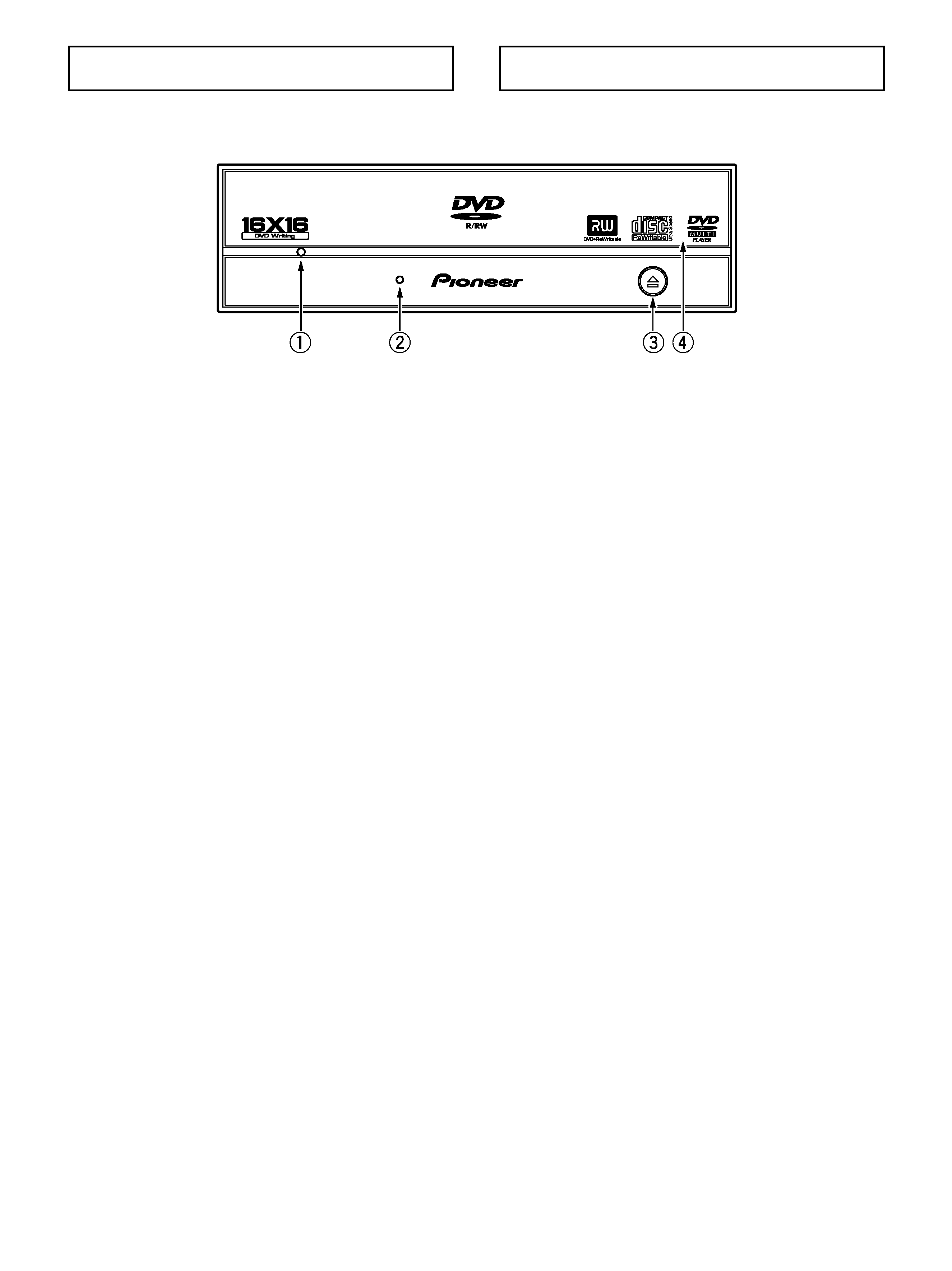 Insert a stiff rod into the hole and push to eject the tray
when the tray doesn't unload by pressing the Eject button.
In the normal operation, the eject button should be used
to unload the tray. Make sure the power of the drive is
turned off and wait more than one minute till the disc
rotation is stopped when access the eject hole.
Operation status is indicated as follows.
To unload /load the disc, press the button.
Open the loading tray by pressing the eject button, then
place a CD or DVD disc into the slit with the label facing up.
Press the eject button or push the front part of tray to
load the tray with the disc.
Do not attempt to pull out the disc tray forcibly.
---