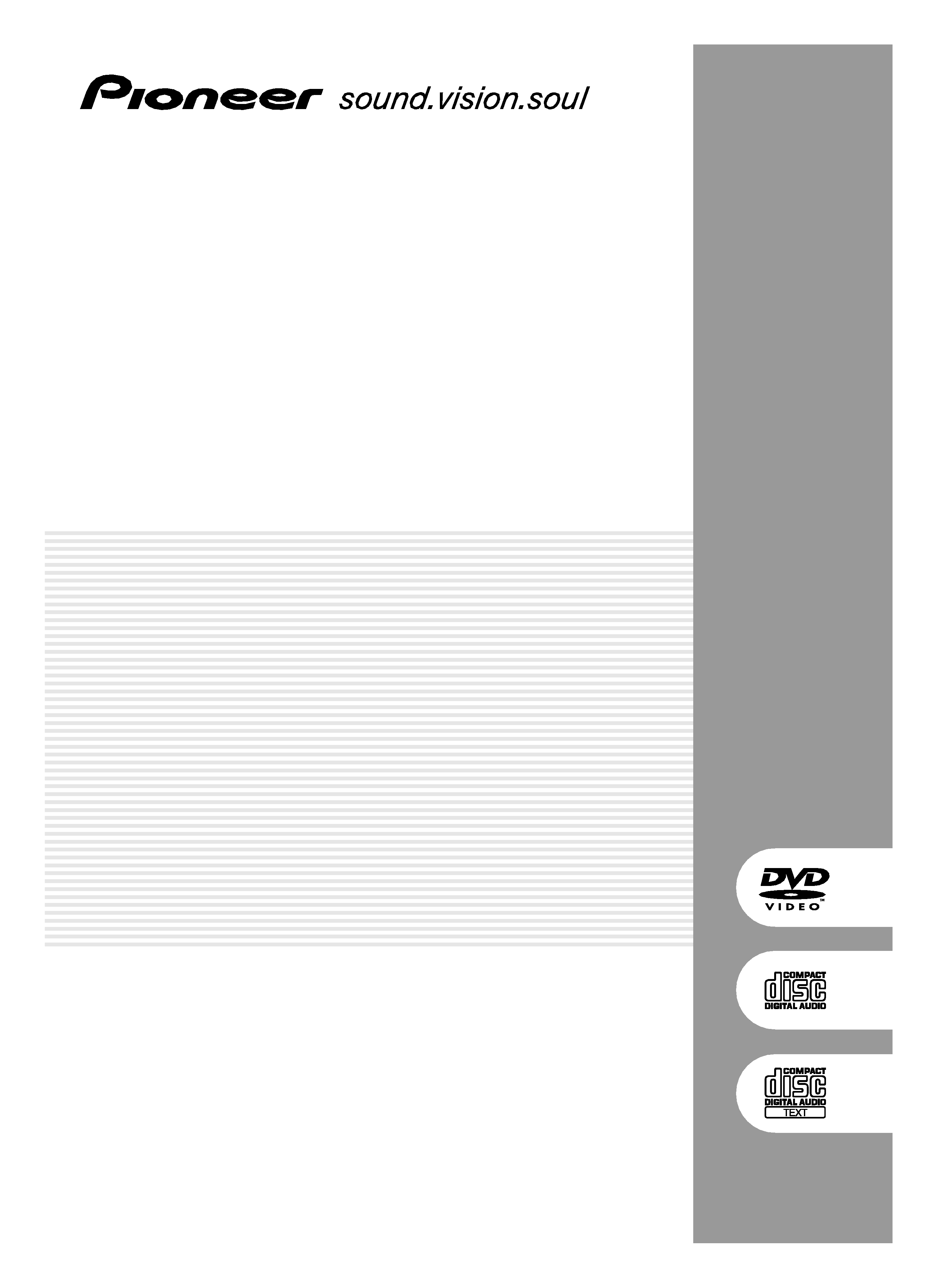 ---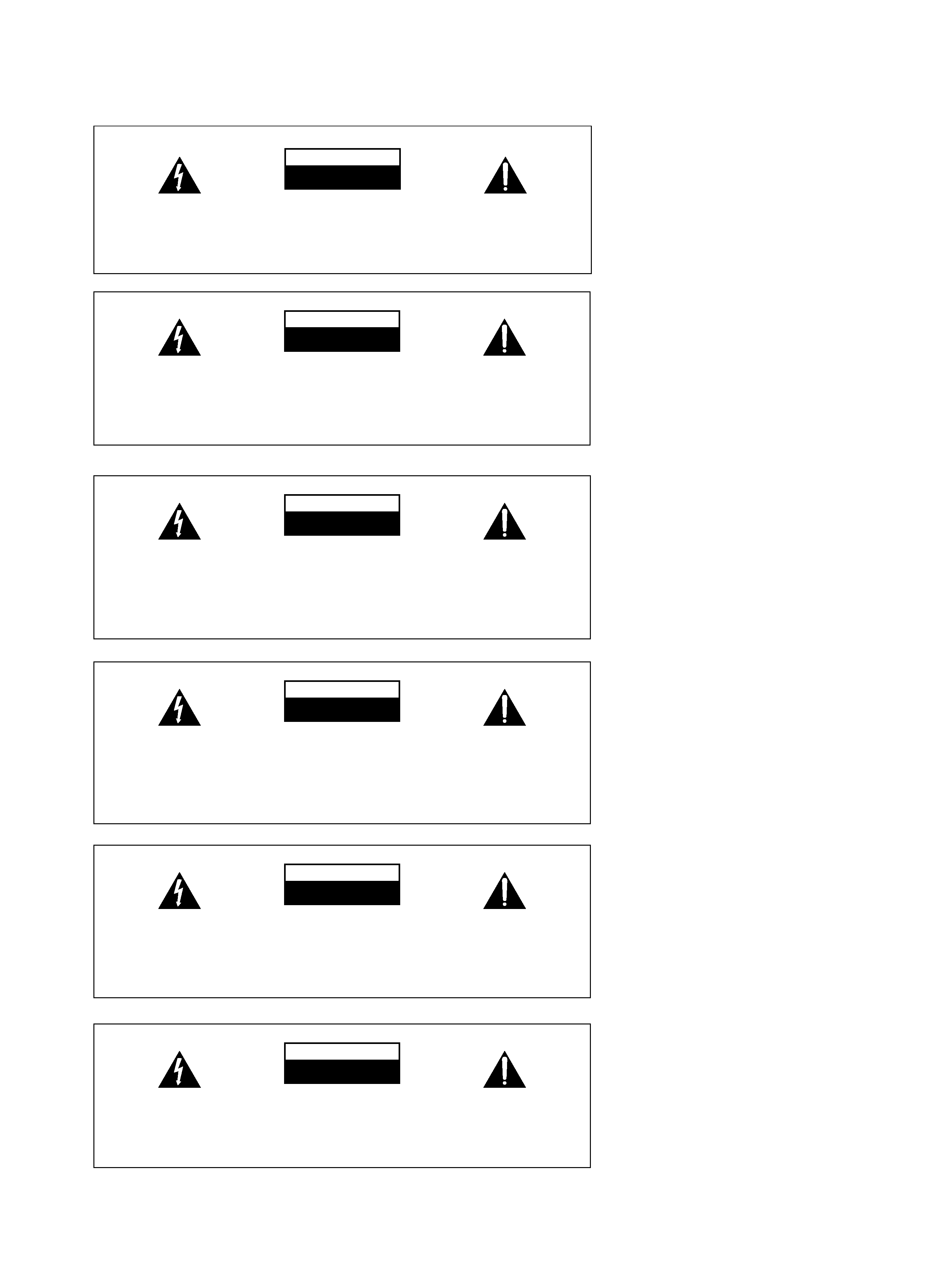 Ce point d'exclamation, placé dans un
triangle équilatéral, a pour but d'attirer
l'attention de l'utilisateur sur la présence,
dans les documents qui accompagnent
l'appareil, d'explications importantes du
point de vue de l'exploitation ou de
Ce symbole de l'éclair, placé dans un
triangle équilatéral, a pour but d'attirer
l'attention de l'utilisateur sur la présence, à
l'intérieur du coffret de l'appareil, de
"tensions dangereuses" non isolées d'une
grandeur suffisante pour représenter un
risque d'électrocution pour les êtres
D'ÉLECTROCUTION, NE PAS ENLEVER LE
COUVERCLE (NI LE PANNEAU ARRIÈRE).
AUCUNE PIÈCE RÉPARABLE PAR
L'UTILISATEUR NE SE TROUVE À
L'INTÉRIEUR. CONFIER TOUT ENTRETIEN À
UN PERSONNEL QUALIFIÉ UNIQUEMENT.
Ein Ausrufezeichen in einem Dreieck weist
den Benutzer auf wichtige Bedienungs- und
Wartungsanweisungen in den Dokumenten
hin, die dem Gerät beiliegen.
Das Blitzsymbol in einem Dreieck weist den
Benutzer darauf hin, dass eine
Berührungsgefahr mit nicht isolierten Teilen
im Geräteinneren, die eine gefährliche
Spannung führen, besteht. Die Spannung
kann so hoch sein, dass sie die Gefahr eines
elektrischen Schlages birgt.
UM SICH NICHT DER GEFAHR EINES
ELEKTRISCHEN SCHLAGES AUSZUSETZEN,
DÜRFEN SIE NICHT DEN DECKEL (ODER
DIE RÜCKSEITE) ENTFERNEN. IM
GERÄTEINNEREN BEFINDEN SICH KEINE
VOM BENUTZER REPARIERBAREN TEILE.
ÜBERLASSEN SIE REPARATUREN DEM
QUALIFIZIERTEN KUNDENDIENST.
Il punto esclamativo in un triangolo
equilatero serve ad avvisare l'utilizzatore
della presenza di importanti istruzioni di
funzionamento e manutenzione riportate nel
libretto allegato al prodotto.
Il simbolo del lampo con terminale a forma
di freccia situato all'interno di un triangolo
equilatero serve ad avvisare l'utilizzatore
della presenza di una "tensione pericolosa"
non isolata nella struttura del prodotto che
potrebbe essere di un'intensità tale da
provocare scosse elettriche all'utilizzatore.
PER EVITARE IL RISCHIO DI SCOSSE
ELETTRICHE, NON RIMUOVERE IL
COPERCHIO (O IL RETRO). NON CI SONO
PARTI INTERNE LA CUI MANUTENZIONE
DALL'UTENTE. IN CASO DI NECESSITÀ,
RIVOLGERSI ESCLUSIVAMENTE A
PERSONALE DI SERVIZIO QUALIFICATO.
Het uitroepteken in een gelijkzijdige
driehoek is bedoeld om de aandacht van de
gebruiker te trekken op de aanwezigheid van
belangrijke bedienings- en
onderhoudsinstructies in de handleiding bij
De lichtflash met pijlpuntsymbool in een
gelijkzijdige driehoek is bedoeld om de
aandacht van de gebruikers te trekken op
een niet geïsoleerde "gevaarlijke spanning"
in het toestel, welke voldoende kan zijn om
bij aanraking een elektrische shock te
OM HET GEVAAR VOOR EEN ELEKTRISCHE
SHOCK TE VOORKOMEN, DEKSEL (OF RUG)
NIET VERWIJDEREN. AAN DE BINNENZIJDE
BEVINDEN ZICH GEEN ELEMENTEN DIE
DOOR DE GEBRUIKER KUNNEN BEDIEND
WORDEN. ENKEL DOOR GEKWALIFICEERD
El punto exclamativo dentro un triángulo
equilátero convenido para avisar el usuário
de la presencia de importantes
instrucciones sobre el funcionamiento y la
manutención en la libreta que acompaña el
La luz intermitente con el símbolo de punta
de flecha dentro un triángulo equilátero.
Está convenido para avisar el usuario de la
presencia de "voltaje peligrosa" no aislada
dentro el producto que podría constituir un
peligro de choque eléctrico para las
PARA PREVENIR EL PELIGRO DE CHOQUE
ELÉCTRICO NO REMOVER LA TAPA NI LAS
PARTES DENTRO NO UTILIZADAS,
LLAMAR UNA PERSONA CUALIFICADA
The exclamation point within an equilateral
triangle is intended to alert the user to the
presence of important operating and
maintenance (servicing) instructions in the
literature accompanying the appliance.
The lightning flash with arrowhead symbol,
within an equilateral triangle, is intended to
alert the user to the presence of uninsulated
"dangerous voltage" within the product's
enclosure that may be of sufficient
magnitude to constitute a risk of electric
TO PREVENT THE RISK OF ELECTRIC
SHOCK, DO NOT REMOVE COVER (OR
BACK). NO USER-SERVICEABLE PARTS
INSIDE. REFER SERVICING TO QUALIFIED
---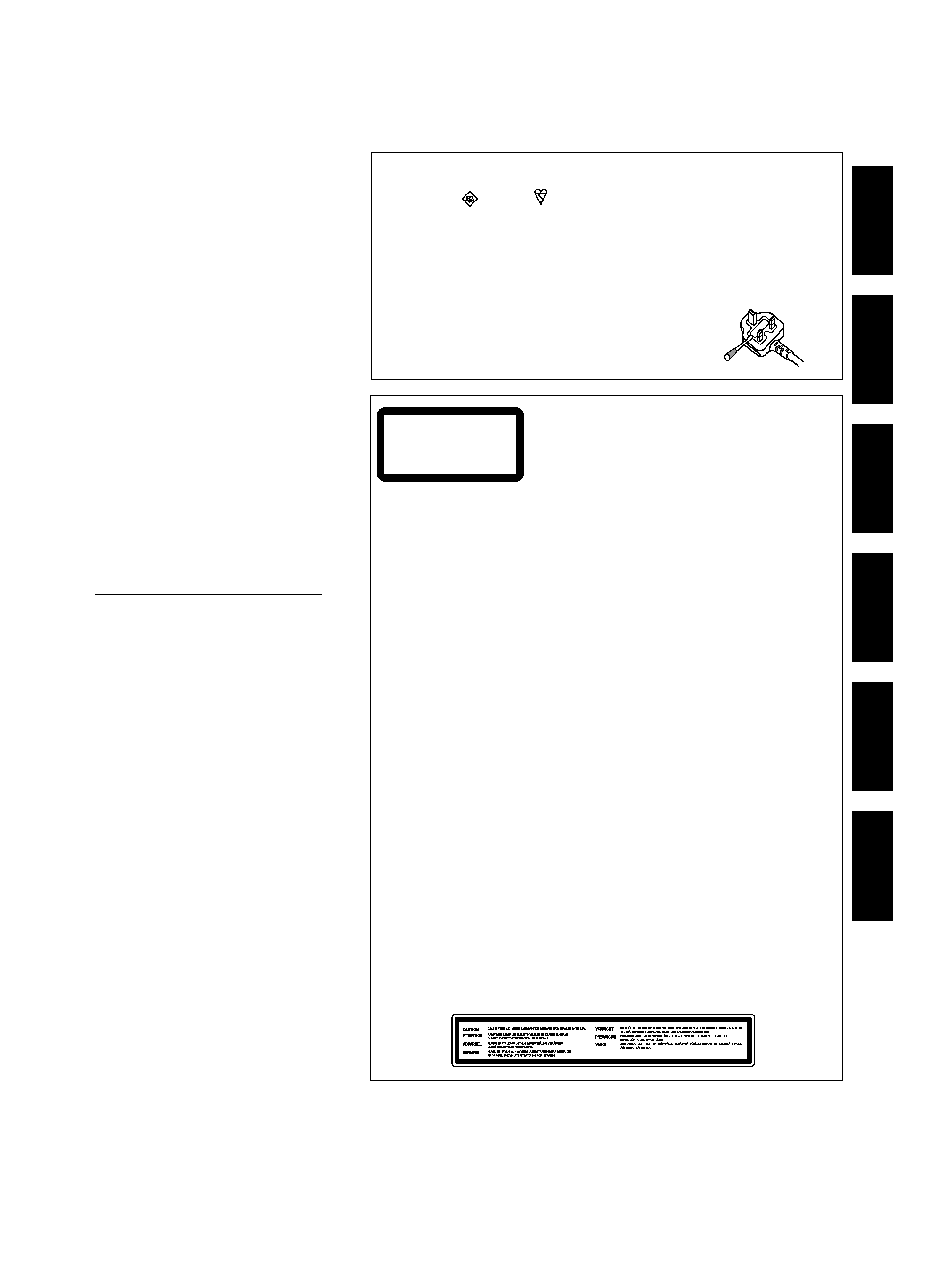 Replacement and mounting of an AC plug on the power supply cord of this unit should be performed only by qualified
IMPORTANT: THE MOULDED PLUG (FOR USE IN THE UNITED KINGDOM)
This appliance is supplied with a moulded three pin mains plug for your safety and convenience. A 5 amp fuse is fitted in this plug. Should the
fuse need to be replaced, please ensure that the replacement fuse has a rating of 5 amps and that it is approved by ASTA or BSI to BS1362.
If the plug contains a removable fuse cover, you must ensure that it is refitted when the fuse is replaced. If you lose the fuse cover the plug
must not be used until a replacement cover is obtained. A replacement fuse cover can be obtained from your local dealer.
If the fitted moulded plug is unsuitable for your socket outlet, then the fuse shall be removed and the plug cut off and disposed of
safely. There is a danger of severe electrical shock if the cut off plug is inserted into any 13 amp socket.
If a new plug is to be fitted, please observe the wiring code as shown below. If in any doubt, please consult a qualified electrician.
IMPORTANT: The wires in this mains lead are coloured in accordance with the following code:
As the colours of the wires in the mains lead of this appliance may not correspond with the coloured markings identifying the terminals in
your plug, proceed as follows ;
The wire which is coloured BLUE must be connected to the terminal which is marked with the
The wire which is coloured BROWN must be connected to the terminal which is marked with the
How to replace the fuse: Open the fuse compartment with a screwdriver and replace the fuse.
This equipment is not waterproof. To prevent a fire
or shock hazard, do not place any container filed
with liquid near this equipment (such as a vase or
flower pot) or expose it to dripping, splashing, rain
Cet appareil n'est pas étanche. Pour éviter les
risques d'incendie et de décharge électrique, ne
placez près de lui un récipient rempli d'eau, tel
qu'un vase ou un pot de fleurs, et ne l'exposez pas
à des gouttes d'eau, des éclaboussures, de la pluie
Dieses Gerät ist nicht wasserdicht. Zur Vermeidung
der Gefahr von Brand und Stromschlag keine
Behälter mit Flüssigkeiten (z.B. Blumenvasen und
-töpfe) in die Nähe des Gerätes bringen und dieses
vor Tropfwasser, Spritzwasser, Regen und Nässe
Questo apparecchio non è impermeabile. Per
prevenire pericoli di incendi o folgorazioni, non
posizionare nelle vicinanze di questo apparecchio
contenitori pieni di liquidi (quali vasi da fiori, o
simili), e non esporre l'apparecchio a sgocciolii,
schizzi, pioggia o umidità.
Este aparato no es impermeable. Para evitar el
riesgo de incendio y de descargas eléctricas, no
ponga ningún recipiente lleno de líquido (como
pueda ser un vaso o un florero) cerca del aparato ni
lo exponga a goteo, salpicaduras, lluvia o
The voltage of the available power supply differs
according to country or region. Be sure that the
power supply voltage of the area where this unit
will be used meets the required voltage (e.g., 230V
or 120V) written on the bottom panel.
D3-4-2-1-4_A_En mod
Before plugging in for the first time, read the following
Dit apparaat is niet waterdicht. Om brand of een
elektrische schok te voorkomen, mag u geen
voorwerp dat vloeistof bevat in de buurt van het
apparaat zetten (bijvoorbeeld een bloemenvaas) of
het apparaat op andere wijze blootstellen aan
waterdruppels, opspattend water, regen of vocht.
La tension de l'alimentation électrique disponible
varie selon le pays ou la région. Assurez-vous que
la tension du secteur de la région où l'appareil sera
utilisé correspond à la tension requise (par ex. 230
V ou 120 V), indiquée sur le panneau inférieur.
Avant de brancher l'appareil pour la première, lisez
attentivement la section suivante.
Die Netzspannung ist je nach Land verschieden. Vor
der Inbetriebnahme des Gerätes sicherstellen, dass
die örtliche Netzspannung mit der auf dem
Typenschild an der Unterseite des Gerätes
angegebenen Nennspannung (z.B. 230 V oder 120 V)
Vor dem erstmaligen Anschluss des Gerätes an das
Stromnetz bitte den folgenden Hinweis sorgfältig
La tensione della sorgente di elettricità differisce
da Paese a Paese e da regione a regione. Verificare
che la tensione di rete della zona in cui si intende
utilizzare l'apparecchio sia quella corretta, come
indicato sul pannello inferiore dell'apparecchio
stesso (ad es.: 230 V o 120 V).
Prima di collegare per la prima volta l'apparecchio alla
sorgente di alimentazione leggere attentamente la
De bedrijfsspanning van het apparaat verschilt
afhankelijk van het land waar het apparaat wordt
verkocht. Zorg dat de netspanning in het land waar
het apparaat wordt gebruikt overeenkomt met de
bedrijfsspanning (bijv. 230 V of 120 V) aangegeven
op de onderkant van het apparaat.
Lees zorgvuldig de volgende informatie voordat u de
stekker de eerste maal in het stopcontact steekt.
La tensión de la red eléctrica es distinta según el
país o región. Asegúrese de que la tensión de la
alimentación de la localidad donde se proponga
utilizar este aparato corresponda a la tensión
necesaria (es decir, 230 V ó 120 V) indicada en el
Antes de enchufar el aparato a la corriente, lea la
sección siguiente con mucha atención.
This product is a class 1 laser product, but this product contains a laser diode higher than Class 1.
To ensure continued safety, do not remove any covers or attempt to gain access to the inside of the product.
Refer all servicing to qualified personnel.
The following caution label appears on your unit.
Location: top of the DVD drive
Cet appareil est un produit laser de Classe 1, mais la diode laser qu'il renferme est supérieure à la Classe 1. Pour
garantir une sécurité constante, ne retirez aucun des couvercles et n'essayez pas d'avoir accès à l'intérieur de
Confiez toute réparation à un personnel qualifié. L'étiquette suivante se trouve sur votre appareil.
Emplacement : Sujr le dessus du lecteur DVD
Bei diesem Gerät handelt es sich zwar um ein Laserprodukt der Klasse 1, doch enthält es eine Laserdiode einer
höheren Klasse als 1. Um einen stets sicheren Betrieb zu gewährleisten, weder irgendwelche Abdeckungen
entfernen, noch versuchen, sich zum Geräteinneren Zugang zu verschaffen.
Wartungsarbeiten sind grundsätzlich dem Kundendienstpersonal zu überlassen.
Das Gehäuse ist mit dem unten abgebildeten Warnaufkleber versehen.
Lage: Oberseite des DVD-Laufwerks
Questo apparecchio è un prodotto al laser di Classe 1, ma contiene un diodo al laser di classe superiore alla Classe 1.
Per ovvi motivi di sicurezza, non togliere alcuno dei coperchi dell'apparecchio e non tentare di accedere ai dispositivi
interni allo stesso. Ogni e qualsiasi intervento o riparazione devono essere effettuate solamente da personale
qualificato. Sull'apparecchio si trova applicata la seguente etichetta di avvertimento:
Posizione: sopra l'unità DVD
Dit apparaat is een klasse 1 laserproduct, maar het bevat een laserdiode van een hogere klasse dan 1.
Om veiligheidsredenen mogen geen panelen worden verwijderd of de ombouw van het apparaat op andere wijze
Laat alle reparaties over aan bevoegd onderhoudspersoneel.
Op uw apparaat is het onderstaande waarschuwingslabel aangebracht.
Locatie : Bovenkant van het DVD-station
Este aparato es un producto de láser de clase 1, pero contiene un diodo de láser de clase superior a 1.
Para mantener la seguridad en todo momento, no quite ninguna cubierta ni intente acceder al interior del aparato.
Solicite todo el servicio técnico a personal cualificado.
En su aparato encontrará la siguiente etiqueta de precaución.
Ubicación: Encima de la unidad de DVD
---

This product complies with the Low Voltage Directive
(73/23/EEC, amended by 93/68/EEC), EMC Directives
(89/336/EEC, amended by 92/31/EEC and
Ce produit est conforme à la directive relative aux
appareils basse tension (73/23/CEE), à la directive
CE relative à la compatibilité electromagnétique
(89/336/CEE, amendements 92/31/CEE et
Dieses Produkt entspricht den
Niederspannungsrichtlinien (73/23/EEC, geändert
durch 93/68/EEC), den EMV-Richtlinien (89/336/EEC,
geändert durch 92/31/EEC und 93/68/EEC).
D3-4-2-1-9a_Ge
Questo prodotto è conforme alla direttiva sul basso
voltaggio (73/23/CEE emendata 93/68/CEE), direttive
EMC 89/336/CEE, emendata 92/31/CEE e 93/68/CEE.
Dit product voldoet aan de laagspanningsrichtlijn
(73/23/EEG, gewijzigd bij 93/68/EEG), EMC-
richtlijnen (89/336/EEG, gewijzigd bij 92/31/EEG en
Este producto cumple con la Directiva de Bajo
Voltaje (73/23/ CE, correcto por la 93/68/CE),
Directivas EMC (89/336/CE, correcto por la 92/31/CE
To prevent a fire hazard, do not place any naked
flame sources (such as a lighted candle) on the
Pour éviter les risques d'incendie, ne placez aucune
flamme nue (telle qu'une bougie allumée) sur
Keine Quellen offener Flammen (z.B. eine
brennende Kerze) auf dieses Gerät stellen.
Per evitare il pericolo di incendi, non posizionare
sull'apparecchio dispositivi con fiamme vive (ad
esempio una candela accesa, o simili).
Om brand te voorkomen, mag u geen open vuur
(zoals een brandende kaars) op de apparatuur
Para evitar el peligro de incendio, no ponga nada
con fuego encendido (como pueda ser una vela)
When installing this unit, make sure to leave space
around the unit for ventilation to improve heat
radiation (at least 5 cm at rear, and 5 cm at each
Slots and openings in the cabinet are provided for
ventilation to ensure reliable operation of the
product, and to protect it from overheating. To
prevent fire hazard, the openings should never be
blocked or covered with items (such as newspapers,
table-cloths, curtains) or by operating the
equipment on thick carpet or a bed.
PRÉCAUTION DE VENTILATION
Lors de l'installation de l'appareil, veillez à laisser
un espace suffisant autour de ses parois de manière
à améliorer la dissipation de chaleur (au moins 5 cm
à l'arrière et 5 cm de chaque côté).
Les fentes et ouvertures du coffret sont prévues
pour la ventilation, pour assurer un fonctionnement
stable de l'appareil et pour éviter sa surchauffe.
Pour éviter les risques d'incendie, ne bouchez
jamais les ouvertures et ne les recouvrez pas
d'objets, tels que journaux, nappes ou rideaux, et
n'utilisez pas l'appareil posé sur un tapis épais ou
VORSICHTSHINWEIS ZUR BELÜFTUNG
Bei der Aufstellung dieses Gerätes muss für einen
ausreichenden Freiraum gesorgt werden, um eine
einwandfreie Wärmeabfuhr zu gewährleisten
(mindestens 5 cm hinter dem Gerät und jeweils 5
cm an der Seite des Gerätes).
Im Gerätegehäuse sind Ventilationsschlitze und
andere Öffnungen vorgesehen, die dazu dienen,
eine Überhitzung des Gerätes zu verhindern und
einen zuverlässigen Betrieb zu gewährleisten. Um
Brandgefahr auszuschließen, dürfen diese
Öffnungen auf keinen Fall blockiert oder mit
Gegenständen (z.B. Zeitungen, Tischdecken und
Gardinen) abgedeckt werden, und das Gerät darf
beim Betrieb nicht auf einem dicken Teppich oder
---

Operating environment temperature and humidity:
+5 ºC ­ +35 ºC (+41 ºF ­ +95 ºF); less than 85 %RH
(cooling vents not blocked)
Do not install this unit in a poorly ventilated area, or in
locations exposed to high humidity or direct sunlight (or
Température et humidité du milieu de fonctionnement :
De +5 ºC à +35 ºC (de +41 ºF à +95 ºF); Humidité
relative inférieure à 85 % (orifices de ventilation non
obstrués) N'installez pas l'appareil dans un endroit mal
ventilé ou un lieu soumis à une forte humidité ou en plein
soleil (ou à une forte lumière artificielle).
Betriebstemperatur und Betriebsluftfeuchtigkeit:
5 ºC bis 35 ºC, 85 % rel. Feuchte max.
(Ventilationsschlitze nicht blockiert)
Eine Aufstellung dieses Gerät an einem unzureichend
belüfteten, sehr feuchten oder heißen Ort ist zu
vermeiden, und das Gerät darf weder direkter
Sonneneinstrahlung noch starken Kunstlichtquellen
Condizioni ambientali di funzionamento
Gamma ideale della temperatura ed umidità
dell'ambiente di funzionamento:
°C a +35 °C, umidità relativa inferiore all`85 %
(fessure di ventilazione non bloccate)
Non installare l'apparecchio in luoghi poco ventilati, o
in luoghi esposti ad alte umidità o alla diretta luce del
sole (o a sorgenti di luce artificiale molto forti).
Temperatuur en vochtigheidsgraad op de plaats van
°C tot +35 °C, minder dan 85 % RH
(ventilatieopeningen niet afgedekt)
Zet het apparaat niet op een slecht geventileerde plaats
en stel het apparaat ook niet bloot aan hoge
vochtigheid of direct zonlicht (of sterke kunstmatige
Entorno de funcionamiento
Temperatura y humedad del entorno de funcionamiento
°C a +35 °C ; menos del 85 % de humedad relativa
(rejillas de refrigeración no obstruidas)
No instale este aparato en un lugar mal ventilado, ni en
lugares expuestos a alta humedad o a la luz directa del
sol (o de otra luz artificial potente).
AVVERTENZA PER LA VENTILAZIONE
Installare l'apparecchio avendo cura di lasciare un
certo spazio all'intorno dello stesso per consentire
una adeguata circolazione dell'aria e migliorare la
dispersione del calore (almeno 5 cm sul retro, e 5
cm su ciascuno dei lati).
L'apparecchio è dotato di un certo numero di
fessure e di aperture per la ventilazione, allo scopo
di garantirne un funzionamento affidabile, e per
proteggerlo dal surriscaldamento. Per prevenire
possibili pericoli di incendi le aperture non devono
mai venire bloccate o coperte con oggetti vari (quali
giornali, tovaglie, tende o tendaggi, ecc.), e
l'apparecchio non deve essere utilizzato
appoggiandolo su tappeti spessi o sul letto.
BELANGRIJKE INFORMATIE BETREFFENDE
Let er bij het installeren van het apparaat op dat er
voldoende vrije ruimte rondom het apparaat is om
een goede doorstroming van lucht te waarborgen
(tenminste 5 cm achter en 5 cm aan de zijkanten
De gleuven en openingen in de behuizing van het
apparaat zijn aangebracht voor de ventilatie, zodat
een betrouwbare werking van het apparaat wordt
verkregen en oververhitting wordt voorkomen. Om
brand te voorkomen, moet u ervoor zorgen dat
deze openingen nooit geblokkeerd worden of dat
ze afgedekt worden door voorwerpen (kranten,
tafelkleed, gordijn e.d.) of door gebruik van het
apparaat op een dik tapijt of een bed.
PRECAUCIÓN PARA LA VENTILACIÓN
Cuando instale este aparato, asegúrese de dejar
espacio en torno al mismo para la ventilación con el
fin de mejorar la disipación de calor (por lo menos 5
cm detrás, y 5 cm en cada lado).
Las ranuras y aberturas de la caja del aparato sirven
para su ventilación para poder asegurar un
funcionamiento fiable del aparato y para protegerlo
contra sobrecalentamiento. Para evitar el peligro de
incendio, las aberturas nunca deberán taparse ni
cubrirse con nada (como por ejemplo, periódicos,
manteles, cortinas) ni ponerse en funcionamiento el
aparato sobre una alfombra gruesas o una cama.
---