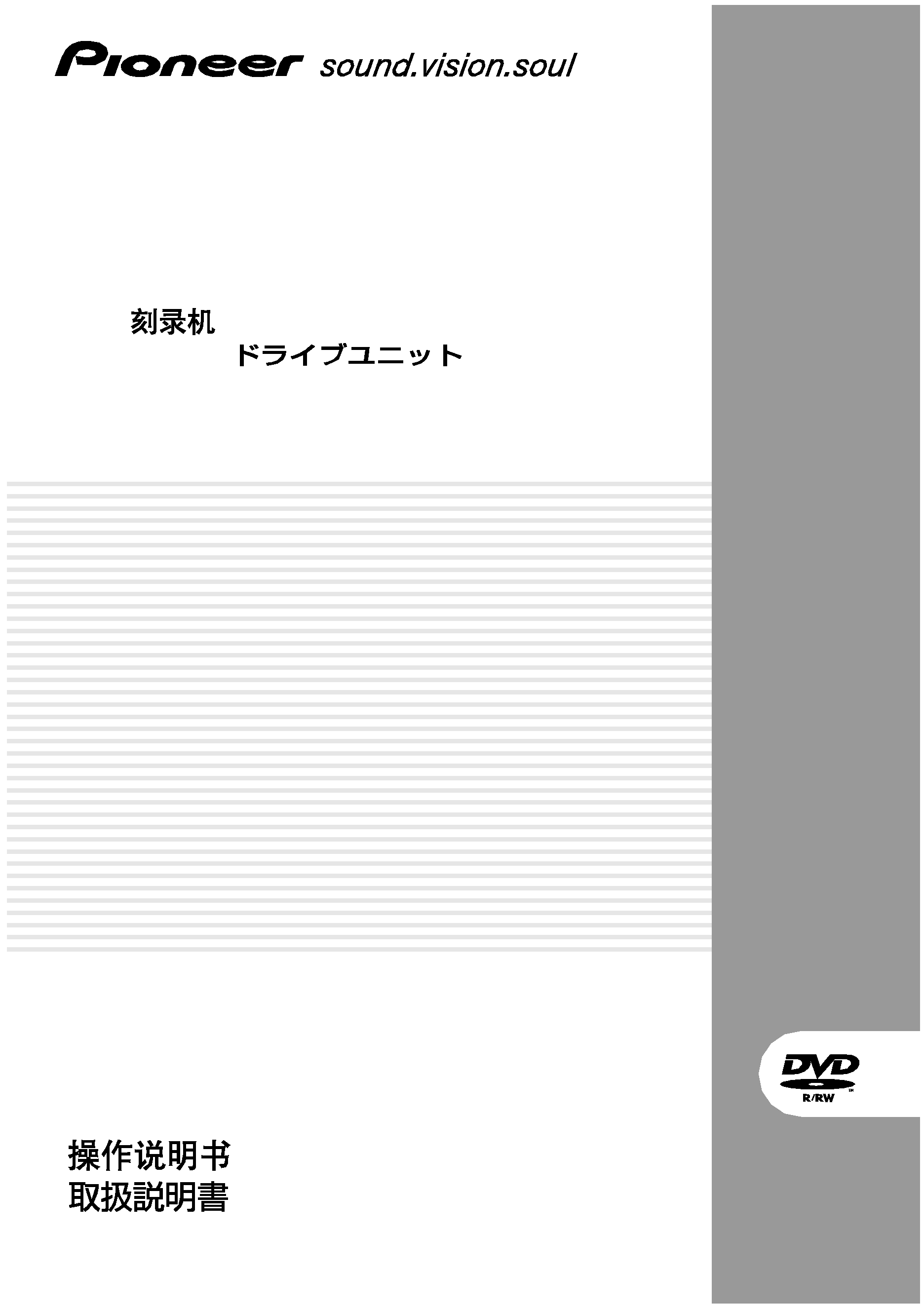 ---

Laitten käyttäminen muulla kuin tässä käyttöohjeessa mainitulla tavalla saattaa altistaa
käuttäjän turvallisuusluokan 1 ylittävälle näkymättömälle lasersäteilylle.
LASER DIODE ­ This product contains a laser diode. To assure continued safety,
DO NOT remove any convers or attempt to gain access to the inside of the product.
CAUTION: USE OF CONTROLS OR ADJUSTMENTS OR PERFORMANCE OF
PROCEDURES OTHER THAN THOSE SPECIFIED HEREIN MAY RESULT IN
HAZARDOUS RADIATION EXPOSURE.
CAUTION: USE OF OPTICAL INSTRUMENTS WITH THIS PRODUCT WILL INCREASE EYE
Om apparaten används på annat sätt än i denna bruksanvisning spacificerats, kan användaren
utsättas för osynling laserstrålning som överskrider gränsen för laserklass 1.
Usynlig laserstråling ved åbning når sikkerhedsafbrydere er ude af funktion. Undgå udsaettelse
This product complies with the EMC Directives
(89/336/EEC, amended by 92/31/EEC and
Ce produit est conforme aux directives relatives à la
compatibilité électromagnétique (89/336/CEE,
amendements 92/31/CEE et 93/68/CEE).
Dieses Produkt entspricht den EMV-Richtlinien
(89/336/EEC, geändert durch 92/31/EEC und
Questo prodotto è conforme alle direttive EMC
(89/336/CEE, emendate 92/31/CEE e 93/68/CEE).
Dit product voldoet aan de EMC-richtlijnen
(89/336/EEG, gewijzigd bij 92/31/EEG en 93/68/EEG).
Este producto cumple con las Directivas EMC
(89/336/CE, correcto por la 92/31/CE y la 93/68/CE).
Este produto cumpre com as Directivas EMC
(89/336/CE, corregida por a 92/31/CE e a 93/68/CE).
Denna produkt överensstämmer med föreskrifterna i
EMC-direktiven (89/336/EEC, uppdaterat med
92/31/EEC och 93/68/EEC).
Dette produkt er i overensstemmelse med direktivet
vedrørende elektromagnetisk kompatibilitet
89/336/EØF, ændret ved direktiverne 92/31/EØF og
Tämä tuote on EMC -Direktiivin (89/336/EEC,
muutettu 92/31/EEC ja 93/68/EEC) mukainen.
NOTE: This equipment has been tested and found to comply with the limits for a Class A digital device, pursuant to
Part 15 of the FCC Rules. These limits are designed to provide reasonable protection against harmful interference
when the equipment is operated in a commercial environment. This equipment generates, uses, and can radiate
radio frequency energy and, if not installed and used in accordance with the instruction manual, may cause harmful
interference to radio communications. Operation of this equipment in a residential area is likely to cause harmful
interference in which case the user will be required to correct the interference at his own expense.
Alteration or modifications carried out without
appropriate authorization may invalidate the user's
right to operate the equipment.
---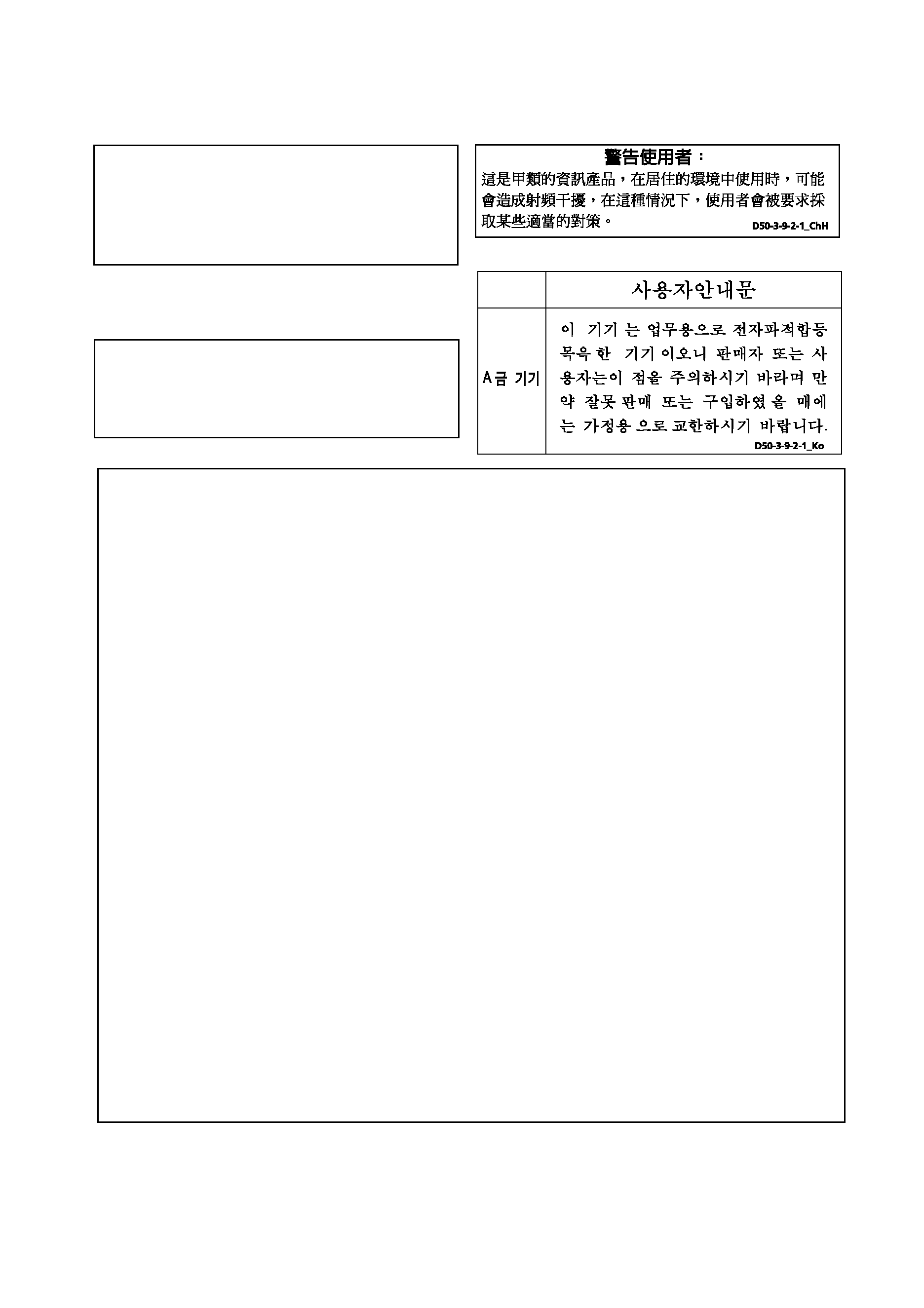 This is a class A product. In a domestic
environment this product may cause radio
interference in which case the user may be
required to take adequate measures.
Ce produit est de classe A. Dans un
environnement domestique, il peut entraîner
des interférences et l'utilisateur peut alors
être améne à prendre les mesures qui
Dies ist ein Produkt der Klasse A. In einer
häuslichen Umgebung kann dieses Produkt
Störgeräusche (Funkstörungen) verursachen.
In diesem Fall kann es erforderlich sein,
geeignete Maßnahmen zu ergreifen.
Questo è un prodotto di classe A. In ambiente
domestico, questo prodotto può provocare
interferenze radio per le quali l'utente deve
adottare contromisure adeguate.
Éste es un producto de clase A. En un entorno
doméstico, este producto Puede causar
radiointerferencias internas que obliguen al
usuario a tomar las medidas adecuadas.
Este produto pertence à classe A. Quando
num ambiente doméstico este produto pode
provocar rádio interferências para as quais o
utilizador pode ter que tomar medidas
FOR BELGIUM AND NETHERLANDS
Dit is een product dat tot klasse A behoort. In
woningen kan dit product radiostoringen
veroorzaken. In voorkomend geval moet de
gebruiker gepaste maatregelen nemen.
Dette er et klasse A-produkt, som kan forårsage
radiointerferens ved brug i hjemmet. Hvis det
er tilfældet, kan brugeren blive nødt til tage
Det här är en klass A-produkt. I hemmiljö kan
radiostörningar uppstå och användaren bör då
[For Australian and New Zealander models]
This Class A digital apparatus complies with
Cet appareil numérique de la Classe A est conforme
à la norme NMB-003 du Canada.
[For Canadian model/Pour le modèle Canadien]
This is a class A product. In a domestic environment
this product may cause radio interference in which
cause the user may be required to take adequate
---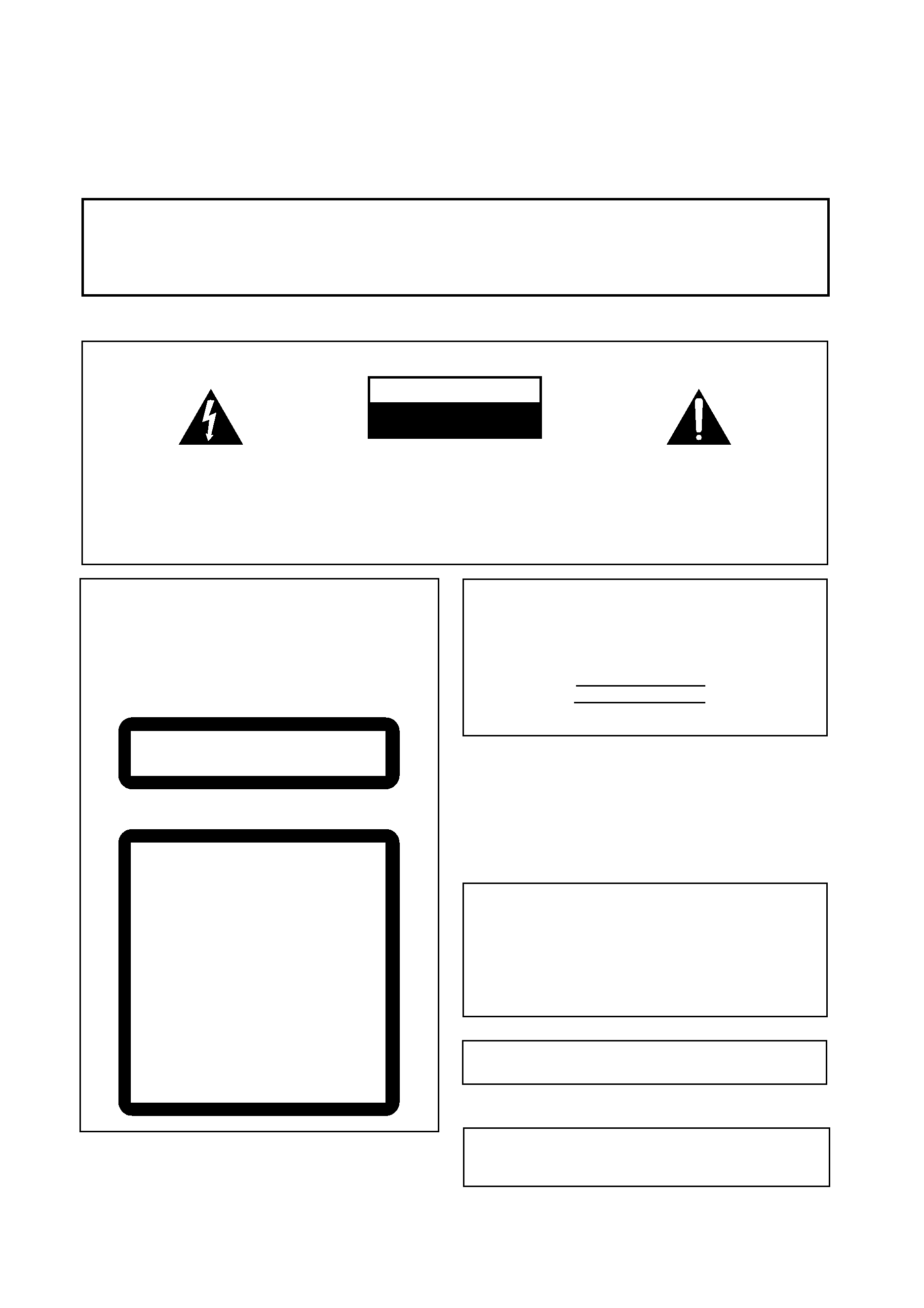 Thank you for buying this Pioneer product.
Please read through these operating instructions so you will know how to operate your
This product is an optional drive designed for exclusive use as the disc changers, models
DRM-7000 and DRM-3000. This means that this unit cannot be used alone or connected
to other equipment than specified.
The Generation of Acoustical Noise Is Less
Than 70dB.(ISO7779/DIN45635)
The exclamation point within an equilateral
triangle is intended to alert the user to the
presence of important operating and
maintenance (servicing) instructions in the
literature accompanying the appliance.
The lightning flash with arrowhead symbol,
within an equilateral triangle, is intended to
alert the user to the presence of uninsulated
"dangerous voltage" within the product's
enclosure that may be of sufficient
magnitude to constitute a risk of electric
TO PREVENT THE RISK OF ELECTRIC
SHOCK, DO NOT REMOVE COVER (OR
BACK). NO USER-SERVICEABLE PARTS
INSIDE. REFER SERVICING TO QUALIFIED
This equipment is not waterproof. To prevent a fire
or shock hazard, do not place any container filed
with liquid near this equipment (such as a vase or
flower pot) or expose it to dripping, splashing, rain
WARNING: Handling the cord on this product or
cords associated with accessories sold with the
product will expose you to lead, a chemical known to
the State of California and other governmental
entities to cause cancer and birth defects or other
Wash hands after handling
IMPORTANT NOTICE ­ RECORD THE MODEL
NUMBER AND SERIAL NUMBERS OF THIS
THE NUMBERS ARE ON THE TOP PANEL.
KEEP THESE NUMBERS FOR FUTURE USE.
D1-4-2-6-2_En
Pioneer may not be held liable for the loss of any data or any other direct or
indirect damage suffered as the result of the use or breakdown of this product.
It is strongly recommended that regular backups be taken of all critical data.
USE ONLY WITH PIONEER MODELS DRM-7000 AND
This product is a class 1 laser product, but this
product contains a laser diode higher than Class 1.
To ensure continued safety, do not remove any
covers or attempt to gain access to the inside of the
Refer all servicing to qualified personnel.
CAUTION
CLASS 3B VISIBLE AND INVISIBLE
LASER RADIATION WHEN OPEN, AVOID
VARO!
AVATTAESSA OLET ALTTIINA
NÄKYVÄLLE JA NÄKYMÄTTÖMÄLLE LUOKAN 3B
LASERSÄTEILYLLE. ÄLÄ KATSO SÄTEESEEN.
ADVARSEL
KLASSE 3B SYNLIG OG USYNLIG
LASERSTRÅLING VED ÅBNING.
UNDGÅ UDSÆTTELSE FOR STRÅLING.
VARNING
KLASS 3B SYNLIG OCH OSYNLIG
LASERSTRÅLNING NÄR DENNA DEL ÄR ÖPPNAD.
UNDVIK ATT UTSÄTTA DIG FÖR STRÅLEN.
ATTENTION
RADIATIONS LASER VISIBLES ET
INVISIBLES DE CLASSE 3B QUAND OUVERT.
ÉVITEZ TOUT EXPOSITION AU FAISCEAU.
VORSICHT
BEI GEÖFFNETER ABDECKUNG IST
SICHTBARE UND UNSICHTBARE LASERSTRAHLUNG
DER KLASSE 3B IM GERÄTEINNEREN VORHANDEN.
AUGEN NICHT DEM LASERSTRAHLAUSSETZEN!
The following caution label appears on your unit.
Location: on top of the cover
---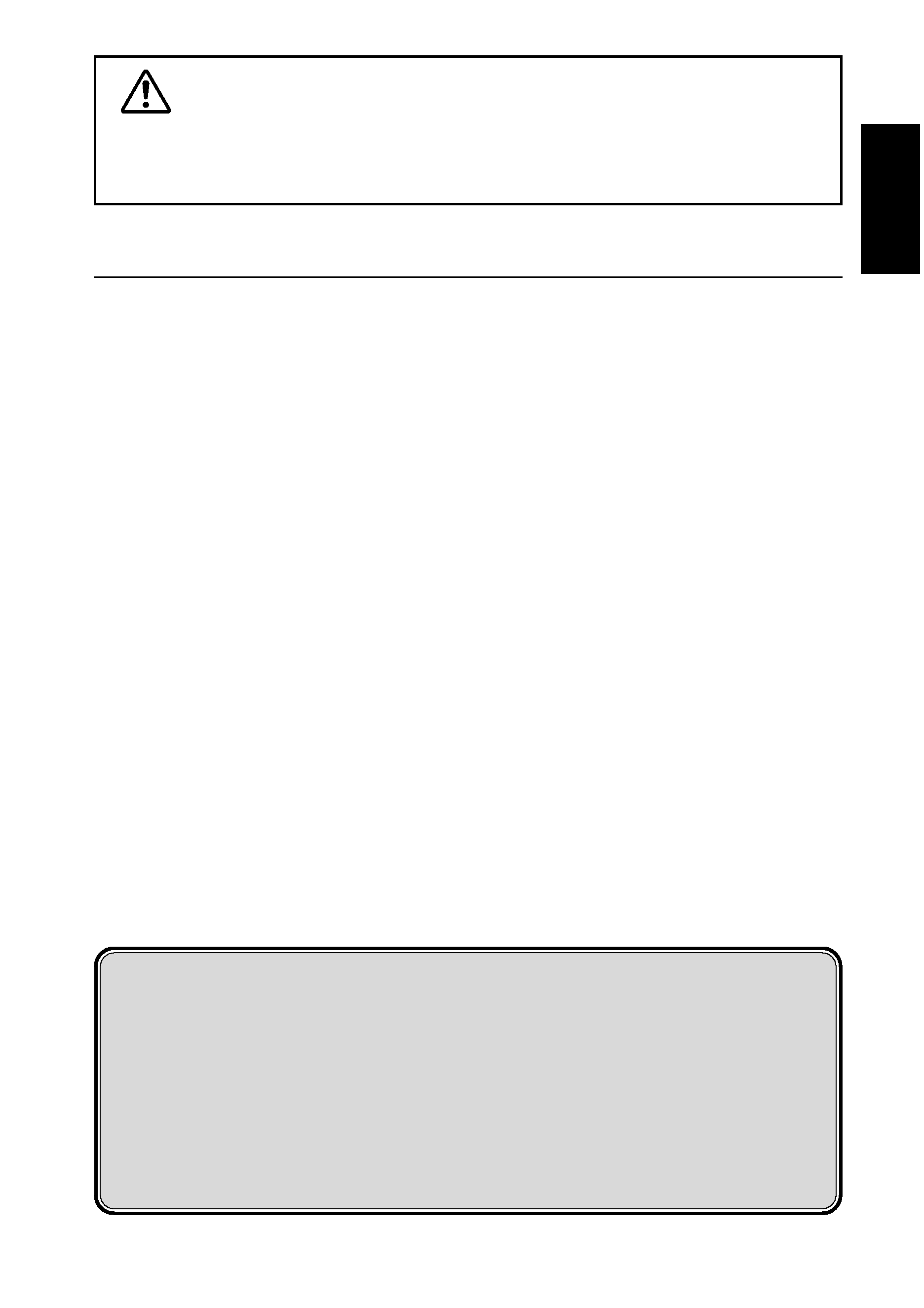 To ensure your personal safety and to maximize the full operating potential of your
Drive, read and follow these safety precautions:
READ INSTRUCTIONS - Read all safety and operating instructions before the Drive is
RETAIN INSTRUCTIONS - Retain the safety and operating instructions for future
FOLLOW INSTRUCTIONS - Follow all operating and use instructions.
HEED WARNINGS - All warnings must be adhered to.
ENVIRONMENT - Please do not use the unit at places with much dust, high
temperature, or high humidity. Never turn off the power to the unit or allow it to become
subjected to shocks or vibrations during operation.
WATER AND MOISTURE - DO NOT use this product near water.
OBJECT AND LIQUID ENTRY - Never push objects of any kind into this product.
Touching dangerous voltage points may cause a short resulting in fire or electric shock.
Do not spill liquid of any kind on this product.
CONDENSATION - Beware of the formation of condensation on the drive. In the event
condensation collects when installing the drive, disconnect the power source and allow
all moisture to dry before installing the unit.
SERVICING - Do not attempt to repair this product yourself. Opening or removing
covers may expose you to dangerous voltage or other hazards. Refer all servicing to
qualified service personnel.
When using the DVD-R7783, please make sure that the recording of the
material in question does not violate any copyright laws.
The DVD-R7783 has been developed and is produced exclusively for commercial
use. It is necessary to obtain the authorization of copyright owners and owners of
related rights when using the DVD-R7783 to record copyrighted materials. Note
that the recording of copyrighted materials without the authorization of the owners
of related rights may result in the person or persons performing the recording to
be subjected to prosecution. Also note that in such cases PIONEER may not be
held liable for any damages resulting as a result of disputes between copyright
holders and persons recording copyrighted materials.
Disc changer firmware revision 1.25 or higher is required to operate this unit.
If you are using a version older than 1.24, please update to 1.25 or higher. For
update information, consult your dealer.
---