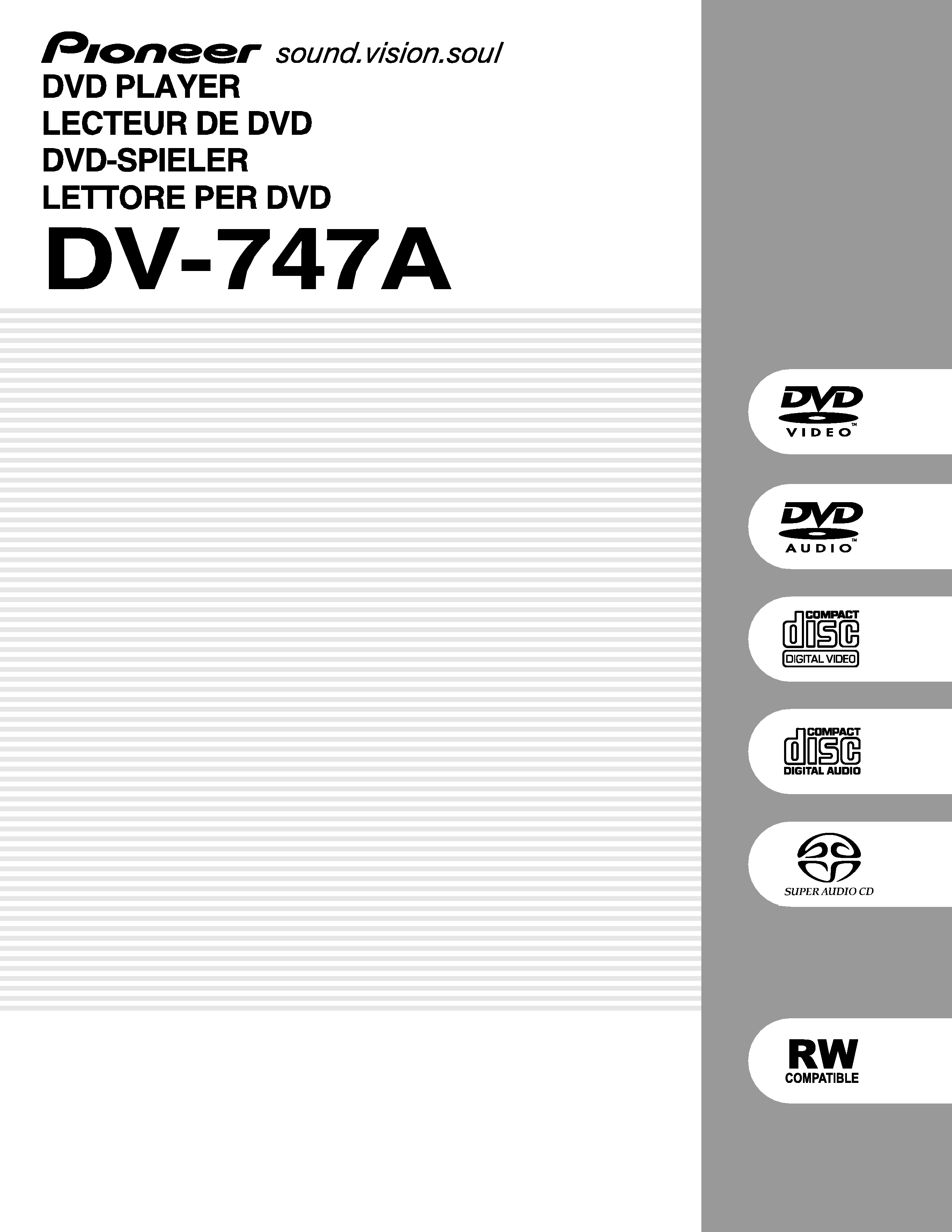 ---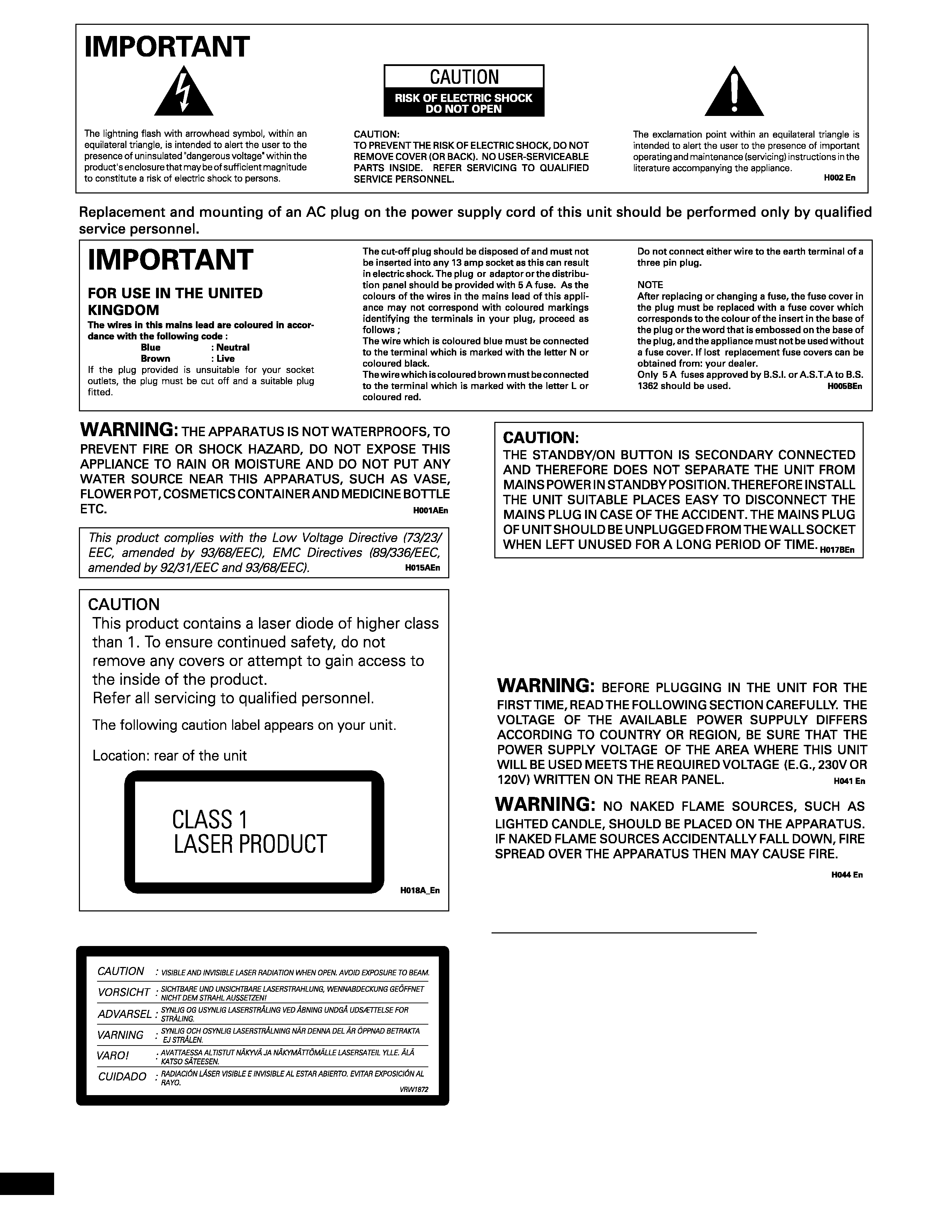 On the bonnet of the player
Operating environment temperature and humidity:
+5°C ­ +35°C (+41°F ­ +95°F); less than 85%RH (cooling vents not
Do not install in the following locations
÷ Location exposed to direct sunlight or strong artificial light
÷ Locationexposedtohighhumidity,orpoorlyventilatedlocation
WARNING:
Slot and openings in the cabinet are provided for
ventilation and to ensure reliable operation of the product and
to protect it from overheating, to prevent fire hazard, the open-
ings should never be blocked and covered with items, such as
newspapers, table-cloths, curtains, etc. Also do not put the ap-
paratus on the thick carpet, bed, sofa, or fabric having a thick
This product incorporates copyright protection technol-
ogy that is protected by method claims of certain U. S.
patents and other intellectual property rights owned by
Macrovision Corporation and other rights owners. Use of
this copyright protection technology must be authorized
by Macrovision Corporation, and is intended for home
and other limited viewing uses only unless otherwise au-
thorized by Macrovision corporation. Reverse engineering
or disassembly is prohibited.
---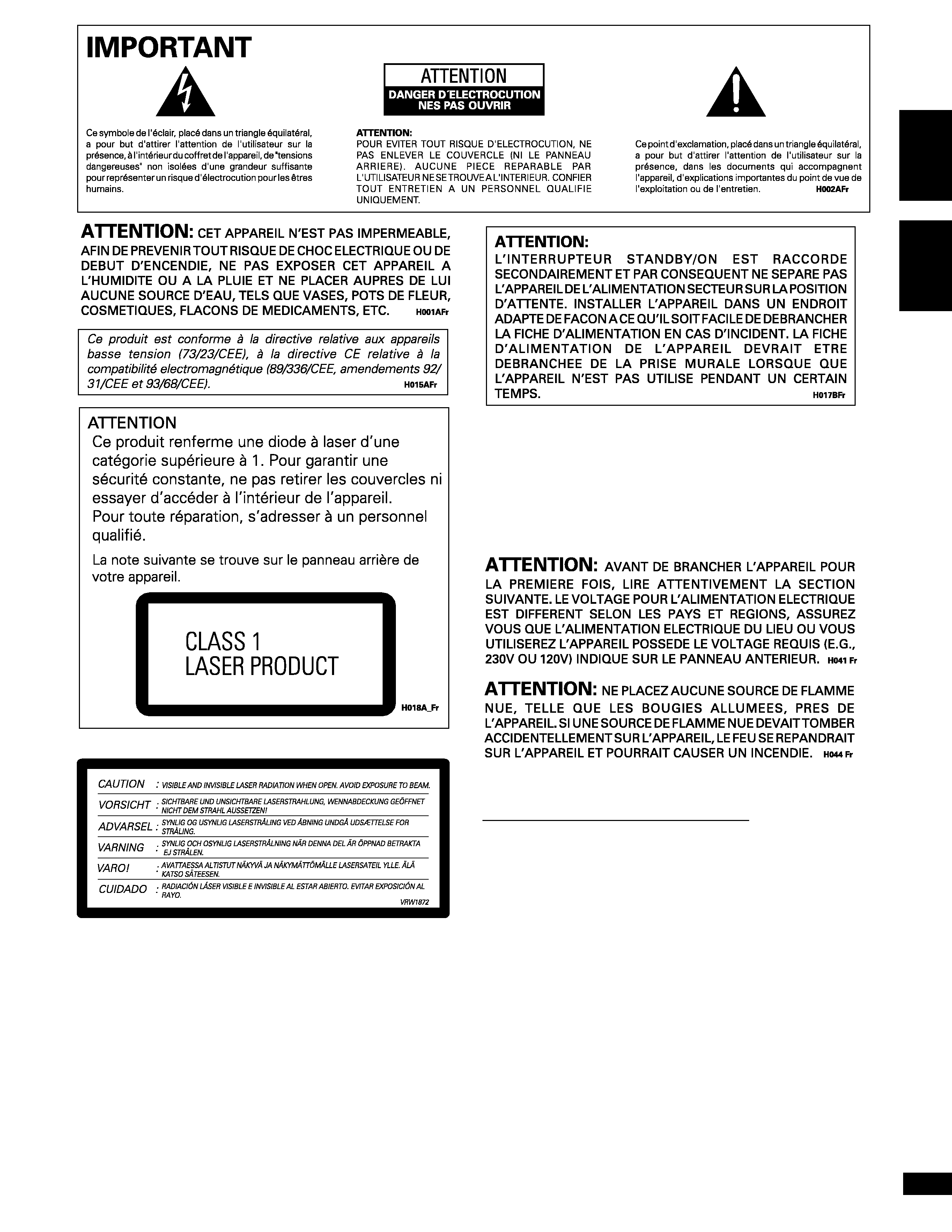 Cet appareil fait appel à divers circuits et principes destinés
á interdire la piraterie des oeuvres protégées par des droits
d'auteurs, circuits et principes qui sont couverts aux Etats-
Unis soit par des brevets détenus par Macrovision Cor-
poration et d'autres sociétés, soit par d'autres formes de
propriété intellectuelle appartenant également á
Macrovision et à d'autres sociétés. L'utilisation de la
technologie visant à la protection des droits dàuteur doit
être autorisée par Macrovision Corporation, et doit être
limitée à des fins domestiques, ou similaires, sauf accord
préalable de Macrovision Corporation. La rétro-technique
et le désassemblage sont proscrits.
Sur le couvercle supérieur de l'appareil
Conditions de Fonctionnement
Tempéraure et humidité ambiante lors du fonctionnement:
+5°C ­ +35°C (+41°F ­ +95°F); inférieur à 85%RH (events d'aération
Ne pas installer dans les lieux suivants
÷ Lieux exposés à la lumière direct du soleil ou lumière artificielle
÷ Lieux exposés à une forte humidité ou lieux peu ventilés
ATTENTION:
Les évents et les ouvertures dans la structure sont
prévus pour la ventilation et pour assurer le bon fonctionnement
du produit et pour la protéger des risques de surchauffe, et des
risques d'incendie, les ouvertures ne doivent jamais etre bloquées
ni couvertes par des matériaux tels que journaux, nappes,
rideaux, etc. De meme, ne pas positionner l'appareil sur un tapis
épais, lit, canapé ou tout meuble possédant un rembourrage
---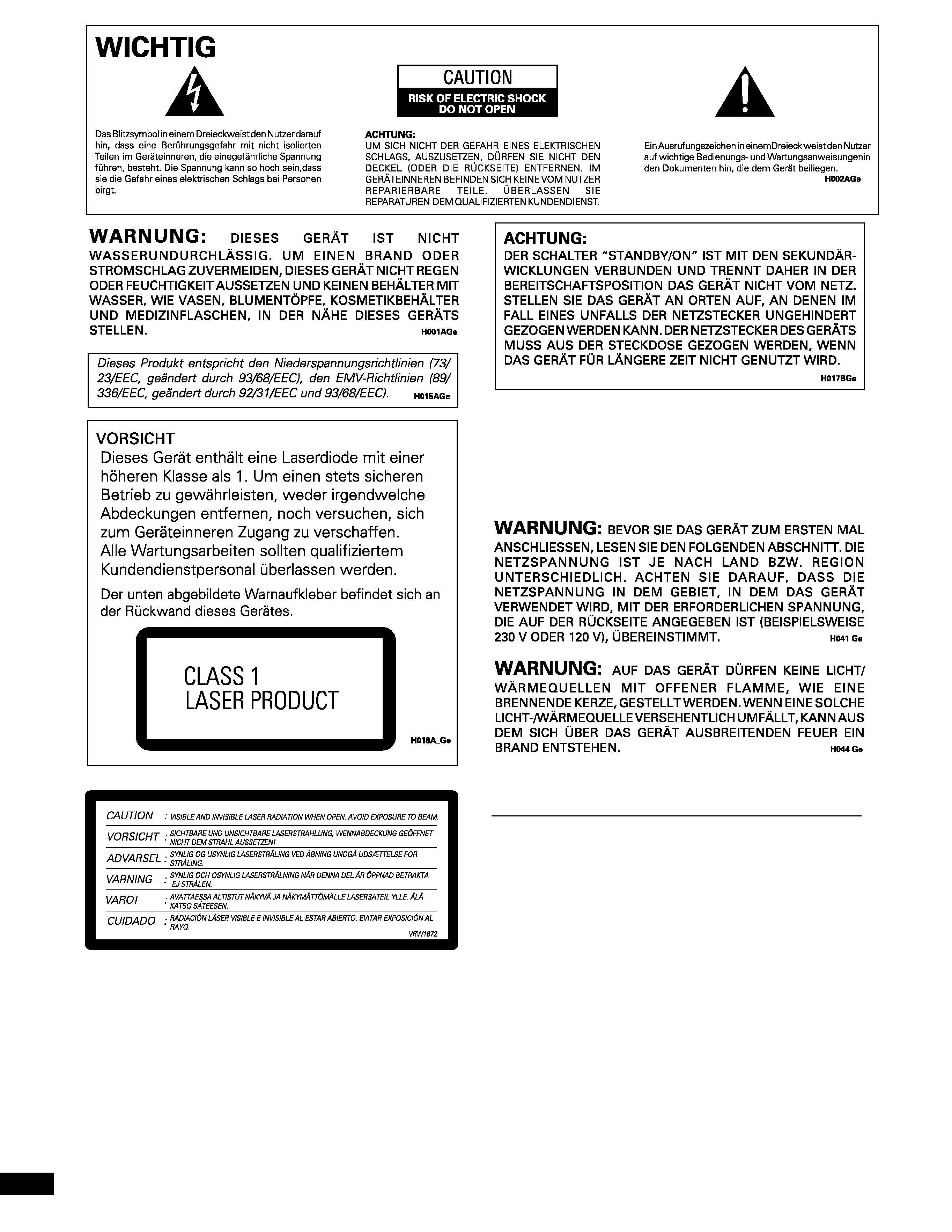 Dieses Produkt beinhaltet urheberrechtlich geschützte
Technologie gemäß Verfahrensansprüchen bestimmter
US-Patente und anderer Rechte geistigen Eigentums im
Besitz der Macrovision Corporation und anderer
Rechtsinhaber. Gebrauch dieser urheberrechtlich
geschützten Technologie muß von Macrovision
Corporation autorisiert werden, und ist nur auf
Heimanwendungen und andere begrenzte Anwendungen
beschränkt, sofern nicht eine spezielle Genehmigung der
Macrovision Corporation eingeholt worden ist. Nachbau
Betriebstemperatur und -feuchtigkeit:
+5 °C ­ +35 °C (+41 °F ­ +95 °F); weniger als 85% rel. Luftfeuchtigkeit
(Lüftungsöffnungen nicht blockiert)
Nicht an folgenden Orten aufstellen:
÷ Orte, die direktem Sonnenlicht oder starkem künstlichen Licht
÷ Orte mit hoher Luftfeuchtigkeit oder schlechter Belüftung
WARNUNG:
Schlitze und andere Öffnungen im Gehäuse
gewährleisten einen zuverlässigen Betrieb des Geräts und
schützen es vor Überhitzung. Um Brandgefahr auszuschließen,
dürfen die Öffnungen niemals mit Gegenständen, wie Zeitungen,
Tischtüchern, Gardinen usw. blockiert bzw. abgedeckt werden.
Außerdem dürfen Sie das Gerät nicht auf dicken Teppichen,
Betten, Sofas oder Stoffen mit dickem Flor aufstellen.
---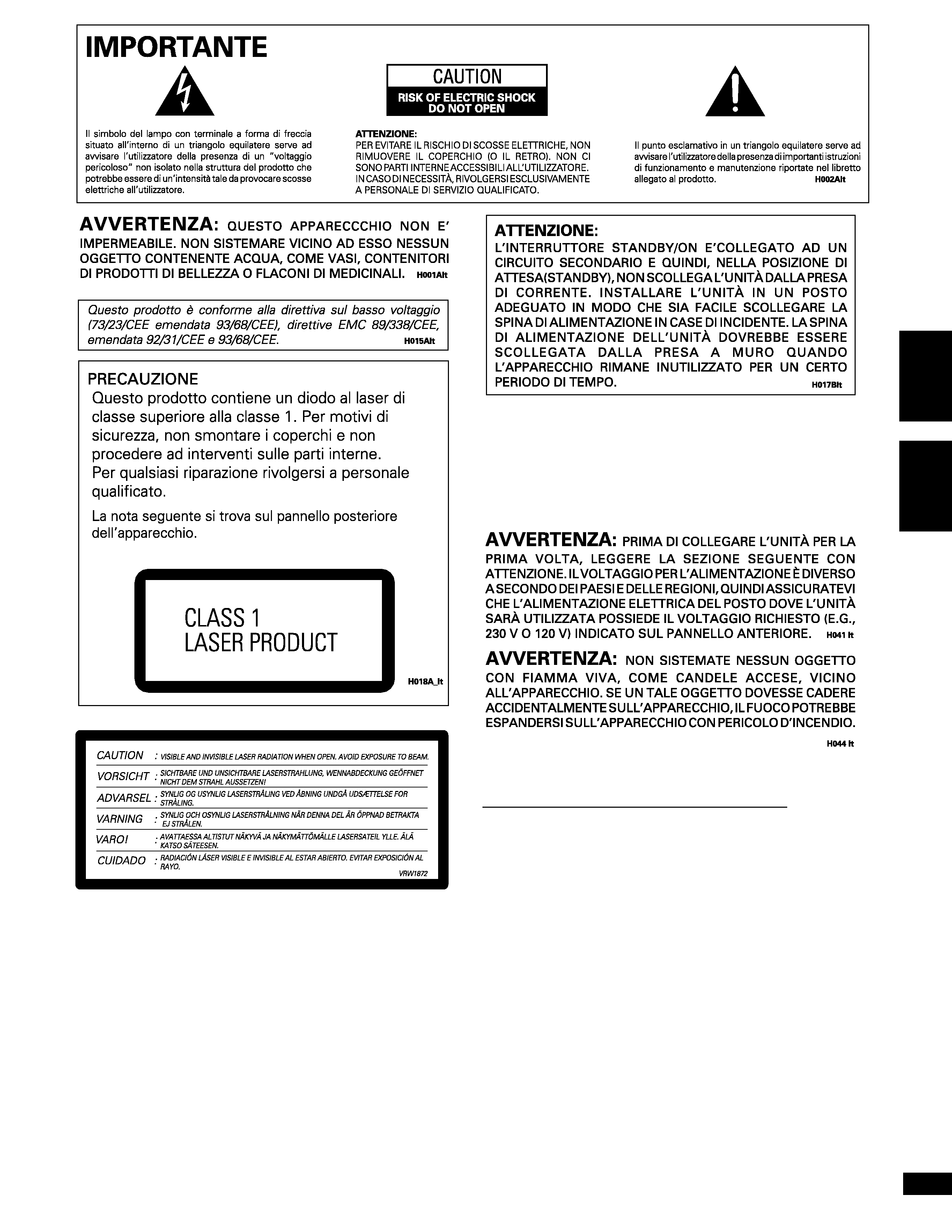 Questo prodotto contiene una tecnologia di protezione dei
diritti di autore, che è a sua volta protetta dal contenuto di
certi brevetti americani e da altri diritti sulla proprietà
intellettuale, posseduti dalla Macrovision Corporation e
da altri possessori di diritti. L'uso di questa tecnologia di
protezione dei diritti d'autore deve essere autorizzato dalla
Macrovision Corporation, ed è inteso solamente per uso
domestico, o per altri scopi limitati, ove non altrimenti
autorizzato dalla Macrovision Corporation. L'uso di
tecniche di inversione e lo smontaggio sono proibiti.
Sul coperchio dell'apparecchio
Condizioni ambientali di funzionamento
Umidità e temperatura di funzionamento:
+5°C ­ +35°C (+41°F ­ +95°F); inferiore a 85%RH (feritoie di
raffreddamento non ostruite)
Non posizionare nei seguenti luoghi:
÷ luoghi esposti alla luce diretta del sole o a forti sorgenti di luce
÷ luoghi esposti a condizioni di alta umidità o scarsa ventilazione
AVVERTENZA:
Feritoie ed aperture nella struttura sono previste
solo per la ventilazione e, in modo da assicurare il buon
funzionamento del prodotto, proteggerlo dal surriscaldamento,
dai rischi d'incendio, le aperture non devono mai essere ostruite
o ricoperte da oggetti come giornali, tovaglie, tende, ecc... Inoltre,
non posizionare l'apparecchio su tappetti spessi, letti, divani o
mobili aventi una spessa imbottitura.
---