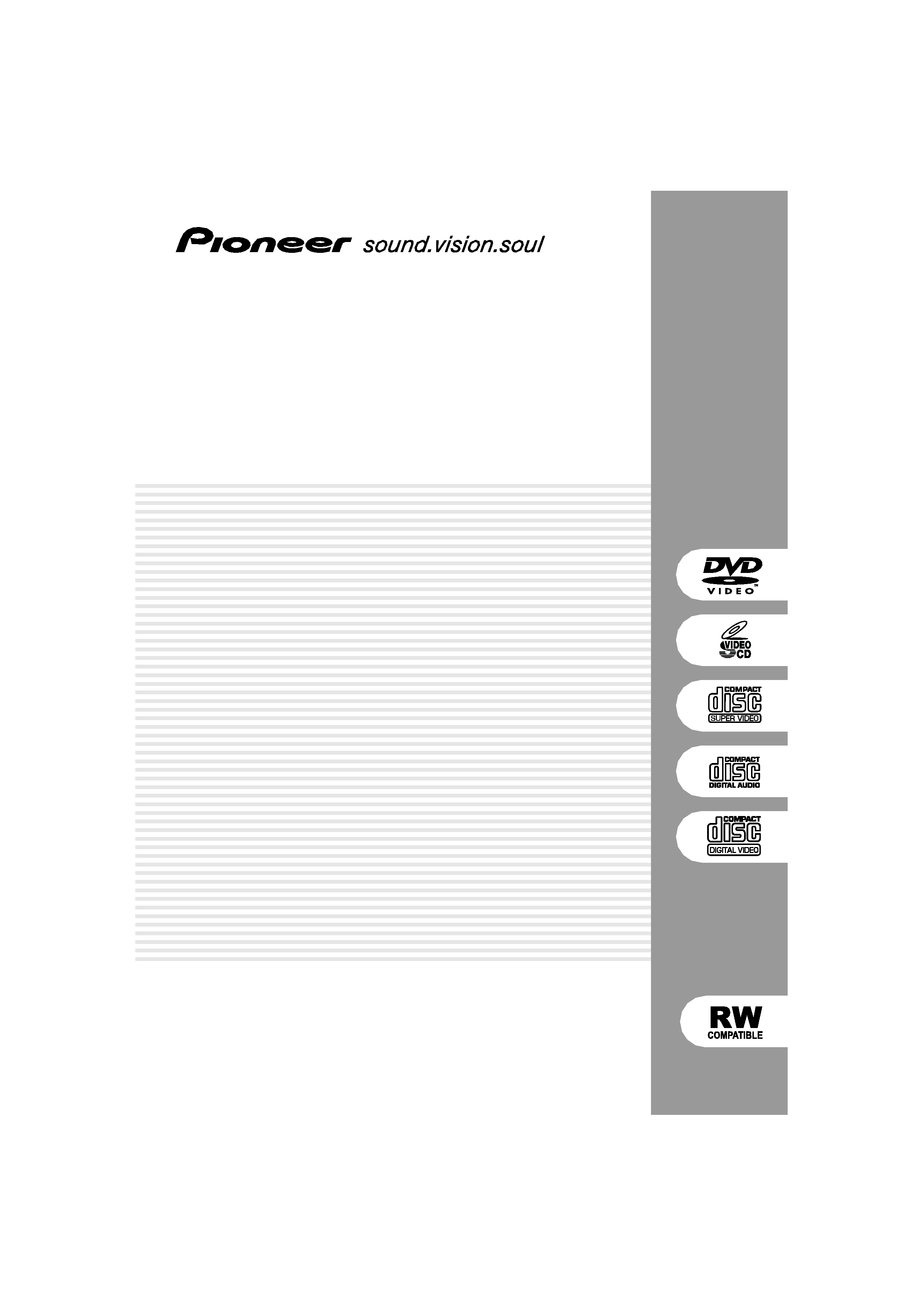 ---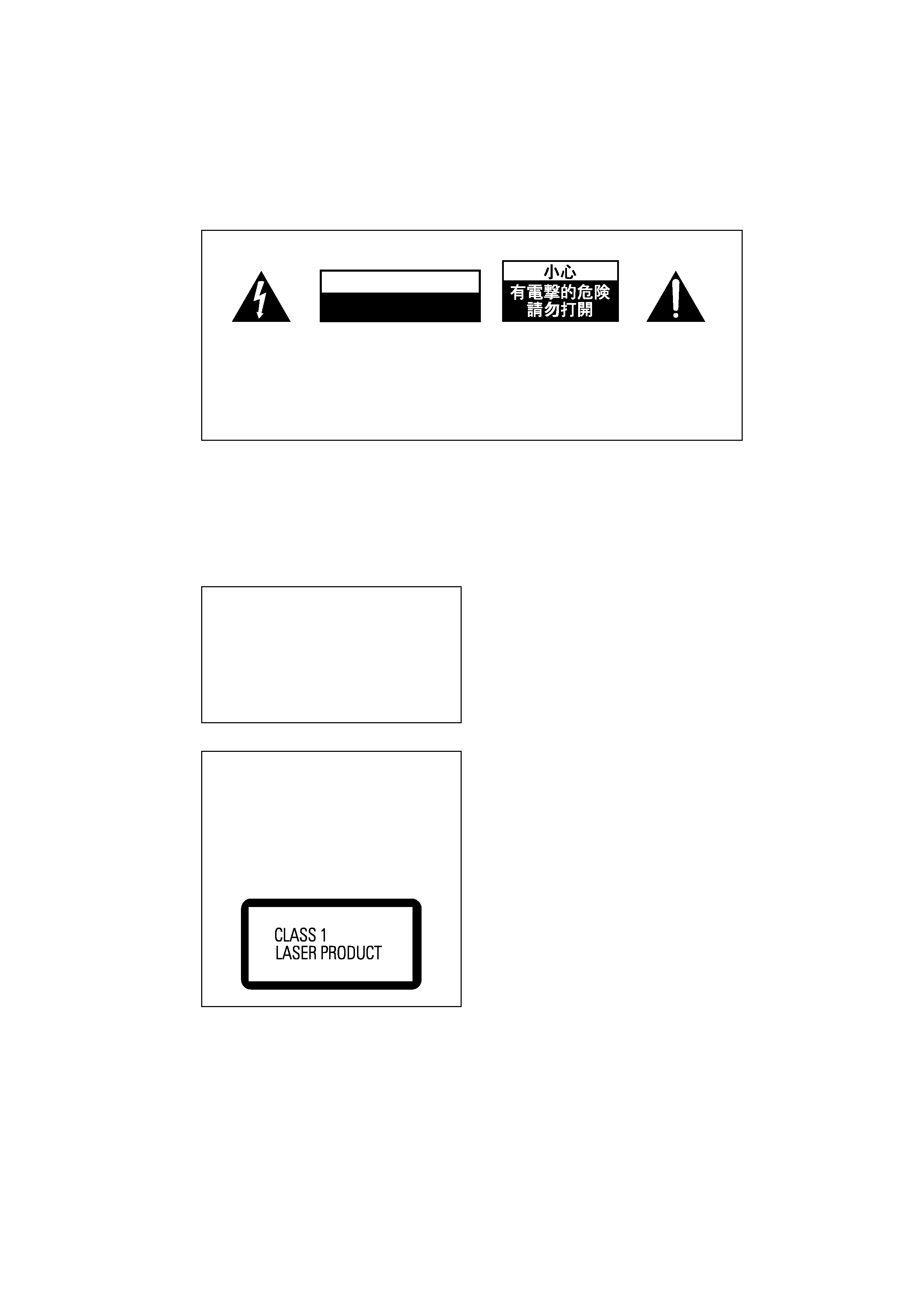 The lightning flash with arrowhead
symbol, within an equilateral
triangle, is intended to alert the
user to the presence of uninsulated
"dangerous voltage" within the
product's enclosure that may be of
sufficient magnitude to constitute
a risk of electric shock to persons.
TO PREVENT THE RISK OF ELECTRIC
SHOCK, DO NOT REMOVE COVER
(OR BACK). NO USER-SERVICEABLE
PARTS INSIDE. REFER SERVICING
The exclamation point within an
equilateral triangle is intended to
alert the user to the presence of
instructions in the literature
accompanying the appliance.
WARNING:
THE APPARATUS IS NOT
WATERPROOFS, TO PREVENT FIRE OR SHOCK
HAZARD, DO NOT EXPOSE THIS APPARUTUS TO
RAIN OR MOISTURE AND DO NOT PUT ANY
WATER SOURCE NEAR THIS APPARATUS, SUCH
AS VASE, FLOWER POT, COSMETICS CONTAINER
CAUTION:
THE STANDBY/ON BUTTON IS
SECONDARY CONNECTED AND THEREFORE
DOES NOT SEPARATE THE UNIT FROM MAINS
POWER IN STANDBY POSITION. therefore install
the unit suitable places easy to disconnect the
MAINS plug in case of the accident. The MAINS
plug of unit should be unplugged from the wall
socket when left unused for a long period of
This product contains a laser diode of higher class
than 1. To ensure continued safety, do not remove
any covers or attempt to gain access to the inside
Refer all servicing to qualified personnel.
The following caution label appears on your unit.
Location: rear of the unit
WARNING:
Slot and openings in the cabinet are
provided for ventilation and to ensure reliable
operation of the product and to protect it from
overheating, to prevent fire hazard, the openings
should never be blocked and covered with items,
such as newspapers, table-cloths, curtains, etc. Also
do not put the apparatus on the thick carpet, bed,
sofa, or fabric having a thick pile.
WARNING:
BEFORE PLUGGING IN THE UNIT
FOR THE FIRST TIME, READ THE FOLLOWING
SECTION CAREFULLY. THE VOLTAGE OF THE
AVAILABLE POWER SUPPLY DIFFERS
ACCORDING TO COUNTRY OR REGION. BE SURE
THAT THE POWER SUPPLY VOLTAGE OF THE
AREA WHERE THIS UNIT WILL BE USED MEETS
THE REQUIRED VOLTAGE (E.G., 230V OR 120V)
WRITTEN ON THE REAR PANEL.
WARNING:
NO NAKED FLAME SOURCES,
SUCH AS LIGHTED CANDLE, SHOULD BE
PLACED ON THE APPARATUS. IF NAKED FLAME
SOURCES ACCIDENTALLY FALL DOWN, FIRE
SPREAD OVER THE APPARATUS THEN MAY
---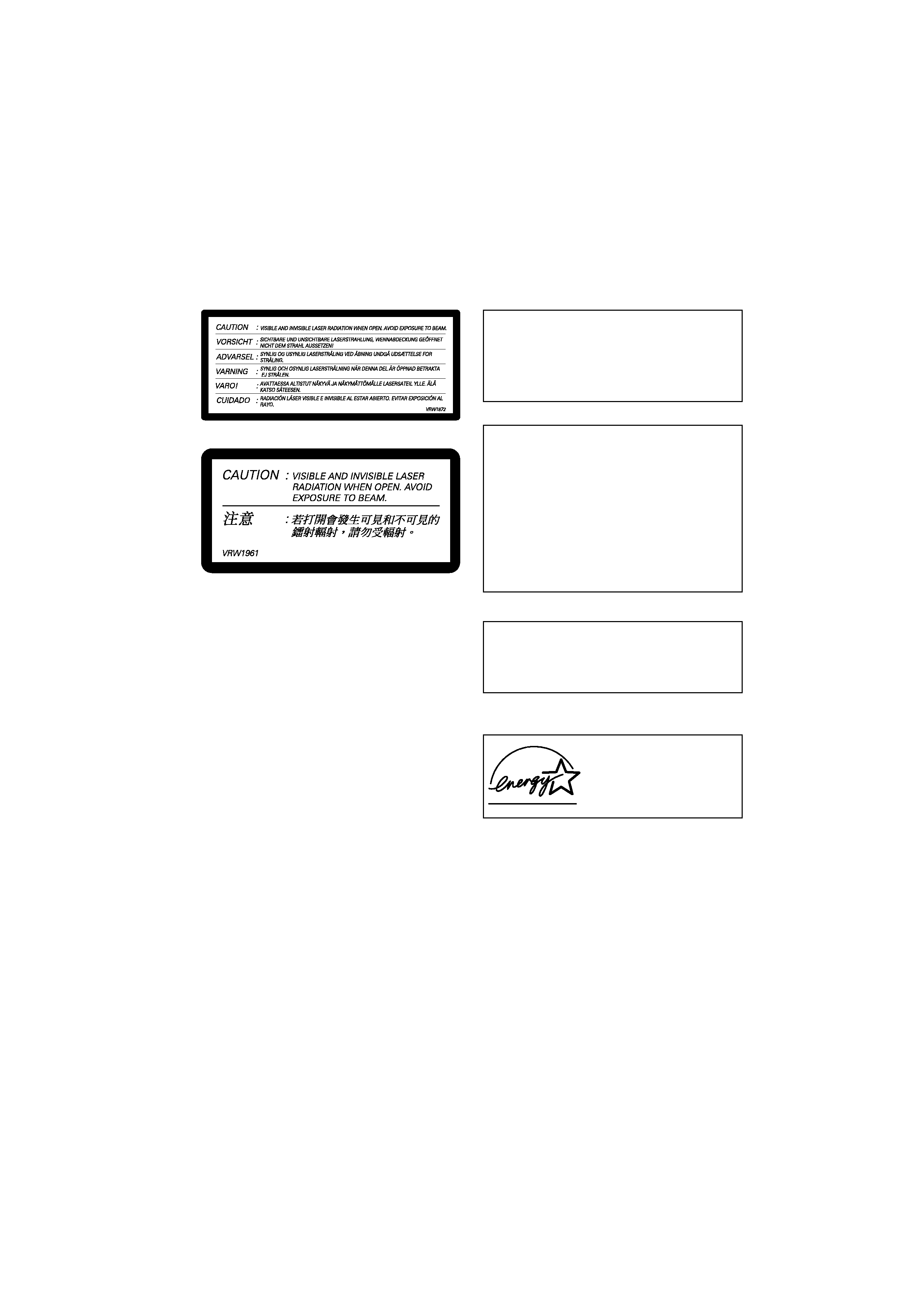 This product incorporates copyright protection
technology that is protected by method claims
of certain U.S. patents and other intellectual
property rights owned by Macrovision
Corporation and other rights owners. Use of
this copyright protection technology must be
authorized by Macrovision Corporation, and is
intended for home and other limited viewing
uses only unless otherwise authorized by
Macrovision Corporation. Reverse engineering
or disassembly is prohibited.
This product is for general household purposes.
Any failure due to use for other than household
purposes (such as long-term use for business
purposes in a restaurant or use in a car or ship)
and which requires repair will be charged for
even during the warranty period.
This product includes FontAvenue
®
fonts
licenced by NEC corporation. FontAvenue is
a registered trademark of NEC Corporation.
Operating Environment
H045_En
Operating environment temperature and
+5ºC ­ +35ºC (+41ºF ­ +95ºF); less than 85%RH
(cooling vents not blocked)
Do not install in the following locations
÷ Location exposed to direct sunlight or strong
÷ Location exposed to high humidity, or poorly
On the bonnet of the unit
[Except and Taiwanese model]
For Australian and New Zealand models:
---

. . . . . . . . . . . . . . . . . . . . . . . . . . . 6
. . . . . . . . . . . . . . . . . . . . 7
Putting the batteries in the remote control
. . . . . . . . . . . . . 8
Disc / content format playback compatibility
. . . . . . . . . . . . . . . . . . . . . . . . . . . . . . . . . . 8
General disc compatibility
. . . . . . . . . . . . 8
. . . . . . . . . . . . . . 9
. . . . . . . . . . . . . 9
PC-created disc compatibility
Compressed audio compatibility
. . . . . . . . . . . . . . 10
. . . . . . . . . . . . . . 11
. . . . . . . . . . . . . . . . . . . 12
Using other types of video output
Connecting using the S-video output
Connecting using the component video
. . . . . . . . . . . . . . . . . . . . . . . . . . . 14
Taiwanese model only: Connecting using the
. . . . . . . . . . . . . . . . . 14
Connecting to an AV receiver
. . . . . . . . . . . . . . . . . . . . . . . . 17
. . . . . . . . . . . . . . . . . . . . . . . . . . . 18
. . . . . . . . . . . . . . . . . . . . 19
. . . . . . . . . . . . . . . . . . . . . . 21
. . . . . . . . . . . . . . . . . . . . 21
Using the on-screen displays
Setting up with the Setup Navigator
. . . . . . . . . . . . . . . . . . . . . . 26
. . . . . . . . . . . . . 28
. . . . . . . . . . . . . . . . . . 29
Video CD/Super VCD PBC menus
Singing Your Favorite Songs Along with
. . . . . . . . . . . . . . . . . . . . . . 30
. . . . . . . . . . . . . . . . . . . . . . . . 32
Using the Disc Navigator to browse the
. . . . . . . . . . . . . . . . . . . 32
. . . . . . . . . . . . . . . . . . . . . 34
. . . . . . . . . . . . . . . 34
Frame advance/frame reverse
Looping a section of a disc
. . . . . . . . . . . . 35
. . . . . . . . . . . . . . . . . . . . 35
. . . . . . . . . . . . . . . . . . 37
. . . . . . . . . . . . . . . 38
. . . . . . . . . . . . . . . 40
Other functions available from the program
. . . . . . . . . . . . . . . . . . . . . . . . . . . 40
. . . . . . . . . . . . . . . . . . . . 41
. . . . . . . . . . . . . . . . . . 41
Switching DVD-Video audio language
Switching VR format DVD-RW audio
. . . . . . . . . . . . . . . . . . . . . . . . . . 42
Switching Video CD/Super VCD audio
. . . . . . . . . . . . . . . . . . . . . . . . . . 42
. . . . . . . . . . . . . . . . . . 42
. . . . . . . . . . . . . 43
Displaying disc information
. . . . . . . . . . . . 43
. . . . . . . . . . . . . . . . . . 45
Using the JPEG Disc Navigator and Photo
. . . . . . . . . . . . . . . . . . . . . . . . . . . 45
. . . . . . . . . . . . . . . . . . 46
. . . . . . . . . . . . . . . . . . . . . . . . 47
. . . . . . . . . . . . . . . . . . . . 47
---

. . . . . . . . . . . . . . . . . . . . . . . 49
Creating your own presets
Using the Initial Settings menu
Digital Audio Out settings
. . . . . . . . . . . . 51
. . . . . . . . . . . . . . . . . . . . . . . 51
. . . . . . . . . . . . . . . . . . 52
. . . . . . . . . . . . . . . . . . . . . . . . . 52
. . . . . . . . . . . . . . . . . . . 52
. . . . . . . . . . . . . . . . . . . . . . . 52
. . . . . . . . . . . . . . . . 53
. . . . . . . . . . . . . . . . . . . . . . . 53
. . . . . . . . . . . . . . . . . . . 53
. . . . . . . . . . . . . . . . . . . . . . 54
. . . . . . . . . . . . . . . . . . 55
. . . . . . . . . . . . . . . . . . 55
. . . . . . . . . . . . . . . . . 55
. . . . . . . . . . . . . . . 56
. . . . . . . . . . . . . . . . . . . 56
. . . . . . . . . . . . . . . . . . . . 57
. . . . . . . . . . . . . . . . . . . 57
. . . . . . . . . . . . . . . . . 57
. . . . . . . . . . . . . . . . . . . 57
. . . . . . . . . . . . . . . . . . . . . . . . . . 58
. . . . . . . . . . . . . . . . . . . . . 58
. . . . . . . . . . . . . . . . . . . . . 60
10 Additional information
Taking care of your player and discs
. . . . . . . . . . . . . . . . . . . . 61
. . . . . . . . . . . . . . . . . . . . . 61
. . . . . . . . . . . . . . . . . . . . 62
Cleaning the unit's exterior
. . . . . . . . . . . . 62
Problems with condensation
. . . . . . . . . . . . . . . . 62
. . . . . . . . . . . . . . . . . 63
. . . . . . . . . . . . . . . 63
Screen sizes and disc formats
. . . . . . . . . . . . . . . 63
. . . . . . . . . . . . . . . . . 63
. . . . . . . . . . . . . . . . . . 64
Titles, chapters, groups and tracks
. . . . . . . . . . . . . . . . . . 65
Selecting languages using the language code
. . . . . . . . . . . . . . . . . . . . . . . . . . . . . . . 65
. . . . . . . . . . . . . . . . . . 66
. . . . . . . . . . . . . . . . . . . . 66
. . . . . . . . . . . . . . . . . . . . . . . . . . 67
Changing the on-screen display language to
. . . . . . . . . . . . . . . . . . . . . . . . . . . 70
. . . . . . . . . . . . . . . . 71
Watching NTSC on a PAL TV
. . . . . . . . . . . . . . . . . . . . 72
. . . . . . . . . . . . . . . . . . . . . . 75
---