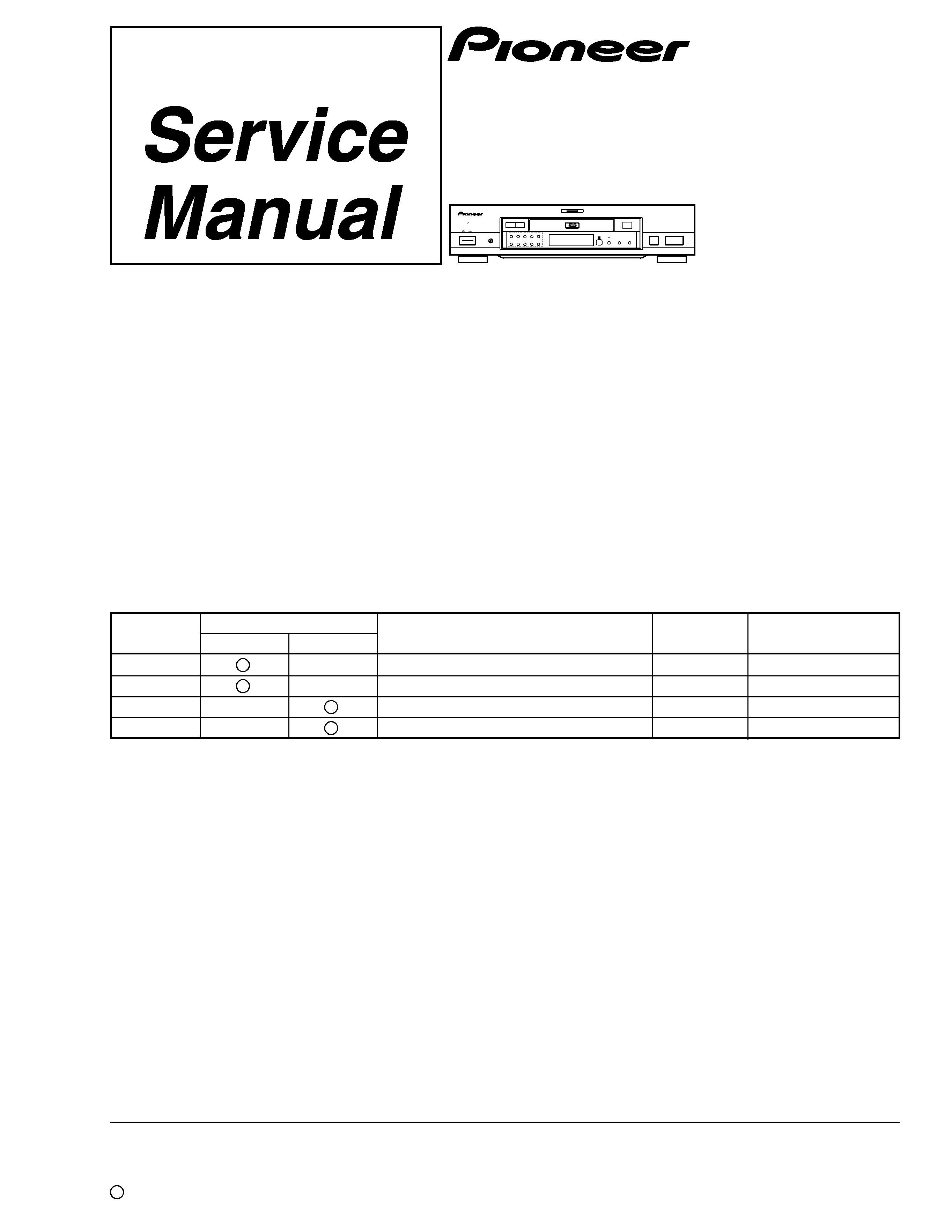 PIONEER ELECTRONIC CORPORATION
4-1, Meguro 1-Chome, Meguro-ku, Tokyo 153-8654, Japan
PIONEER ELECTRONICS SERVICE, INC. P.O. Box 1760, Long Beach, CA 90801-1760, U.S.A.
PIONEER ELECTRONIC (EUROPE) N.V. Haven 1087, Keetberglaan 1, 9120 Melsele, Belgium
PIONEER ELECTRONICS ASIACENTRE PTE. LTD. 501 Orchard Road, #10-00 Wheelock Place, Singapore 238880
PIONEER ELECTRONIC CORPORATION 1998
1. SAFETY INFORMATION ...................................... 2
2. EXPLODED VIEWS AND PARTS LIST ................ 3
3. SCHEMATIC DIAGRAM ..................................... 12
4. PCB CONNECTION DIAGRAM .......................... 29
5. PCB PARTS LIST ............................................... 39
6. ADJUSTMENT .................................................... 44
7. GENERAL INFORMATION ................................ 46
7.1 PARTS ......................................................... 46
7.1.1 IC ........................................................... 46
7.2 DISASSEMBLY ........................................... 50
7.3 BLOCK DIAGRAM ....................................... 51
8. PANEL FACILITIES AND SPECIFICATIONS .... 52
T ­ IZE SEPT. 1998 Printed in Japan
THIS MANUAL IS APPLICABLE TO THE FOLLOWING MODEL(S) AND TYPE(S).
·
Refer to the service guide RRV2004 for DV-515.
---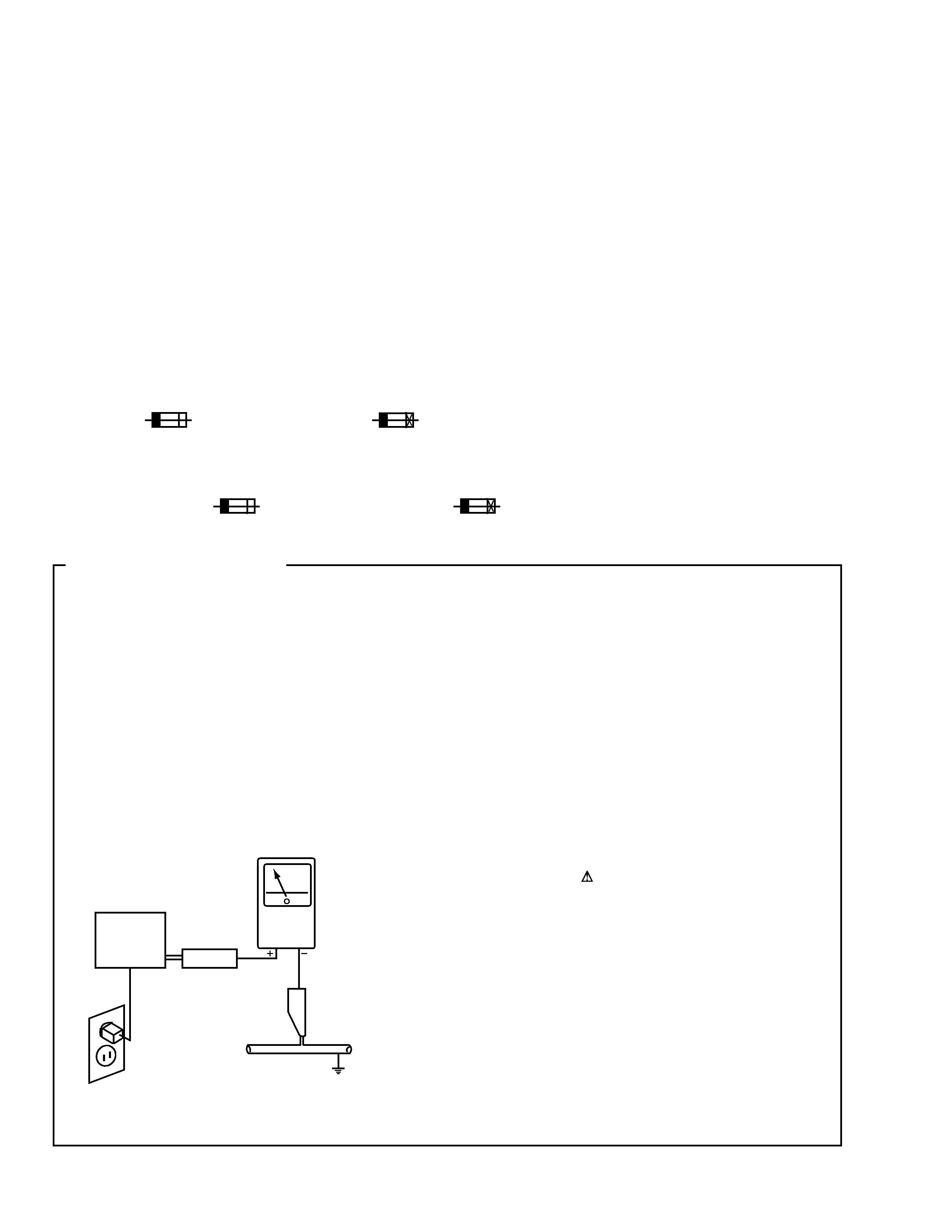 This service manual is intended for qualified service technicians ; it is not meant for the casual do-it-
yourselfer. Qualified technicians have the necessary test equipment and tools, and have been trained
to properly and safely repair complex products such as those covered by this manual.
Improperly performed repairs can adversely affect the safety and reliability of the product and may
void the warranty. If you are not qualified to perform the repair of this product properly and safely, you
should not risk trying to do so and refer the repair to a qualified service technician.
This product contains lead in solder and certain electrical parts contain chemicals which are known to the state of California to cause
cancer, birth defects or other reproductive harm.
Health & Safety Code Section 25249.6 ­ Proposition 65
(FOR CANADIAN MODEL ONLY)
(fast operating fuse) and/or
(slow operating fuse) on PCB indicate that replacement parts must
be of identical designation.
(POUR MODÈLE CANADIEN SEULEMENT)
(fusible de type rapide) et/ou
(fusible de type lent) sur CCI indiquent que les pièces
de remplacement doivent avoir la même désignation.
ANY MEASUREMENTS NOT WITHIN THE LIMITS
OUTLINED ABOVE ARE INDICATIVE OF A POTENTIAL
SHOCK HAZARD AND MUST BE CORRECTED BEFORE
RETURNING THE APPLIANCE TO THE CUSTOMER.
Many electrical and mechanical parts in the appliance
have special safety related characteristics. These are
often not evident from visual inspection nor the protection
afforded by them necessarily can be obtained by using
replacement components rated for voltage, wattage, etc.
Replacement parts which have these special safety
characteristics are identified in this Service Manual.
Electrical components having such features are identified
on the schematics and on the parts list
The use of a substitute replacement component which does
not have the same safety characteristics as the PIONEER
recommended replacement one, shown in the parts list in
this Service Manual, may create shock, fire, or other hazards.
Product Safety is continuously under review and new
instructions are issued from time to time. For the latest
information, always consult the current PIONEER Service
Manual. A subscription to, or additional copies of, PIONEER
Service Manual may be obtained at a nominal charge from
The following check should be performed for the
continued protection of the customer and service
Measure leakage current to a known earth ground (water
pipe, conduit, etc.) by connecting a leakage current tester
such as Simpson Model 229-2 or equivalent between the
earth ground and all exposed metal parts of the appliance
(input/output terminals, screwheads, metal overlays, control
shaft, etc.). Plug the AC line cord of the appliance directly
into a 120V AC 60Hz outlet and turn the AC power switch
on. Any current measured must not exceed 0.5mA.
---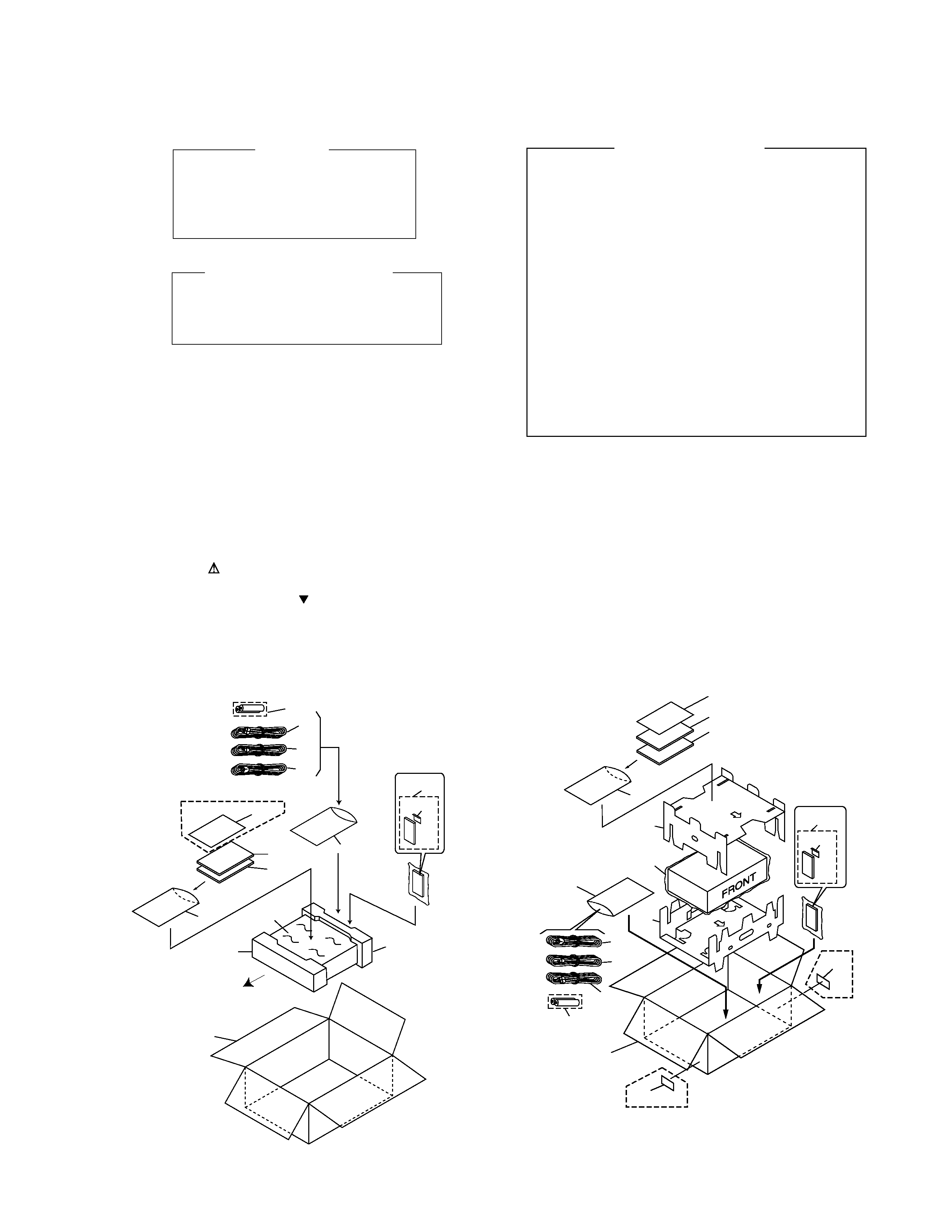 2. EXPLODED VIEWS AND PARTS LIST
·
Parts marked by "NSP" are generally unavailable because they are not in our Master Spare Parts List.
·
The mark found on some component parts indicates the importance of the safety factor of the part.
Therefore, when replacing, be sure to use parts of identical designation.
·
Screws adjacent to mark on the product are used for disassembly.
THIS PIONNER APPARATUS CONTAINS
SERVICING OPERATION OF THE APPARATUS
SHOULD BE DONE BY A SPECIALLY
LASER DIODE CHARACTERISTICS
FOR DVD : MAXIMUM OUTPUT POWER : 7 mw
MAXIMUM OUTPUT POWER : 5mW
WAVELENGTH : 780 ­ 785 nm
1. Inside detection switch (S201 on the SMEB assy) and loading-
status detection switch (S301 on the LOSB assy) are detected
by the microprocessor (IC501 in the DVDM assy).
· To permit the laser diode to oscillate, it is required to set the
inside detection switch for the inside position (S201 : ON) and to
set the loading-status detection switch for the clamp position (the
center terminal of S301 is shorted to +5V). The 650 nm laser
diode for DVD oscillation will continue if pin 19 of IC101 is shorted
to +5V (fault condition) in the DVDM assy.
The 780 nm laser diode for CD oscillates if pin 20 of IC101 is
shorted to +5V in the DVDM assy.
, the laser diode oscillates when microproces-
sor detects a PLAY signal, or when the PLAY key is pressed
(S113 ON in the FLKB assy), with the above requirements satis-
2. When the cover is open, close viewing through the objective lens
with the naked eye will cause exposure to the laser beam.
: Refer to the service guide RRV2004.
---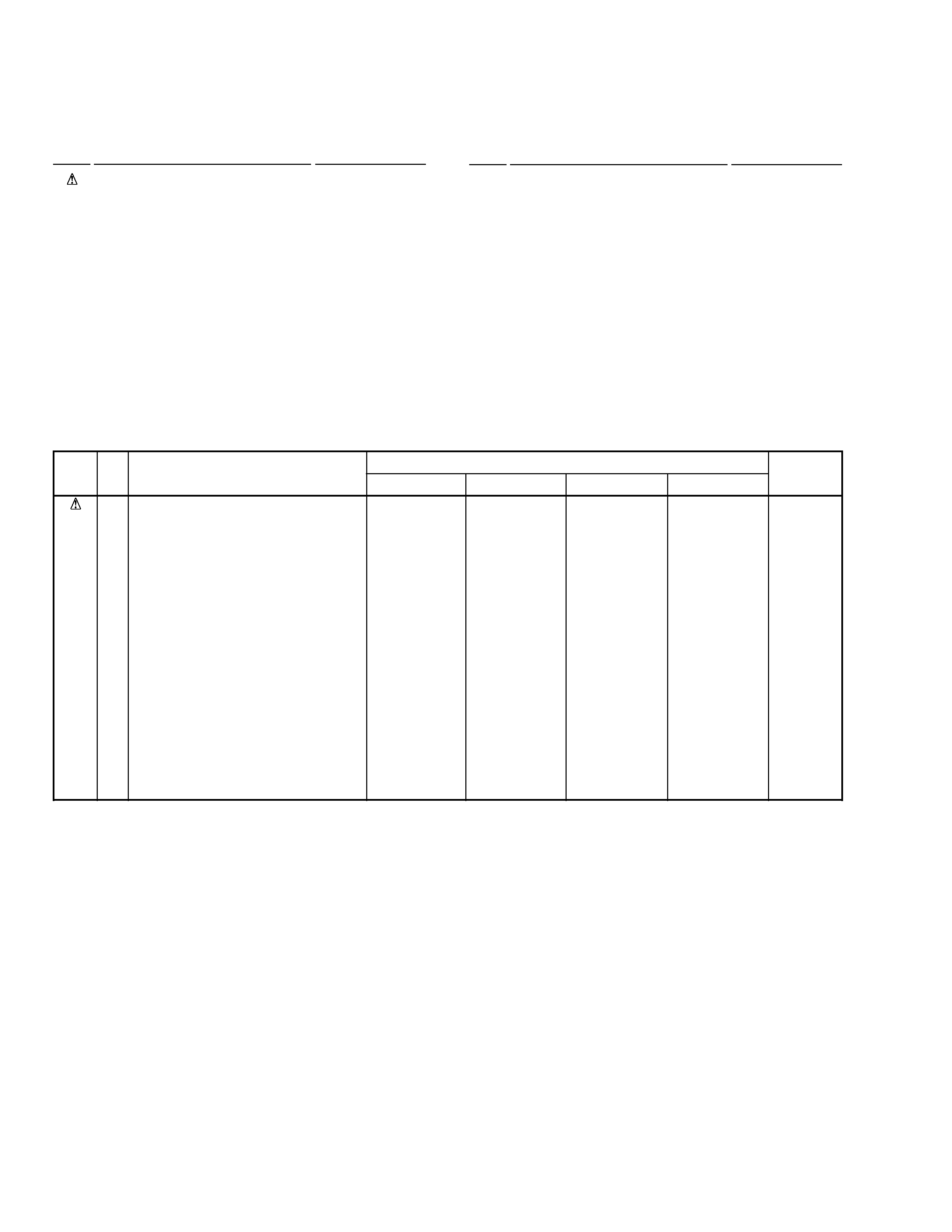 Dry Cell Battery (R6P,AA)
DV-515/RL, RAM, DV-414/KU and KC are constructed the same except for the following :
Mirror Mat Sheet 750x600x0.5 Z23-007
---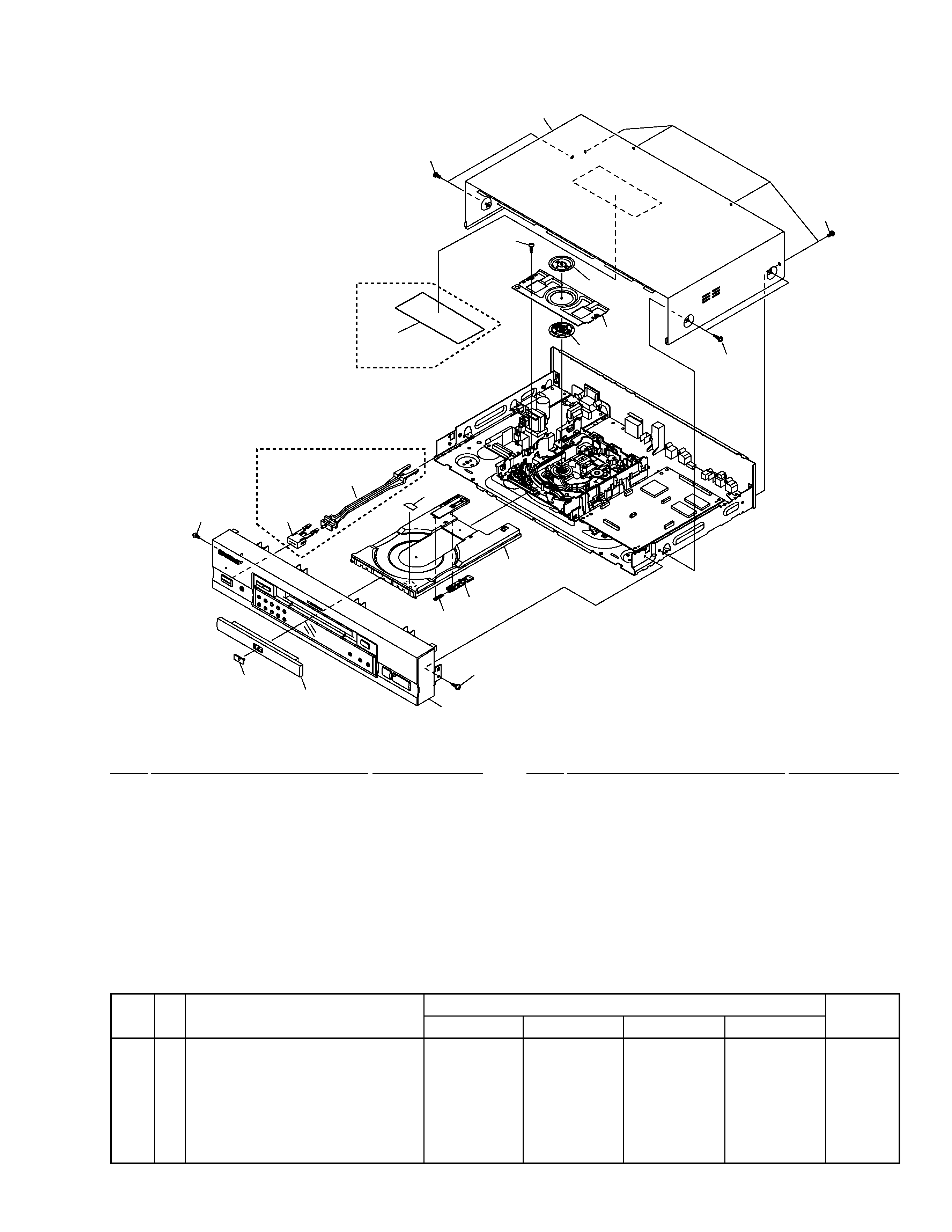 Refer to "2.3 FRONT PANEL SECTION"
(1) EXTERIOR SECTION PARTS LIST
DV-515/RL, RAM, DV-414/KU and KC are constructed the same except for the following :
---