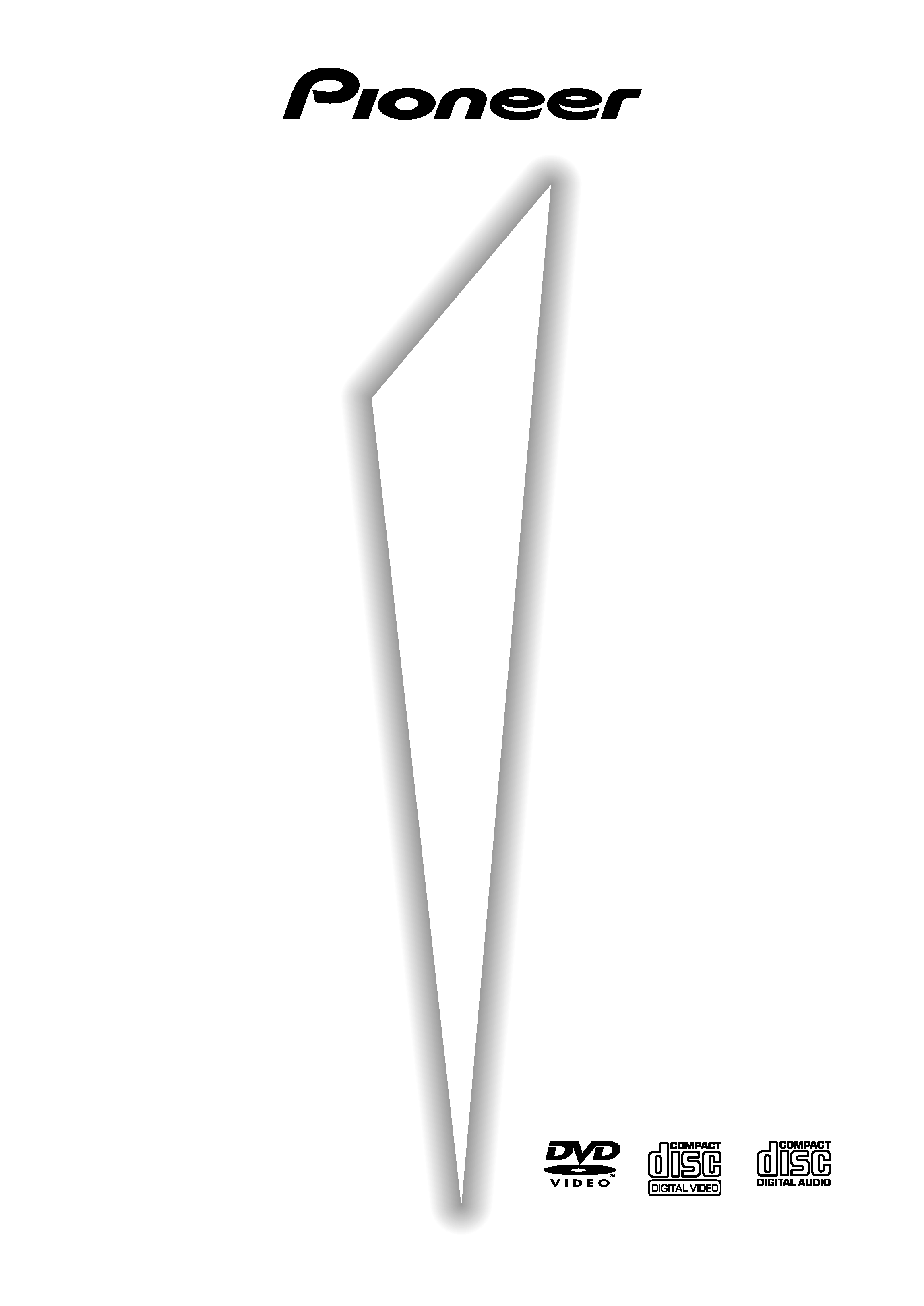 ---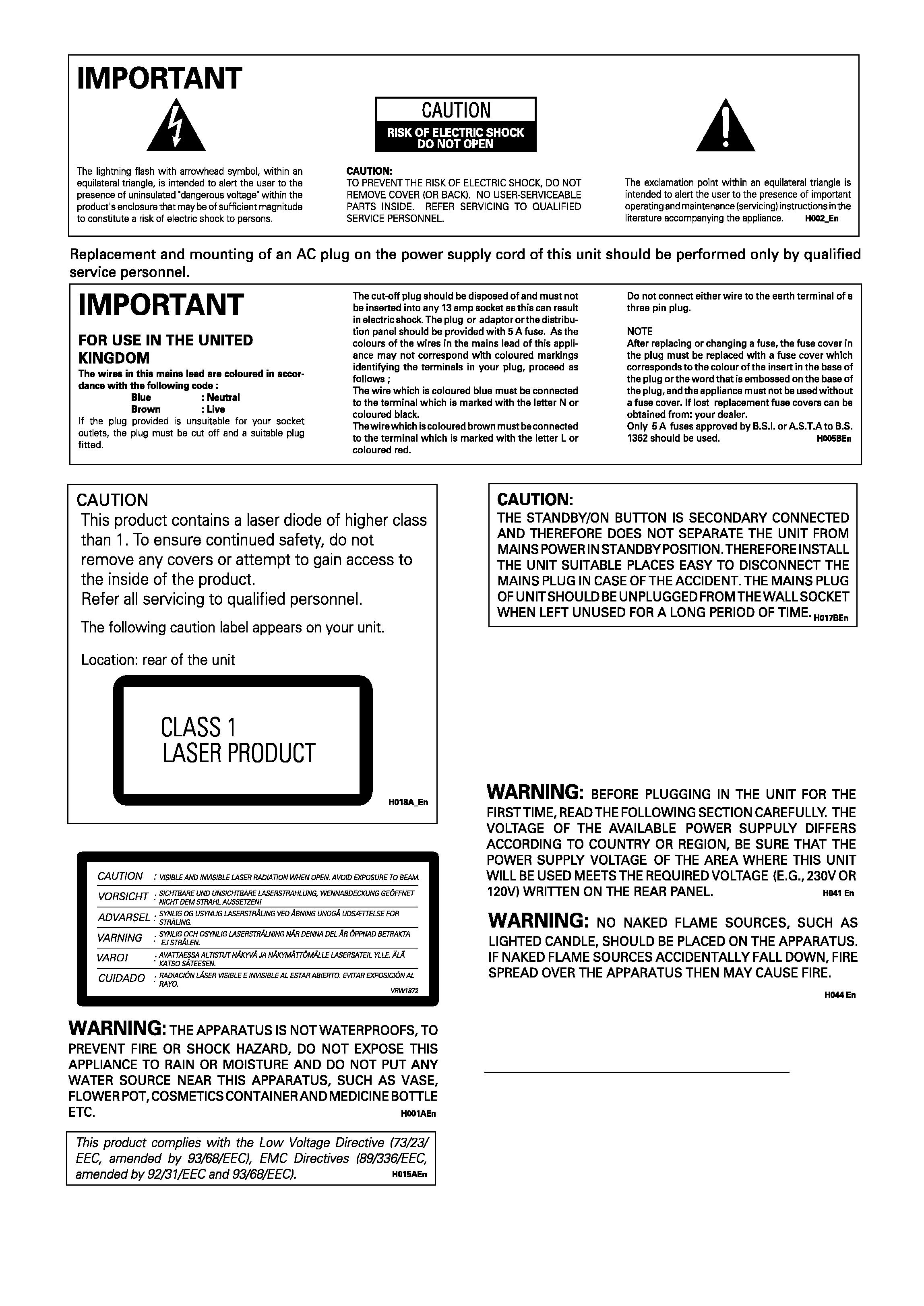 WARNING:
Slot and openings in the cabinet are pro-
vided for ventilation and to ensure reliable operation
of the product and to protect it from overheating, to
prevent fire hazard, the openings should never be
blocked and covered with items, such as newspapers,
table-cloths, curtains, etc. Also do not put the appara-
tus on the thick carpet, bed, sofa, or fabric having a
Operating environment temperature and humidity:
+5ºC ­ +35ºC (+41ºF ­ +95ºF); less than 85%RH (cooling
Do not install in the following locations
÷ Location exposed to direct sunlight or strong artifi-
÷ Location exposed to high humidity, or poorly venti-
On the bonnet of the player
---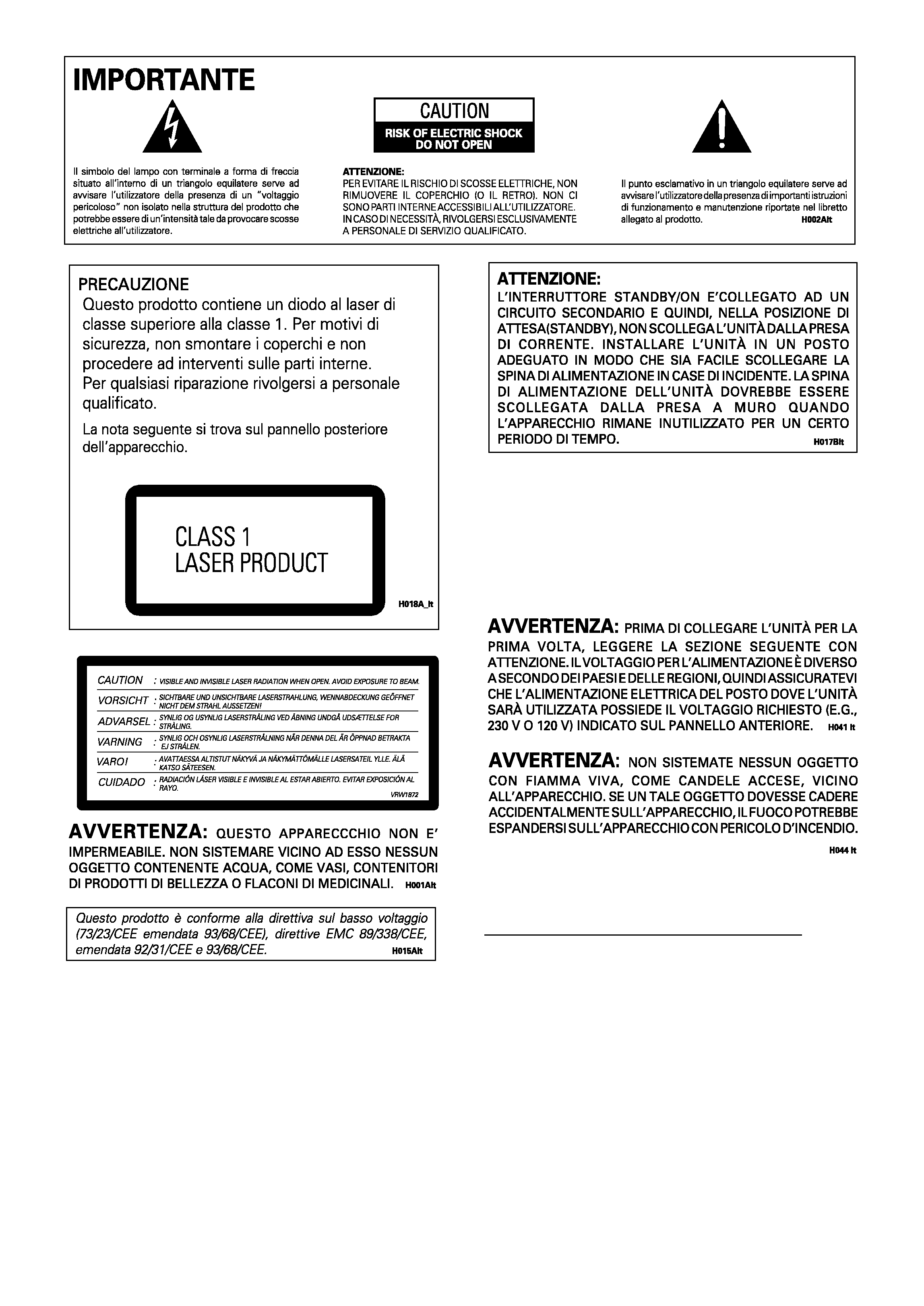 Sul coperchio dell'apparecchio
AVVERTENZA:
Feritoie ed aperture nella struttura sono
previste solo per la ventilazione e, in modo da assicurare
il buon funzionamento del prodotto, proteggerlo dal
surriscaldamento, dai rischi d'incendio, le aperture non
devono mai essere ostruite o ricoperte da oggetti come
giornali, tovaglie, tende, ecc... Inoltre, non posizionare
l'apparecchio su tappetti spessi, letti, divani o mobili
aventi una spessa imbottitura.
Condizioni ambientali di funzionamento
Umidità e temperatura di funzionamento:
+5ºC ­ +35ºC (+41ºF ­ +95ºF); inferiore a 85%RH (feritoie
di raffreddamento non ostruite)
Non posizionare nei seguenti luoghi:
÷ luoghi esposti alla luce diretta del sole o a forti
sorgenti di luce artificiale
÷ luoghi esposti a condizioni di alta umidità o scarsa
---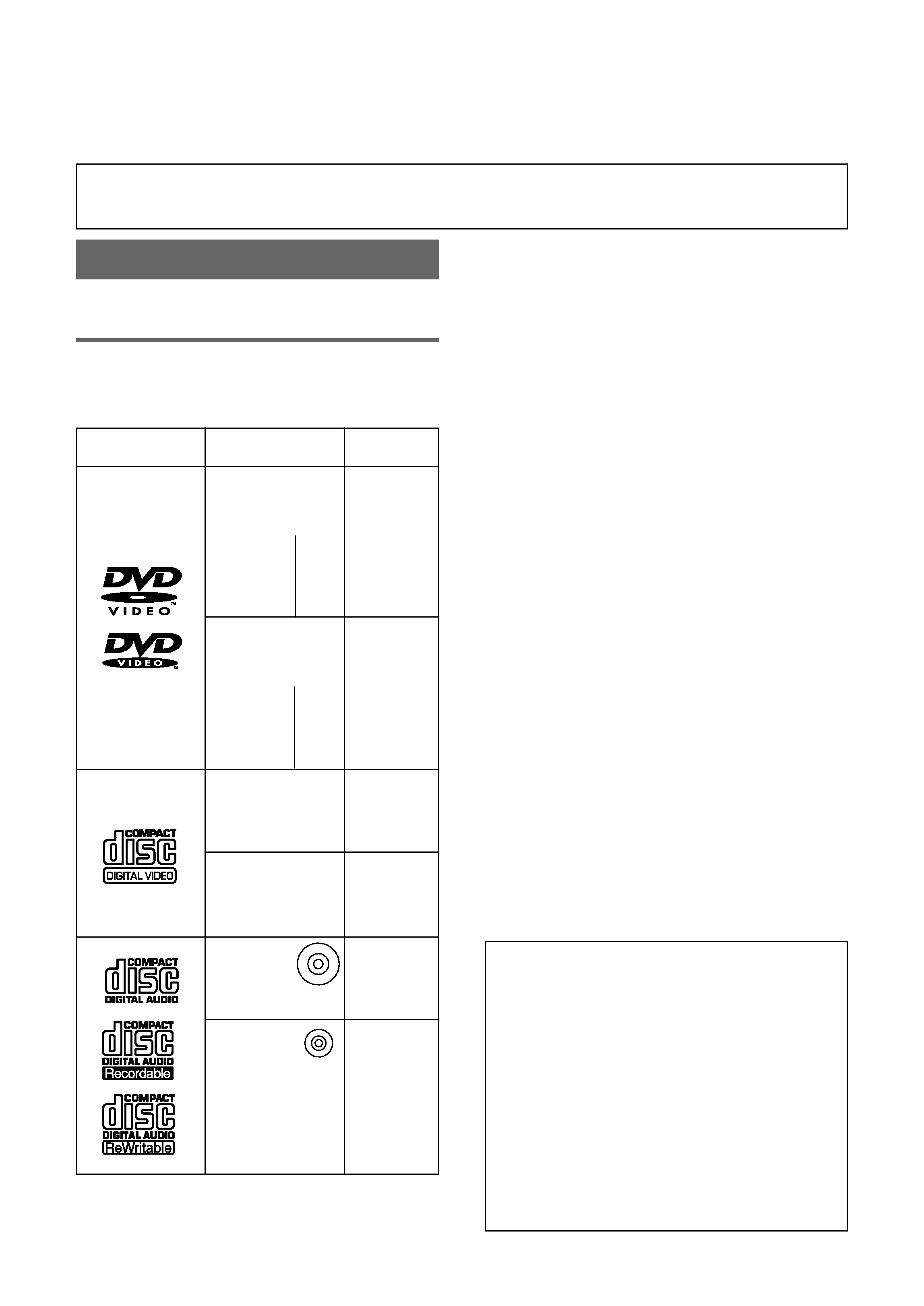 Compatible with DVD, Video CD
DVD, Video CD and CD discs that display the logos
shown below can be played back on PIONEER DVD
players. For more information on discs compatible with
this player, refer to the table below.
The disc format logos shown above are found on disc
labels or on disc jackets.
· To prevent malfunction, do not use an 8 cm adaptor
· Discs other than the ones indicated above cannot be
· DVDs that have incompatible region numbers, DVD-
Audio, DVD-ROM, and DVD-RAM cannot be played
on this unit. The region number of the player can be
This unit can play CD-R and CD-RW discs recorded in
CD Audio or Video CD format, or with MP3 audio
MP3 compatibility information
· The CD-ROM must be ISO 9660 compatible.
· Files should be MPEG1 Audio Layer 3 format, 44.1 or
48kHz, fixed bit-rate. Incompatible files will not play
and "UNPLAYABLE MP3 FORMAT" will be
· Not compatible with variable bit-rate (VBR) files.
· This player only plays tracks that are named with the
file extension ".mp3" or ".MP3".
· This player is not compatible with multi-session
discs. If you try and play a multi-session disc, only
the first session will be played.
· Use CD-R or CD-RW media for recording your MP3
files. The disc must be finalized in order to play.
· Audio encoded at 128Kbps should sound close to
regular audio CD quality. Although this player will
play lower bit-rate MP3 tracks, the sound quality
becomes noticeably worse at lower bit-rates.
· Only the first 8 characters of folder and track names
(excluding the ".mp3" extension) are displayed.
· This player can recognize a maximum of 250 folders
and 250 tracks. Discs containing more than 250
folders or tracks will play, but only the first 250
· CD-R/RW discs recorded using a personal
computer or a CD recorder may not play if the
disc is damaged or dirty, or if there is dirt or
condensation on the player's lens.
· If you record a disc using a personal computer,
even if it is recorded in a compatible format, there
are cases in which it may not play because of the
settings of the application software used to create
the disc. (Check with the software publisher for
more detailed information.)
· Unfinalized CD-R/RW discs can be played, but not
all time information (playing time, etc.) will be
· For more information on using CD-R/RW discs,
`Disc care' wstarting on page 53.
CONGRATULATIONS
ON YOUR PURCHASE OF THIS FINE PIONEER PRODUCT.
Pioneer is on the leading edge of DVD research for consumer products and this unit incorporates the latest technological
We are sure you will be fully satisfied with the DVD player.
Thank you for your support.
Please read through these operating instructions so you will know how to operate your model properly. After you
have finished reading the instructions, put them away in a safe place for future reference.
· This player is not suitable for commercial use.
---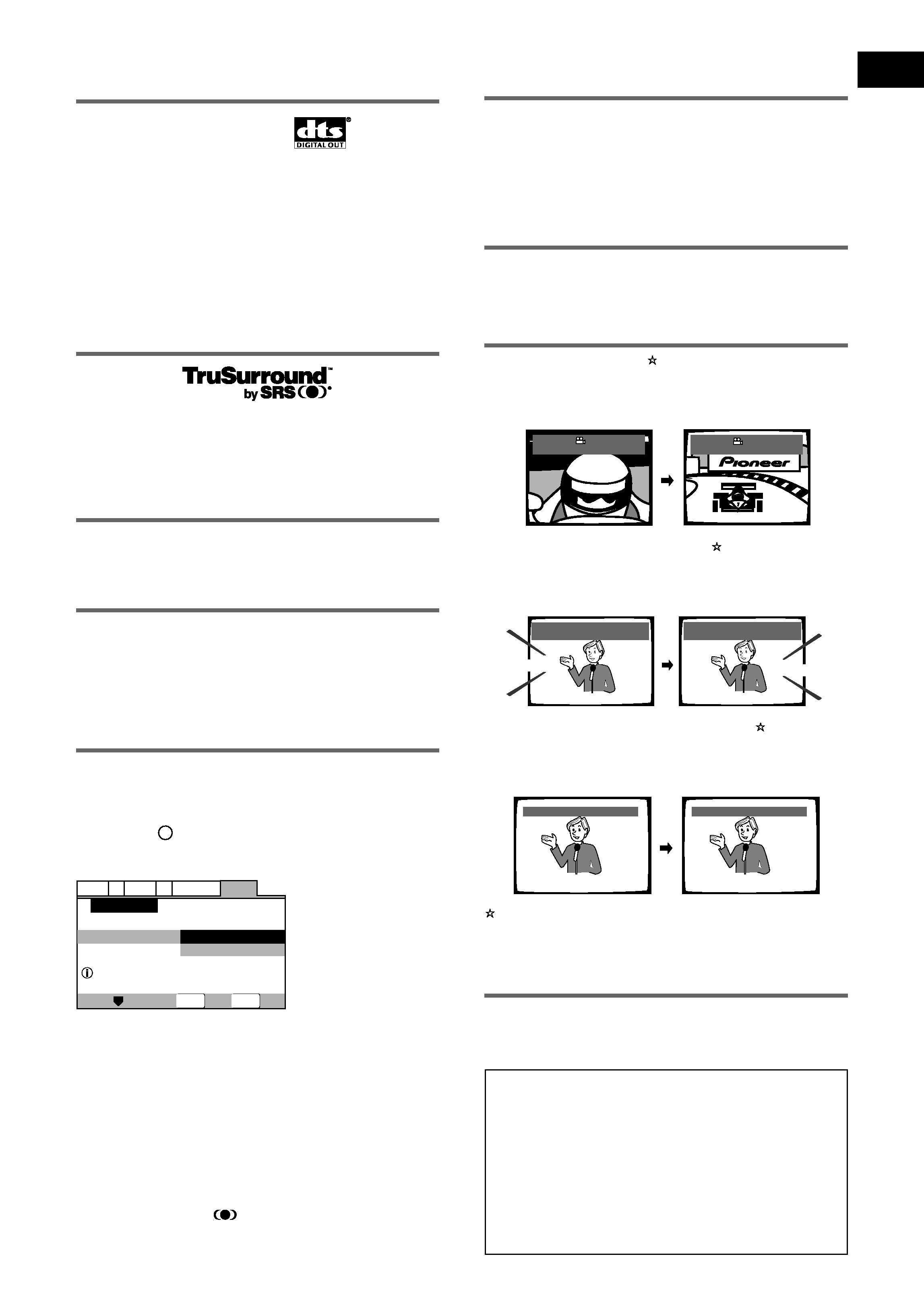 Compatible with a wide range of
DVD digital audio output formats
DVDs are recorded in one of four types of digital audio
formats (as of October 1998). The digital audio output
jacks of this player output Dolby*
2
Digital, DTS*
3
,
MPEG, and linear PCM digital bitstreams.
This player has a function that converts Dolby Digital
and MPEG audio formats into the linear PCM format.
This allows playback of DVDs recorded in Dolby Digital
and MPEG without the need for a decoder.
TruSurround*
4
uses technology that simulates
multichannel surround sound using only two speakers.
TruSurround works in conjunction with 2 channel audio
sources to create a realistic surround sound.
This player is compatible with CD-R, CD-RW and CD-
ROM discs that contain MP3 audio tracks.
[Fine Focus], [Contrast], [Sharpness], [Chroma level]
and [Hue] picture quality adjustment settings are
available. You can memorize up to three sets of picture
quality settings (pages 29, 30).
Easy setup and adjustment using
Press SETUP on the remote control to open the Setup
screen and you'll find setting up and adjusting the
system easy to do with on-screen menus conveniently
organized and arranged. Additionally, on-screen
information (
i
) appears to clarify the functions and
explain the options available. Below are just a few
*
2
Manufactured under license from Dolby Laboratories.
"Dolby" and the double-D symbol are trademarks of Dolby
Laboratories. Confidential unpublished works. © 1992-1997
Dolby Laboratories. All rights reserved.
*
3
"DTS" is a registered trademark of Digital Theater
®
symbol are trademarks of SRS
Labs, Inc. TruSurround technology is incorporated under
license from SRS Labs, Inc.
24-bit/192kHz compatible DAC delivers
higher-than-CD quality audio.
The DAC used to convert digital audio to analog in this
player is fully 24-bit/192kHz compatible.
Multiple video output formats that
can be selected to best suit your
This player features composite, S-video jacks, and AV
CONNECTOR (RGB)-TV jack. RGB signal output is
possible from the AV CONNECTOR (RGB)-TV jack.
Wide range of DVD viewing options
You can view scenes from different camera angles when
watching movies or other media with multiple angle
Navigator (pages 15, 16).
Setup using the Setup Navigator
Multiple Languages (page 32)
You can select the language on when watching movies
or other media that have multiple language and/or audio
soundtracks recorded on them.
Multi-Language Subtitles (page 34)
You can select a subtitle language or turn subtitles off
when watching movies or other media with subtitles
This mark indicates this may not be possible with
This unit is designed to use less than 1 W of energy
when this player is in standby mode.
This product incorporates copyright protection
technology that is protected by method claims of
certain U.S. patents and other intellectual property
rights owned by Macrovision Corporation and other
rights owners. Use of this copyright protection
technology must be authorized by Macrovision
Corporation, and is intended for home and other
limited viewing uses only unless otherwise
authorized by Macrovision Corporation. Reverse
engineering or disassembly is prohibited.
---