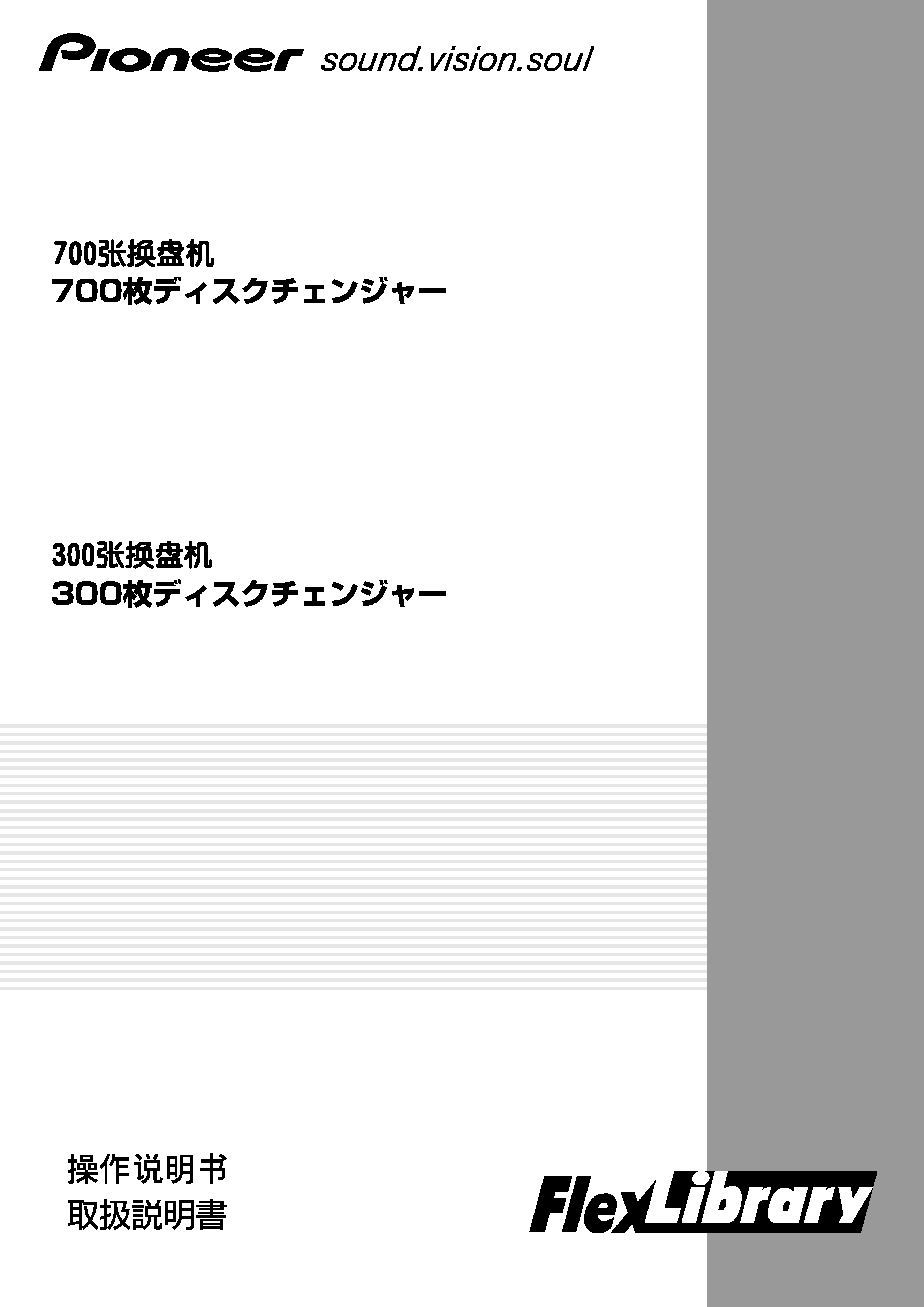 ---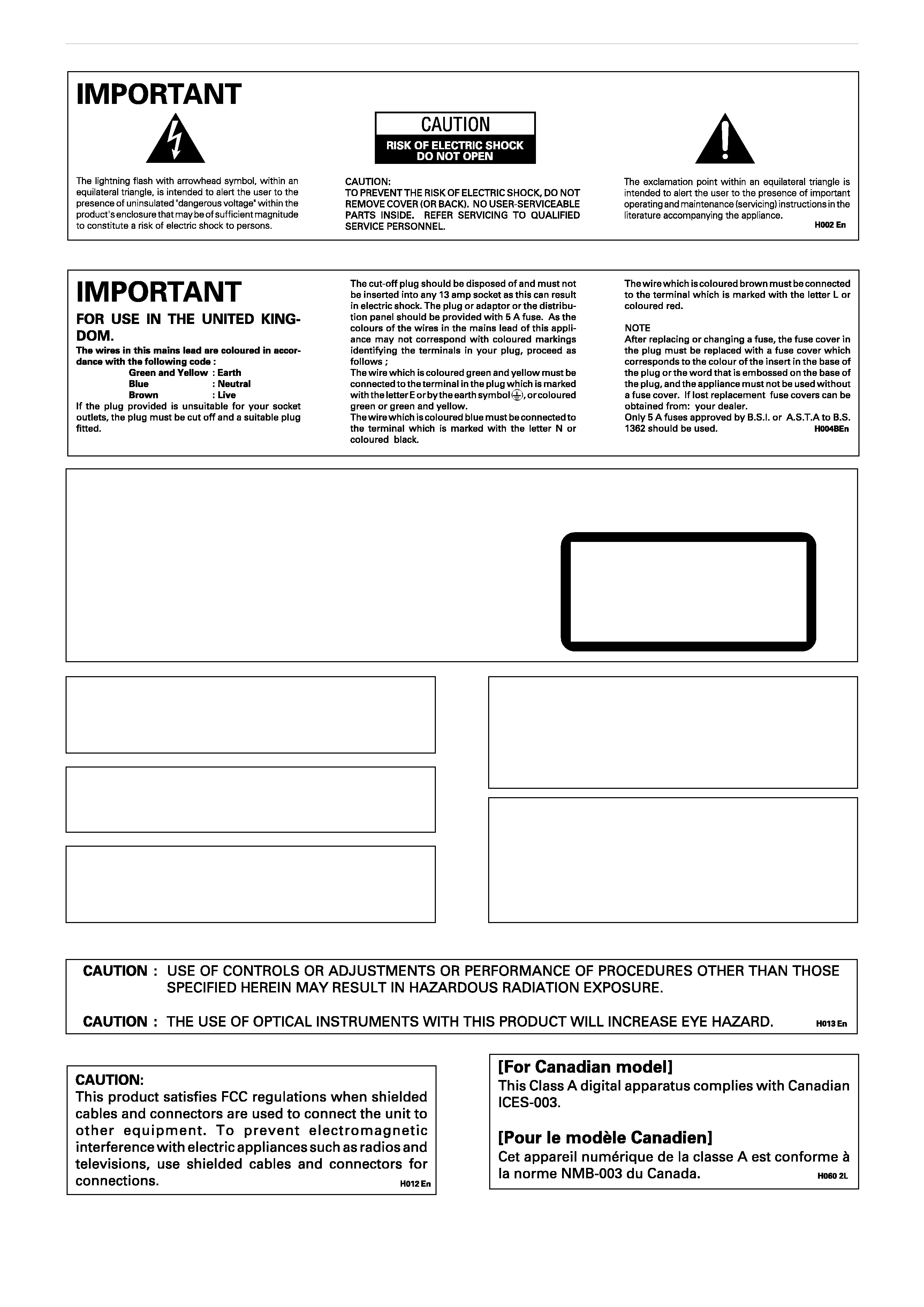 The following caution label appears on your changer.
Location: rear of the changer
[FOR EUROPEAN AND U.K. MODELS]
This product contains a laser diode of higher class than 1. To ensure
continued safety, do not remove any covers or attempt to gain
access to the inside of the product.
Refer all servicing to qualified personnel.
Laitteen käyttäminen muulla kuin tässä käyttöohjeessa
mainitulla tavalla saattaa altistaa käyttäjän turvallisuusluokan
1 ylittävälle näkymättömälle lasersäteilylle.
[FOR NORTH AMERICA MODELS]
CONSULT WITH THE COMPANY SALES REPRESENTATIVE.
"USE ONLY UL LISTED AND CANADIAN CERTIFIED POWER
A POWER SUPPLY CORD TYPE SJT, 18 AWG MINIMUM, 3-
WIRE GROUNDED TYPE SHALL BE USED WITH THIS
CONSULT WITH THE COMPANY SALES REPRESENTATIVE.
"USE ONLY SAFETY LICENSED POWER SUPPLY CORD."
A CERTIFIED POWER SUPPLY CORD IS TO BE USED WITH
THIS EQUIPMENT. FOR A RATED CURRENT UP TO 6 A, A
TYPE NOT LIGHTER THAN H05VV-F 3G 0.75 mm
2
OR
H05VVH2-F 3G 0.75 mm
2
SHALL BE USED.
Om apparaten används pâ annatt sätt an i denna bruksanvisning
spacificerats, kan användaren utsättas för osynling
laserstrålning som överskrider gränsen för laserklass 1.
Usynlig laserstråling ved åbning når sikkerhedsafbrydere er
ude af funktion. Undgå udsaettelse for stråling.
Replacement and mounting of an AC plug on the power supply cord of this unit should be performed only by qualified service personnel.
---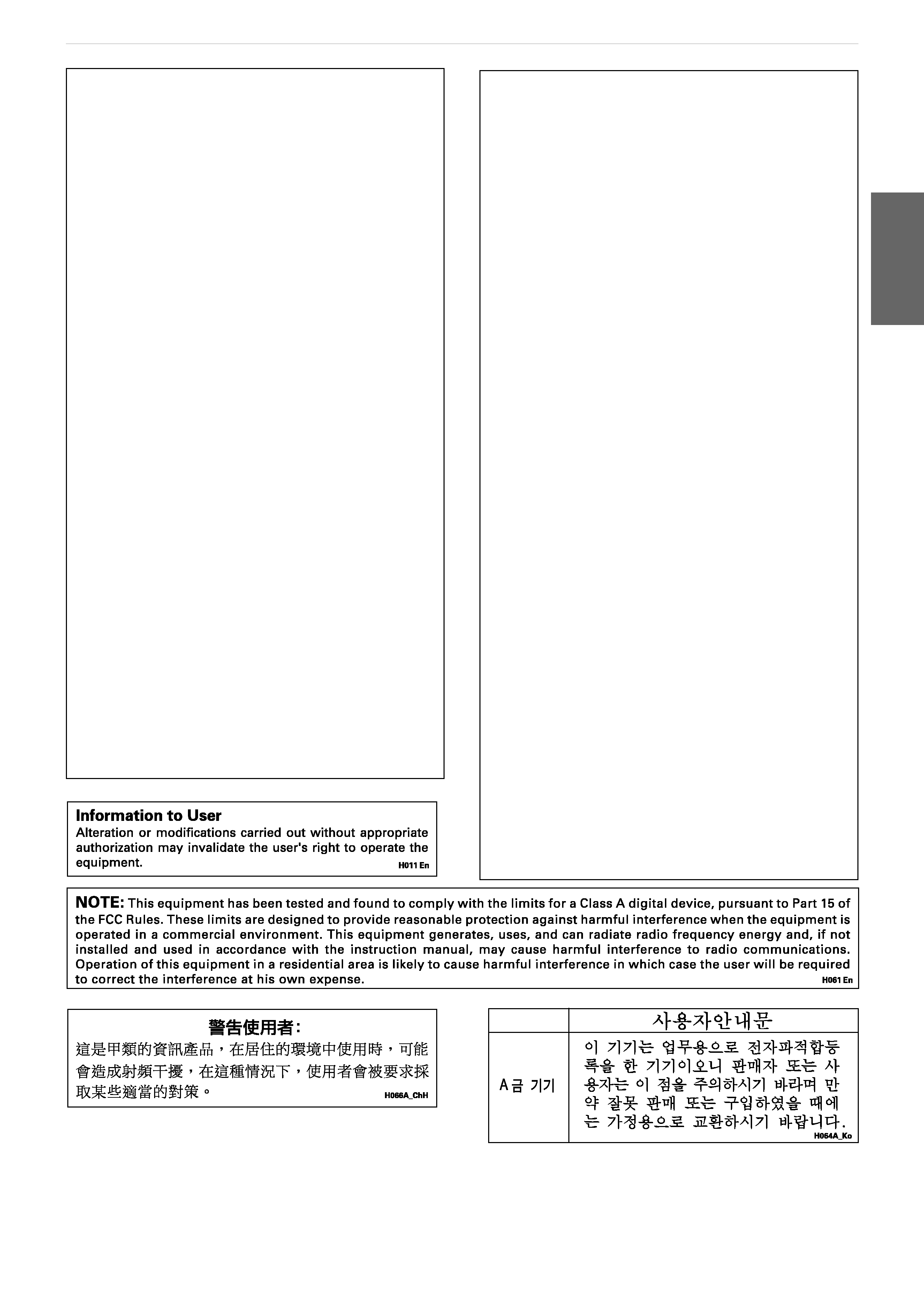 This product complies with the Low Voltage Directive (73/23/EEC),
EMC Directives (89/336/EEC, 92/31/EEC) and CE Marking Directive
Ce produit est conforme à la directive relative aux appareils basse
tension (73/23/CEE), aux directives relatives à la compatibilité
électromagnétique (89/336/CEE, 92/31/CEE) et à la directive CE
relative aux marquages (93/68/CEE).
Dieses Produkt entspricht den Niederspannungsrichtlinien (73/23/
EEC), EMV-Richtlinien (89/336/EEC, 92/31/EEC) und den CE-
Markierungsrichtlinien (93/68/EEC).
Questo prodotto è conforme alla direttiva sul basso voltaggio (73/
23/CEE), alle direttive EMC (89/336/CEE, 92/31/CEE) e alla direttiva
sul marchio CE (93/68/CEE).
Este producto cumple con la Directiva de Bajo Voltaje (73/23/CEE),
Directivas EMC (89/336/CEE, 92/31/CEE) y Directiva de Marcación
Este produto cumpre com a Directiva de Voltagem Baixa (73/23/
CEE), Directivas EMC (89/336/CEE, 92/31/CEE) e com a Directiva da
FOR BELGIUM AND NETHERLANDS
Dit produkt voldoet aan de laagspanningsrichtlijn (73/23/EEC),de
EMC-richtlignen (89/336/EEC en 92/31/EEC) en de CE-
markeringsrichtlijn (93/68/EEC).
Dette produkt er i overensstemmelse med direktivet vedrørende
lavspænding (73/23/EEC), direktiverne vedrørende elektromagnetisk
kompatibilitet (89/336/EEC, 92/31/EEC) og CE-direktivet vedrørende
Denna produkt uppfyller föreskrifterna i Lågspänningsdirektiv (73/
23/EEC), EMC-direktiv (89/336/EEC, 92/31/EEC) och CE-
märkningsdirektiv (93/68/EEC).
Este produto pertence à classe A. Quando num ambiente doméstico
este produto pode provocar rádio interferências para as quais o
utilizador pode ter que tomar medidas adequadas.
FOR BELGIUM AND NETHERLANDS
Dit is een product dat tot klasse A behoort. In woningen kan dit
product radiostoringen veroorzaken. In voorkomend geval moet de
gebruiker gepaste maatregelen nemen.
Dette er et klasse A-produkt, som kan forårsage radiointerferens
ved brug i hjemmet. Hvis det er tilfældet, kan brugeren blive nødt til
tage passende forholdsregler.
Det här är en klass A-produkt. I hemmiljö kan radiostörningar uppstå
och användaren bör då vidta lämpliga åtgärder.
This is a class A product. In a domestic environment this
product may cause radio interference in which case the user
may be required to take adequate measures.
Ce produit est de classe A. Dans un environnement domestique, il
peut entraîner des interférences et l'utilisateur peut alors être
améne à prendre les mesures qui s'imposent.
Dies ist ein Produkt der Klasse A. In einer häuslichen Umgebung
kann dieses Produkt Störgeräusche (Funkstörungen) verursachen.
In diesem Fall kann es erforderlich sein, geeignete Maßnahmen zu
Questo è un prodotto di classe A. In ambiente domestico, questo
prodotto può provocare interferenze radio per le quali l'utente deve
adottare contromisure adeguate.
Éste es un producto de clase A. En un entorno doméstico, este
producto Puede causar radiointerferencias internas que obliguen al
usuario a tomar las medidas adecuadas.
Handling the cord on this product or cords associ-
ated with accessories sold with the product will ex-
pose you to lead, a chemical known to the State of
California and other governmental entities to cause
cancer and birth defects or other reproductive harm.
Wash hands after handling
---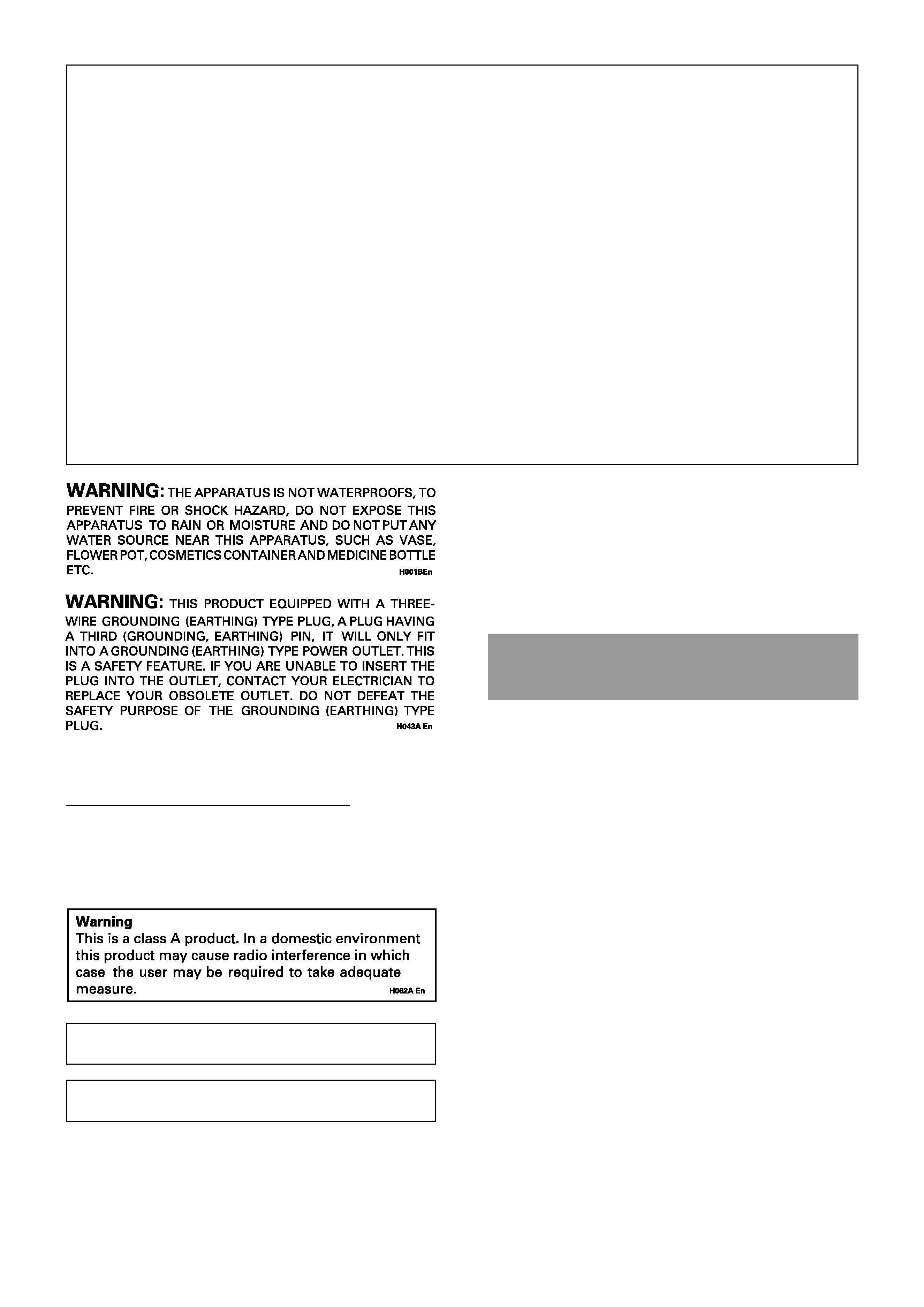 Thank you for buying this Pioneer product.
Please read through these operating instructions so you will
know how to operate your model properly. After you have
finished reading the instructions, put them away in a safe
place for future reference.
In some countries or regions, the shape of the power plug
and power outlet may sometimes differ from that shown in
the explanatory drawings.
connecting and operating the unit is the same.
FEATURES .................................................. 5
HANDLING PRECAUTIONS ...................... 6
READ BEFORE USE ................................... 7
Security features ................................................. 7
Offline media management ............................... 7
Deciding on system configuration ..................... 8
Add-on products ................................................. 8
Items included ................................................... 10
Discs ................................................................... 11
TO AVOID PROBLEMS ............................ 12
INDIVIDUAL PARTS ................................. 14
INSTALLATION ........................................ 16
OPERATION ............................................. 24
User mode ......................................................... 24
System administrator mode ............................ 24
Adding drive units ............................................. 38
Exchanging drive units ..................................... 41
OTHERS .................................................... 44
Troubleshooting ................................................ 44
Specifications .................................................... 46
IMPORTANT! SAFETY INSTRUCTIONS
1. READ INSTRUCTIONS ­ All the safety and operating instructions should be read before
the appliance is operated.
2. RETAIN INSTRUCTIONS ­ The safety and operating instructions should be retained for
3. HEED WARNING ­ All warnings on the appliance and in the operating instructions
4. FOLLOW INSTRUCTIONS ­ All operating and use instructions should be followed.
5. CLEANING ­ Unplug this product from the wall outlet before cleaning.
Do not use liquid cleaners or aerosol cleaners. Use a damp cloth for cleaning.
6. WATER AND MOISTURE ­ Do not use this product near water.
7. ACCESSORIES ­ Do not place this product on an unstable cart, stand, or table.
The product may fall and be seriously damaged.
8. VENTILATION ­ Slots and openings in the cabinet and back or bottom are
provided for ventilation and to ensure reliable operation of the product and to
protect it from overheating. These openings must not be blocked or covered.
They should never be blocked by placing the product on a bed, sofa, rug, or other
similar surface. This product should never be placed in a built-in installation
unless proper ventilation is provided.
9. POWER SOURCES ­ This product should be operated only from the type of power
source indicated on the marking label. If you are not sure of the type of power
available, consult your dealer or local power company.
10. PLUG ­ This product is equipped with a wired grounding-type plug (a plug having a third
(grounding) pin). This plug will only fit into a grounding type power outlet. This is a
safety feature. If you are unable to insert the plug fully into the outlet, contact your
electrician to replace your obsolete outlet. Do not defeat the safety purpose of the
11. POWER-CORD PROTECTION ­ When unplugging the apparatus, pull on the plug ­ not
on the cord. Do not handle the cord on plug with wet hands. Doing so could cause an
electric short or shock. Do not allow anything to rest on the power cord. Do not locate
this product where persons will walk on the cord.
12. OVERLOADING ­ Do not overload wall outlets and extension cords as this can result
in fire or electric shock.
13. OBJECT AND LIQUID ENTRY ­ Never push objects of any kind into this product
through openings as they may touch dangerous voltage points or short out parts that
could result in a fire or electric shock. Never spill liquid of any kind on the product.
14. CONDENSATION ­ Moisture will form in the operating section of the product and the
product's performance will be impaired if the product is brought from cool surroundings
into a warm room or if the room temperature rises suddenly. To prevent this, let the
product stand in its new surroundings for about an hour or two before switching it on,
or ensure that the room temperature rises gradually.
15. SERVICING ­ Do not attempt to service this product yourself as opening or
removing covers may expose you to dangerous voltage or other hazards.
Refer all servicing to qualified service personnel.
16. DAMAGE REQUIRING SERVICE
Unplug this product from the wall outlet and refer servicing to qualified service
personnel under the following conditions:
a. When the power cord or plug is damaged.
b. If liquid has been spilled, or objects have fallen into the video product.
c. If the product has been exposed to rain or water.
d. If the product does not operate normally when the operating instructions are
followed. Adjust only those controls that are covered by the operating instructions.
Improper adjustment of other controls may result in damage and will often
require extensive work by a qualified technician to restore the product to its
e. If the product has been dropped or the cabinet has been damaged.
f. When the product exhibits a distinct change in performance ­ this
indicates a need for service.
Operating environment temperature and humidity:
+5 °C ­ +35 °C (+41 °F ­ +95°F); less than 85 %RH (cooling vents
Do not install in the following locations
÷ Location exposed to direct sunlight or strong artificial light
÷ Location exposed to high humidity, or poorly ventilated location
The Generation of Acoustical Noise Is Less Than 70 dB.
[For Australian and New Zealander models]
For pluggable Equipment, The Socket-Outlet Shall Be Installed
Near The Equipment and Shall Be Easily Accessible.
---

The Pioneer DRM-7000/DRM-3000-disc changer is designed
so that a variety of different components may be purchased
and installed together to meet a variety of different needs.
The Pioneer DRM-7000/DRM-3000 comes with bays (i.e.,
spaces for the installation of drives or 50-disc magazines)
located at the front and rear of the unit, and the bays are
fitted with access doors that are designed to open widely
and enable you to install or remove individual components
The front bay is for exclusive use with 50-disc magazines;
the rear bay has been designed as a multi-purpose installation
If desired, you can start with empty bay spaces and add
devices to them as your requirements increase.
THREE DIFFERENT TYPES OF DISC
MAGAZINES EQUIPPED WITH INTERNAL
Pioneer provides three different types of disc magazines
designed for convenience and ease of use in different
The main feature of the hyper magazine is its mobility. It
can be inserted and removed without opening the access
door. Another feature is a smart memory system that
records all user operations toward its lock/unlock
mechanism. One hyper magazine is provided as a standard
equipment with each Pioneer DRM-7000/DRM-3000.
50-disc magazine (locked-type):
This model is perfect for managing offline media where
the security and unchangeableness may be required. Built-
in locking mechanism makes it impossible to remove discs
from magazine whenever it is outside the changer.
50-disc magazine (normal-type):
This model is convenient for importing or exporting large
volumes of discs into or from the changer. You can insert
discs into or remove them from a magazine releasing the
locking mechanism by a knob fitted with this magazine
when it is outside the changer.
In order to connect the changer to an existing data
management system or to build a new data management
system, it is necessary for the host computer to be able to
properly identify the changer and all the drives contained
therein and it is necessary to attach all the cables and specify
the settings needed for the host computer to control the
The Pioneer DRM-7000/DRM-3000 is designed not only to
make it easy to install and add new drives, but also with a
wide range of features designed to make it easier to specify
SECURITY FEATURES DESIGNED TO
In order to prevent interference, conflicts, or clashes occurring
between manual operations and computer-based operations,
entering procedure to the system administrator mode is
introduced. Anyone who wants to perform operations from
the control panel is required to enter system administrator
mode first, using the provided lock release key. And it is
possible to prevent the switchover to some sub-modes by
issuing a command from the host computer.
It is also possible to assign security privileges on the system
administrator who has the lock release key. Then operations
directly manipulating discs, like opening mailslot and ejecting
hyper magazine, are permitted to only the system
CONTROL PANEL FITTED WITH AN LCD
MESSAGE WINDOW FOR EASE OF USE
The control panel is fitted with a 2-line, 16-column LCD
message window which is used to display instructions on
the proper operations to perform. And this makes it possible
to perform any of the wide variety of different operations
provided by the DRM-7000/DRM-3000 with only 5 keys.
The maximum number of optional components that can be
installed differs depending on the component involved; for
details, consult the operating instructions for your option
---