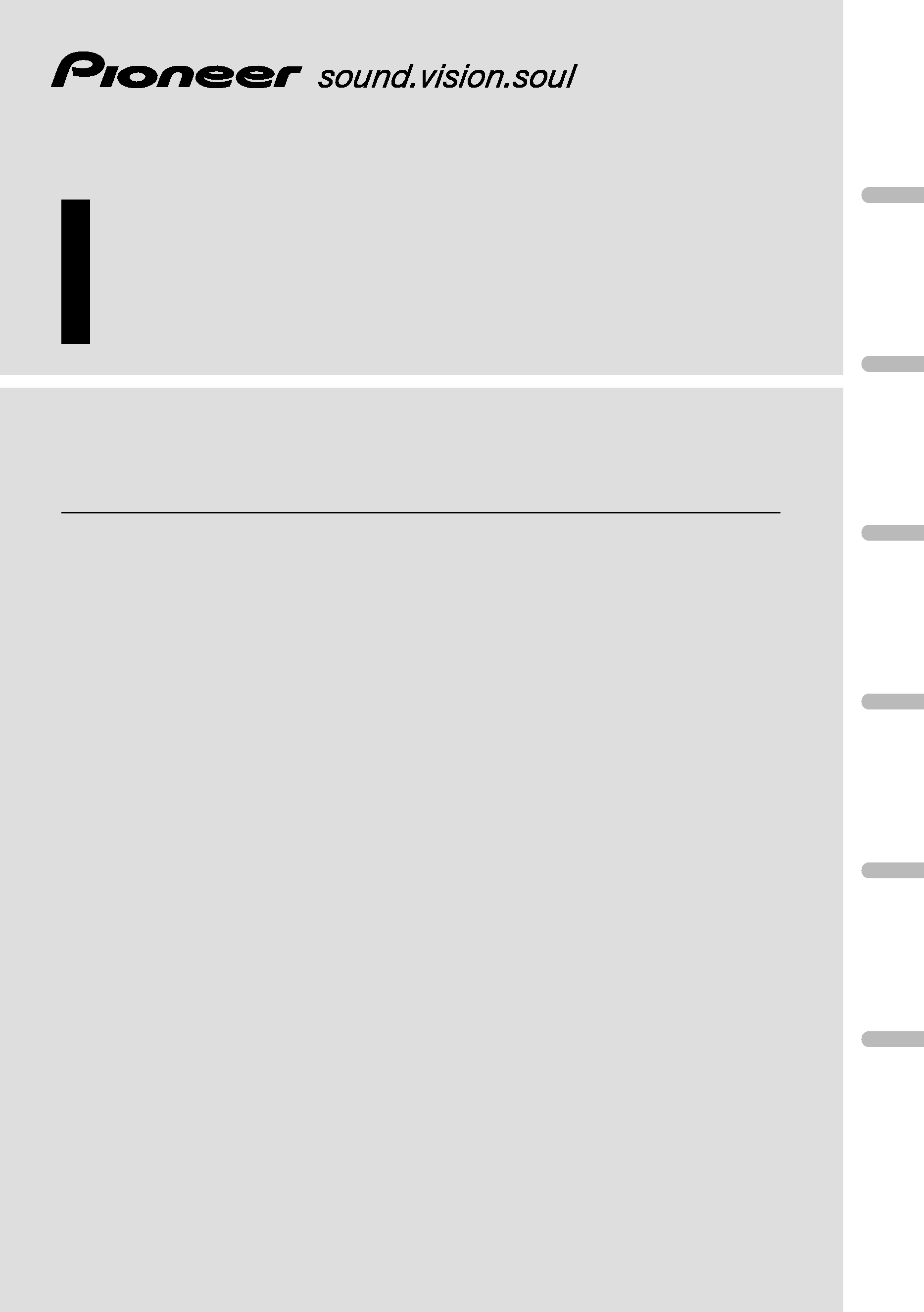 Multi-channel AV processor
Processeur AV multi-canaux
---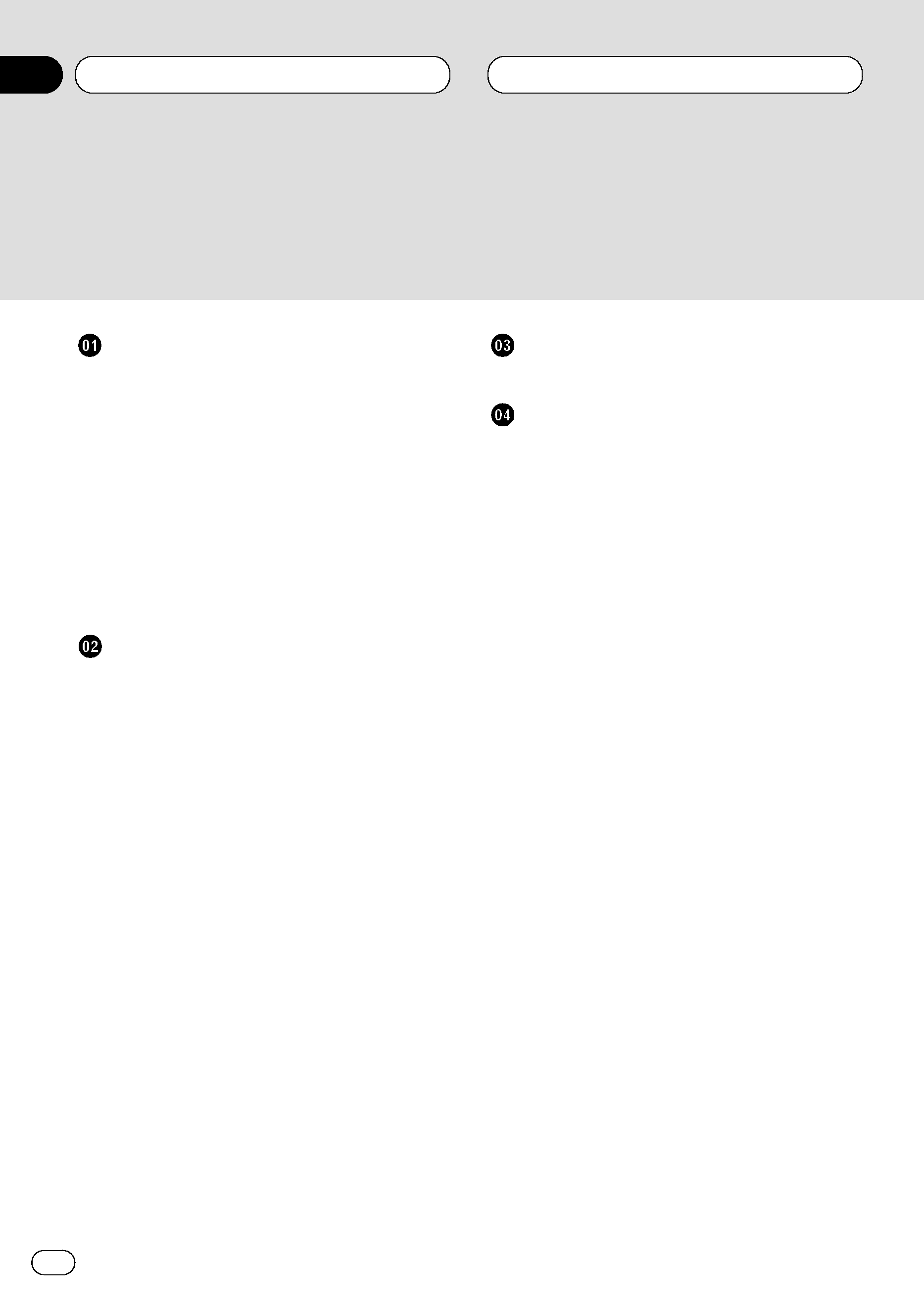 · Dolby Digital/DTS compatibility (when
combining this unit with a Pioneer DVD
player such as DVH-P7000R) 3
Resetting the microprocessor 4
Output setting of the DVD player 4
Introduction of audio adjustments 6
· Operating the audio menu 6
· Operating the audio details menu 6
Using the sound field control 7
Using the position selector 7
Using balance adjustment 8
Adjusting source levels 8
Using the dynamic range control 9
Using the dual mono mode 9
Using the direct control 9
Using the Dolby Pro Logic 9
Setting the speaker setting 10
· Correcting the subwoofer's phase 10
Selecting a cut-off frequency 11
Adjusting the speaker output levels 11
Adjusting the speaker output levels using a
Adjusting the time alignment 13
· Recalling equalizer curves 13
· Adjusting 3-band parametric equalizer
Correcting distorted sound 15
Thank you for buying this Pioneer product.
Please read through these operating instructions so you will know how to oper-
ate your model properly. After you have finished reading the instructions, put them
away in a safe place for future reference.
---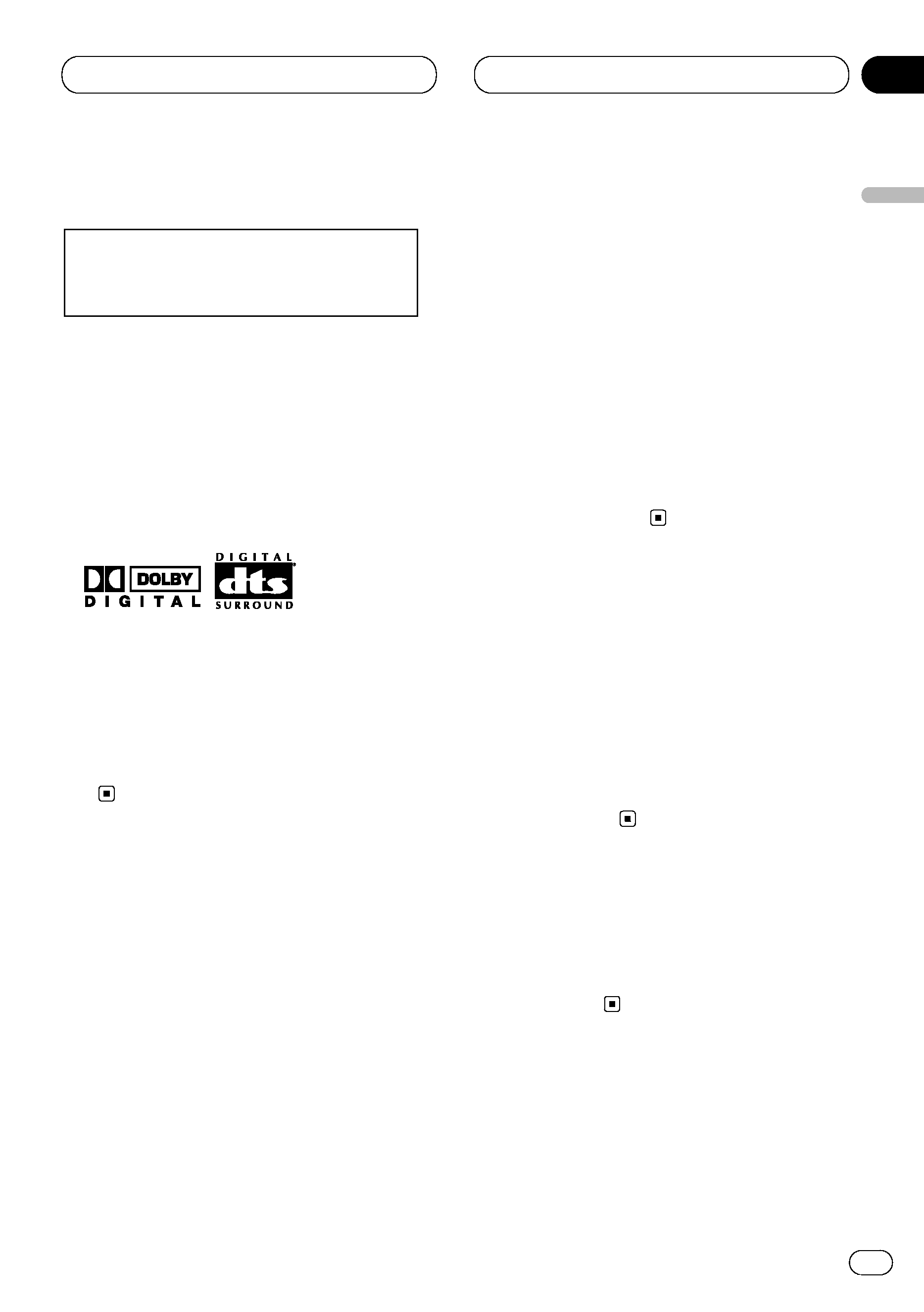 Dolby* Digital/DTS** compatibility (when
combining this unit with a Pioneer DVD
player such as DVH-P7000R)
When using this unit with a Pioneer DVD player,
you can enjoy the atmosphere and excitement
provided by DVD movie and music software
featuring 5.1 channel recordings.
* Manufactured under license from Dolby
Laboratories. "Dolby", "Pro Logic", and the dou-
ble-D symbol are trademarks of Dolby
** "DTS" and "DTS Digital Surround" are regis-
tered trademarks of Digital Theater Systems,
This unit features a number of sophisticated
functions ensuring superior reception and oper-
ation. All the functions have been designed for
the easiest possible use, but many are not self-
explanatory. This operation manual will help you
benefit fully from this unit's potential and to
maximize your listening enjoyment.
We recommend that you familiarize yourself
with the functions and their operation by read-
ing through the manual before you begin using
this unit. It is especially important that you read
and observe the precautions listed on this page
· Keep this manual handy as a reference for
operating procedures and precautions.
· Always keep the volume low enough so you
can hear sounds outside of the car.
· Protect this unit from moisture.
· If the battery is disconnected or discharged,
the preset memory will be erased and must be
Should this unit fail to operate properly, contact
your dealer or nearest authorized Pioneer
This product complies with the EMC
Directives (89/336/EEC, 92/31/EEC) and
CE Marking Directive (93/68/EEC).
---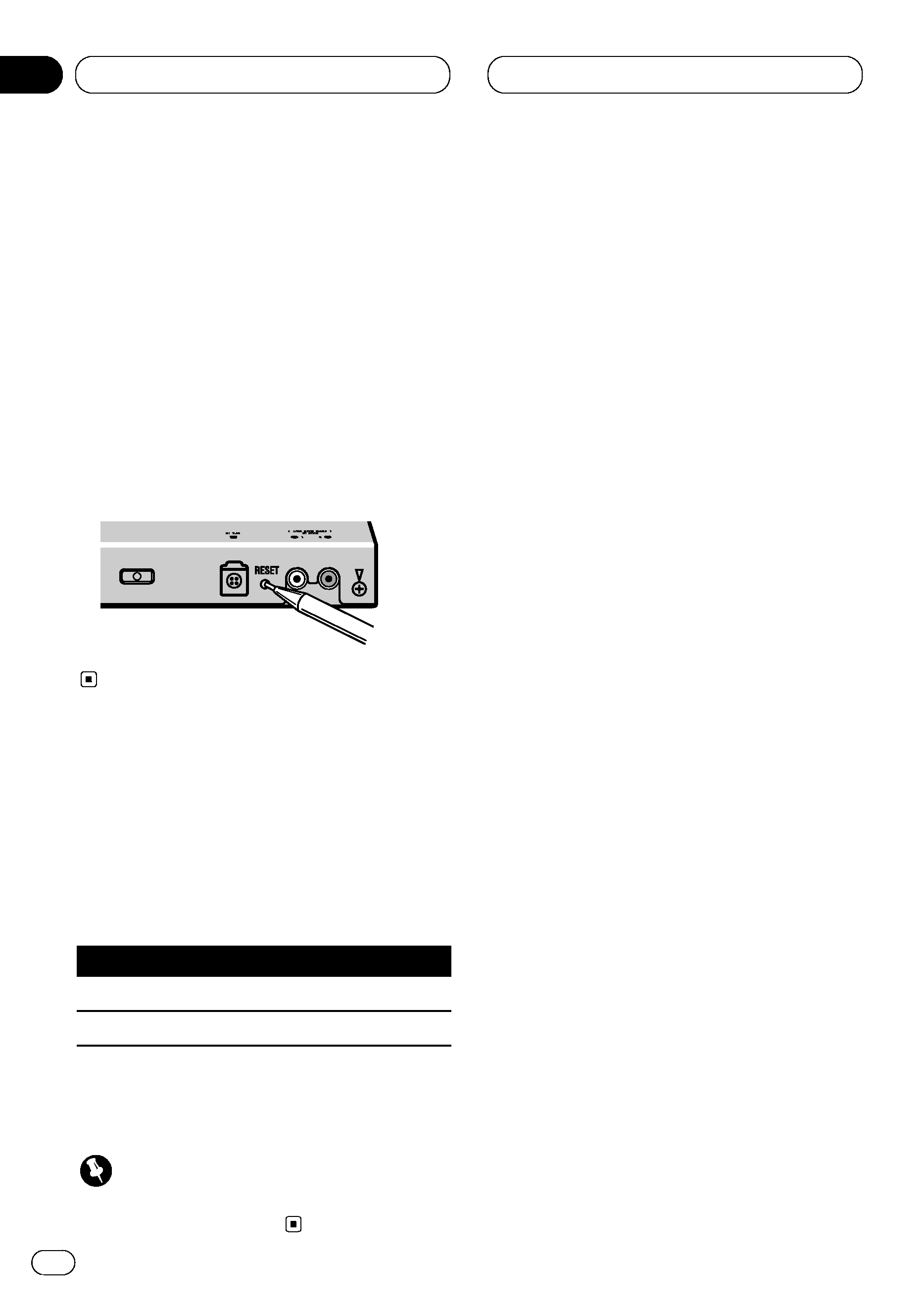 Resetting the microprocessor
The microprocessor must be reset under the
· Prior to using this unit for the first time after
· If the unit fails to operate properly.
· When strange or incorrect messages appear
· To reset the microprocessor, press the
RESET button on the unit with a pen tip or
other pointed instrument.
Output setting of the DVD player
When connecting Pioneer DVD player such as
DVH-P7000R, make DIGITAL OUTPUT
(Setting for digital output) and OUTPUT
SELECTION (Setting digital and analog audio
Refer to the DVD player manual for details on
how to make those settings.
· Be sure to set the correct position. If not, no
---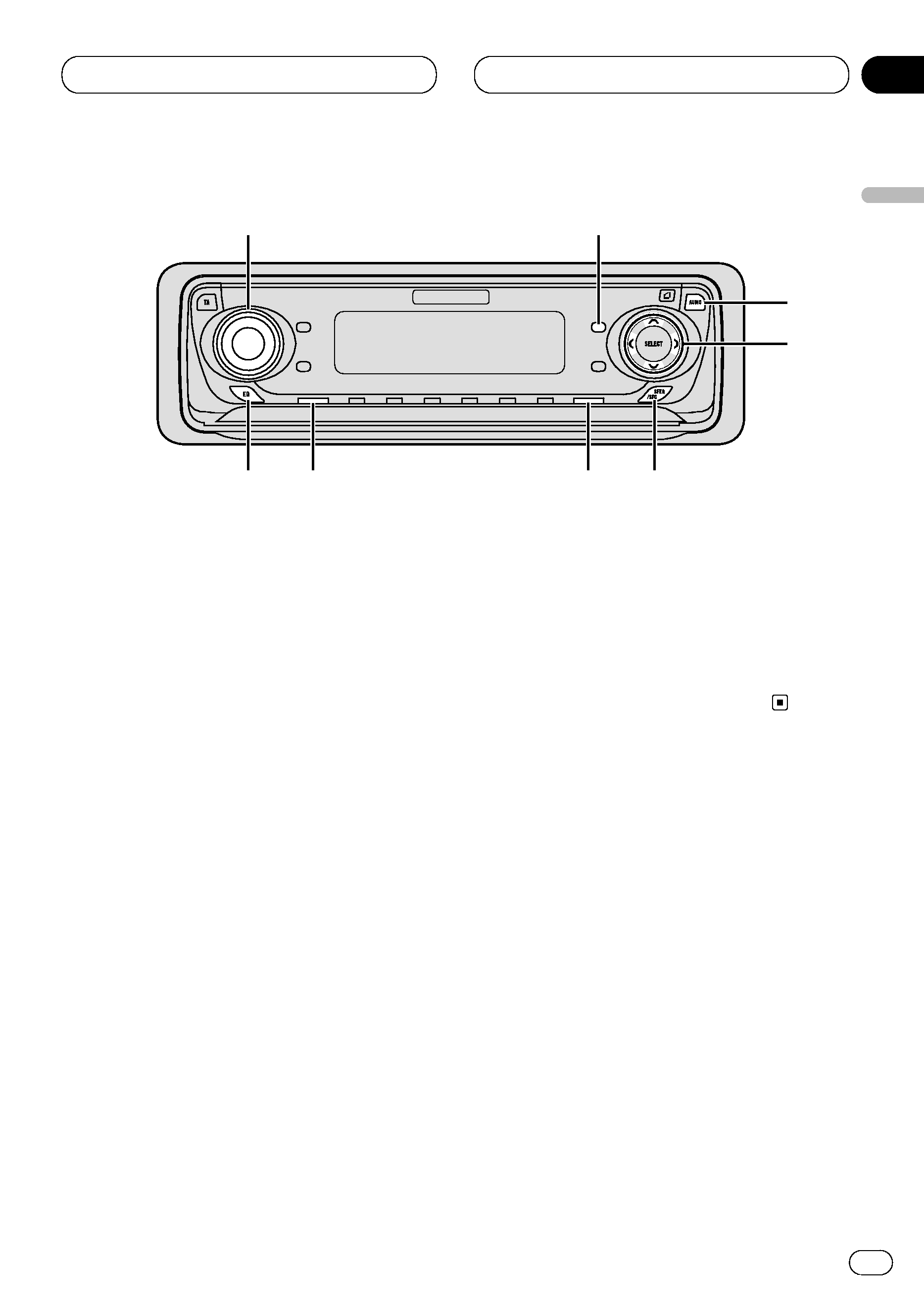 Operate this unit with the connected head unit.
Instructions in this operation manual use DVH-
P7000R as an example head unit.
Turn to adjust the volume.
When you press the VOLUME, it extends
outward so that it becomes easier to turn.
To retract the VOLUME, press it again.
Press to select functions.
Press to select an audio function.
Press to adjust the selected audio function
Press to select a sound field control.
Press to return to the display of each source.
This unit is switched on by selecting a
source. Press to cycle through all of the
available sources. Press and hold to turn off
Press to select an equalizer curve.
---