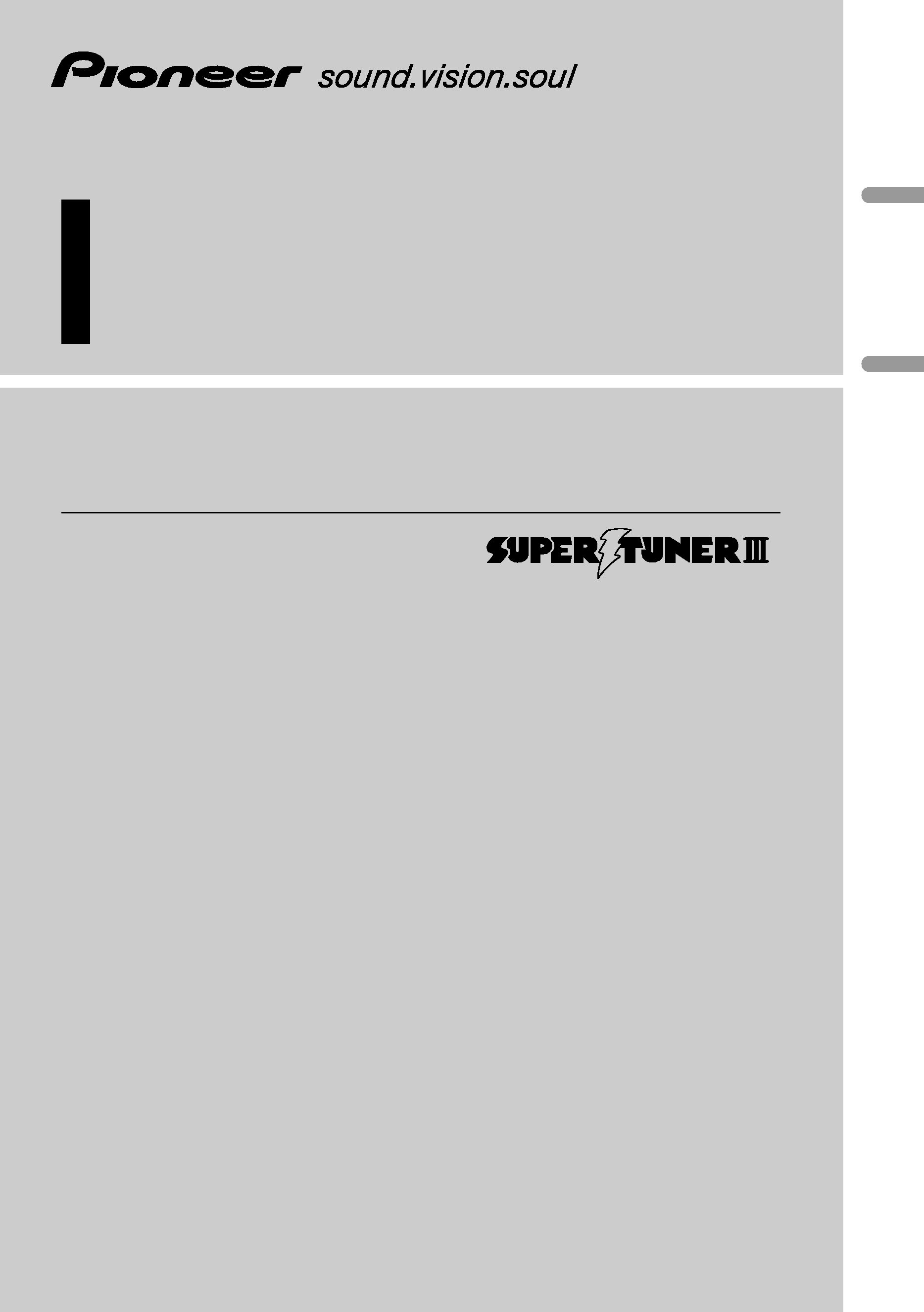 Multi-CD control High power CD/MP3 player with
Reproductor de CD/MP3 de alta potencia con control
de múltiples CD con sintonizador FM/AM
---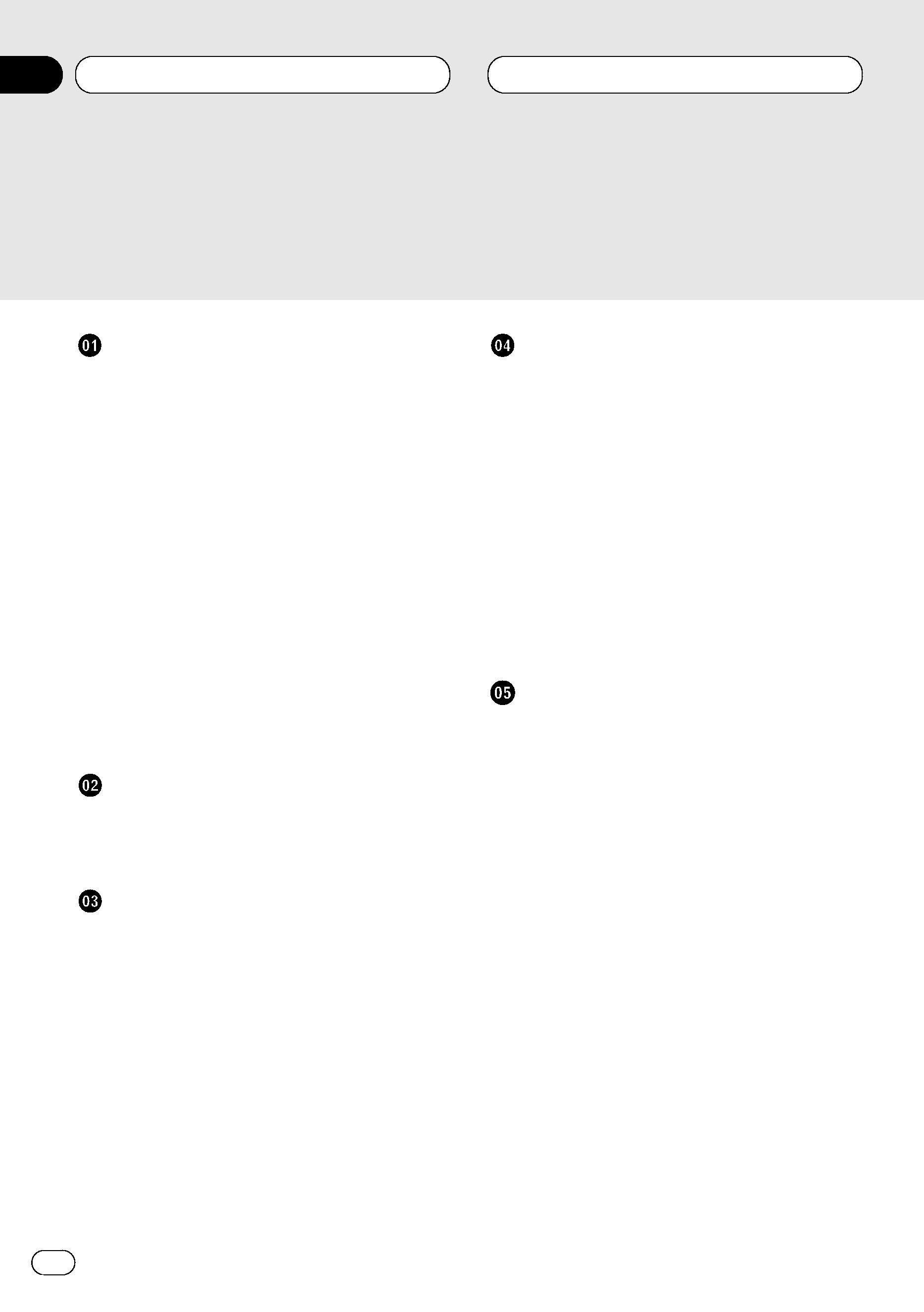 Use and care of the remote control 5
· Installing the battery 5
· Using the remote control 6
Protecting your unit from theft 6
· Removing the front panel 6
· Attaching the front panel 7
Listening to the radio 11
Introduction of advanced tuner
Storing and recalling broadcast
Tuning in strong signals 13
Storing the strongest broadcast
Introduction of advanced built-in CD player
Playing tracks in a random order 15
Scanning tracks of a CD 16
Using disc title functions 16
· Entering disc titles 16
· Displaying disc titles 17
Using CD TEXT functions 17
· Displaying titles on CD TEXT discs 17
· Scrolling titles in the display 17
Introduction of advanced built-CD player
Playing tracks in a random order 20
Scanning folders and tracks 20
Displaying titles on MP3 disc 21
Scrolling titles in the display 21
Thank you for buying this Pioneer product.
Please read through these operating instructions so you will know how to oper-
ate your model properly. After you have finished reading the instructions, put them
away in a safe place for future reference.
---

50-disc multi-CD player 22
Introduction of advanced multi-CD player
Playing tracks in a random order 24
Scanning CDs and tracks 24
· Creating a playlist with ITS
· Playback from your ITS playlist 25
· Erasing a track from your ITS
· Erasing a CD from your ITS playlist 26
Using disc title functions 26
· Entering disc titles 26
· Displaying disc titles 27
· Selecting discs from the disc
Using CD TEXT functions 28
· Displaying titles on CD TEXT discs 28
· Scrolling titles in the display 28
Using compression and bass emphasis 28
Introduction of audio adjustments 29
Setting the sound focus equalizer 29
Using balance adjustment 30
· Recalling equalizer curves 30
· Adjusting equalizer curves 31
· Fine adjusting equalizer curve 31
Using subwoofer output 32
· Adjusting subwoofer settings 33
Using non fading output 33
· Adjusting non fading output level 33
Using the high pass filter 34
Adjusting source levels 34
Adjusting initial settings 35
Setting the FM tuning step 35
Setting the AM tuning step 36
Switching the warning tone 36
Switching the auxiliary setting 36
Switching the dimmer setting 36
Selecting the brightness 37
Setting the rear output and
---

Setting the time display on or off 38
Using different entertainment displays 38
· Selecting AUX as the source 39
· Setting the AUX title 39
Using the telephone muting/attenuation
Understanding built-in CD player error
About folders and MP3 files 43
---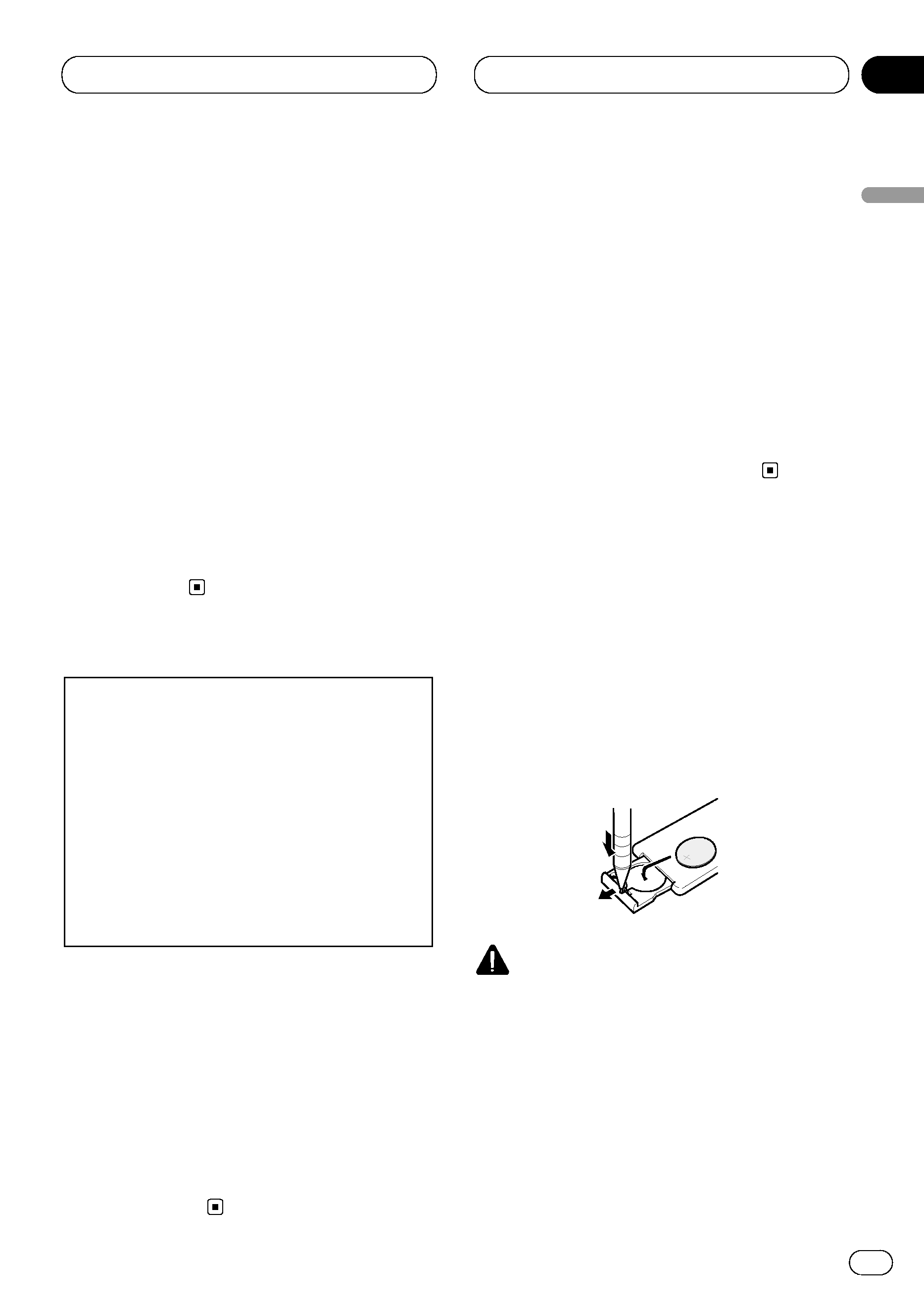 This unit features a number of sophisticated
functions ensuring superior reception and oper-
ation. All the functions have been designed for
the easiest possible use, but many are not self-
explanatory. This operation manual will help you
benefit fully from this product's potential and to
maximize your listening enjoyment.
We recommend that you familiarize yourself
with the functions and their operation by read-
ing through the manual before you begin using
this unit. It is especially important that you read
and observe precautions on this page and in
This manual explains head unit operation. You
can perform the same operations with the
· Keep this manual handy as a reference for
operating procedures and precautions.
· Always keep the volume low enough so you
can hear sounds outside of the car.
· Protect this product from moisture.
· If the battery is disconnected or discharged,
the preset memory will be erased and must be
· If this unit does not operate properly, contact
your dealer or nearest authorized Pioneer
Music CD/CD-R/CD-RW playback is possible.
It is possible to play back MP3 files recorded on
CD-ROM/CD-RW (ISO9660 Level 1/Level 2 stan-
dard recordings). (Refer to page 18.)
Use and care of the remote con-
Slide the tray out on the back of the remote
control and insert the battery with the plus
(+)
and minus
(­)
poles pointing in the proper direc-
Keep the battery out of the reach of children.
Should the battery be swallowed, immediately
---