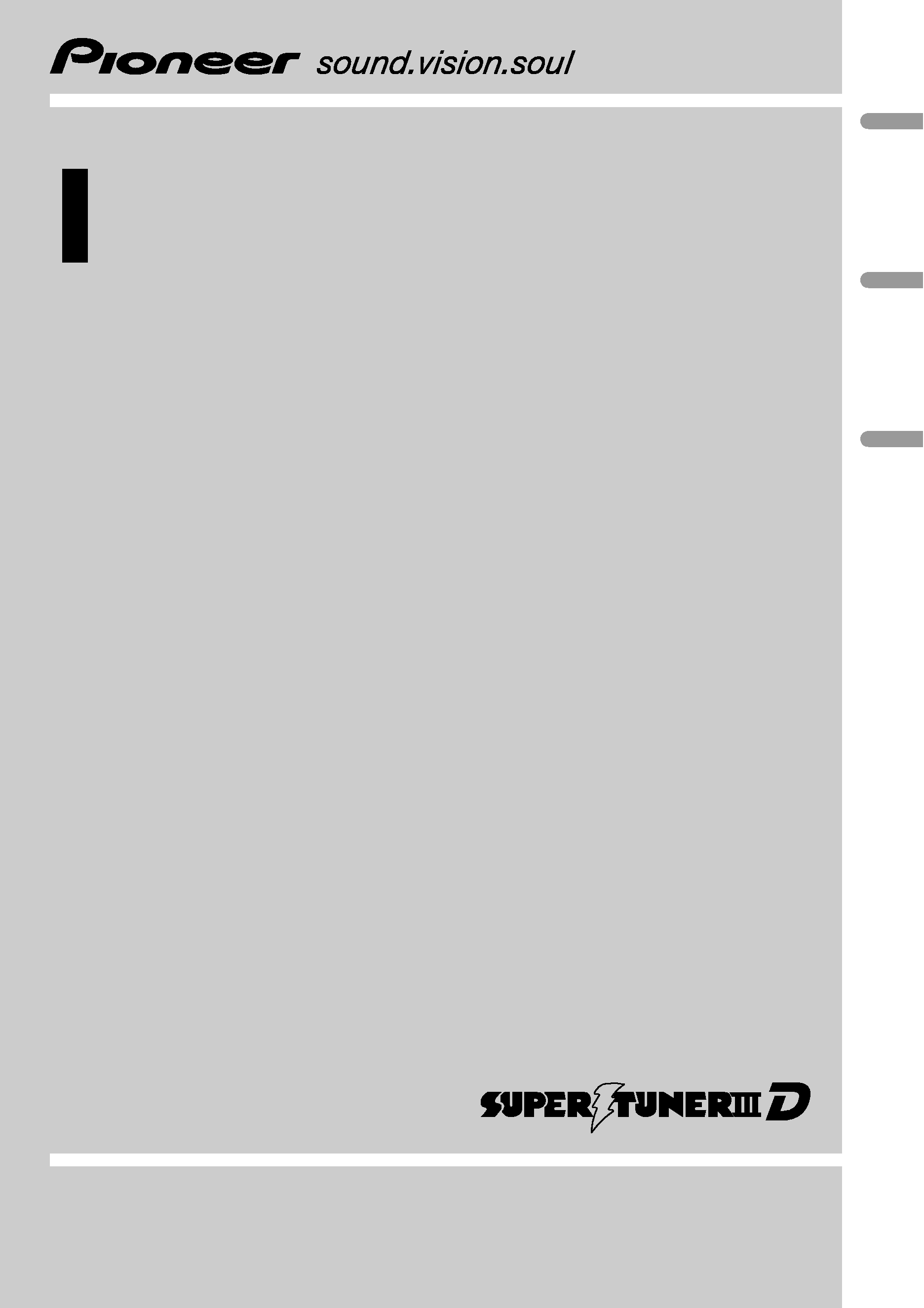 High power CD/MP3/WMA player with FM/AM tuner
Lecteur de CD/MP3/WMA Puissance élevée avec
---

Thank you for buying this Pioneer product.
Please read through these operating instructions so you will know how to operate
your model properly. After you have finished reading the instructions, keep this man-
ual in a safe place for future reference.
After-sales service for Pioneer products 4
Protecting your unit from theft 5
Removing the front panel 5
Attaching the front panel 5
Turning the unit on and selecting a
Storing and recalling broadcast
Tuning in strong signals 8
Storing the strongest broadcast
Playing tracks in random order 10
Scanning tracks or folders of a
Searching every 10 tracks in the
current disc or folder 11
Using compression and BMX 11
Displaying text information on
Using balance adjustment 12
Adjusting equalizer curves 12
Adjusting source levels 13
Turning the clock display on or off 13
Handling guideline of discs and player 14
MP3, WMA and WAV files 14
Example of a hierarchy 15
Compressed audio compatibility 15
---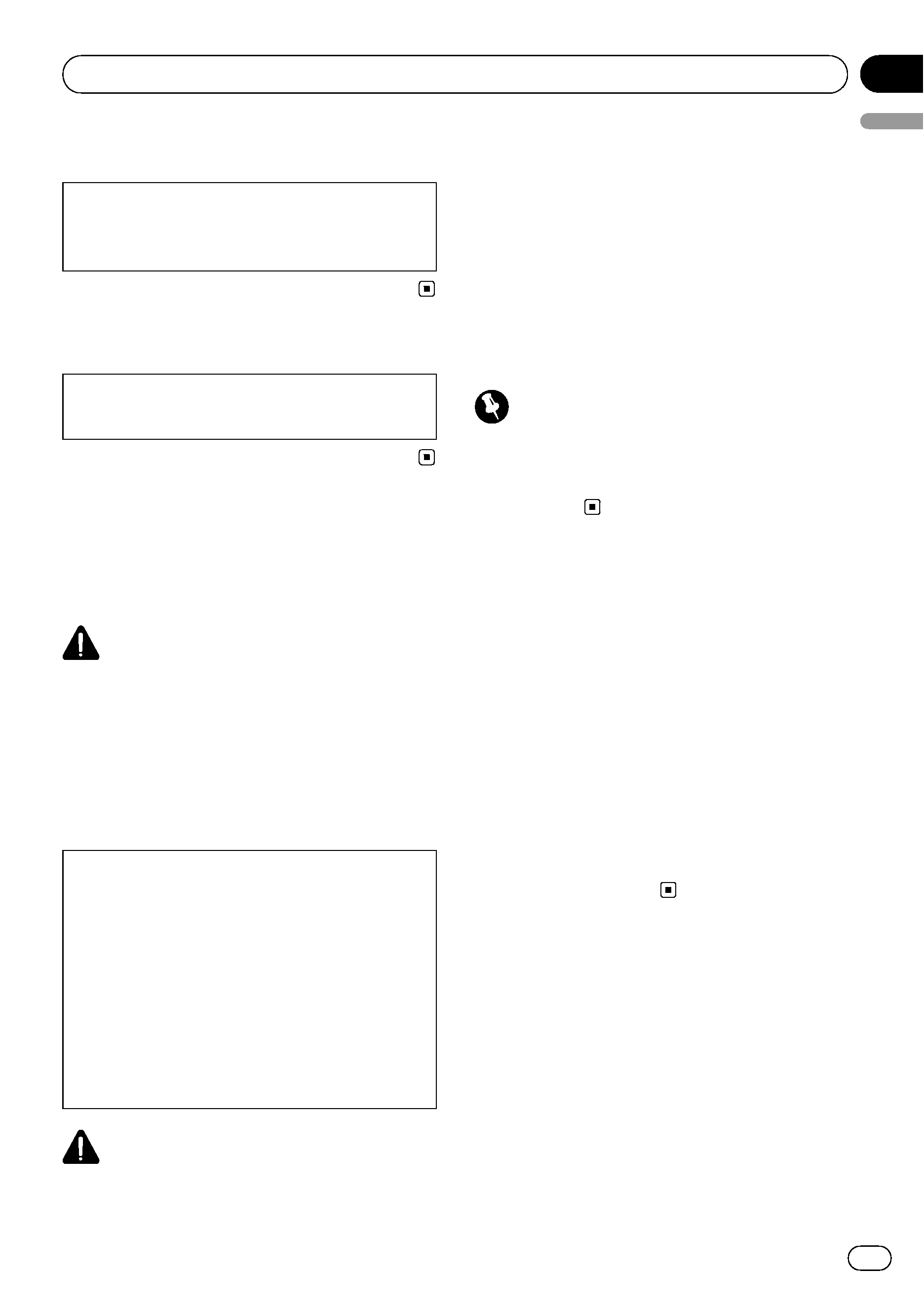 Alteration or modifications carried out without
appropriate authorization may invalidate the
users right to operate the equipment.
This Class B digital apparatus complies with
The tuner frequencies on this unit are allo-
cated for use in North America. Use in other
areas may result in poor reception.
Handling the cord on this product or cords asso-
ciated with accessories sold with the product
may expose you to chemicals listed on proposi-
tion 65 known to the State of California and other
governmental entities to cause cancer and birth
defects or other reproductive harm. Wash hands
USE OF CONTROL OR ADJUSTMENT OR
PERFORMANCE OF PROCEDURES
OTHER THAN THOSE SPECIFIED HEREIN
MAY RESULTIN HAZARDOUS RADIATION
THE USE OF OPTICAL INSTRUMENTS
WITH THIS PRODUCT WILL INCREASE
! Do not allow this unit to come into contact
with liquids. Electrical shock could result.
Also, this unit damage, smoke, and overheat
could result from contact with liquids.
! Keep this manual handy as a reference for op-
erating procedures and precautions.
! Always keep the volume low enough so that
you can hear sounds from outside the vehicle.
! Protect this unit from moisture.
! If the battery is disconnected or discharged,
the preset memory will be erased and must be
Important (Serial number)
The serial number is located on the bottom of
this unit. For your own security and convenience,
be sure to record this number on the enclosed
This unit features a number of sophisticated
functions ensuring superior reception and op-
eration. All the functions have been designed
for the easiest possible use, but many are not
self-explanatory. This operation manual will
help you benefit fully from this units potential
and to maximize your listening enjoyment.
We recommend that you familiarize yourself
with the functions and their operation by read-
ing through the manual before you begin
using this unit. It is especially important that
you read and observe WARNINGs and CAU-
---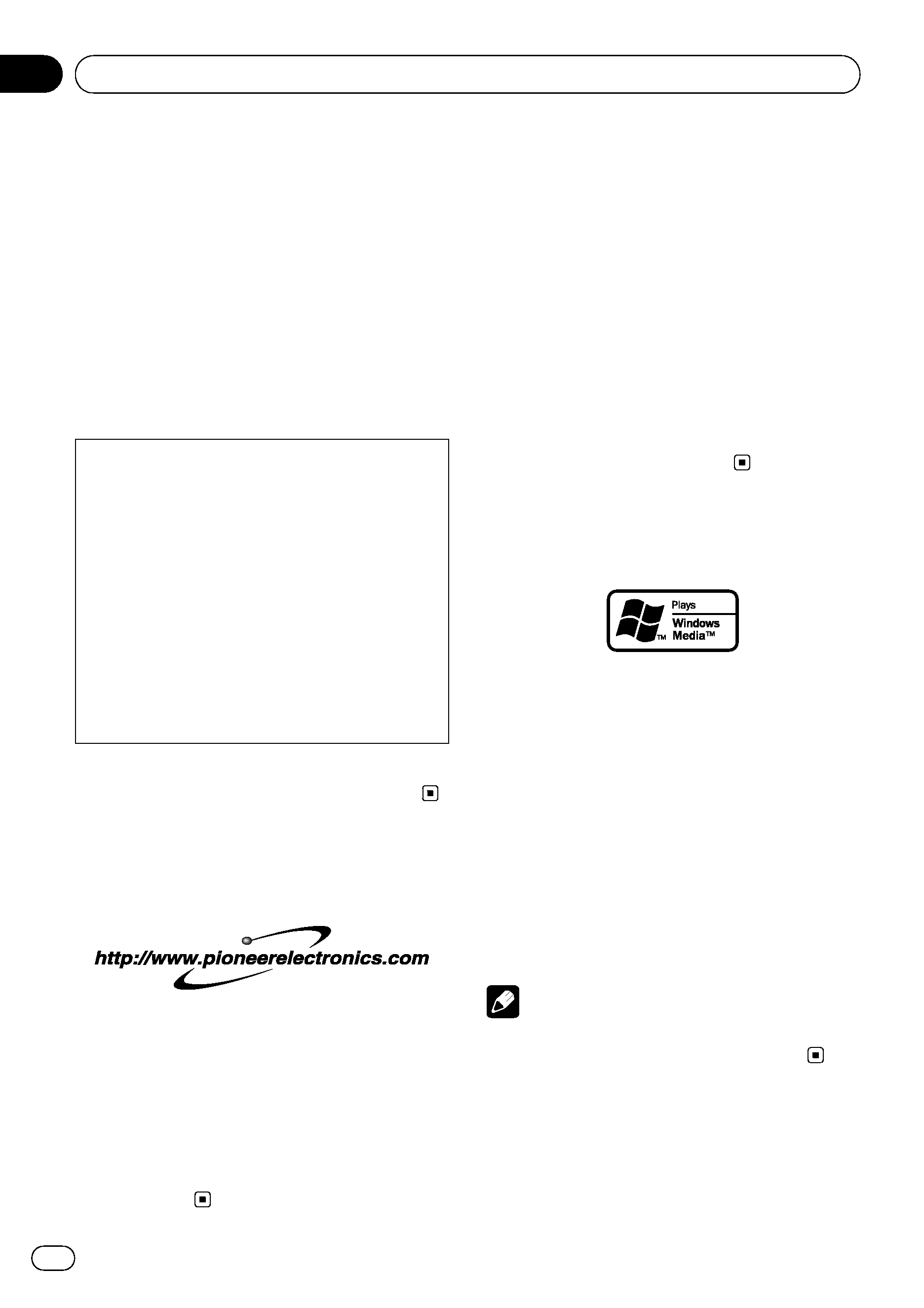 Please contact the dealer or distributor from
where you purchased this unit for after-sales
service (including warranty conditions) or any
other information. In case the necessary infor-
mation is not available, please contact the
Please do not ship your unit to the companies
at the addresses listed below for repair without
Pioneer Electronics (USA) Inc.
CUSTOMER SUPPORT DIVISION
Long Beach, CA 90801-1760
Pioneer Electronics of Canada, Inc.
CUSTOMER SATISFACTION DEPARTMENT
For warranty information please see the Lim-
ited Warranty sheet included with this unit.
Visit us at the following site:
1 Register your product. We will keep the details
of your purchase on file to help you refer to
this information in the event of an insurance
claim such as loss or theft.
2 Receive updates on the latest products and
3 Download owners manuals, order product
catalogues, research new products, and
Supply of this product only conveys a license
for private, non-commercial use and does not
convey a license nor imply any right to use
this product in any commercial (i.e. revenue-
generating) real time broadcasting (terrestrial,
satellite, cable and/or any other media), broad-
casting/streaming via internet, intranets and/
or other networks or in other electronic con-
tent distribution systems, such as pay-audio or
audio-on-demand applications. An indepen-
dent license for such use is required. For de-
http://www.mp3licensing.com.
The Windows Media" logo printed on the box
indicates that this unit can play back WMA
WMA is short for Windows Media Audio and
refers to an audio compression technology
that is developed by Microsoft Corporation.
WMA data can be encoded by using Windows
Media Player version 7 or later.
Windows Media and the Windows logo are tra-
demarks or registered trademarks of Microsoft
Corporation in the United States and/or other
This unit may not operate correctly depending on
the application used to encode WMA files.
---

Protecting your unit from
The front panel can be detached from the
head unit to prevent theft.
! Never use force or grip the display and the
buttons too tightly when removing or attach-
! Avoid subjecting the front panel to excessive
! Keep the front panel out of direct sunlight and
1 Press DETACH to release the front
Press DETACH and the right side of the panel
is released from the head unit.
2 Grab the front panel and remove.
Grab the right side of the front panel and pull
away to the left. The front panel will be de-
tached from the head unit.
Attaching the front panel
1 Place the front panel flat against the
2 Press the front panel into the face of
the head unit until it is firmly seated.
---