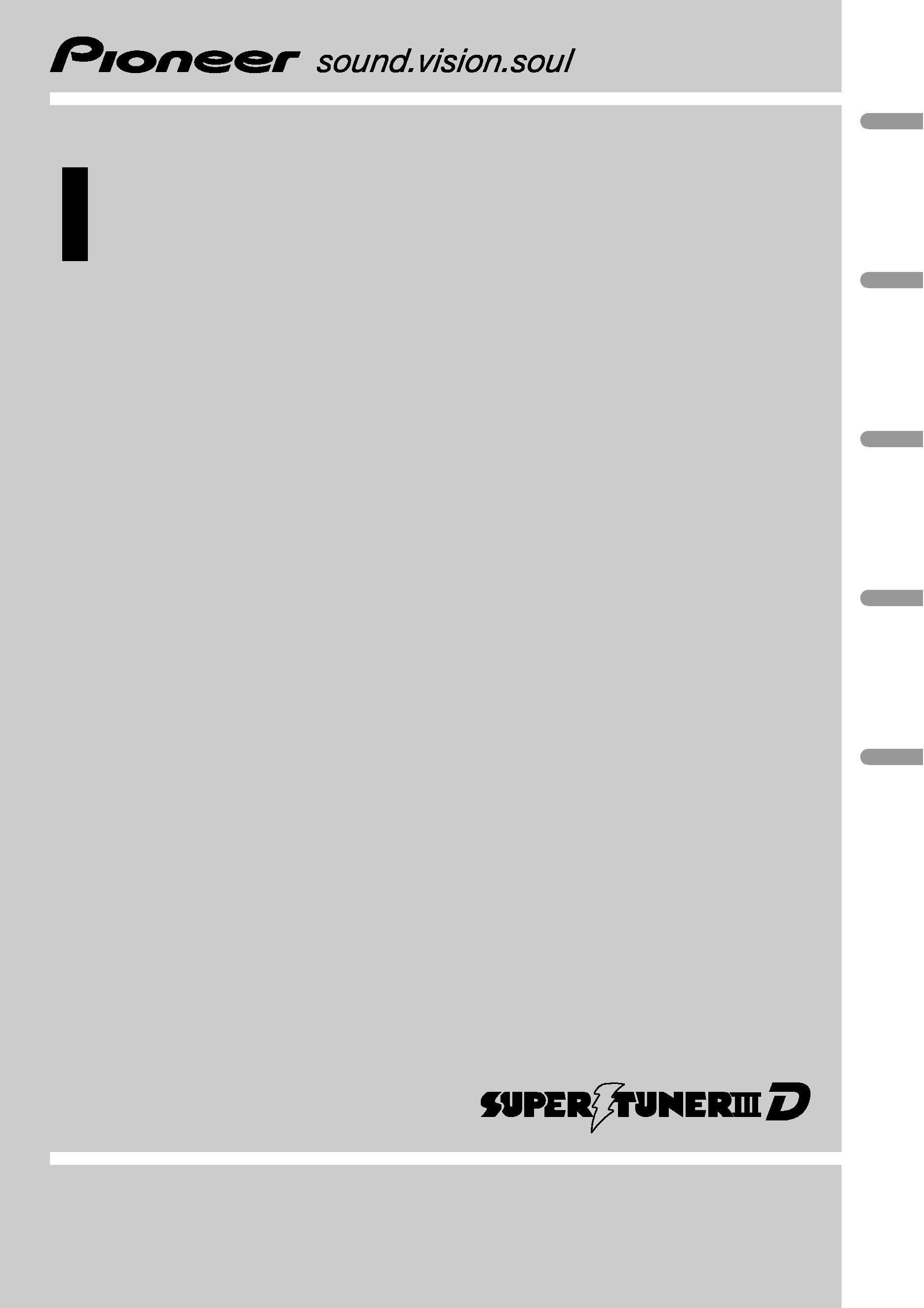 ---

Thank you for buying this Pioneer product.
Please read through these operating instructions so you will know how to operate
your model properly. After you have finished reading the instructions, keep this man-
ual in a safe place for future reference.
Protecting your unit from theft
­ Removing the front panel 3
­ Attaching the front panel 3
­ Turning the unit on and selecting a
­ Listening to the radio 5
­ Storing and recalling broadcast
­ Tuning in strong signals 6
­ Storing the strongest broadcast
­ Playing tracks in random order 6
­ Scanning tracks of a CD 6
­ Pausing disc playback 7
­ Using balance adjustment 7
­ Adjusting equalizer curves 7
­ Adjusting source levels 8
­ Adjusting initial settings 8
­ Setting the FM tuning step 8
­ Setting the AM tuning step 9
­ Switching the auxiliary setting 9
Handling guideline of discs and player
---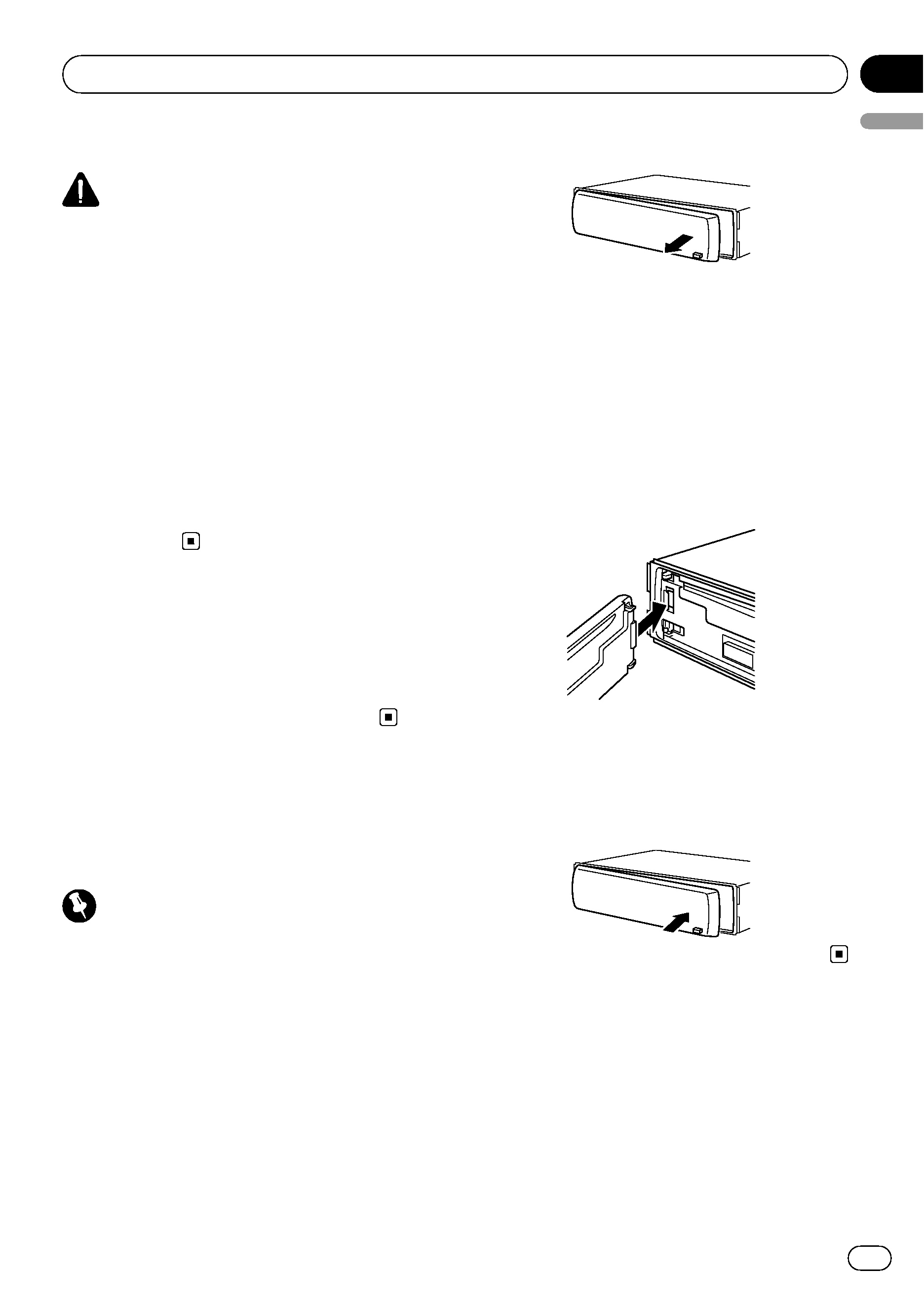 ! Do not allow this unit to come into contact
with liquids. Electrical shock could result.
Also, damage to this unit, smoke, and over-
heating could result from contact with liquids.
! Keep this manual handy as a reference for op-
erating procedures and precautions.
! Always keep the volume low enough so that
you can hear sounds from outside the vehicle.
! Protect this unit from moisture.
! If the battery is disconnected or discharged,
the preset memory will be erased and must be
! If this unit does not operate properly, contact
your dealer or nearest authorized Pioneer Ser-
Visit us at the following site:
http://pioneer.jp/group/index-e.html
! We offer the latest information about
Pioneer Corporation on our website.
Protecting your unit from
The front panel can be detached to deter theft.
! Handle gently when removing or attaching
! Avoid subjecting the front panel to excessive
! Keep the front panel out of direct sunlight and
Press DETACH to release the front
Grab the front panel and remove.
Put the front panel into provided pro-
tective case for safe keeping.
Attaching the front panel
Slide the front panel to the left until it
Front panel and the head unit are jointed on
the left side. Make sure that the front panel
has been jointed to the head unit.
Press the right side of the front panel
until it is firmly seated.
# If you can't attach the front panel to the head
unit successfully, try again. Front panel may be
damaged if you attach the front panel forcedly.
---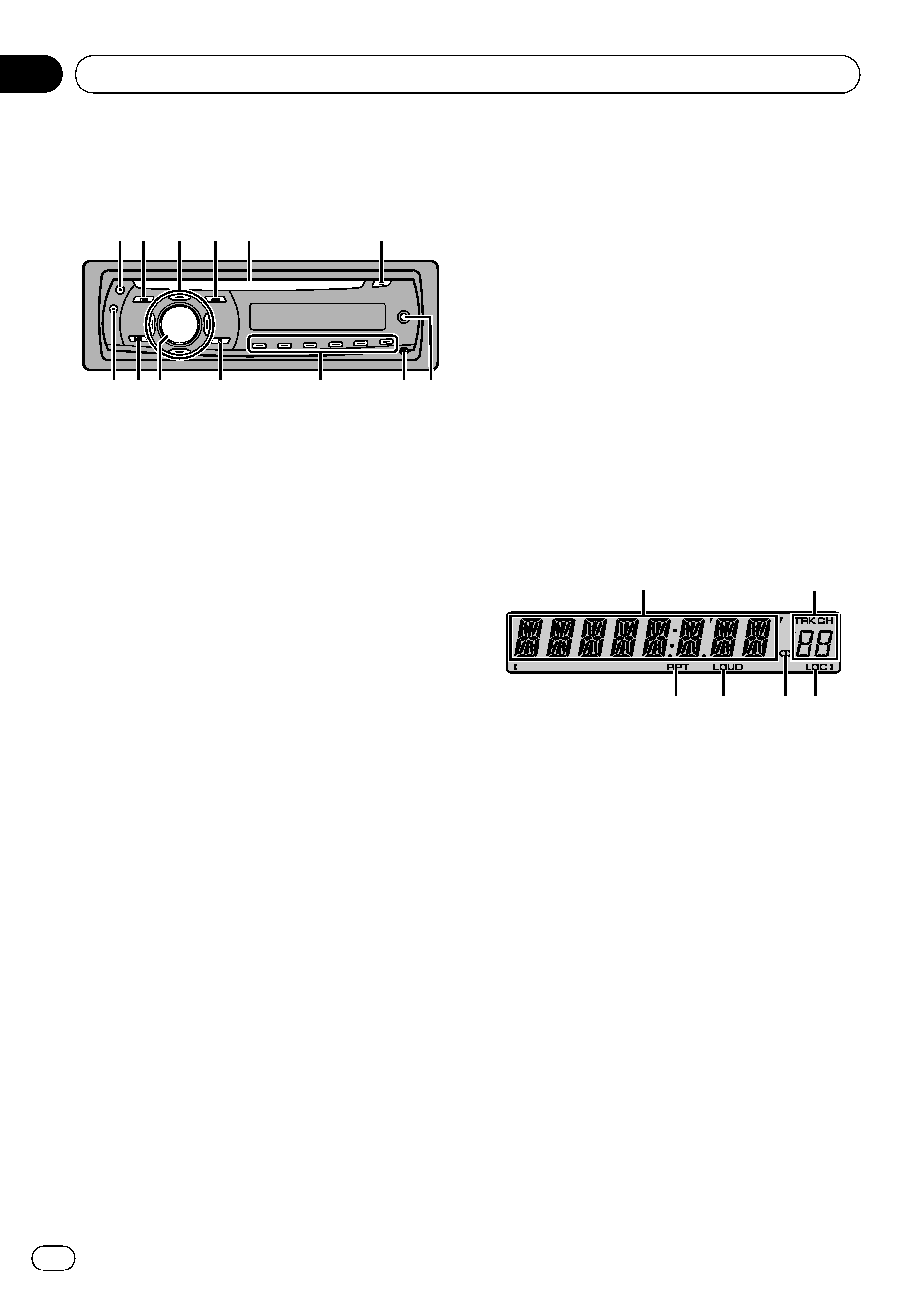 Press to change to the clock display.
Press to recall the function menu when op-
Press to perform manual seek tuning, fast
forward, reverse and track search controls.
Also used for controlling functions.
Press to select various sound quality con-
Press to eject a CD from your built-in CD
7 AUX input jack (3.5 mm stereo jack)
Use to connect an auxiliary equipment.
Press to remove the front panel from the
Press to select various equalizer curves.
Press and hold to turn loudness on or off.
This unit is turned on by selecting a source.
Press to cycle through all the available
Press and hold to recall the initial setting
menu when the sources are off.
Rotate it to increase or decrease the vo-
Press to select among three FM bands and
one AM band and to cancel the control
Press to turn pause on or off.
Shows the various information such as
band, play time, and other setting.
Band and frequency are displayed.
Elapsed play time is displayed.
! Audio and initial setup
Function names and setup status are dis-
2 Preset number/track number indicator
Shows the track number or preset number.
Shows when repeat play is turned on.
Appears in the display when loudness is
---

Shows when the selected frequency is
being broadcast in stereo.
Shows when local seek tuning is on.
You can select a source you want to listen to.
To switch to the built-in CD player, load a disc
in the unit (refer to the next page).
% Press SOURCE to select a source.
SOURCE repeatedly to switch between
--Built-in CD player--AUX
! In the following cases, the sound source will
-- When there is no disc in the unit.
-- When AUX (auxiliary input) is set to off
! AUX is set to on by default. Turn off the AUX
when not in use (refer to Switching the auxili-
! When this unit's blue/white lead is connected
's auto-antenna relay control
's source is turned on. To retract the
antenna, turn the source off.
% Use VOLUME to adjust the sound level.
% Press SOURCE and hold until the unit
If you are using this unit in North, Central or
South America, reset the AM tuning step (see
Setting the AM tuning step on page 9).
Press SOURCE to select the tuner.
Press BAND to select a band.
BAND until the desired band (F1, F2, F3
To perform manual tuning, briefly press
To perform seek tuning, press and hold
c or d for about one second and release.
The tuner will scan the frequencies until a
broadcast strong enough for good reception is
# You can cancel seek tuning by briefly pressing
# If you press and hold c or d you can skip sta-
tions. Seek tuning starts as soon as you release
Storing and recalling broadcast
% When you find a frequency that you
want to store in memory, press one of pre-
set tuning buttons 1 to 6 and hold until the
preset number stops flashing.
Memorized radio station frequency can be re-
called by pressing the preset tuning button.
# Up to 18 FM stations, six for each of the three
FM bands, and six AM stations can be stored in
# You can also use a and b to recall radio sta-
tion frequencies assigned to preset tuning but-
---