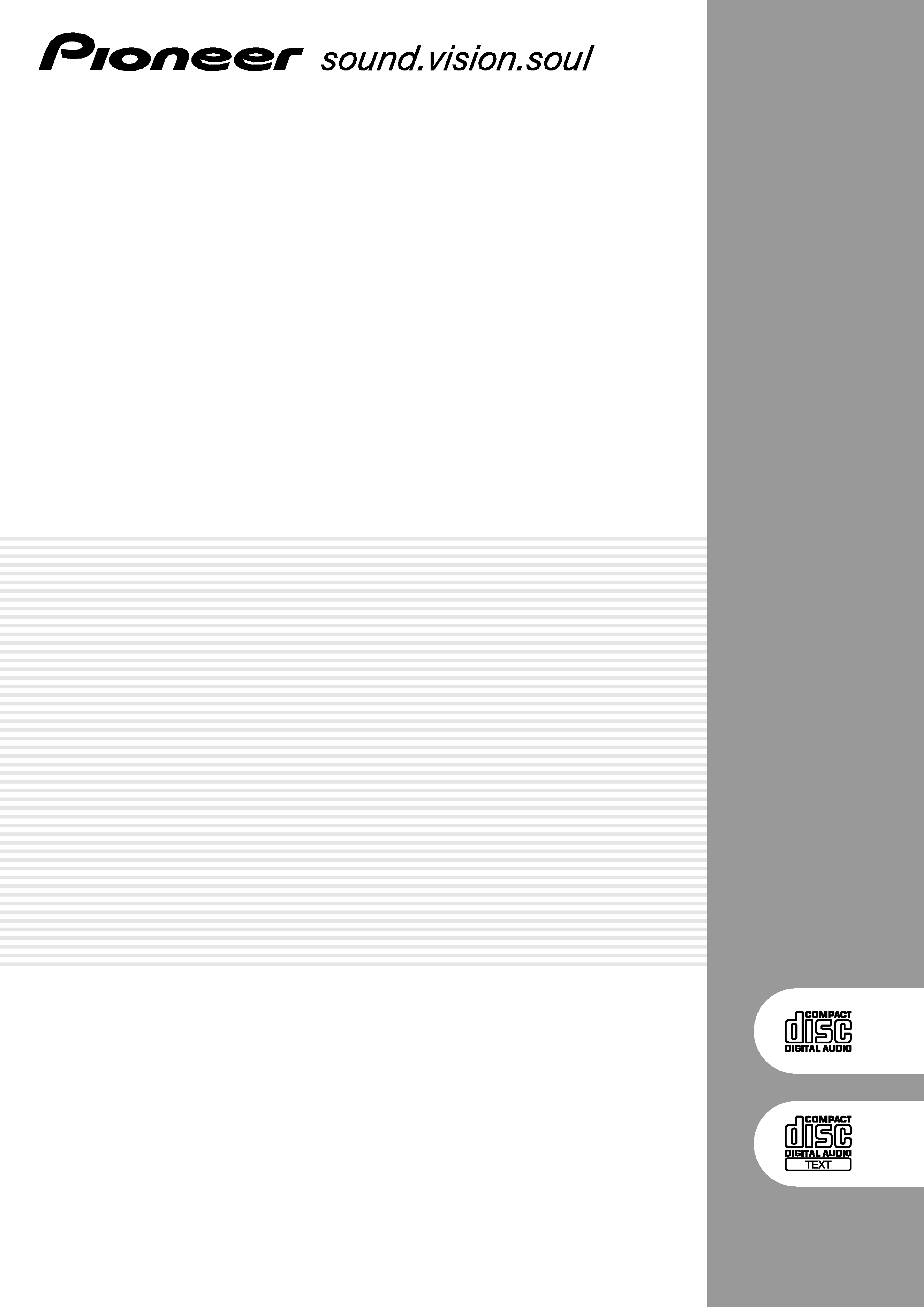 REPRODUCTOR DE DISCOS COMPACTOS
---

Ce point d'exclamation, placé dans un
triangle équilatéral, a pour but d'attirer
l'attention de l'utilisateur sur la présence,
dans les documents qui accompagnent
l'appareil, d'explications importantes du
point de vue de l'exploitation ou de
Ce symbole de l'éclair, placé dans un
triangle équilatéral, a pour but d'attirer
l'attention de l'utilisateur sur la présence, à
l'intérieur du coffret de l'appareil, de
"tensions dangereuses" non isolées d'une
grandeur suffisante pour représenter un
risque d'électrocution pour les êtres
D'ÉLECTROCUTION, NE PAS ENLEVER LE
COUVERCLE (NI LE PANNEAU ARRIÈRE).
AUCUNE PIÈCE RÉPARABLE PAR
L'UTILISATEUR NE SE TROUVE À
L'INTÉRIEUR. CONFIER TOUT ENTRETIEN À
UN PERSONNEL QUALIFIÉ UNIQUEMENT.
Do not connect either wire to the earth terminal of a
After replacing or changing a fuse, the fuse cover in
the plug must be replaced with a fuse cover which
corresponds to the colour of the insert in the base
of the plug or the word that is embossed on the
base of the plug, and the appliance must not be
used without a fuse cover. If lost replacement fuse
covers can be obtained from your dealer.
Only 5 A fuses approved by B.S.I or A.S.T.A to
The wires in this mains lead are coloured in
accordance with the following code:
If the plug provided is unsuitable for your socket
outlets, the plug must be cut off and a suitable plug
The cut-off plug should be disposed of and must
not be inserted into any 13 amp socket as this can
result in electric shock. The plug or adaptor or the
distribution panel should be provided with 5 A fuse.
As the colours of the wires in the mains lead of this
appliance may not correspond with coloured
markings identifying the terminals in your plug,
The wire which is coloured blue must be connected
to the terminal which is marked with the letter N or
The wire which is coloured brown must be
connected to the terminal which is marked with the
letter L or coloured red.
Replacement and mounting of an AC plug on the power supply cord of this unit should be performed only by qualified
This equipment is not waterproof. To prevent a fire
or shock hazard, do not place any container filed
with liquid near this equipment (such as a vase or
flower pot) or expose it to dripping, splashing, rain
Cet appareil n'est pas étanche. Pour éviter les
risques d'incendie et de décharge électrique, ne
placez près de lui un récipient rempli d'eau, tel
qu'un vase ou un pot de fleurs, et ne l'exposez pas
à des gouttes d'eau, des éclaboussures, de la pluie
The voltage of the available power supply differs
according to country or region. Be sure that the
power supply voltage of the area where this unit
will be used meets the required voltage (e.g., 230V
or 120V) written on the rear panel.
Before plugging in for the first time, read the following
La tension de l'alimentation électrique disponible
varie selon le pays ou la région. Assurez-vous que
la tension du secteur de la région où l'appareil sera
utilisé correspond à la tension requise (par ex. 230
V ou 120 V), indiquée sur le panneau arrière.
Avant de brancher l'appareil pour la première, lisez
attentivement la section suivante.
This product is a class 1 laser product, but this
product contains a laser diode higher than Class 1.
To ensure continued safety, do not remove any covers
or attempt to gain access to the inside of the product.
Refer all servicing to qualified personnel.
The following caution label appears on your unit.
Location: Bottom of the player
Cet appareil est un produit laser de Classe 1, mais la diode laser
qu'il renferme est supérieure à la Classe 1. Pour garantir une
sécurité constante, ne retirez aucun des couvercles et n'essayez
pas d'avoir accès à l'intérieur de l'appareil.
Confiez toute réparation à un personnel qualifié.
L'étiquette suivante se trouve sur votre appareil.
Emplacement : Fond du lecteur
To prevent a fire hazard, do not place any naked
flame sources (such as a lighted candle) on the
Pour éviter les risques d'incendie, ne placez aucune
flamme nue (telle qu'une bougie allumée) sur
When installing this unit, make sure to leave space
around the unit for ventilation to improve heat
radiation (at least 5 cm at rear, and 5 cm at each
Slots and openings in the cabinet are provided for
ventilation to ensure reliable operation of the
product, and to protect it from overheating. To
prevent fire hazard, the openings should never be
blocked or covered with items (such as newspapers,
table-cloths, curtains) or by operating the
equipment on thick carpet or a bed.
PRÉCAUTION DE VENTILATION
Lors de l'installation de l'appareil, veillez à laisser
un espace suffisant autour de ses parois de manière
à améliorer la dissipation de chaleur (au moins 5 cm
à l'arrière et 5 cm de chaque côté).
Les fentes et ouvertures du coffret sont prévues
pour la ventilation, pour assurer un fonctionnement
stable de l'appareil et pour éviter sa surchauffe.
Pour éviter les risques d'incendie, ne bouchez
jamais les ouvertures et ne les recouvrez pas
d'objets, tels que journaux, nappes ou rideaux, et
n'utilisez pas l'appareil posé sur un tapis épais ou
The exclamation point within an equilateral
triangle is intended to alert the user to the
presence of important operating and
maintenance (servicing) instructions in the
literature accompanying the appliance.
The lightning flash with arrowhead symbol,
within an equilateral triangle, is intended to
alert the user to the presence of uninsulated
"dangerous voltage" within the product's
enclosure that may be of sufficient
magnitude to constitute a risk of electric
TO PREVENT THE RISK OF ELECTRIC
SHOCK, DO NOT REMOVE COVER (OR
BACK). NO USER-SERVICEABLE PARTS
INSIDE. REFER SERVICING TO QUALIFIED
Thank you for buying this Pioneer product.
Please read through these operating instructions so you will know
how to operate your model properly. After you have finished
reading the instructions, put them away in a safe place for future
In some countries or regions, the shape of the power plug and
power outlet may sometimes differ from that shown in the
explanatory drawings. However the method of connecting and
operating the unit is the same.
Nous vous remercions pour cet achat d'un produit Pioneer.
Nous vous demandons de lire soigneusement ce mode d'emploi; vous
serez ainsi à même de faire fonctionner l'appareil correctement. Après
avoir bien lu le mode d'emploi, le ranger dans un endroit sûr pour
pouvoir s'y référer ultérieurement.
Dans certains pays ou certaines régions, la forme de la fiche
d'alimentation et de la prise d'alimentation peut différer de celle qui
figure sur les schémas, mais les branchements et le fonctionnement
de l'appareil restent les mêmes.
---

This product complies with the Low Voltage Directive
(73/23/EEC, amended by 93/68/EEC), EMC Directives
(89/336/EEC, amended by 92/31/EEC and
Ce produit est conforme à la directive relative aux
appareils basse tension (73/23/CEE), à la directive
CE relative à la compatibilité electromagnétique
(89/336/CEE, amendements 92/31/CEE et
When using this product follow the instructions
written on the underside of the unit, which
concern rated voltage, etc.
Lorsque vous utilisez ce produit, respectez les
instructions inscrites sur le fond à propos de la
tension nominale et d'autres paramètres.
Operating environment temperature and humidity:
+5 ºC ­ +35 ºC (+41 ºF ­ +95 ºF); less than 85 %RH
(cooling vents not blocked)
Do not install this unit in a poorly ventilated area, or in
locations exposed to high humidity or direct sunlight (or
Température et humidité du milieu de fonctionnement :
De +5 à +35ºC (de +41 à +95ºF); Humidité relative
inférieure à 85% (orifices de ventilation non obstrués)
N'installez pas l'appareil dans un endroit mal ventilé ou
un lieu soumis à une forte humidité ou en plein soleil
(ou à une forte lumière artificielle).
L'interrupteur POWER de cet appareil ne coupe pas
complètement celui-ci de sa prise secteur. Comme
le cordon d'alimentation fait office de dispositif de
déconnexion du secteur, il devra être débranché au
niveau de la prise secteur pour que l'appareil soit
complètement hors tension. Par conséquent, veillez
à installer l'appareil de telle manière que son cordon
d'alimentation puisse être facilement débranché de
la prise secteur en cas d'accident. Pour éviter tout
risque d'incendie, le cordon d'alimentation sera
débranché au niveau de la prise secteur si vous
prévoyez une période prolongée de non utilisation
(par exemple avant un départ en vacances).
If the AC plug of this unit does not match the AC
outlet you want to use, the plug must be removed
and appropriate one fitted. Replacement and
mounting of an AC plug on the power supply cord of
this unit should be performed only by qualified
service personnel. If connected to an AC outlet, the
cut-off plug can cause severe electrical shock. Make
sure it is properly disposed of after removal.
The equipment should be disconnected by removing
the mains plug from the wall socket when left
unused for a long period of time (for example, when
Si la fiche d'alimentation secteur de cet appareil ne
convient pas à la prise secteur à utiliser, la fiche doit
être remplacée par une appropriée.
Ce remplacement et la fixation d'une fiche secteur
sur le cordon d'alimentation de cet appareil doivent
être effectués par un personnel de service qualifié.
En cas de branchement sur une prise secteur, la
fiche de coupure peut provoquer une sérieuse
décharge électrique. Assurez-vous qu'elle est
éliminée correctement après sa dépose.
L'appareil doit être déconnecté en débranchant sa
fiche secteur au niveau de la prise murale si vous
prévoyez une période prolongée de non utilisation
(par exemple avant un départ en vacances).
The POWER switch on this unit will not completely
shut off all power from the AC outlet. Since the
power cord serves as the main disconnect device for
the unit, you will need to unplug it from the AC outlet
to shut down all power. Therefore, make sure the
unit has been installed so that the power cord can
be easily unplugged from the AC outlet in case of an
accident. To avoid fire hazard, the power cord should
also be unplugged from the AC outlet when left
unused for a long period of time (for example, when
Handle the power cord by the plug. Do not pull out the
plug by tugging the cord and never touch the power
cord when your hands are wet as this could cause a
short circuit or electric shock. Do not place the unit, a
piece of furniture, etc., on the power cord, or pinch the
cord. Never make a knot in the cord or tie it with other
cords. The power cords should be routed such that they
are not likely to be stepped on. A damaged power cord
can cause a fire or give you an electrical shock. Check
the power cord once in a while. When you find it
damaged, ask your nearest PIONEER authorized
service center or your dealer for a replacement.
NOTE IMPORTANTE SUR LE CABLE
Tenir le câble d'alimentation par la fiche. Ne pas
débrancher la prise en tirant sur le câble et ne pas
toucher le câble avec les mains mouillées. Cela risque
de provoquer un court-circuit ou un choc électrique. Ne
pas poser l'appareil ou un meuble sur le câble. Ne pas
pincer le câble. Ne pas faire de noeud avec le câble ou
l'attacher à d'autres câbles. Les câbles d'alimentation
doivent être posés de façon à ne pas être écrasés. Un
câble abîmé peut provoquer un risque d'incendie ou un
choc électrique. Vérifier le câble d'alimentation de
temps en temps. Contacter le service après-vente
PIONEER le plus proche ou le revendeur pour un
---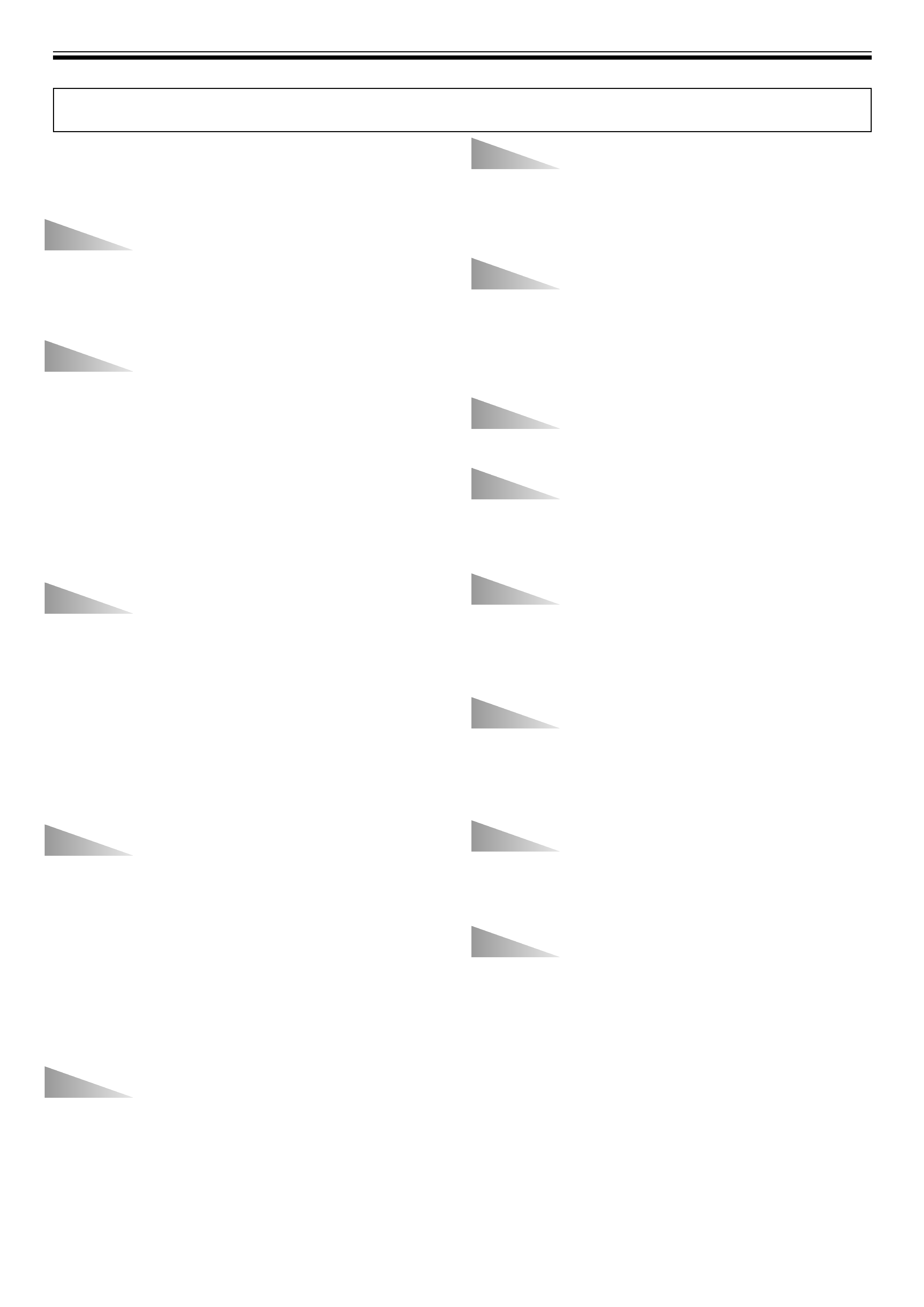 BEFORE OPERATING (FEATURES)
Designed for professional use by DJs, the CDJ-200 compact
disc player provides all the functions and performance re-
quired in disco clubs while offering performance, sound qua-
lity and functionality superior to analog players.
Equipped with Digital Jog Break for original sound effects.
Individual remix assist functions [JET], [ZIP] and [WAH] have
been provided individually in three buttons. By choosing a
function and operating the jog dial in time with the music, a
new remix world can be experienced.
A large 100 mm diameter jog dial enables corrections to un-
even beats with the feeling of an analog turntable.
This function changes the music tempo depending on the di-
rection and speed the jog dial is rotated.
Moves the pause position in frame units (1/75 sec) when the
jog dial is rotated in the pause mode.
By turning the jog dial while holding down the manual search
button or the track search button, disc search can be per-
formed faster than normal search or track search functions.
100 mm long high-precision slider allowing free speed adjust-
With a digital display calibrated in 0.02 % units (within a ±6 %
range), tempo adjustments can be made more easily and ac-
The maximum variable range can be set to three variable
ranges; ±6 %, ±10 %, ±16 %, to provide easier operation envi-
Maintains the same pitch of sound while changing the music
After storing cue points in memory, press the CUE button
while playing a track to return and start from the stored cue
Skips the non-recorded part at the top of a track and automati-
cally enters stand-by mode at the track's starting point, allow-
ing playback to begin instantly when the PLAY/PAUSE button
Playback can be started at one touch from a stored cue point,
convenient for confirming start points and as sampler.
This function simplifies the setting and canceling of loops.
The loop can be set at the very instant the track is being
played. By setting a loop just before the end of the track, the
track can be made so that it doesn't stop. In addition, an
ADJUST mode has been added to enable one-touch adjust-
ments to the loop-out point, thereby facilitating the loop op-
Allows returning to the set loop position any number of times.
Press the RELOOP/EXIT button after canceling loop play to
return to the loop start position. By using the loop ON and OFF
combined with the rhythm of the track, new sound effects can
The bar graph provides a visual reference of the track play-
back progress that enables the user to visualize the current
playback position, in the same way as is done with an analog
record by checking the position of the needle. The current po-
sition can be confirmed by the length of the graph, and in ad-
dition, the graph flashes to notify the ending of the track.
The disc can be inserted without the opening of trays and
doors, making possible quick track selection.
By connecting this unit to DJ mixer DJM-500, DJM-600, DJM-
300, DJM-3000, DJM-909, or DJM-707, QUICK START and
BACK CUE functions can be performed by using the mixer's
Two CDJ-200 units can be connected in tandem to perform
When track playback stops on one of the players, the standby
mode of the other player is released and playback begins au-
OIL DAMPER FLOAT construction helps resist shakes and im-
This unit features an OIL DAMPER FLOAT design, making it
harder for distortions and sound breakup to occur due to im-
pacts from operation and vibrations from the floor.
Supports playback of CD-R and CD-RW discs. (Some discs
may not replay properly, however, due to certain special
characteristics of some discs and recorders, as well as due to
Displays CD TEXT on CD TEXT-supported discs.
---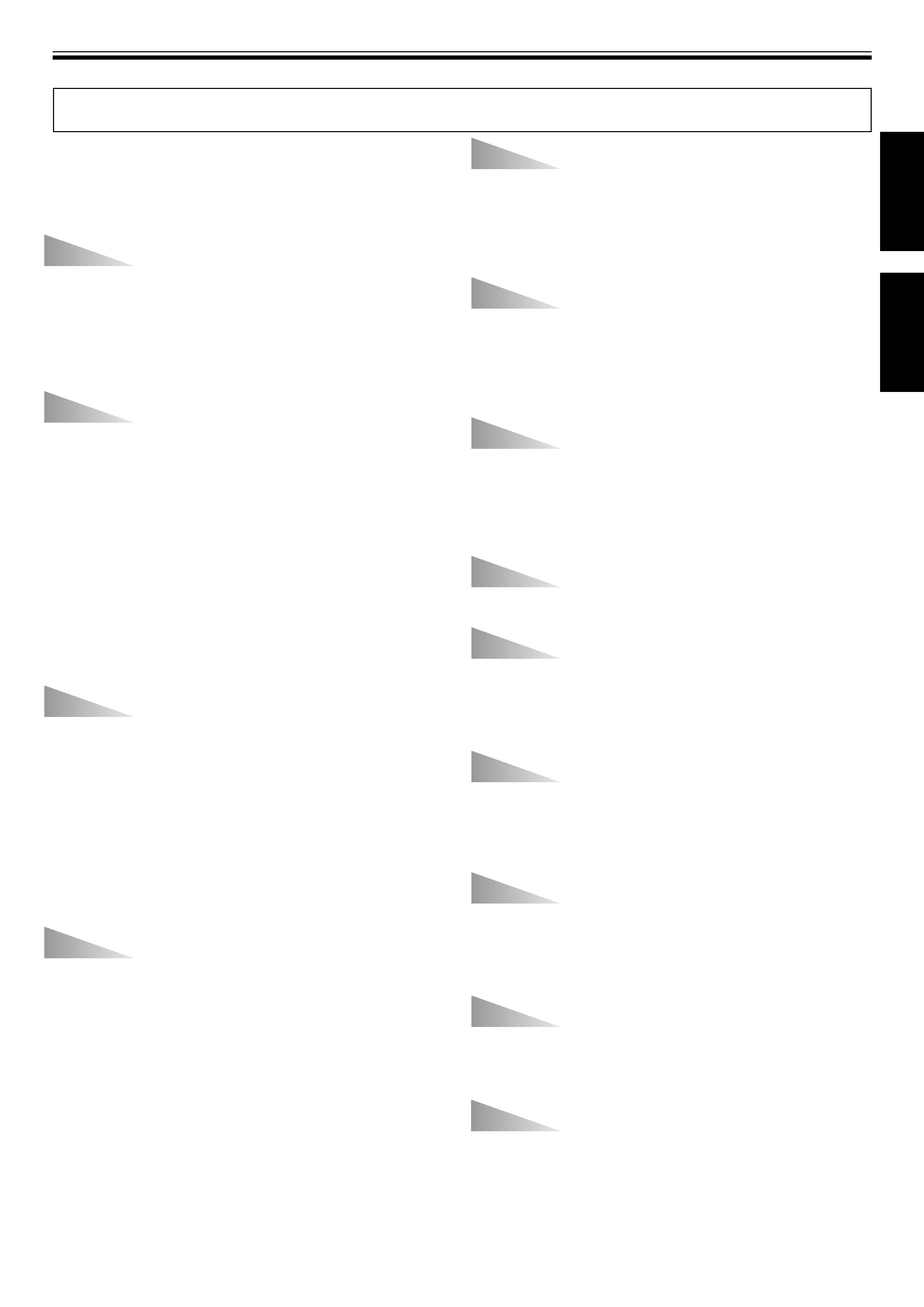 AVANT LA MISE EN SERVICE (PARTICULARITÉS)
Destiné à une utilisation professionnelle par des DJ, le lecteur
de disque compact CDJ-200 dispose de toutes les fonctions et
procure les performances exigées dans les disco clubs. Il offre
en outre des caractéristiques, une qualité sonore et une poly-
valence supérieures à celles des lecteurs analogiques.
COUPURE PAR JOG NUMÉRIQUE
Équipé de la Coupure par Jog numérique en vue d'effets
Les fonctions individuelles d'aide au remixage [JET], [ZIP] et
[WAH] sont disponibles de façon individuelle grâce à trois
boutons. En choisissant une fonction et en agissant sur la
bague Jog en accord avec la musique, vous pouvez découvrir
tout un nouvel univers de remixage.
Une grande bague Jog de 100 mm de diamètre autorise des
corrections sur des mesures irrégulières avec l'impression
d'une platine-disque analogique.
I CHANGEMENT DE HAUTEUR TONALE
Cette fonction change le tempo de la musique selon le sens et
la vitesse de rotation de la bague Jog.
Cette fonction déplace la position de la pause en unités de
cadre (1/75 sec.) lorsque la bague Jog est tournée en mode
Vous pouvez parcourir le disque plus vite que par les
fonctions de recherche normale ou de recherche de plage en
tournant la bague Jog tout en maintenant enfoncé le bouton
de recherche manuelle ou celui de recherche de plage.
Curseur très précis de 100 mm de long, autorisant des
réglages de vitesse à volonté.
Grâce à un affichage numérique calibré en unités de 0,02 %
(dans une plage de ±6 %), des ajustements du tempo plus
rapides et précis sont possibles.
I PORTÉE DE COMMANDE DE TEMPO
La portée maximale peut être ajustée à trois valeurs variables
: ±6 %, ±10 % et ±16 % de manière à faciliter l'environnement
Il maintient la même hauteur tonale tout en changeant le
I RETOUR AU POINT DE REPÉRAGE
Après mémorisation des Points de repérage, appuyez sur le
bouton CUE pendant la lecture d'une plage pour repasser au
Point mémoriser et y recommencer.
L'appareil saute la partie vierge au début d'une plage et il se
place automatiquement en mode Attente au point de départ
de la plage, ce qui permet de lancer à l'instant la lecture
lorsque le bouton PLAY/PAUSE (
I ÉCHANTILLONNEUR DE POINT DE REPÉRAGE
La lecture peut être lancée par une touche au partir d'un point
de repérage mémorisé, ce qui est pratique pour vérifier les
points initiaux et comme échantillonneur.
BOUCLE SANS A-COUP EN TEMPS RÉEL
Cette fonction simplifie la pose et l'annulation de boucles.
Une boucle peut être définie dès l'instant où la plage est lue.
En réglant une boucle juste avant la fin de la plage, il est pos-
sible de faire en sorte qu'elle ne s'arrête pas. De plus, un
mode ADJUST est ajouté pour permettre des ajustements du
point final de boucle et faciliter ces opérations.
Ceci permet de revenir à la position de boucle définie autant
de fois que souhaité. Appuyez sur le bouton RELOOP/EXIT
après avoir libéré la lecture à boucle pour repasser au point
initial de la boucle. En utilisant la marche (ON) et l'arrêt (OFF)
de boucle, combinés au rythme, vous pouvez créer de
VISUALISATION DE LA LECTURE
Ce graphique à barre fournit une visualisation directe de
l'avance de la lecture. L'utilisateur peut ainsi visualiser la posi-
tion actuelle de la lecture, tout comme le permet mouvement
de l'aiguille sur un disque analogique. La longueur de la barre
indique la position actuelle, tandis que le clignotement de
cette barre avertit de la proximité de la fin de la plage.
Le disque est inséré directement, sans avoir à ouvrir un volet
ou un tiroir, ce qui accélère d'autant la sélection des plages.
En raccordant cet appareil à la table de mixage DJM-500,
DJM-600, DJM-300, DJM-3000, DJM-909 ou DJM-707, les
fonctions Démarrage rapide (QUICK START) et Retour au
point de repérage (BACK CUE) sont disponibles en faisant
appel à la fonction Fader.
Deux appareils CDJ-200 réunis en tandem permettent une lec-
ture automatique à relais.
Lorsque s'arrête la lecture d'une plage sur un des deux
lecteurs, le mode Attente de l'autre est libéré et la lecture y
commence automatiquement.
FLOTTEMENT PAR AMORTISSEUR À HUILE
La construction flottante par amortisseur à l'huile contribue à
réduire les vibrations et les chocs.
Comme cet appareil est doté d'une telle construction, les
distorsions et interruptions du son, provoquées par les im-
pacts ou les vibrations du sol, sont atténuées.
Il est possible de lire les CD-R et CD-RW. (Toutefois, une lec-
ture correcte peut s'avérer impossible en raison des
caractéristiques spéciales de certains disques ou graveurs ou
parce que les disques sont souillés ou endommagés.)
Le texte CD est affiché dans le cas de disques prenant ne
---