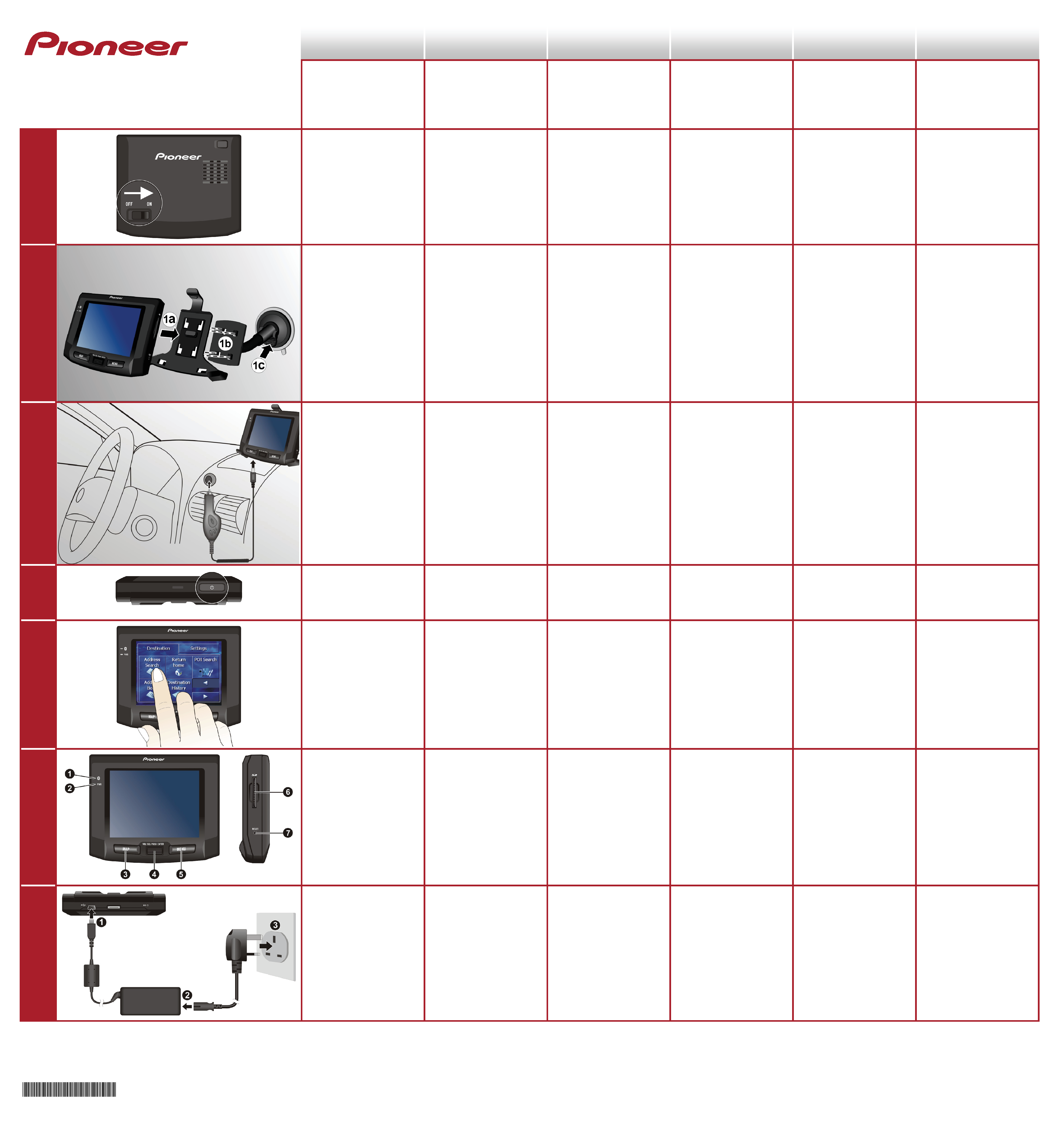 !
Læs "Vigtig information til brugeren"
før du anvender dette produkt.
!
Se brugervejledningen på den
medfølgende DVD for detaljeret.
!
Lesen Sie "Wichtige Informationen
für den Benutzer", bevor Sie dieses
Produkt in Betrieb setzen.
!
Detaillierte Hinweise zur Bedienung
finden Sie in den Handbüchern auf
!
Read "Important Information for the
User" before using this product.
!
For detailed operation information,
see the manuals in the provided DVD.
!
Antes de utilizar este producto lea el
documento "Información importante
!
Para obtener información de uso
detallada, consulte los manuales
suministrados con el DVD.
!
Veuillez lire la section « Informations
importantes pour l'utilisateur » avant
!
Pour plus d'informations détaillées
sur le fonctionnement de l'appareil,
consultez les guides sur le DVD
!
Leggere le "Informazioni importanti
per l'utente" prima di usare questo
!
Per informazioni dettagliate sul
funzionamento, fare riferimento ai
manuali del DVD in dotazione.
Sæt TIL/FRA-kontakten i stillingen TIL.
AVIC-S1 tænder og fører dig igennem de
første opsætningsprocedurer, såsom
indstilling af sprog og tidszone.
Når der vises en advarselsskærm, læs hele
advarslen og klik på OK, hvis du er enig.
!
Efterlad altid kontakten i stillingen
Schieben Sie den EIN/AUS-Schalter nach
Der AVIC-S1 schaltet sich ein und führt
Sie durch die erstmaligen
Starteinstellungen wie für z.B. die
Sprache und die Zeitzone.
Bei Anzeige eines Warnbildschirms
müssen Sie die gesamte Warnung lesen
und dann auf OK tippen, sofern Sie
!
Bei normalem Betrieb sollte der
Schalter immer auf ON gesetzt sein.
Slide the ON/OFF switch to the ON
AVIC-S1 turns on and guides you through
the initial startup settings such as
language and time zone settings.
When the warning screen appears, read
the entire warning and tap OK if you
!
Always leave the switch in the ON
position for normal operation.
Coloque el interruptor de encendido y
apagado en posición Encendido.
AVIC-S1 se encenderá y le guiará por la
configuración inicial, como por ejemplo,
la configuración de idioma y franja
Cuando aparezca la pantalla de
advertencia, léala y pulse Aceptar si está
!
Coloque siempre el interruptor en la
posición Encendido utilizar el
Glissez l'interrupteur Marche/Arrêt en
L'AVIC-S1 s'allume et vous guide à
travers les paramétrages d'initialisation,
tels que paramètres de langue et fuseau
Lorsqu'un écran d'alerte apparaît, lisez
l'avertissement en entier et tapez sur OK
!
Laissez toujours l'interrupteur en
Portare l'interruttore ON/OFF sulla
AVIC-S1 si accende e spiega come
configurare le impostazioni iniziali, come
la lingua ed il fuso orario.
Quando appare la schermata con gli
avvisi, leggere tutto il contenuto del
messaggio e toccare OK se si accetta.
!
La sciare sempre l'interruttore in
posizione ON per il funzionamento
Monter AVIC-S1 i holderen (1a). Derefter
låses holderen til adapterenden af
sugekoppen (1b). Til sidst monteres
sugekoppen på forruden, og låses ved at
trykke håndtaget ned (1c).
!
Kontroller, atAVIC-S1 ikke generer
førerens udsyn, eller kommer i
konflikt med udløsningen af bilens
airbags og sikkerhedsudstyr.
!
Når armen bøjes, bruges begge
hænder til lettere justering. Brug
!
For en vedvarende hæftning med
sugekoppen afmonteres og monteres
sugekoppen mindst en gang hver
Befestigen Sie den AVIC-S1 am Halter
(1a). Verriegeln Sie den Halter dann am
Adapterende des Saugnapfes (1b). Bringen
Sie zum Schluss die Saugseite des
Saugnapfes an der Windschutschutzscheibe
an und verriegeln Sie sie, indem Sie den
Hebel herunterdrücken (1c).
!
Vergewissern Sie sich, dass der
AVIC-S1 nicht die Sicht des Fahrers
behindert oder nicht die Bedienung
Sicherheitsvorrichtungen des
Fahrzeugs beeinträchtigt.
!
Verbiegen Sie denArm vorsichtig mit
beiden Händen. Wenden Sie keine
!
Damit die Saugkraft des Saugnapfes
erhalten bleibt, nehmen Sie den
Saugnapf mindestens einmal im Monat
ab und bringen Sie ihn wieder an.
Attach AVIC-S1 to the holder (1a). Then
lock the holder into the adapter end of the
suction mount (1b). Lastly, attach the
suction side of the suction mount to your
windshield, and lock by pressing the lever
!
Make sure thatAVIC-S1 does not
obstruct the driver's view, or interfere
with the operation of vehicle airbags
!
When bending the arm, use both
hands to adjust gently. Never use
!
To retain adhesion of the suction cup,
detach and then re-attach the suction
cup at least once a month.
Coloque el AVIC-S1 en el soporte (1a). A
continuación fije el soporte en el extremo
del adaptador del soporte con ventosa
(1b). Por último, coloque la ventosa del
soporte sobre la luna del parabrisas y
fíjelo presionando la palanca (1c).
!
Asegúrese de queAVIC-S1 no
obstaculiza la vista del conductor ni
interfiere con el funcionamiento
operación de los airbag del vehículo u
otros dispositivos de seguridad.
!
Al doblar el brazo, utilice ambas
manos para ajustarlo con suavidad.
No fuerce los dispositivos.
!
Para mantener la adherencia de la
ventosa, despéguela y vuelva a
colocarla al menos una vez al mes.
Attachez l'AVIC-S1 sur son support (1a).
Puis verrouillez le support dans
l'extrémité de l'adaptateur monté sur
ventouse (1b). Enfin, fixez la ventouse sur
le pare-brise et verrouillez le système en
abaissant le levier (1c).
!
Assurez-vous que l'AVIC-S1
n'obstrue pas la vue lorsque vous
conduisez, ou qu'il n'interfère pas
avec le fonctionnement des airbags du
véhicule et tout autre élément de
sécurité dans le véhicule.
!
Assurez-vous que l'AVIC-S1
n'obstrue pas la vue lorsque vous
conduisez, ou qu'il n'interfère pas
avec le fonctionnement des airbags du
véhicule et tout autre élément de
sécurité dans le véhicule.
!
Pour garder l'adhésion de la ventouse,
détachez-la et rattachez-la au moins
Fissare AVIC-S1 al supporto (1a). Poi,
bloccare il supporto nell'adattatore sulla
ventosa (1b). Infine, fissare la ventosa al
parabrezza e bloccarla premendo la leva
!
Assicurarsi cheAVIC-S1 non
ostruisca la veduta del conducente, e
che non interferisca con le funzioni
degli airbag e dei dispositivi di
!
Quando si piega il braccio, usare
entrambe le mani e regolare con
!
Per mantenere l'aderenza della
ventosa, staccarla e riattaccarla
almeno una volta al mese.
Forbind bilopladeren med den ene ende
til AVIC-S1 og den anden ende til
!
Forbind først bilopladeren efter, at
Schließen Sie das Kfz-Ladegerät an:
Ein Ende an den AVIC-S1 und das
andere Ende an den Zigarettenanzünder.
!
Schließen Sie das Kfz-Ladegerät nur
an, nachdem der Motor angelassen
Connect the car charger: one end to
AVIC-S1 and the other end to the
cigarette lighter socket.
!
Connect the car charger only after the
Conecte el cargador para coche: un
extremo al AVIC-S1 y el otro extremo a
la conexión del encendedor.
!
Conecte el cargador de coche una vez
Branchez le chargeur de voiture : une
extrémité dans l'AVIC-S1 et l'autre
dans la prise de l'allume-cigare.
!
Branchez le chargeur de voiture
uniquement après avoir démarré le
Collegare una estremità del caricatore
per automobile ad AVIC-S1 e l'altra
estremità all'accendisigari.
!
Collegare il caricatore per automobile
solo dopo che è stato avviato il
Tryk på og hold afbryderknappen nede i
mindst 2 sekunder for at tænde og slukke
Den første gang du tænder for AVIC-S1,
vises der en Destinationsmenu.
Drücken und Sie den Netzschalter und
halten Sie ihn mindestens 2 Sekunden lang
gedrückt, um den AVIC-S1 ein- und
Beim erstmaligen Einschalten des
AVIC-S1 erscheint das Zielmenü.
Press and hold the power button for at least
2 seconds to turn on and off AVIC-S1.
The first time you turn on AVIC-S1, the
Destination Menu appears.
Mantenga pulsado el botón durante 2
segundos para encender o apagar el
La primera vez que encienda AVIC-S1,
aparecerá la pantalla Menú Destino.
Gardez le bouton d'alimentation enfoncé
pendant au moins 2 secondes pour allumer
Lors de la première utilisation de
l'AVIC-S1, le Menu Destination
Tenere premuto per almeno 2 secondi il
tasto di accensione per accendere e
La prima volta che si accende AVIC-S1,
appare il menu Destinazione.
Brug dine fingre til at berøre skærmen for
at navigere og vælge objekter på skærmen.
Under anvendelse af systemet, kan du
altid få adgang til Destinationsmenuen
ved at trykke på knappen MENU på
Um im Bildschirm zu navigieren und
Objekte zu wählen, berühren Sie den
Bildschirm mit Ihrem Finger.
Während des Betriebs können Sie das
Zielmenü jederzeit aufrufen, indem Sie
die Taste MENU auf dem AVIC-S1
To navigate and select objects on the
screen, use your finger to touch on the
During operation, you can access the
Destination Menu at any time by
pressing the MENU button on AVIC-S1.
Para desplazarse y seleccionar objetos de
la pantalla, utilice los dedos para tocar
Durante el uso, puede acceder a la
pantalla Menú Destino en cualquier
momento utilizando el botón MENÚ de
Pour naviguer et choisir les différents
objets à l'écran, tapotez l'écran avec vos
Durant le fonctionnement, vous pouvez
accéder au Menu Destination à tout
moment en appuyant sur le bouton
Toccare lo schermo con le dita per
navigare e selezionare gli elementi su
Si può accedere al menu Destinazione
premendo il tasto MENU di AVIC-S1, in
qualsiasi momento durante la
Tryk for at vise kort på skærmen.
Slot til SD hukommelseskort
Drücken, um den Kartenbildschirm
SD-Speicherkarten-Steckplatz
Press to show Map screen.
Press to show Destination menu.
Púlselo para mostrar la pantalla
Púlselo para mostrar el menú
Ranura de tarjeta de memoria SD
Indicateur d'alimentation
Appuyez sur ce bouton pour afficher
Appuyez sur ce bouton pour afficher
Lecteur de carte mémoire de
Premerlo per mostrare la schermata
Premerlo per mostrare il menu
Alloggio scheda memoria SD
Tilslut lysnetadapteren for at lade batteriet
Schließen Sie das Netzteil an, um den
Connect the AC adapter to charge the
Conecte el adaptador de corriente CA para
Branchez l'adaptateur c.a. dans une prise
murale pour recharger la batterie.
Collegare l'adattatore CA per caricare la
---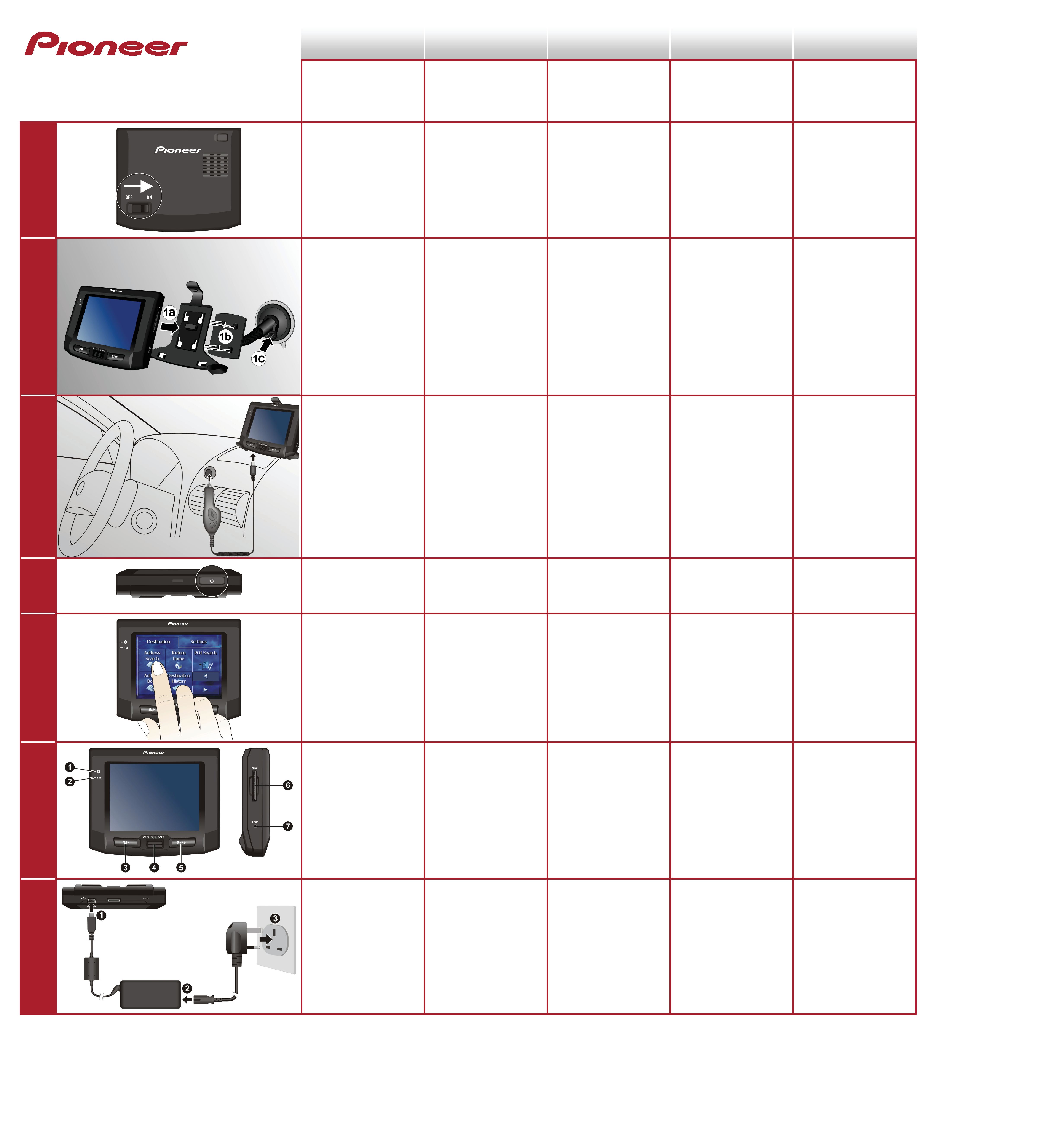 !
Lees "Belangrijke informatie voor de
gebruiker" voordat u dit product
!
Raadpleeg de handleidingen bij op de
bijgeleverde dvd voor gedetailleerde
informatie over de bewerkingen.
!
Les "Viktig informasjon for brukeren"
før du bruker dette produktet.
!
For detaljert informasjon om bruk, se
veiledningene som følger med
!
Leia o documento "Informação
importante para o utilizador" antes de
!
Para informações mais detalhadas
acerca do seu funcionamento,
consulte os manuais incluídos no
!
Lue "Tärkeitä tietoja käyttäjälle",
ennen kuin käytät tätä tuotetta.
!
Saat yksityiskohtaisia tietoja laitteen
käytöstä mukana tulevan DVD-levyn
!
Läs "Viktig information till
användaren" innan du börjar använda
!
För detaljerad information om
användning, se bruksanvisningen på
den medföljande DVD-skivan.
Schuif de AAN/UIT-schakelaar naar de
AVIC-S1 wordt ingeschakeld en begeleidt
u door de eerste opstartinstellingen, zoals
de taal- en tijdzone-instellingen.
Lees de volledige waarschuwing die op
het waarschuwingscherm verschijnt in tik
!
Laat de schakelaar altijd in de positie
AAN voor normaal gebruik.
AVIC-S1 skrus på og veileder deg
oppstartsinnstillinger som språk og
Når advarselsskjermen vises, les hele
advarselen og trykk OK dersom du
!
La alltid bryteren stå i ON-posisjon
Deslize o comutador de alimentação
(ON/OFF) para a posição ON.
O AVIC-S1 é ligado e guia-o ao longo da
operação de configuração inicial que lhe
permite definir opções como o idioma e o
Quando o ecrã de aviso aparecer, leia todo
o seu conteúdo e prima o botão OK se
concordar com a informação mostrada.
!
Deixe sempre o comutador de
alimentação na posição ON para um
Liu'uta Päällä/Pois päältä (ON/OFF)
-kytkin asentoon Päällä (ON).
AVIC-S1 käynnistyy ja opastaa sinua läpi
aloitusasetusten, kuten kieli ja
Kun näyttöön tulee varoitus, lue se
kokonaisuudessaan ja kosketa
OK-näppäintä, jos hyväksyt sen.
!
Jätä kytkin aina Päällä (ON)
-asentoon normaalissa käytössä.
För ON/OFF-omkopplaren till läget ON.
AVIC-S1 slås på och vägleder dig genom
de inledande startinställningarna som t ex
inställning av språk och tidzon.
När varningsskärmen visas, läs igenom
hela varningen och klicka på OK om du
!
Låt alltid omkopplaren vara i läget
ON för normal användning.
Bevestig de AVIC-S1 op de houder
(1a).Vergrendel de houder vervolgens in
het adapteruiteinde van de
zuignapaansluiting (1b).Bevestig
vervolgens de zuigkant van de zuignap op
uw voorruit en vergrendel deze door de
hendel omlaag te duwen (1c).
!
Zorg ervoor dat deAVIC-S1 het
gezichtsveld van de chauffeur niet
blokkeert of de werking van airbags
en veiligheidsuitrustingen van het
!
Wanneer u de arm wilt buigen, moet u
beide handen gebruiken om de arm
voorzichtig af te stellen. Gebruik
!
Om zeker te zijn dat de zuignap stevig
bevestigd blijft, raden wij u aan deze
minstens eenmaal per maand los te
maken en opnieuw te bevestigen.
Fest AVIC-S1 til holderen (1a).Lås deretter
holderen i adapterenden av sugekoppen
(1b).Fest deretter sugekoppen på frontruten
og lås den ved å trykke ned håndtaket (1c).
!
Sørg for atAVIC-S1 ikke forstyrrer
førerens utsikt av veien, eller
forstyrrer med betjeningen av airbags
eller sikkerhetsenheter i kjøretøyet.
!
Når du bøyer armen, bruk begge
!
For å opprettholde adhesjonen til
sugekoppen, ta den ned og fest den på
nytt minst én gang i måneden.
Una o AVIC-S1 ao suporte (1a). De
seguida, fixe o suporte ao adaptador
existente na extremidade da ventosa de
fixação (1b). Por último, coloque a
ventosa de fixação no pára-brisas e fixe-a
premindo a patilha para baixo (1c).
!
Certifique-se de que oAVIC-S1 está
colocado de forma a não obstruir o
campo de visão do condutor e a não
interferir com o funcionamento dos
airbags e de outros dispositivos de
!
Ao dobrar o braço, utilize ambas as
mãos e ajuste com cuidado. Nunca
tente dobrar o braço à força.
!
Para que a ventosa mantenha o seu
poder de fixação, retire-a e volte a
colocá-la pelo menos uma vez por
Kiinnitä AVIC-S1 pidikkeeseen (1a).
imukuppikiinnityksen sovitinosaan (1b).
Kiinnitä lopuksi imukuppikiinnityksen
imukuppiosa tuulilasiin ja lukitse se
painamalla vipu alas (1c).
!
Varmista, ettäAVIC-S1 ei peitä
kuljettajan näkökenttää tai häiritse
auton turvatyynyjen ja turvalaitteiden
!
Kun taivutat vartta, käytä molempia
käsiä sen varovaiseen säätämiseen.
Älä koskaan käytää voimaa.
!
Imukupin tartunnan säilyttämiseksi
imukuppi on irrotettava ja
kiinnitettävä uudelleen vähintään
Fäst AVIC-S1 vid hållaren (1a). Lås
därefter hållaren i adapteränden av
sugmonteringen (1b). Fäst därefter
sugmonteringens sugsida på vindrutan,
och lås genom att trycka ner spaken (1c).
!
Se till attAVIC-S1 inte stör förarens
sikt eller inverkar på fordonets
!
När armen böjs, använd båda
händerna och justera varsamt. Använd
!
För at bibehålla sugkoppens
häftningsförmåga, lossa och sätt
sedan tillbaka sugkoppen minst en
De autolader aansluiten: sluit het ene
uiteinde aan op de AVIC-S1 en het
!
Sluit de autolader pas aan nadat u de
motor van de auto hebt gestart.
Koble til billaderen:en ende til AVIC-S1
og den andre enden til sigarettenneren.
!
Koble kun til billaderen etter du har
Ligação ao isqueiro do carro: ligue uma
extremidade do cabo ao AVIC-S1 e a
outra extremidade ao isqueiro.
!
Faça a ligação ao isqueiro do carro
apenas após pôr o motor do carro a
Liitä autosovitin: toinen pää
savukkeensytyttimen pistorasiaan.
!
Liitä autosovitin vasta, kun moottori
Anslut billaddarens ena ände till
AVIC-S1 och den andra änden till
!
Anslut inte billaddaren förrän du har
Houd de voedingsknop gedurende
minstens 2 seconden ingedrukt om de
AVIC-S1 in of uit te schakelen.
Wanneer u de AVIC-S1 voor de eerste
keer inschakelt, verschijnt het
Trykk og hold strømknappen inne i minst
2 sekunder for å skru AVIC-S1 på og av.
Destination Menu vises første gang du
Mantenha o botão de alimentação
premido durante pelo menos 2 segundos
para ligar e desligar o AVIC-S1.
Ao ligar o AVIC-S1 pela primeira vez, é
apresentado o menu Destino.
Käynnistä tai sammuta AVIC-S1
pitämällä virtapainiketta painettuna
vähintään kaksi sekuntia.
Kun kytket AVIC-S1:n päälle
ensimmäistä kertaa, näyttöön tulee
Tryck in och håll kvar strömknappen i
minst 2 sekunder för att sätta på och
Första gången du slår på AVIC-S1 visas
Om te navigeren en objecten op het scherm
selecteren, gebruikt u uw vinger om op het
Tijdens de werking kunt u het
Bestemming op elke ogenblik openen
door op de AVIC-S1 te drukken op de
Bruk fingeren din for å trykke på skjermen
og navigere og velge objekter på skjermen.
Under operasjon, kan du gå til
Destination Menu når som helst ved å
trykke på MENU-knappen på AVIC-S1.
Para navegar e seleccionar objectos no
ecrã, basta utilizar o dedo para tocar no
Durante o funcionamento do dispositivo,
pode aceder ao menu Destino em
qualquer altura premindo o botão MENU
Voit navigoida ja valita kohteita näytöllä
koskettamalla sormellasi näyttöä.
Pääset milloin tahansa käytön aikana
Määränpäävalikkoon painamalla
AVIC-S1:n Valikkopainiketta.
För att navigera och välja objekt på
skärmen, använd fingret och vidrör
Under användning kan du när som helst
visa menyn Destination genom att trycka
på knappen MENU på AVIC-S1.
indrukken om het scherm Kaart te
indrukken om het scherm menu
Trykk for å vise Map-skjermen.
Trykk for å vise Destination-
Kortplass for SD-minnekort
Prima este botão para ver o ecrã
Prima este botão para aceder ao menu
Ranhura para cartão de memória
Paina saadaksesi Karttanäytön
Paina saadaksesi Määränpäävalikon
Tryck för att visa kartskärmen.
Sluit de het wisselstroomadapter
voedingsapparaat aan om de batterij op te
Koble til AC-adapteren for å lade
Ligue o transformador a.c. para carregar a
Yhdistä verkkovirtasovitin akun
Anslut växelströmsadaptern för att ladda
---