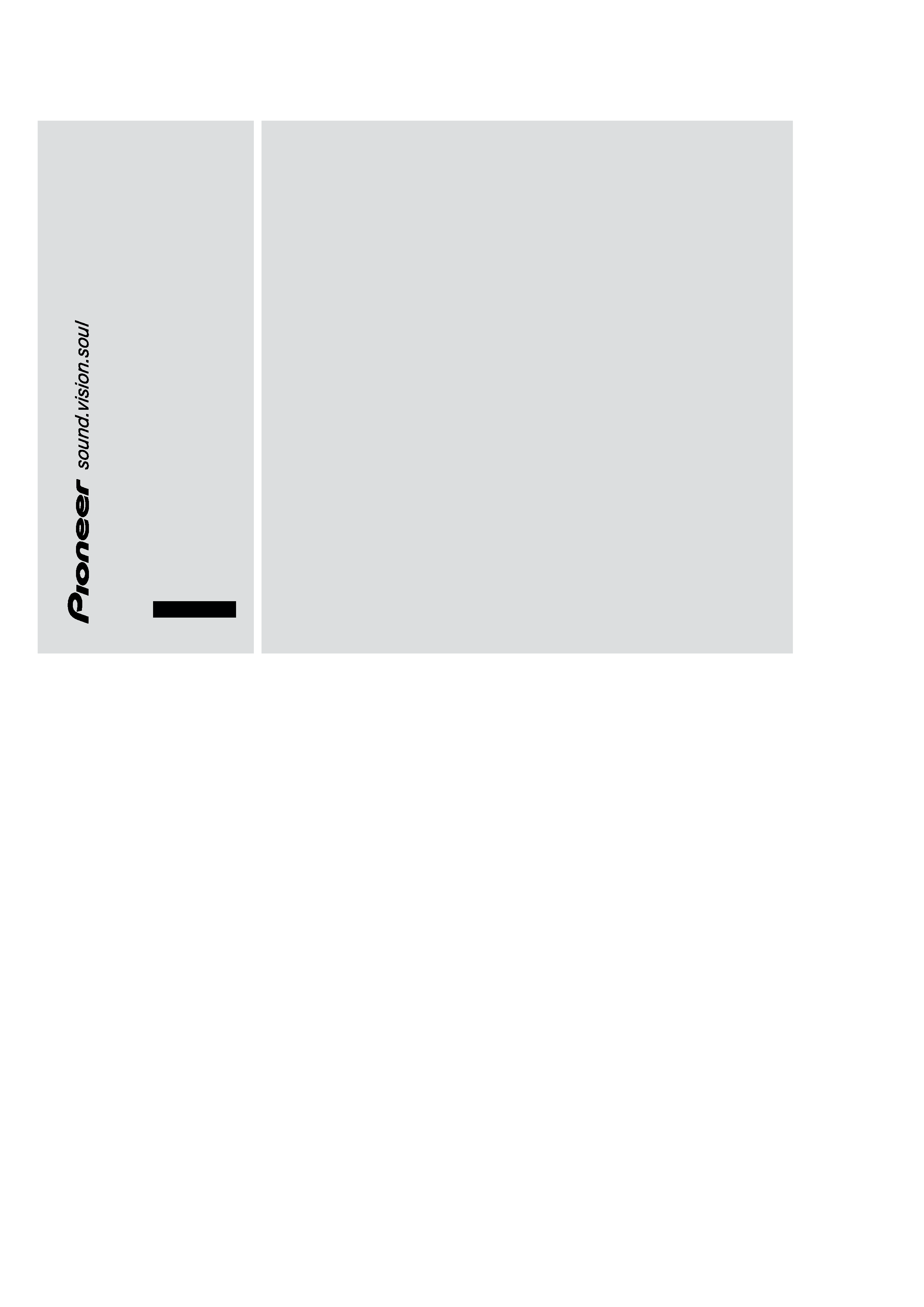 Version up disc for AVIC-9DVD )
Published by Pioneer Corporation.
Copyright © 2002 by Pioneer Corporation.
Publication de Pioneer Corporation.
Copyright © 2002 Pioneer Corporation.
Tous droits de reproduction et de traduction
4-1, MEGURO 1-CHOME, MEGURO-KU, TOKYO 153-8654, JAPAN
PIONEER ELECTRONICS (USA) INC.
P.O. Box 1540, Long Beach, California 90801-1540, U.S.A.
Haven 1087, Keetberglaan 1, B-9120 Melsele, Belgium
PIONEER ELECTRONICS ASIACENTRE PTE. LTD.
253 Alexandra Road, #04-01, Singapore 159936
PIONEER ELECTRONICS AUSTRALIA PTY. LTD.
178-184 Boundary Road, Braeside, Victoria 3195, Australia
PIONEER ELECTRONICS OF CANADA, INC.
300 Allstate Parkway, Markham, Ontario L3R OP2, Canada
PIONEER ELECTRONICS DE MEXICO, S.A. de C.V.
San Lorenzo 1009 3er. Piso Desp. 302
Col. Del Valle Mexico, D.F. C.P. 03100
---

Aanwijzingen voor het bijwerken van het applicatieprogramma van het
· Laat de auto op een veilige plaats stilstaan. Zorg ervoor dat het Navigatiesysteem tij-
dens het bijwerken van het programma niet wordt uitgezet.
· Wanneer het programma is bijgewerkt, wordt het Navigatiesysteem opnieuw opges-
tart. Schakel het Navigatiesysteem niet uit tot de kaart van uw omgeving verschijnt.
· In het ergste geval kunnen gegevens in het adresboek verloren gaan. Daarom beve-
len wij aan een PC Card (PCMCIA TYPE II <5 V>) te gebruiken om een back-upbe-
stand van de gegevens in de geregistreerde locatie(*) te maken. (Items in de "Laatste
bestemming" of de "Vorige bestemmingen" kunnen niet op de PC Card worden opges-
lagen. Wilt u deze gegevens opslaan, registreer ze dan als "Opgeslagen bestem-
mingen", en sla ze vervolgens op op de PC Card.)
* Tot de gegevens van een "Opgeslagen bestemmingen" behoren ook de inhoud van
"Naar huis" en "Naar...".
· Alle bestaande berekende routes worden gewist. Alle andere instellingen worden
weer gelijk aan de fabrieksinstellingen.
Bijwerkingsprocedure voor het applicatieprogramma:
Zie voor het bijwerken van het applicatieprogramma "Het programma installeren" in
De schermvoorbeelden in deze handleiding kunnen ietwat verschillen van de feitelijke
aanduidingen op het beeldscherm. Vooral de menu-aanduidingen kunnen op het
scherm wel eens anders luiden.
Wijzigingen in de schermaanduidingen zijn vooebehouden, in verband met eventuele
CRB1781A_Cover_Nederlands 5/21/02 3:40 PM Page 4
---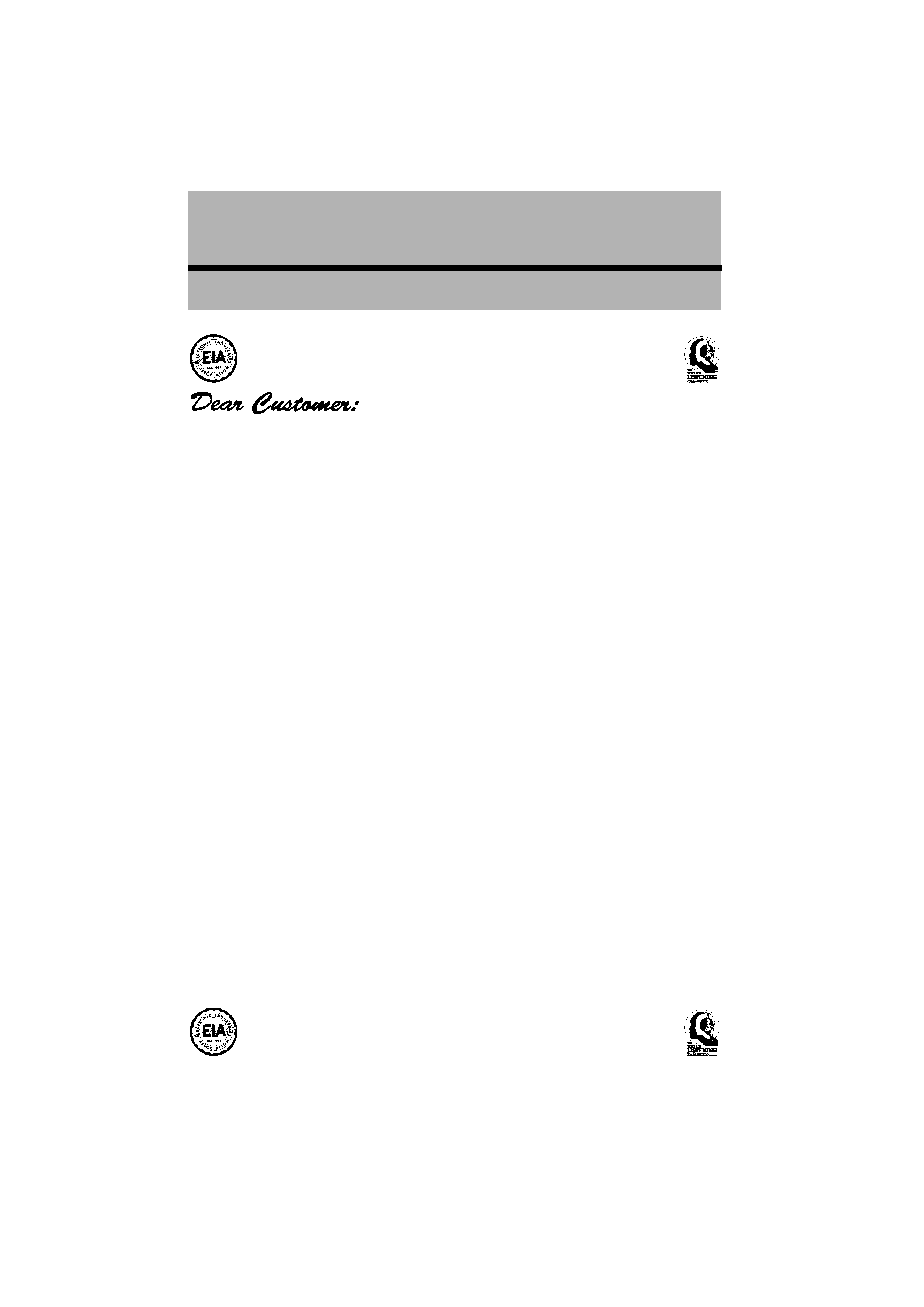 Selecting fine audio equipment such as the unit you've just purchased is only the start of your
musical enjoyment. Now it's time to consider how you can maximize the fun and excitement
your equipment offers. This manufacturer and the Electronic Industries Association's Consumer
Electronics Group want you to get the most out of your equipment by playing it at a safe level.
One that lets the sound come through loud and clear without annoying blaring or distortion--
and, most importantly, without affecting your sensitive hearing.
Sound can be deceiving. Over time your hearing "comfort level" adapts to higher volumes of
sound. So what sounds "normal" can actually be loud and harmful to your hearing. Guard
against this by setting your equipment at a safe level BEFORE your hearing adapts.
To establish a safe level:
· Start your volume control at a low setting.
· Slowly increase the sound until you can hear it comfortably and clearly, and without distor-
Once you have established a comfortable sound level:
· Set the dial and leave it there.
Taking a minute to do this now will help to prevent hearing damage or loss in the future. After
all, we want you listening for a lifetime.
We Want You Listening For A Lifetime
Used wisely, your new sound equipment will provide a lifetime of fun and enjoyment. Since
hearing damage from loud noise is often undetectable until it is too late, this manufacturer and
the Electronic Industries Association's Consumer Electronics Group recommend you avoid pro-
longed exposure to excessive noise. This list of sound levels is included for your protection.
Quiet library, soft whispers
Living room, refrigerator, bedroom away from traffic
Light traffic, normal conversation, quiet office
Air conditioner at 20 feet, sewing machine
Vacuum cleaner, hair dryer, noisy restaurant
Average city traffic, garbage disposals, alarm clock at two feet.
THE FOLLOWING NOISES CAN BE DANGEROUS UNDER CONSTANT EXPOSURE
Subway, motorcycle, truck traffic, lawn mower
Garbage truck, chain saw, pneumatic drill
Rock band concert in front of speakers, thunderclap
Information courtesy of the Deafness Research Foundation.
---

PIONEER AVIC-90DVD (CNDV-20) - for U.S.A.
THIS IS A LEGAL AGREEMENT BETWEEN YOU, AS THE END USER, AND PIO-
NEER ELECTRONICS (USA) INC. ("PIONEER"). PLEASE CAREFULLY READ THE
TERMS AND CONDITIONS OF THIS AGREEMENT BEFORE USING THE SOFTWARE
INSTALLED ON THE PIONEER PRODUCTS. BY USING THE SOFTWARE
INSTALLED ON THE PIONEER PRODUCTS, YOU ARE AGREEING TO BE BOUND
BY THE TERMS OF THIS AGREEMENT. THE SOFTWARE INSTALLED ON THE PIO-
NEER PRODUCTS INCLUDES DATABASE OF Geographic Data Technology, Inc.
("GDT") AND NAVTECH Data OF Navigation Technologies Corporation ("NAVTACH")
AND SEPARATE TERMS ATTACHED SHALL BE APPLIED TO THE DATABASE BY
GDT AND THE NAVTECH Data BY NAVTECH RESPECTIVELY. IF YOU DO NOT
AGREE WITH THESE TERMS, PLEASE RETURN THE PIONEER PRODUCTS
(INCLUDING THE SOFTWARE AND ANY WRITTEN MATERIALS) WITHIN FIVE (5)
DAYS OF RECEIPT OF THE PRODUCTS, TO THE PLACE FROM WHICH YOU PUR-
CHASED THEM, FOR A FULL REFUND OF THE PURCHASE PRICE OF THE PIO-
Pioneer grants to you a non-transferable, non exclusive license to use the software installed
on the Pioneer products (the "Software") and the related documentation solely for your own
personal use or for internal use by your business, only on such Pioneer products.
You shall not copy, reverse engineer, translate, port, modify or make derivative works of the
Software. You shall not loan, rent, disclose, publish, sell, assign, lease, sublicense, market or
otherwise transfer the Software or use it in any manner not expressly authorized by this
agreement. You shall not derive or attempt to derive the source code or structure of all or any
portion of the Software by reverse engineering, disassembly, decompilation, or any other
means. You shall not use the Software to operate a service bureau or for any other use involv-
ing the processing of data for other persons or entities.
Pioneer and its licensor(s) shall retain all copyright, trade secret, patent and other proprietary
ownership rights in the Software. The Software is copyrighted and may not be copied, even if
modified or merged with other products. You shall not alter or remove any copyright notice
or proprietary legend contained in or on the Software.
You may transfer all of your license rights in the Software, the related documentation and a
copy of this License Agreement to another party, provided that the party reads and agrees to
accept the terms and conditions of this License Agreement.
---

2. DISCLAIMER OF WARRANTY
The Software and related documentation are provided to you "AS IS". PIONEER AND ITS
LICENSOR(S) (for the purpose of provisions 2 and 3, Pioneer and its licensor(s) shall be col-
lectively referred to as "Pioneer") MAKES AND YOU RECEIVE NO WARRANTY,
WHETHER EXPRESS OR IMPLIED, AND ALL WARRANTIES OF MERCHANTABIL-
ITY AND FITNESS FOR ANY PARTICULAR PURPOSE ARE EXPRESSLY
EXCLUDED. SOME STATES DO NOT ALLOW EXCLUSION OF IMPLIED WARRAN-
TIES, SO THE ABOVE EXCLUSION MAY NOT APPLY TO YOU. The Software is com-
plex and may contain some nonconformities, defects or errors. For example, the voice
recognition function as implemented by the Software may not recognize your voice. Pioneer
does not warrant that the Software will meet your needs or expectations, that operation of the
Software will be error free or uninterrupted, or that all non-conformities can or will be cor-
rected. Furthermore, Pioneer does not make any representations or warranties regarding the
use or results of the use of the Software in terms of its accuracy, reliability or otherwise.
3. LIMITATION OF LIABILITY
IN NO EVENT SHALL PIONEER BE LIABLE FOR ANY DAMAGES, CLAIM OR LOSS
INCURRED BY YOU (INCLUDING, WITHOUT LIMITATION, COMPENSATORY,
INCIDENTAL, INDIRECT, SPECIAL, CONSEQUENTIAL, OR EXEMPLARY DAM-
AGES, LOST PROFITS, LOST SALES OR BUSINESS, EXPENDITURES, INVEST-
MENTS, OR COMMITMENTS IN CONNECTION WITH ANY BUSINESS, LOSS OF
ANY GOODWILL, OR DAMAGES) RESULTING FROM THE USE OF OR INABILITY
TO USE THE SOFTWARE, EVEN IF PIONEER HAS BEEN INFORMED OF, KNEW OF,
OR SHOULD HAVE KNOWN OF THE LIKELIHOOD OF SUCH DAMAGES. THIS
LIMITATION APPLIES TO ALL CAUSES OF ACTION IN THE AGGREGATE, INCLUD-
ING WITHOUT LIMITATION BREACH OF CONTRACT, BREACH OF WARRANTY,
NEGLIGENCE, STRICT LIABILITY, MISREPRESENTATION, AND OTHER TORTS. IF
PIONEER'S WARRANTY DISCLAIMER OR LIMITATION OF LIABILITY SET FORTH
IN THIS AGREEMENT SHALL OR FOR ANY REASON WHATSOEVER BE HELD
UNENFORCEABLE OR INAPPLICABLE, YOU AGREE THAT PIONEER'S LIABILITY
SHALL NOT EXCEED FIFTY PERCENT (50%) OF THE PRICE PAID BY YOU FOR
THE ENCLOSED PIONEER PRODUCT.
Some states do not allow the exclusion or limitation of incidental or consequential damages,
so the above limitation or exclusion may not apply to you. This warranty disclaimer and lim-
itation of liability shall not be applicable to the extent that any provision of this warranty is
prohibited by any federal, state or local law which cannot be preempted.
You agree and certify that neither the Software nor any other technical data received from
Pioneer, nor the direct product thereof, will be exported outside the United States except as
authorized and as permitted by the laws and regulations of the United States. If the Software
has been rightfully obtained by you outside of the United States, you agree that you will not
re-export the Software nor any other technical data received from Pioneer, nor the direct
product thereof, except as permitted by the laws and regulations of the United States and the
laws and regulations of the jurisdiction in which you obtained the Software.
---