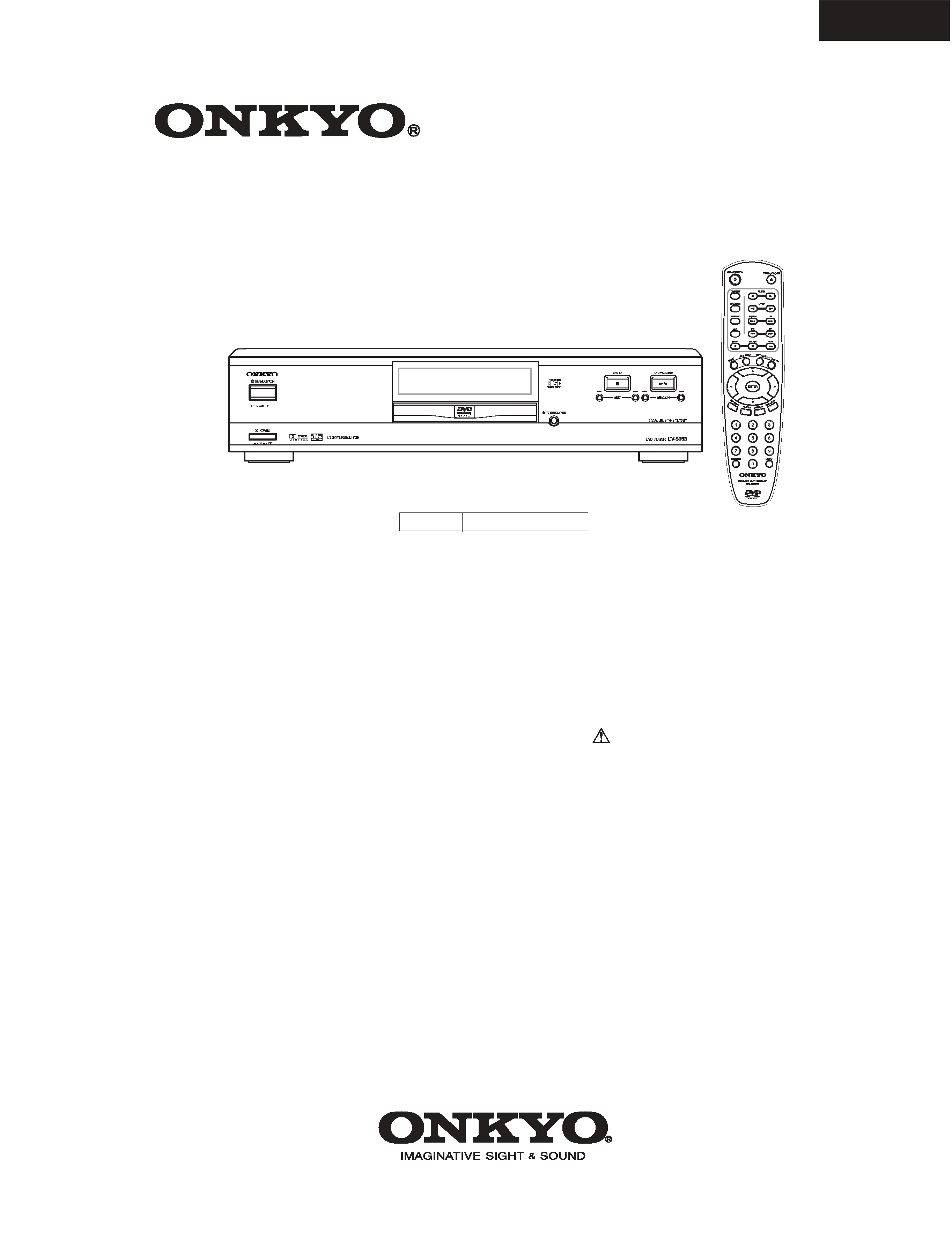 COMPONENTS IDENTIFIED BY MARK
SCHEMATIC DIAGRAM AND IN THE PARTS LIST ARE
CRITICAL FOR RISK OF FIRE AND ELECTRIC SHOCK.
REPLACE THESE COMPONENTS WITH ONKYO
PARTS WHOSE PART NUMBERS APPEAR AS SHOWN
MAKE LEAKAGE-CURRENT OR RESISTANCE
MEASUREMENTS TO DETERMINE THAT EXPOSED
PARTS ARE ACCEPTABLY INSULATED FROM THE
SUPPLY CIRCUIT BEFORE RETURNING THE
APPLIANCE TO THE CUSTOMER.
---

Specifications and features are subject to change without notice.
17
1
/
8
" x 3
7
/
8
" x 12
11
/
16
" (W/H/D)
Frequency range (digital audio)
48 kHz sampling 4 Hz to 22 kHz
96 kHz sampling 4 Hz to 44 kHz
Signal-to-noise ratio (digital audio)
Audio dynamic range (digital audio)
Harmonic distortion (digital audio)
Temperature: 5°C to 35°C (41°F to 95°F), Operation status: Horizontal
1.0 V (p-p), 75 ohm , negative sync., pin jack × 1
(Y) 1.0 V (p-p), 75ohm, negative sync., Mini DIN 4-pin × 1
(Y) 1.0 V (p-p), 75ohm, negative sync., pin jack × 1
(P
B
)/(P
R
) 0.7 V (p-p), 75ohm pin jack × 2
Audio output (digital output Optical)
Audio output (digital output Coaxial)
0.5 V (p-p), 75ohm , pin jack × 1
Audio output (2-Channel Audio)
2.0 V (rms), 320ohm , pin jack (L, R) × 1
Audio/video connection cable
Remote controller (RC-458DV)
---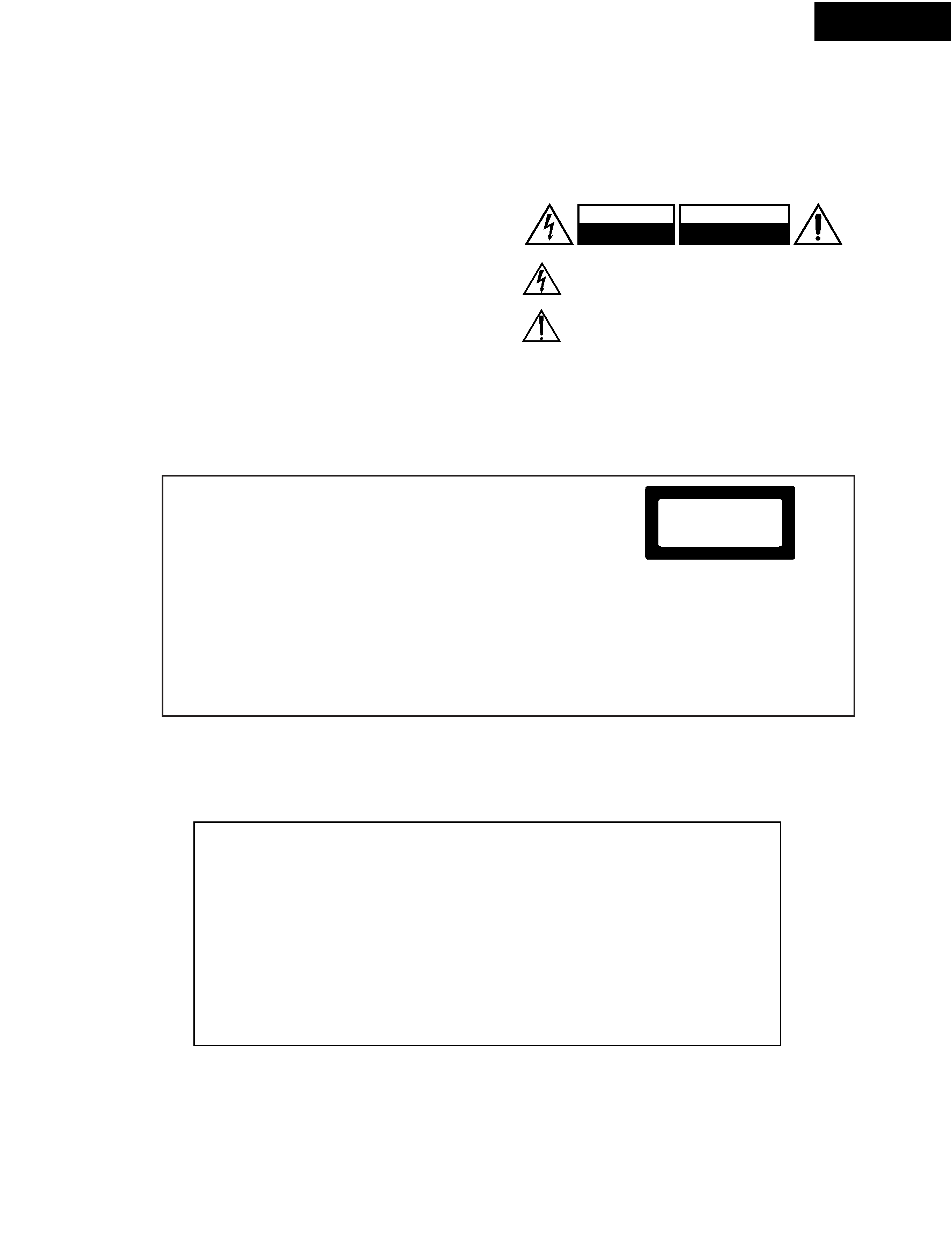 TO REDUCE THE RISK OF FIRE OR ELECTRIC SHOCK,
DO NOT EXPOSE THIS APPLIANCE TO RAIN OR
TO REDUCE THE RISK OF ELECTRIC SHOCK, DO NOT
REMOVE COVER (OR BACK). NO USER-SERVICEABLE
PARTS INSIDE. REFER SERVICING TO QUALIFIED
The lightning flash with arrowhead symbol, within an equilateral
triangle, is intended to alert the user to the presence of uninsulated
ìdangerous voltageî within the productís enclosure that may be of
sufficient magnitude to constitute a risk of electric shock to persons.
The exclamation point within an equilateral triangle is intended to alert
the user to the presence of important operating and maintenance
(servicing) instructions in the literature accompanying the appliance.
RISQUE DE CHOC ELECTRIQUE
This unit contains a semiconductor laser system and is classified as a
"CLASS 1 LASER PRODUCT". So, to use this model properly
this Instruction Manual carefully.In case of any trouble, please contact
the store where you purchased the unit.To prevent being exposed to the
laser beam, do not try to open the enclosure.
VISIBLE LASER RADIATION WHEN OPEN AND INTERLOCK
FAILED OR DEFEATED. DO NOT STARE INTO BEAM.
THIS PRODUCT UTILIZES A LASER. USE OF CONTROLS OR
ADJUSTMENTS OR PERFORMANCE OF PROCEDURES OTHER
THAN THOSE SPECIFIED HEREIN MAY RESULT IN
HAZARDOUS RADIATION EXPOSURE.
The label on the right is
1. This unit is a CLASS 1 LASER PRODUCT and employs a laser
2. To prevent the laser from being exposed, do not remove the
cover. Refer servicing to qualified personnel.
Never look at the laser light beam through the objective lens. The visible laser beam may harm
the human eye. Use an appropriate viewer or TV camera to observe the laser beam.
Any laser diode will be damaged by a large current or pulse. Avoid current surges and
electrostatic discharges. Safety grounding of the human body and all measuring equipment, jigs
and tools is absolutely necessary. The use of a grounding mat on the workbench and floor is
necessary. Even a small electrostatic discharge from the human body may destroy the laser
diode instantaneously or reduce its life time.
The pins of the laser diode may be shorted at the factory by a solder bridge at the FPC for
protection during transportation and storage of the unit. If this is the case, open the short circuit
(accessible from the bottom side of the module) quickly with grounded soldering iron (less than
The damage of the diode might be indicated by an increase of the laser current.
---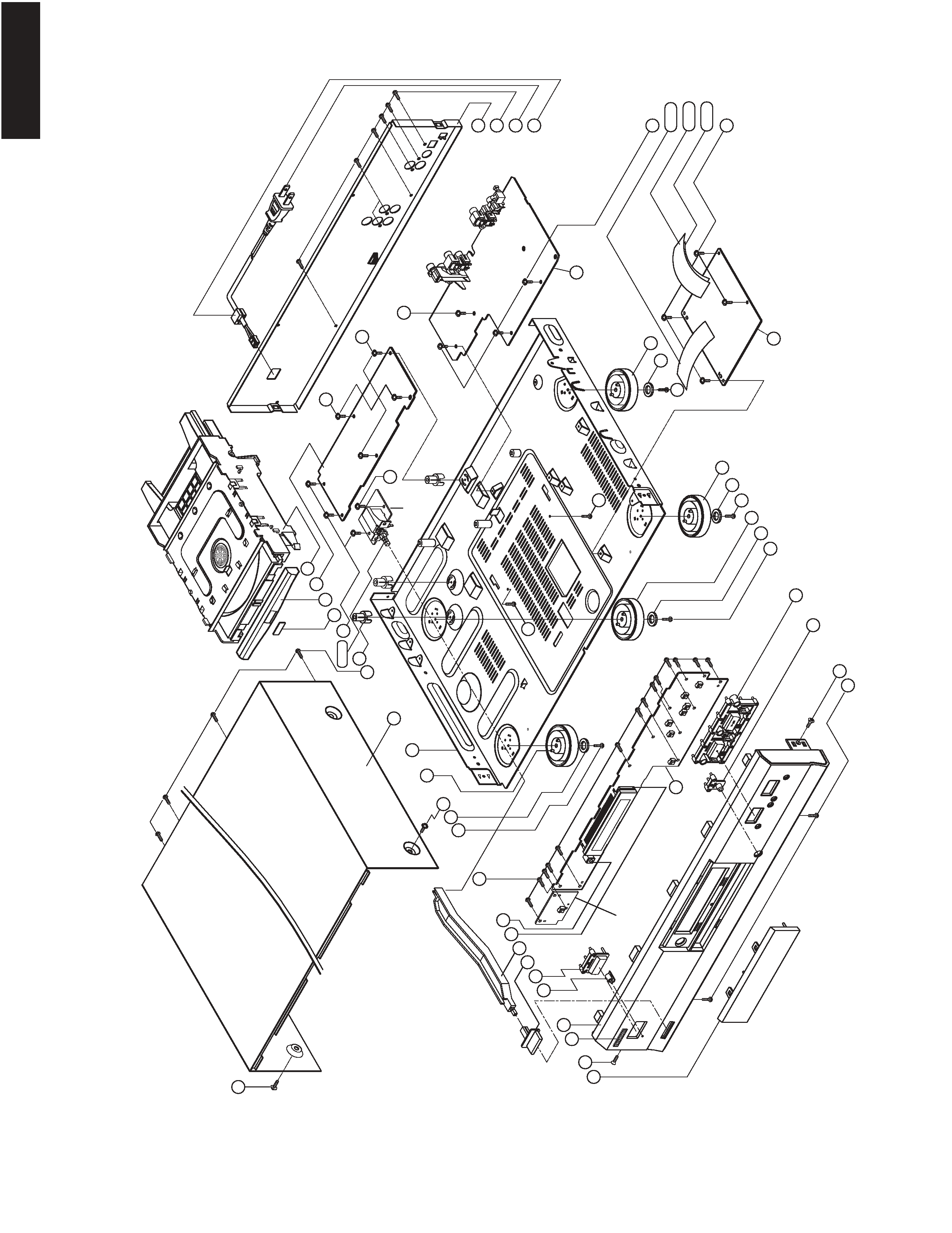 ---

Output terminal PC board ass'y
Display circuit PC board ass'y
Main circuit PC board ass'y
Power supply PC board ass'y
DVD mechanism ass'y, TVM 502 C
Flexible Flat cable,19P 120mm 1.25mm
Flexible Flat cable,25P 90mm 1.25mm
Flexible Flat cable,15P 60mm 1.25mm
3TTB+8B, Self tapping screw
3 x 8, Flat head bind screw
3TTB+8(BC), Self tapping screw
NOTE: THE COMPONENTS IDENTIFIED BY MARK
ARE CRITICAL FOR RISK OF FIRE AND
ELECTRIC SHOCK. REPLACE ONLY WITH
PARTS LIST (Exploded view)
---