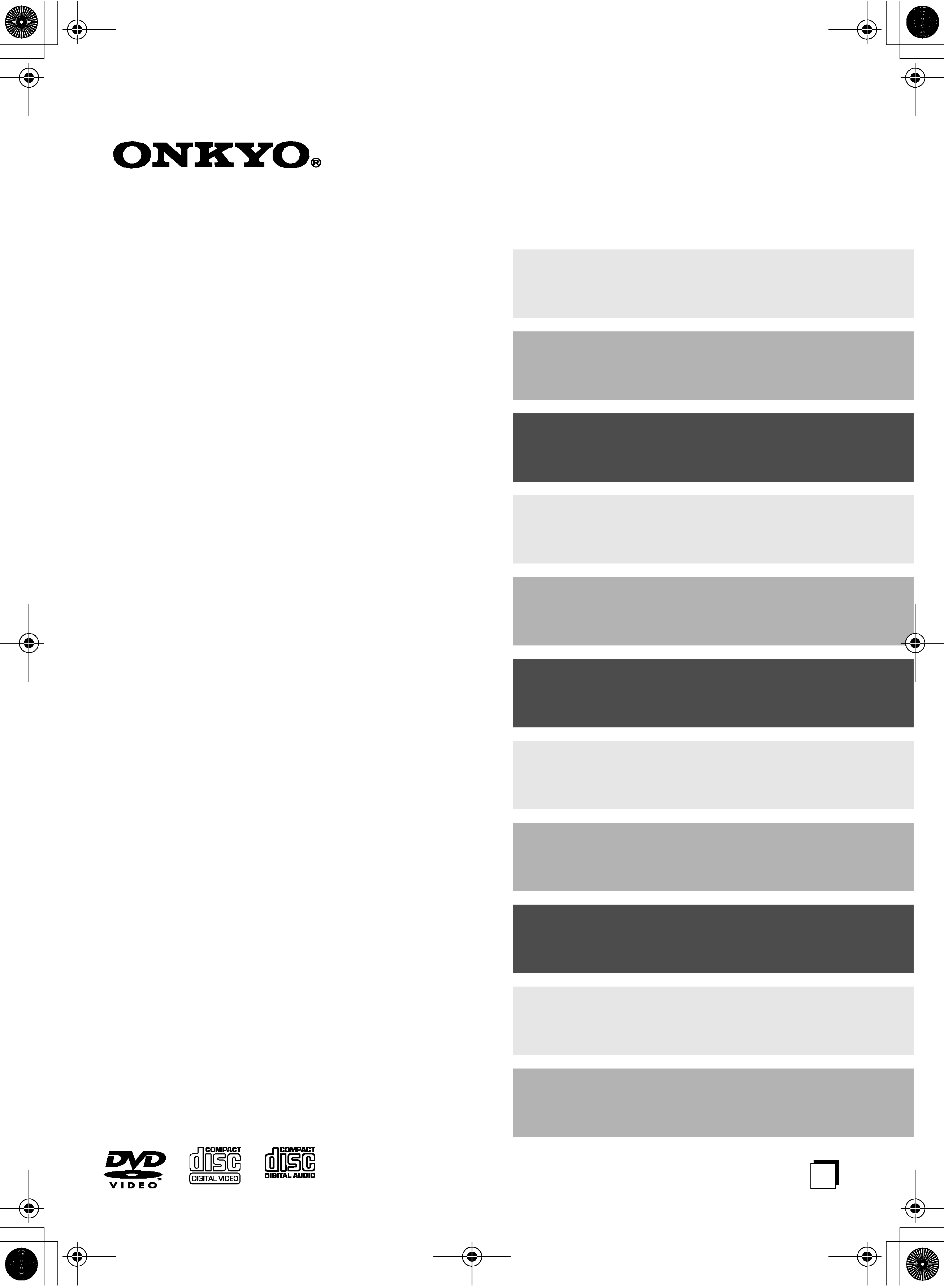 Thank you for purchasing the Onkyo DV-L55
DVD Player. Read this manual carefully before
using your new DVD Player. A good understand-
ing of its features and operation will allow you to
achieve optimum performance and enjoyment.
Keep this manual for future reference.
Important Safety Instructions ............2
Introduction .........................................6
Connecting the DV-L55 .....................16
Getting Started ..................................23
Playing discs .....................................28
Audio Settings and Video Adjust
menus ..............................................38
Initial Settings menu .........................40
Additional information ......................45
Glossary.............................................49
Troubleshooting ....................................... 50
Specifications ....................................53
DV-L55_En.book Page 1 Friday, May 28, 2004 12:02 PM
---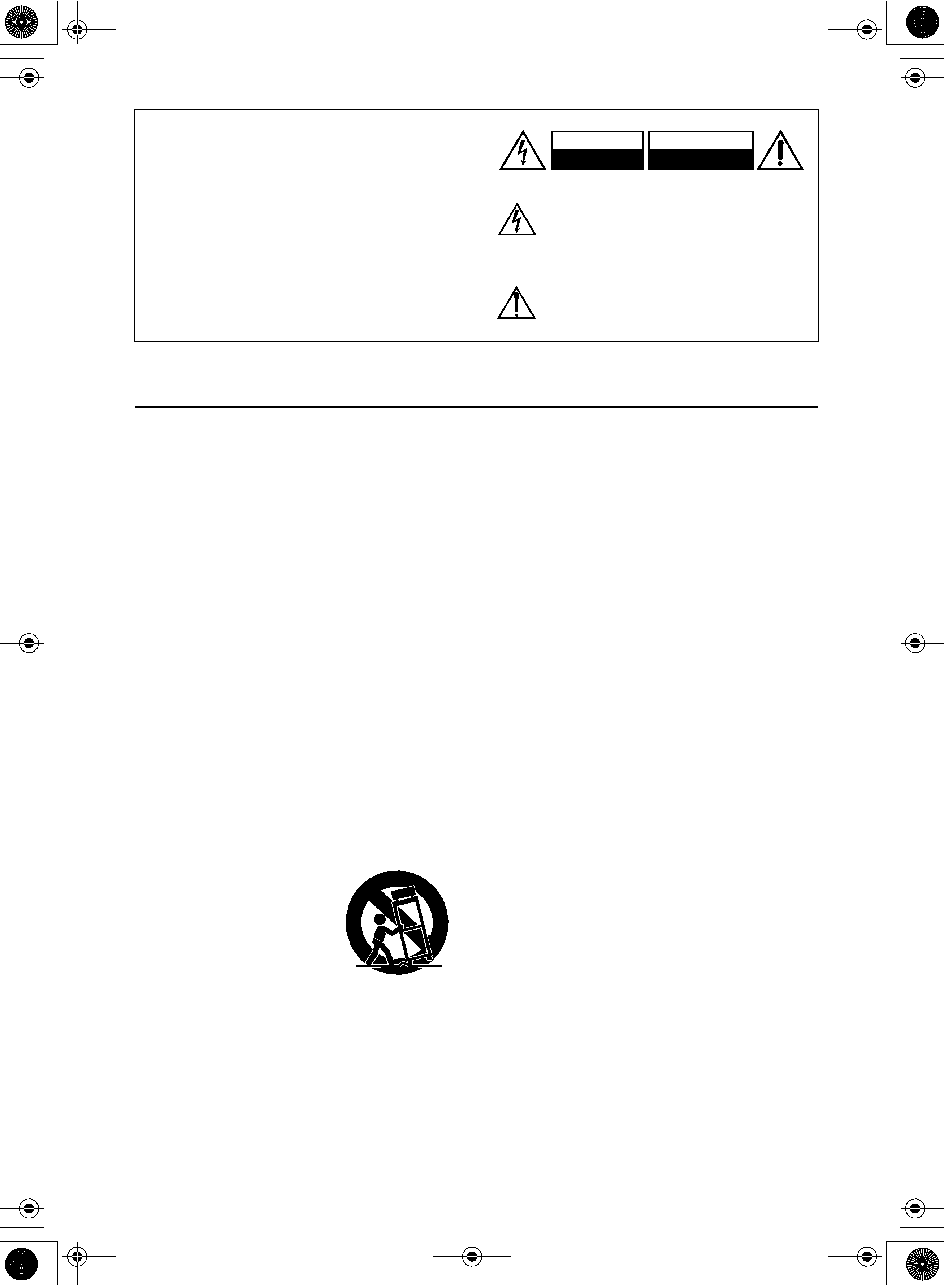 Important Safety Instructions
1. Read these instructions.
2. Keep these instructions.
4. Follow all instructions.
5. Do not use this apparatus near water.
6. Clean only with dry cloth.
7. Do not block any ventilation openings. Install in
accordance with the manufacturer's instructions.
8. Do not install near any heat sources such as radia-
tors, heat registers, stoves, or other apparatus
(including amplifiers) that produce heat.
9. Do not defeat the safety purpose of the polarized or
grounding-type plug. A polarized plug has two
blades with one wider than the other. A grounding
type plug has two blades and a third grounding
prong. The wide blade or the third prong are pro-
vided for your safety. If the provided plug does not
fit into your outlet, consult an electrician for
replacement of the obsolete outlet.
10. Protect the power cord from being walked on or
pinched particularly at plugs, convenience recepta-
cles, and the point where they exit from the appara-
11. Only use attachments/accessories specified by the
12. Use only with the cart, stand,
tripod, bracket, or table spec-
ified by the manufacturer, or
When a cart is used, use cau-
tion when moving the cart/
avoid injury from tip-over.
13. Unplug this apparatus during lightning storms or
when unused for long periods of time.
14. Refer all servicing to qualified service personnel.
Servicing is required when the apparatus has been
damaged in any way, such as power-supply cord or
plug is damaged, liquid has been spilled or objects
have fallen into the apparatus, the apparatus has
been exposed to rain or moisture, does not operate
normally, or has been dropped.
15. Damage Requiring Service
Unplug the apparatus from the wall outlet and refer
servicing to qualified service personnel under the
A. When the power-supply cord or plug is damaged,
B. If liquid has been spilled, or objects have fallen
C. If the apparatus has been exposed to rain or
D. If the apparatus does not operate normally by
following the operating instructions. Adjust only
those controls that are covered by the operating
instructions as an improper adjustment of other
controls may result in damage and will often
require extensive work by a qualified technician
to restore the apparatus to its normal operation,
E. If the apparatus has been dropped or damaged in
F. When the apparatus exhibits a distinct change in
performance this indicates a need for service.
16. Object and Liquid Entry
Never push objects of any kind into the apparatus
through openings as they may touch dangerous volt-
age points or short-out parts that could result in a
The apparatus shall not be exposed to dripping or
splashing and no objects filled with liquids, such as
vases shall be placed on the apparatus.
Don't put candles or other burning objects on top of
Always consider the environmental issues and fol-
low local regulations when disposing of batteries.
18. If you install the apparatus in a built-in installation,
such as a bookcase or rack, ensure that there is ade-
Leave 20 cm (8") of free space at the top and sides
and 10 cm (4") at the rear. The rear edge of the shelf
or board above the apparatus shall be set 10 cm (4")
away from the rear panel or wall, creating a flue-like
gap for warm air to escape.
TO REDUCE THE RISK OF FIRE OR ELECTRIC
SHOCK, DO NOT EXPOSE THIS APPARATUS
TO REDUCE THE RISK OF ELECTRIC SHOCK,
DO NOT REMOVE COVER (OR BACK). NO
USER-SERVICEABLE PARTS INSIDE. REFER
The lightning flash with arrowhead symbol, within an
equilateral triangle, is intended to alert the user to the
presence of uninsulated "dangerous voltage" within
the product's enclosure that may be of sufficient
magnitude to constitute a risk of electric shock to
The exclamation point within an equilateral triangle is
intended to alert the user to the presence of important
operating and maintenance (servicing) instructions in
the literature accompanying the appliance.
RISQUE DE CHOC ELECTRIQUE
DV-L55_En.book Page 2 Friday, May 28, 2004 12:02 PM
---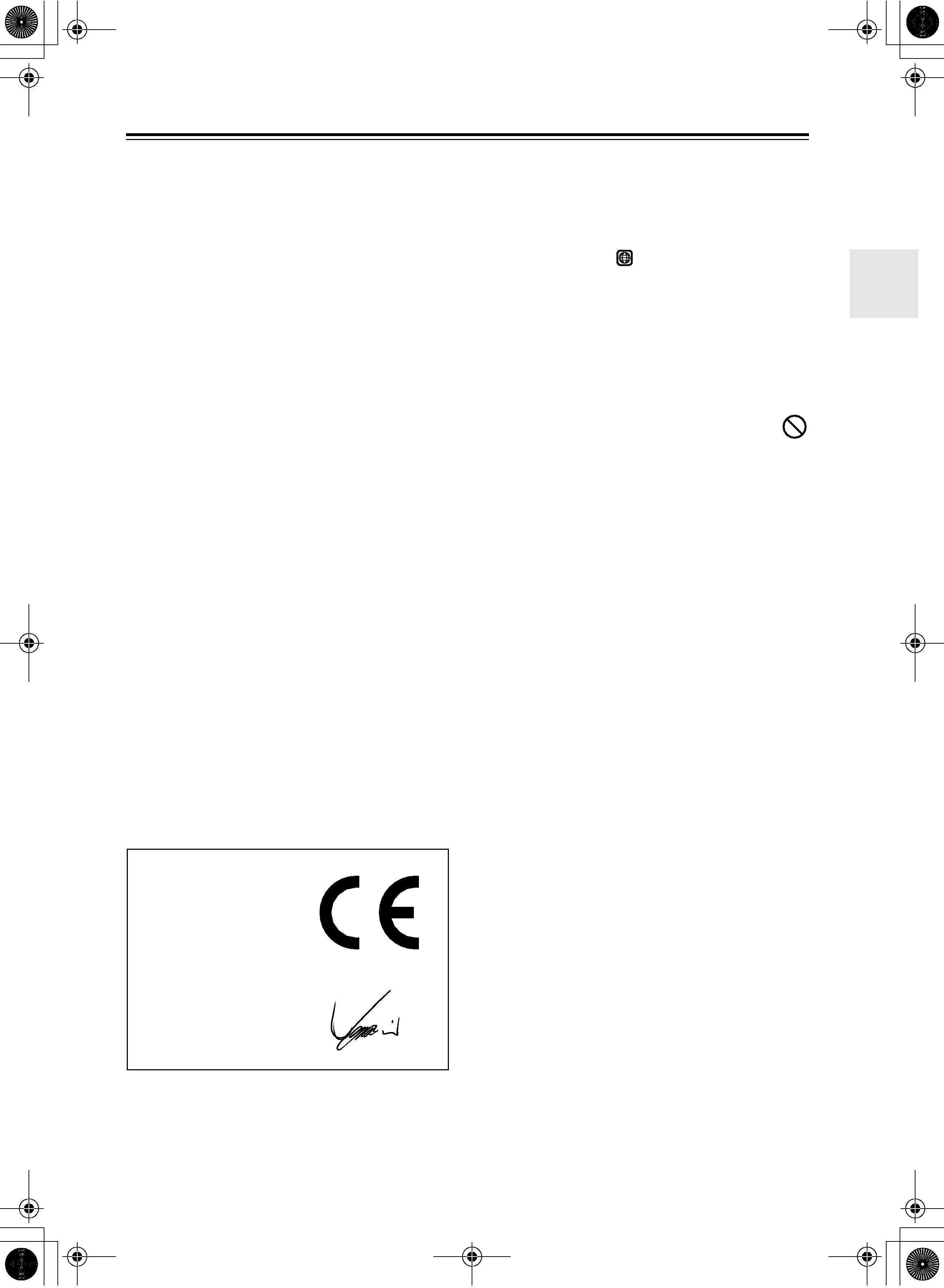 Replacement and mounting of an AC plug on the power
supply cord of this unit should be performed only by
qualified service personnel.
The wires in the mains lead are coloured in accordance
As the colours of the wires in the mains lead of this
apparatus may not correspond with the coloured mark-
ings identifying the terminals in your plug, proceed as
The wire which is coloured blue must be connected to
the terminal which is marked with the letter N or
The wire which is coloured brown must be connected to
the terminal which is marked with the letter L or
A 3, 5 or 13 ampere fuse is fitted in this plug. Should the
fuse need to be replaced, please ensure that the replace-
ment fuse has a rating of 3, 5 or 13 amperes and that it is
approved by ASTA or BSI to BS1362. Check for the
ASTA mark or the BSI mark on the body of the fuse.
IF THE FITTED MOULDED PLUG IS UNSUITABLE
FOR THE SOCKET OUTLET IN YOUR HOME
THEN THE FUSE SHOULD BE REMOVED AND
THE PLUG CUT OFF AND DISPOSED OF SAFELY.
THERE IS A DANGER OF SEVERE ELECTRICAL
SHOCK IF THE CUT OFF PLUG IS INSERTED
INTO ANY 13 AMPERE SOCKET.
If in any doubt, consult a qualified electrician.
The DVD standard uses region numbers to control how
discs can be played around the world, the world being
divided into six regions. This unit will only play DVD
discs that match its region number, which can be found
This manual explains how to use all of this unit's func-
tions. Although the DVD standard offers many special
features, not all discs use them all, so depending on the
disc being played, this unit may not respond to certain
functions. See the disc's sleeve notes for supported fea-
When you attempt to use a DVD feature that is
not available, this logo may appear onscreen,
indicating that the feature is not supported by
the current disc or this unit.
Unless it's for personal use only, recording copyrighted
material is illegal without the permission of the copy-
BEFORE PLUGGING IN THE UNIT FOR THE
FIRST TIME, READ THE FOLLOWING SECTION
AC outlet voltages vary from country to country. Make
sure that the voltage in your area meets the voltage
requirements printed on this unit's rear panel (e.g., AC
Setting the [STANDBY/ON] switch to STANDBY does
not fully shutdown the DV-L55. If you do not intend to
use the DV-L55 for an extended period, remove the
power cord from the AC outlet.
5. Never Touch this Unit with Wet Hands
Never handle this unit or its power cord while your
hands are wet or damp. If water or any other liquid gets
inside this unit, have it checked by your Onkyo dealer.
· Install this unit in a well-ventilated location.
Ensure that there's adequate ventilation all around
this unit, especially if it's installed in an audio rack. If
the ventilation is inadequate, the unit may overheat,
· Do not expose this unit to direct sunlight or heat
sources, because its internal temperature may rise,
shortening the life of the optical pickup.
·Avoid damp and dusty places, and places subject to
vibrations from loudspeakers. Never put the unit on
top of, or directly above a loudspeaker.
Declaration of Conformity
ONKYO EUROPE ELECTRONICS GmbH
declare in own responsibility, that the ONKYO product
described in this instruction manual is in compliance with the
technical standards such as EN60065,
EN55013, EN55020 and EN61000-3-2, -3-3.
DV-L55_En.book Page 3 Friday, May 28, 2004 12:02 PM
--- · Install this unit horizontally. Never use it on its side or
on a sloping surface, because it may cause a malfunc-
· If you install this unit near a TV, radio, or VCR, the
picture and sound quality may be affected. If this
occurs, move this unit away from the TV, radio, or
Occasionally, you should dust this unit all over with a
soft cloth. For stubborn stains, use a soft cloth damp-
ened with a weak solution of mild detergent and water.
Dry the unit immediately afterwards with a clean cloth.
Do not use abrasive cloths, thinners, alcohol, or other
chemical solvents, because they may damage the finish
or remove the panel lettering.
· If you need to transport this unit, use the original pack-
aging to pack it how it was when you originally bought
· Do not use volatile liquids, such as insect sprays, near
this unit. Do not leave rubber or plastic items on this
unit for a long time, because they may leave marks on
· This unit's top and rear panels may get warm after pro-
longed use. This is normal.
· When you've finished using this unit, remove all discs
· If you do not use this unit for a long time, it may not
work properly the next time you turn it on, so be sure
9. To Obtain a Clear Picture
This unit is a high-tech, precision device. If the lens on
the optical pickup, or the disc drive mechanism
becomes dirty or worn, the picture quality may be
affected. To maintain the best picture quality, we recom-
mend regular inspection and maintenance (cleaning or
worn part replacement) every 1,000 hours of use
depending on the operating environment. Contact your
Onkyo dealer for details.
10. Moisture Condensation
Moisture condensation may damage this unit.
Read the following carefully:
When you take a glass containing a cold drink outside
on a summer's day, drops of water, called condensation,
form on the outside of the glass. Similarly, moisture
may condense on the lens of the optical pickup, one of
the most important parts inside this unit.
· Moisture condensation can occur in the following sit-
-- The unit is moved from a cold place to a warm
--A heater is turned on, or cold air from an air con-
ditioner is hitting the unit.
-- In the summer, when this unit is moved from an
air conditioned room to a hot and humid place.
-- The unit is used in a humid place.
· Do not use this unit when there's the possibility of
moisture condensation occurring. Doing so may dam-
age your discs and certain parts inside this unit.
If condensation does occur, remove all discs and
leave this unit turned on for two to three hours. By
this time, the unit will have warmed up and any con-
densation will have evaporated. To reduce the risk of
condensation, keep this unit connected to a wall out-
This unit contains a semiconductor laser system and is
classified as a "CLASS 1 LASER PRODUCT". So, to
use this model properly, read this Instruction Manual
carefully. In case of any trouble, please contact the store
where you purchased the unit.
To prevent being exposed to the laser beam, do not try
VISIBLE AND INVISIBLE LASER RADIATION
WHEN OPEN AND INTERLOCK FAILED OR
DEFEATED. DO NOT STARE INTO BEAM.
THIS PRODUCT UTILIZES A LASER. USE OF
CONTROLS OR ADJUSTMENTS OR PERFOR-
MANCE OF PROCEDURES OTHER THAN THOSE
SPECIFIED HEREIN MAY RESULT IN HAZARD-
The label on the right is
applied on the rear panel.
1. This unit is a CLASS 1
employs a laser inside the cabinet.
2. To prevent the laser from being exposed, do not remove the
cover. Refer servicing to qualified personnel.
DV-L55_En.book Page 4 Friday, May 28, 2004 12:02 PM
---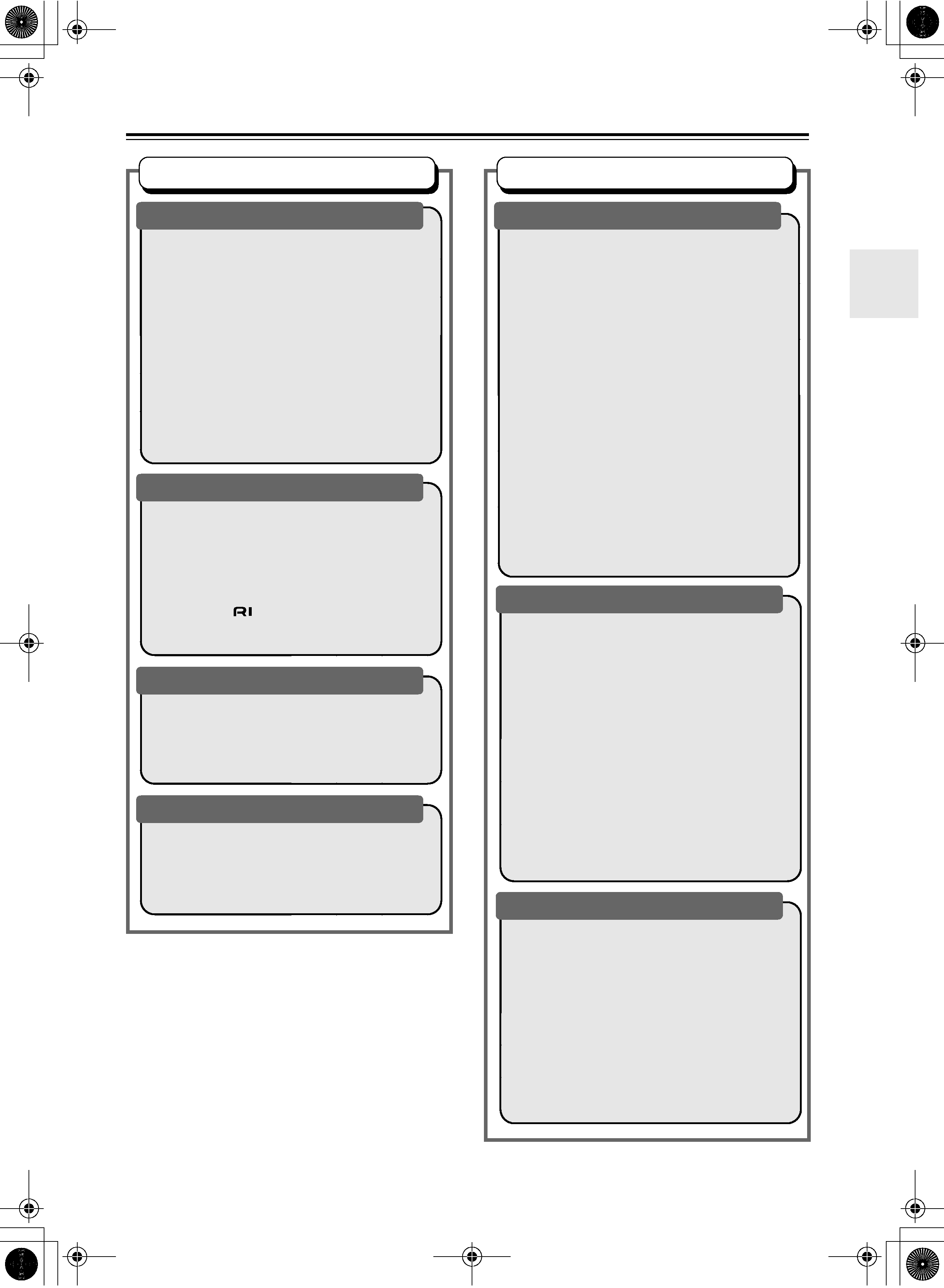 Important Safety Instructions .............................. 2
Precautions ......................................................... 3
Introduction ......................................................... 6
Supplied Accessories...................................... 6
DV-L55 Features............................................. 7
Disc Notes....................................................... 7
Before Using the DV-L55 .................................. 10
Installing the Batteries................................... 10
Using the Remote Controller......................... 10
Front & Rear Panels ......................................... 11
Front Panel.................................................... 11
Display .......................................................... 12
Rear Panel .................................................... 13
Remote Controller ......................................... 14
Connecting the DV-L55..................................... 16
Before Making Any Connections................... 16
AV Cables & Connectors .............................. 16
Basic Setup ................................................... 17
Connecting Your TV...................................... 19
Connecting to an AV Receiver ...................... 20
-compatible Components..... 21
Connecting the Power/Turning on
the DV-L55 .................................................... 22
Getting Started and Setting up
Getting Started .................................................. 23
Using the on-screen displays ........................ 23
Setting up the player for your TV .................. 23
Setting the language of this player's
on-screen displays...................................... 24
Playing discs ................................................. 24
Basic playback controls................................. 25
Resume and Last Memory ............................ 26
DVD-Video disc menus ................................. 26
Video CD PBC menus................................... 27
Playing discs .................................................... 28
Scanning discs ............................................. 28
Playing in slow motion .................................. 28
Frame advance/frame reverse ..................... 29
Viewing a JPEG slideshow ........................... 29
Browsing video content with the
Disc Navigator............................................ 30
Browsing WMA, MP3 and JPEG files
with the Disc Navigator .............................. 31
Looping a section of a disc ........................... 32
Using repeat play.......................................... 32
Using random play........................................ 33
Creating a program list ................................. 34
Other functions available from the
program menu............................................ 35
Searching a disc ........................................... 35
Switching subtitles ........................................ 36
Switching audio language/channel ............... 36
Zooming the screen ...................................... 37
Switching camera angles.............................. 37
Displaying disc information ........................... 37
Audio Settings and Video Adjust menus .......... 38
Audio Settings menu .................................... 38
Audio DRC.................................................... 38
Video Adjust menu ....................................... 39
Initial Settings menu ......................................... 40
Using the Initial Settings menu ..................... 40
Digital Audio Out settings ............................. 41
Video Output settings ................................... 41
Language settings ........................................ 42
Display settings ............................................ 42
Parental Lock................................................ 43
Registering a new password ........................ 43
Changing your password .............................. 43
Setting/changing the Parental Lock .............. 43
Setting/changing the Country code .............. 44
Country code list ........................................... 44
Miscellaneous information
Additional information ....................................... 45
Screen sizes and disc formats...................... 45
Resetting the player...................................... 45
Setting the TV system .................................. 46
Titles, chapters and tracks............................ 46
DVD-Video regions ....................................... 46
Selecting languages using the language
code list ...................................................... 47
Language code list ....................................... 48
Glossary ........................................................... 49
Troubleshooting................................................ 50
Specifications ................................................... 53
DV-L55_En.book Page 5 Friday, May 28, 2004 12:02 PM
---