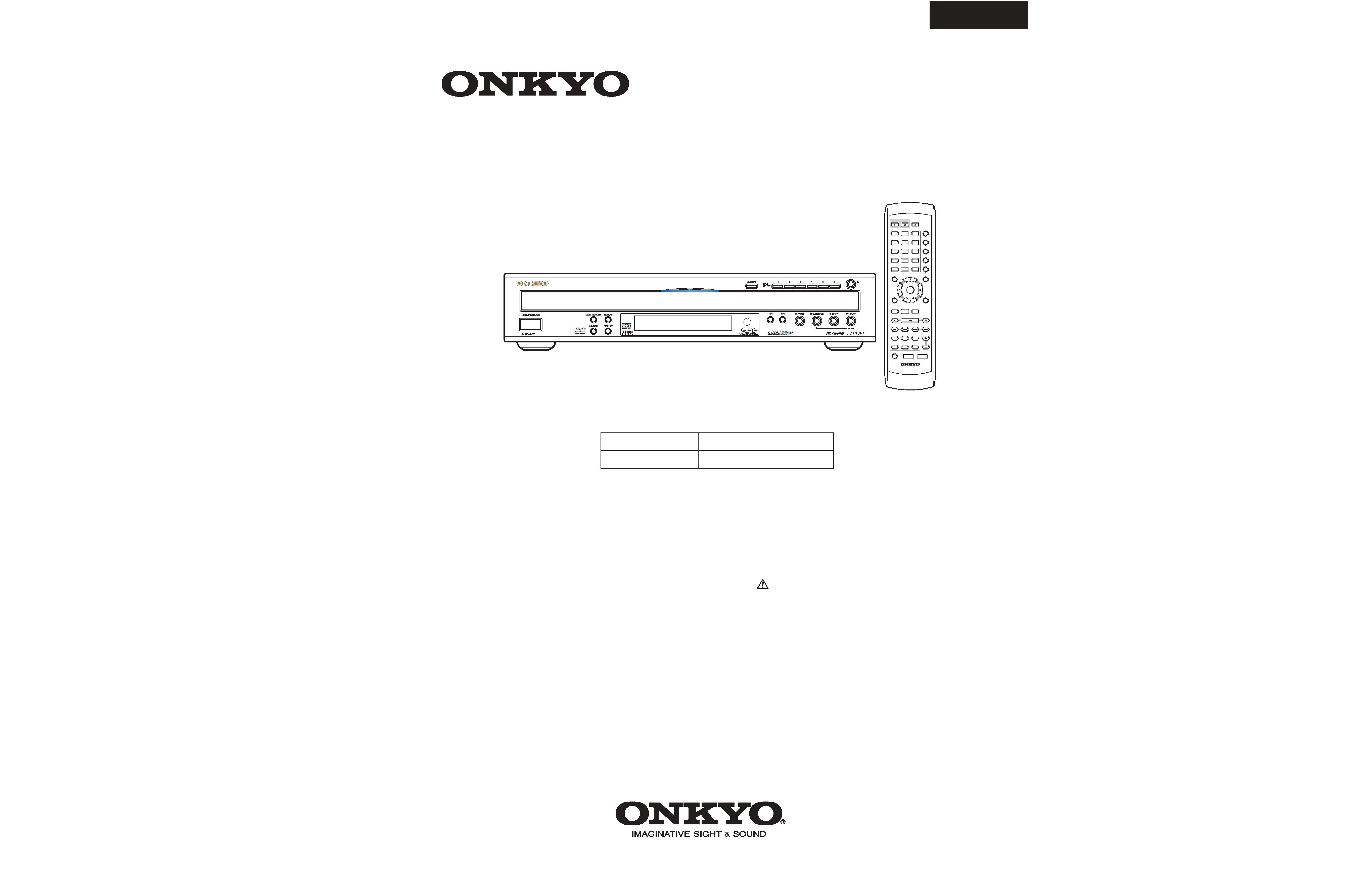 SEARCH LAST M MEMORY CHAIN MODE
COMPONENTS IDENTIFIED BY MARK
SCHEMATIC DIAGRAM AND IN THE PARTS LIST ARE
CRITICAL FOR RISK OF FIRE AND ELECTRIC SHOCK.
REPLACE THESE COMPONENTS WITH ONKYO
PARTS WHOSE PART NUMBERS APPEAR AS SHOWN
MAKE LEAKAGE-CURRENT OR RESISTANCE
MEASUREMENTS TO DETERMINE THAT EXPOSED
PARTS ARE ACCEPTABLY INSULATED FROM THE
SUPPLY CIRCUIT BEFORE RETURNING THE
APPLIANCE TO THE CUSTOMER.
---

SpeciÞcations and features subject to change without notice.
Standard NTSC (U.S. model), PAL/AUTO (Australian model)
1 (U.S. model), 4 (Australian model)
Semiconductor laser, wavelength 650 nm (DVD), 780 nm (CD)
4 Hz-22 kHz @ 48 kHz sampling rate
4 Hz-44 kHz @ 96 kHz sampling rate
Signal-to-noise ratio (digital audio)
Audio dynamic range (digital audio)
Harmonic distortion (digital audio)
Below measurable level (+/-0.001% (W. PEAK)) or less
Y: 1.0 V (p-p), 75 ohm , negative sync, RCA/phono x 3
P
B
/P
R
: 0.7 V (p-p), 75 ohm
Y: 1.0 V (p-p), 75 ohm , negative sync, 4-pin mini DIN x 1
1.0 V (p-p), 75 ohm, negative sync, RCA/phono x 1
0.5 V (p-p), 75 ohm, RCA/phono x 1
2.0 V rms, 470 ohm, RCA/phono x 2
120 V AC, 60 Hz (U.S. model)
220-230 V AC, 50/60 Hz (Australian model)
Power consumption in Standby
435 X 91 X 432 mm (17-1/8 X 3-9/16 X 17)
---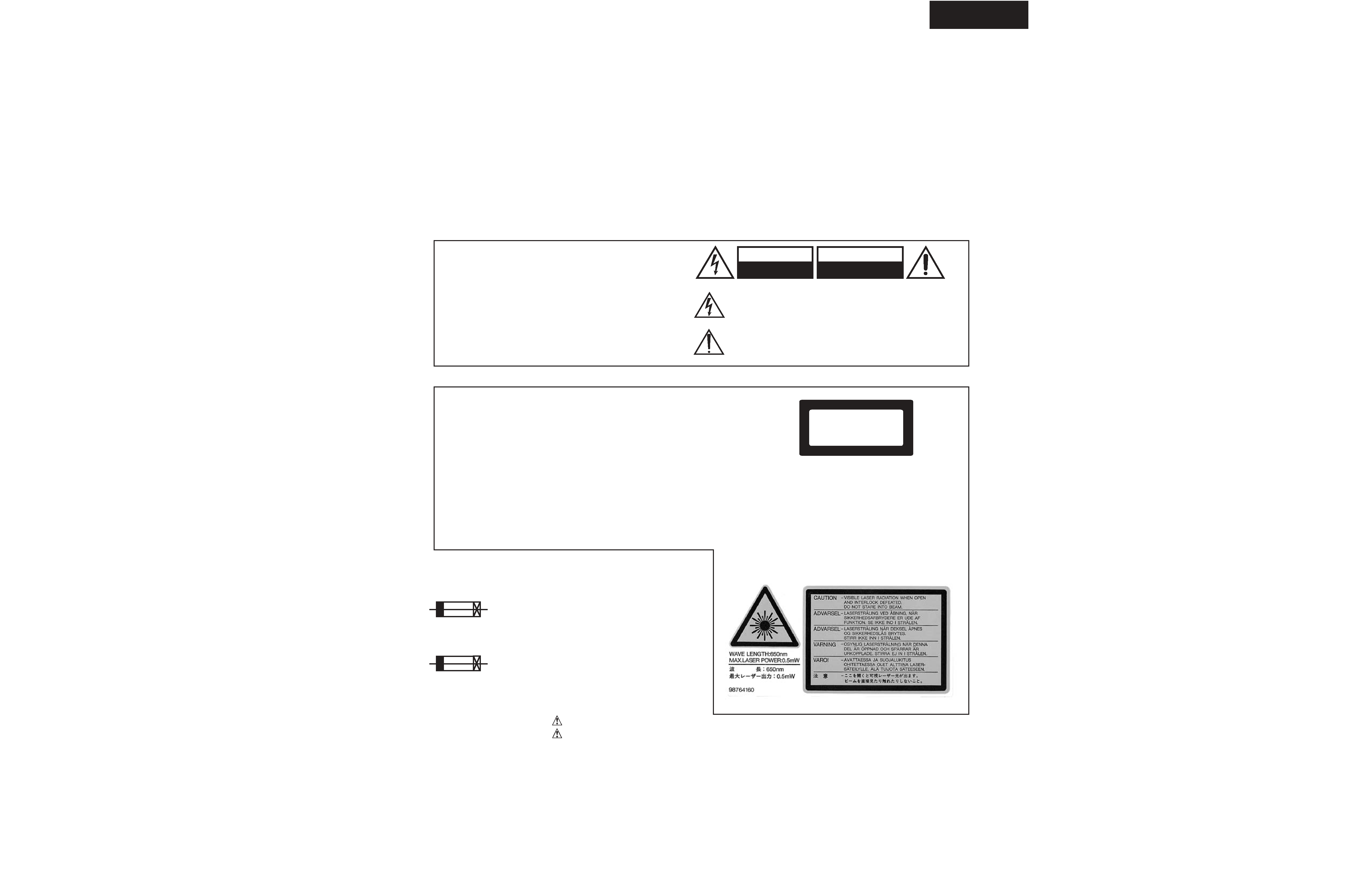 PROTECTION OF EYES FROM LASER BEAM DURING SERVICING
This set employs a laser. Therefore, be sure to follow
carefully the instructions below when servicing.
SERVICE WARNING : DO NOT APPROACH THE
LASER EXIT WITH THE EYE TOO CLOSELY.
IN CASE IT IS NECESSARY TO CONFIRM LASER
BEAM EMISSION, BE SURE TO OBSERVE FROM
A DISTANCE OF MORE THAN 30cm FROM THE
SURFACE OF THE OBJECTIVE LENS ON THE
Wavelength: 650/780nm (DVD/CD)
TO REDUCE THE RISK OF FIRE OR ELECTRIC SHOCK,
DO NOT EXPOSE THIS APPLIANCE TO RAIN OR
TO REDUCE THE RISK OF ELECTRIC SHOCK, DO NOT
REMOVE COVER (OR BACK). NO USER-SERVICEABLE
PARTS INSIDE. REFER SERVICING TO QUALIFIED
The lightning flash with arrowhead symbol, within an equilateral
triangle, is intended to alert the user to the presence of uninsulated
"dangerous voltage" within the product's enclosure that may be of
sufficient magnitude to constitute a risk of electric shock to persons.
The exclamation point within an equilateral triangle is intended to alert
the user to the presence of important operating and maintenance
(servicing) instructions in the literature accompanying the appliance.
RISQUE DE CHOC ELECTRIQUE
This unit contains a semiconductor laser system and is classified
as a "CLASS 1 LASER PRODUCT". So, to use this model
properly, read this Instruction Manual carefully. In case of any
trouble, please contact the store where you purchased the unit.
To prevent being exposed to the laser beam, do not try to open
VISIBLE LASER RADIATION WHEN OPEN AND INTERLOCK
FAILED OR DEFEATED. DO NOT STARE INTO BEAM.
THIS PRODUCT UTILIZES A LASER. USE OF CONTROLS OR
ADJUSTMENTS OR PERFORMANCE OF PROCEDURES
OTHER THAN THOSE SPECIFIED HEREIN MAY RESULT IN
HAZARDOUS RADIATION EXPOSURE.
1. This unit is a CLASS 1 LASER PRODUCT and employs a
laser inside the cabinet.
2. To prevent the laser from being exposed, do not remove
the cover. Refer servicing to qualified personnel.
This symbol located near the fuse indicates that the
fuse used is show operating type, For continued protection against
fire hazard, replace with same type fuse , For fuse rating, refer to
the marking adjest to the symbol.
Ce symbole indique que le fusible utilise est e lent.
Pour une protection permanente, n'utiliser que des fusibles de meme
type. Ce demier est indique la qu le present symbol est apposre.
---

Factory-shipped condition
Push button "ON" (Mechanical SW)
Press the [STOP] and [STANDBY] same time with NO DISC condition.
After display "COMPLETE".
After correcting the original service problem perform the
following safety check before releasing the set to the customer
Connect the insulating-resistance tester between the plug of
power supply cord and terminal GND on the back panel.
Specifications: More than 10M ohm at 500V
REMOVE THE SOLDER OF LASER DIODE SHORT
When replace the mechanism or DVD main PC board.
Shotting the solder of Shot-circuit land. (2 positions)
---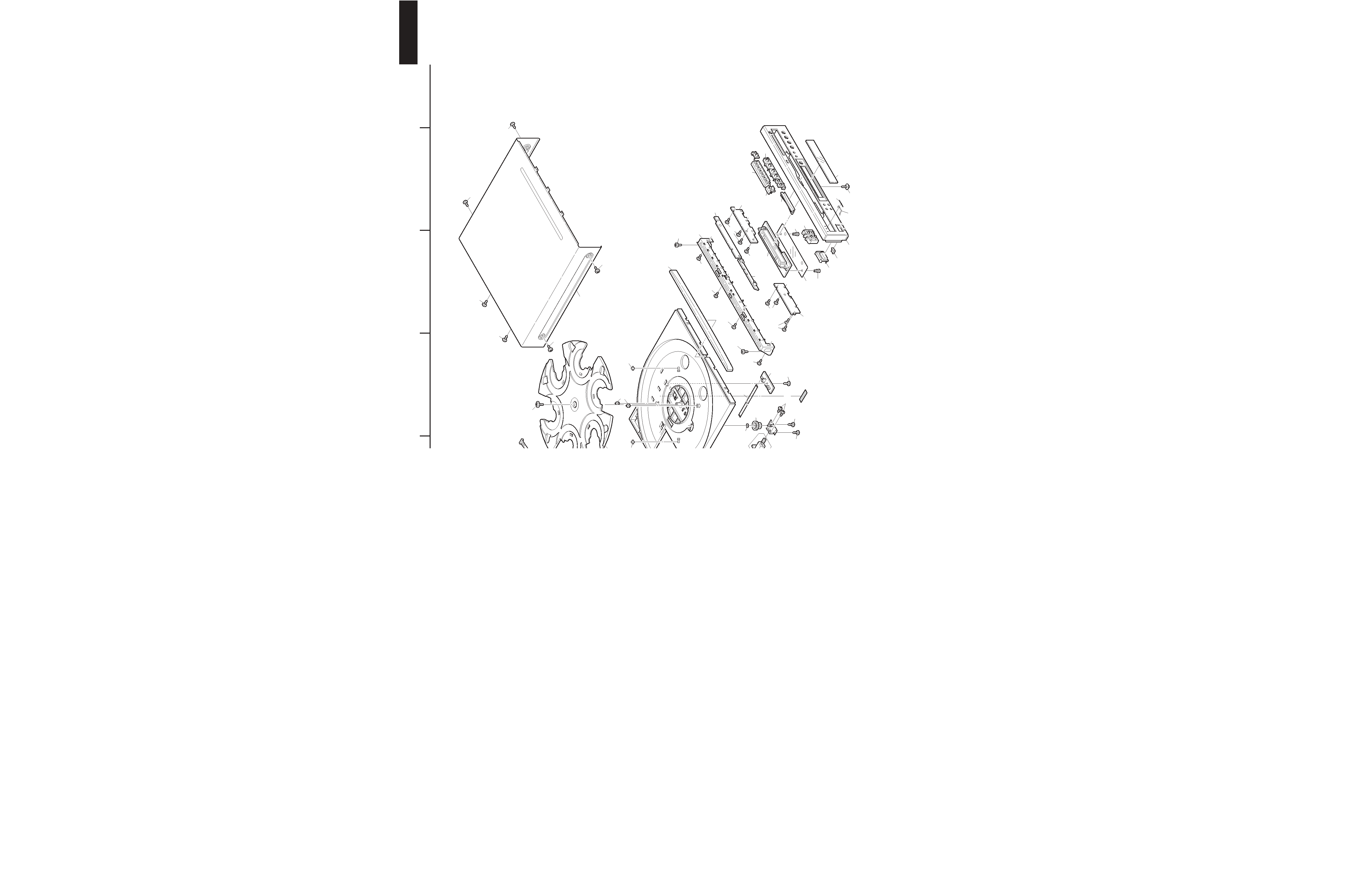 ---