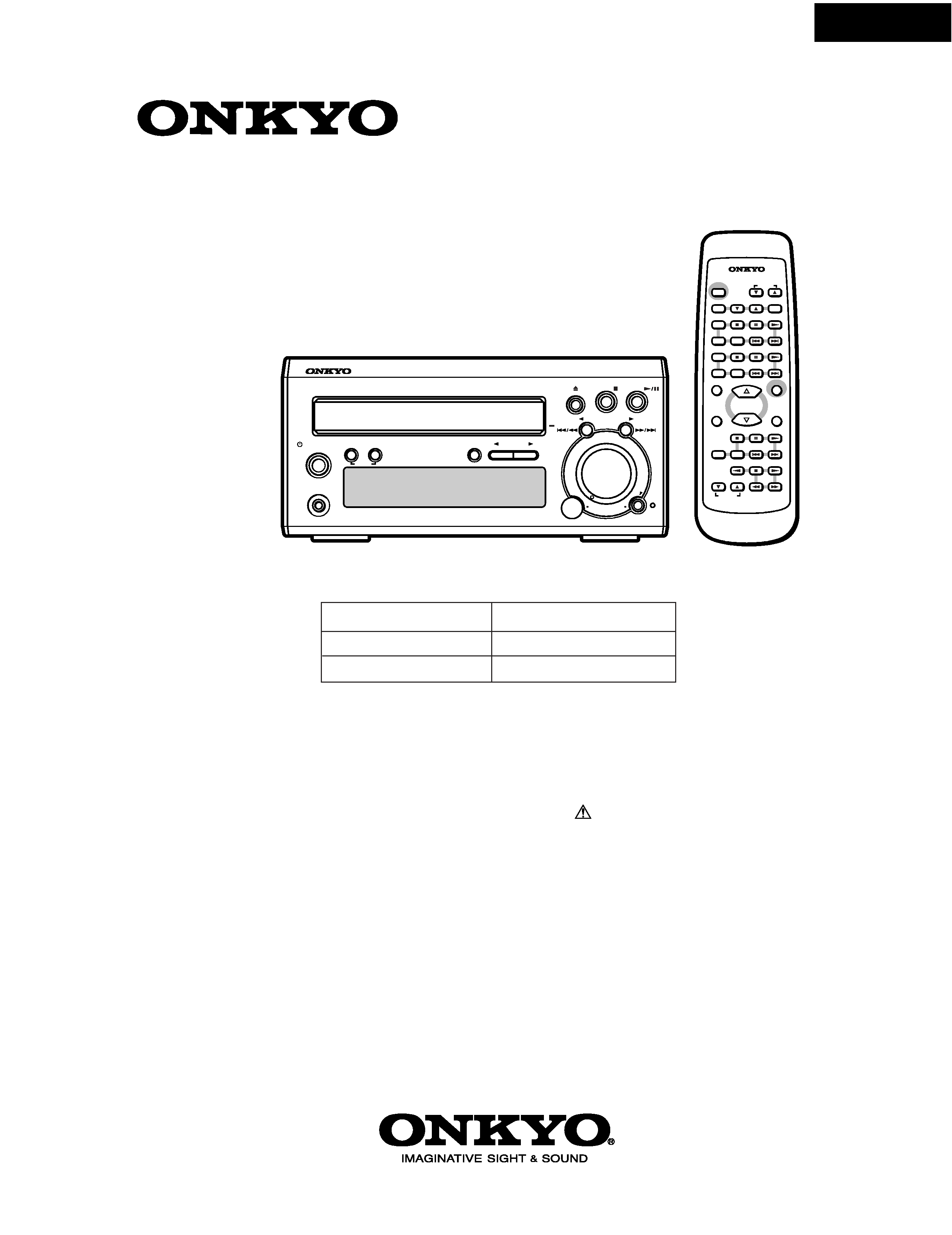 STANDBY/ON
MEMORY FM MODE
COMPONENTS IDENTIFIED BY MARK
SCHEMATIC DIAGRAM AND IN THE PARTS LIST ARE
CRITICAL FOR RISK OF FIRE AND ELECTRIC SHOCK.
REPLACE THESE COMPONENTS WITH ONKYO
PARTS WHOSE PART NUMBERS APPEAR AS SHOWN
MAKE LEAKAGE-CURRENT OR RESISTANCE
MEASUREMENTS TO DETERMINE THAT EXPOSED
PARTS ARE ACCEPTABLY INSULATED FROM THE
SUPPLY CIRCUIT BEFORE RETURNING THE
APPLIANCE TO THE CUSTOMER.
---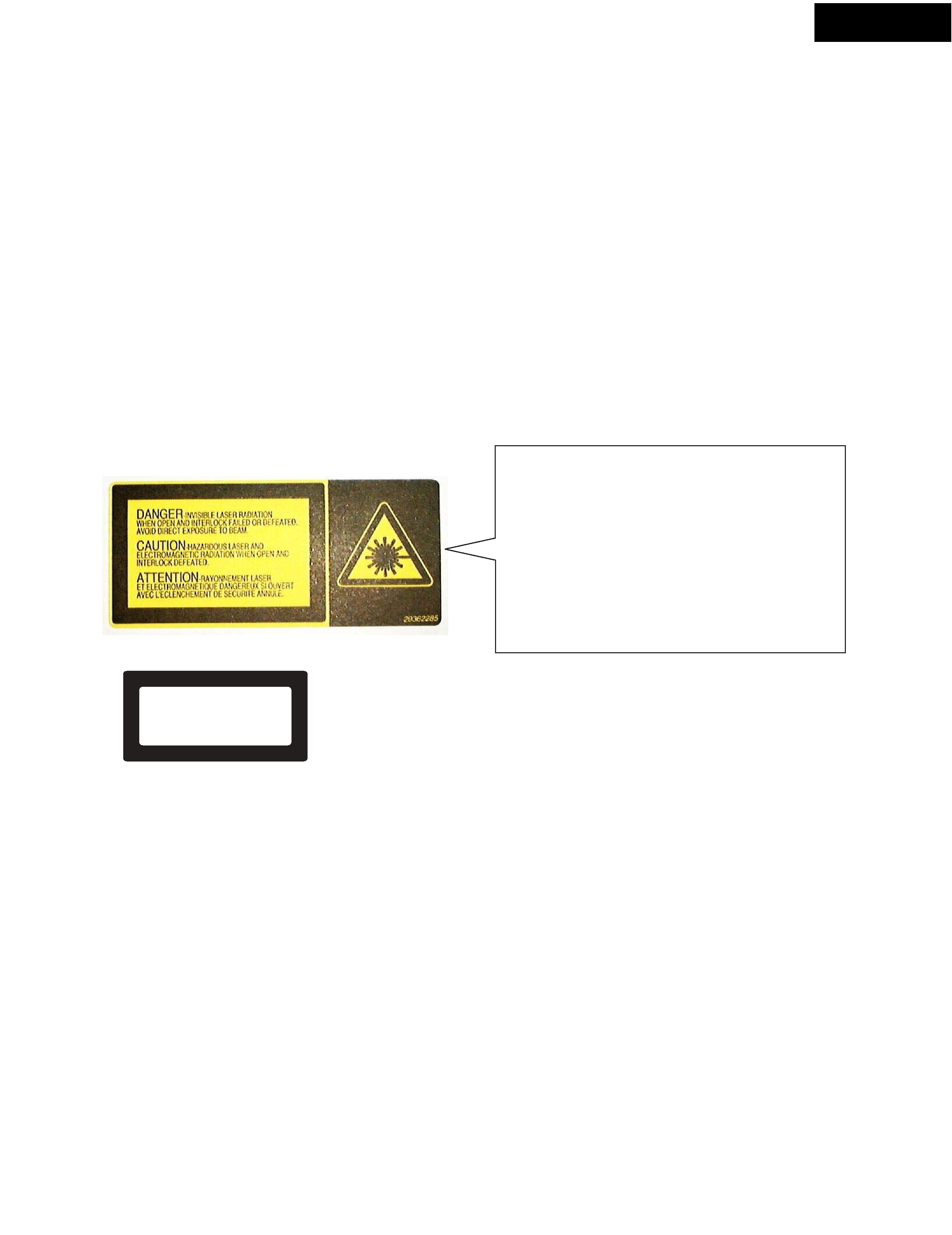 PROTECTION OF EYES FROM LASER BEAM DURING SERVICING
This set employs a laser. Therefore, be sure to follow
carefully the instructions below when servicing.
SERVICE WARNING : DO NOT APPROACH THE
LASER EXIT WITH THE EYE TOO CLOSELY.
IN CASE IT IS NECESSARY TO CONFIRM LASER
BEAM EMISSION, BE SURE TO OBSERVE FROM
A DISTANCE OF MORE THAN 30cm FROM THE
SURFACE OF THE OBJECTIVE LENS ON THE
Laser output: max. 0.5mW*
Emission Duration: continuous
*This output is the value measured at a distance about 1.8mm
from the objective lens surface on the Optical Pickup Block.
The labels shown below are affixed.
INVISIBLE LASER RADIATION WHEN OPEN AND
INTERLOCK FAILED OR DEFEATED. AVOID DIRECT
HAZARDOUS LASER AND ELECTROMAGNETIC
RADIATION WHEN OPEN AND INTERLOCK DEFEATED.
RAYONNEMENT LASER ET ELECTROMAGNETIQUE
DANGEREUX SI OUVERT AVEC L'ECLENCHEMENT
---

After correcting the original service problem perform the follwing safety check before releasing the set to the customer
Connect the insulating-resistance tester between the plug of power supply cord and terminal GND on the back panel.
Specifications: More than 10Mohm at 500V
1.25A-UL/T-237, Fuse <DD, DT>
0.4A-SE-EAW, FUSE <PP,GR, GT>
<PP,GR, GT> : 230 V model only
This symbol located near the fuse indicates that the
fuse used is show operating type, For continued protection against
fire hazard, replace with same type fuse , For fuse rating, refer to
the marking adjest to the symbol.
Ce symbole indique que le fusible utilise est e lent.
Pour une protection permanente, n'utiliser que des fusibles de meme
type. Ce demier est indique la qu le present symbol est apposre.
2. To initialize the unit
This unit does not require memory preservation batteries. A built-in memory power back-up system preserves the contents of
the memory during power failures and even when the unit is un-plugged.
The unit must be plugged in order to charge the back-up system.
The memory preservation period after the unit has been unplugged varies depending on climate and placement of the unit.
On the average, memory contents are protected over a period of a few weeks after the last time the unit has been unplugged.
This period is shorter when the unit is exposed to a highly humid cli-mate.
5. Changing the AM band step
With the exception of the worldwide models, a tuning step selector switch is not provided.
When you change the band step, change the parts as shown below.
1. Press and hold the MEMORY button and press the DISPLAY button.
2. Press the STANDBY/ON button.
When " CLEAR " appears on the display, the preset memory and each mode stored in the memory are initialized
and will return to the factory setting.
---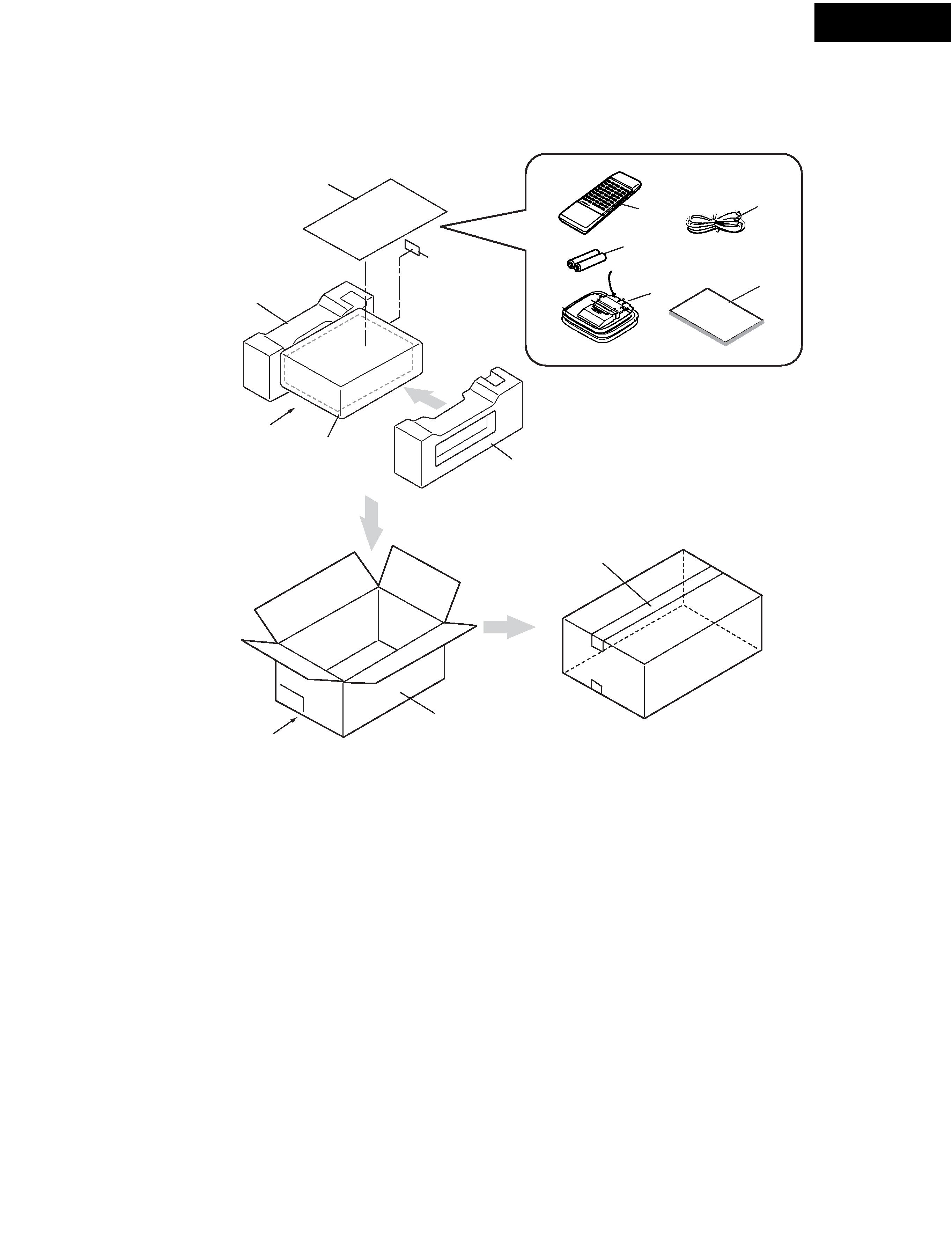 RC-421S, Remote controller
NMA-3057, AM Loop antenna
<DD> : USA & Canadian model only
---

NOTE : THE COMPONENTS IDENTIFIED BY MARK
ARE CRITICAL FOR RISK OF FIRE AND
<DD> : USA and Canadian model only
<PP> : European model only
<DT> : Taiwanese model only
<GR> : Chinese model only
PRINTED CIRCUIT BOARD PARTS LIST-1
U1:AUDIO PC BOARD (NAAF-6874)
0.068uF+/-5%, 50V, Plastic
0.015uF+/-5%, 50V, Plastic
0.15uF5+/-5%, 50V, Plastic
560ohm+/-5%, 1W, Metal oxide
22ohm+/-5%, 1/2W, Metal oxide
1kohm+/-5%, 1/2W, Metal oxide
820ohm+/-5%, 1/2W, Metal oxide
39ohm+/-5%, 1/2W, Metal oxide
33ohm+/-5%, 1/2W, Metal oxide
39ohm+/-5%, 1/2W, Metal oxide
0.22uF+/-5%, 50V, Plastic
22ohm+/-5%, 1W, Metal oxide
2.2ohm+/-5%, 1/2W, Metal oxide
0.47ohm+/-5%, 1/2W, Metal oxide
1kohm+/-5%, 1/2W, Metal oxide
27ohm+/-5%, 1/2W, Metal oxide
3.3Mohm+/-20%,1/2W, Solid <DD,DT>
NRL-2P5A-DC12-155 <DD,DT>
NRL-2P8A-DC12-147 <PP,GR,GT,PT>
T400MAL250V <PP,GR,GT,PT>
U2:POWER SUPPLY PC BOARD (NAPS-6878)
---