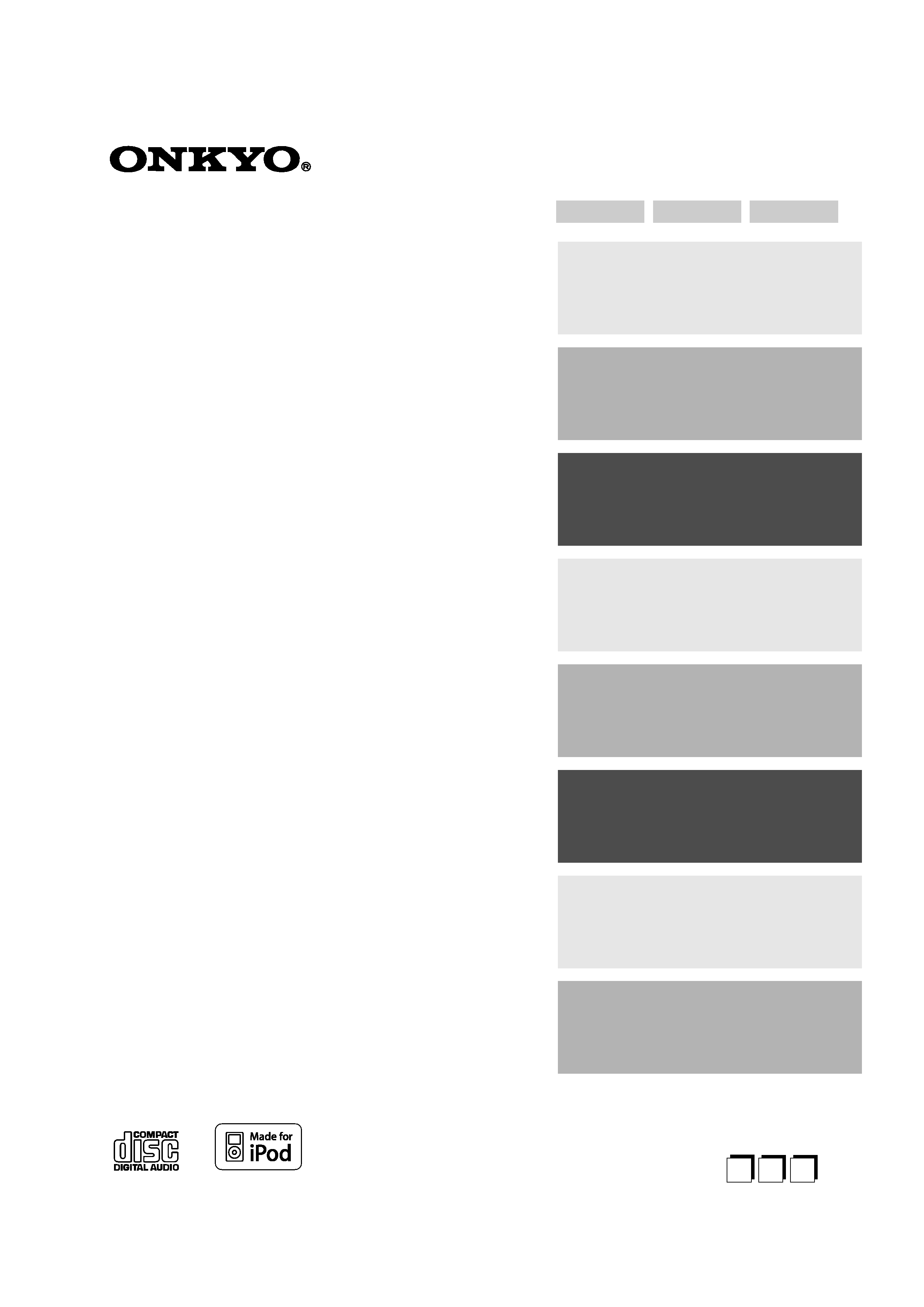 Thank you for purchasing an Onkyo CD Tuner Audio System.
Please read this manual thoroughly before making any connec-
tions and plugging it in.
Following the instructions in this manual will enable you to obtain
optimum performance and listening enjoyment from your new CD
Please retain this manual for future reference.
Nous vous remercions d'avoir opté pour un chaîne Hi-Fi Radio
CD Onkyo. Veuillez lire attentivement ce manuel avant de
connecter l'appareil et de le mettre sous tension.
Observez les instructions données dans ce manuel afin de pouvoir
profiter pleinement de votre nouvel chaîne Hi-Fi Radio CD.
Conservez ce manuel afin de pouvoir le consulter ultérieurement.
Gracias por adquirir el sistema de audio con sintonizador y CD de
Antes de realizar las conexiones y de conectar la alimentación, lea
detenidamente este manual.
Si sigue las instrucciones de este manual, logrará el óptimo
rendimiento y el máximo placer de escucha de su nuevo audio con
Guarde este manual para futuras referencias.
Getting Started........................... En-2
Premiers pas .................................Fr-2
Primeros pasos...........................Es-2
Connections ..............................En-16
Branchements ........................... Fr-16
Conexiones ................................ Es-16
Basic Operation.......................En-20
Manipulations de base .......... Fr-20
Funcionamiento básico ....... Es-20
Playing CDs ...............................En-22
Lecture d'un CD........................ Fr-22
Reproducción de un CD ...... Es-22
Playing Your iPod ....................En-30
Lecture d'un iPod..................... Fr-30
Utilizar el iPod........................... Es-30
Listening to the Radio ..........En-32
Écoute de la radio.................... Fr-32
Escuchar la radio.................... Es-32
Clock and Timer.......................En-40
Horloge et minuterie............... Fr-40
Reloj y Temporizador ............ Es-40
Miscellaneous...........................En-49
Divers............................................. Fr-49
Varios............................................ Es-49
---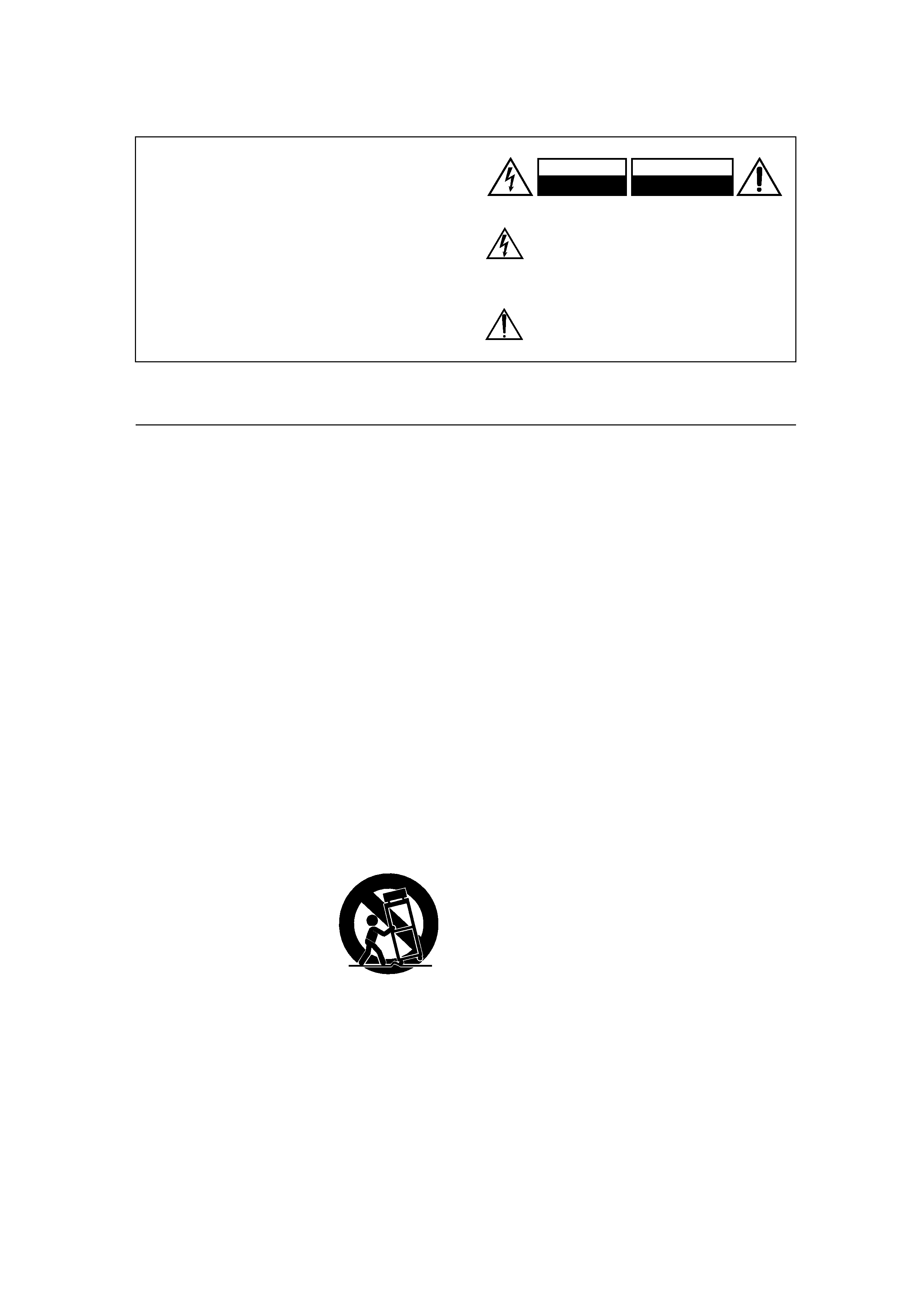 Important Safety Instructions
1. Read these instructions.
2. Keep these instructions.
4. Follow all instructions.
5. Do not use this apparatus near water.
6. Clean only with dry cloth.
7. Do not block any ventilation openings. Install in
accordance with the manufacturer's instructions.
8. Do not install near any heat sources such as radia-
tors, heat registers, stoves, or other apparatus
(including amplifiers) that produce heat.
9. Do not defeat the safety purpose of the polarized or
grounding-type plug. A polarized plug has two
blades with one wider than the other. A grounding
type plug has two blades and a third grounding
prong. The wide blade or the third prong are pro-
vided for your safety. If the provided plug does not
fit into your outlet, consult an electrician for
replacement of the obsolete outlet.
10. Protect the power cord from being walked on or
pinched particularly at plugs, convenience recepta-
cles, and the point where they exit from the appara-
11. Only use attachments/accessories specified by the
12. Use only with the cart, stand,
tripod, bracket, or table spec-
ified by the manufacturer, or
When a cart is used, use cau-
tion when moving the cart/
avoid injury from tip-over.
13. Unplug this apparatus during lightning storms or
when unused for long periods of time.
14. Refer all servicing to qualified service personnel.
Servicing is required when the apparatus has been
damaged in any way, such as power-supply cord or
plug is damaged, liquid has been spilled or objects
have fallen into the apparatus, the apparatus has
been exposed to rain or moisture, does not operate
normally, or has been dropped.
15. Damage Requiring Service
Unplug the apparatus from the wall outlet and refer
servicing to qualified service personnel under the
A. When the power-supply cord or plug is damaged,
B. If liquid has been spilled, or objects have fallen
C. If the apparatus has been exposed to rain or
D. If the apparatus does not operate normally by
following the operating instructions. Adjust only
those controls that are covered by the operating
instructions as an improper adjustment of other
controls may result in damage and will often
require extensive work by a qualified technician
to restore the apparatus to its normal operation,
E. If the apparatus has been dropped or damaged in
F. When the apparatus exhibits a distinct change in
performance this indicates a need for service.
16. Object and Liquid Entry
Never push objects of any kind into the apparatus
through openings as they may touch dangerous volt-
age points or short-out parts that could result in a
The apparatus shall not be exposed to dripping or
splashing and no objects filled with liquids, such as
vases shall be placed on the apparatus.
Don't put candles or other burning objects on top of
Always consider the environmental issues and fol-
low local regulations when disposing of batteries.
18. If you install the apparatus in a built-in installation,
such as a bookcase or rack, ensure that there is ade-
Leave 20 cm (8") of free space at the top and sides
and 10 cm (4") at the rear. The rear edge of the shelf
or board above the apparatus shall be set 10 cm (4")
away from the rear panel or wall, creating a flue-like
gap for warm air to escape.
TO REDUCE THE RISK OF FIRE OR ELECTRIC
SHOCK, DO NOT EXPOSE THIS APPARATUS
TO REDUCE THE RISK OF ELECTRIC SHOCK,
DO NOT REMOVE COVER (OR BACK). NO
USER-SERVICEABLE PARTS INSIDE. REFER
The lightning flash with arrowhead symbol, within an
equilateral triangle, is intended to alert the user to the
presence of uninsulated "dangerous voltage" within
the product's enclosure that may be of sufficient
magnitude to constitute a risk of electric shock to
The exclamation point within an equilateral triangle is
intended to alert the user to the presence of important
operating and maintenance (servicing) instructions in
the literature accompanying the appliance.
RISQUE DE CHOC ELECTRIQUE
---

1. Recording Copyright--Unless it's for personal
use only, recording copyrighted material is illegal
without the permission of the copyright holder.
2. AC Fuse--The AC fuse inside the unit is not user-
serviceable. If you cannot turn on the unit, contact
3. Care--Occasionally you should dust the unit all over
with a soft cloth. For stubborn stains, use a soft cloth
dampened with a weak solution of mild detergent and
water. Dry the unit immediately afterwards with a
clean cloth. Don't use abrasive cloths, thinners, alco-
hol, or other chemical solvents, because they may
damage the finish or remove the panel lettering.
BEFORE PLUGGING IN THE UNIT FOR THE
FIRST TIME, READ THE FOLLOWING SEC-
AC outlet voltages vary from country to country.
Make sure that the voltage in your area meets the
voltage requirements printed on the unit's rear panel
(e.g., AC 230 V, 50 Hz or AC 120 V, 60 Hz).
The power cord plug is used to disconnect this unit
from the AC power source. Make sure that the plug
is readily operable (easily accessible) at all times.
Pressing the [STANDBY/ON] button to select
Standby mode does not fully shutdown the unit. If
you do not intend to use the unit for an extended
period, remove the power cord from the AC outlet.
5. Never Touch this Unit with Wet Hands--
Never handle this unit or its power cord while your
hands are wet or damp. If water or any other liquid
gets inside this unit, have it checked by your Onkyo
· If you need to transport this unit, use the original
packaging to pack it how it was when you origi-
· Do not leave rubber or plastic items on this unit
for a long time, because they may leave marks on
· This unit's top and rear panels may get warm
after prolonged use. This is normal.
· If you do not use this unit for a long time, it may
not work properly the next time you turn it on, so
be sure to use it occasionally.
· When you've finished using this unit, remove all
discs and turn off the power.
· Install this unit in a well-ventilated location.
· Ensure that there's adequate ventilation all
around this unit, especially if it's installed in an
audio rack. If the ventilation is inadequate, the
unit may overheat, leading to malfunction.
· Do not expose this unit to direct sunlight or heat
sources, because its internal temperature may
rise, shortening the life of the optical pickup.
·Avoid damp and dusty places.
· Install this unit horizontally. Never use it on its
side or on a sloping surface, because it may cause
· If you install this unit near a TV, radio, or VCR,
the sound quality may be affected. If this occurs,
move this unit away from the TV, radio, or VCR.
Moisture condensation may damage this
Read the following carefully:
Moisture may condense on the lens of the optical
pickup, one of the most important parts inside this
· Moisture condensation can occur in the following
­ The unit is moved from a cold place to a warm
­A heater is turned on, or cold air from an air
conditioner is hitting the unit.
­ In the summer, when this unit is moved from an
air conditioned room to a hot and humid place.
­ The unit is used in a humid place.
· Do not use this unit when there's the possibility
of moisture condensation occurring. Doing so
may damage your discs and certain parts inside
If condensation does occur, remove all discs and
leave this unit turned on for two to three hours. By
this time, the unit will have warmed up and any con-
densation will have evaporated.
---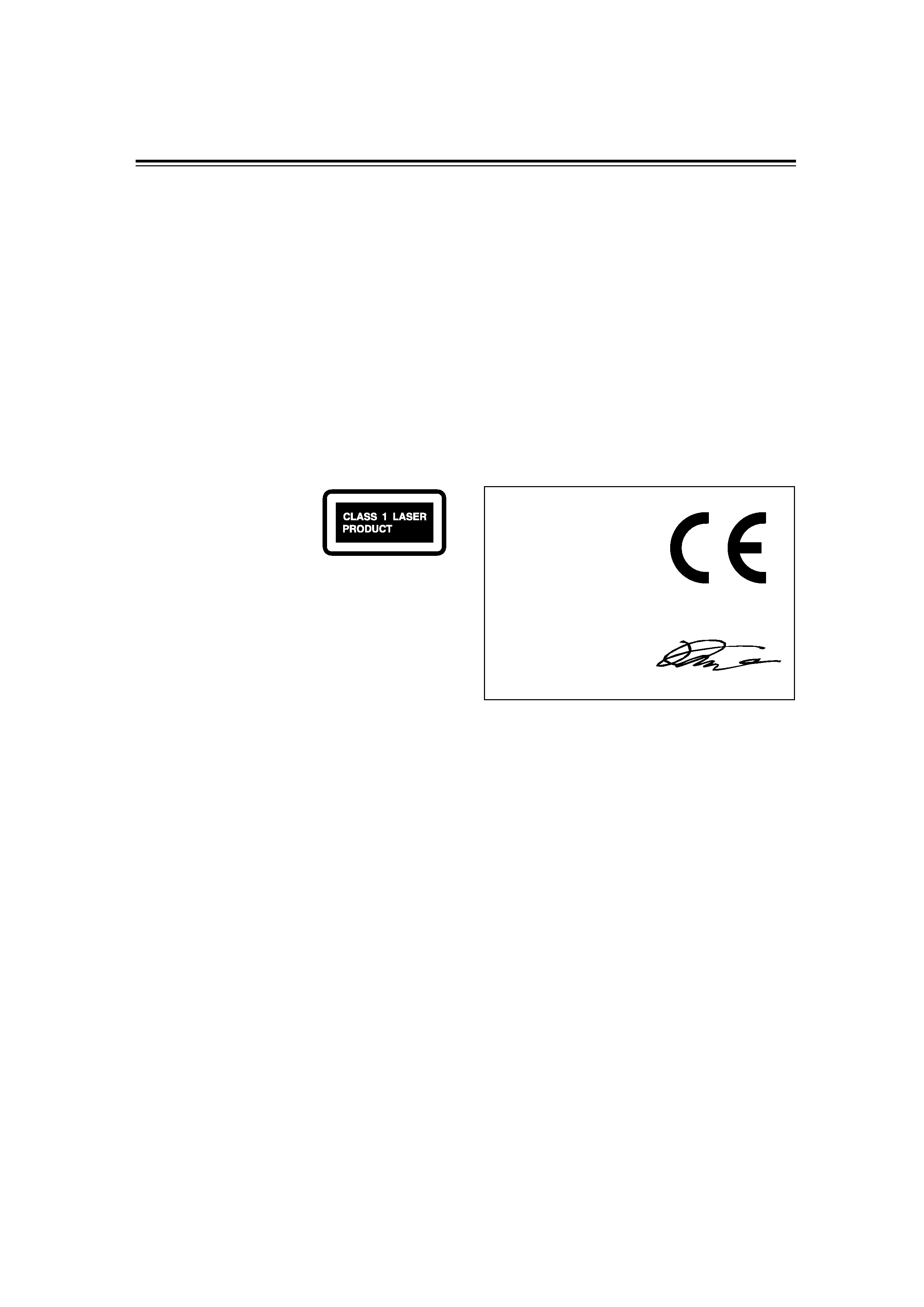 This unit contains a semiconductor laser system and is
classified as a "CLASS 1 LASER PRODUCT". So, to
use this model properly, read this Instruction Manual
carefully. In case of any trouble, please contact the store
where you purchased the unit.
To prevent being exposed to the laser beam, do not try
CLASS 1M VISIBLE AND INVISIBLE LASER
RADIATION WHEN OPEN. DO NOT VIEW
DIRECTLY WITH OPTICAL INSTRUMENTS.
THIS PRODUCT UTILIZES A LASER. USE OF
CONTROLS OR ADJUSTMENTS OR PERFOR-
MANCE OF PROCEDURES OTHER THAN THOSE
SPECIFIED HEREIN MAY RESULT IN HAZARD-
The label on the right is
applied on the rear panel.
1. This unit is a CLASS 1
employs a laser inside the cabinet.
2. To prevent the laser from being exposed, do not remove the
cover. Refer servicing to qualified personnel.
The user changes or modifications not expressly
approved by the party responsible for compliance could
void the user's authority to operate the equipment.
This equipment has been tested and found to comply
with the limits for a Class B digital device, pursuant to
Part 15 of the FCC Rules. These limits are designed to
provide reasonable protection against harmful interfer-
ence in a residential installation.
This equipment generates, uses and can radiate radio
frequency energy and, if not installed and used in accor-
dance with the instructions, may cause harmful interfer-
ence to radio communications. However, there is no
guarantee that interference will not occur in a particular
installation. If this equipment does cause harmful inter-
ference to radio or television reception, which can be
determined by turning the equipment off and on, the
user is encouraged to try to correct the interference by
one or more of the following measures:
· Reorient or relocate the receiving antenna.
· Increase the separation between the equipment and
· Connect the equipment into an outlet on a circuit dif-
ferent from that to which the receiver is connected.
· Consult the dealer or an experienced radio/TV tech-
USE OF ANY CONTROLS, ADJUSTMENTS, OR
PROCEDURES OTHER THAN THOSE SPECIFIED
HEREIN MAY RESULT IN HAZARDOUS RADIA-
NOTE:
THIS CLASS B DIGITAL APPARATUS
COMPLIES WITH CANADIAN ICES-003.
For models having a power cord with a polarized plug:
CAUTION:
TO PREVENT ELECTRIC SHOCK,
MATCH WIDE BLADE OF PLUG TO WIDE SLOT,
Declaration of Conformity
ONKYO EUROPE ELECTRONICS GmbH
declare in own responsibility, that the ONKYO product
described in this instruction manual is in compliance with the
technical standards such as EN60065,
EN55013, EN55020 and EN61000-3-2, -3-3.
---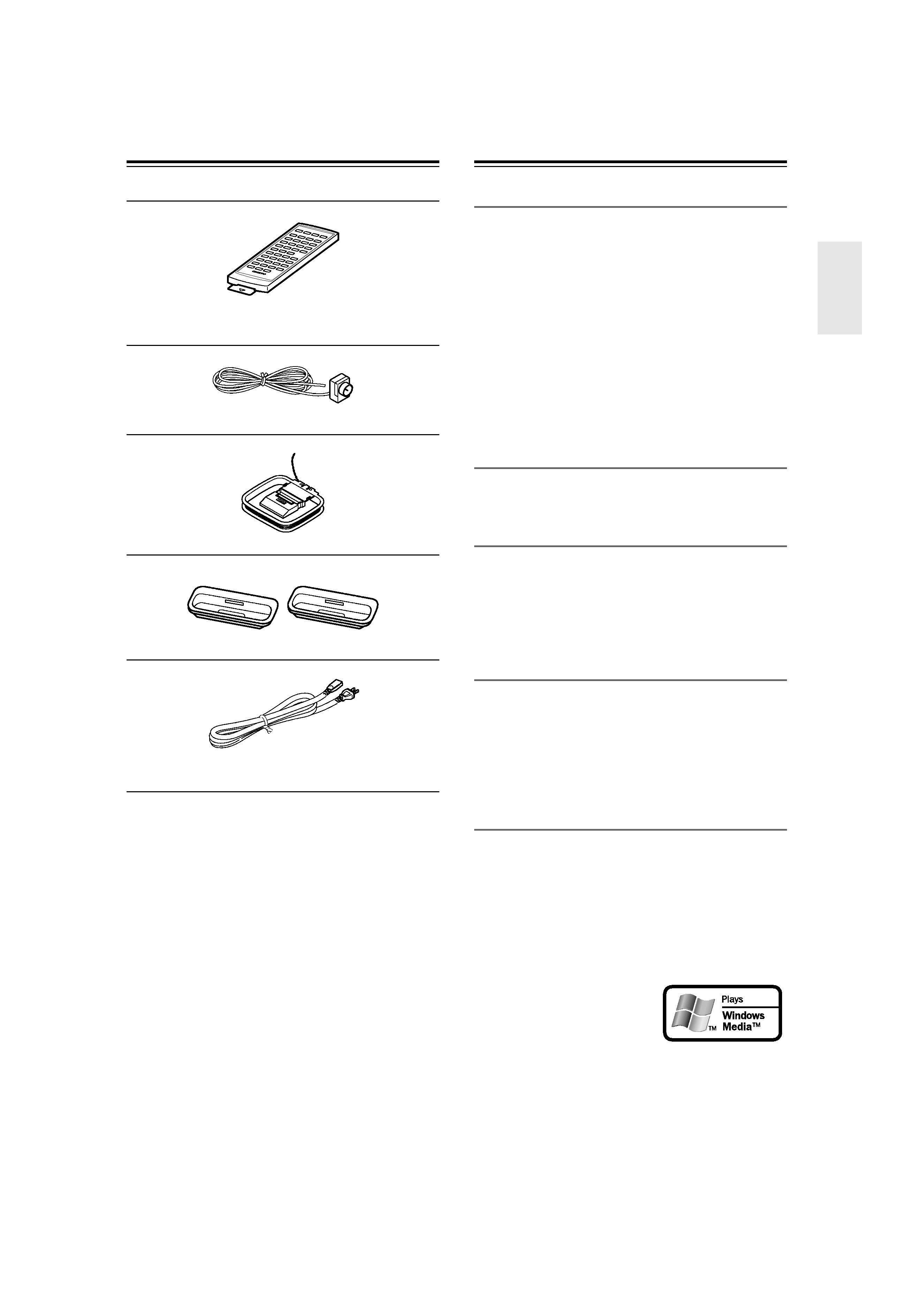 Make sure you have the following accessories:
· CD tuner audio system with built-in iPod
*1
dock
· Supports iPod (5th Generation, photo, and 4th Gener-
ation), iPod nano (2nd Generation and 1st Genera-
tion), and iPod mini (as of August 2007)
· Built-in stereo hi-fi speakers
· Control your iPod with the remote controller
· Charge your iPod while you listen to your music
· 3-preset equalizer settings
· Line input for external audio source
· Battery-less memory backup
· Aero Acoustic Drive for powerful and natural sound
· RDS (Radio Data System) (European models only)
· FM Auto Preset function
· Play audio CDs, MP3/WMA
*2
CDs (CD-R and
·4 playback modes: normal, random, memory, and
· 2-mode repeat function (current track or all tracks)
· AccuClock automatic clock setting (European models
*1 iPod is a trademark of Apple Inc., registered in the U.S. and
*2 Windows Media, and the Win-
dows logo are trademarks, or
Microsoft Corporation in the
United States and/or other coun-
iPod dock adapters A and B
(Connector type varies from country to country.)
---