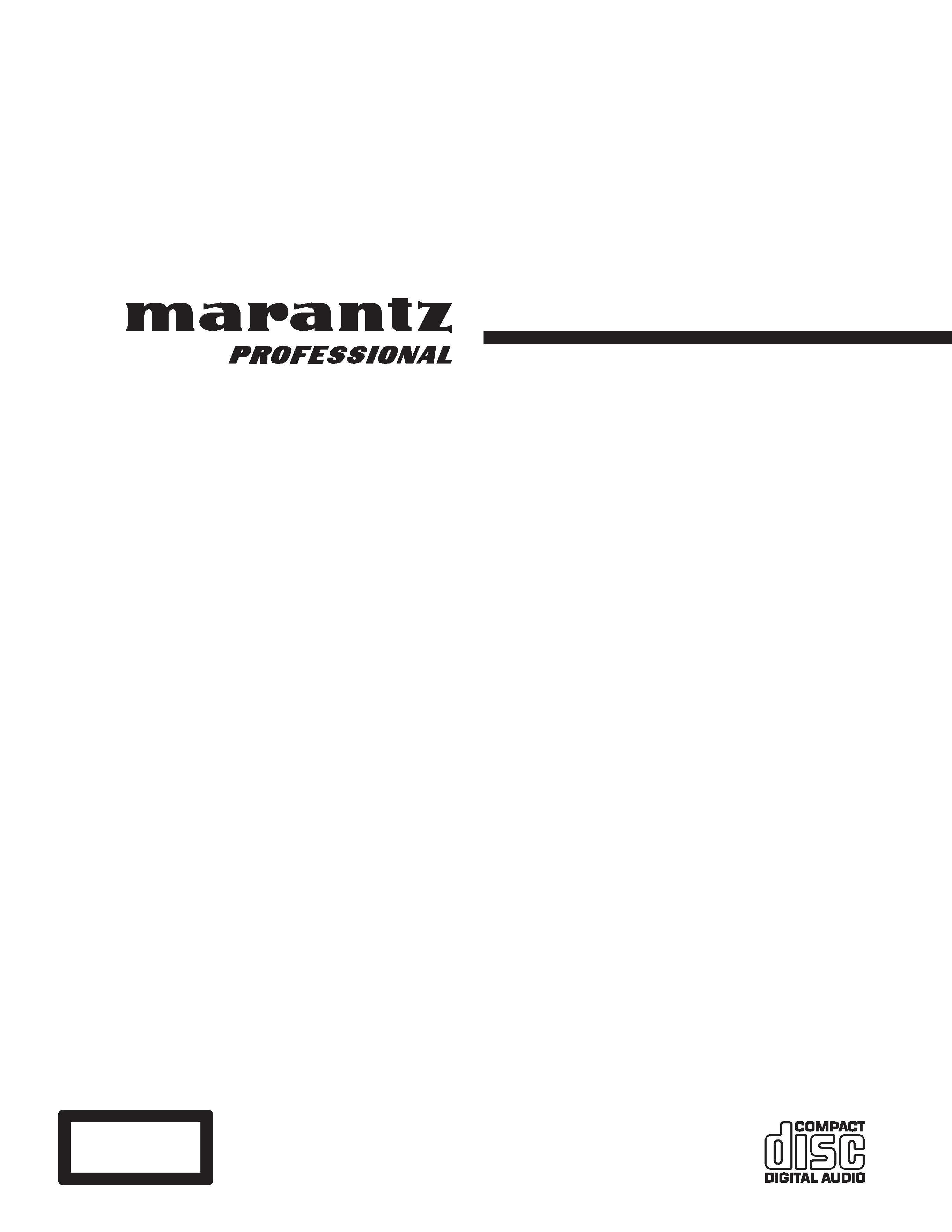 ---

CAUTION: TO REDUCE THE RISK OF ELECTRIC SHOCK,
DO NOT REMOVE COVER (OR BACK).
NO USER-SERVICEABLE PARTS INSIDE.
REFER SERVICING TO QUALIFIED SERVICE PERSONNEL.
The lightning flash with arrowhead symbol within an equilateral triangle is intended to alert the user to the presence of
uninsulated "dangerous voltage" within the product's enclosure that may be of sufficient magnitude to constitute a risk of electric
The exclamation point within an equilateral triangle is intended to alert the user to the presence of important operating and
maintenance (servicing) instructions in the literature accompanying the product.
TO REDUCE THE RISK OF FIRE OR ELECTRIC SHOCK,
DO NOT EXPOSE THIS APPLIANCE TO RAIN OR MOISTURE.
USE OF CONTROLS OR ADJUSTMENTS OR PERFORMANCE OF PROCEDURE OTHER THAN THOSE SPECIFIED HEREIN
MAY RESULT IN HAZARDOUS RADIATION EXPOSURE.
This unit employs a laser. Only a qualified service person should remove the cover or attempt to service this device, due to
Recording and playback of any material may require consent. For further information refer to the following US ordinances:
Dramatic and Musical Performance Act 1958
Performers Protection Acts 1963 and 1972
any subsequent statutory enactments and orders
---

READ BEFORE OPERATING EQUIPMENT
This product was designed and manufactured to meet strict quality
and safety standards. There are, however, some installation and
operation precautions which you should be particularly aware of.
1. Read these instructions.
2. Keep these instructions.
4. Follow all instructions.
5. Do not use this apparatus near water.
6. Clean only with dry cloth.
7. Do not block any ventilation openings. Install in accordance
with the manufacture's instructions.
8. Do not install near any heat sources such as radiators, heat
registers, stoves, or other apparatus (including amplifiers) that
9. Do not defeat the safety purpose of the polarized or
grounding-type plug. A polarized plug has
two blades with one wider than the other. A
grounding type plug has two blades and a
third grounding prong. The wide blade or the
third prong are provided for your safety. If the
provided plug does not fit into your outlet,
consult an electrician for replacement of the obsolete outlet.
10. Protect the power cord from being walked on or pinched
particularly at plugs, convenience receptacles, and the point
where they exit from the apparatus.
11. Only use attachments/accessories specified by the
12. Use only with the cart, stand, tripod, bracket, or table specified
by the manufacturer, or sold with the apparatus. When a
cart is used, use caution when moving the cart/apparatus
combination to avoid injury from tip-over.
13. Unplug this apparatus during lightning storms or when unused
for long periods of time.
14. Refer all servicing to qualified service personnel. Servicing
is required when the apparatus has been damaged in any
way, such as power-supply cord or plug is damaged, liquid
has been spilled or objects have fallen into the apparatus, the
apparatus has been exposed to rain or moisture, does not
operate normally, or has been dropped.
Additional Safety Information!
This product should not be placed in a built-in installation such
as a bookcase or rack unless proper ventilation is provided or
the manufacturer's instructions have been adhered to.
Apparatus shall not be exposed to dripping or splashing and
that no objects filled with liquids, such as vases, shall be
The AC adaptor shall be installed near the Socket-Outlet and
shall be easily accessible.
This equipment has been tested and found to comply with the limits for a Class B digital device, pursuant to Part 15 of the FCC Rules. These
limits are designed to provide reasonable protection against harmful interference in a residential installation. This equipment generates, uses
and can radiate radio frequency energy and, if not installed and used in accordance with the instructions, may cause harmful interference to
radio communications. However, there is no guarantee that interference will not occur in a particular installation. If this equipment does cause
harmful interference to radio or television reception, which can be determined by turning the equipment off and on, the user is encouraged to
try to correct the interference by one or more of the following measures:
Reorient or relocate the receiving antenna.
Increase the separation between the equipment and receiver.
Connect the equipment into an outlet on a circuit different from that to which the receiver is connected.
Consult the dealer or an experienced radio/TV technician for help.
Changes or modifications may cause this unit to fail to comply with Part 15 of the FCC Rules and may void the user's authority to operate the
This Class B digital apparatus complies with Canadian ICES-003.
Cet appareil numérique de la Classe B est conforme á la norme NMB-003 du Canada.
---

CE marking (only EU version)
This product is in conformity with the EMC directive and low-voltage directive.
Cet appareil est conforme á la directive EMC et á la de directive sur les basses tensions.
Esta unidad estáde acuerdo con las normas EMC y las relacionadas con baja tensión.
Dieses Gerät entspricht den EMC-Richtlinien und den Richtlinien für Niederspannungsgeräte.
Quest' unitá è conforme alle direttive EMC ed alla direttiva sulle basse tensioni.
Esta unidade está em conformidade com as directivas EMC e as directivas de baixa voltagem.
Produkten är tillverkad i enlighet med EMC-direktivet och direktivet för lågspänningsutrustning.
Dit apparaat voldoet aan de EMC-richtlijnene en de richtlijnen voor apparatuur met laag voltage.
Equipment mains working system
This product complies with household power and safety requirements in your area.
SI DICHIARA CHE L'APPARECCHIO SINTO-AMPLIFACATORE SR-39
RISPONDE ALLE PRESCRIZIONI DELL'ART. 2 COMMA 1 DEL D.M. 28
FATTO A EINDHOVEN, IL 1/1/1997.
"Este aparato lleva elementos antiparasitarios necesarios para cumplir
con los limites que se establecen en el Anexo V del Reglamento sobre
Pertubaciones Radioelectricas e Interferencias aprobado en el Real
Decreto 138/1989. (B.O.E. de 9 Febrero 1989)."
---

Do not handle the AC adaptor with wet hands.
Do not cover the ventilation with any items such as tablecloths, newspapers, curtains, etc.
No naked flame sources, such as lighted candles, should be placed on the equipment.
When disposing of used batteries, please comply with governmental regulations or environmental public instruction's rules that apply in your
Make a space of about 0.1 meter around the unit.
No objects filled with liquids, such as vases, shall be placed on the apparatus.
When the switch is in the OFF position, the equipment is not completely switched off from MAINS.
Ne manipulez pas l'adaptateur AC avec les mains mouillées.
Ne pas recouvrir les ouïes de ventilation avec un objet quelconquecomme une nappe, un journal, un rideau, etc.
Ne placer aucune source de flamme nue, comme une bougieallumée, sur l'appareil.
Pour mettre au rebut les piles usées, respecter les loisgouvernementales ou les règlements officiels concernantl'environnement qui
s'appliquent à votre pays ou région.
Veiller à ce qu'aucun objet ne soit à moins de 0,1 mètre des côtésde l'appareil.
Aucun objet rempli de liquide, un vase par exemple, ne doit êtreplacé sur l'appareil.
Lorsque l'interrupteur est sur la position OFF, l'appareil n'est pascomplètement déconnecté du SECTEUR (MAINS).
No manipule el adaptador de CA si tiene las manos mojadas.
No cubra la ventilación con objetos como manteles, periódicos, cor-tinas, etc.
No deben colocarse sobre el equipo elementos con fuego, porejemplo velas encendidas.
Cuando se eliminen baterías usadas, deben cumplirse las regla-mentaciones oficiales o las normas de protección medioambientalaplicables
Deje un espacio de unos 0,1 metro alrededor de la unidad.
No se deben colocar sobre el aparato recipientes que contenganlíquidos, como por ejemplo jarrones.
Cuando el interruptor está en la posición OFF, el equipo no estácompletamente desconectado de la alimentación MAINS.
Fassen Sie das Netzgerät nicht mit nassen Händen an.
Decken Sie die Lüftungsöffnungen nicht mit einem Tischtuch, einerZeitung, einem Vorhang usw. ab.
Es dürfen keine Gegenstände mit offener Flamme, wie etwabrennende Kerzen, auf dem Gerät aufgestellt werden.
Beachten Sie bei der Entsorgung der verbrauchten Batterien allegeltenden lokalen und überregionalen Regelungen.
Auf allen Geräteseiten muß ein Zwischenraum von ungefähr 0,1meter vorhanden sein.
Auf das Gerät dürfen keine mit Flüssigkeiten gefüllte Behälter, wieetwa eine Vase, gestellt werden.
Wenn der Schalter ausgeschaltet ist (OFF-Position), ist das Gerätnicht vollständig vom Stromnetz (MAINS) abgetrennt.
---